2017 LONDON TRIP PHOTO DIARY
Does anyone else wish they had a British accent?  You know you have at some point.  Welcome to my London photo diary everyone.  So if you are not following me on Instagram, to which I would like to say… WTF really?!?!… you might have missed the fact that I was just in London about a couple weeks ago.  It was a fabulous trip in that I mooched off of a friend who was on a work trip so I was able to take advantage of a paid for hotel room.  It was everything I needed.  A change of scenery and I was alone most of the time since my friend had to work during the day.  I've never done a 100% solo trip before so this one felt pretty close to one and I must say, I am now very inspired to take on a full solo trip.
There is something awesome about having no set plans, and having no one to answer to.  I got ready when I wanted to get ready.  I didn't have to care about what someone else wanted to do.  I ate when I got hungry, I drank when I wanted to get tipsy, I chatted it up with strangers, and made new friends.  One in particular, a director/cinematographer from South Africa who I found to be a kindred soul and we probably had one of the most amazing conversations spanning so many topics from food to kids to the environment to fashion to politics.  These are the moments you dream of having while being on a trip.  Meeting people who trigger your mind and expand your world.  Not to mention I was really needing a drinking buddy to help me celebrate a collaboration I closed that day.
Hi Jamie!  Thanks for celebrating with me.  I am fully going to take you and your girlfriend up on that offer to stay with you guys in Cape Town.  Just let me know when!
The whole trip was a fucking absolute dream.  I got to play around with shooting solo shots like these… well I really had no choice since I was alone most of the day.  I may have looked absolutely insane to those cars driving past me, but the results turned out not too shabby.  So let's get to it and I hope you enjoy this London photo diary volume I.

I looked like an absolute nutter taking these shots (and please read that sentence in a British accent).  I was digging the perspective of looking down this street and luckily for me there was some sort of rubber median in the middle where I could easily set up my mini tripod.  So after a lot of trial and error, I was finally able to snap a couple of good outfit shots here.  I spent a LOT of time waiting for the cars to move out of my shot or wait for people who were crossing.  Especially a couple particular people wearing bright ass orange that just RUINED the background.  Who does that?  Ugh… blogger problems I tell ya.  The best were the looks I got from all the drivers.  This particular spot was right where the traffic light was.  So you can imagine the cars that stop at the red light all looking at me and wondering what the hell I am doing posing and candidly twirling like a moron.  And yea, because it's the UK and the driver's side is on the RIGHT, the drivers were like… RIGHT THERE!  But I was committed to my shoot like any professional weirdo.  It was all about getting the shots.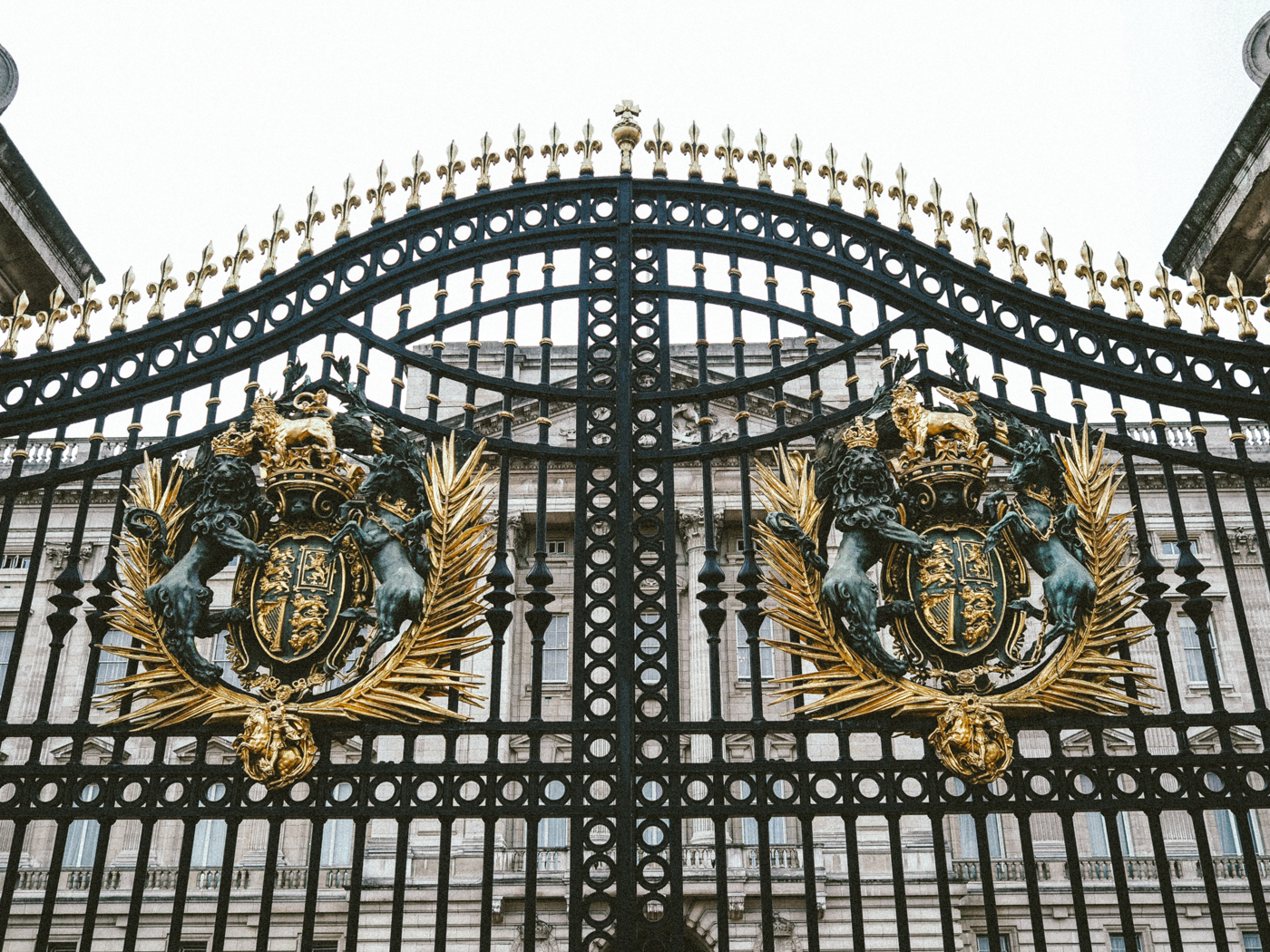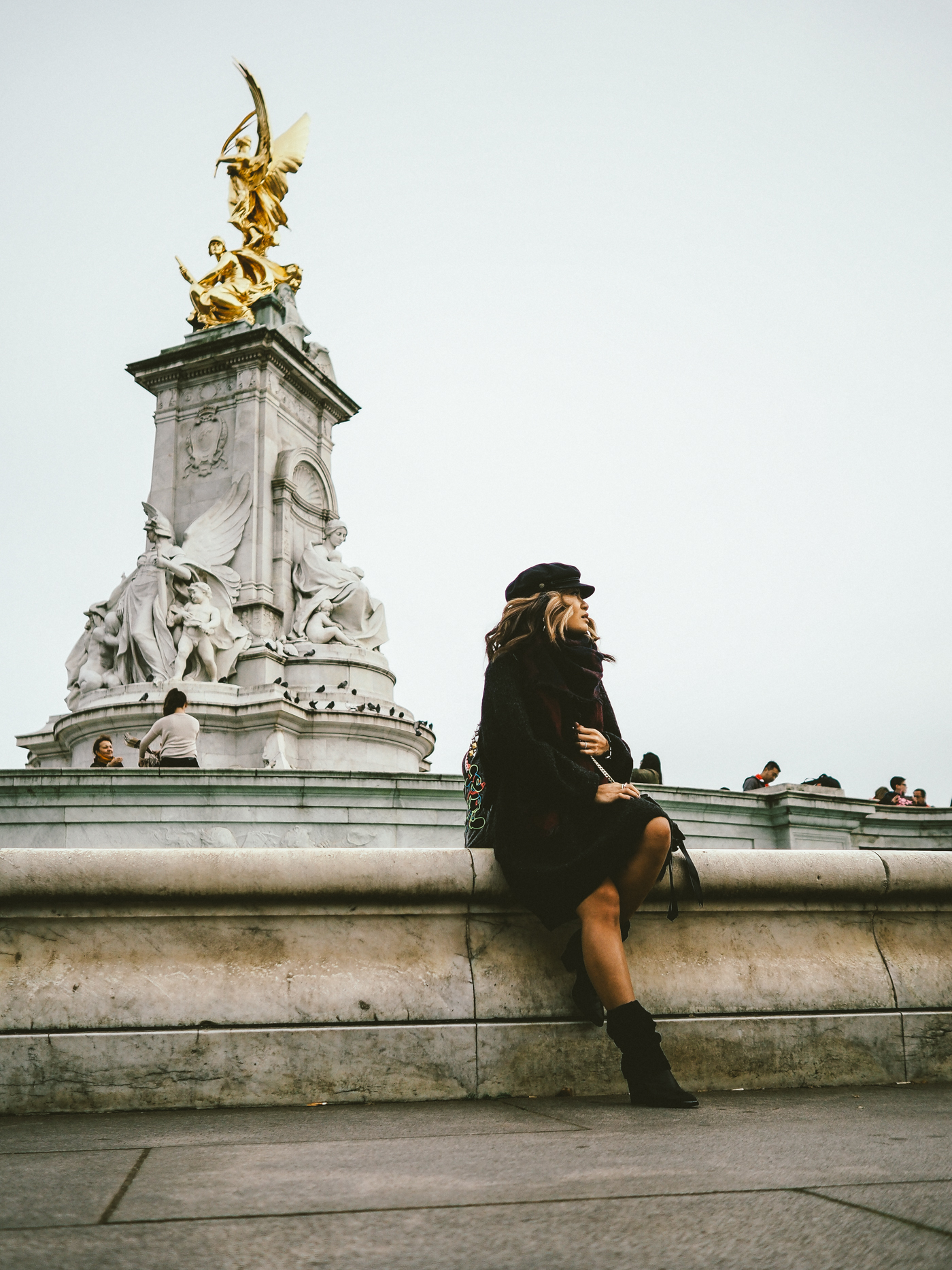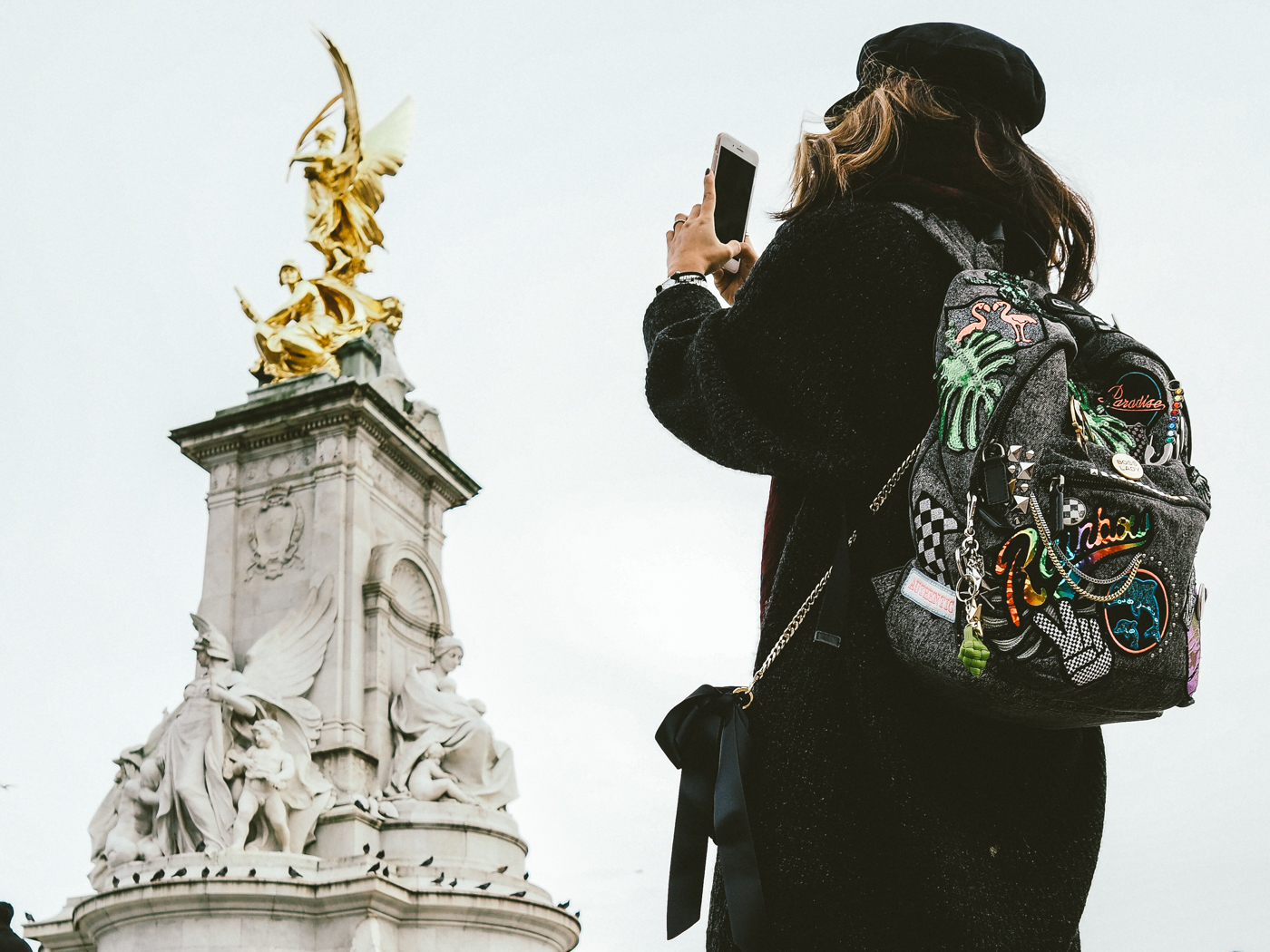 After said solo shoot, I walked down that road which actually leads to Buckingham Palace.  The one tourist spot I didn't go to last year on my first trip to London.  It was cool.  Snapped some photos.  Stared at the gates.  Stared at the building.  Ooooh… aaaahhh.  Ok done.  Took 10 minutes.  I did learn that the changing of the Guard ceremony happens on Mondays, Wednesdays, and Sundays at 10:30 in the morning according to some official looking guy standing by the gates.  So if that's something you want to see, you should try to get there around 10am to get a good view.  I tried to go the next day since this was Tuesday, but I overslept like the champion I am.
---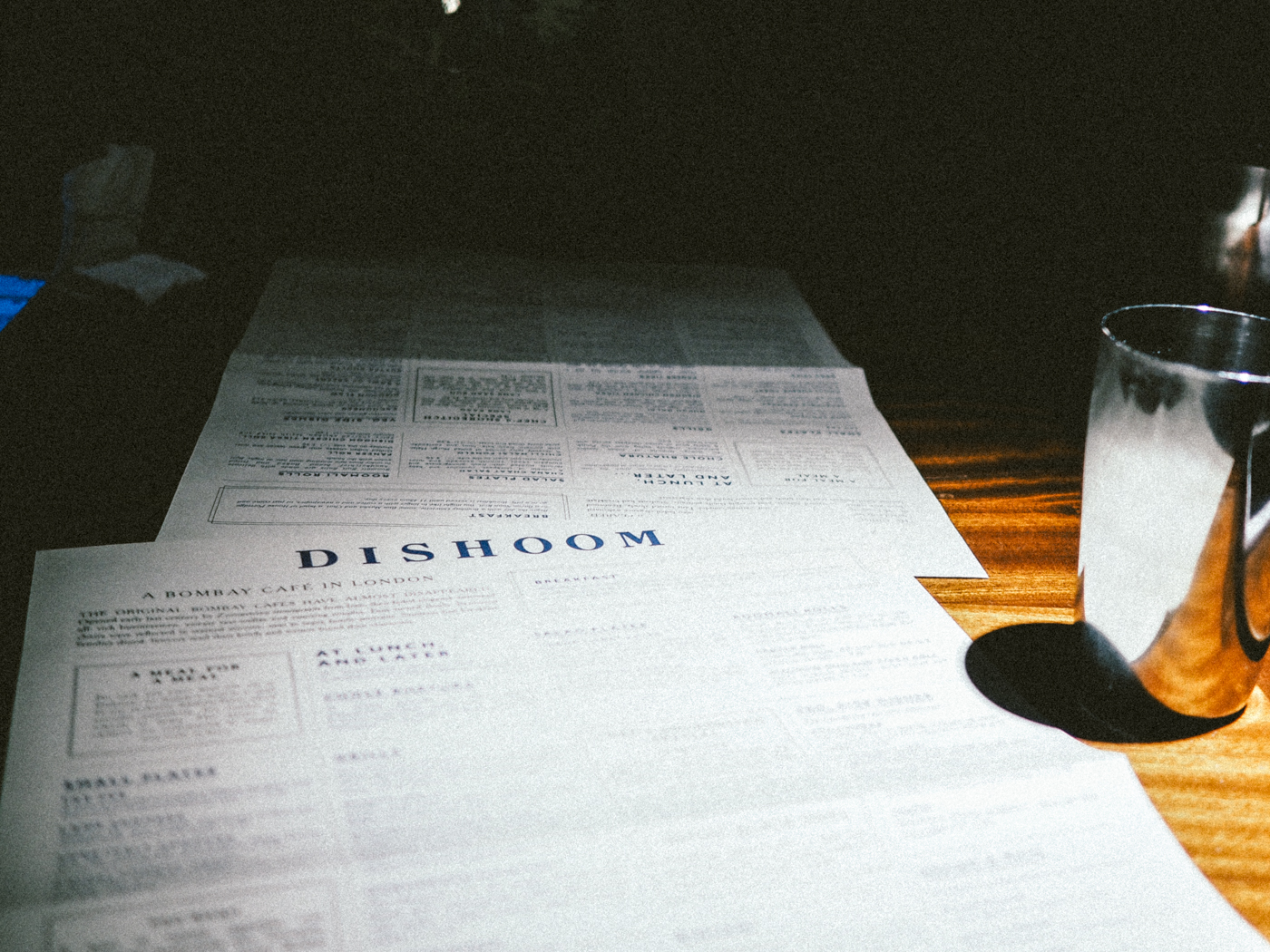 Dishoom Dishoom Dishoom.  You have ruined me for life.  Not that I was a huge connoisseur of Indian food before this trip, but I just have a feeling that after Dishoom, anything I have in Chicago is just going to fall short.  I clearly made a good decision since so many people told me to go here.  Who am I to argue with the masses?  The black daal was insanely good.  Proving once again, once you go black, you never go back.  The rest of the meal was also delicious but since my friend is gluten free and dairy free we didn't go too crazy on the order.  I did love the fact that they have special menus for those with dietary restrictions.  Not just point at things that could be made dairy free or gluten free or vegan.  They literally brought out separate menus.  As a former vegan, I highly appreciated that.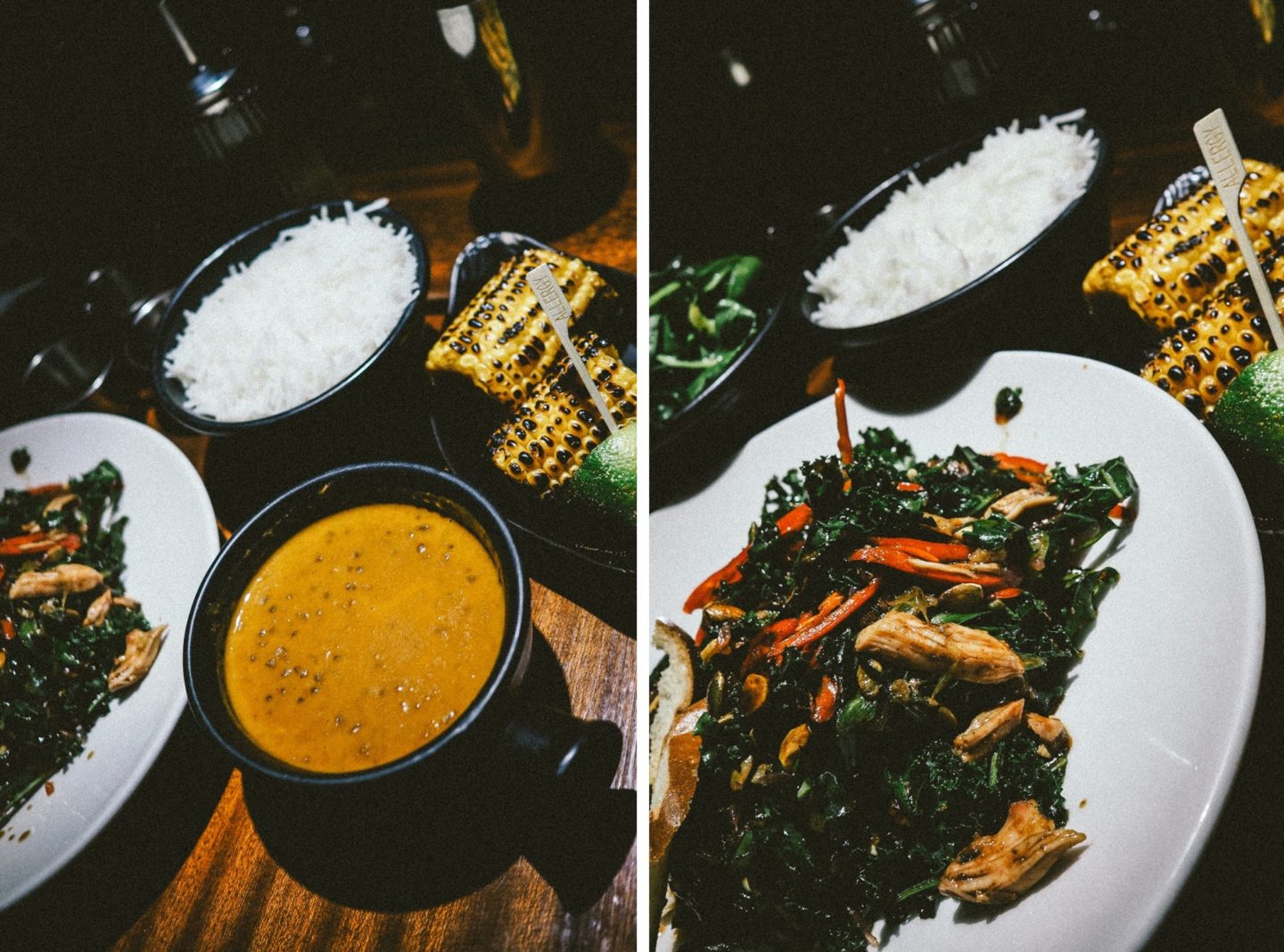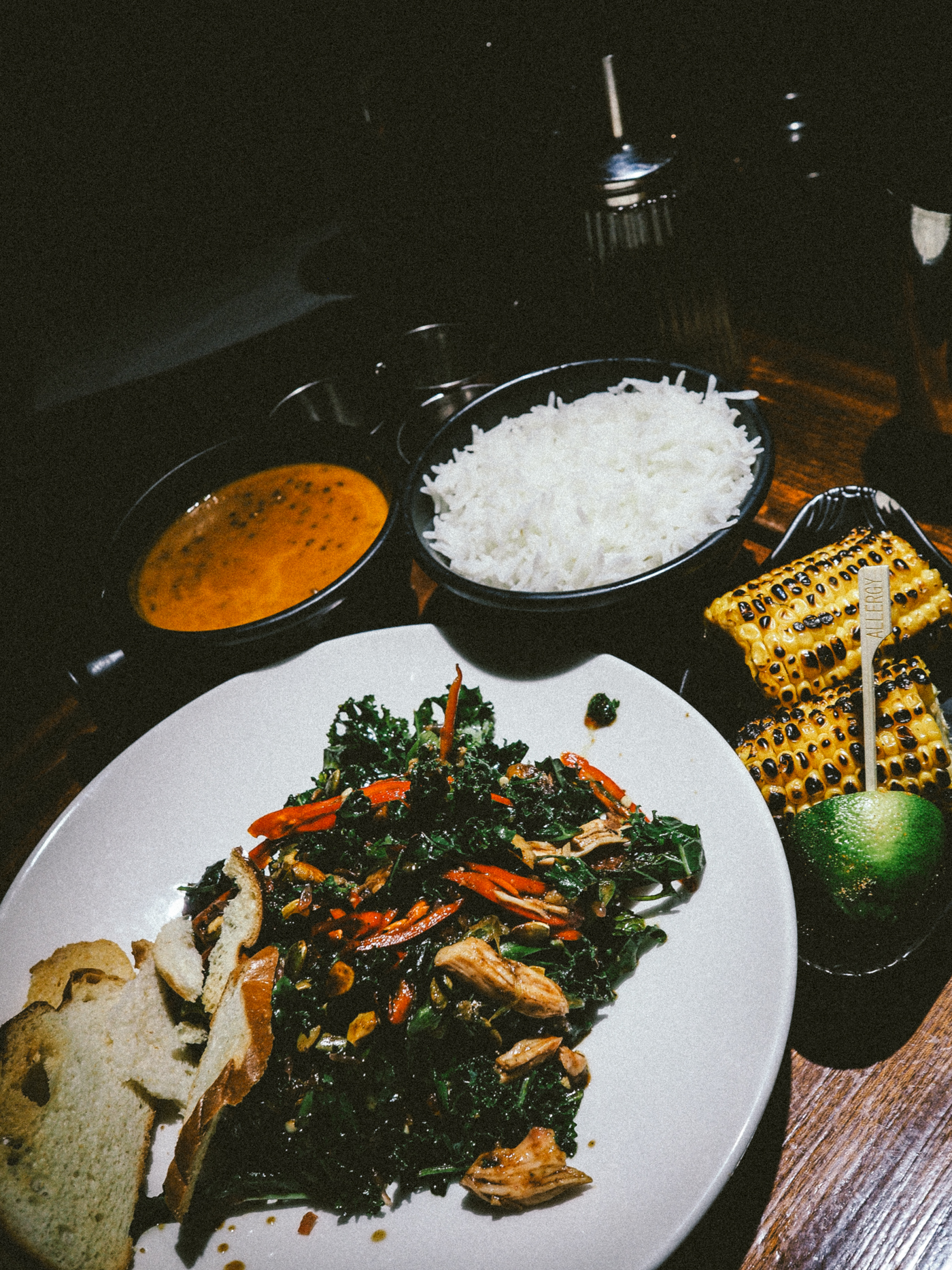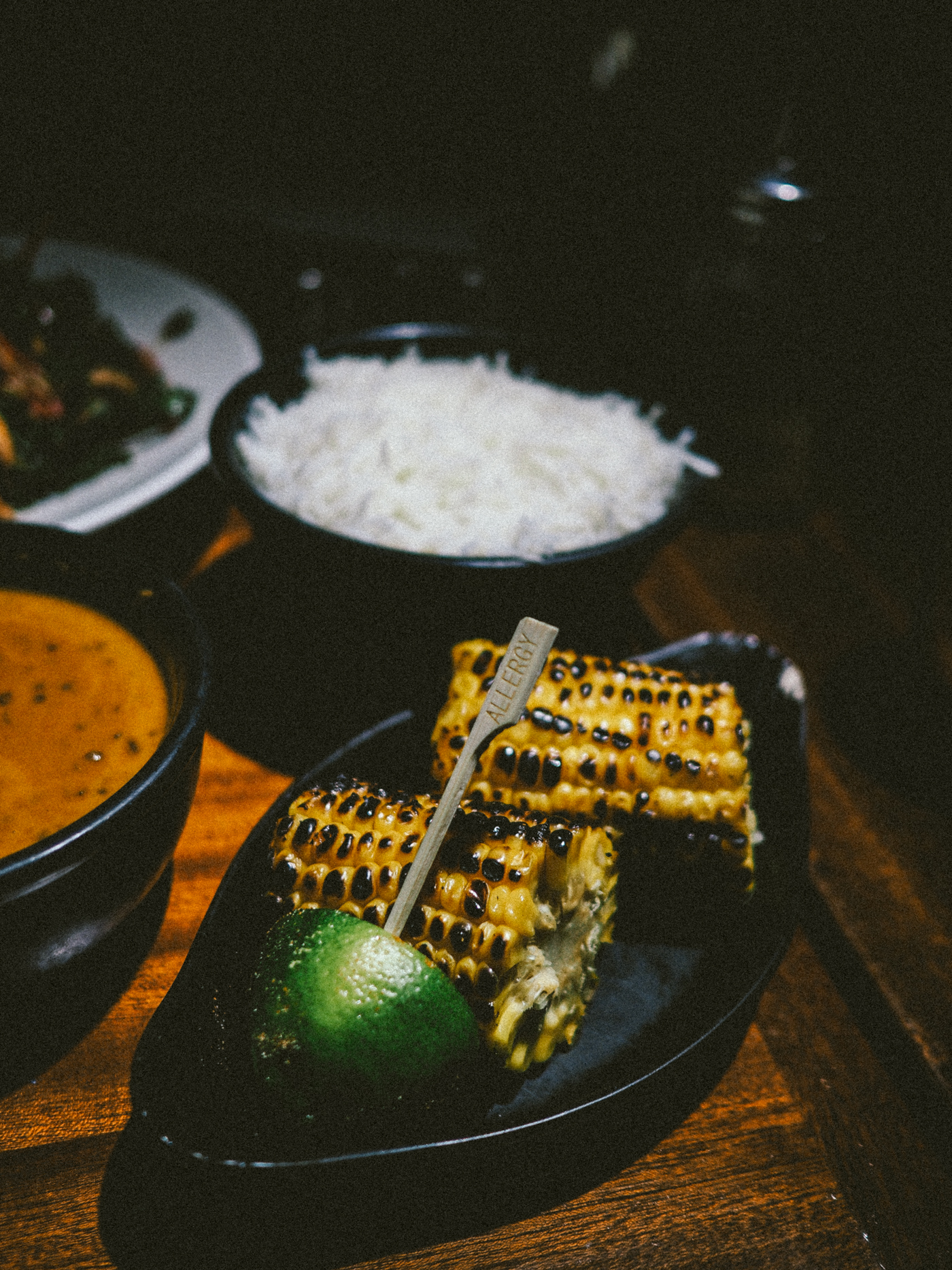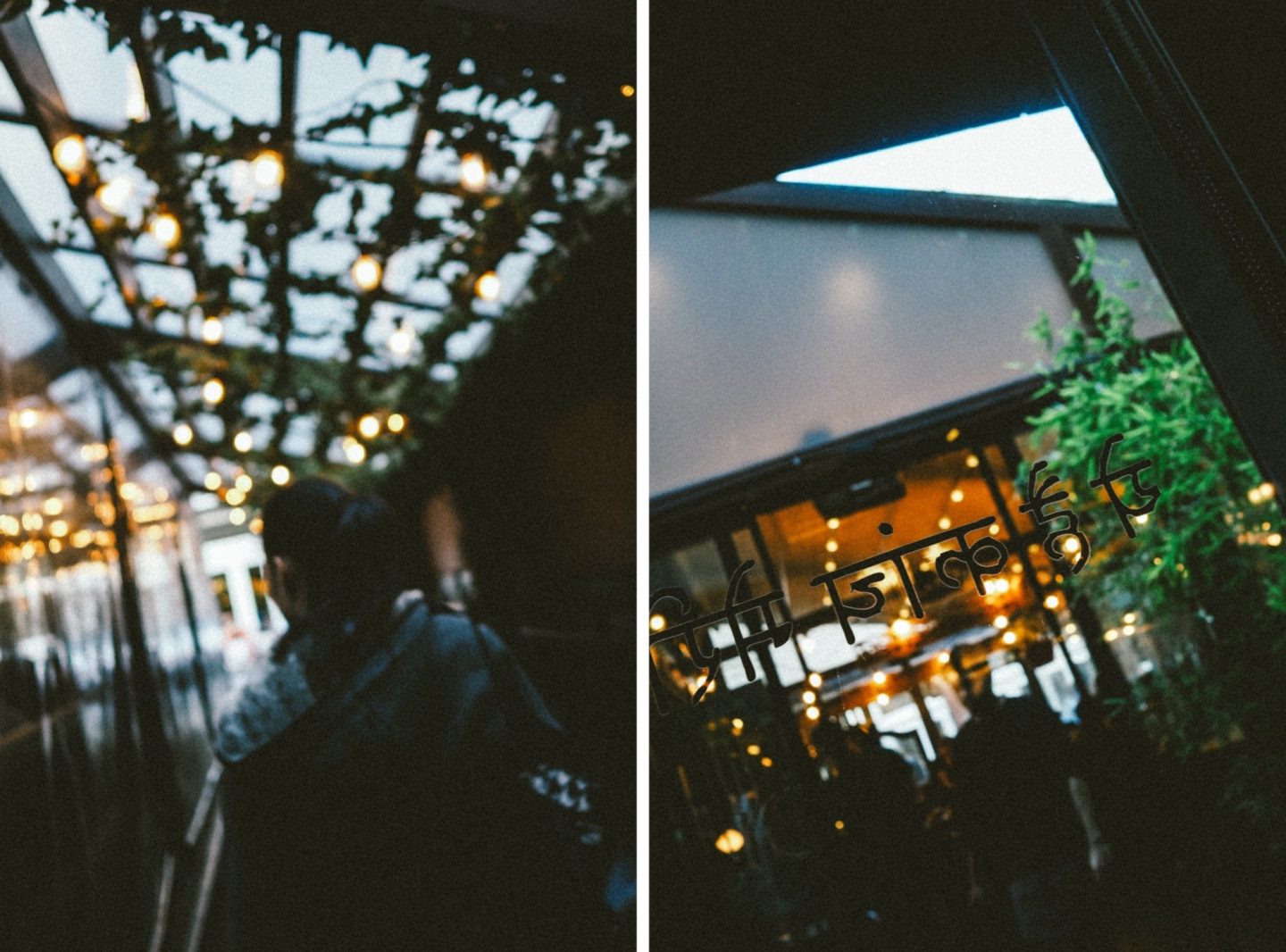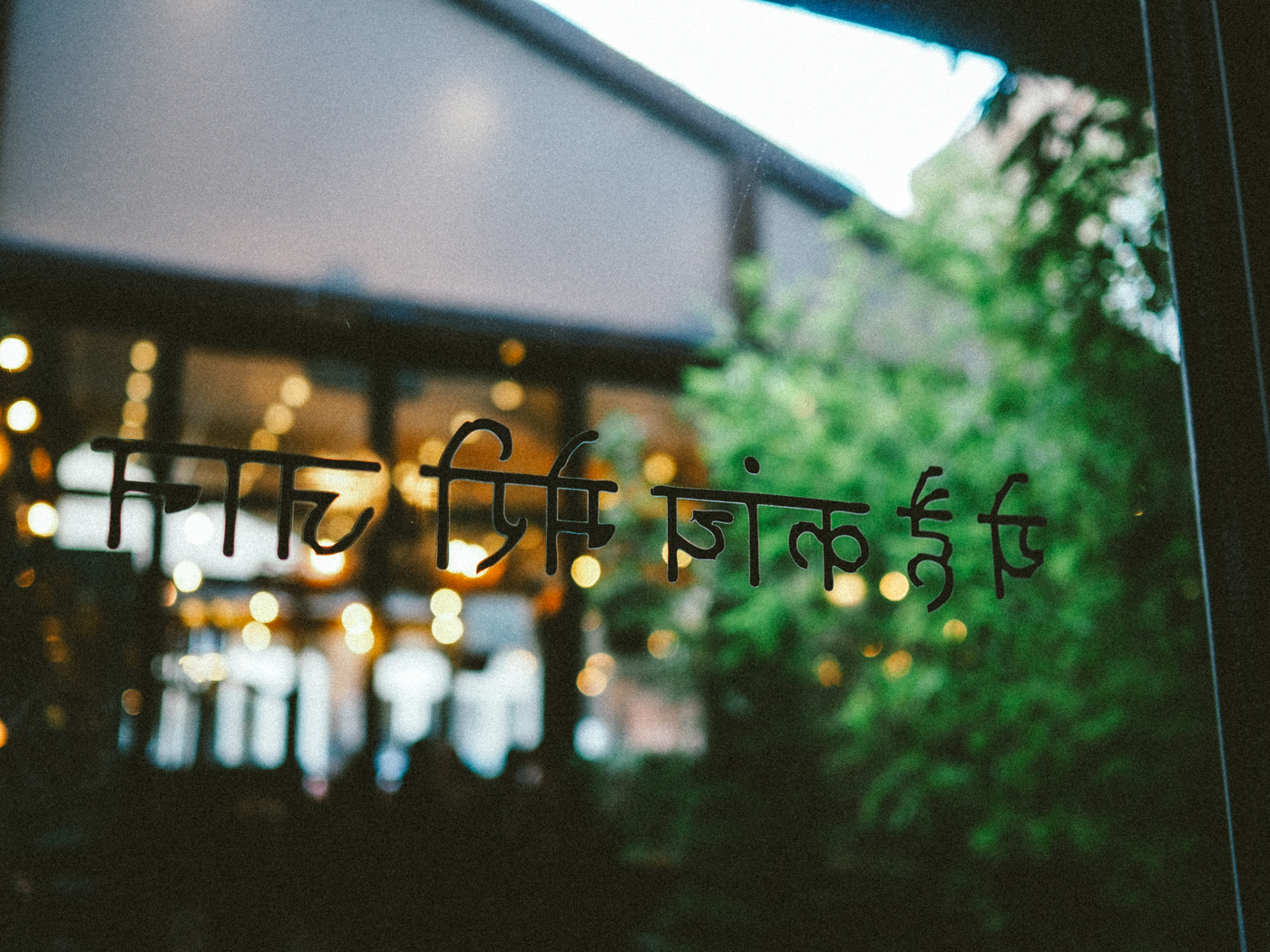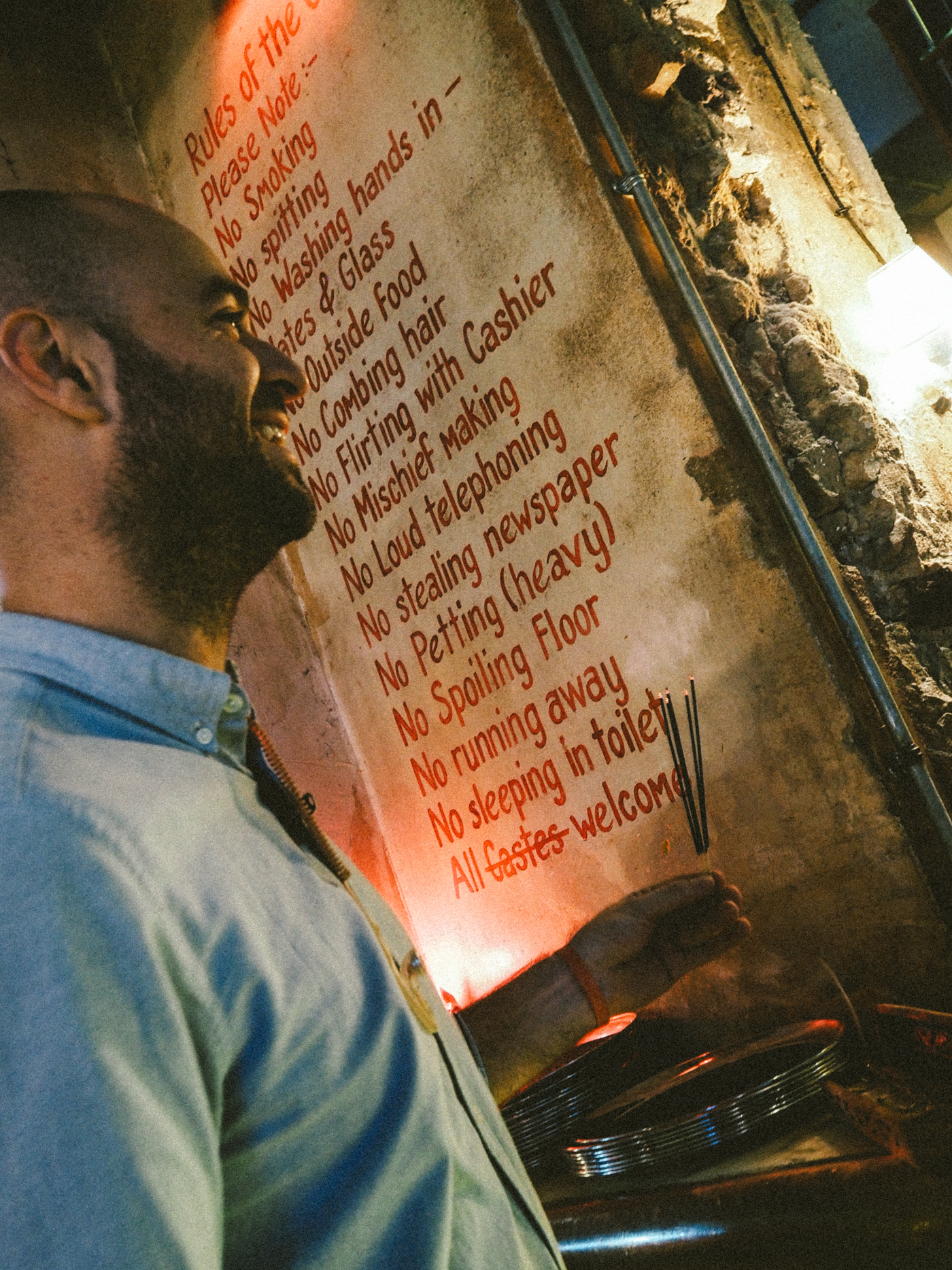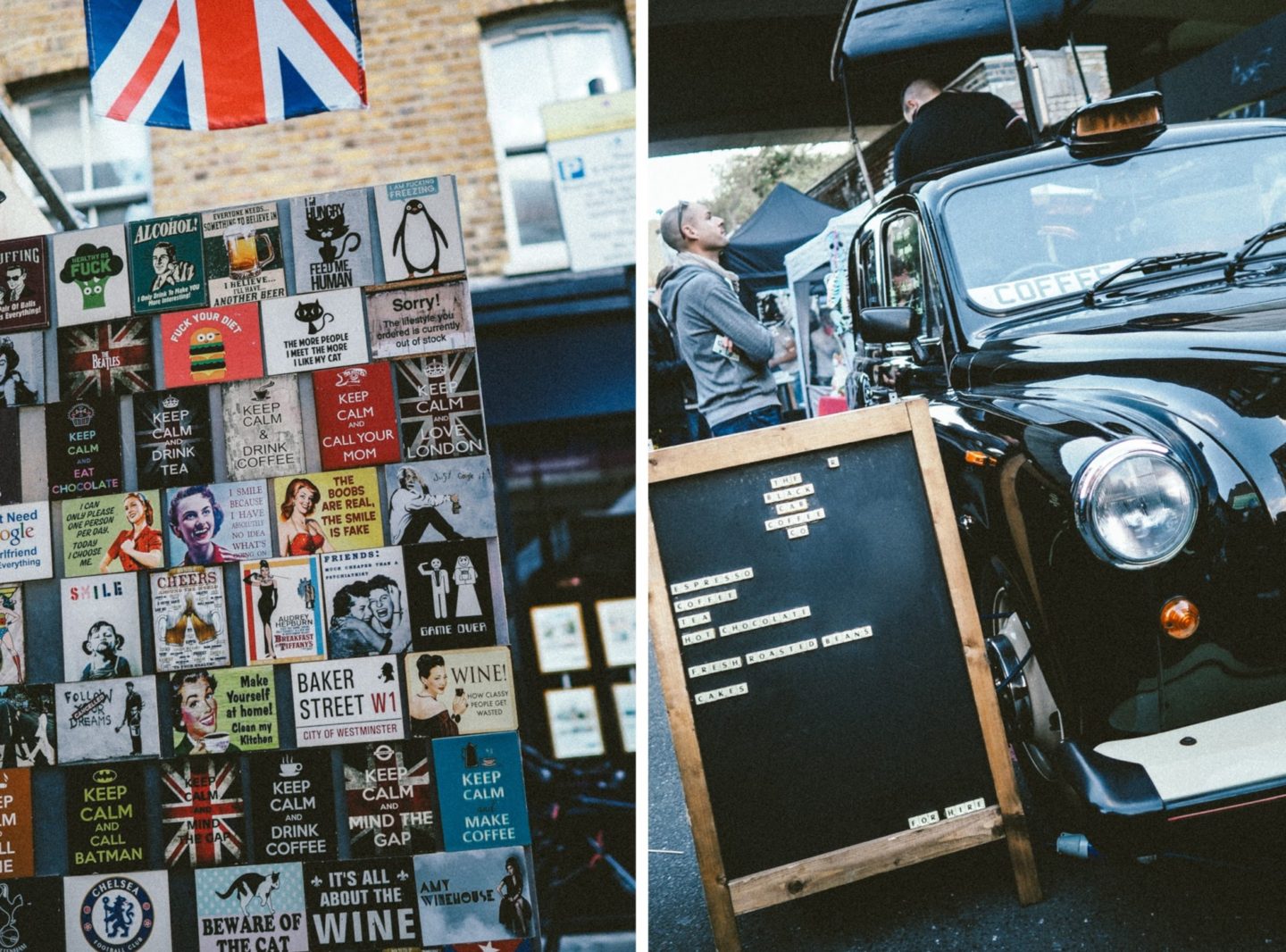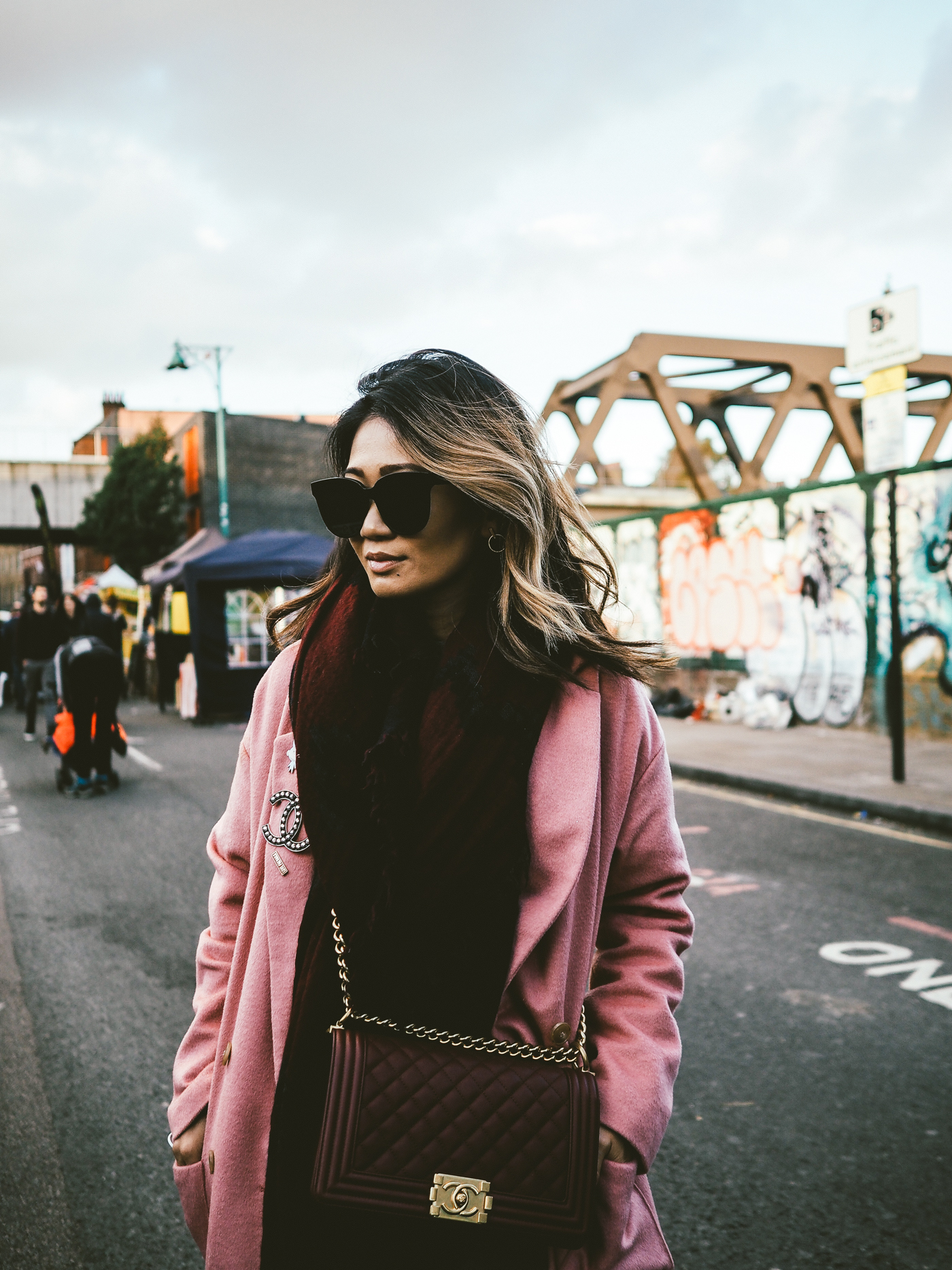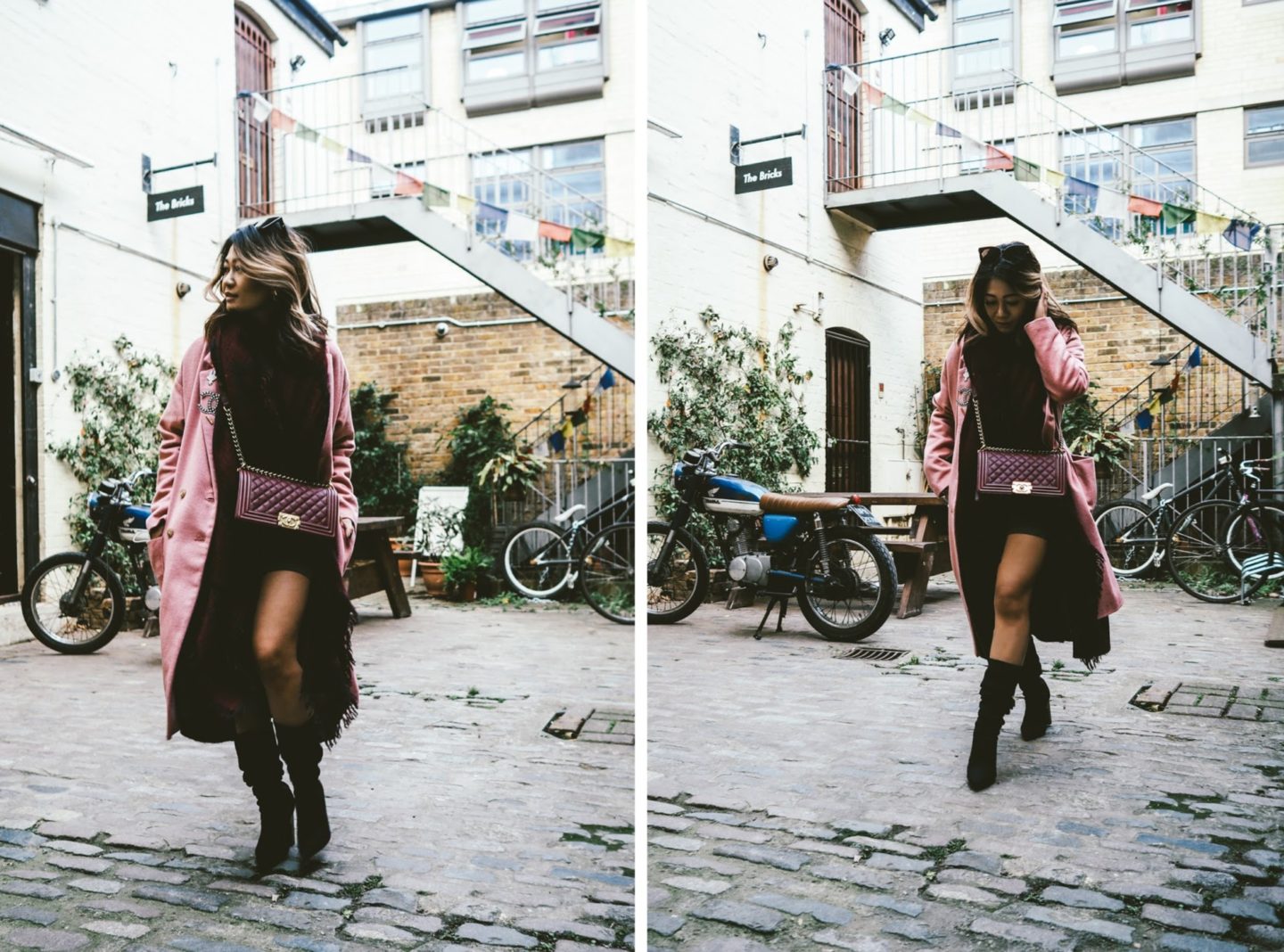 Shoreditch on Sundays are quite possibly the best thing ever.  We had no idea how many outdoor markets would line the streets and indoor markets hidden in random alleyways.  This is a good time to visit the iconic Brick Lane.  The whole area is buzzing with outdoor stands selling a wide variety of items from vintage knick-knacks to clothes to jewelry to food to camera parts.  I loved chatting with local artists and designers about their work and how they made their pieces.  It was a perfect way to spend our Sunday strolling and exploring Shoreditch which is one of my favorite areas in London.  I think the markets are only out on Sundays and I'm not sure what their winter schedule is, but if you find yourself in London, I would DEFINITELY check out the Shoreditch area for this.
---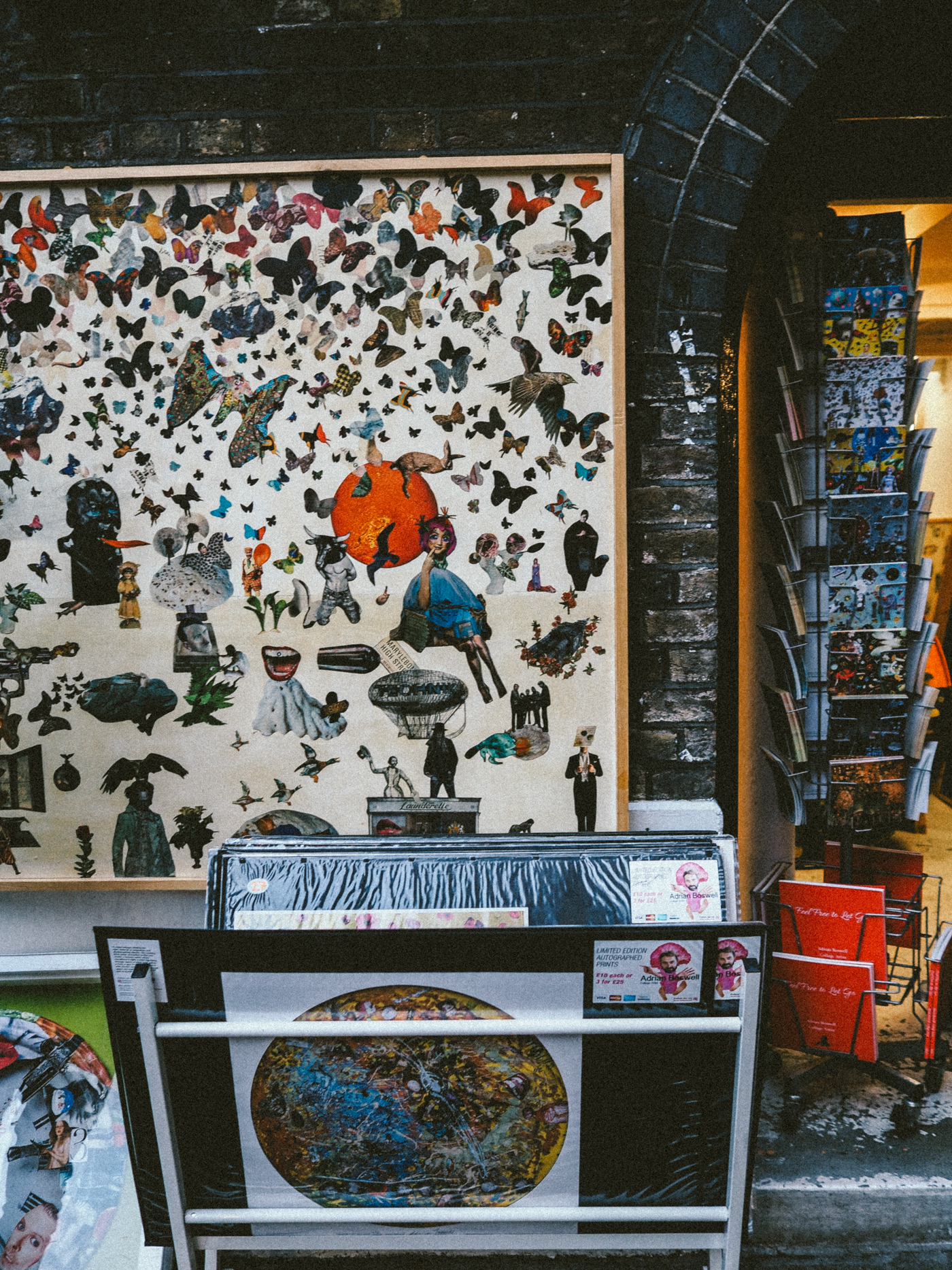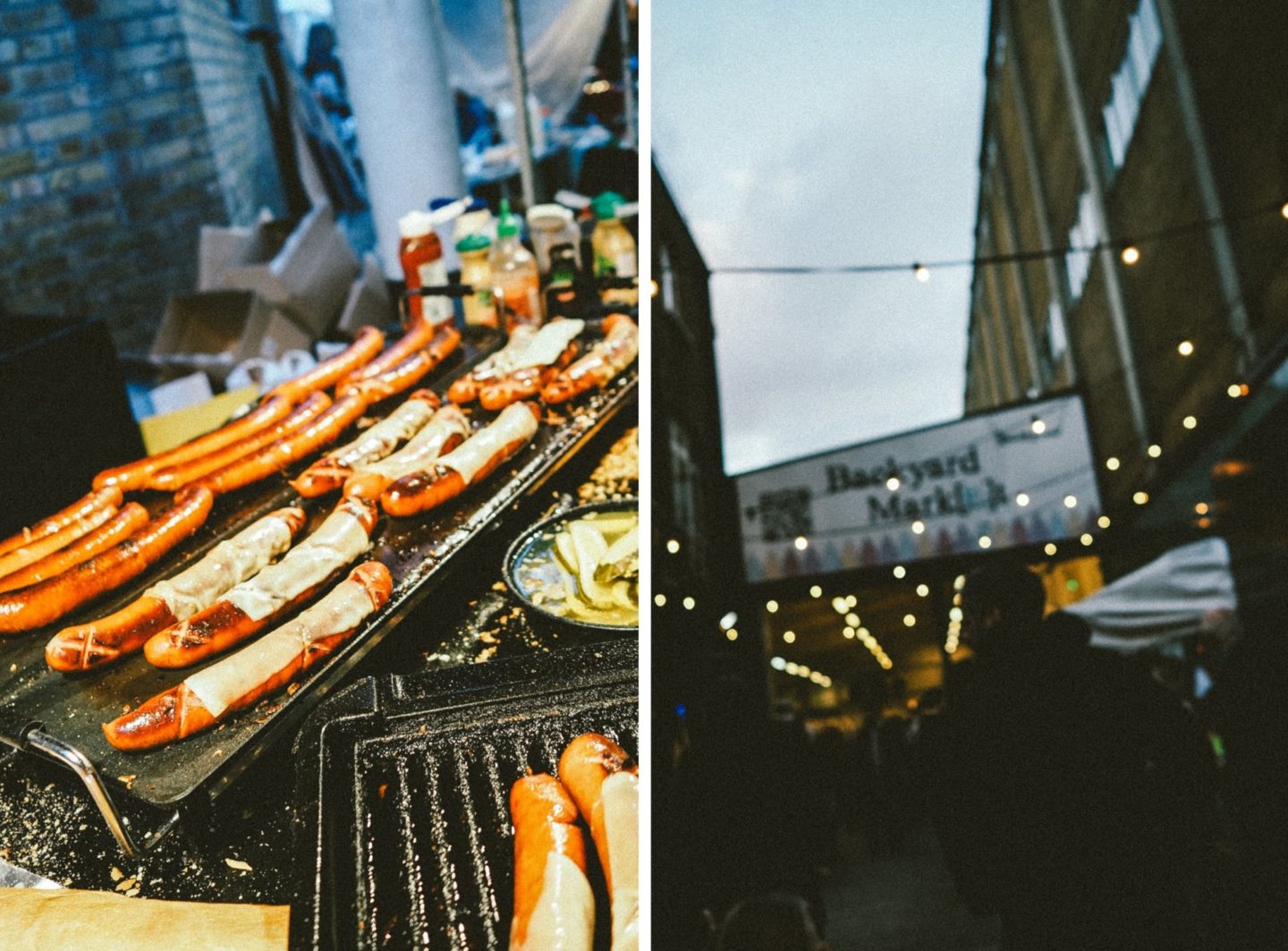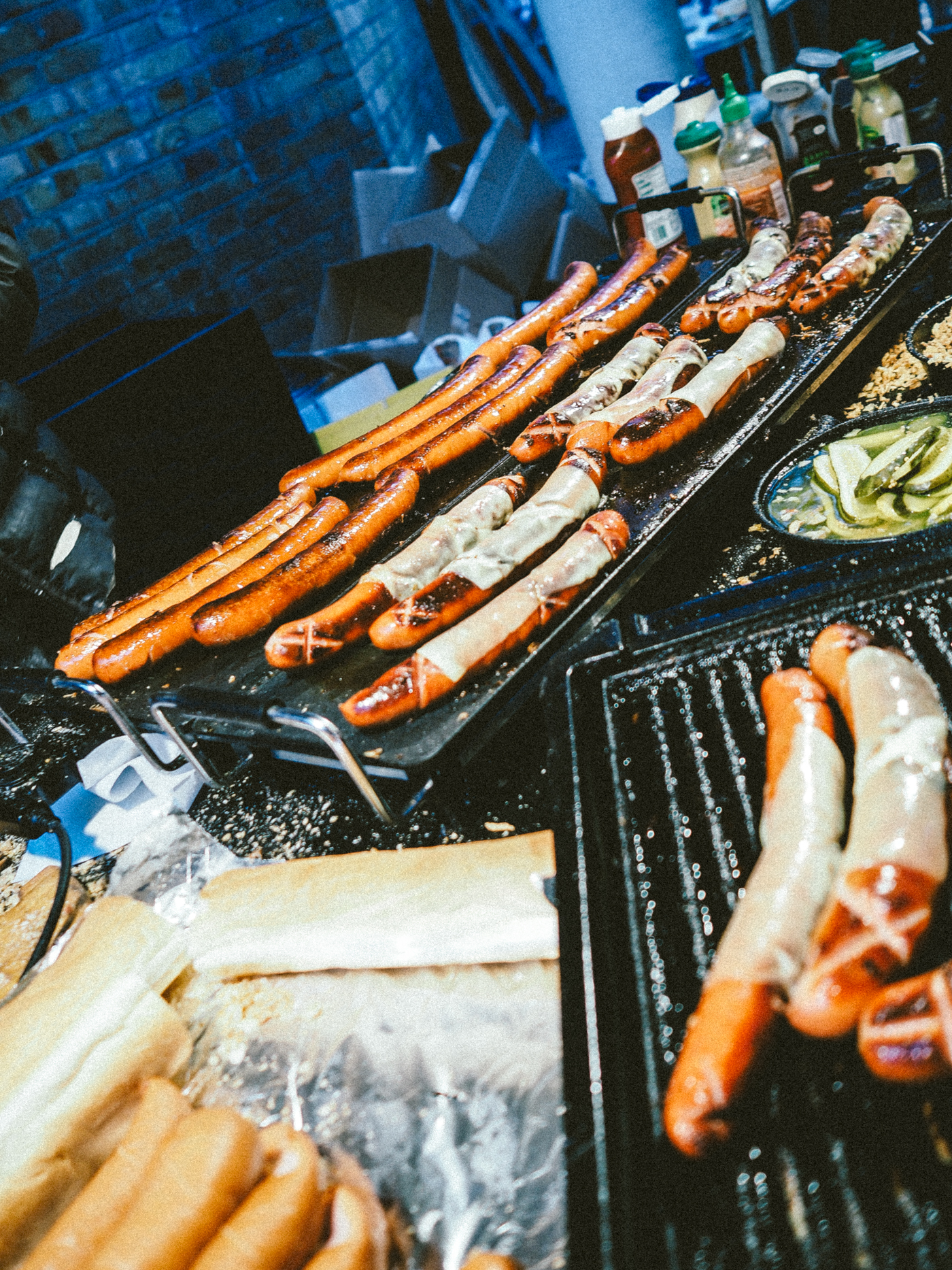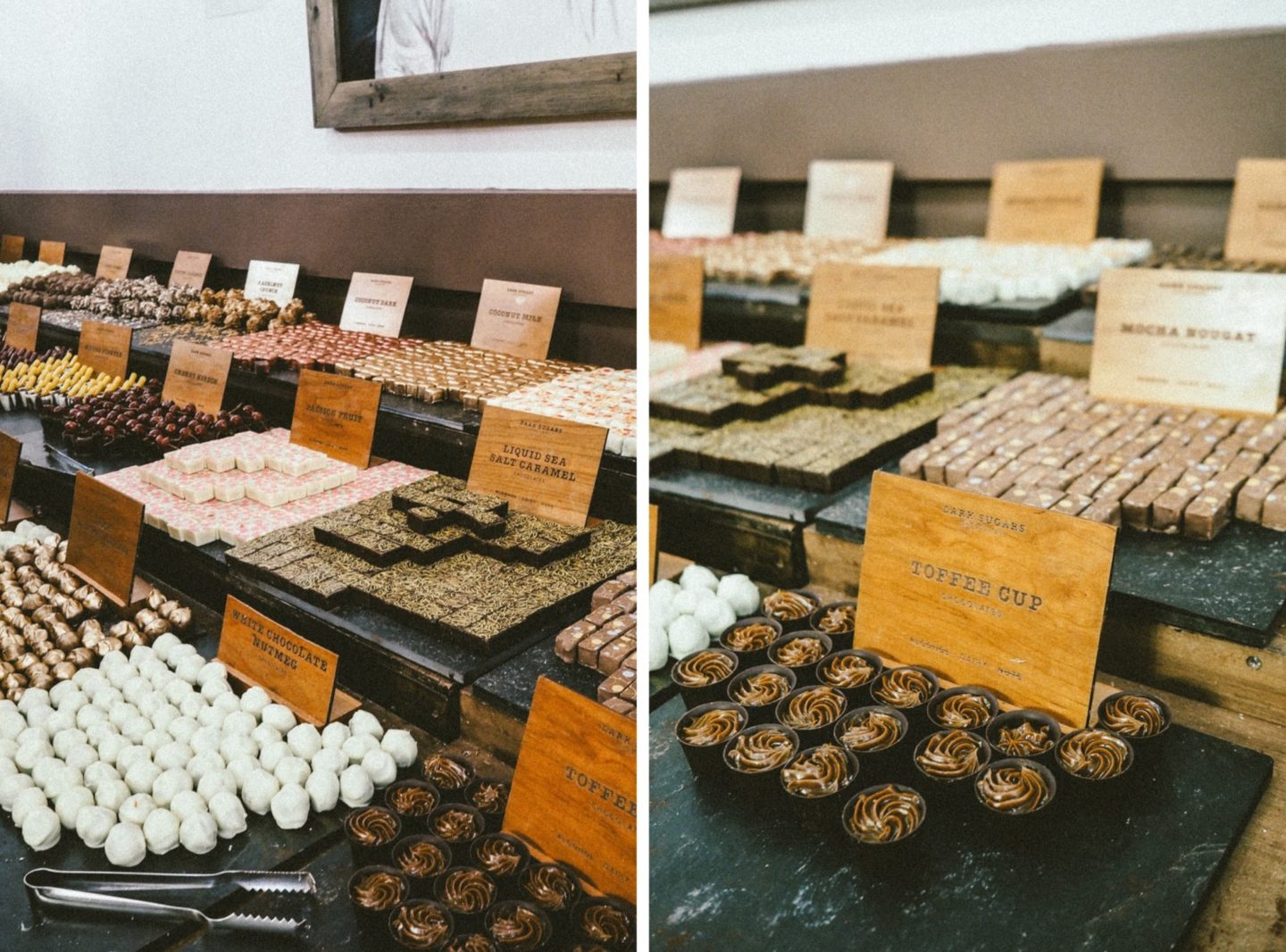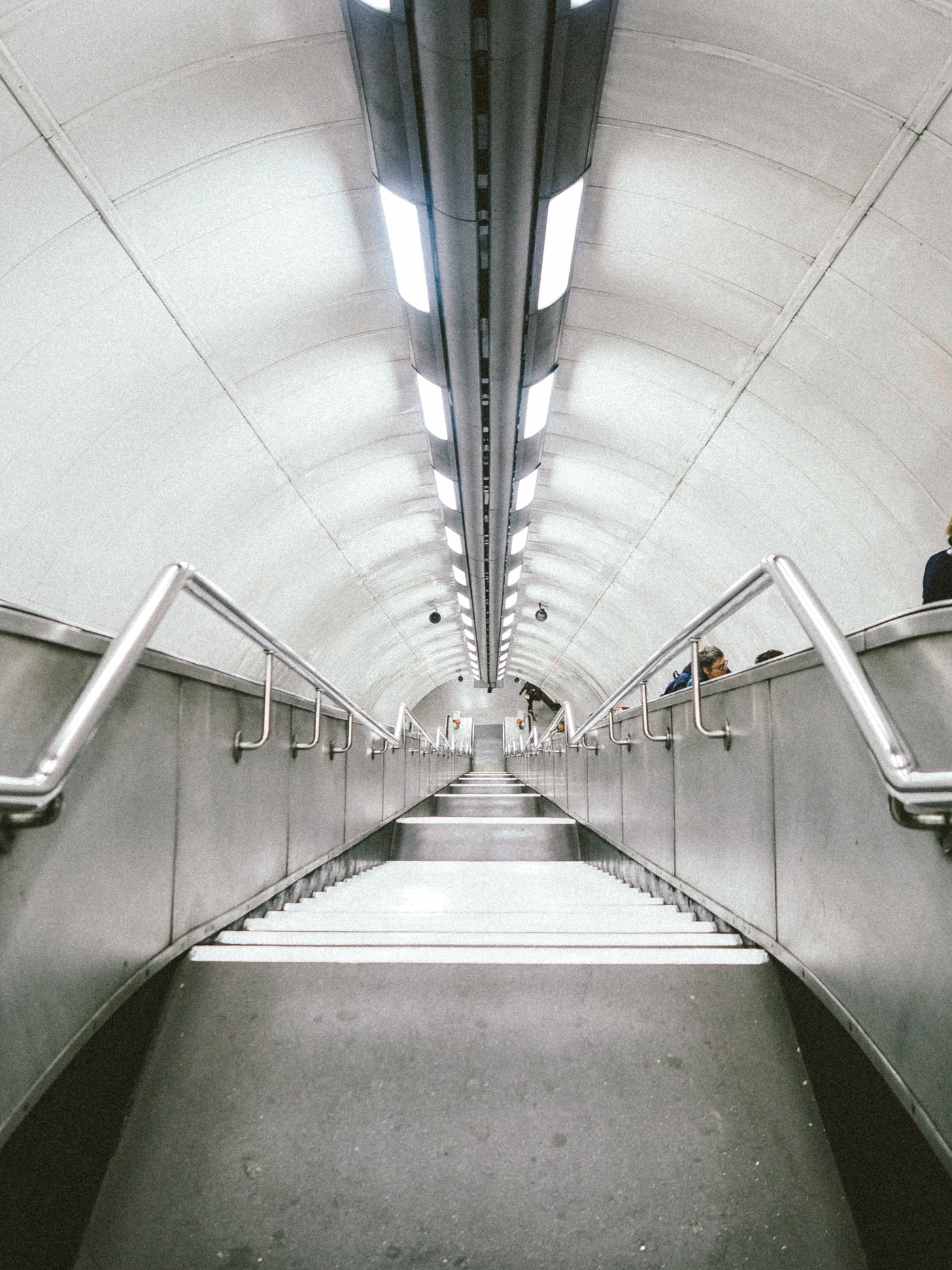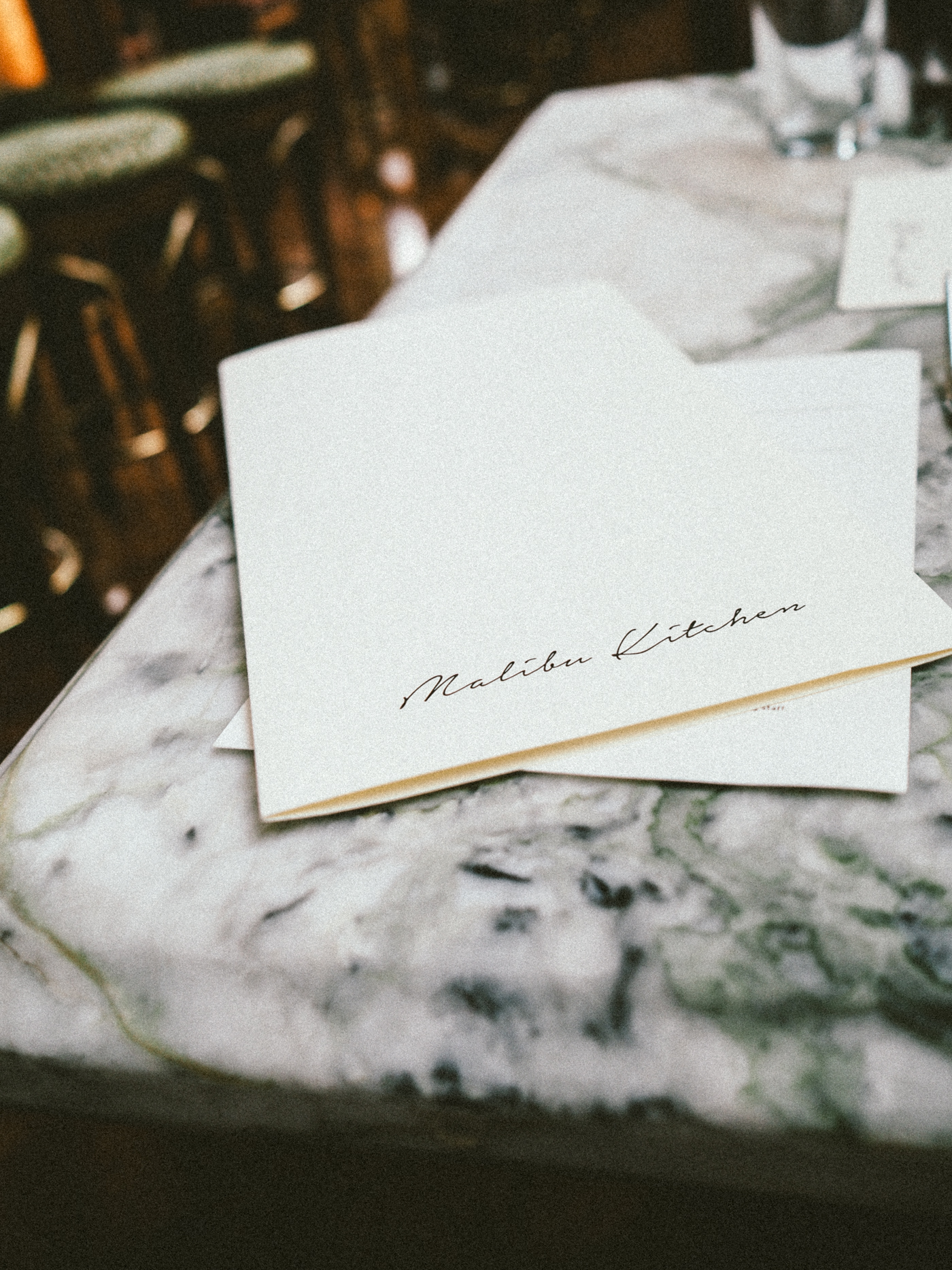 This was the day I met up with the Chief Tax Officer of my previous company.  Again, if you guys have kept up with the drama in my life regarding my sudden voluntary departure from corporate life, you have probably seen the Instagram stories from this day.  I won't go into too much detail here since it's such a long story but I will say it was a fantastic lunch where I got to really voice my perspective on some things that I went through and reasons and events that led up to why I quit so suddenly.  Funny enough our lunch was inside a hotel called The Ned.  If you don't get that joke, then you are missing out on A LOT.  Ned is the name I have given the particular person that led to my resignation.  What can I say, I respect myself too much to work with assholes.
We had a very insightful conversation about the corporate world and his experiences versus my own.  I got to share my thoughts on what I find wrong in the industry, and the particularly shitty person in his department, and he was thankful for my feedback and perspective.  He also mentioned that he wasn't that surprised that my issues were with this person… Ned has quite a reputation and news of it has definitely reached the top.  I held nothing back as I had no reason to sugar coat anything.
It was extremely refreshing and freeing to be able to sit across from someone that in most situations, especially in a corporate environment, most would find intimidating.  But I figured, we are both humans and his "title" didn't mean he was a better person than I was.  I talked to him like we were equals and I felt like I got the closure I needed.  It bothered me heavily that I wasn't able to raise my issues up the organization when I left.  So it felt a little like fate that I was able to go to London and that he happened to be in town and available to meet for lunch.  After lunch, I actually got to tour the London offices.  LOL.  The universe can be really hilarious.  I ended the day feeling nothing but respect for my former Chief Tax Officer and a sense of pride in myself that I got to say what I wanted to say to the one person that could, if he wanted to, actually make a difference for the team I left behind.  The cynic in me clearly assumes nothing will change.  Ah well.  I got a free lunch either way.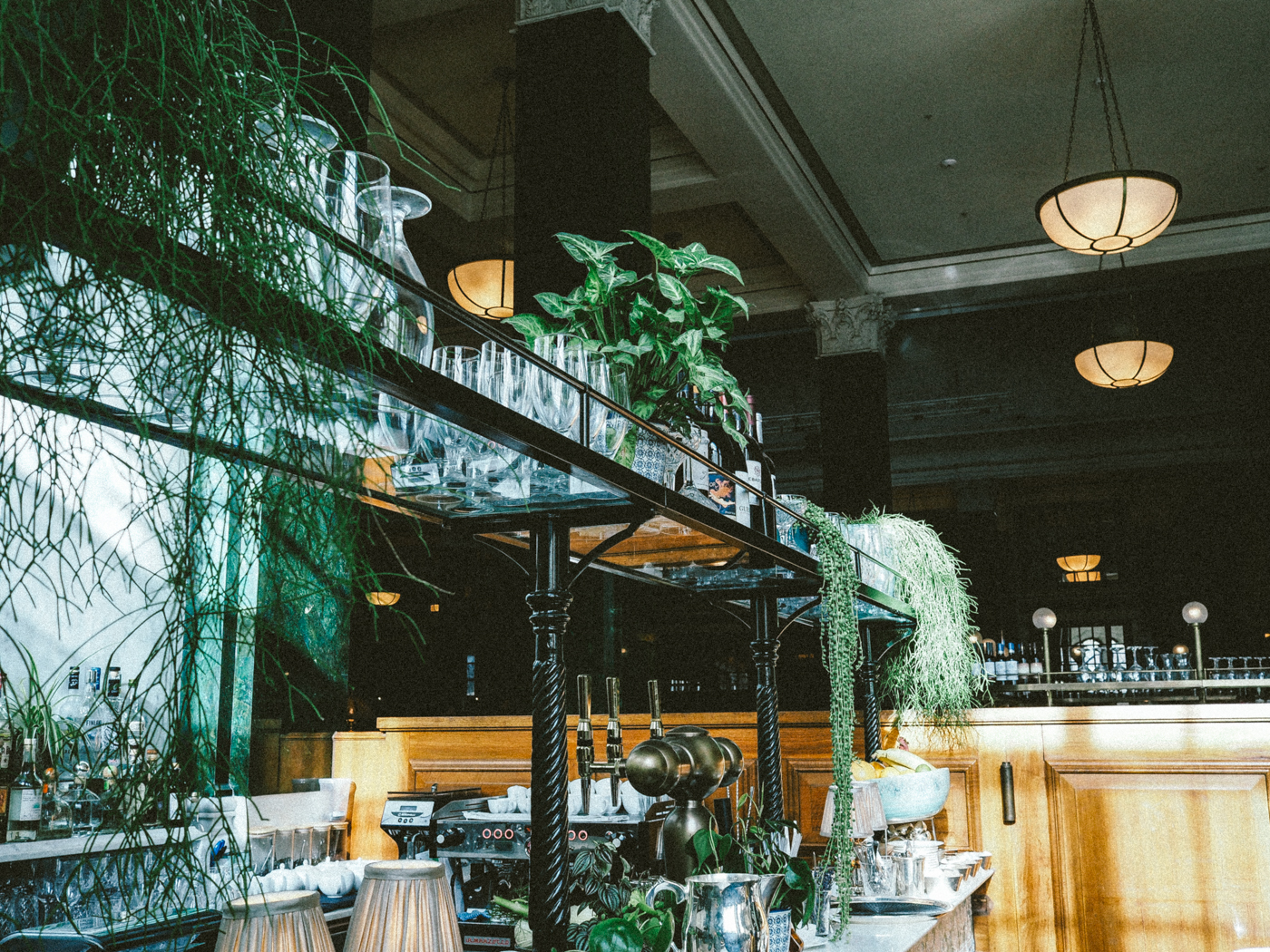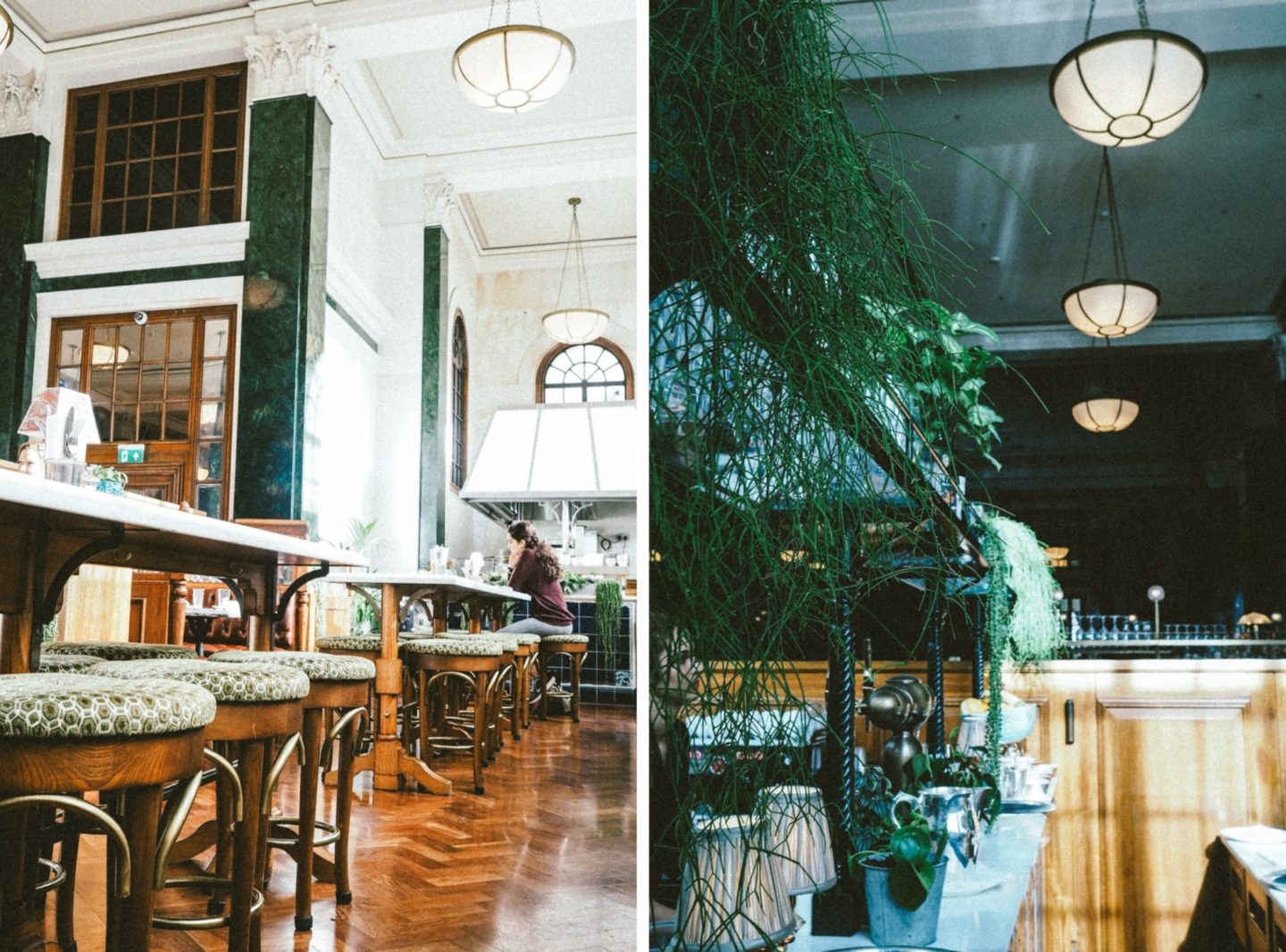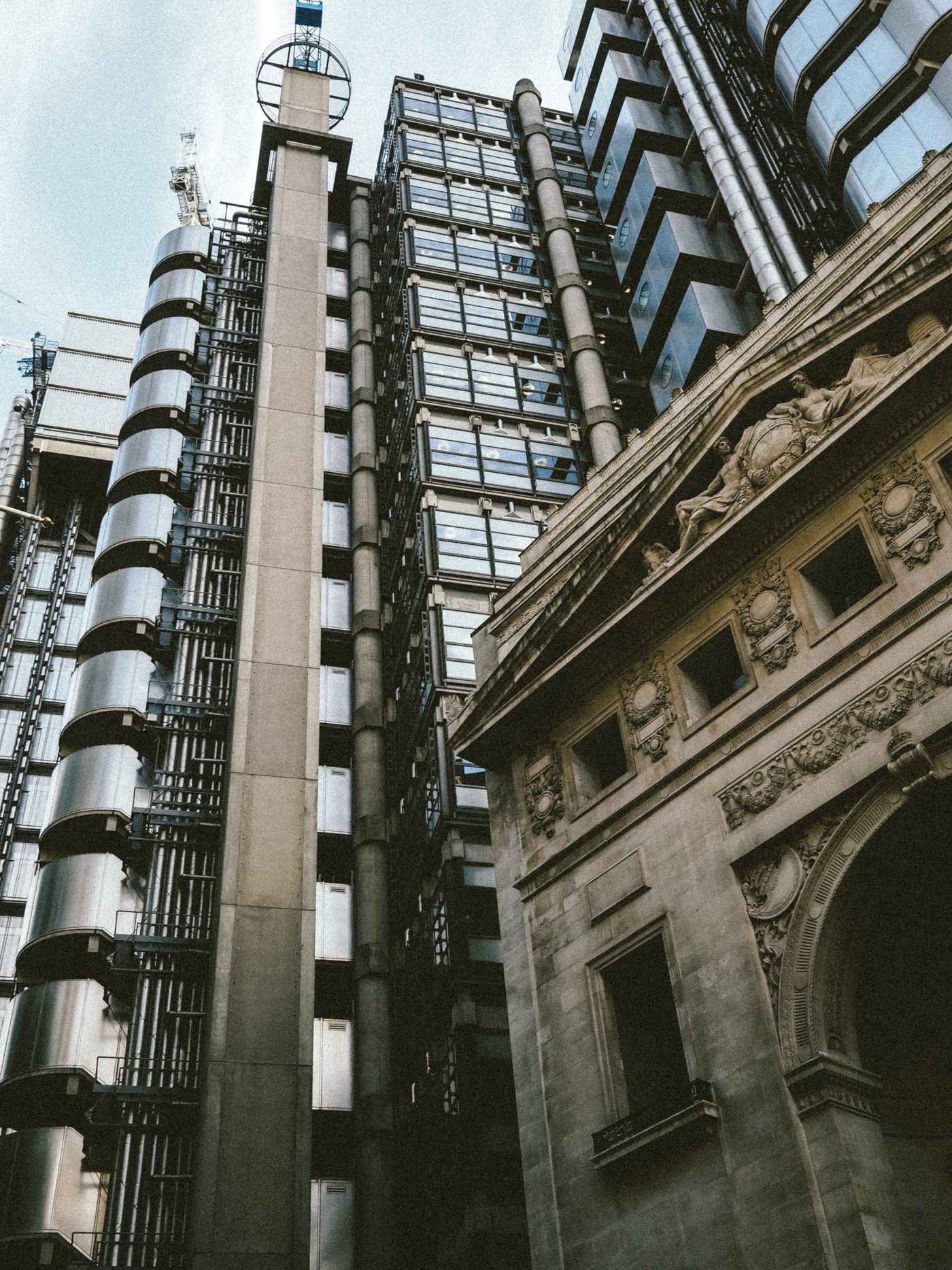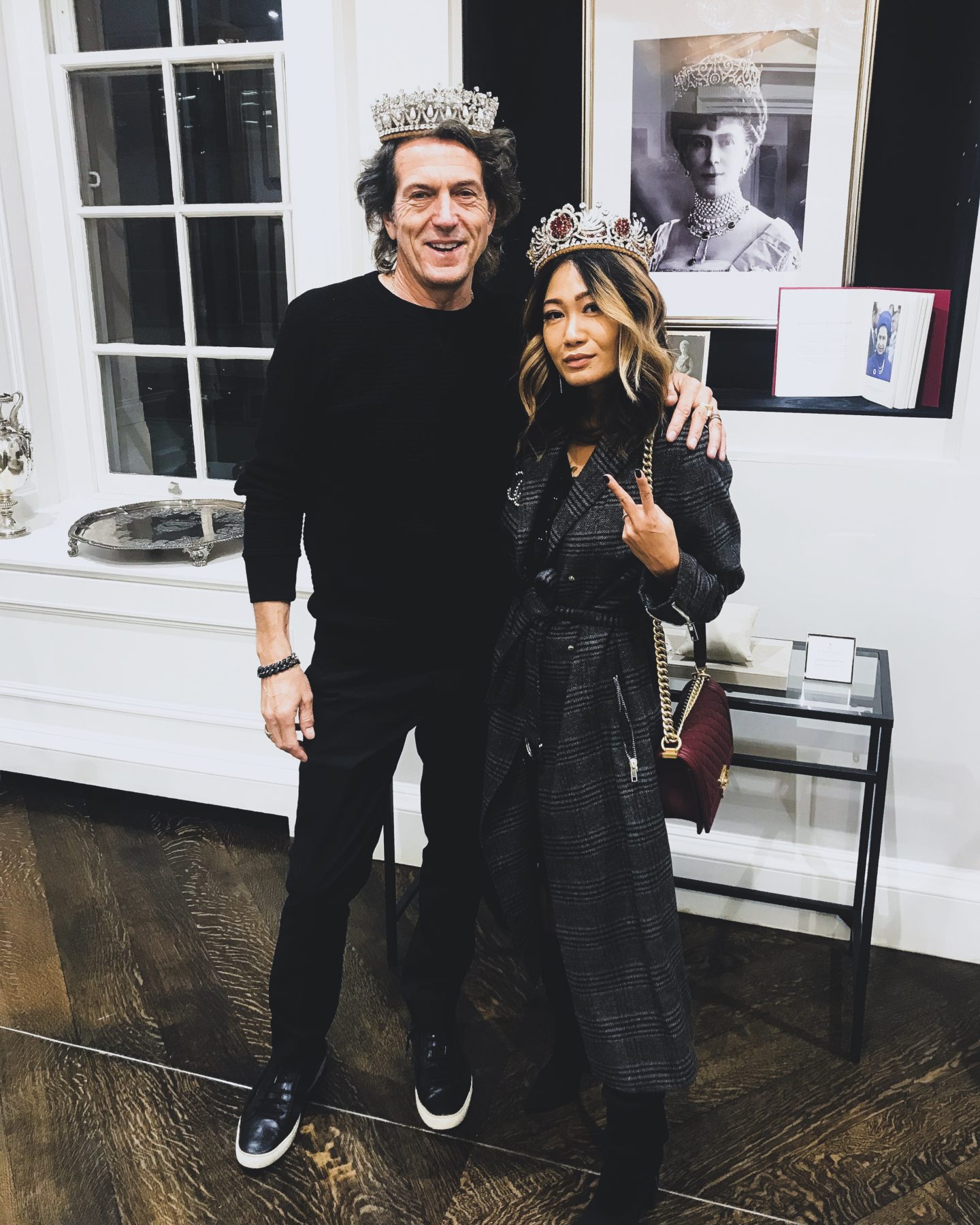 Probably the highlight of my trip right here.  Ah… Mr. Stephen Webster… you really are a gaddamn rockstar.  I met Stephen a week or so prior to this London trip in Chicago thanks to the Razny family.  Again, funny little universe.  We had a great chat in Chicago and he told me to come visit him when I got to London.  So visit him I did.  I was adamant about visiting his studio/workshop rather than his store.  I really wanted to see the behind the scenes.  And like a true badass, he had me come to his workshop the minute he landed back to London from his trip to Moscow.  With my new friend Jamie, whom I also met on this trip and became my instant friend, we visited his workshop and got an exclusive peek at Stephen's upcoming collection.  You can see clips of my experience below.  The most amazing part was being inside this room.  Stephen shares this building with one of the oldest jewelers in the UK, Garrard, because Stephen spent some time as the creative director of the company.  Garrard is known for being the official British Royal jeweler for 166 years.  Meaning they made the crowns you guys!  THE ROYAL CROWNS!  Well pretty much anything the royals wanted made, they made.
I am standing here with Stephen in Garrard's flagship boutique in Mayfair, London and has been the home of Garrard since 1911.  This very room was where the fitting of Queen Mary's consort crown was held which is why this room is called the Queen Mary room.  I am wearing a replica of the Burmese Ruby Tiara.  I gotta say, it matches my outfit pretty well.  Check out these pics of the queen wearing the real thing HERE.  An unforgettable experience indeed.  But it didn't stop there.
---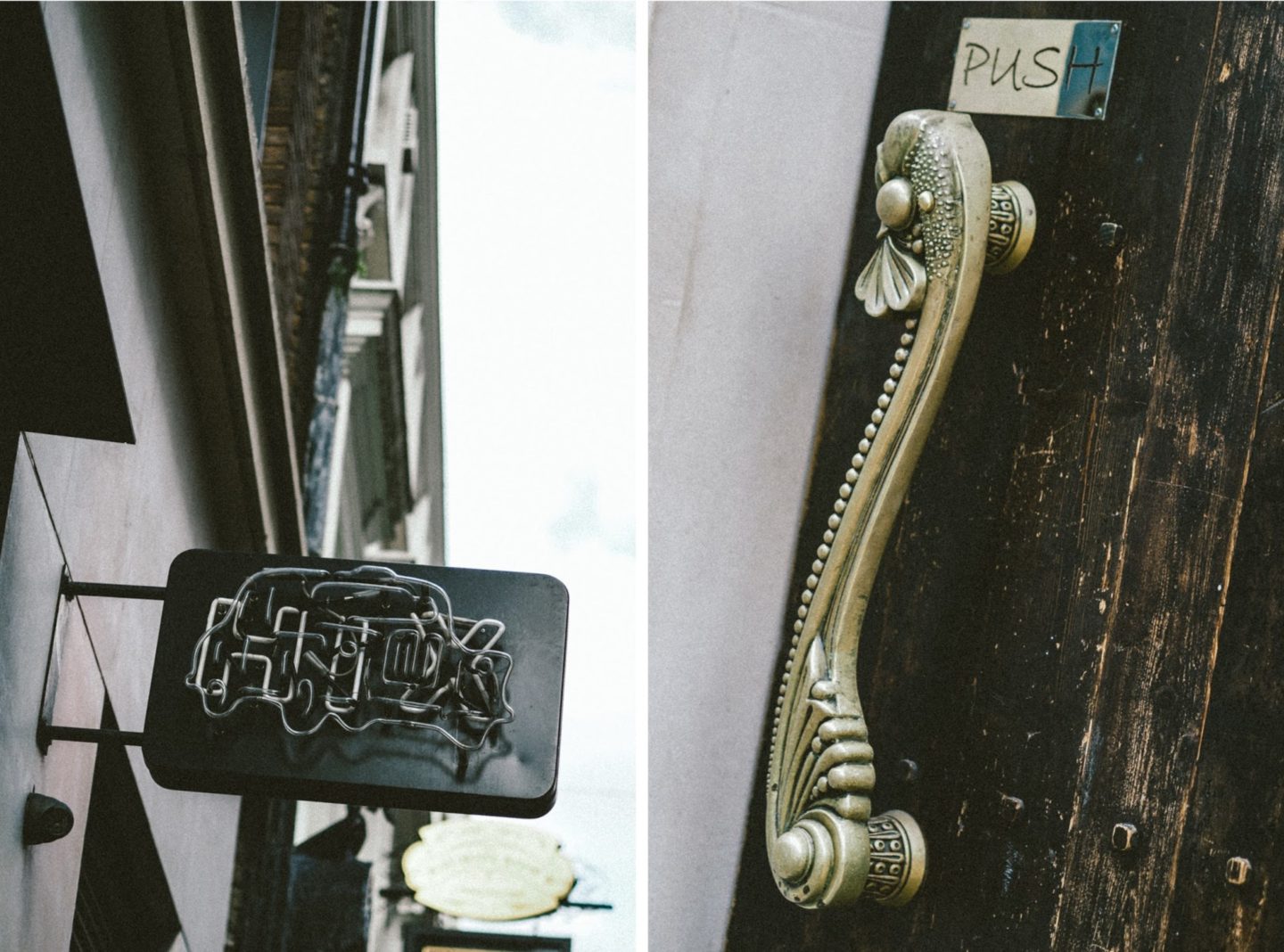 After chillin in his office and having some coffee and hearing him pick apart designs of jewelry boxes… and after him showing us his cock and bull knives… he took us to a restaurant in Soho called HIX with a dope as bar downstairs called Mark's bar.  All makes sense considering the owner is Mark Hix.  Why did Stephen decide to take us here?  Well for one… he made the damn shrimp shaped door handle.  Inside the restaurant, you can find a few other pieces that he made.  I won't tell you which ones they are so you will have to guess when you go.  Over cocktails, we laughed so hard over some of the most insane stories and experiences this man has had in his life.  We talked about his wife and kids.  We talked about what it means to be a responsible jeweler and leaving a community better than how you found it.  Getting to know him and seeing his work come to life gave me a much deeper appreciation for not only the designs, but the designer himself.  I will definitely be going back to visit his Mayfair store to play with some sparkly things.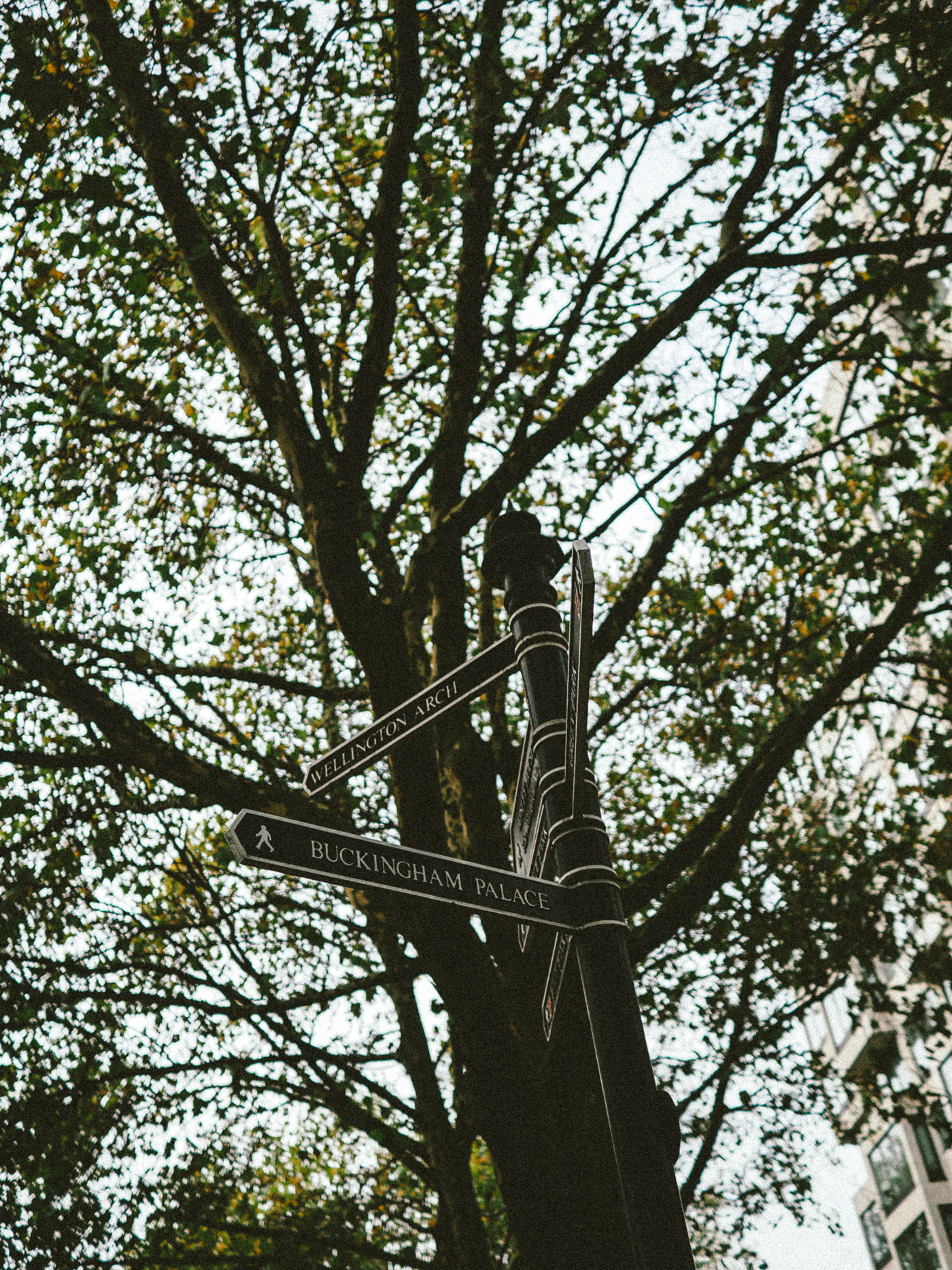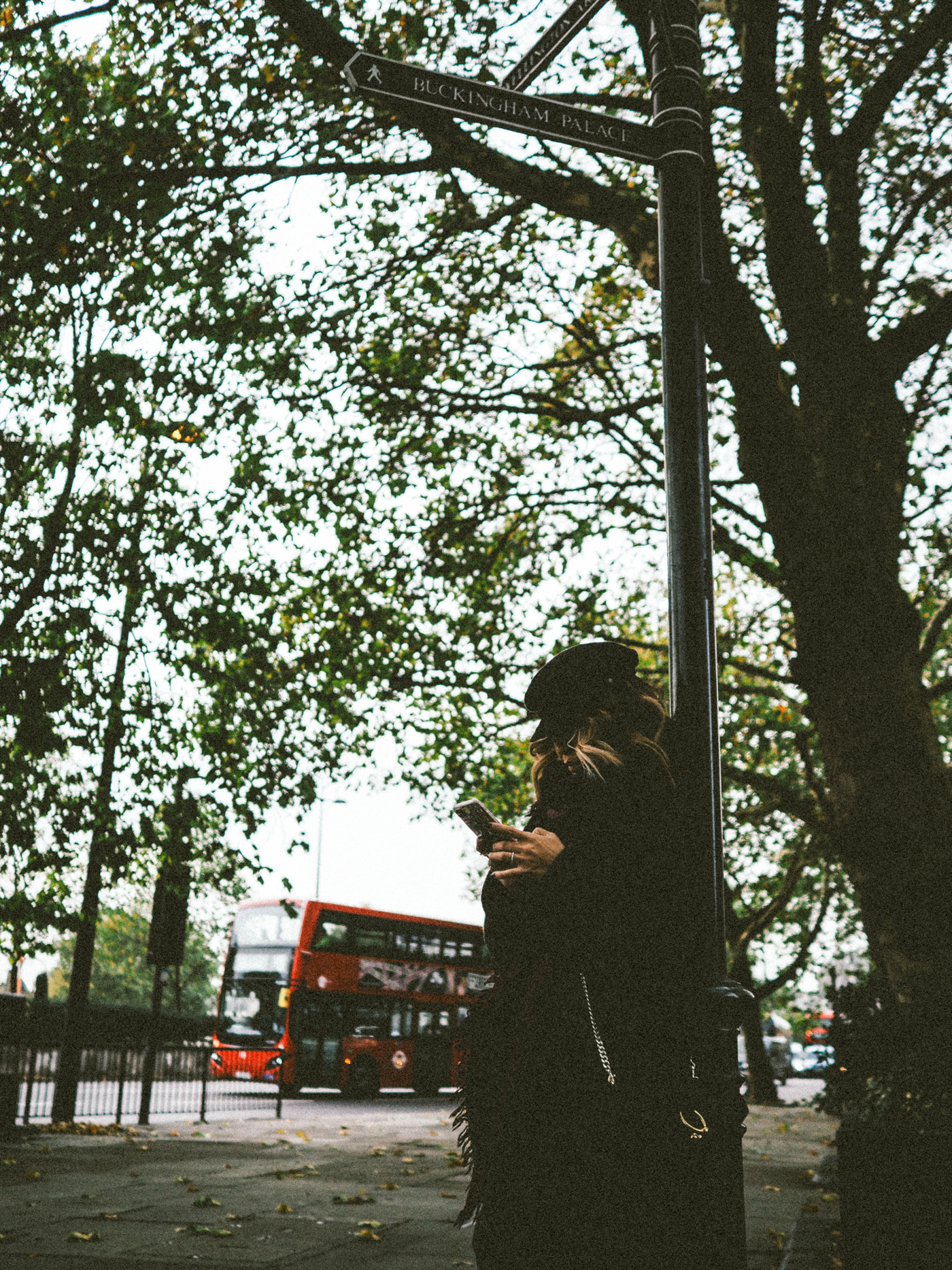 Well that ends volume I of my London photo diary.  I hope you guys enjoyed it!  The second volume will be less wordy.  Hahahaha.  I had to chop this up into two because of all the photos I took.  Stay tuned for more!