STREET ART + CROP TOP WITH DRAWSTRING PANTS
Hello friends!  Long time no post right?  I don't know if I really need to go into all the reasons or excuses as to why I haven't posted on the blog for a while since I'm hoping you all follow me on Instagram anyway.  A few things have happened career wise for me which has kept things pretty busy.  I moved to a new company, still doing corporate tax work, but with a new title as I was also promoted at my previous job **brushing off shoulder**.  So it's been an adjustment to be part of a new and larger team, saying goodbye to leadership that I adored, and navigating a larger more global corporate structure with new tax complexities of which I have yet to be exposed to.  ZzZzZzzZzZzz… Bored yet?  I also went on a couple big trips before my official start at the new gig.
First, I celebrated my 33rd (yes I said thirty third) birthday back in the motherland (Philippines) and saw my grandparents and family after over 20 years!  We were really there for my grandmother's 80th birthday where we all wore red by her request.  This is my Chinese side and when grammy asks for us to all wear red, we all wear red.  It was the only time in my life I googled "Chinese Red".  Apparently, that's a specific color and my Dad was strict on that.  Then his ass shows up with a MAROON shirt.  WTF.  I got to see all my, and what seemed to be an endless stream of, cousins, aunts, uncles, second cousins, third cousins, someone I used to know or play with, some guy remotely related to me in some kind o' way… who all treated me like I was some sort of Kardashian.  It was fucking amazing!  Not to mention I got to stand in the exact spot where my parents met and where my dad laid his sweet sweet game on my momma.  I jumped off of waterfalls and rode on my cousin's motor bike all around Cebu.  I swam with whale sharks and ate as much tinola, lato, guso, and mangang hilaw with bagoong, that I could fit into myself before we had to leave.  That's right… I'm Filipina bitch!  Half Filipina, half Chinese in case you didn't catch all that.  It was an unforgettable trip and I can't wait to go back.  Needless to say it was a long overdue trip back home.  Oh and btw, I spent a cumulative of about 24 hours in Seoul, Korea on our layovers and lived out almost every Korean drama moment I've ever dreamed of.
I also went to Australia with one of my best girl friends to celebrate my new job.  It was a little dramatic as our plans were constantly being changed by cyclones, missing and/or cancelled flights, weather, and just overall randomness.  But I still had the best time with one of my favorite humans on the planet who is probably the most social media detached person I know.  I mean she literally uses MY Facebook account twice a year to see what our friends have been up to.   I also spent some time in LA with my other bestie just for fun and sun and really soak up the last bits of my 'FUNemployment'.
Overall, things were busy, I was all over the place, and to be honest, nothing was really getting me creatively sparked to want to do a blog post.  It was easy enough to just post up content on Instagram to keep things alive and everyone updated on my life, but the blog got little love as I felt pretty uninspired with everything else going on.  I had been sharing so much 'on the go' moments, especially after Instagram stories came out, that by the time I got to thinking about a blog post, everything felt stale and meh.  I have so many photos from past shoots just lying around that I'm sure the hubs is thinking, "Sigh….thiiiiiis biiiiitch…..".  Not to mention seeing all the spam comments stuck in my comment approval box.  FML.
I really needed something to get me feeling creatively inspired again to want to post up content here.  Aside from the fashion, I am also pretty into photography.  Or should I say cool photos of myself.  LOL.  As a blogger, that's kind of a given.  But I wanted to have fun again with the photography.  Play with angles, and really try to get some, not only fashionable, but also captivating shots.  It has also been hard because the hubby has been so busy himself lately.  I have to share him with others as he books up shoots often during his free time.  So us finding that perfect moment when we are both equally inspired to shoot dope shit at the SAME TIME, and I'm actually looking good or feeling my outfit, is like trying to shoot an arrow through a keyhole.
It took one hell of a backdrop to spark such a moment.  Armed with a little Tekstiles flare on the camera trigger, a perfect summer day with lighting conditions you pray for, and a whole lot of sassy street art by my girl Jas of Chicago and Solomon Souza, here is a fresh new set of photos I am proud to display here on Drunk On Shoes.  I hope you guys enjoy the imagery as much as the outfit.  The hubby and I really put in the time and effort to push ourselves into getting photos that get us excited while displaying a side of Chicago you may not be that familiar with.  And GOD I love this side of Chicago, the decrepit abandoned buildings, the broken glass and raw spaces, and the epic street art.  If you are interested in seeing this masterpiece, just take a stroll around Sangamon and Kinzie.  It's hard to miss.  I love Jasmine's work.  It is everything I feel about being a woman.  Powerful, sexy, and unapologetic.  Please check her out as she is a star on the rise!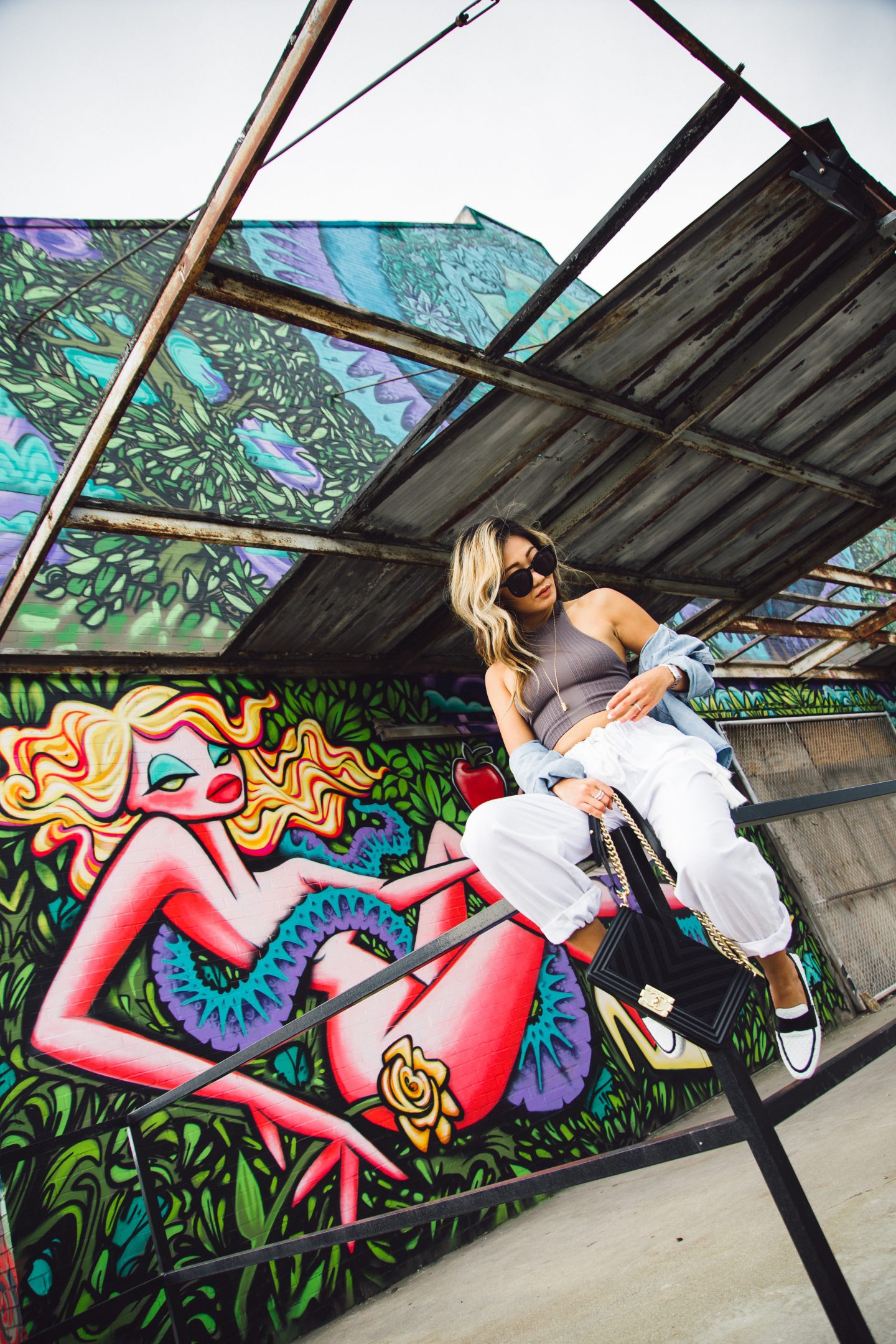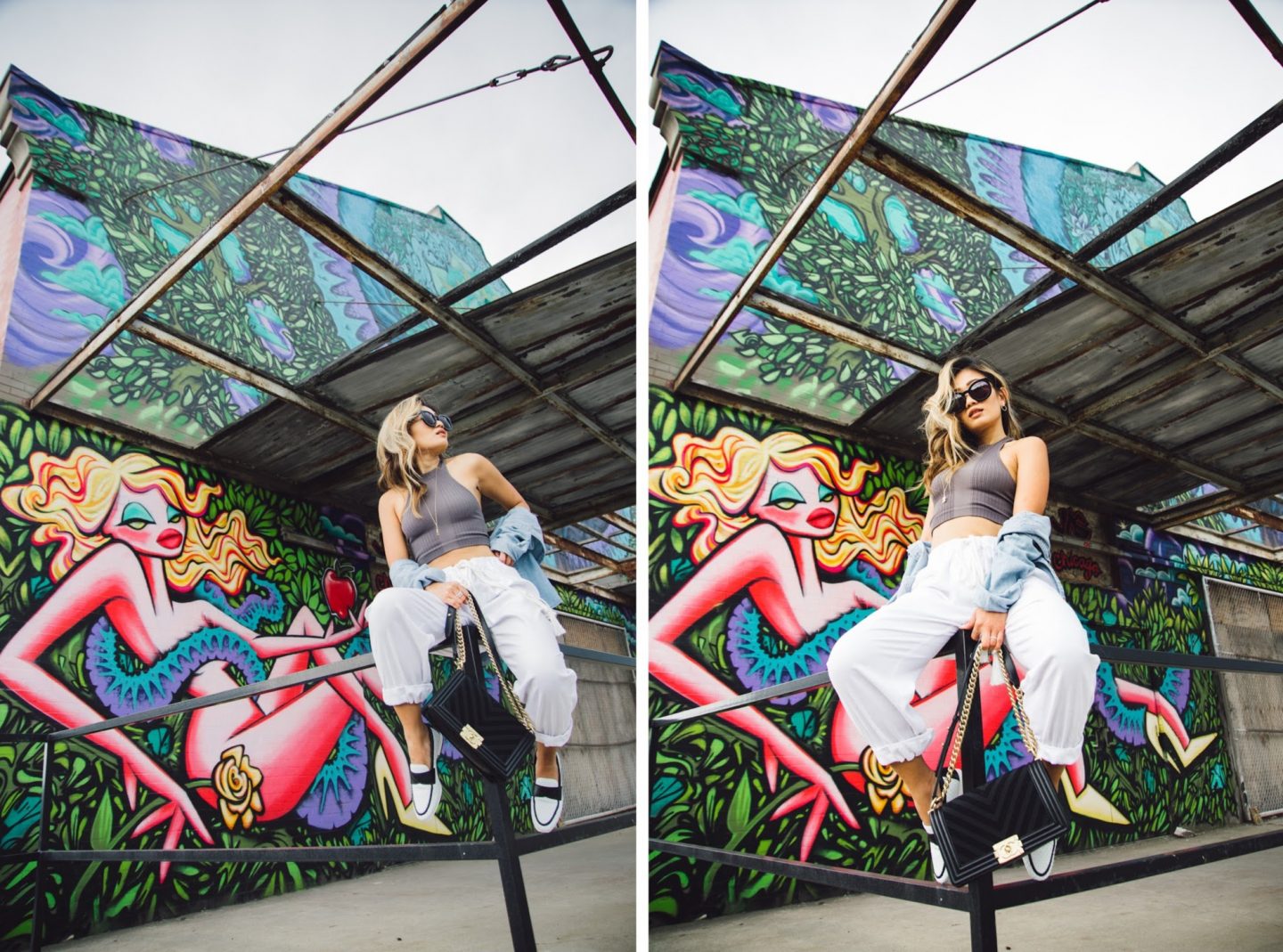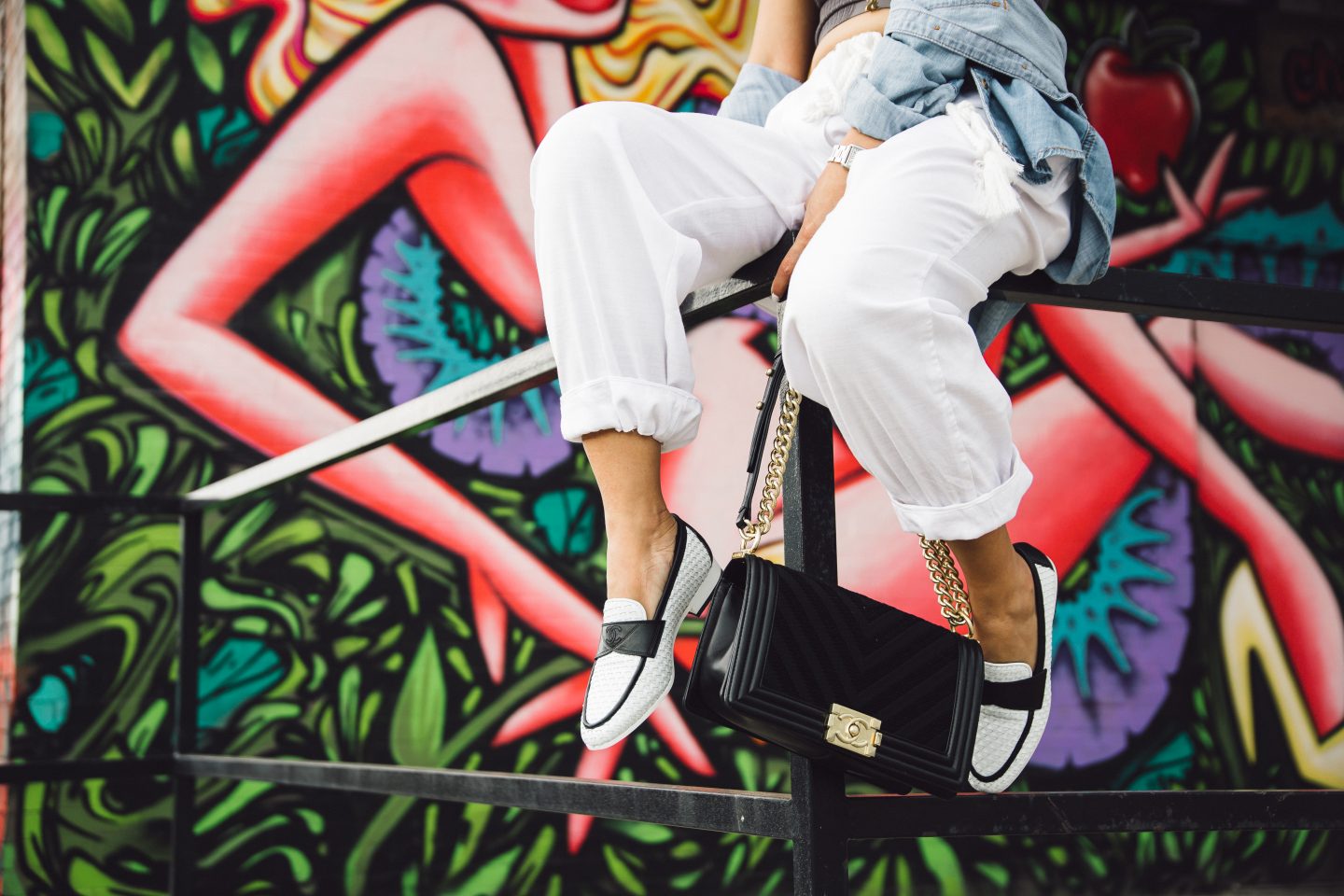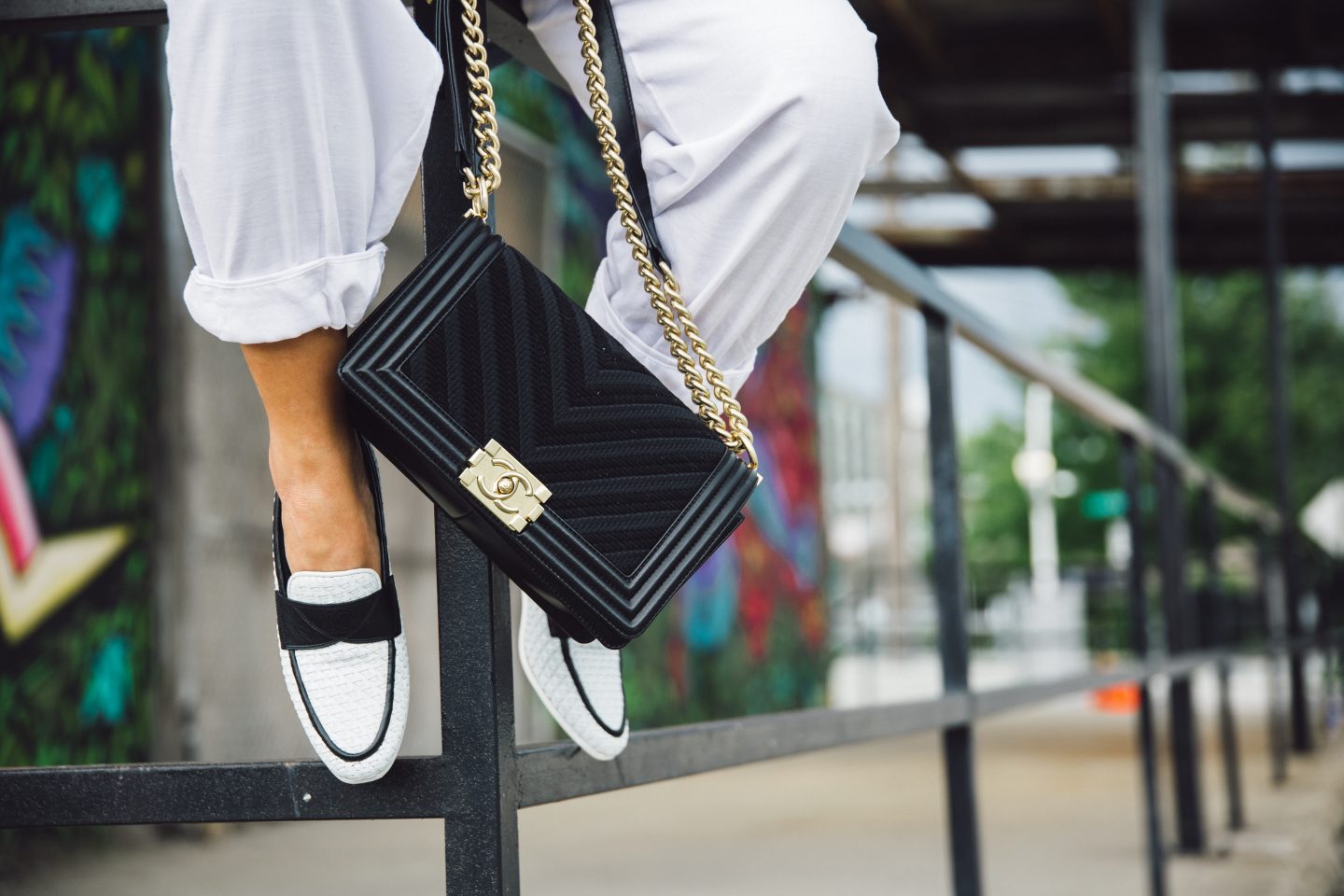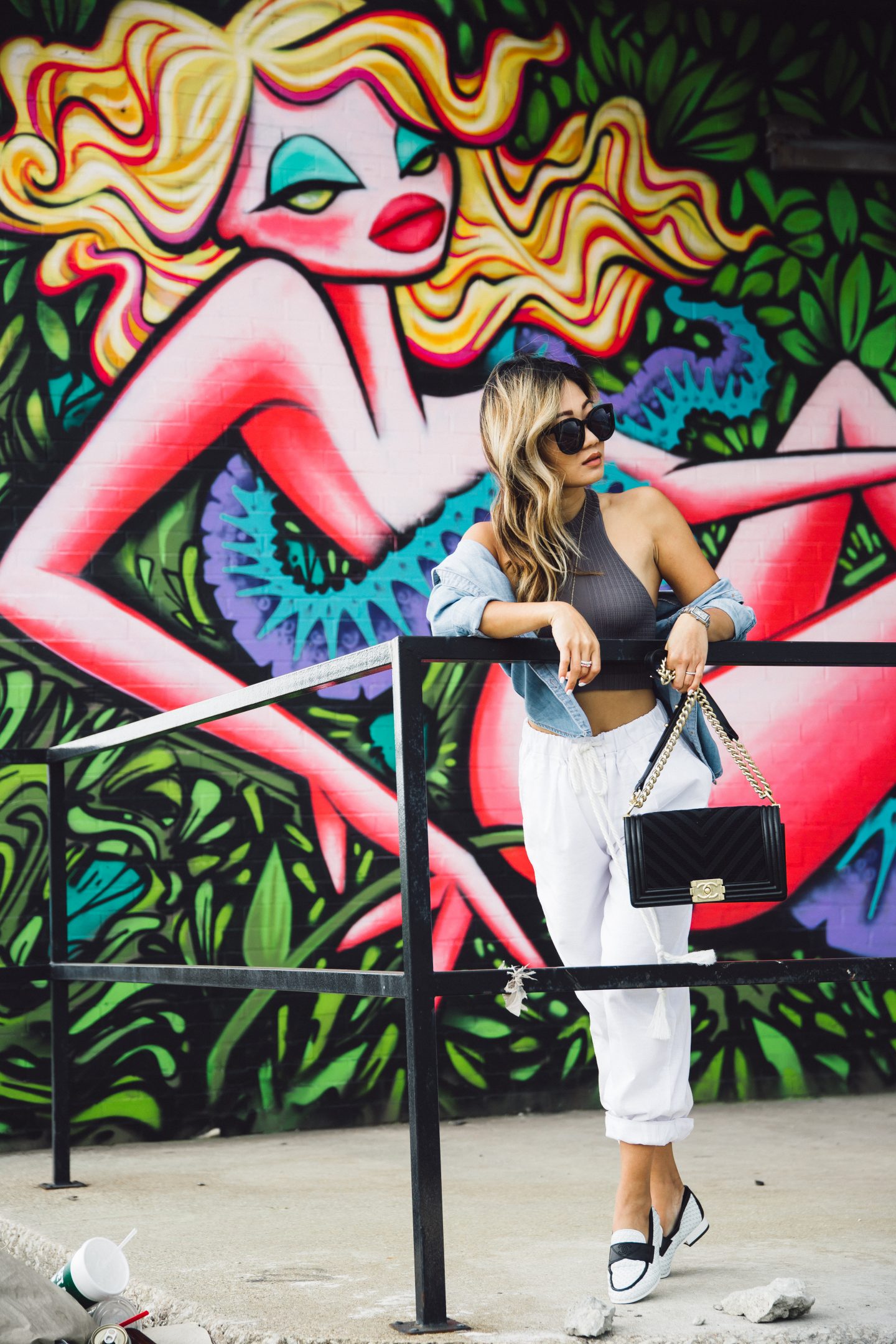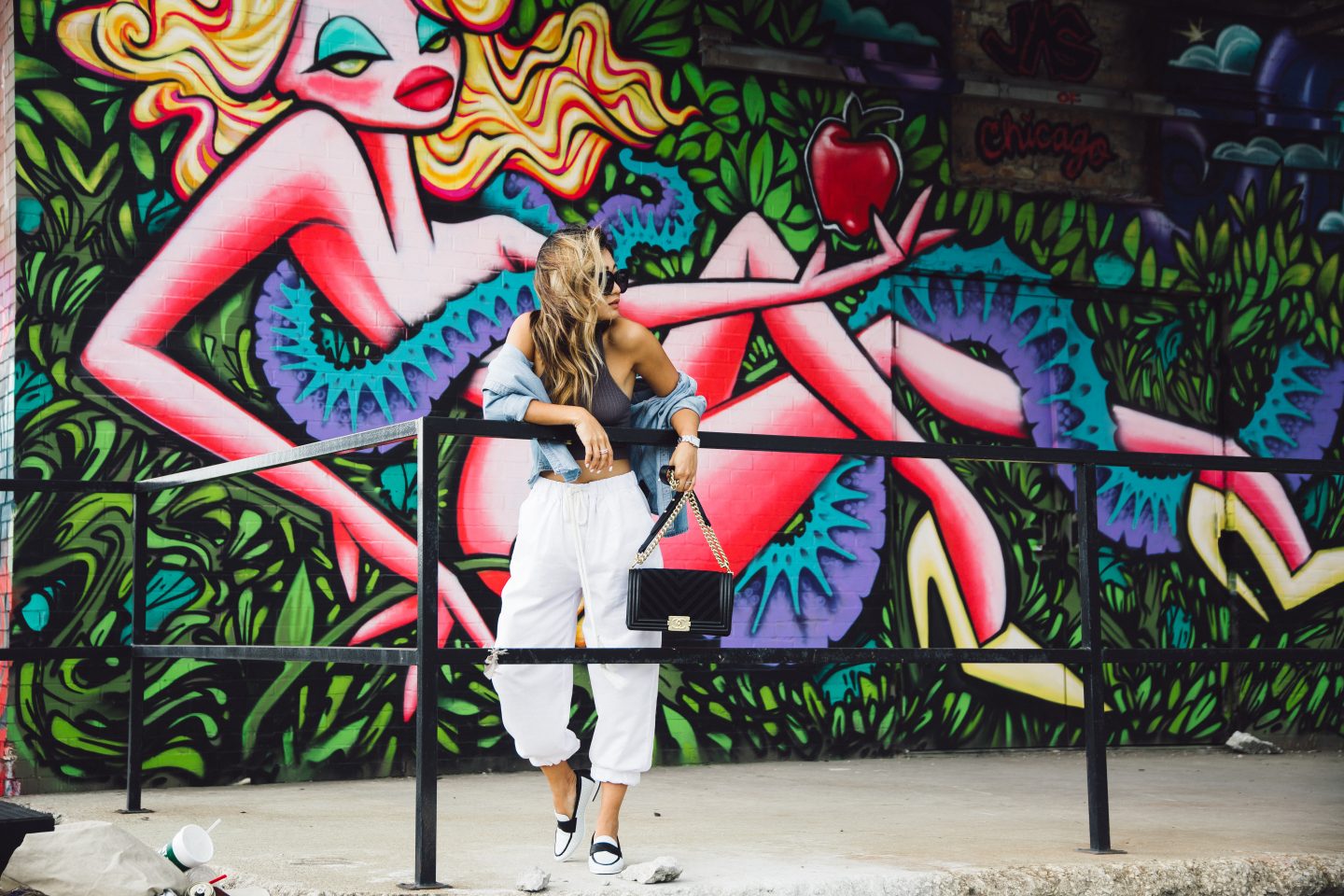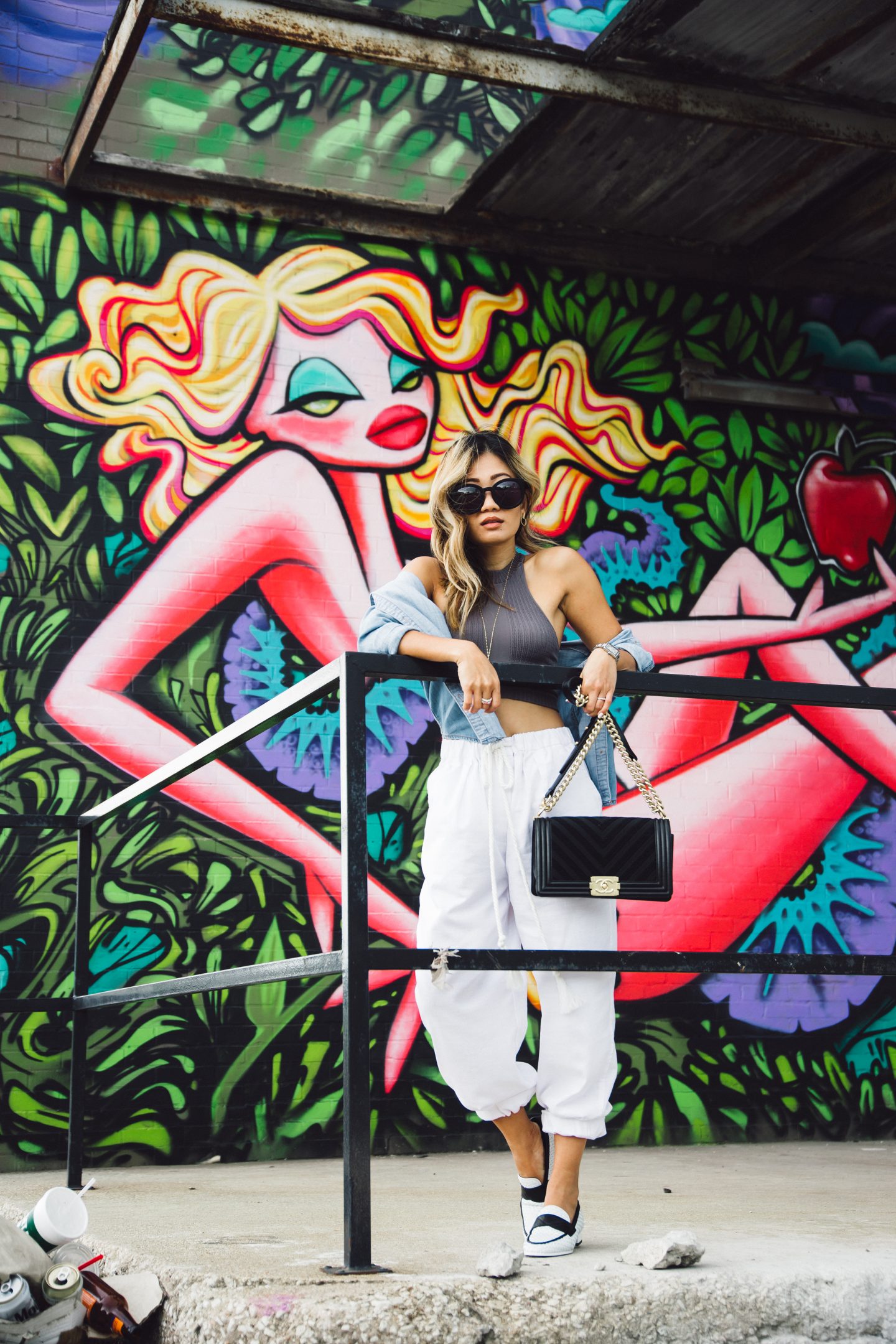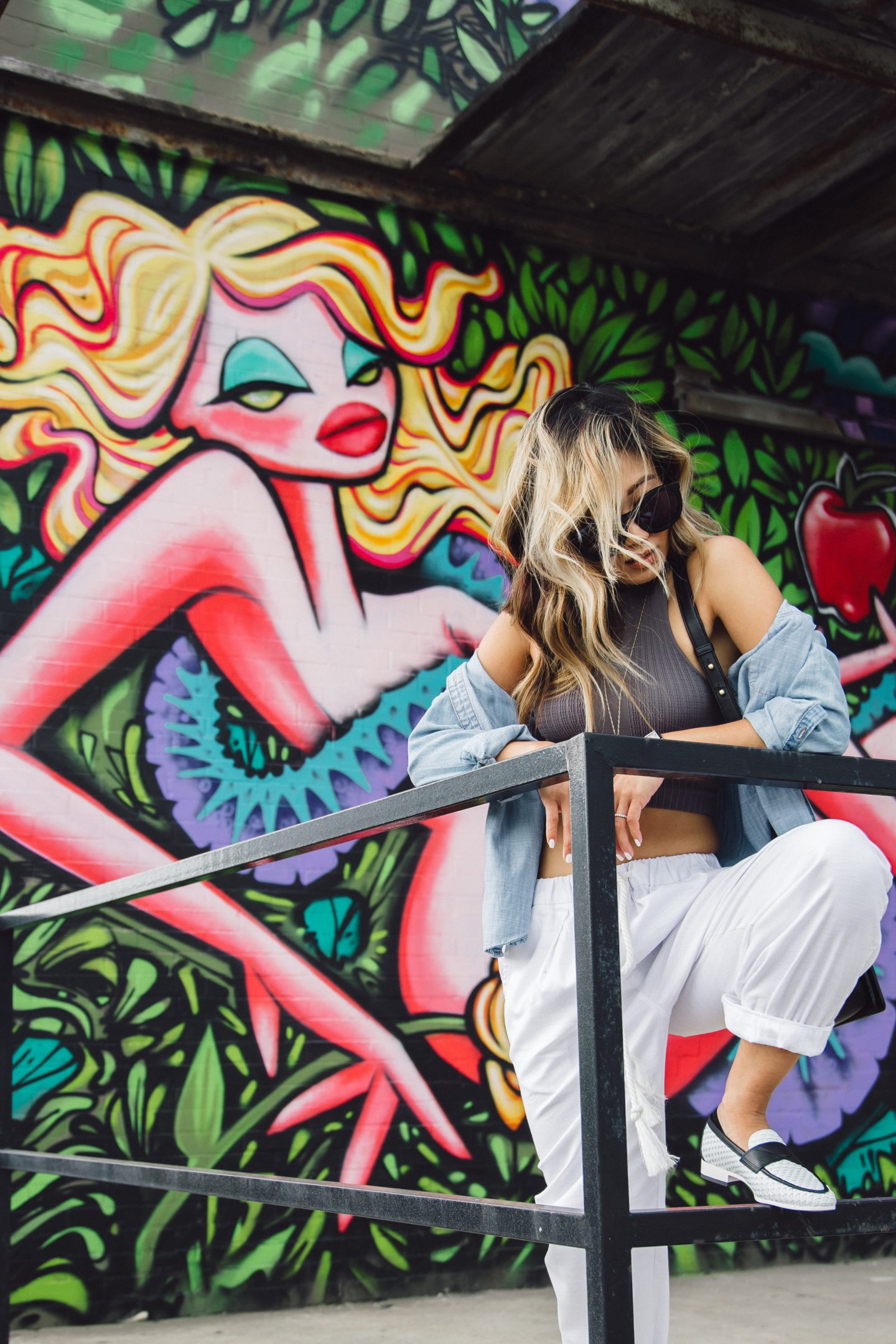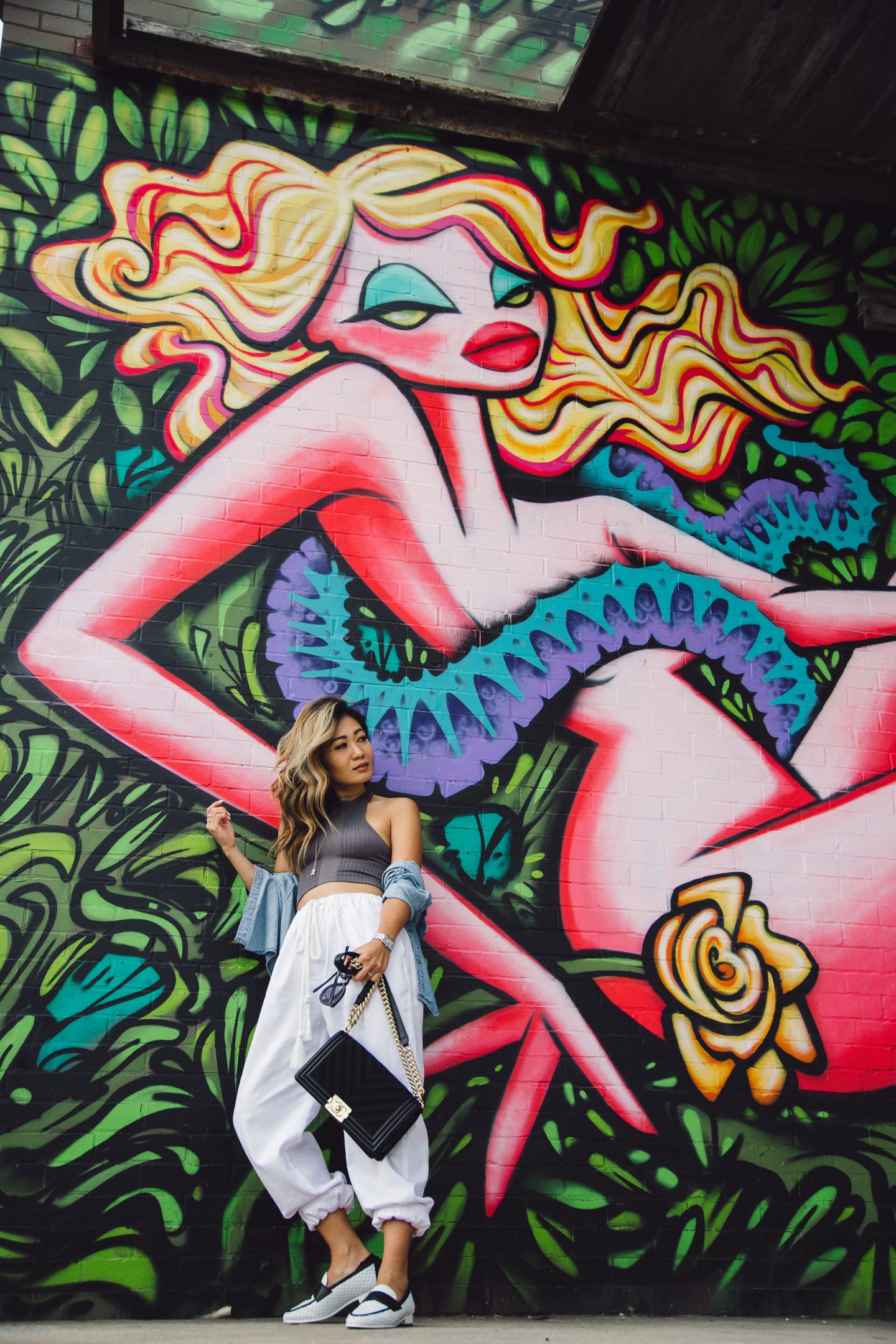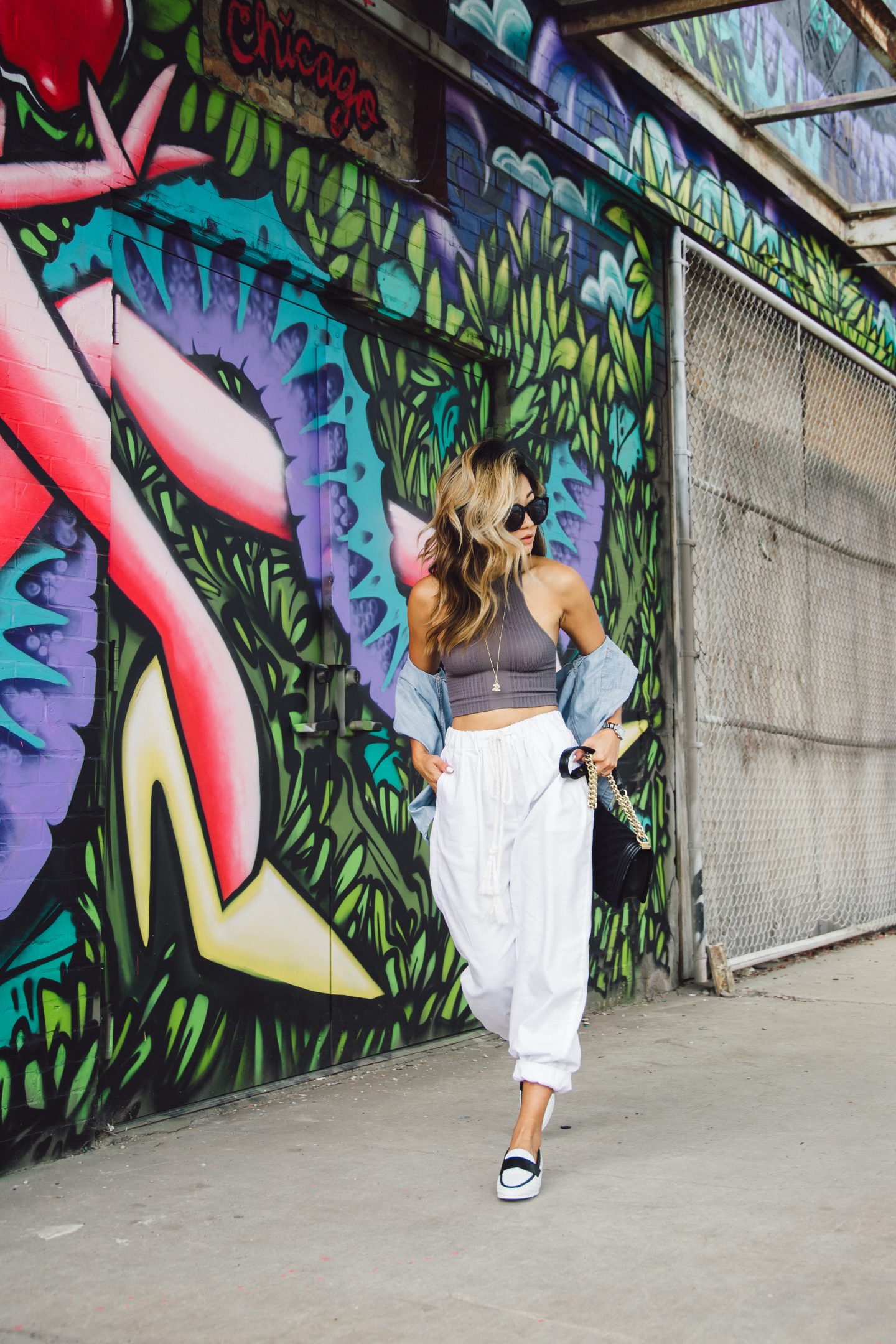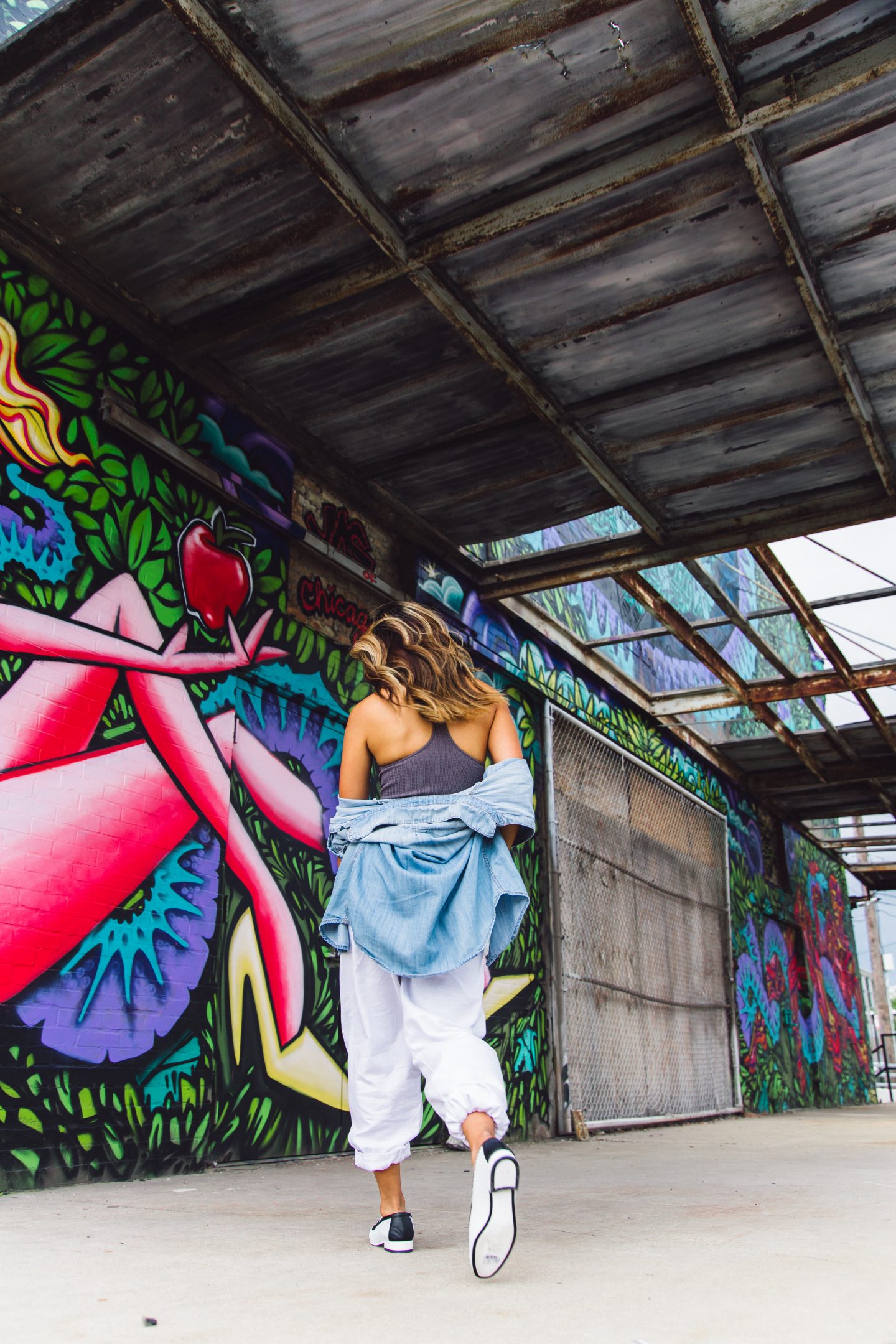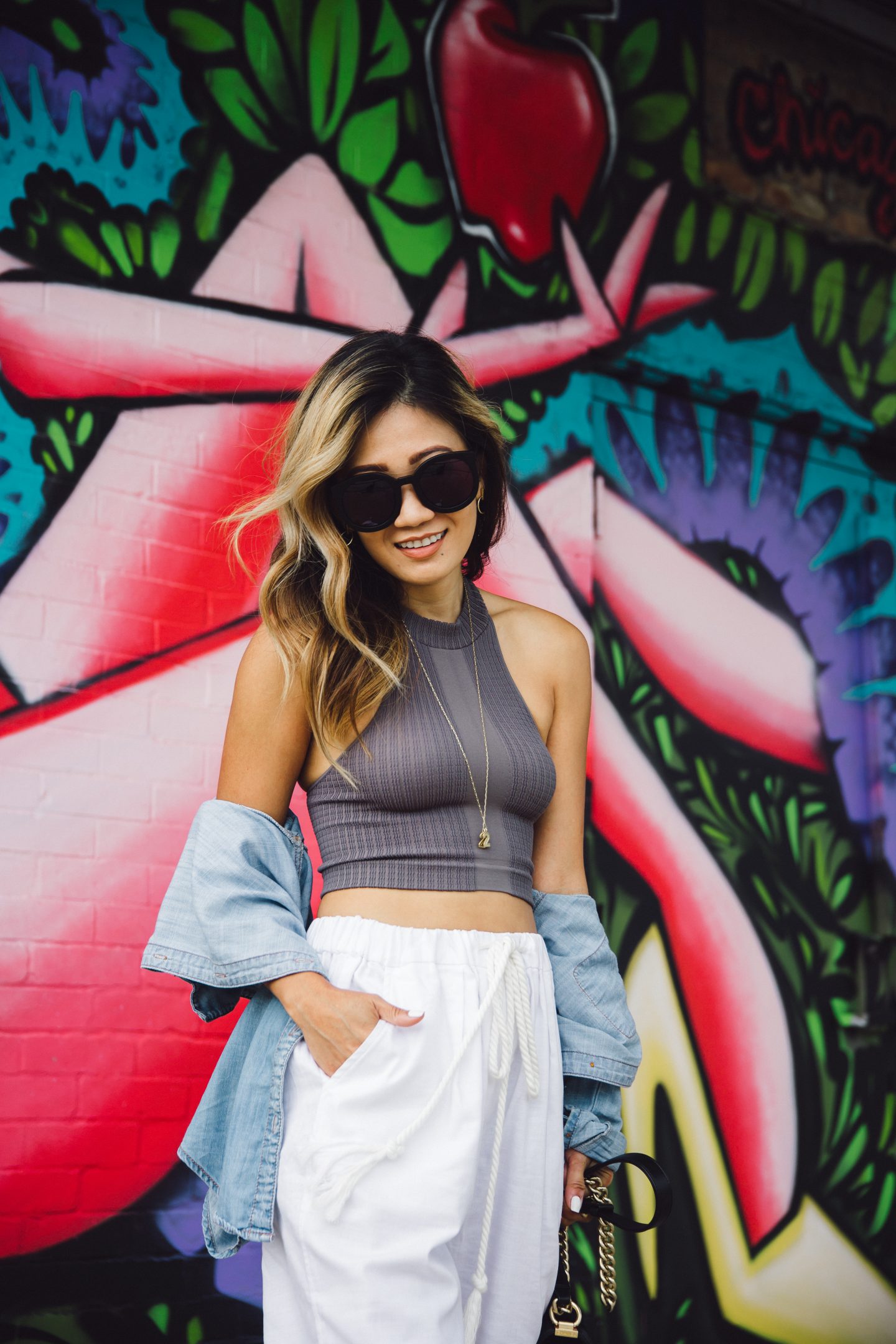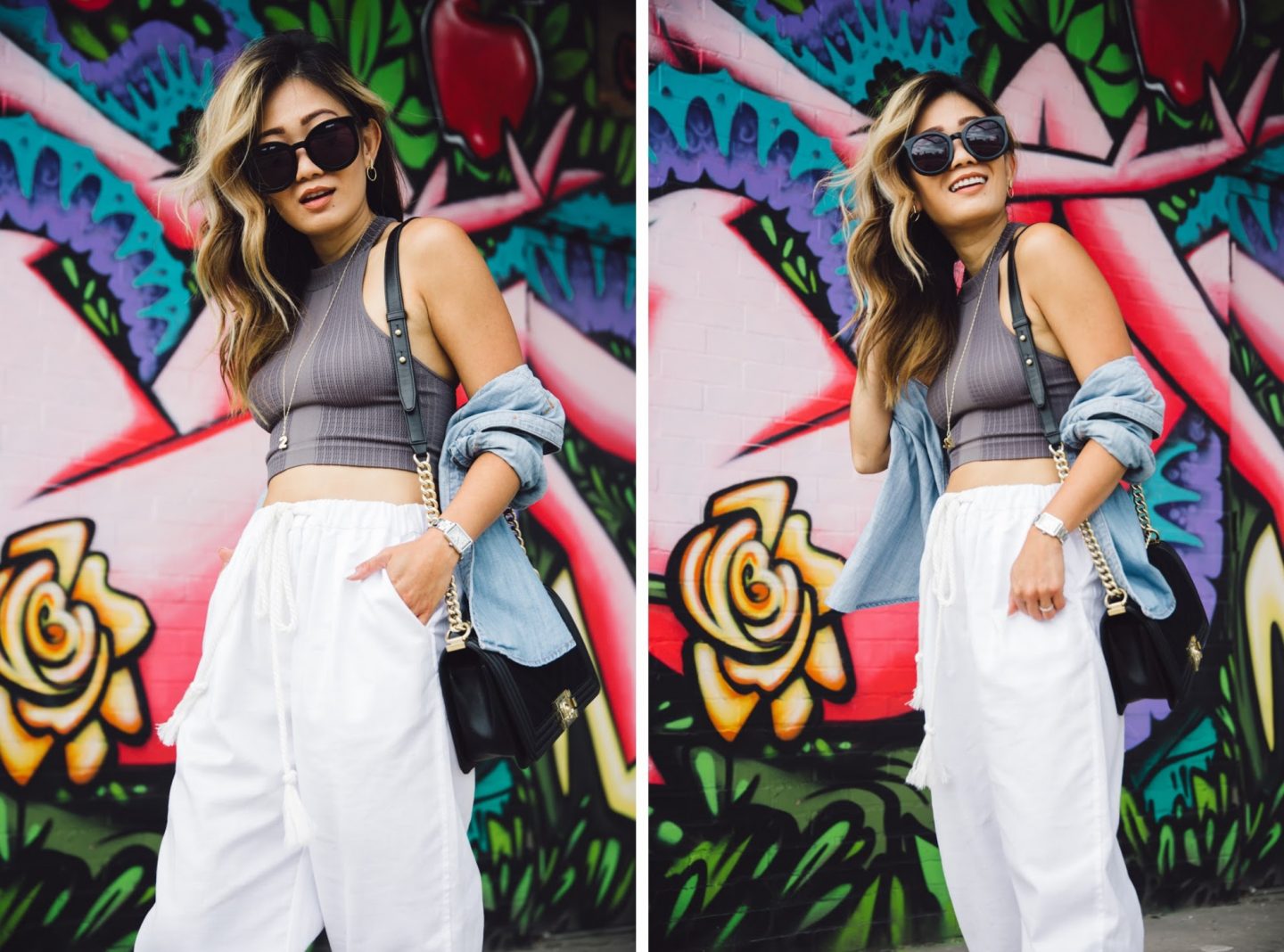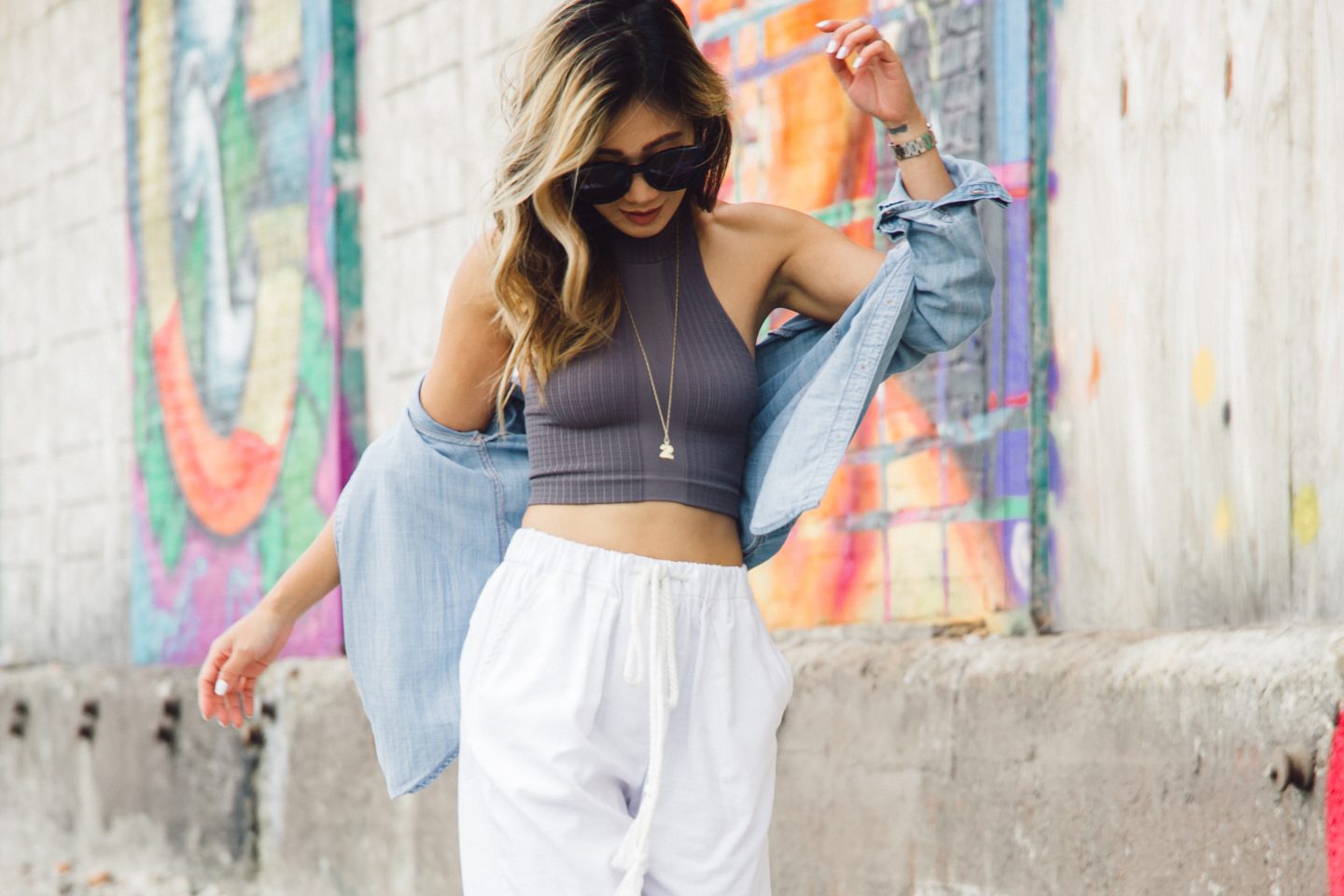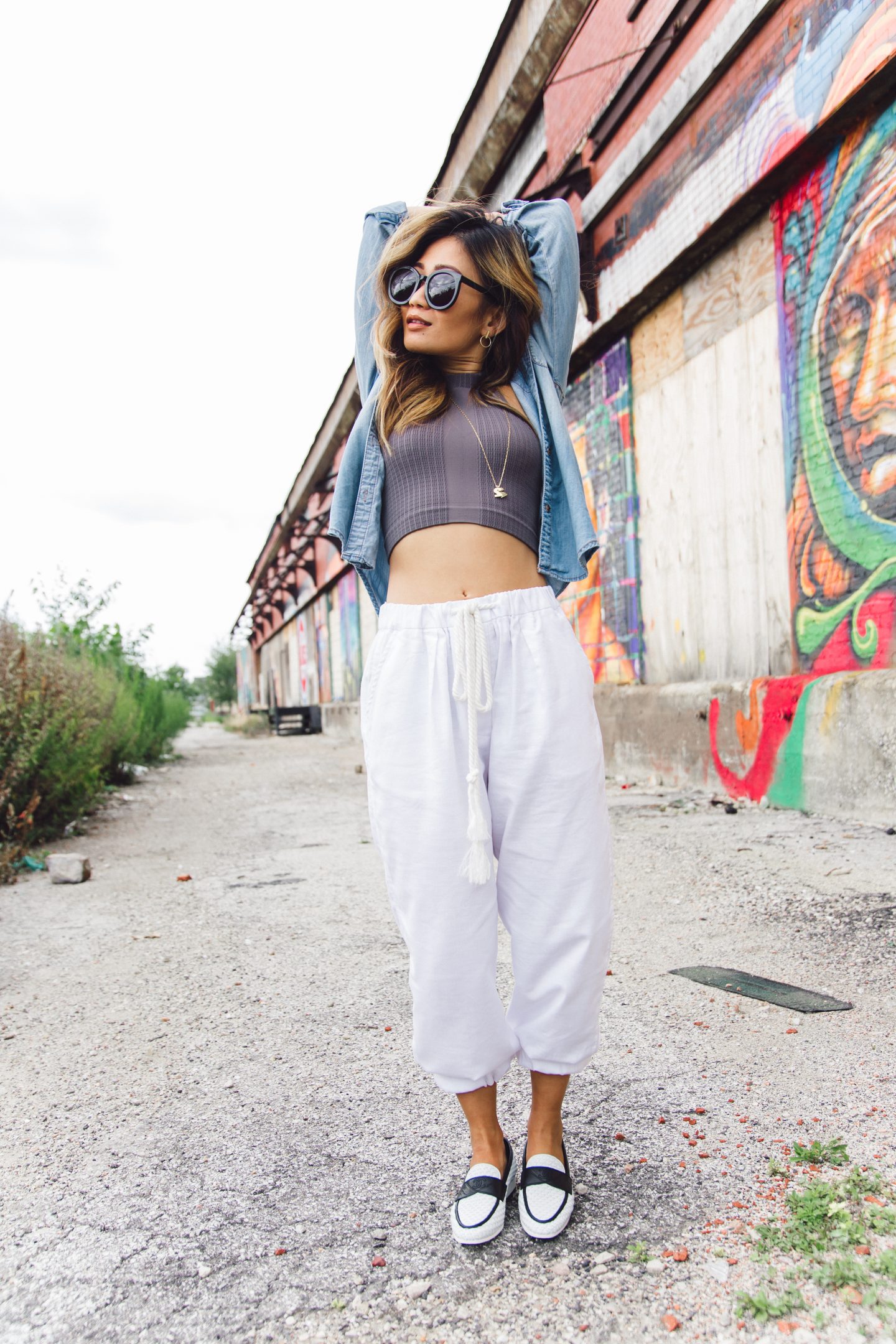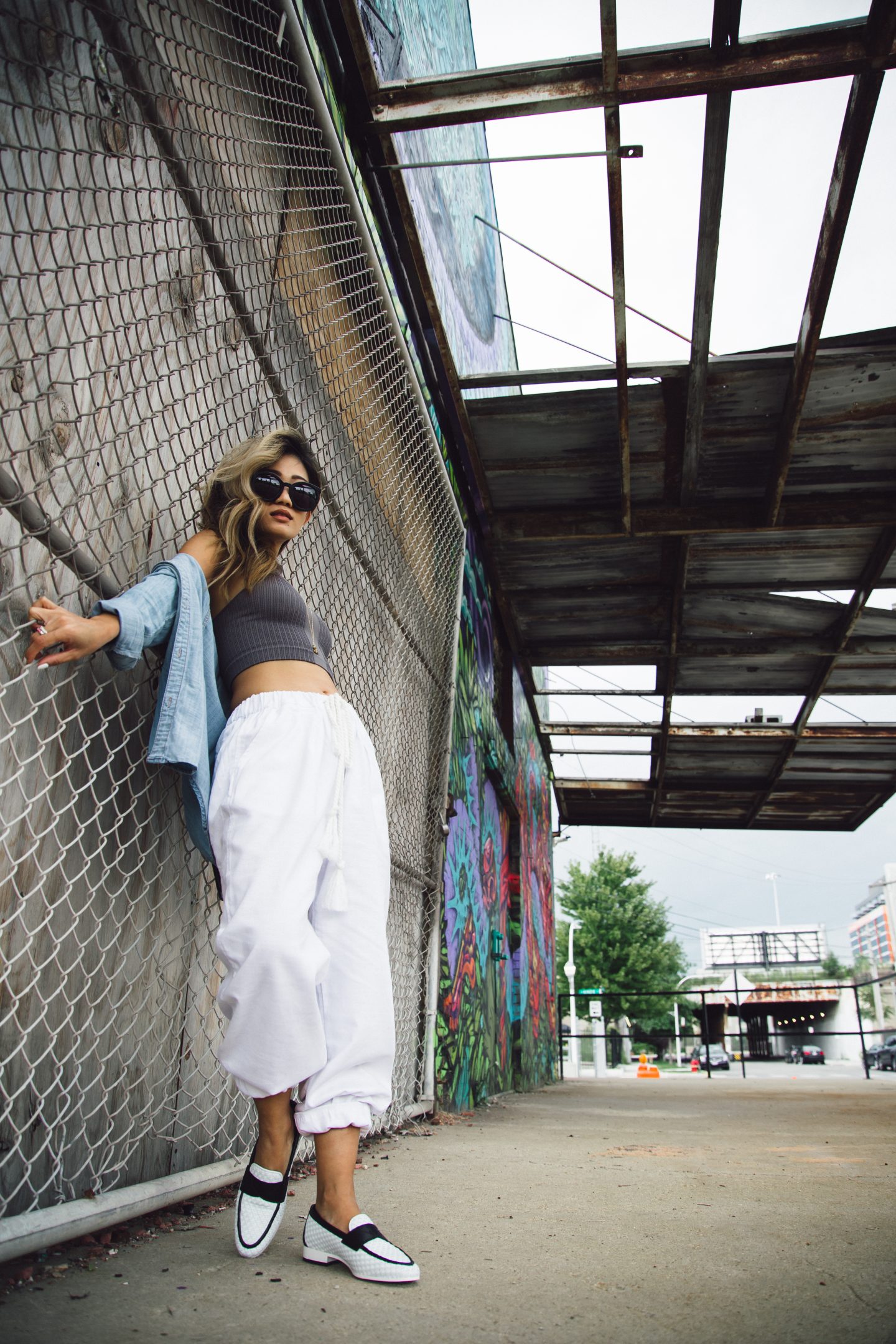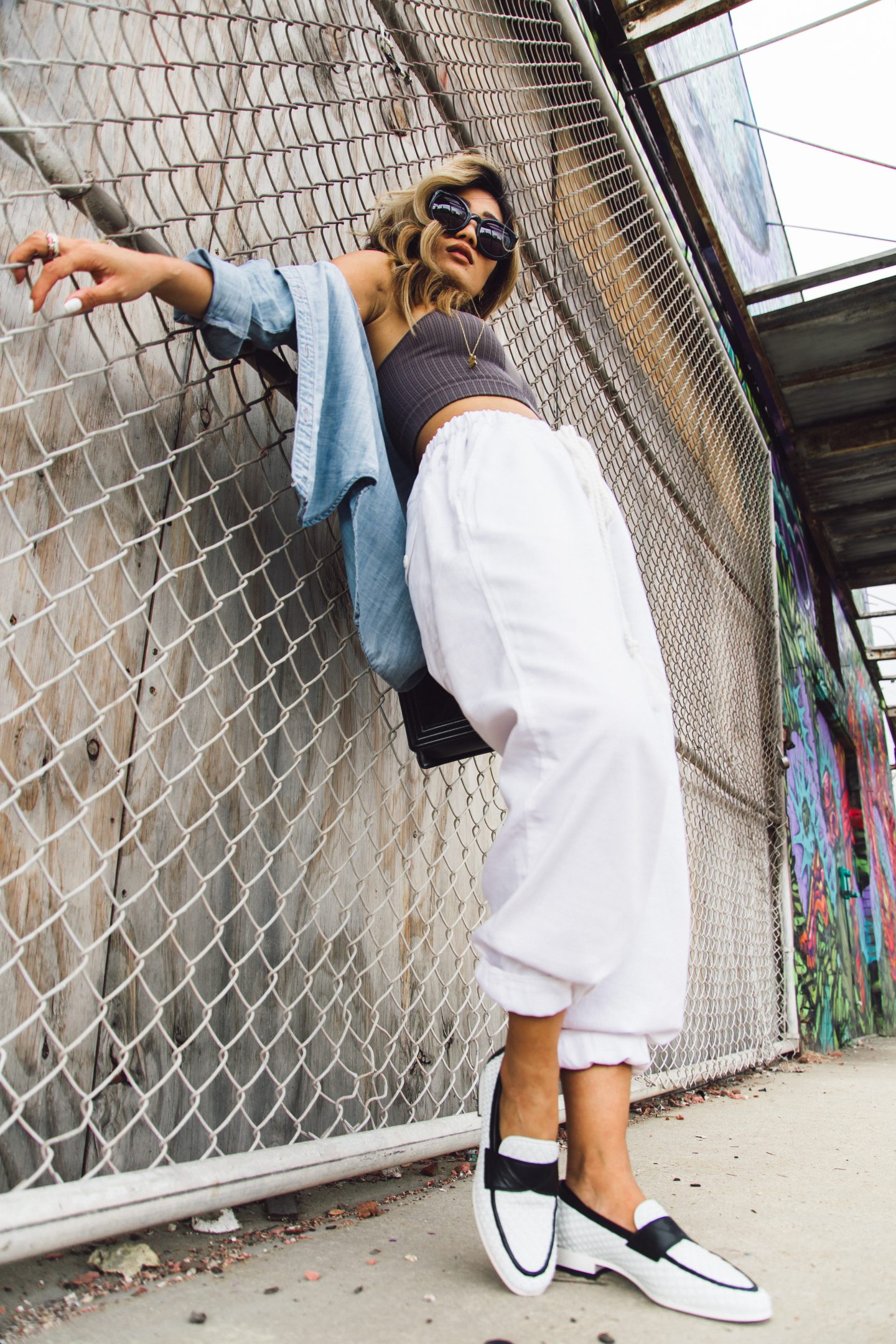 Aw f*ck, I forgot to talk about the outfit.  Geez, it really HAS been a while.  So if you haven't noticed on my IG, I've been doing some fun stuff with Nike Chicago and am proud to say I am a founding member of the Nike Air Society here.  Don't worry, I'll talk more in depth about that once I get a post all together in my head and on WordPress.  Still oiling these old squeaky gears and dusting off the backend shit on the blog.  Anyhoo, working with Nike so much has left me pretty into comfort above anything else.  You go to one too many Nike parties in sneakers and you forget how to wear heels.  I also got to a point where I was living all my free time in Nike sports bras.  Not actually working out though.  Just wearing it around and out pushing the boundaries of where it is acceptable to show up in a sports bra.  So this day, I decided it was time to wash all my Nike gear but I still wanted to keep that sporty comfort alive.  Hench the crop top and drawstring pants.  The chambray shirt was in case I got cold while I was out.  And because I love me a high/low look, I threw on some Chanel on my feet and on my shoulder.  It's a simple enough look and a great marriage of comfort and style.
As always thanks for stopping by!  Can't promise when the next post will be, but hopefully it's good and you at least enjoyed this one enough to keep you interested in my work!  Love to love to love ya!
---
SHOP THE POST