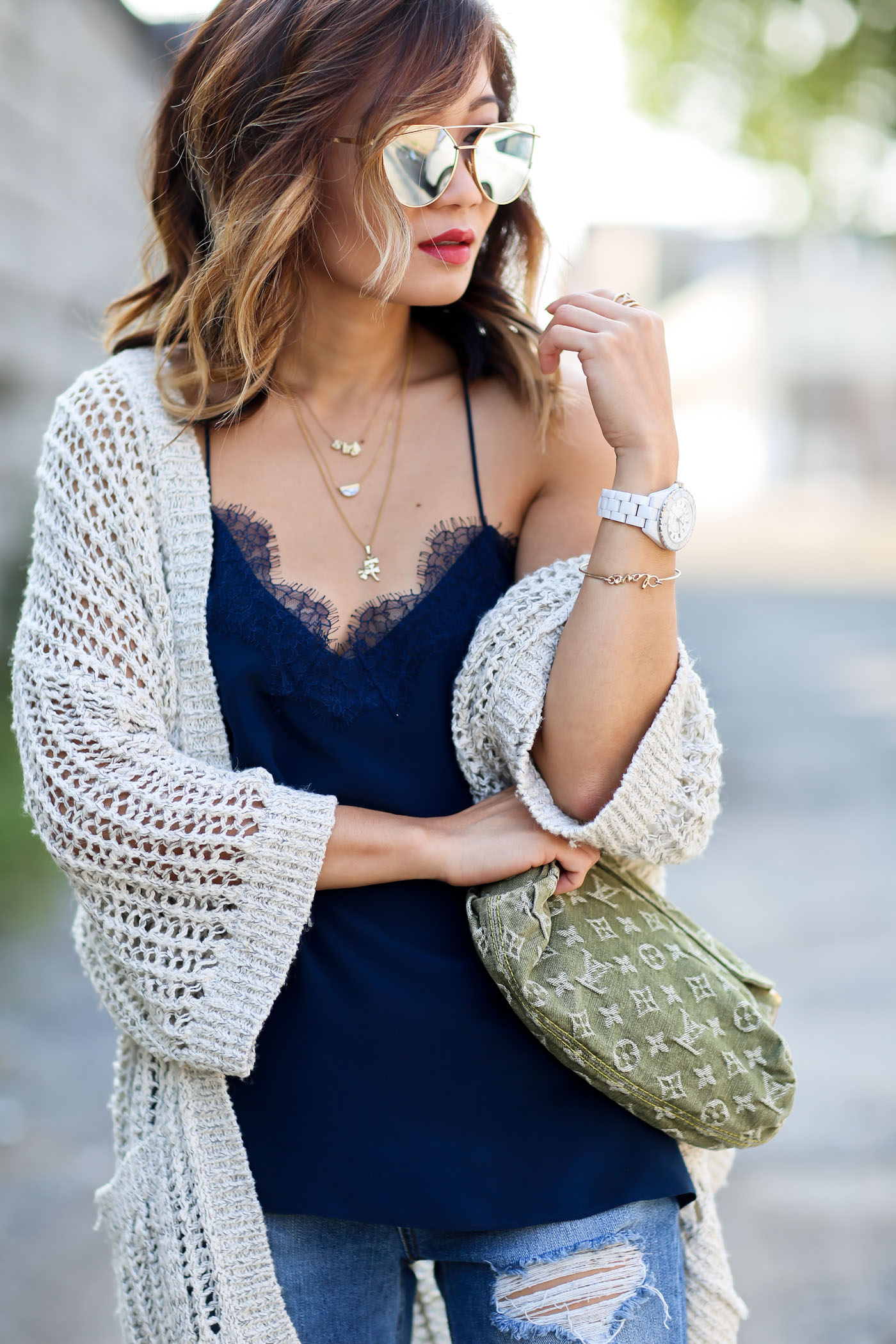 CASUAL LACE CAMI + RIPPED DENIM
I am so excited about sharing this 'Part 1' of a 3 Part series Lace Cami post with you guys!  I love my basics as much as the next girl, but I tend to look for basics with something a little different.  A little beauty mark.  And we all know my love affair with lace.  For me, this was a 'let's stay comfy' day.  Let's be honest, those are the best days.  This was a fun Saturday.  My hubs and I were hanging out all day and night, hopping around from one thing to the next, and I needed something that could go from daytime to dinner to the club fairly easily.  I decided to wear this Navy Lace Cami by Cami NYC with a long knit cardigan, and ohhhh so comfy boyfriend jeans (another essential)!  I am also rocking my current favorite mirrored sunnies, layered rings and necklaces, my old school LV green denim bag, and nude patent ankle strap heels.  This look is easy to re-create through items that you most likely already own. If not, as always, I have listed a few items  at the end of the blog post that will help you do the trick.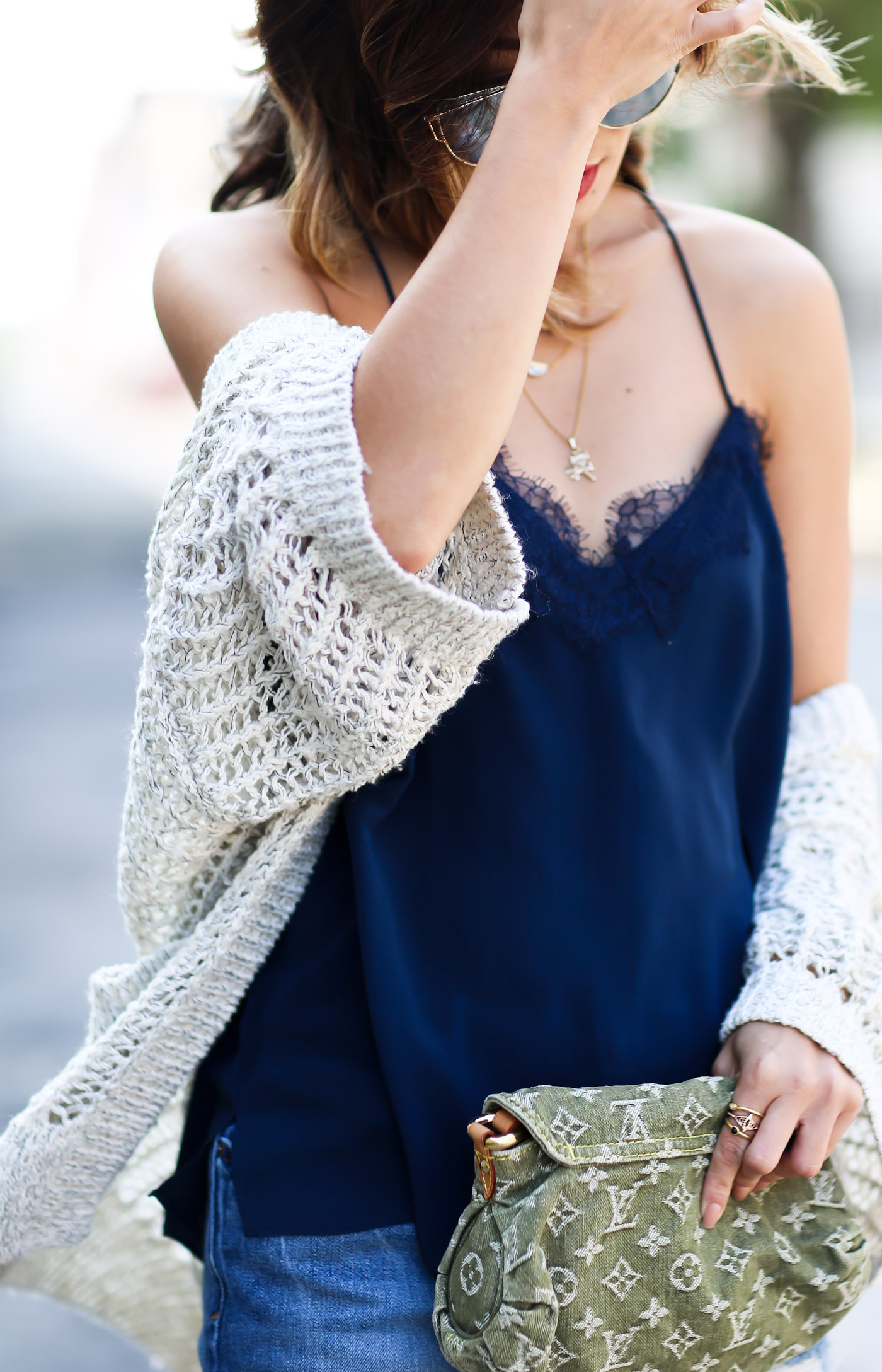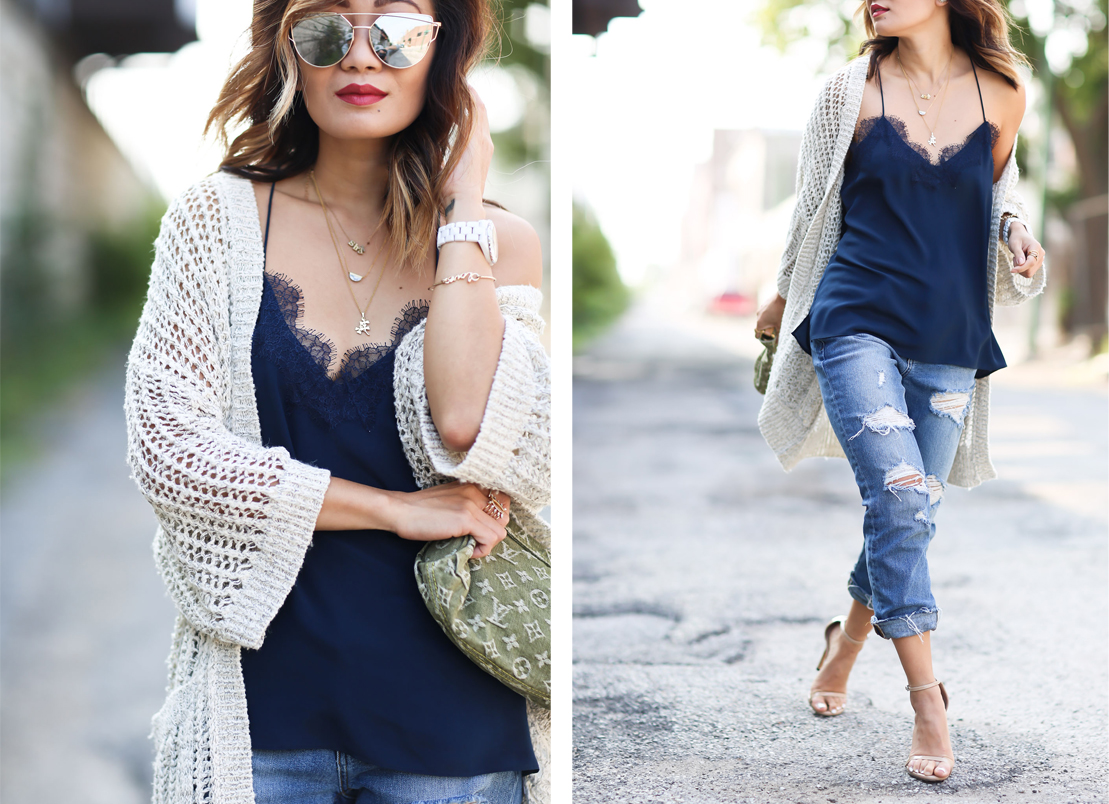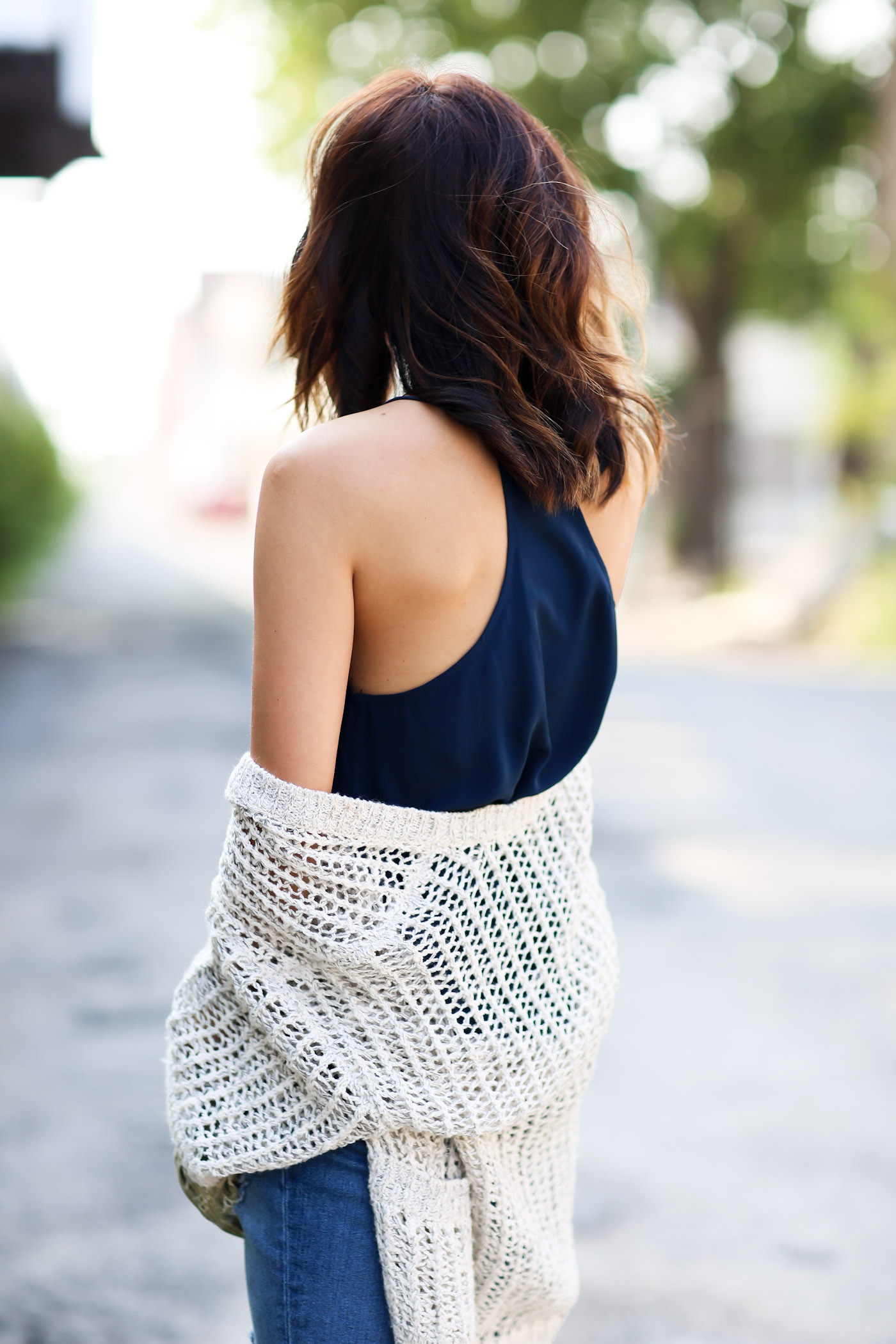 I've been trying to really pick out essentials for my closet these past few months.  Since the hubby has ventured into the inconsistent world of freelance, I can't go splurge on stuff willy nilly like I used to.  Gotta save my corporate tax paychecks for the mortgage bill… that will always be consistent.  My hard earned dollars have to work that much harder to support us both so my closet has taken a bit of a back seat.  This forces me to be a little more careful about my choices on what I buy and what I should spend a little extra on.  This lace cami definitely falls as a must have for me.  It's affordable but definitely not cheap.  However, the quality of the silk, the fit, the color and the delicate lace is so worth it.  And especially when you think about all the different ways you can wear it.  This is just one way.  A casual and easy look packed with chic details and comfort vibes.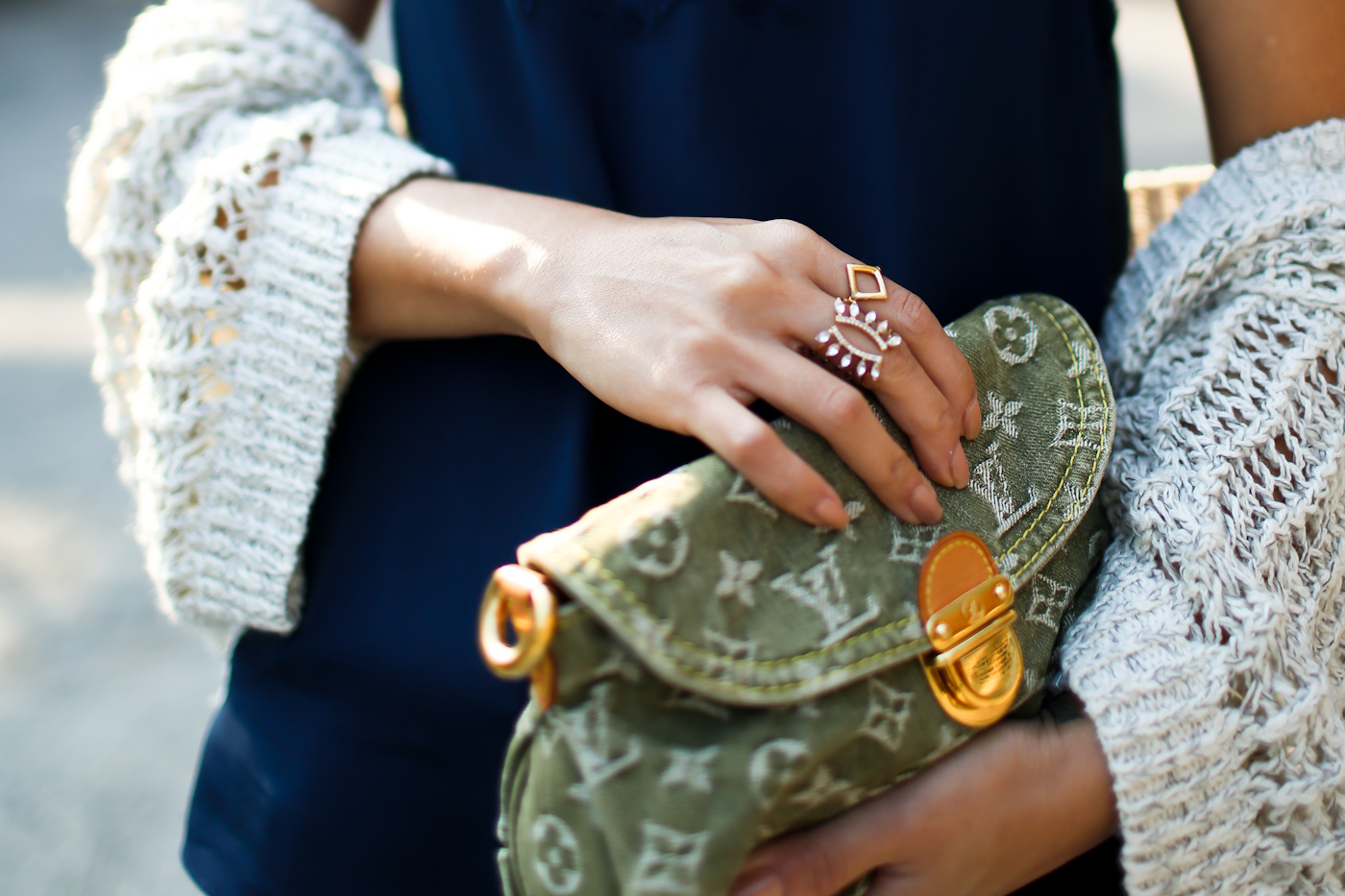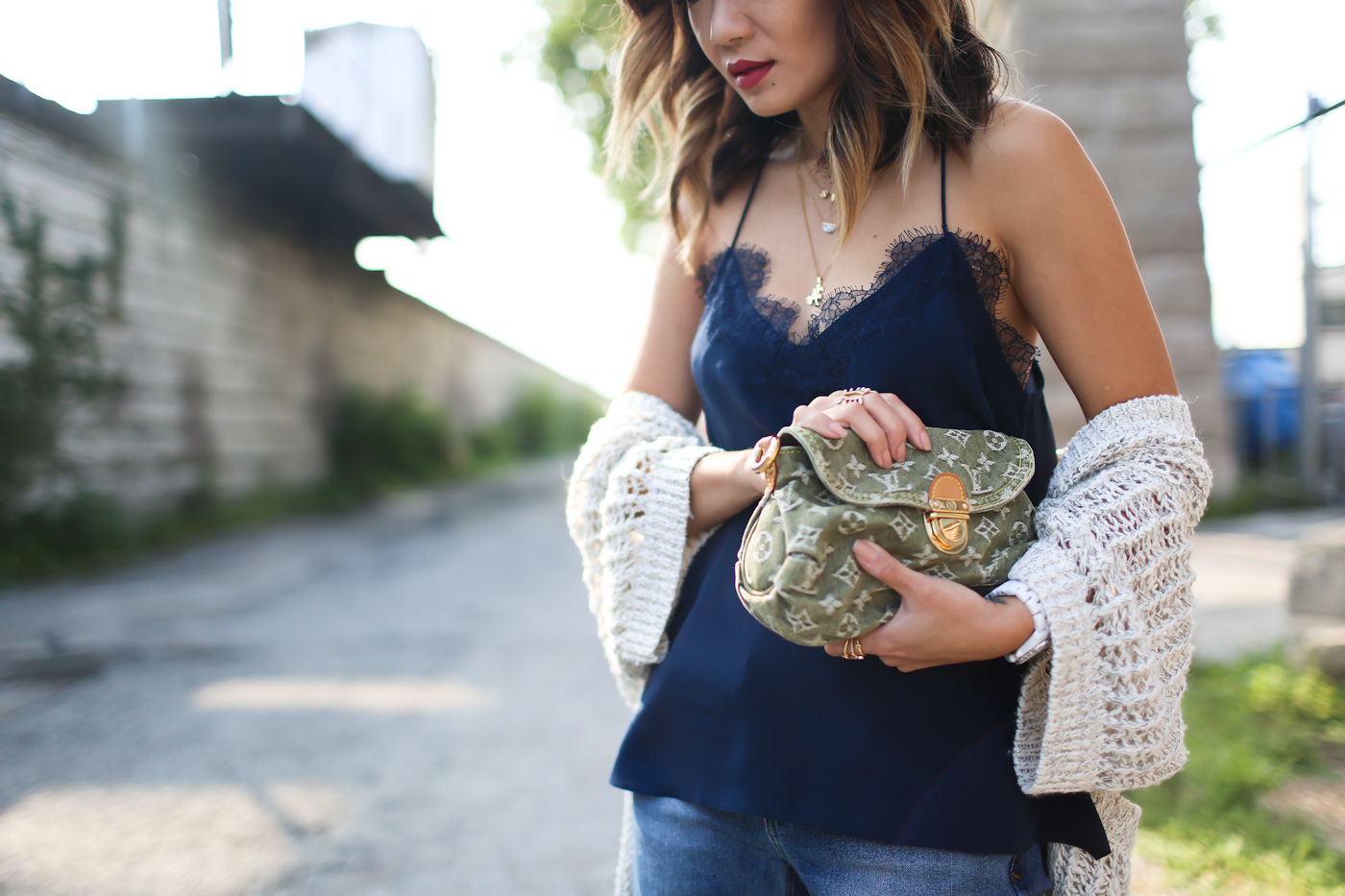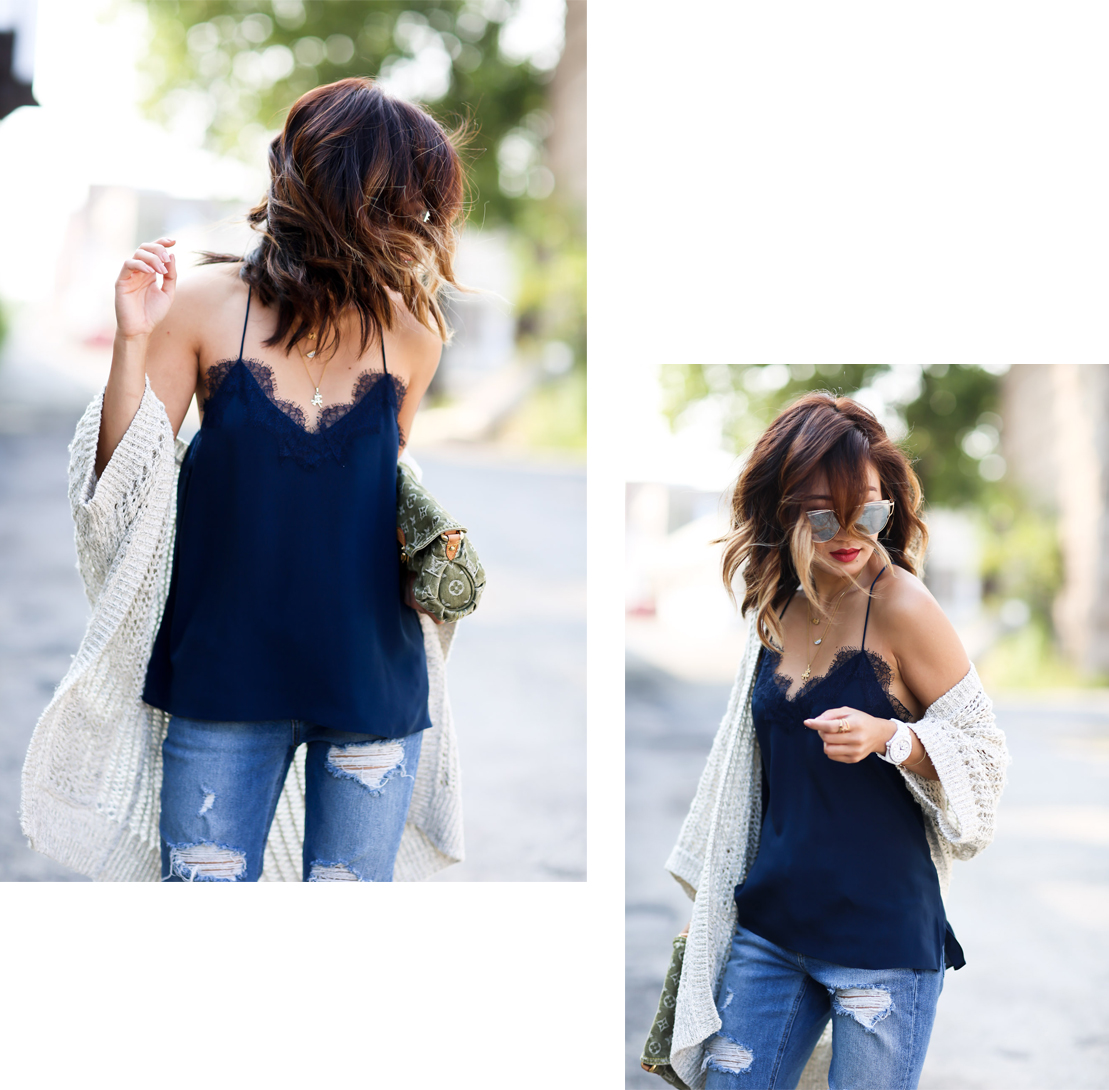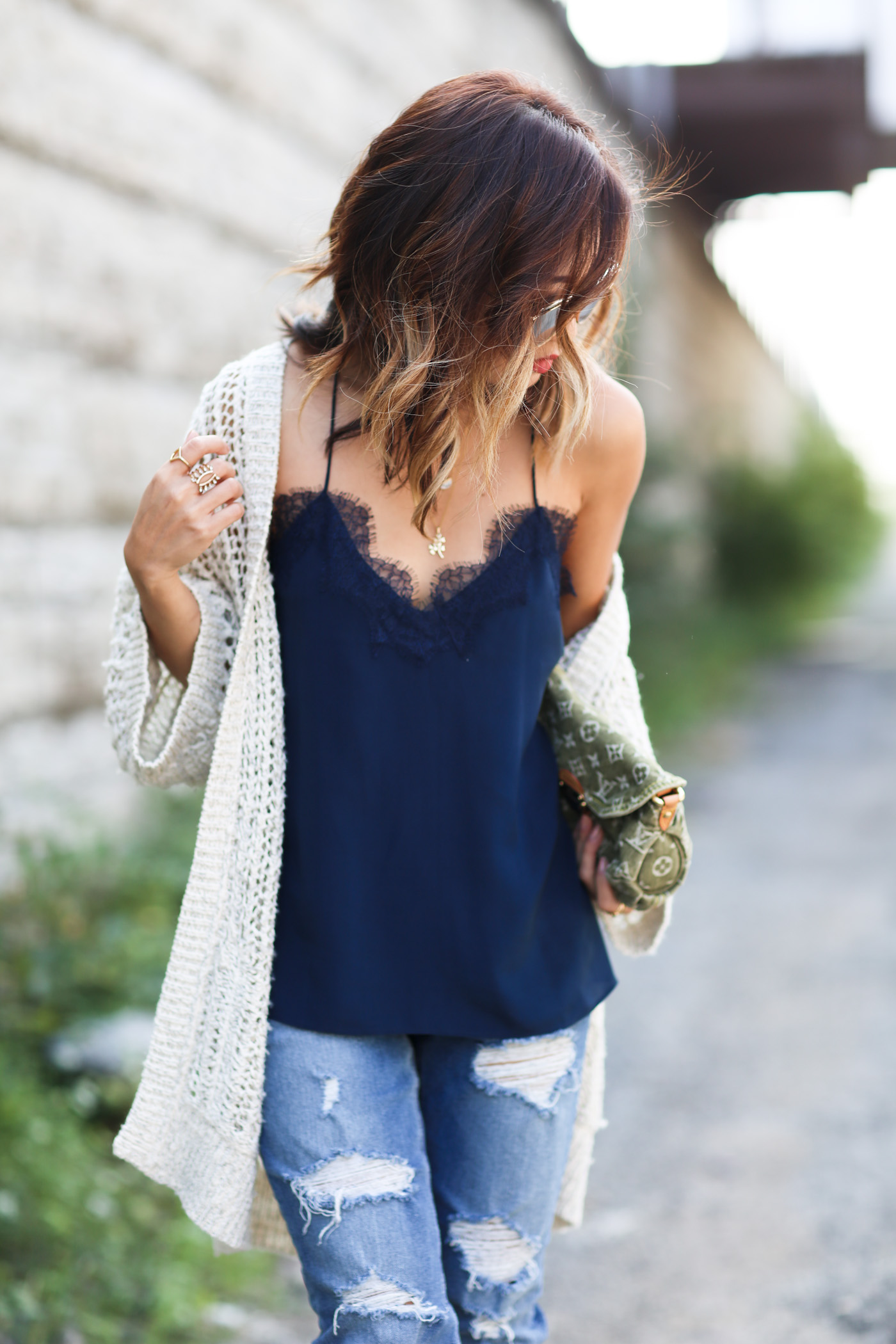 Now that Fall is upon us, I am able to go back and find my favorite layering pieces, such as this open knit cardigan.  An over-sized cardi is such a staple piece for me and an essential as the temperatures drop or as we deal with the ever changing Chicago weather.  Not only are over-sized cardigans ridiculously comfortable, they also hang loose and can fall off the shoulder to make a casual outfit feel sometimes sexy.  The trick to this look is that you don't have to try that hard.  If you notice, all of the clothing that I'm wearing here, is a little over-sized.  Not only are we working with an over-sized cardigan, but these boyfriend jeans are baggy and rolled, and the cami is worn un-tucked and loose. Sexy doesn't always have to mean tight and fitted.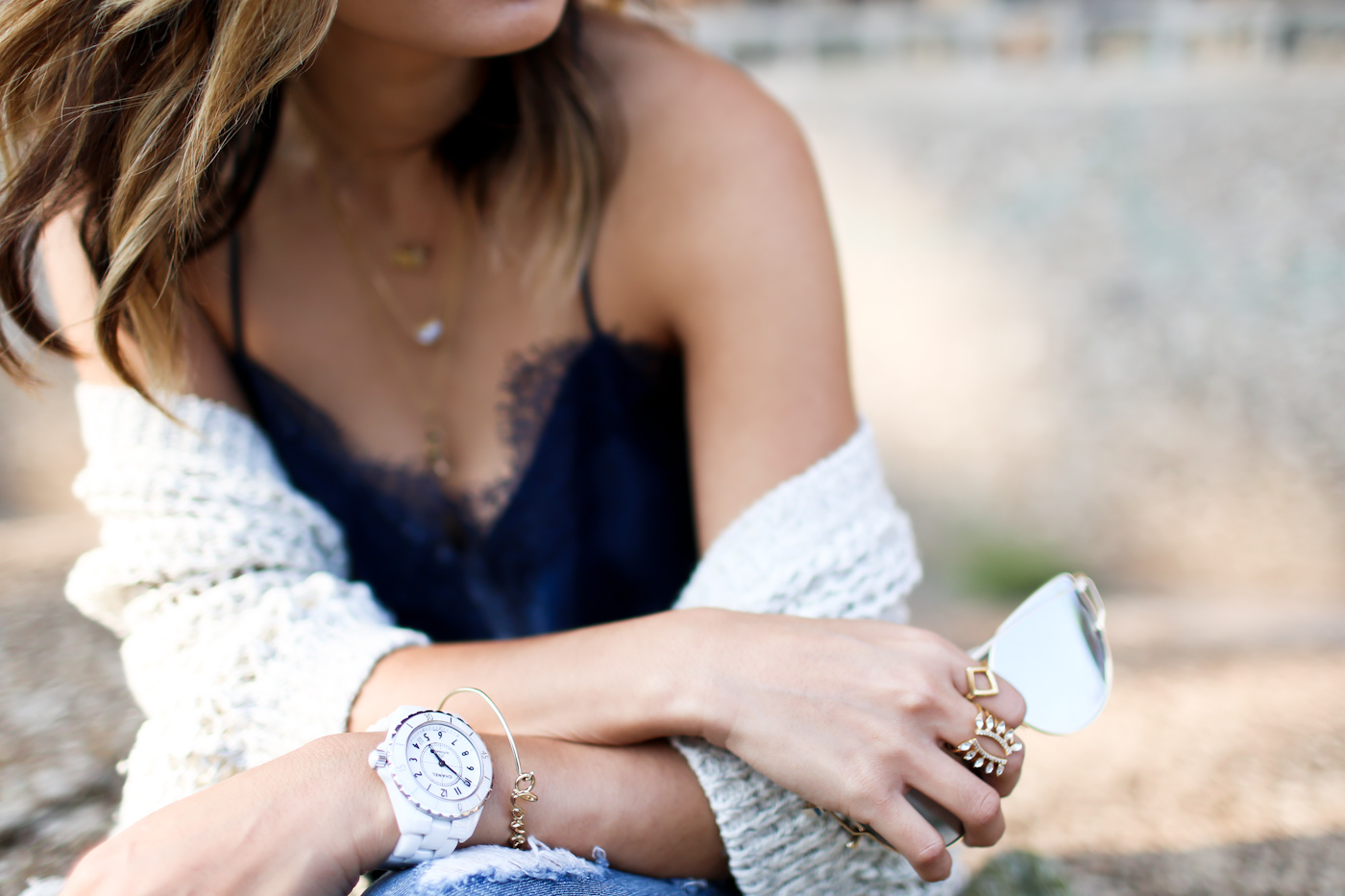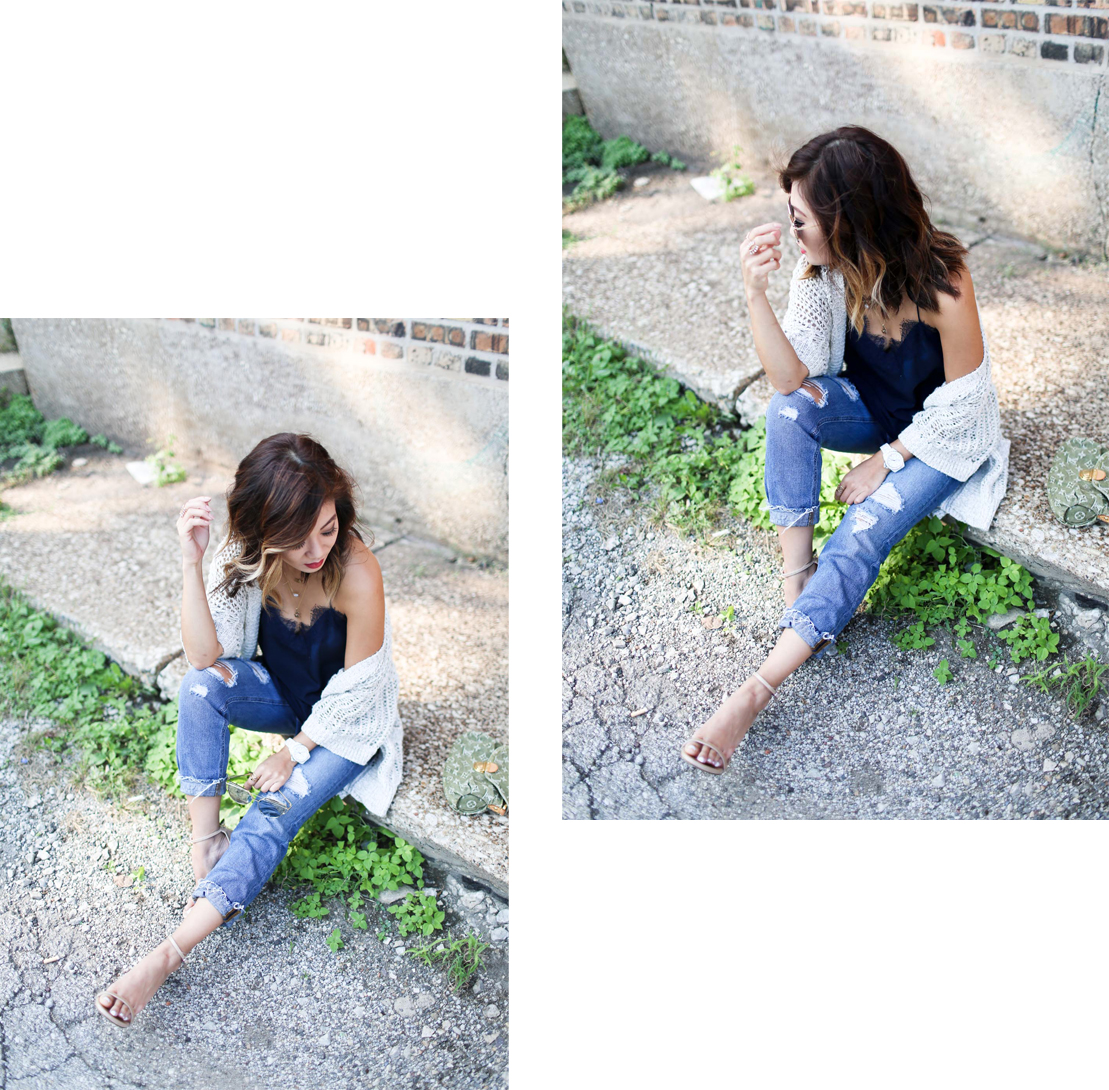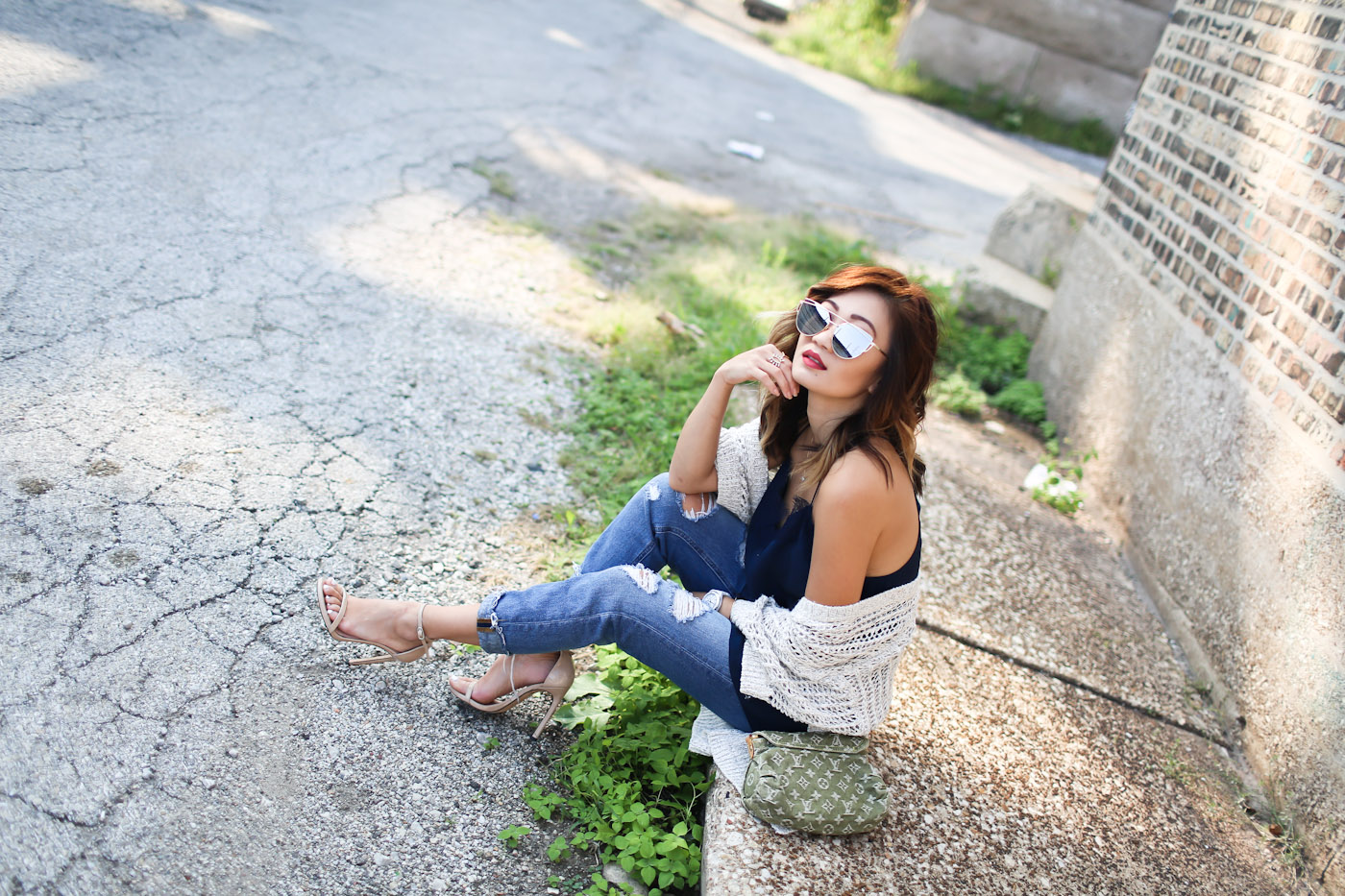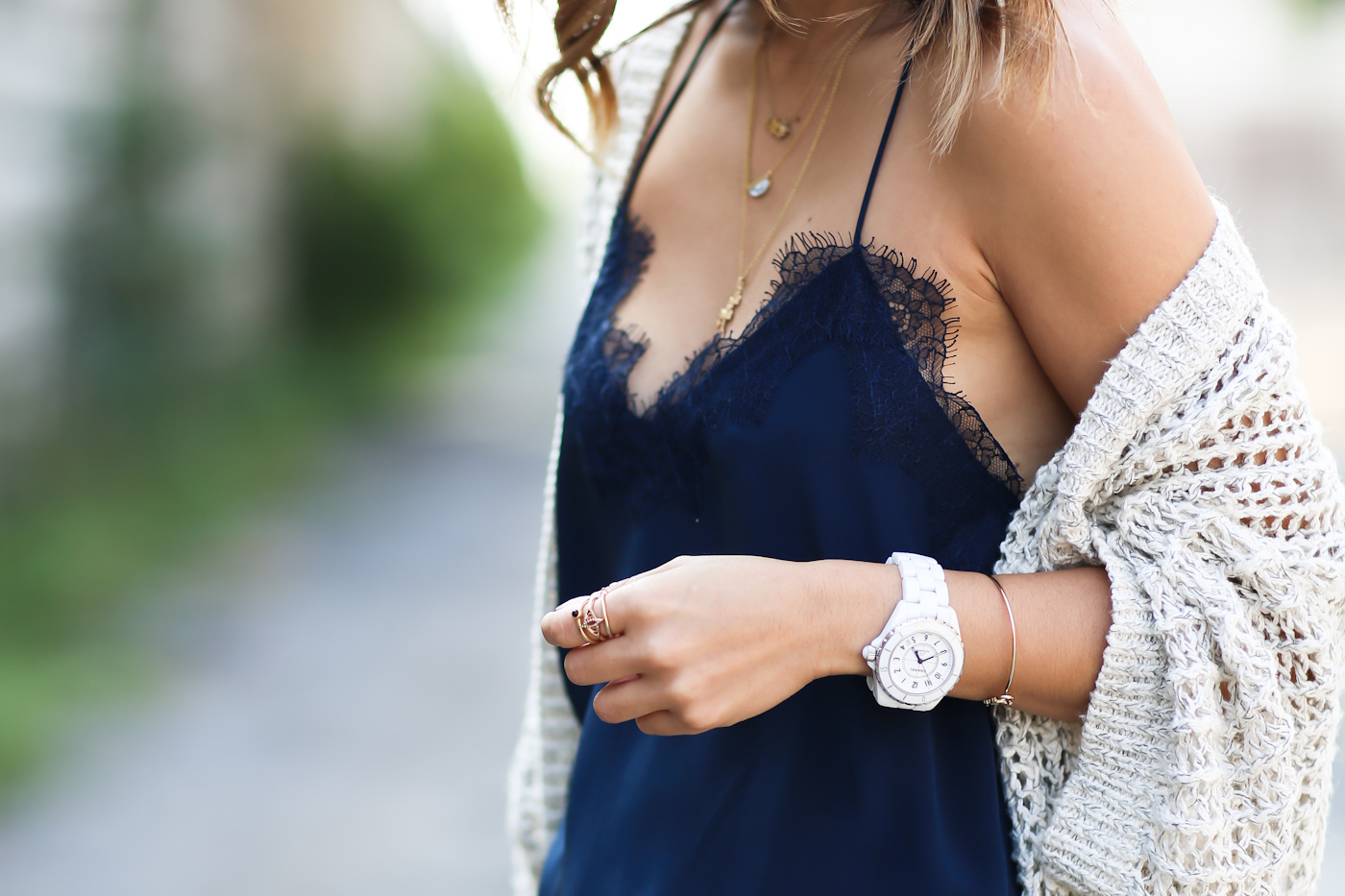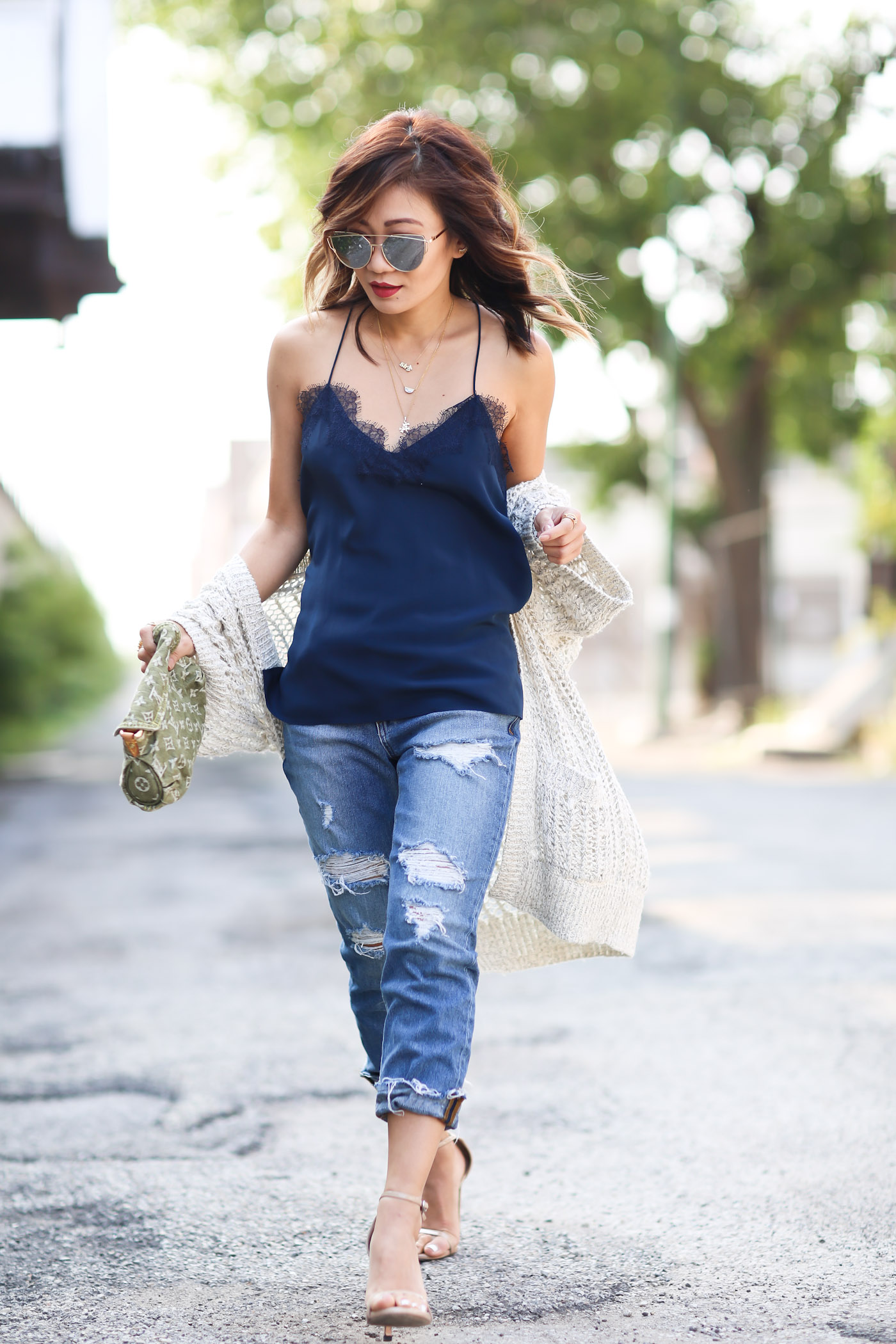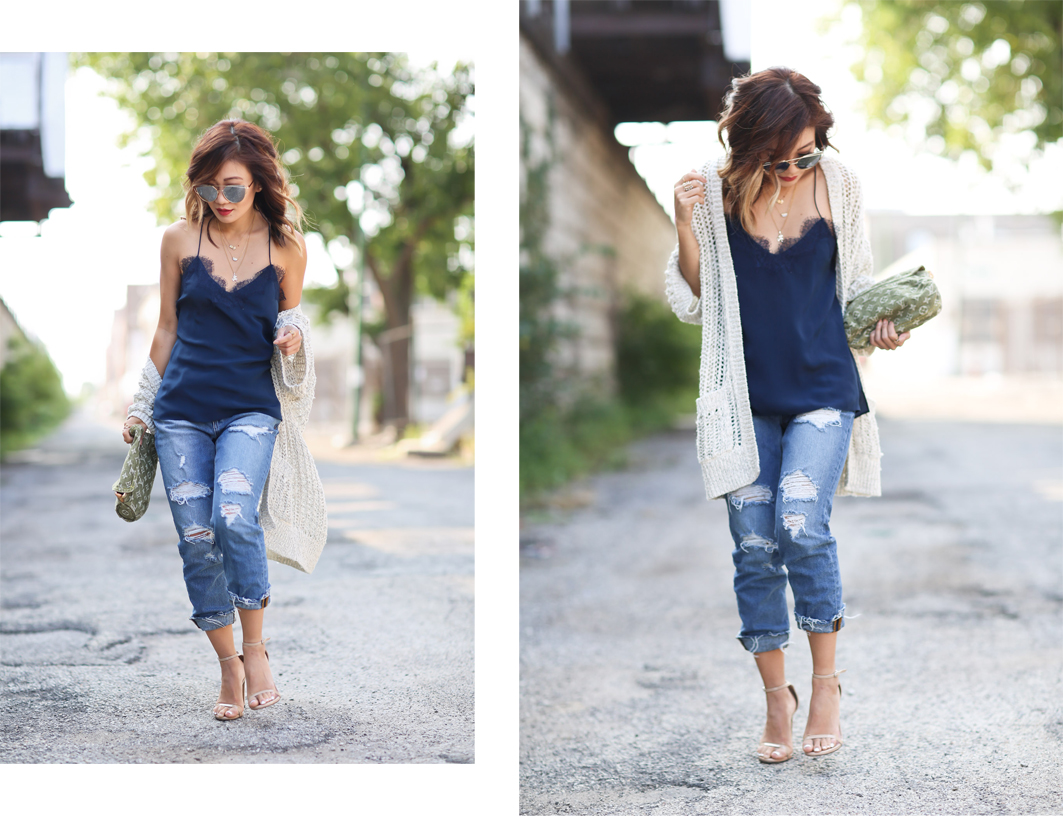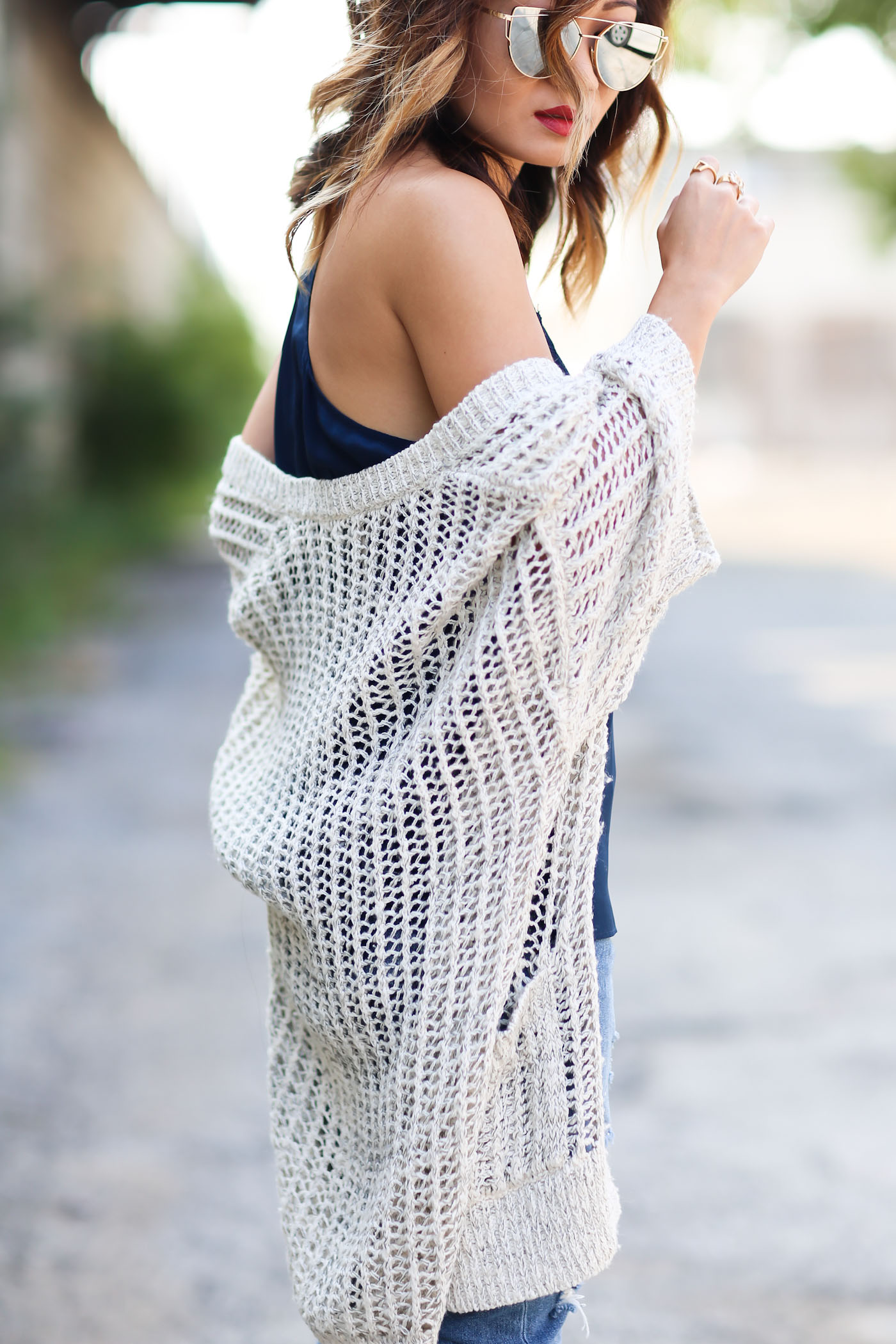 We've got one lace cami look down, two to go!  Can't wait to show you my second and third styling to show off this top's versatility.  Thank you lovelies for reading, I hope you enjoyed every minute of it as much as I did!
lace cami – cami nyc
jeans – j brand
cardigan – (old) free people
sunnies – unknown
shoes – stuart weitzman
necklaces – boho mrkt
watch – chanel
rings – bcbg, kendra scott, madewell
---
---
//  SHOP THE LOOK  //
---
---