SLEEVELESS TUXEDO SET + CHUNKY HEEL PLATFORMS
If summer requires a power suit from me, you know it's going to be pink and chic like this sleeveless tuxedo set.  On this particular night, I was excited to attend an event for Chicago Magazine's Best of Chicago-A Toast to the City.  As a die hard Chicagoan, I was ready to taste and sip on the best our badass city has to offer.  Please pardon the fact that this was weeks and weeks and weeks ago already.  I almost didn't post this outfit but it's too good not to share!  Plus, the hubs took so many good shots so I have to give him some love by showing them off.
I wore this amazing sleeveless Long-line Soft Pajama Blazer With Contrast Piping and Alter Petite Straight Leg Pajama Pant from Asos (links to the items are at the end of the post as usual).  Not sure why they are calling it pajama style when I think it looks more tuxedo-ish.  Maybe it's the soft material that feels like pajamas?  I guess it makes sense since the entire look is so comfortable.  The sleeveless tuxedo style and contrast piping on this look is exactly what drew me in.  But it was the soft pajama inspired material that made me keep it in my wardrobe. Comfort is key these days.
To counteract the comfort of the outfit, I paired the look with these sky high suede platform sandals.  But as far as platform sandals go, these were pretty comfortable. I was able to stay in them for a good two hours walking around before my feet were at that point where I wanted to cut them off.  Not bad if I do say so myself.  What can I say, I love the height.  The nude color plays off really well with the blush pink look and the block heel gave a funky edge to the look that I enhanced by rolling the hem and tying the heel straps above my ankles.  I added a few gold pieces, rings, my "shai" necklace, pearl star earrings, and of course my favorite Gentle Monster inspired eyewear.  I am also wearing the classic shoulder box bag by Céline in python– a gift from my daddy when he was in Italy last year.  I really love the way the navy blue color pops against the pink.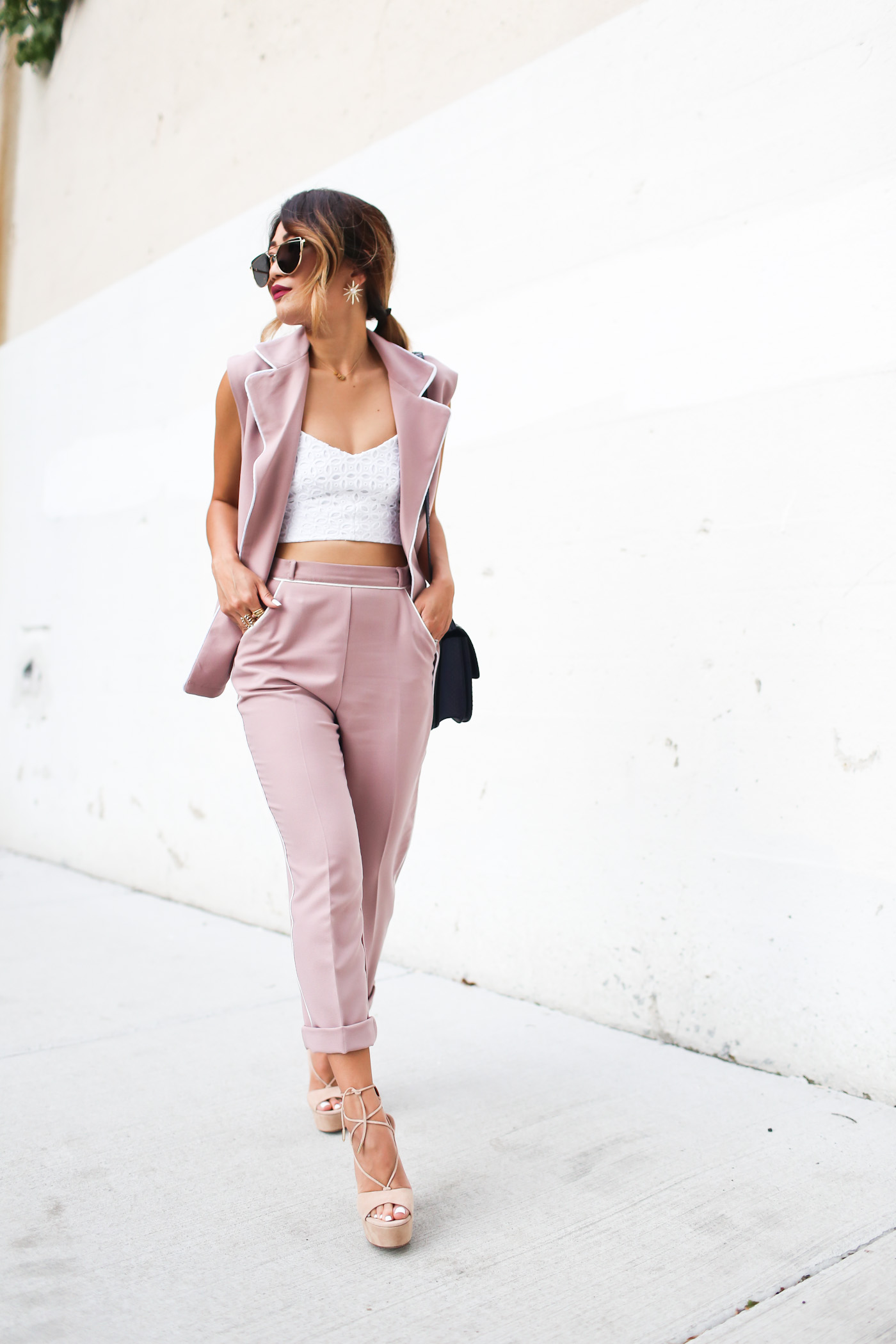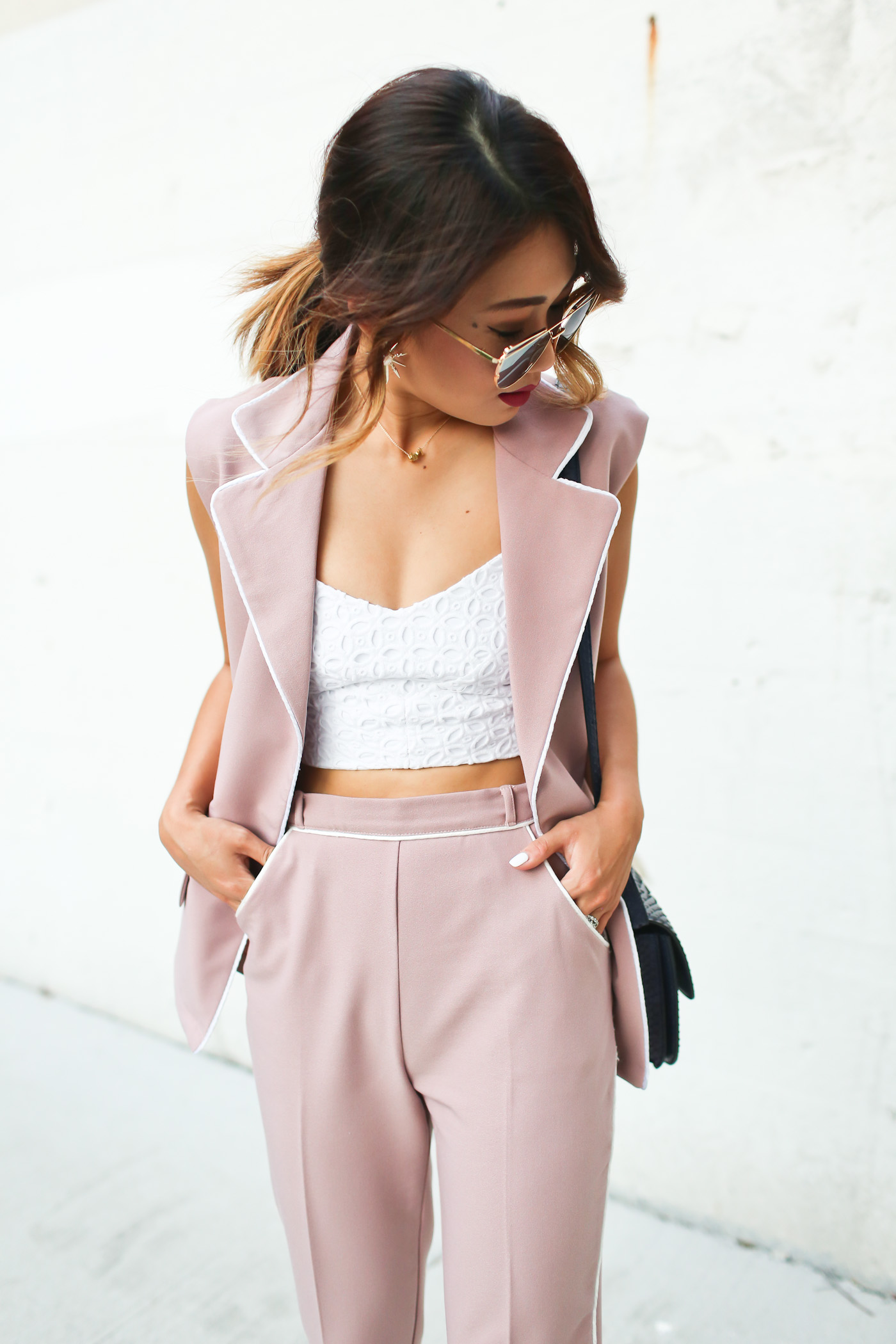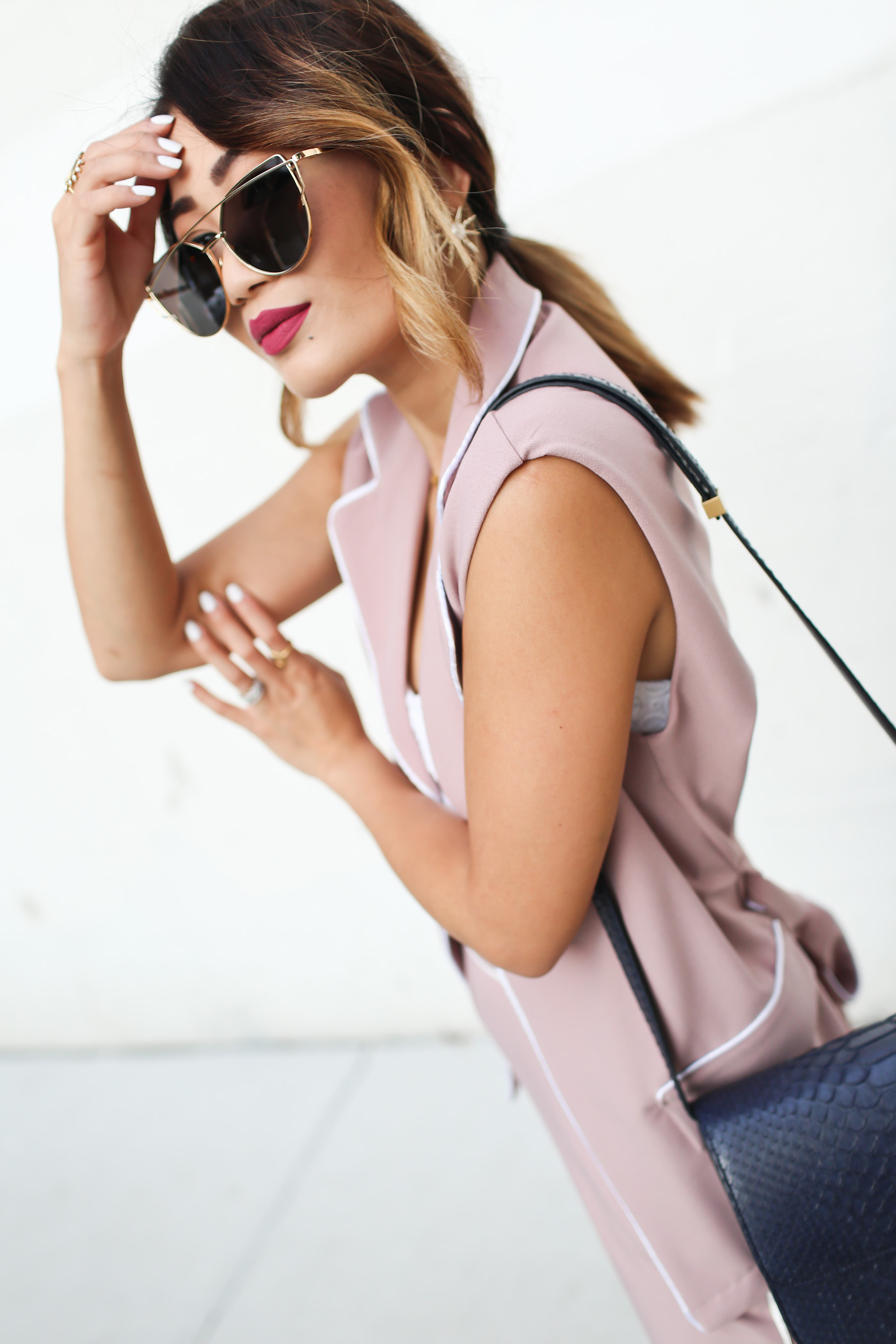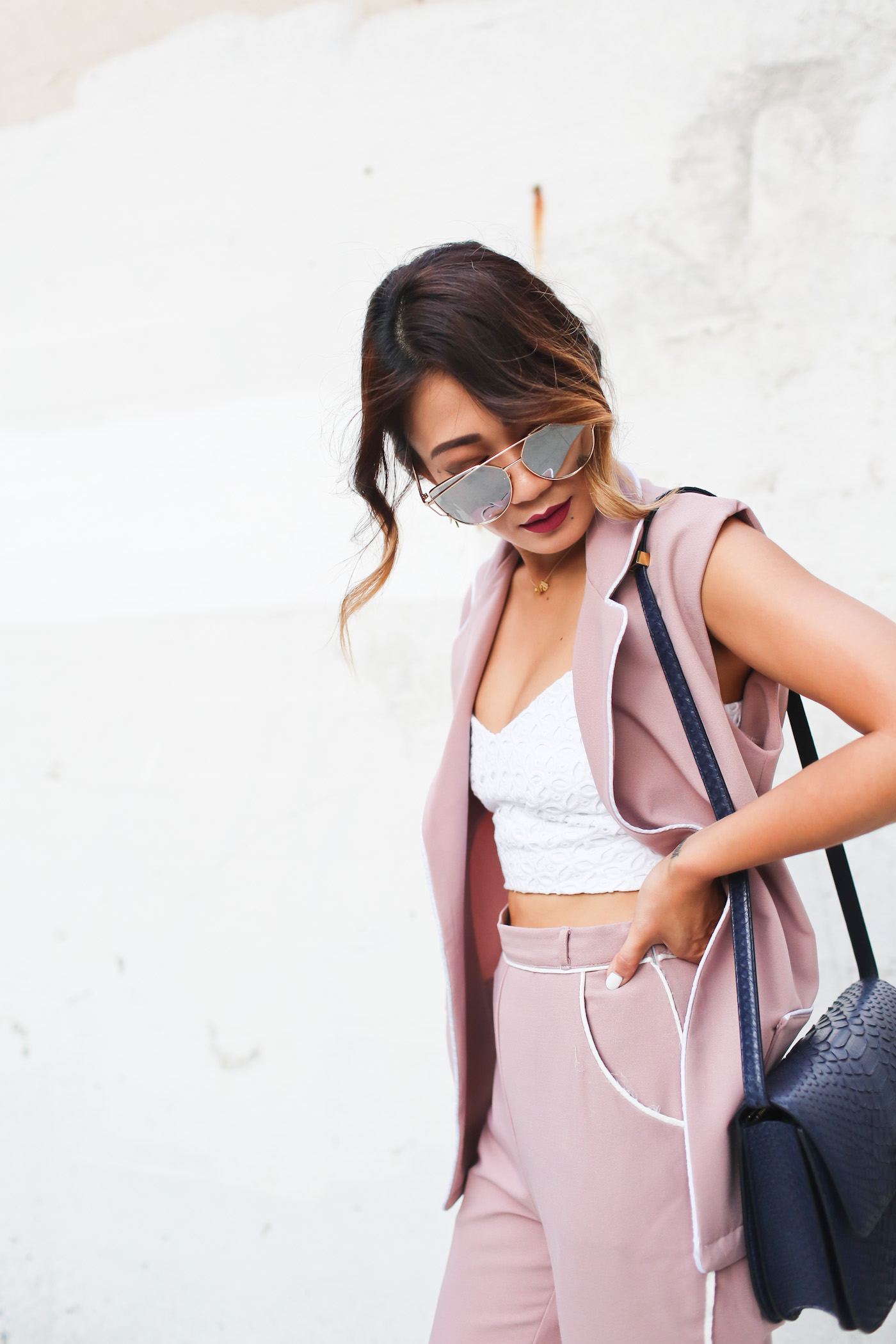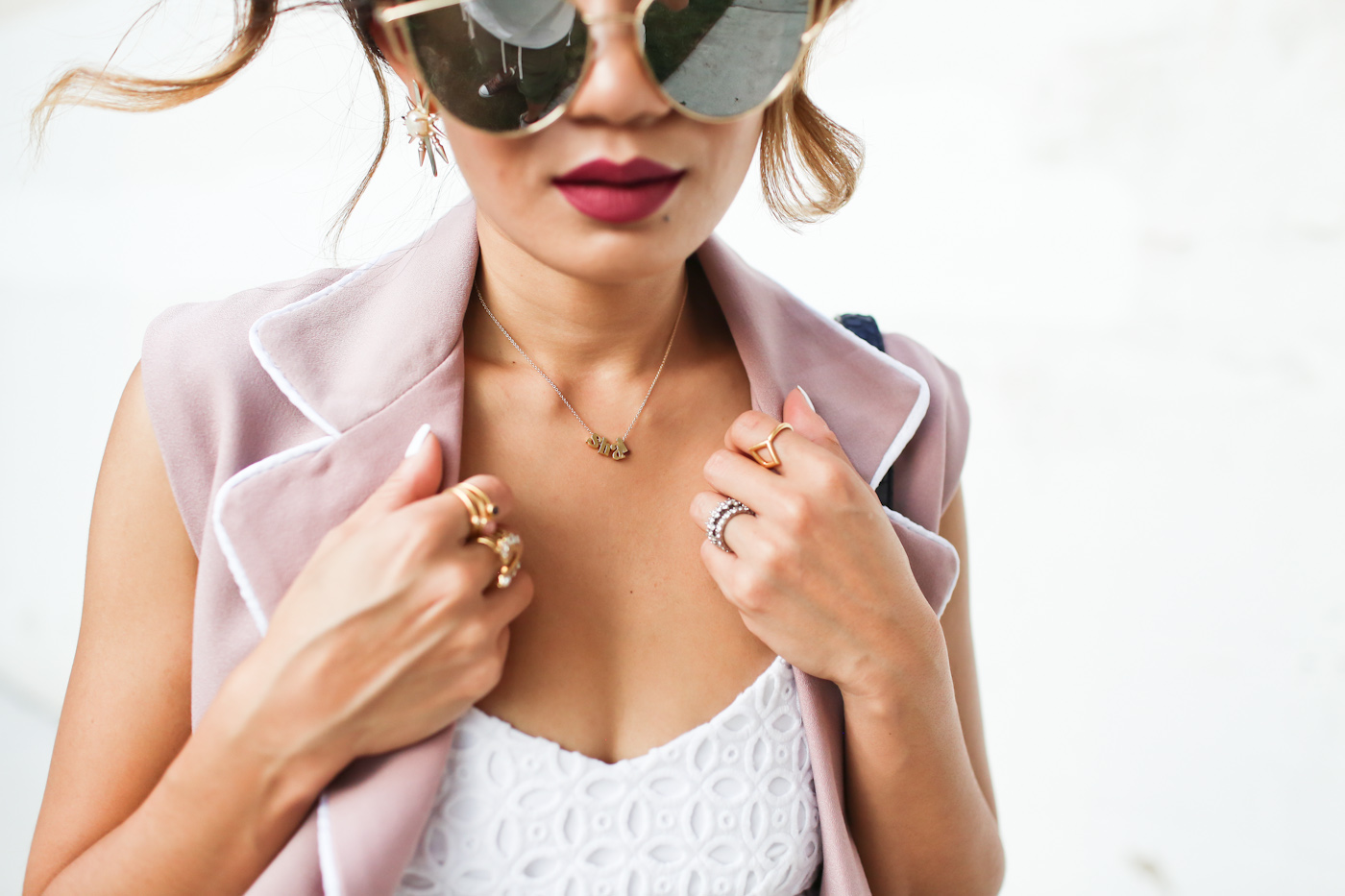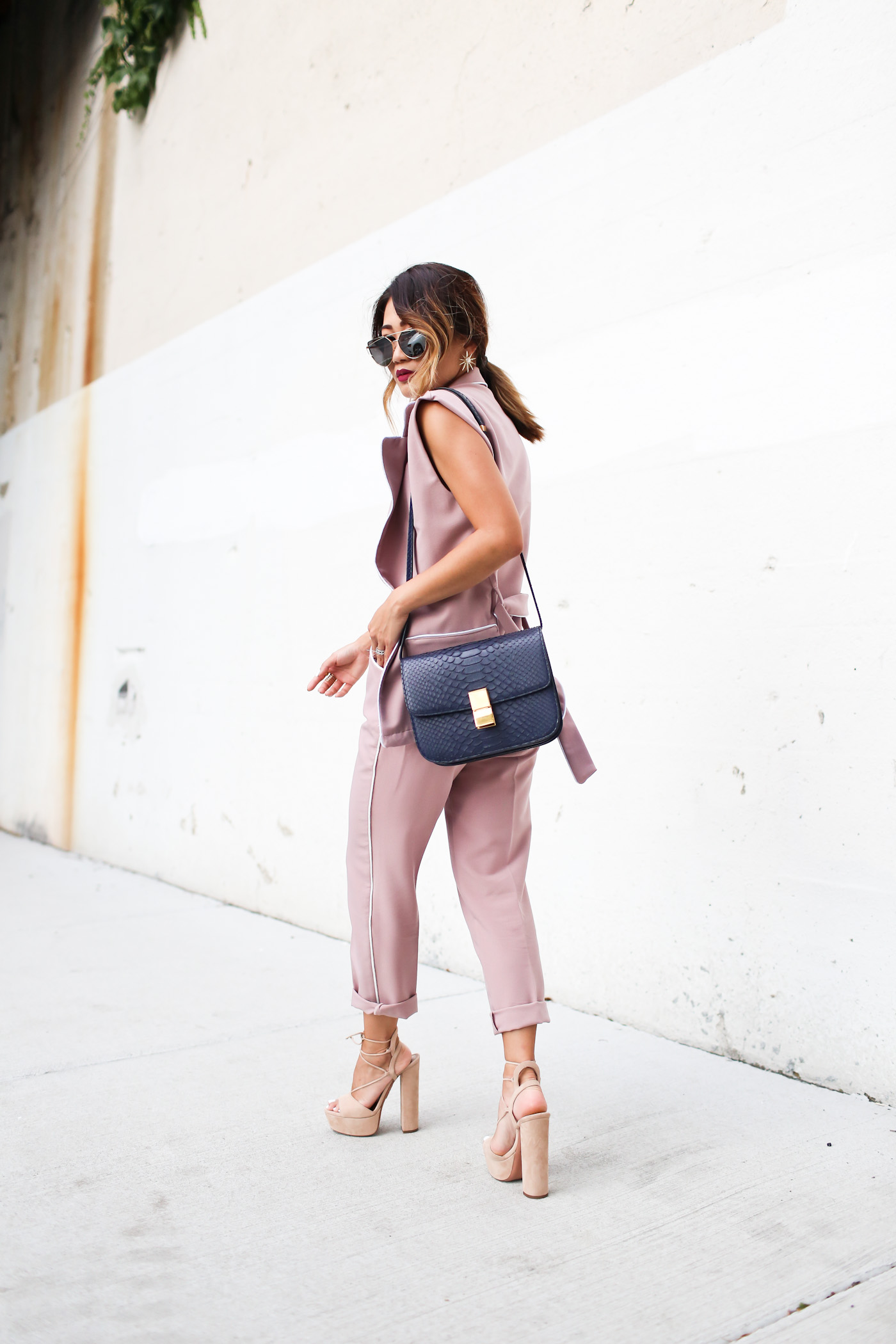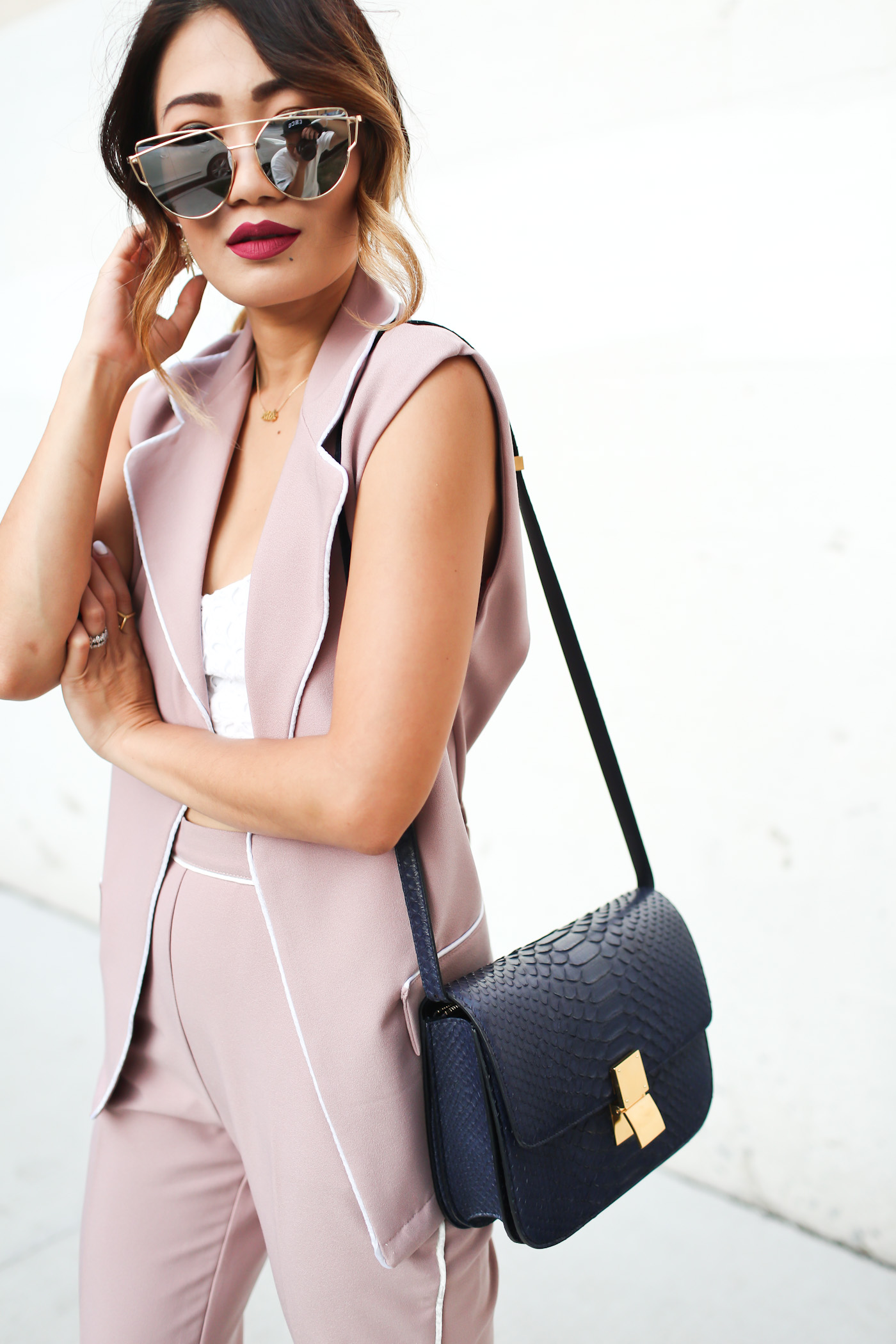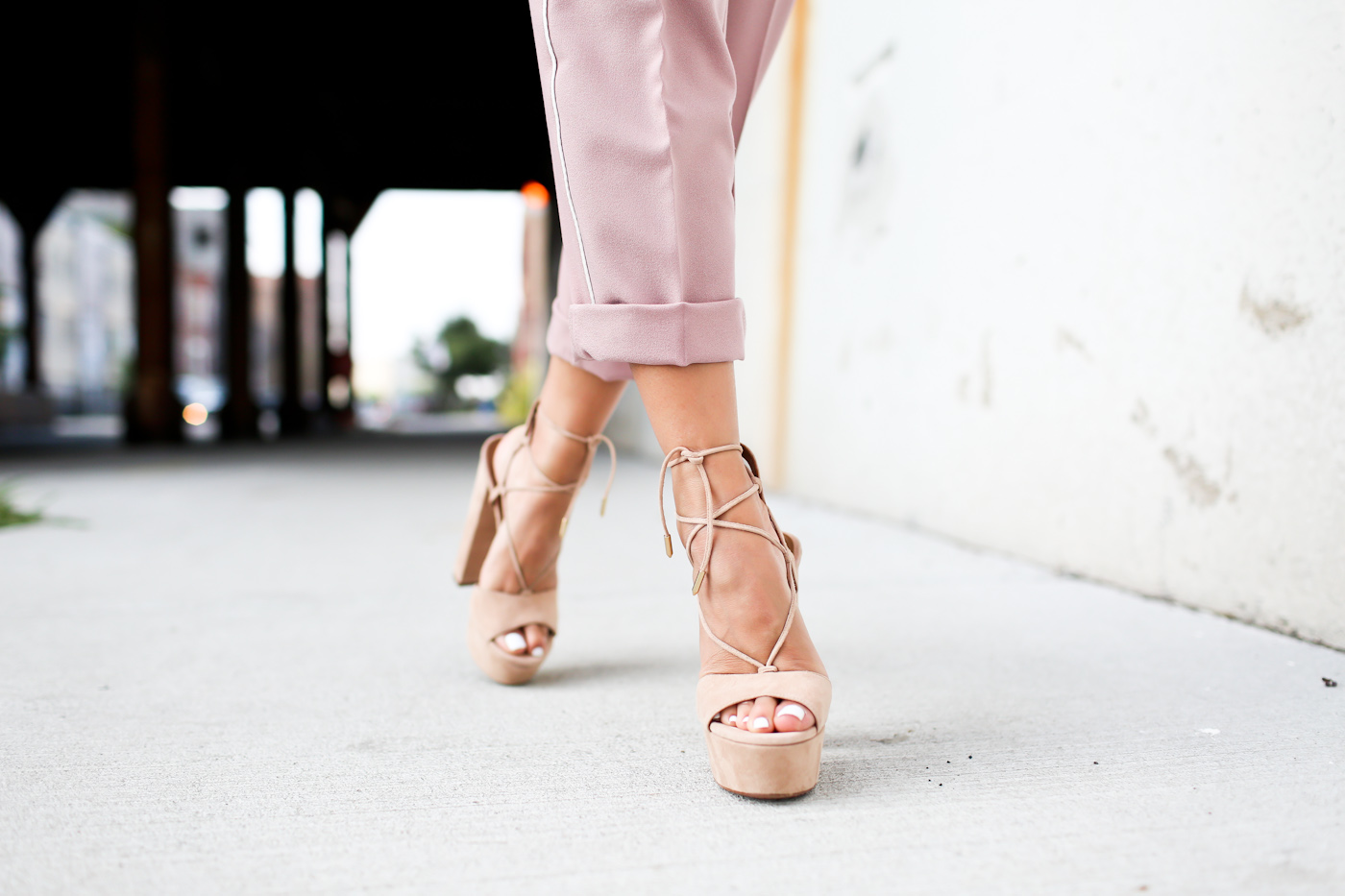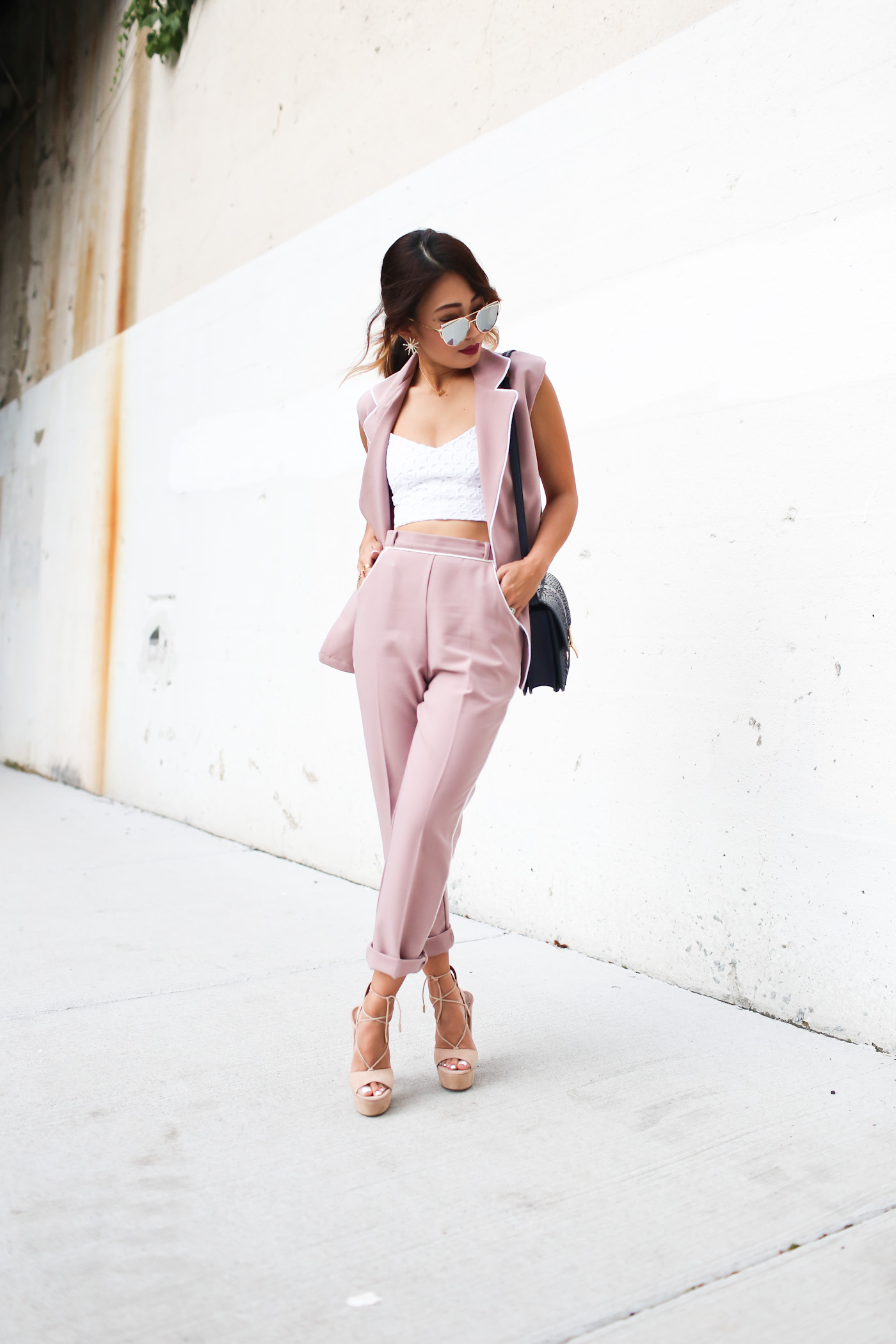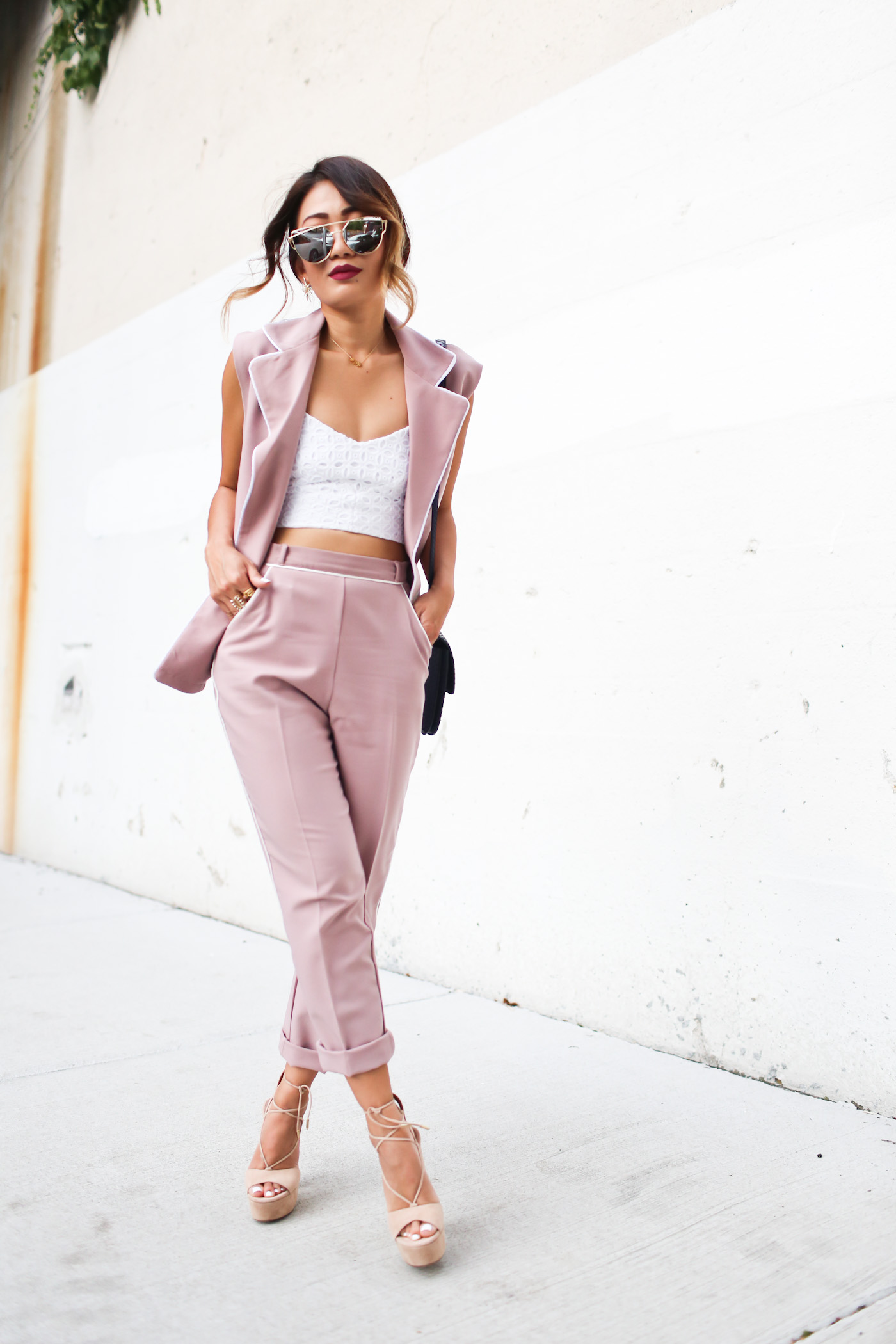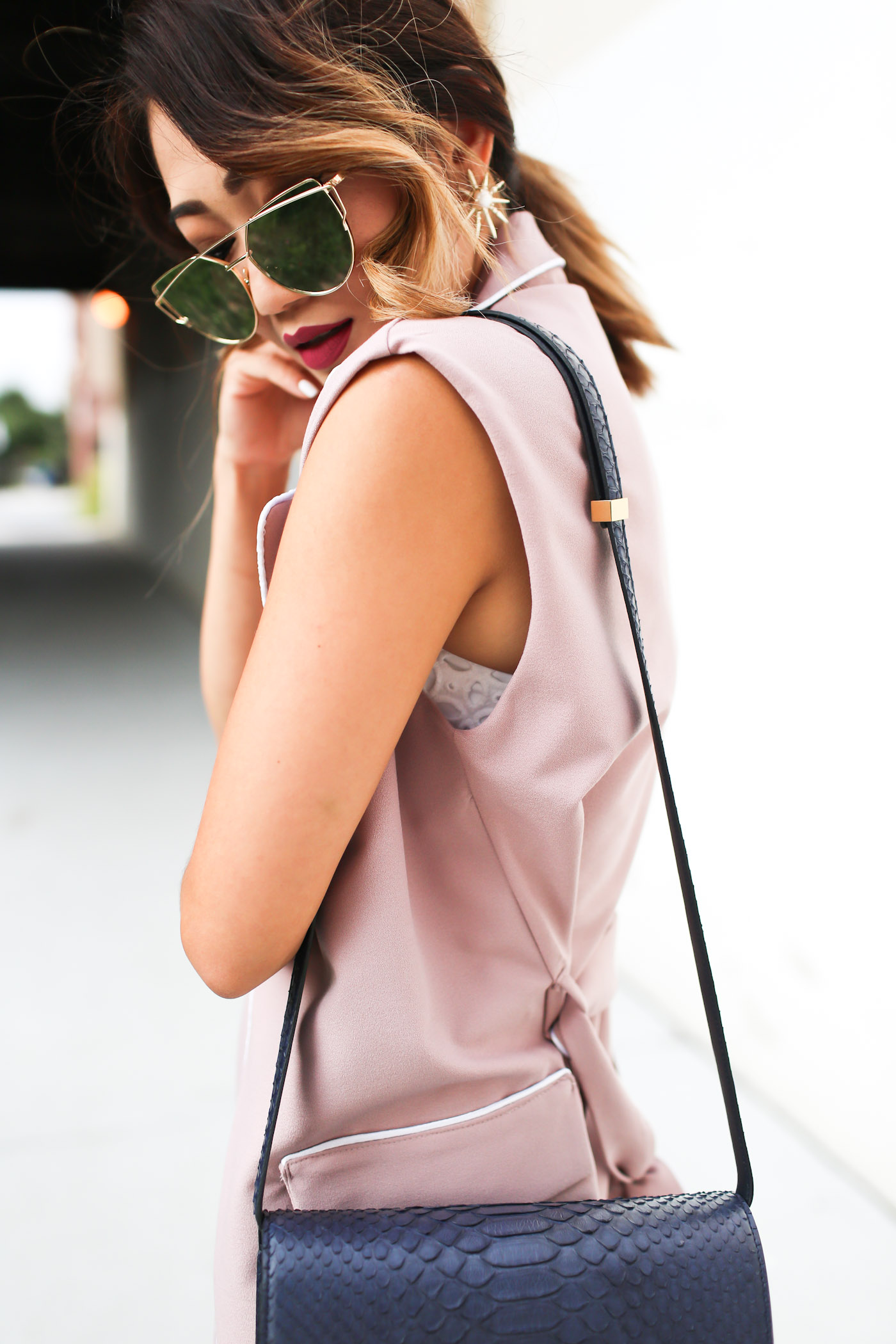 I'll also mention my lipstick because I got so many questions about the color and brand!  I love that you were all fans of the color, because I am a HUGE fan of Smashbox and their 'Always on' matte liquid lipsticks.  I have so many colors and this one is called 'Big Spender' which is a beautiful deep rose color.  I am pretty obsessed with the formula.  It is definitely not as drying as a lot of other matte liquid lippies.  Being that I have a ton of Kylie ones, I can tell you these Smashbox ones have replaced them.  Best of all is they do NOT need any lip liner and the diamond shaped applicator is amazing at giving precise control as you glide it on.  My other faves are 'Bang Bang' and 'Bawse'.  Both are amazing staple reds that you need to have!
Anyway, I hope you guys enjoy this look!  As the cold weather creeps in you can totally swap out this crop top for a long sleeve turtleneck.  Thanks for stopping by!
vest – asos
pants – asos
bag – celine
crop top – old
earrings – thanks to kendra scott
shoes – aquazzura
sunnies – unknown
---
---
//  SHOP THE LOOK  //
---
---