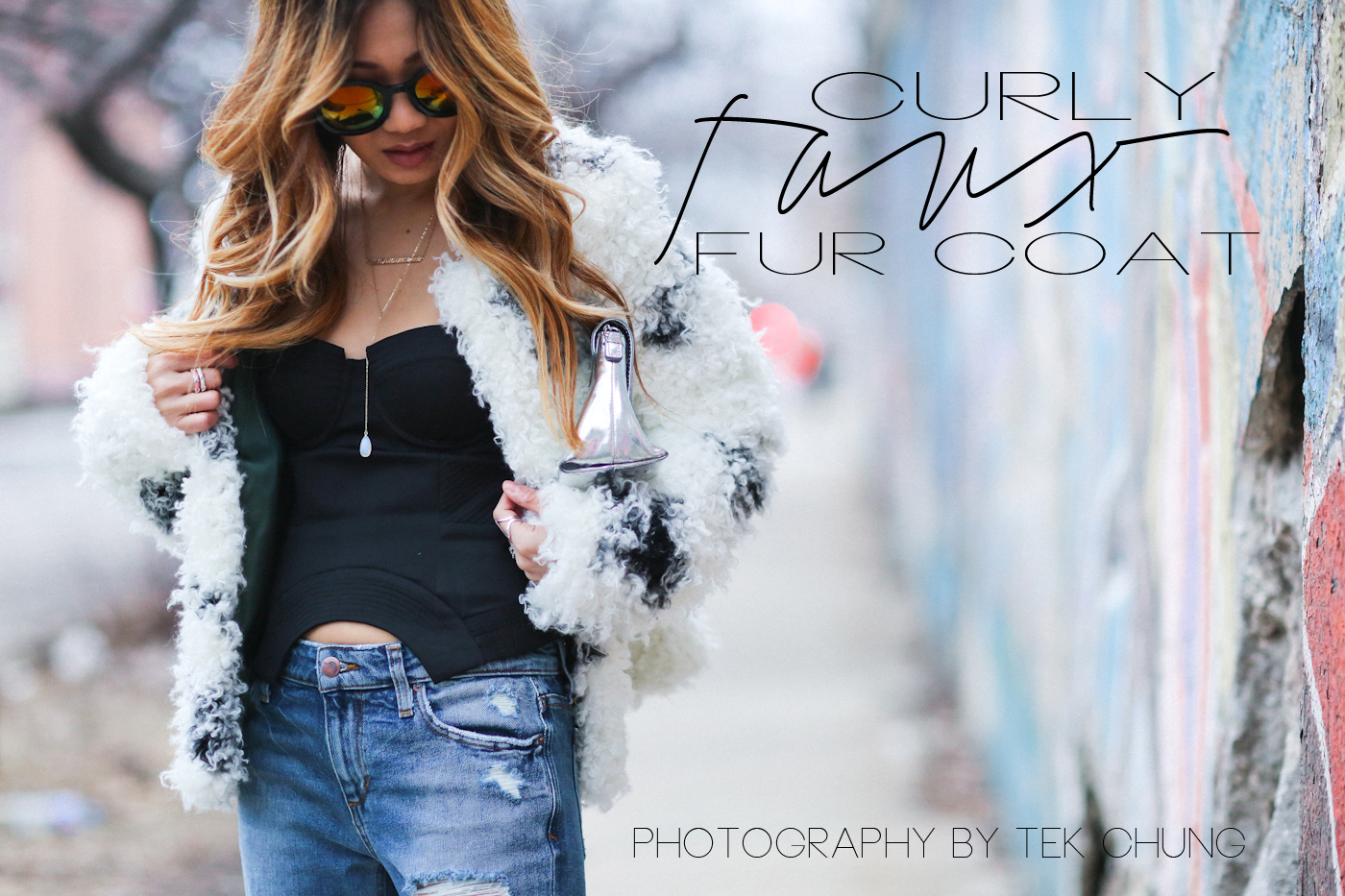 CURLY FAUX FUR COAT, CORSET TOP, AND RIPPED BOYFRIEND JEANS
I always feel the best in casual comfortable outfits but sometimes that can get pretty boring.  Enter this amazing curly faux fur coat.  Since Chicago weather around this time can be super fickle and you could experience winter and summer in one day, wearing a skimpy corset top with a curly faux fur coat on top makes total sense no?  I added some reflective touches to really make this outfit pop.  Aren't these mirrored sunglasses so fun?  I got them from a local suburban boutique in Lemont, IL called Generation Bliss.  They have a really great store with items curated by the sweetest owner.  Hi  Ela!  Don't live in that area?  No worries, just shop online or give the store a call.  I'll be featuring more pieces from this adorable shop soon.  But catch early glimpses on both of our Instagram accounts.  (@drunkonshoes @generationbliss)

And can we just talk about how great Chicago is?  My girl Alina (@alinatsvor) had a fun project which required her to explore different Chicago neighborhoods so of course we tagged along.  We ended up in Pilsen which is an area I'm not that familiar with but one brimming with some bad ass street art and restaurants and coffee shops with so much personality and flavor.  We even came across an amazing bookstore which had one of those walls from floor to ceiling filled with books and a wooden ladder that slides across for you to climb.
I've always wanted one of those in my house.  But instead of books, I would have shoes.  A shoe filled wall with a sliding ladder.  That's the dream folks.  Anyway, I lost focus.  Back to Pilsen.  If you haven't explored the area, I suggest you do.  And go try to find this rat tagged by street artist ROA.  The play on a multi dimensional wall to create a 2d image is so sick I can't even deal.  Can you find his signature in the image above?
Also, my Chinese zodiac is the rat.  And to the asshat that drew an outline of a penis right on the rat's nose… I hope a giant rat comes to you in real life, and crawls up your leg while you are asleep, and chews on your penis.  For all street artists, please appreciate greatness when you see it and if you are to add on to something like this… I would hope you would aim to display the same level of skill and work.  To see the full rat, go explore Pilsen and get the full experience because this thing is HUGE!
Thanks for reading.. love you.. bye!
//  faux fur coat – shrimps  //  corset top – nasty gal  //  ripped jeans  – joes jeans  //  bag – thanks to banana republic  //  sunnies – thanks to generation bliss  //  drop necklace – thanks to topshop  //  shoes – nasty gal (old)  //

---
---
//  SHOP THIS LOOK  //
---
---