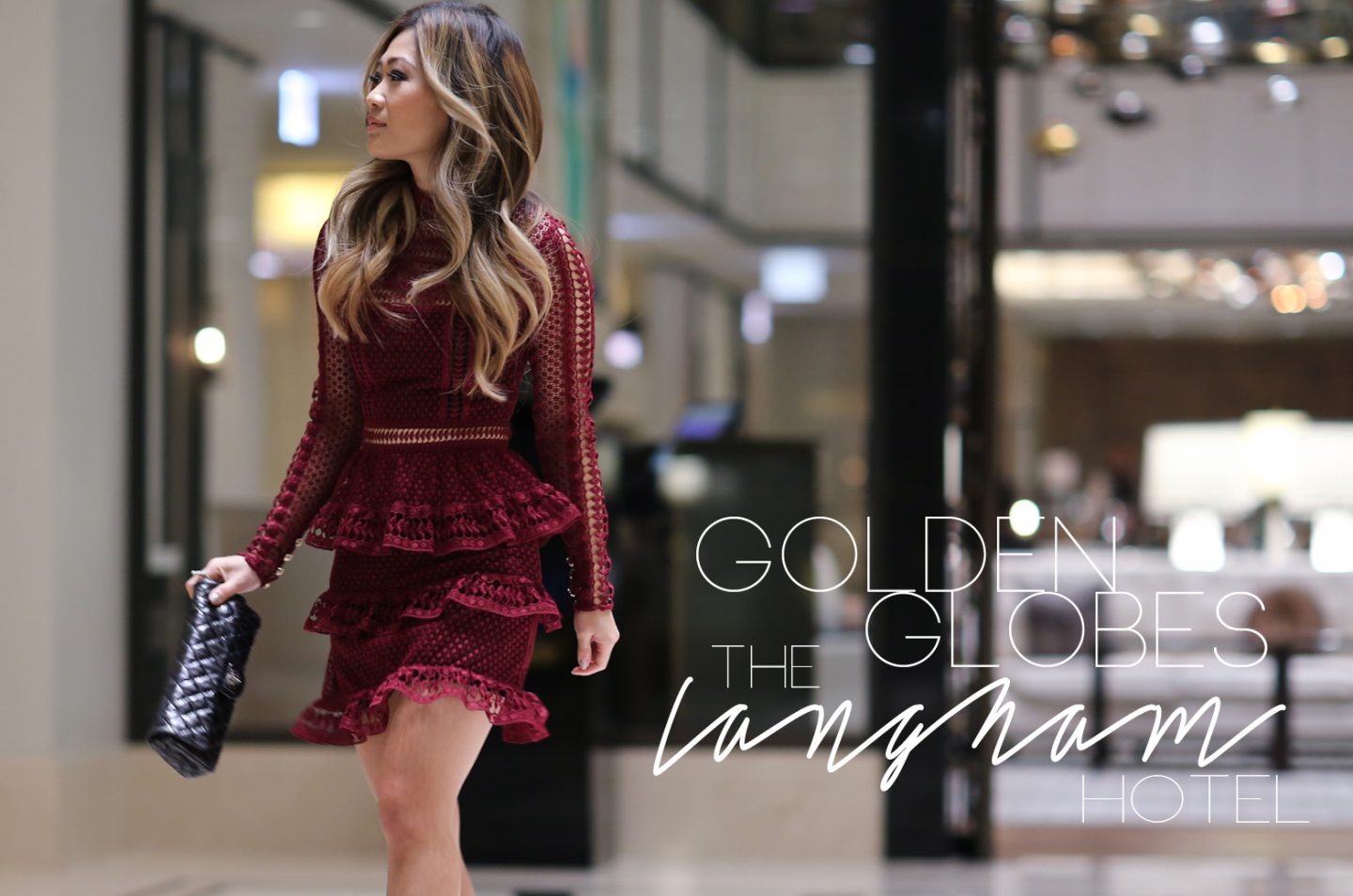 SELF PORTRAIT RED LACE AND THE GOLDEN GLOBES AT THE LANGHAM HOTEL
Hi loves!  Shai here kicking off the new year with a new post and rocking some Self Portrait red lace for a very special event I hosted at one of my favorite hotels here in the city.  The Langham Hotel.  I mean it might just be the most instagrammable hotel in Chicago.  No joke.  If you haven't instagrammed this lobby and you live in the city… I might kind of judge you.  Or maybe you are one of those "I don't wanna do what everyone else is doing" people….  But anyyywayyyyy… let's talk about this dress first yea?  Nothing says special occasion quite like a lace number like this and add on this red color and you've got a look that is sure to get attention.  I gotta say, I was feelin' myself… feelin' myself… feelin' myself… in this dress.
I definitely had one of those moments when you ask your husband/lover/whatever to zip you up and it plays in a slow-motion kind of way in your head and the zipper just glides effortlessly and the dress just hugs you like a dream and you feel sexy as all hell.  Yea.  One of those moments.  The minute the zipper reached the top, I just kind of stared at myself in the mirror.  Usually with dresses, I need some type of tailoring but this needed nothing.  Needless to say I am a bit obsessed with this Self Portrait red lace dress and the photos it produced.  The sophisticated yet playful cut and tiered layers with the long sleeves and high neck made this the perfect piece for a fun night with friends, bubbly, nibbles, and celebs.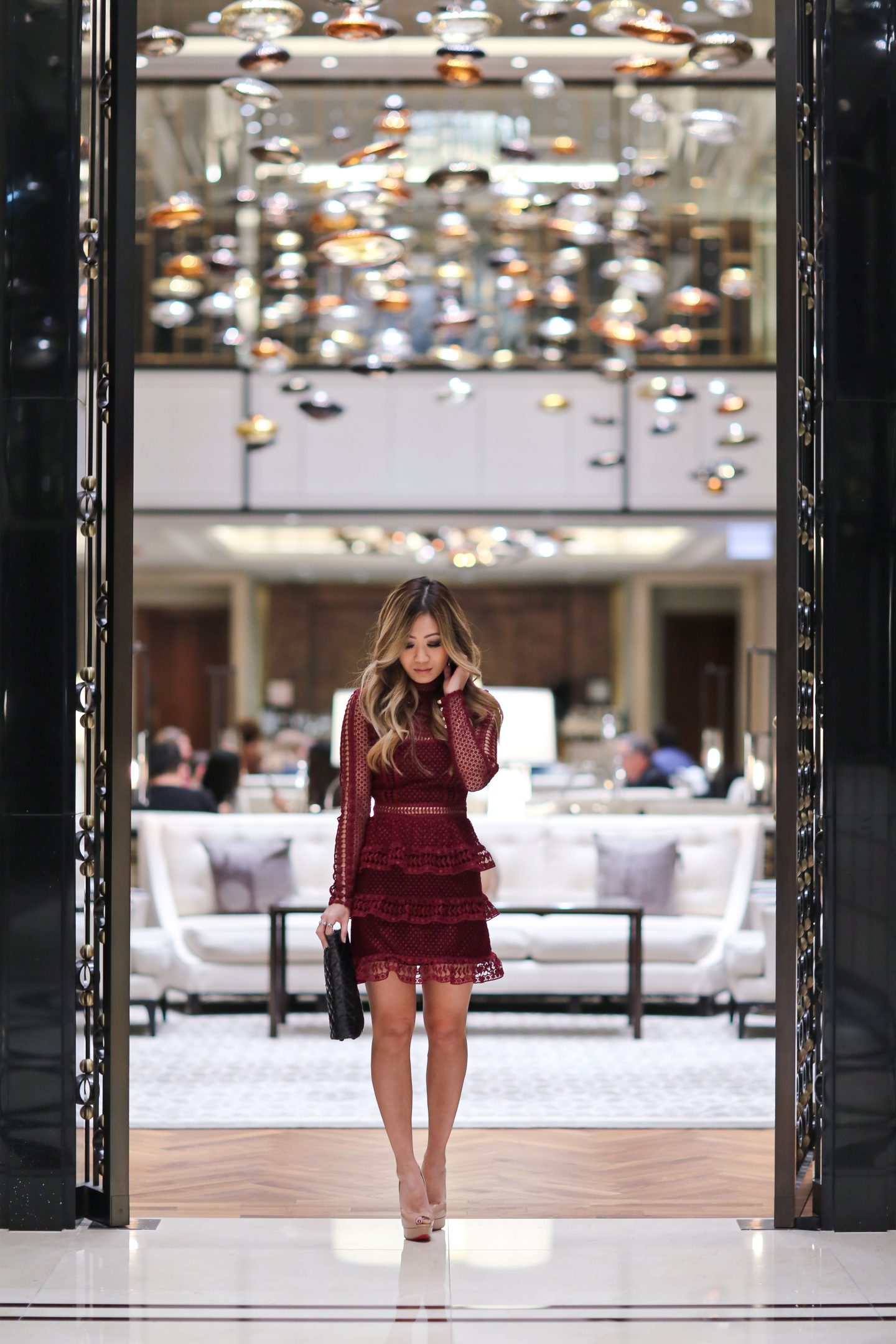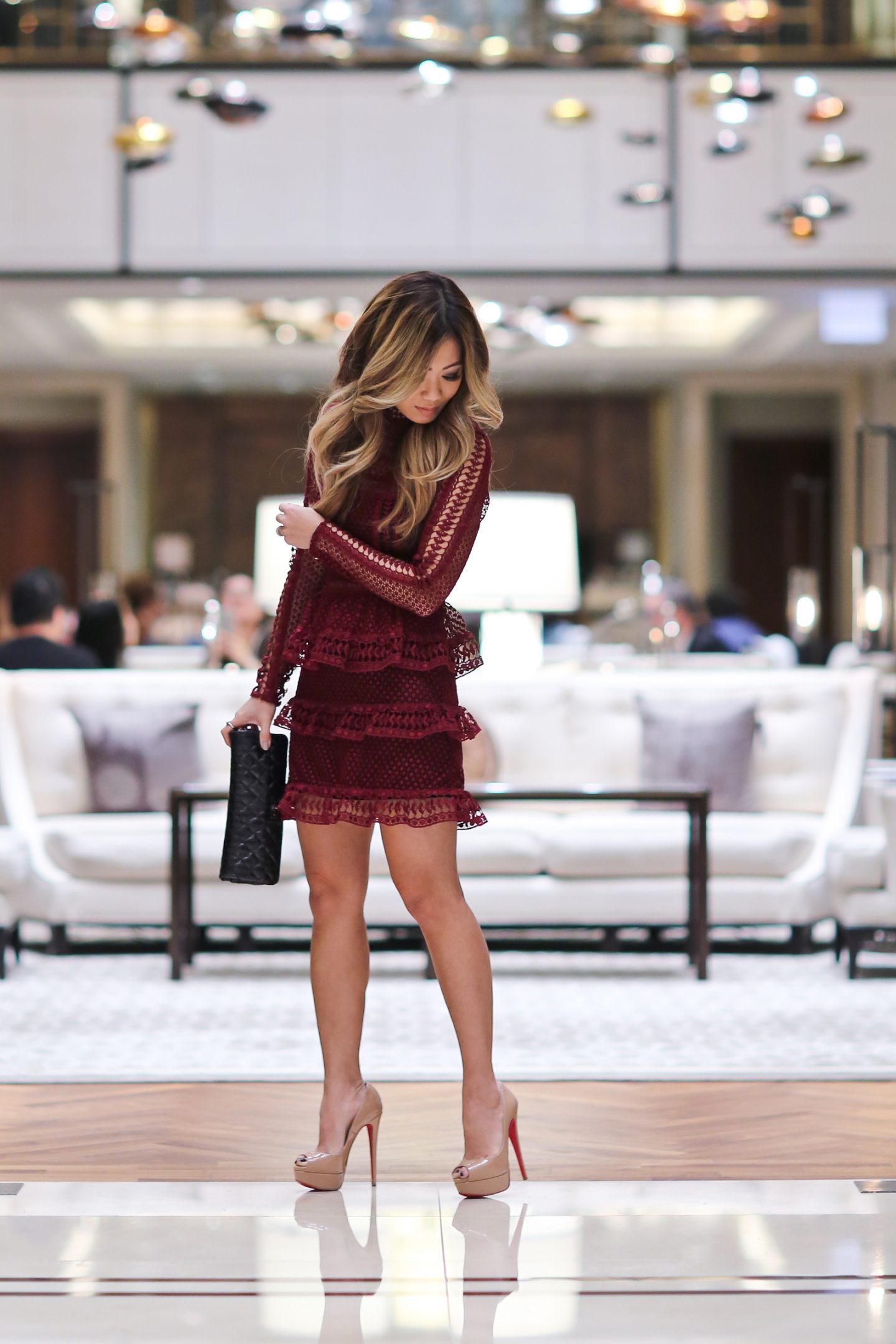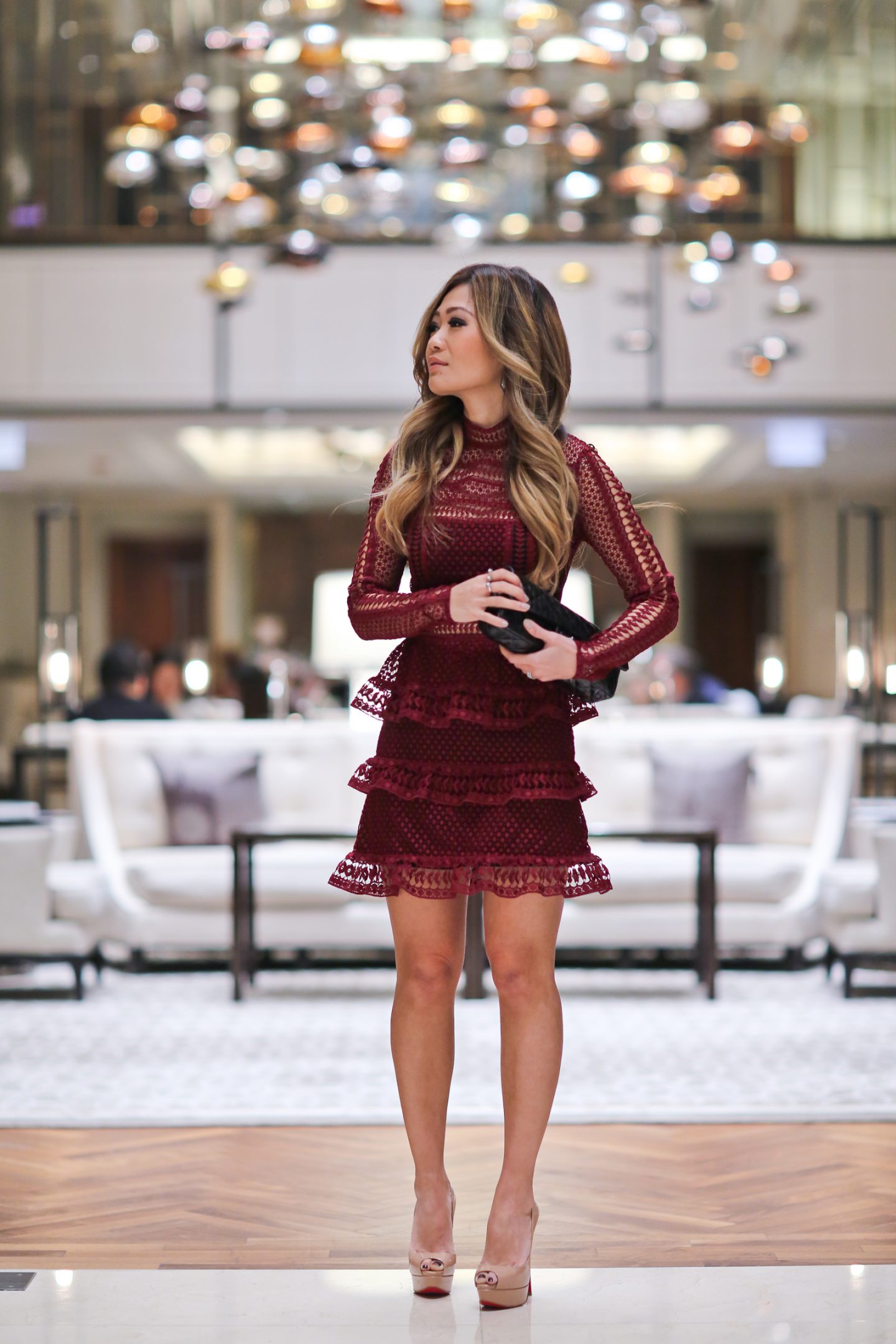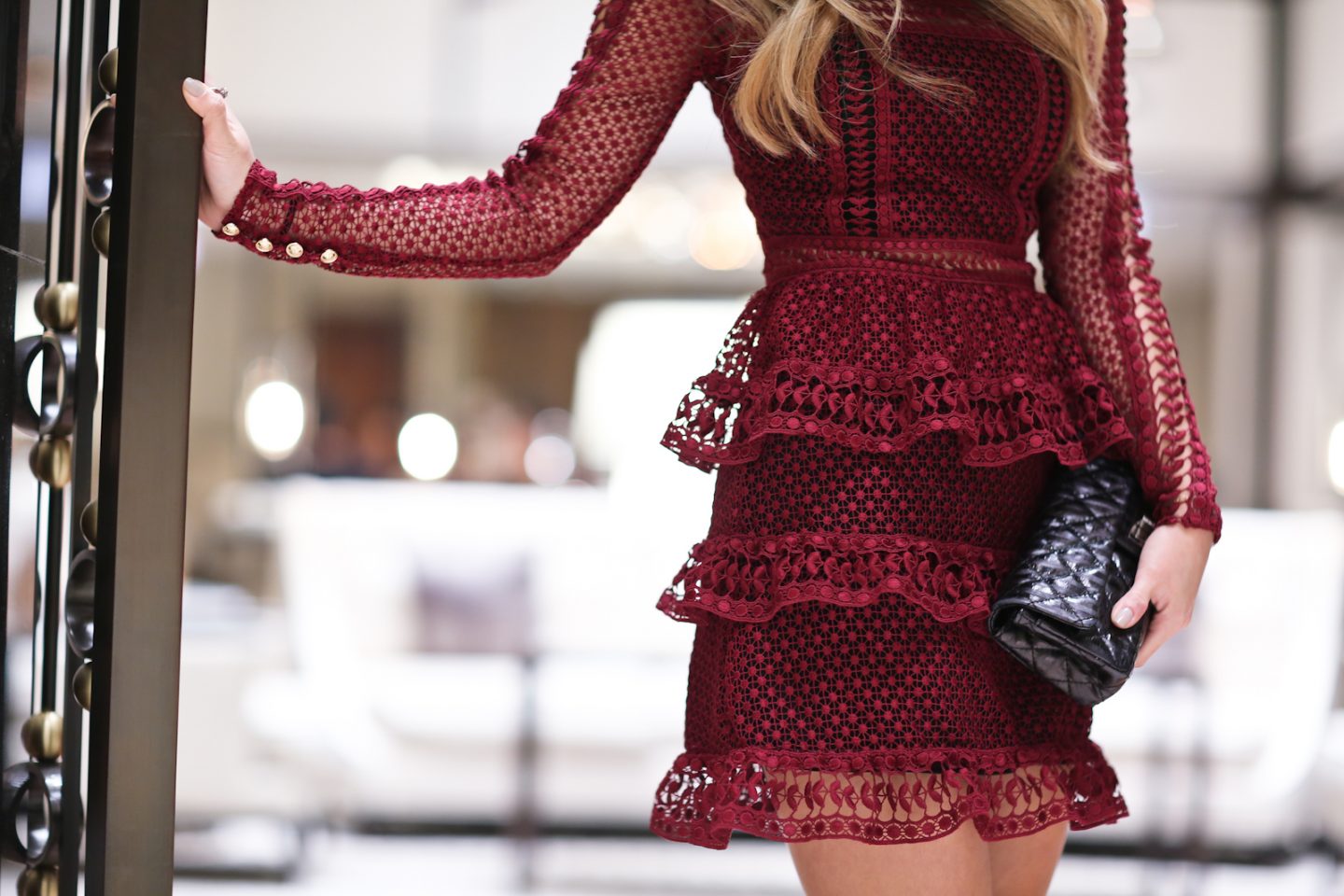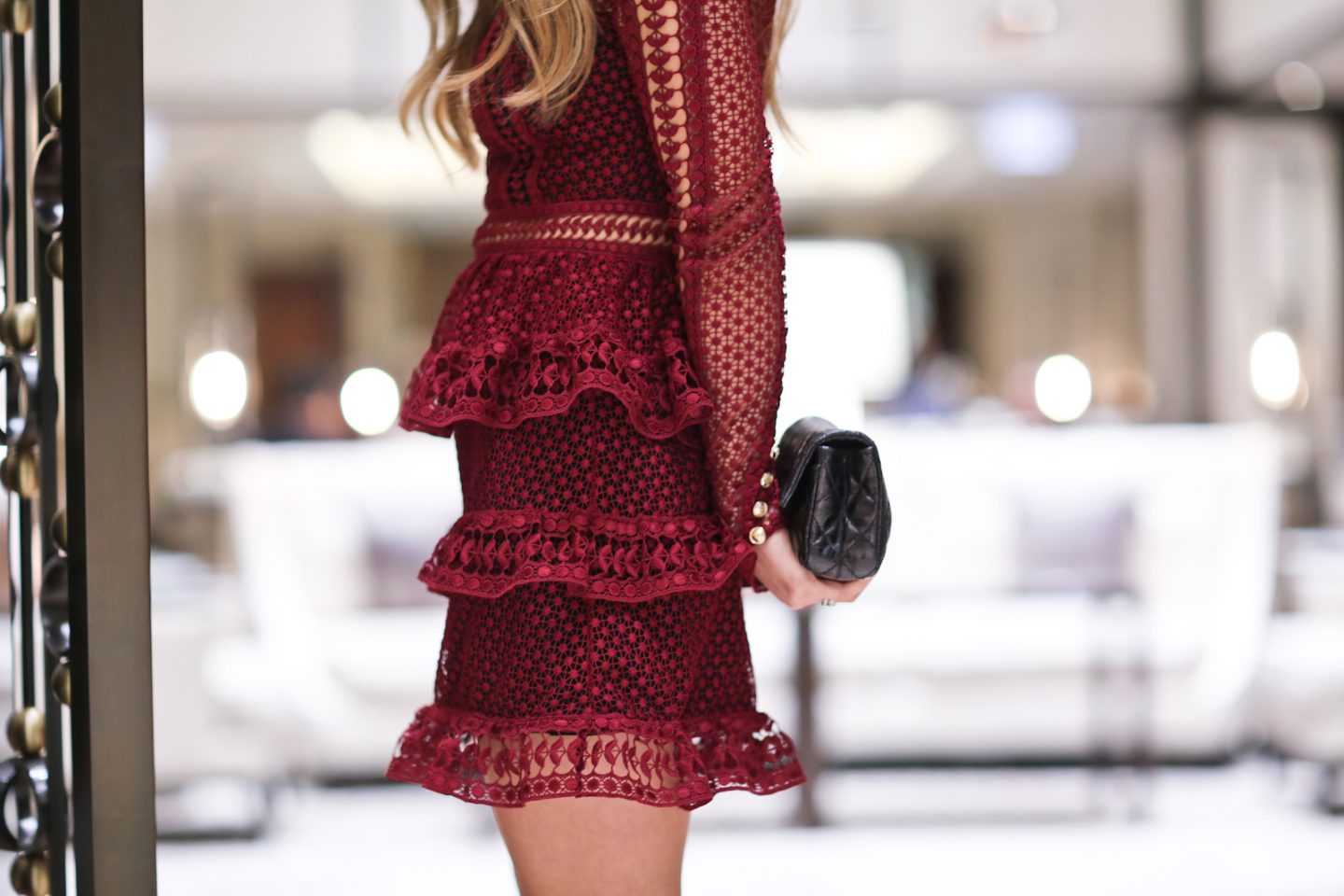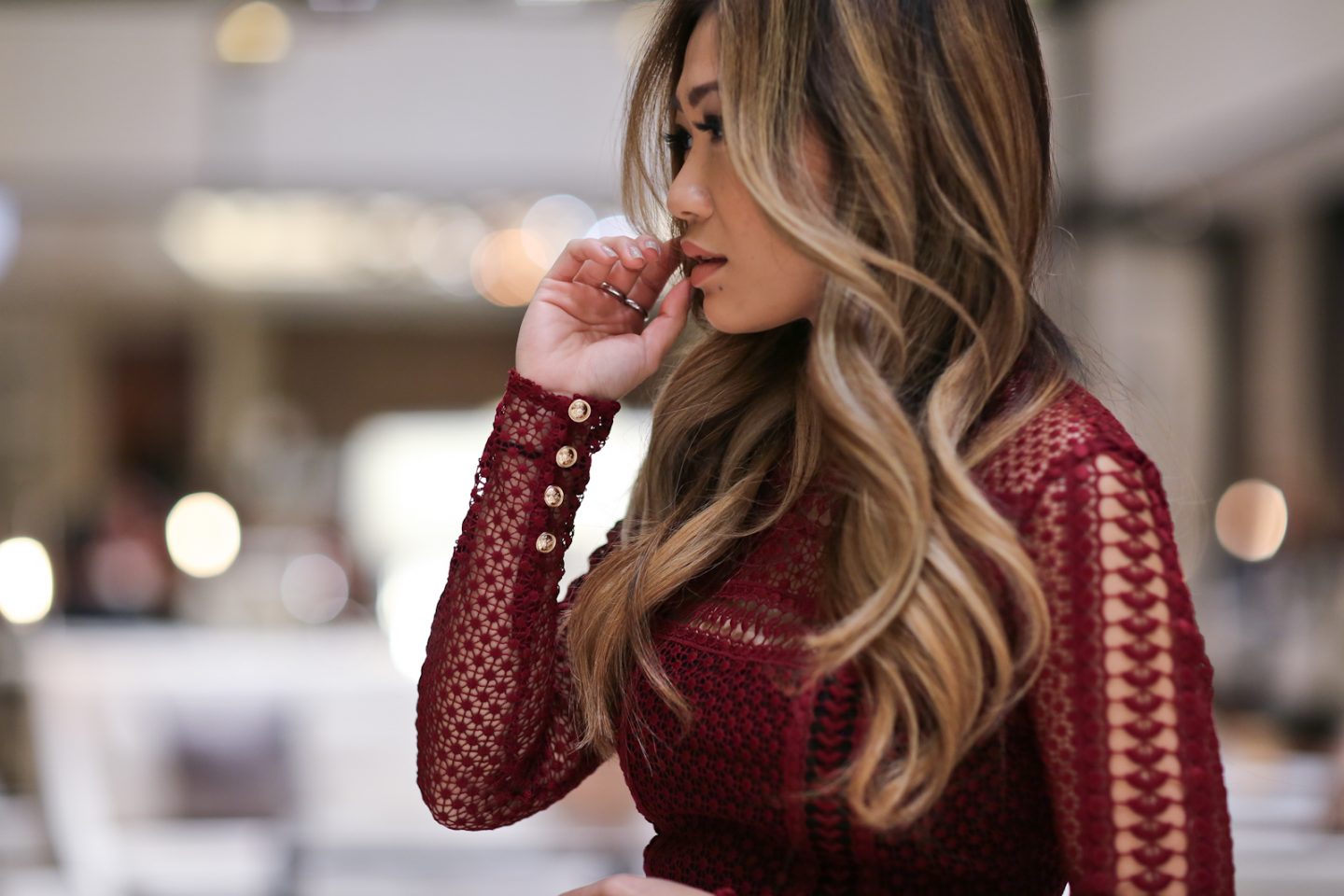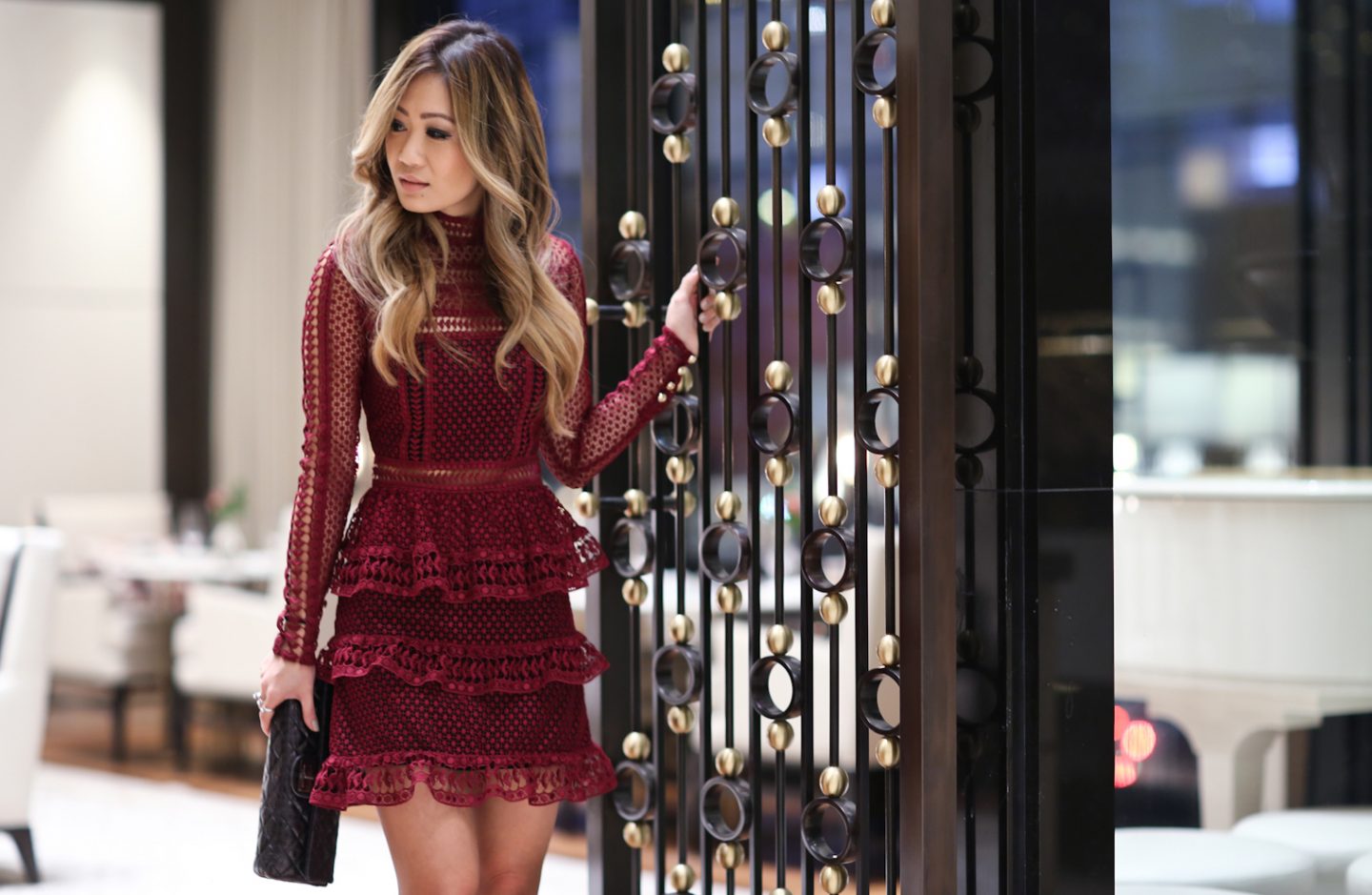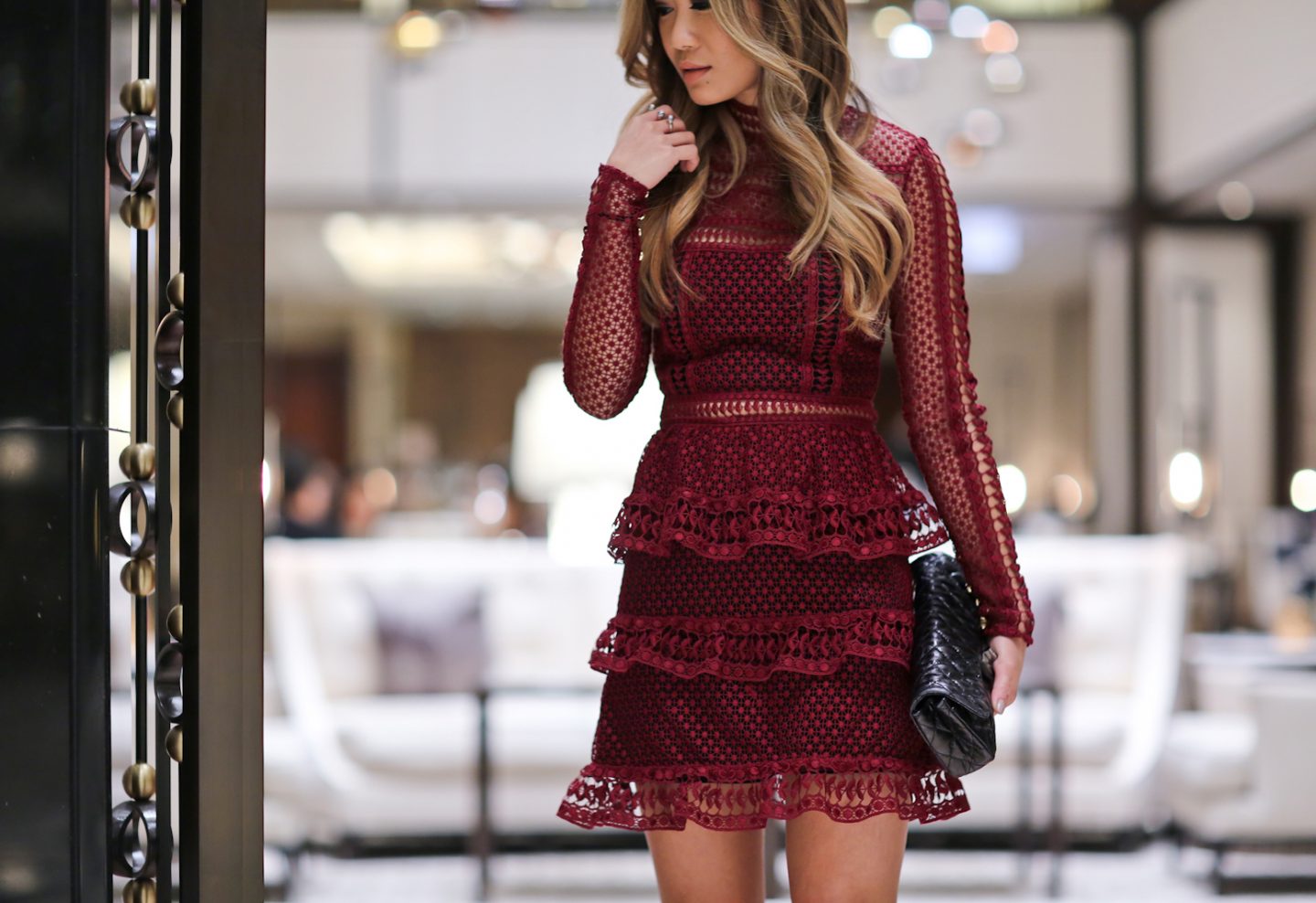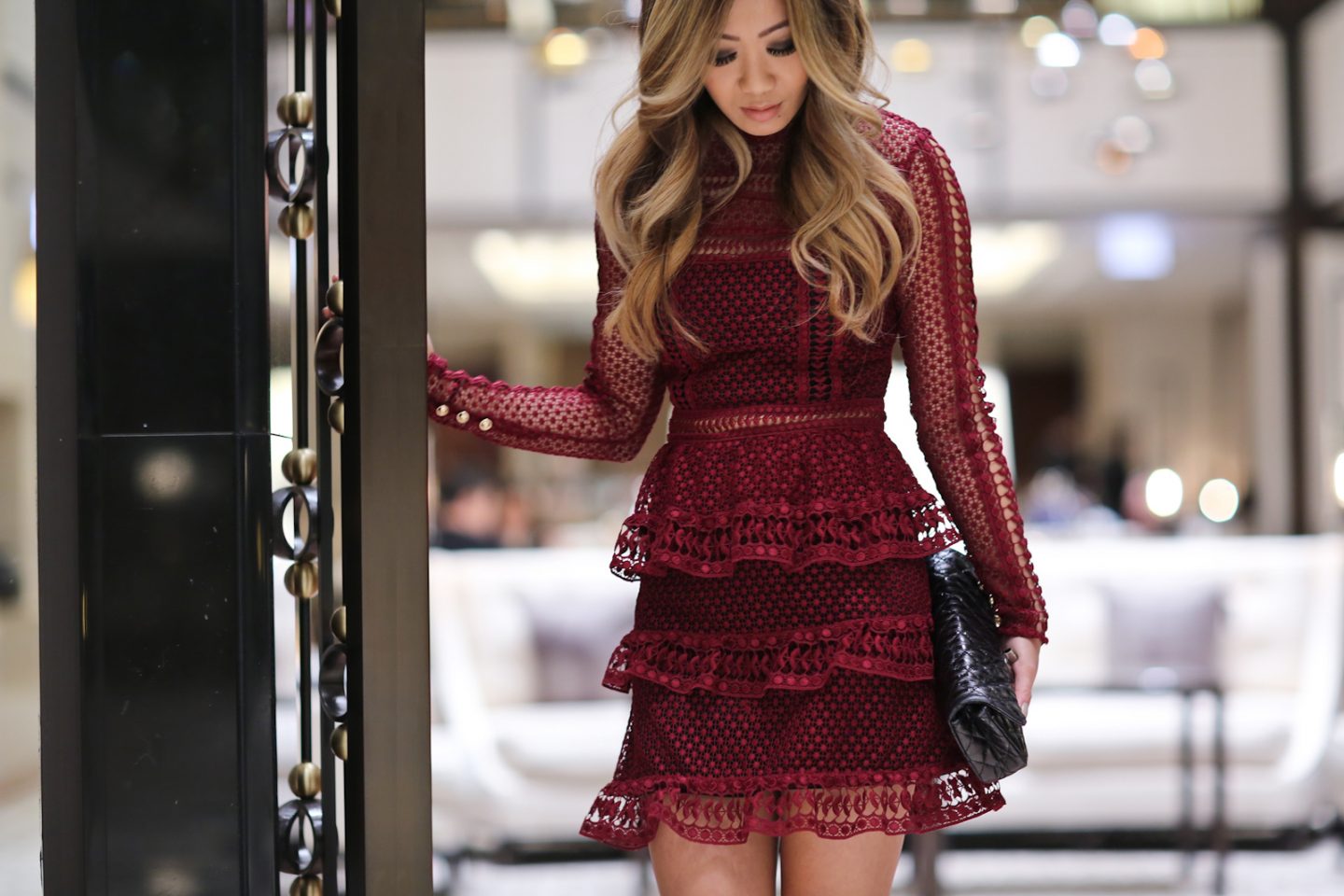 //  dress – self portrait  //  shoes – christian louboutin  // bag – chanel  //

---
---
//  shop the look  //
---
---
#LanghamGGParty
Rewards season has officially begun and a week ago I hosted a fabulous and intimate event at the Langham Hotel here in Chicago. I invited 10 of my favorite people to come join me and my hubby in the Cinema room located on the 12th floor of this gorgeous hotel for a night of Golden Globes glitz and glam.  Thanks to the Langham for providing us everything you could possibly need for a GG viewing party!  We had wine, we had champagne, we had yummy flat-breads and treats, we had cookies and sweets, we had plushy seats… it can't be beat!  And to top it all off, my guests got to enter their guesses at the winners for a chance to win a massage experience at the Langham Hotel Chuan Spa!  Talk about motivation.  It was serious game faces on to guess all the winning nominees.
I can't thank Langham Hotels enough for the experience and choosing me to host their GG viewing party.  We had a lovely time and I loved how intimate and comfy the cinema room was.  The experience was unforgettable and it helps when you are surrounded by some of the best people ever!  Thanks to my guests for keeping me company and keeping me smiling always.
(click on images to view gallery)
[robo-gallery id="4740″]
---
---