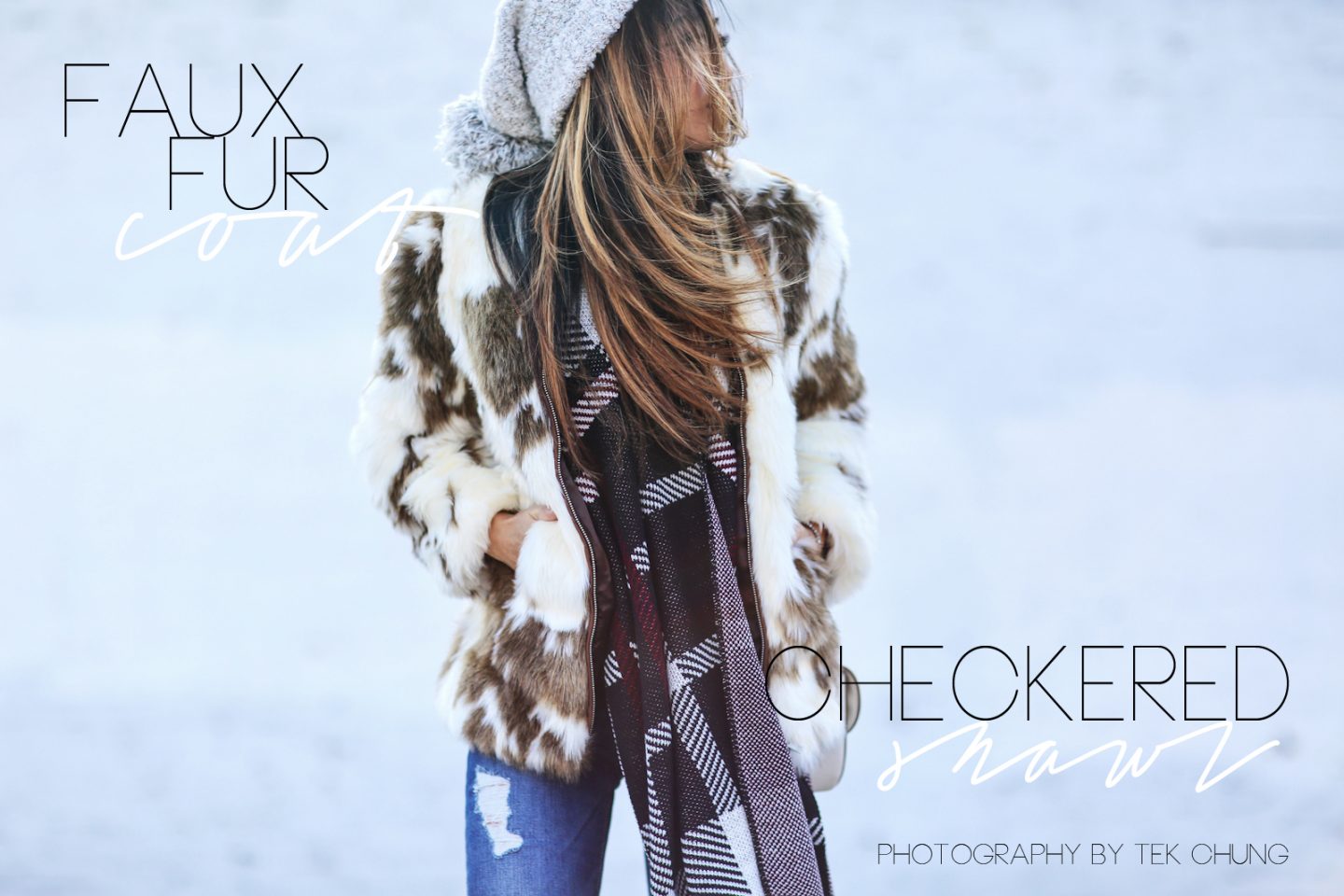 FAUX FUR COAT AND CHECKERED SHAWL WINTER LOOK
Happy Tuesday my loves!  Bringing you a casual and cozy look with a faux fur coat and checkered shawl.  I hope everyone had a very Merry Christmas and spent some quality time with your families.  I finally had some much needed down time to just hang at home and catch up on shows and laundry.  Isn't it funny that back when I was young, I hated doing laundry and now that I am a self sufficient adult with a career, all I want is time to actually do my laundry.  Things like chores, cooking at home, and cleaning my kitchen and caulking my bathroom… all things I would love the time to do.  Yes, I know how to caulk.  I'm a pretty good caulker.  Hehehe… I actually do a lot of the home improvement in my house.  Maybe I have control issues or maybe it's just that the hubby just isn't that handy… or maybe I just don't trust anyone but myself or a professional to do the job right.  I mean is it really a surprise that I like things done my way?
It definitely felt so nice and relaxing to just do housework.  No spreadsheets and tax code to deal with.  I simply refused to open up my work computer and check emails.  Is this what housewives with no kids feel like?  I know the grass is always greener on the other side and all that jazz but man… your entire day is dictated by self imposed check lists.  No one on your ass about deadlines and meetings.  No stress over the little time you have to finish projects or else your job is on the line.  If you've got a good man… what's there to complain about?  Sigh, I could definitely get used to that life.  (My feminist side is kicking and screaming in my head right now trying to punch these thoughts in the gonads)  Could I really give up my cushy tax job?  Because you know… tax is soooo fun!  LOL.  Sigh, I think I could definitely do the domesticated housewife life and have someone take care of me for once.  No kids though… that's the key.  House wife, no kids.  Then I could just blog all day and take pretty pictures!  So I won't actually be that bored.  Wheeee~
Enough of my ranting…. will keep my day job because I like pretty things too much and no one else will buy them for me (except the occasional pretty purse from good ol' dad which is my reward for having my job, a consistent mortgage payment, a 401K, and a FICO score of right under 800… and yes, I have to prove these out annually).
I hope you enjoy this faux fur coat and checkered shawl look I slapped together. Lately I haven't spent too much time thinking about my daily outfits. This one just kind of fell together because I knew it was getting chillier outside.  I've also transitioned my money to furniture rather than clothes.  I'm just not ballin' enough to afford both at the moment.  So I'm really trying to mix in some of my older pieces lying around in my closet.  I've always loved the pattern on this coat.  It was one of my first faux fur coat purchases.  The random brown patches make me think of cows.  Also wearing some Flying Monkey jeans.  Surprisingly really great quality for a low price.  I love that these have a shorter inseam for the shorties.  The checkered shawl is great as it doubles as a scarf when you have a coat on but back to a shawl when you take your coat off.  I hope you enjoyed the look!
2016 is just right around the corner!  I'm excited to see what the new year brings.  I'll also be heading into year end hell at work so you might not hear from me for the month of January.  All my tax and accounting peeps feel me on this right?  But I hope you don't forget about me!  As always thank you for your constant love and support.  Here's to the new year!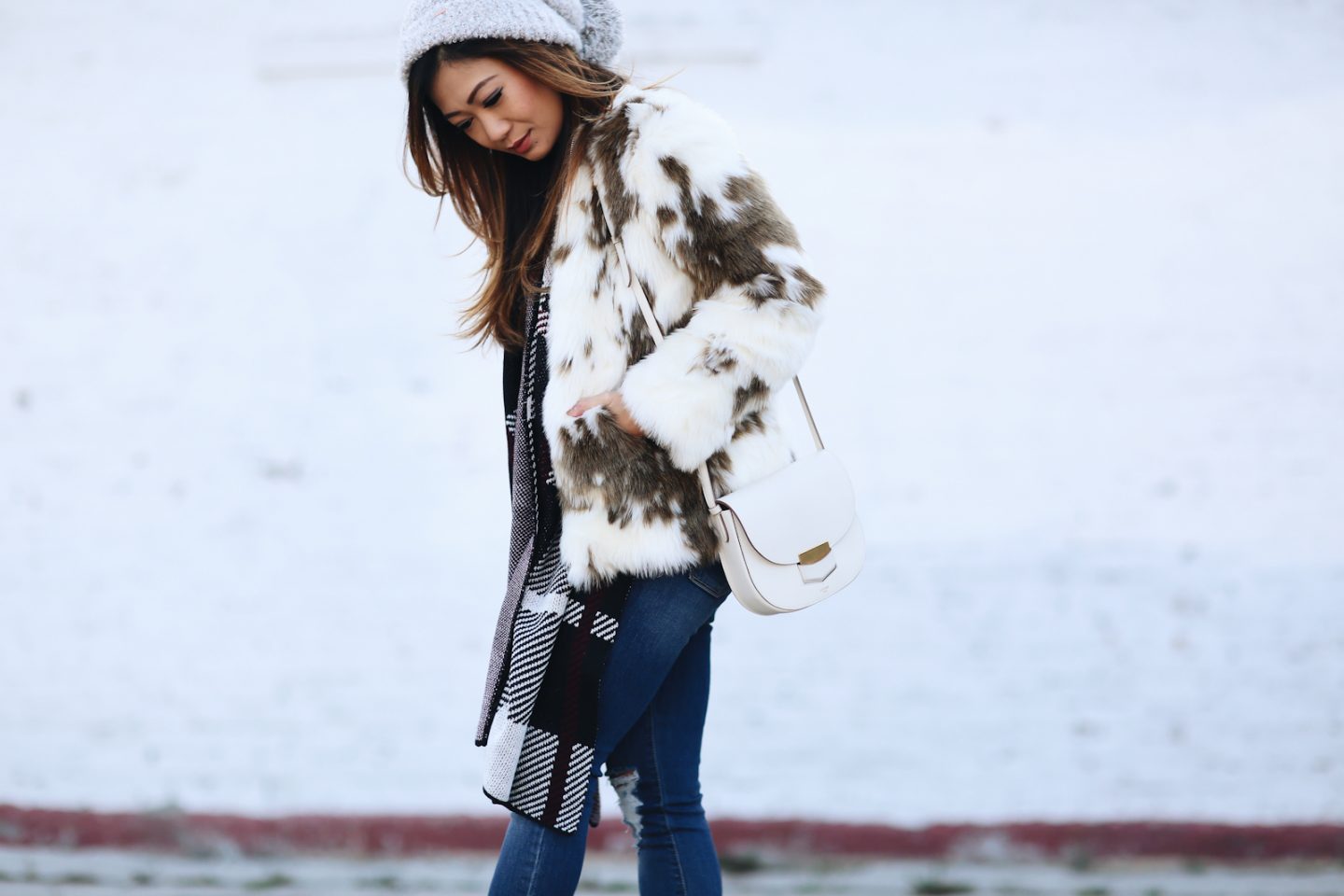 //  faux fur coat – asos  //  shawl – kiz chicago  //  jeans – flying monkey denim  //  shoes – nasty gal shoe cult  //  bag – celine  //  sunnies – gentle monster  //  beanie – free people  //

---
---
//  shop the look  //
---
---