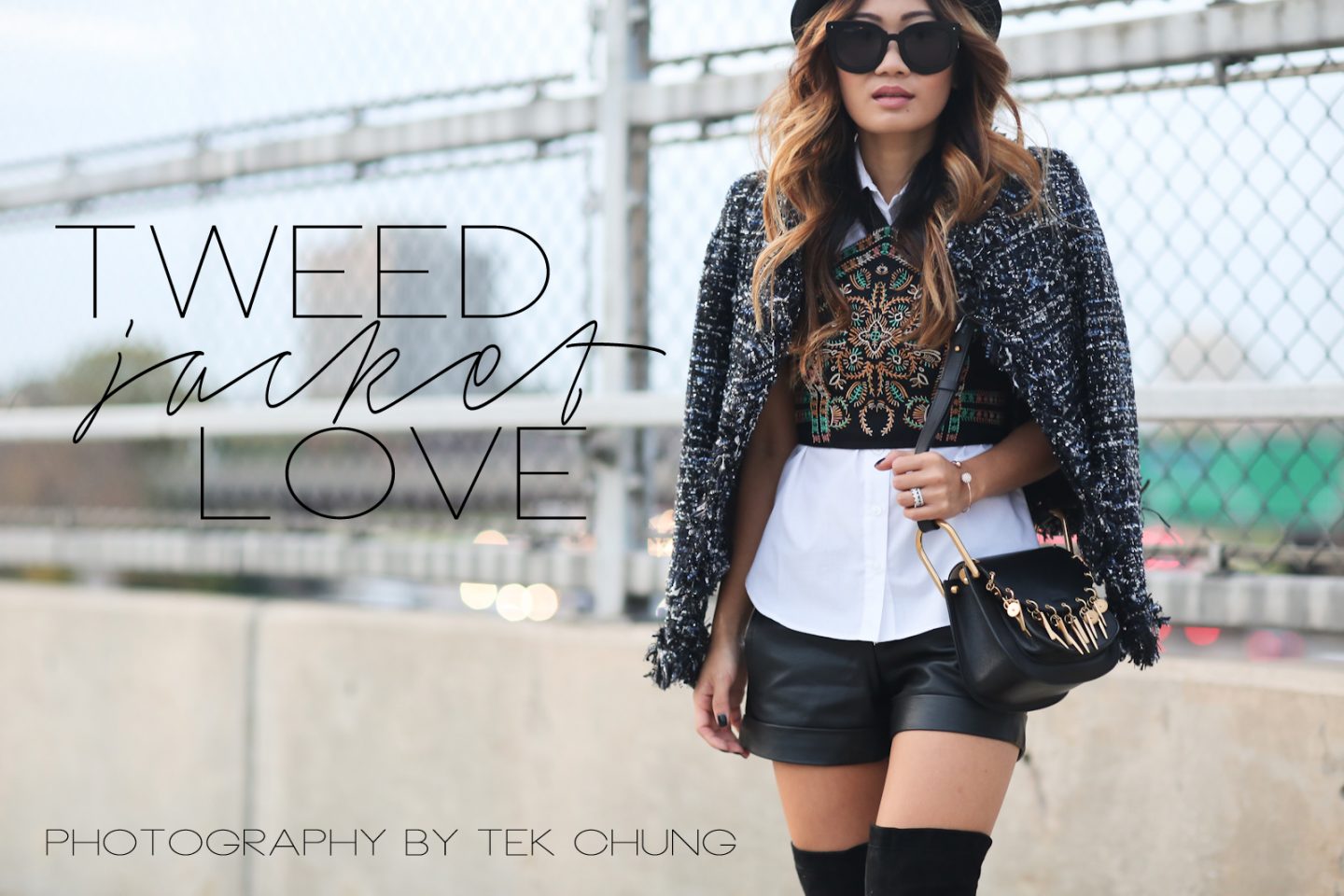 Bringing you a tweed jacket and layered crop top look today!  Did you go crazy on crop tops this past summer?  Yea me too.  But don't you worry your pretty little head.  Layer up those crop tops on top of anything you can pull off.  Start with a crisp tailored shirt and even play around with what it could look like over sweaters and things.  You'd be surprised at the fun looks you can get out of using your summer crop tops.
I just got back from LA and had such a great trip.  I don't know about you guys but I really needed a spontaneous getaway.  It felt really good for one to just up and go somewhere with zero plans and just play every day by ear.  I ate at some really amazing spots thanks to some super helpful friends.  I went to Korean Karaoke TWICE…. and it was EPIC.  I got to hang with my bestie out there and also spent some time just sitting on the sand and staring out into the ocean.  Overall it was exactly what the doctor ordered before work starts to get crazy again after the holidays.
I was hoping to put together some sort of gift guide for this season but that's not going too well.  LOL.  So hard managing the blog and my high stress full time corporate life and maintain some sort of social life on top of that.  For anyone that does it all or even all of that PLUS kids… any advice?  I feel like I'm starting to lose it a little bit these days.  I keep misplacing things, forgetting important dates, and just overall losing my mind.
Anyway, I hope you guys enjoy the look and I hope that you give it a try yourself!
//  top – asos  //  crop top – top shop  //  shorts – club monaco  //  otk boots – sam edelman  //  tweed jacket – storets  //  sunnies – grey ant  //  bag – chloe  //  hat – nastygal  //

---
---
//  replicate the look  //
---
---