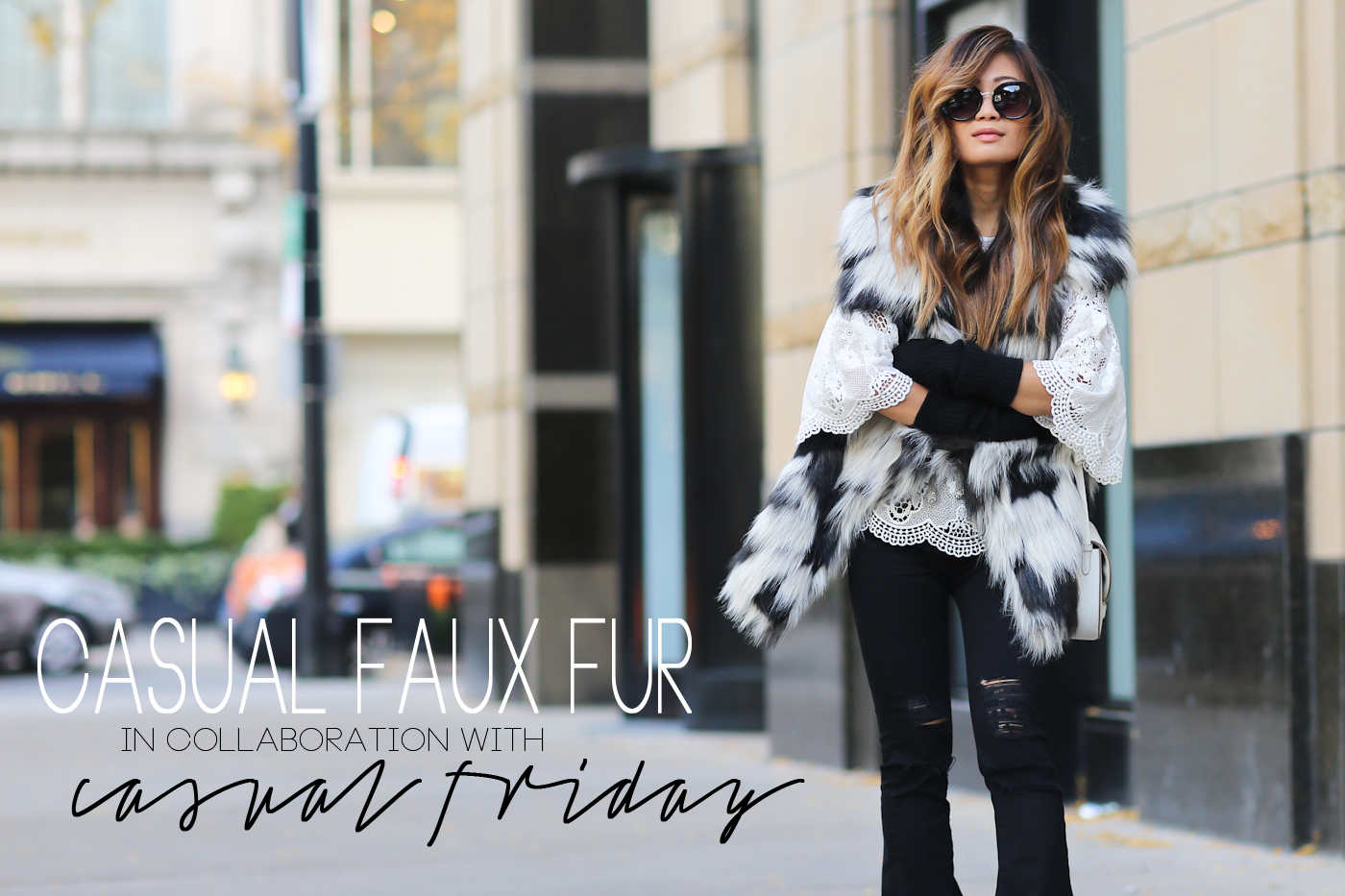 Cold weather season got ya down?  Or in my case the Chicago bilopar temperatures got you confused?  No worries because this faux fur vest can tackle both.  If you don't have any faux fur in your closet yet, we clearly need to rethink our friendship or you live somewhere close to the equator which okay… I'll let that one slide.  For all you other folks, it is an absolute must have if you experience anything remotely close to fall or winter and you just can't do puffy coats every day.  However, one disclaimer on snagging some faux fur, once you get one you can't stop.
Let me tell you why I love this one by Casual Friday.  It's black and white which obviously goes with everything.  It's a vest so you can really play around with your layers.  It's got a collar for extra warmth around your neck and bubbies.  And it's oversized to really make you feel Mob Wives status.   The faux fur is super soft and really warm so if you've been holding out on pulling the trigger on a faux fur vest… time to fire BANG!  This one is the one to get at only $136 and no… it doesn't shed all over you.  I've styled up this faux fur with some ripped flares.  These particular ones I have come in different inseam heights which is AMAAAAAAAZING because most flares out there have an inseam of 35″!  I mean really?  Most humans don't have that long of a leg yanno!  I've always had to wear dangerously high platforms to even come close to being able to wear most of my flares.  So I am super thankful for this awesome $60(!!!!) pair that gives me a shorter option.  WOOT!
The rest of the look just kind of fell together.  Obsessed with lace as always so this top with its lace bell flare sleeves and scalloped edges at only $54(!!!) is right up my alley.  I always think a great way to play up a vest is to wear a top with fun sleeves.  And because it was a bit nippy this day, I had my fingerless shearling gloves to keep my hands warm but free for textin' and instagrammin', which is oh so important.  A simple small white purse, round sunnies and a silver tassel necklace to  pull the rest of the look together and you've got one of my favorite casual looks for fall.  What do you guys think?
Big shout out to @thejessemontana (can't wait to see ya in LA!) for my blow out and style and to Dennis Bartolomei Salon for having me all that morning just chillin' and sippin' on Prosecco
//  vest – thanks to casual friday  //  jeans – asos  //  shoes – nastygal (old)  //  top – storets  //  sunnies – thanks to edge iwear  //  gloves – alice and olivia  //  necklace – thanks to t&j designs  //

---
---
//  replicate the look  //
---
---