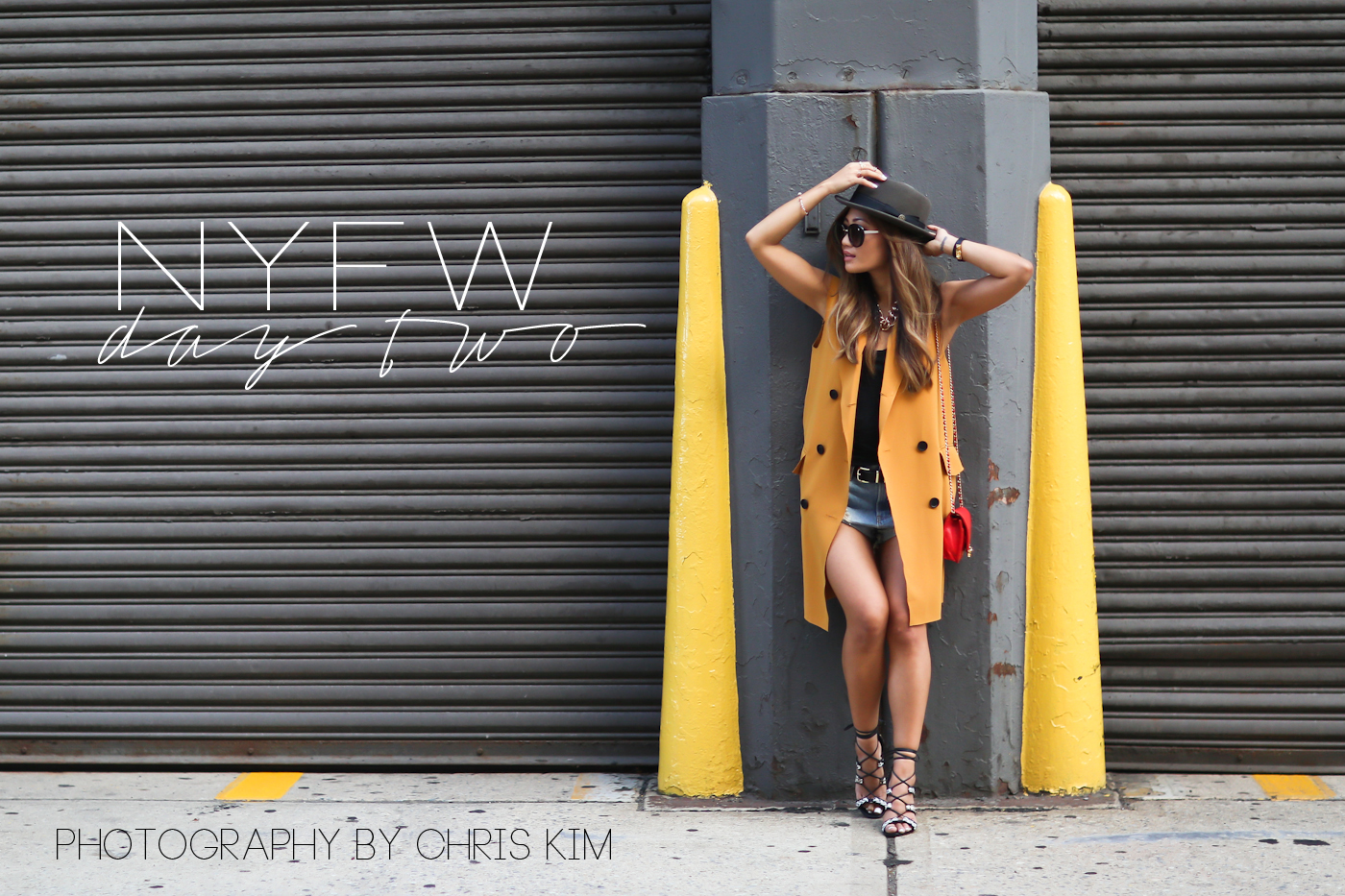 Second day of NYFW post here and it's long overdue as usual.  Day 2 was definitely more fun. I decided not to lug my work with me so I was instantly in a better mood.  The weather was great and the rain had stopped.  I went to a handful of shows… Karigam, KYE, and Nicole Miller.  I decided to just stick to one location for the shows instead of trying to go from venue to venue which, as I mentioned in my previous post, is actually really stressful.  It worked out perfectly as I got to take more photos with my friend Tum Tum which was super fun.  Absolutely love these shots he took of me right outside the show venue at The Gallery at Skylight Clarkson Square.  I opted for a super casual look with this sleeveless trench as my statement piece.  I am obsessed with this mustard color.  It really pops and I think a sleeveless trench is something everyone needs as it can easily go from summer to fall.  I completed the look with a classic pork pie hat, lace up sandals, and a thick gold chain necklace.  Kind of random but works well all together don't you think?
I call this shot… "Runway Photographer Off Duty"
Some few shots with the best "big sis" ever… Janet!  I always have so many laughs with her and we surely get ourselves into some funny situations.  Like almost getting kicked out of front row but instead getting photographed like we were celebs.  Puahaha!
As you can tell from all my smiles and laughs that Day 2 was awesome!  I hope you enjoyed the photos and thanks for stopping by!
//  vest – topshop  //  tank – rag and bone  //  shorts – nastygal  //  shoes – schutz  //  sunnies – thanks to edge iwear  //  hat – goorin bros  //  rings – thanks to t&j designs and kendra scott  //

---
---
//  replicate the look  //
---
---