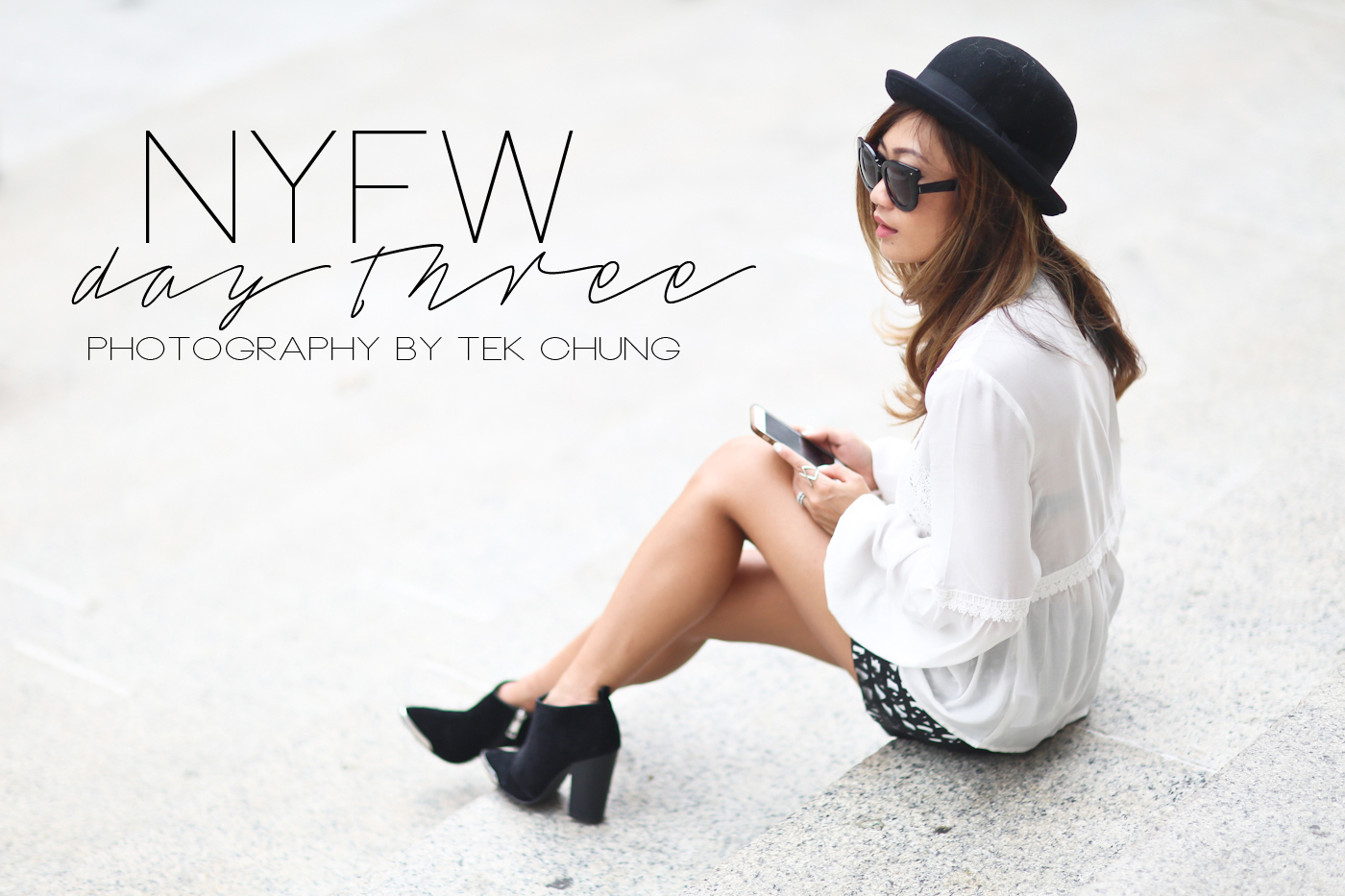 Day three was when the hubster finally flew in meaning… PHOTOSHOOT TIME!  Haha…  The day started with an amazing blowout courtesy of Dream Dry located on W 57th and after every good blowout must come photos.  Luckily we were super close to one of the main show locations.  Here I am at the steps of Moynihan Station which used to be a Post Office and now boasts a total of 74,000 sq feet of event space.  During this time was when the Herve Leger show was happening.  Nope I sadly did not get an invite to this show but it was pretty cool to see the flood of people coming out after it was over.  It was a sea of big boobs and bandage dresses atop sky high Louboutins mixed with super casual street style.  I ran into Shea from Peace Love Shea and her bestie Caroline right outside and took a quick snapchat.  One is gorgeous on their own but when they stand together… it's like KAPOW… too much hotness to be in the middle of.  Especially when they seem like they are 6 feet tall.  LOL!  They definitely had to crouch during our selfie snapchat moment.  I told them I was a big fan and that they were gorgeous, they laughed and smiled and said "Awww thanks.. you are such a sweetie." and that was the end of that moment.
It was definitely a mad house after the Herve Leger show which was expected.  It took us quite a while to get through the crowd just to get back to where we were staying close by.  Maybe next season I'll get an invite… or just sneak in… hehehe.. I'm lookin' at you Farheen!  That morning however, I did get to sit front row at Noon By Noor which was really nostalgic since back a few years ago, Noon By Noor was the very first fashion show I had ever been invited to.  Thanks to the lovely Sheryl Luke for giving me her ticket when she realized she couldn't make the show.  It was funny checking in and seeing the girls' face who was scanning my ticket.  Obviously I am NOT Sheryl.  And she tried to graciously and politely ask me how I got the ticket with just a hint of suspicion.  Puahahaha.  The Noon By Noor show was a stunning graduation from netrals to metallic embellishments to bold bright colors.
Okay so let's discuss this Cara Cheung skirt shall we?  The moment I saw it on her Instagram account I knew I had to have it. I have this thing where I kinda Insta-stalk new designers.  So when she started following me, I obviously got curious and started following her back.  And I'm so glad I did because now I've got this sick skirt!  I love anything that has laser cut out details on it so when you show me a skirt like this and it's got edgy cut outs in some typographic pattern, and it's leather and it's black and white and a it's asymmetrical, and it's a mini skirt and aaaaaaaaaaaaaah… I haaaaaaaaaaaaaassss to haaaaaaaaaaaave!  I immediately reached out and bless her big heart, she sent me the skirt in time so I could take it to NYC with me!   I can't wait to see what else she comes out with.  She's got this mesh moto leather jacket that is omgg….. so many drools.  Definitely check out her stuff as she is working to get her online store up and running.  Thanks again for this lovely skirt babe!
//  top – top shop  //  skirt – thanks to CARA CHEUNG  //  boots – nasty gal  //  necklace – dylanlex  //  hat – nasty gal  //  sunnies – grey ant  //

---
---
//  replicate the look  //
---
---