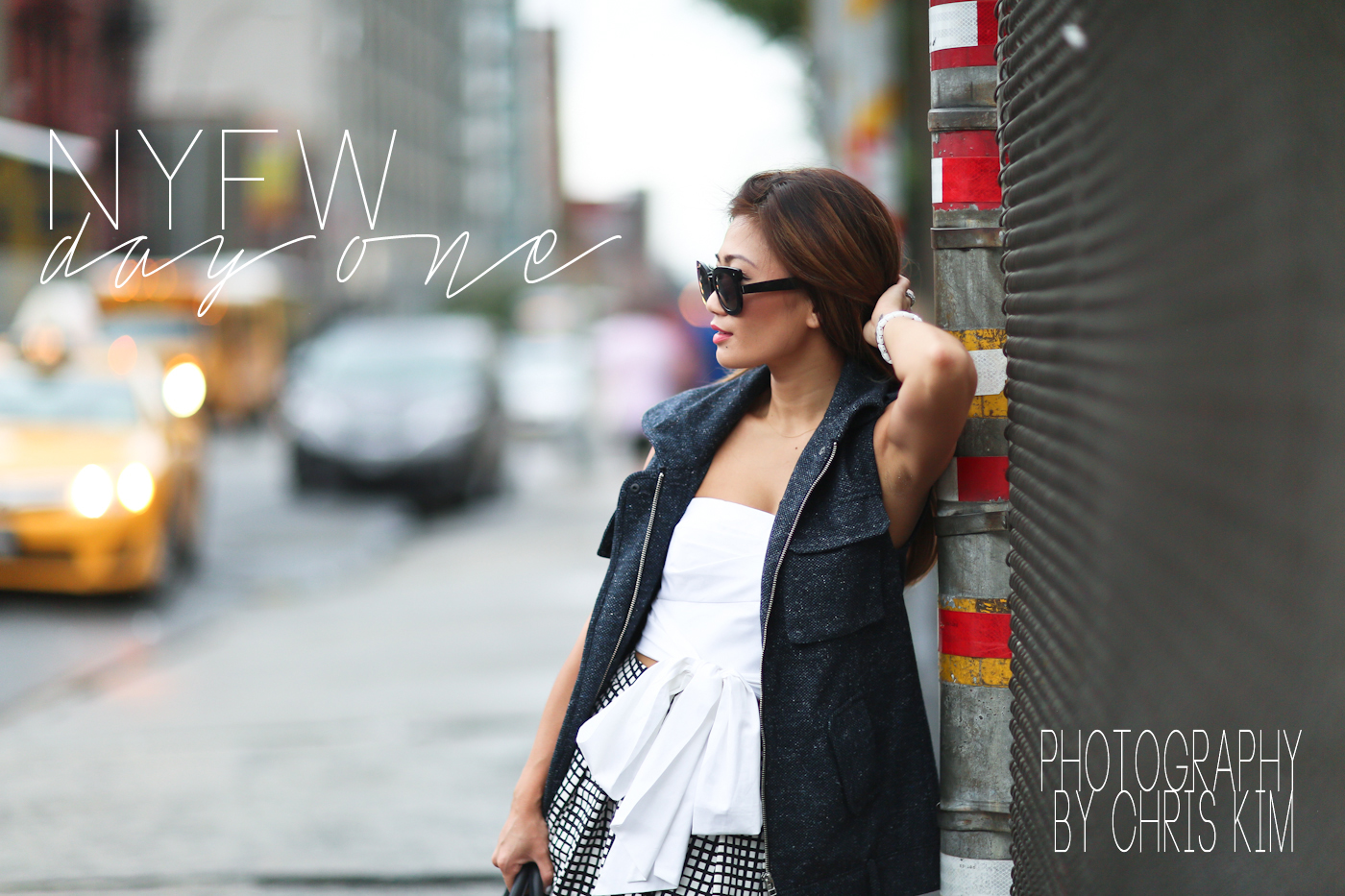 If you ever want to feel what it's like to be me, just try going to NYFW during tax compliance season.  That's one way to develop an ulcer for sure.  Although I am pretty lucky that my work actually allowed me to go, even if I had to carry tax returns around to some shows.  I guess that's the price of having a double life eh?
So how was NYFW? Obviously amazing right?  Maybe for some and there were definitely some amazing moments.  However, I found it a roller coaster of emotions that ranged from pure excitement and awe to complete annoyance and utter irritation.  The shows itself, though I skipped a few, were of course beautiful and each one offered up different levels of inspiration and beauty that could only come from such talented designers behind the helm.  Though, what is it really like to attend NYFW as a non celebrity and non famous blogger?  Not the best.  LOL.  Trust me, it is not as glamorous as I and many others would love to have you believe. It involves waiting in long lines and feeling irrelevant as fuqqq as the more important people skip right on ahead to their assigned seats.  And standing status does not guarantee you get inside. First come first served. So again more waiting as you must try to come early. Most of the time I stood watching the shows and a few times I just planted myself into an open seat.  Really the whole time you think to yourself, OMG this is awesome… I'm so lucky to be here!  But damn my feet are KILLING ME!
Let's not forget the time it takes to shuttle yourself from one location to the next.  Thank goodness for LYFT Line or else I would have spent a fortune on cabs!  If you had back to back shows spread out to the three main locations, it was a nightmare trying to get to each one on time.  Luckily all the shows run late.  Not just 10 minutes type of late, but 30-45 minutes later than they say.  Checking in, getting scanned, and passing through all the checkpoints can take quite a bit of time.  So patience and a fully charged phone battery is a must.  There's nothing worse than having a show start and staring at that dreadful red bar on your battery status as you frantically try to snapchat as much as you can fit in.  Then be ready to bolt out the door and into a cab to barely make it to your next show.  Yes, a roller coaster of feels.
All this chaos is probably the reason why there were empty seats to take.  So I want to thank all the no shows and a special bae who sent me her front row seat making me feel UBER special at the Noon by Noor show.  I guess that was the benefit of the shows being spread out this year.  There were some no shows which allowed some of us to snag a seat.  Sometimes front row.  It's kind of easy and yet extremely stressful to fit right in.  Just dress the part and walk in with attitude, the right excuses, and clench your butt cheeks for when it doesn't work.  Sometimes you will fail, sometimes you will succeed and at the end of it all is a 30 minute glimpse into whatever fantasy world the designer takes you through. Most of which, through the magic that is social media, you could have caught most of the shows just by following some key bloggers on Snapchat.  It's like being there.  Just follow someone who always has a legit front row seat.  Hehehe.
Don't get me wrong, I feel extremely blessed to have even had the opportunity to see the magical world that is NYFW.  So much hard work and preparation goes into these shows and the clothes that grace the runway.  Some of which you might never see hit the stores.  The electricity that pulsates through the room as the lights dim and then the runway shines bright is something that has to be experienced because it's really hard to put into words.  Then there's also the thrill of being outside and getting photographed a million times.
Outside the shows is a whole runway in itself.  Photographers line the sidewalks in droves to capture the fashion elite strut their way into the entrance.  Getting stopped and asked to be photographed is exhilarating as you try to pull out your go to blogger pose in a split second. Okay leg out slight quarter turn half smile hair touch. Then someone famous walks out and you become invisible.  But you will always have the memory of feeling cool for those few minutes.  Lol.  As I sit here trying to relive the memories, both stressful and exhilarating, I count my lucky stars that I got to experience another season in person.
I also count my lucky stars that I got to link up with one of my favorite photogs Chris Kim and he was kind enough to snap some photos of my NYFW day one outfit.  He has shot me a couple times and the photos always turn out like a dream.  For NYFW day one, I wore this amazing Marissa Webb vest obviously because it was my first show and I was the most excited about attending hers.  And the woman did NOT disappoint!  Her collection was every bit as beautiful as I expected and more.  The playful way she combines leather and lace is like my dreams coming true in front of me.  And the way she can skirt around the female form but in a way that evokes the structure of menswear is simply inspiring.  Her show was definitely a light in a very gloomy and rainy day.  I have been following Marissa's work for a few years and every season I can't wait to see what hits the shelves.  Needless to say, I want EVERYTHAAAAANNNGGG from her SS16 collection.  Thank you Marissa for giving me a chance to see your work in person.  It exceeded all my expectations and I am clearly a huge fan.  See some of the photos I took from the show below.
I hope you enjoy this post as I'm trying to get out as many of my NY pics as I can get to.  As always thanks for stopping by!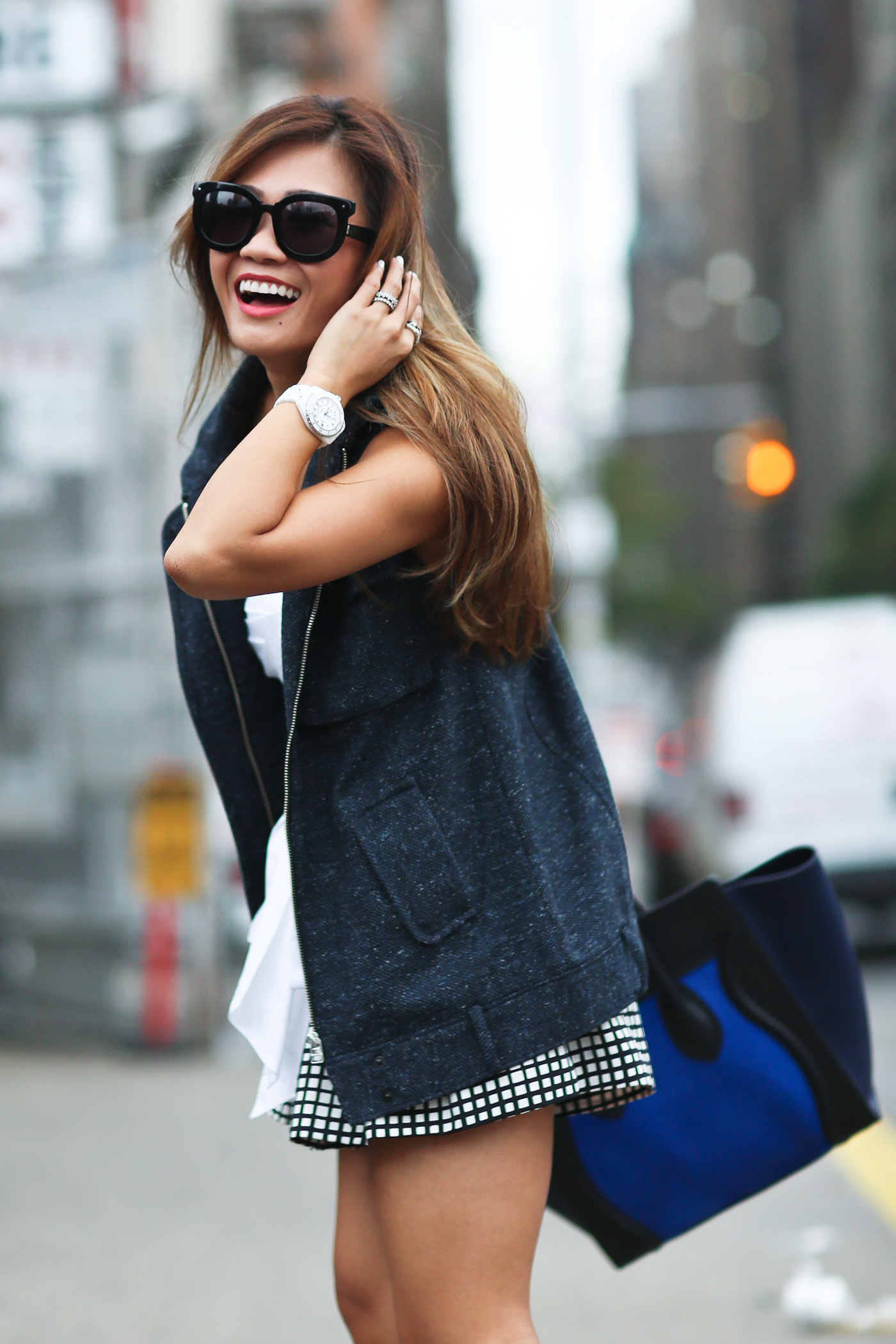 PHOTOGRAPHY BY CHRIS KIM PHOTO
//  vest – marissa webb  //  skirt – l'agence  //  top – tibi  //  shoes – aquazzura  //  sunnies – grey ant  //  bag – celine  //  watch – chanel  //  rings – thanks to kendra scott, tiffanys (old)  //

---
---
//  replicate the look  //
---
---
MARISSA WEBB SS16 COLLECTION
[tribulant_slideshow gallery_id="2″]
---
---