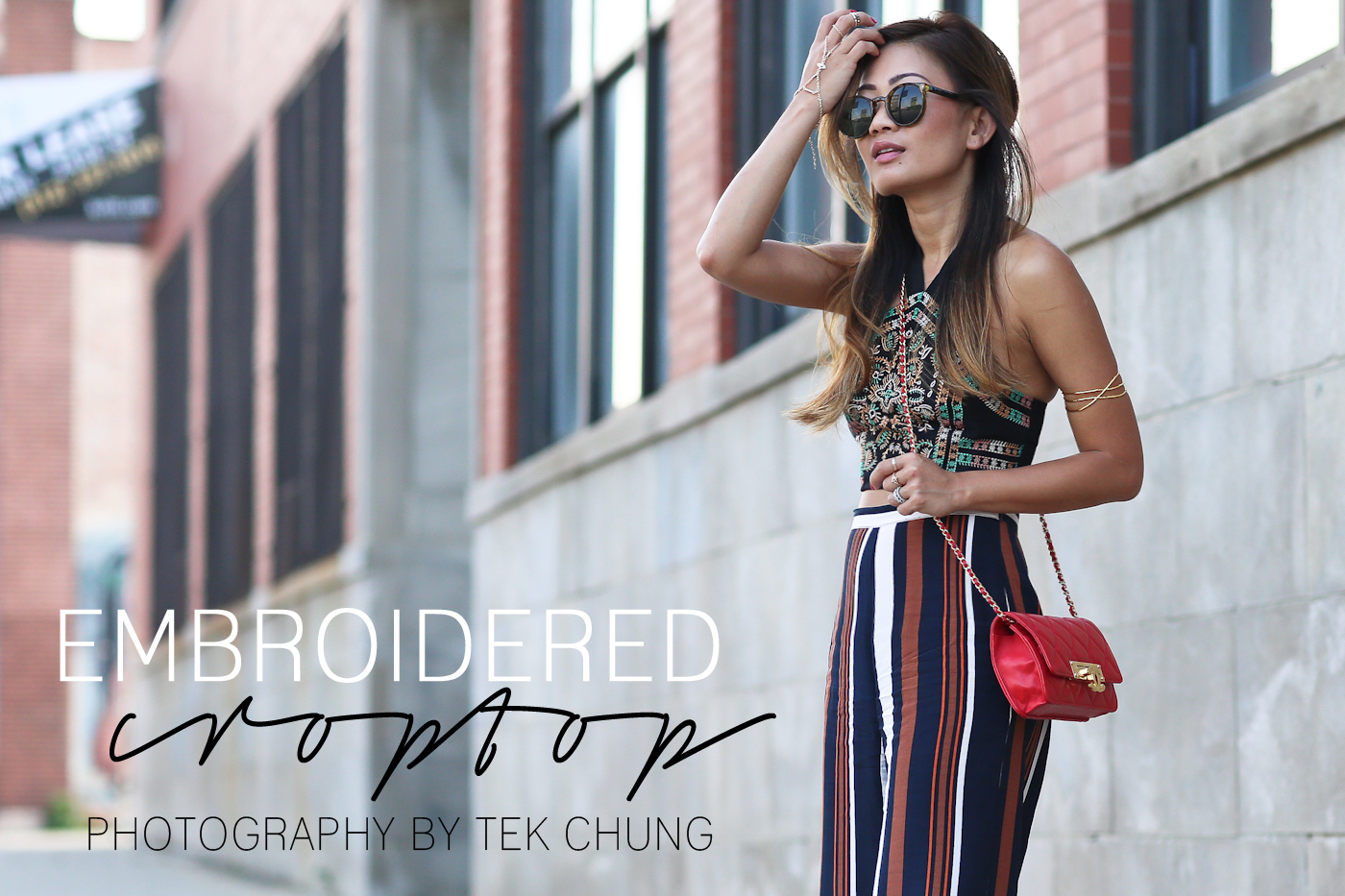 So I'm actually pretty sad… because fall season seems to be fast approaching and although I love fall season and especially fall fashion, it really doesn't last that long in Chicago and I feel like I just didn't get enough summer fun in the sun.  Summer came late and now it's leaving early?!  WTF.  I only got to wear this crop top twice!  Which is a total bummer because I love it so much.  I find this to be a pretty flattering neckline for gals who aren't super blessed with a busty situation in the chestal area.
I paired it with a high waisted wide leg pant because… well because… Taylor Swift told me to.  Her crop toppin' but no belly button showin' steezy has definitely influenced a lot of fashion this summer and I ain't mad about it.  Not to mention wearing a crop top with a high waist pant like this makes your legs look a million miles long.  It also helps when you have an arsenal of stacked platforms in your closet.  Top it off with the fact that the pants have these amazing vertical stripes and I'm looking like I'm 6 foot tall.  Woot!
But what makes this outfit really great is its' versatility.  This look can easily transition into fall.  Top it with a blazer or a flowy trench and it's ready for the upcoming cooler temperatures.  So yes, I definitely recommend that you snag a pair of high waisted flowy striped pants soon.  It's great for this in-between weather we are having.  Light enough for if it suddenly gets hotter than expected but still covers your legs if the temperature drops.  And don't put away those crop tops juuuuust yet.  You can still rock them during the fall if you just add the right complementing pieces.
So maybe I'm getting just a taaaaaaaaaad used to the idea of fall coming soon.  Tis the season of optional shaved legs.  Hooray!
//  bralet – topshop  //  pants – topshop  //  sunnies – spitfire  //  bag – chanel  //  cuff – gorjana  //  hand bracelet – THANKS TO KENDRA SCOTT  //

---
---
//  replicate the look  //
---
---