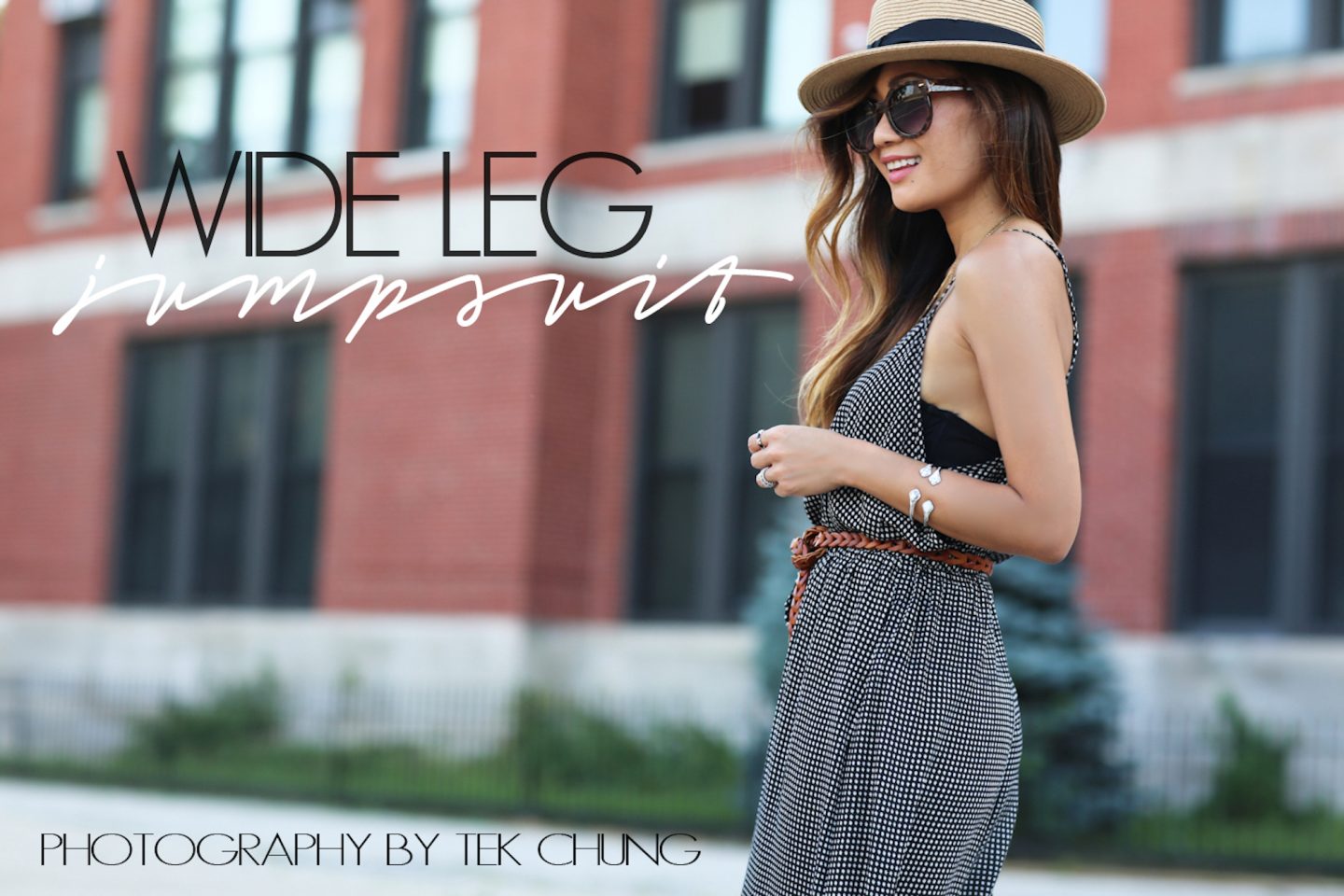 So I kinda like this wide leg jumpsuit. And by kinda… I mean I'm obsessed! It's the perfect length for my platform wedges and it's so flowy and dang dang dang comfortable. I love that it cinches high on the waist giving the illusion of long legs and height.  I am obviously all about anything that can make me look taller.  Even though it does have it's own drawstring tie, I popped on this belt to break up the pattern and give the jumpsuit an even more casual vibe.  Top it off with a classic boater hat and a green satchel for some color and you've got yourself a great casual day look.
This is the day I went to the Windy City Smokeout.  It was hot as balls!  That's what we get for complaining about having no summer.  Now Chicago is trying to melt us into sweaty puddles.  Anyhoozie, I hope you all caught my snaps from that day!  What?!  You didn't?  Oh don't be silly and just add me now to your snapchat account  –> drunkonshoes (duh).  Don't worry… I'll wait….
…. do it yet?
… did you add me yet?
… now refresh it
… see me now?
… HI!
Moving on… Windy City Smokeout is such a fun weekend long event and I definitely stuck out like a sore thumb this year!  I was the wobbly one who wore platform wedges trying to be cute while melting in the sun looking for random places to sit or squat.  Everyone else was in their cowboy boots and country gear rocking out to some amazing country tunes at both stages.  Definitely did not think through the outfit I was wearing.  I ate about a million pounds of lobster and waffle fries.  They did such a great job this year.  There were areas that were obviously made for an Instagram post.  Hahaha.  Like an American flag made entirely of beer cans.  I mean… nothing says UUHHH-MURICA more than that!  Thanks to my fave "Rhino" (IG – @RyanInTheCity) for the media access!  Definitely liked the VIP area with the tables set up and a dedicated BAR.  So yea, I suggest you get on that VIP ticket situation next year y'all.  I'm trying to get them to add some fans and water misters to really round out that VIP experience, nam sayin?  Was fun hanging with my foodie crew as well.  Hi Sam (IG – @chicagofoodauthority)!  Hi Wayne (IG – @waynebanksy)!  Wayne loves to take his shirt off and also is freakishly good at corn hole.  Sam has the best laugh in the WORLD, sucks at corn hole but that's okay because she understands the importance of buying spiked iced tea by the pitcher.  I will definitely be more prepared next year with some cutoff shorts, muscle tee, cowboy boots, and hat so I can join in the insanity by the stages.  But who am I kidding, I'm more of the… sit on a stool under the shade munching on lobster rolls and chicken waaaangs with some spiked iced tea while people watching and bobbing my head… kind of gal.  Unless there's hip hop music… that changes EVERYTHING.
//  jumpsuit – minkpink (on sale!)  //  shoes – steve madden (old)  // belt – urban outfitters  //  necklaces – cartier, urban outfitters  //  bracelets – THANKS TO KENDRA SCOTT (new mystic bazaar collection)  //  hat – urban outfitters  //  bag – bcbg (old)  //  sunnies – urban outfitters  //

---
---
//  replicate the look  //
---
---