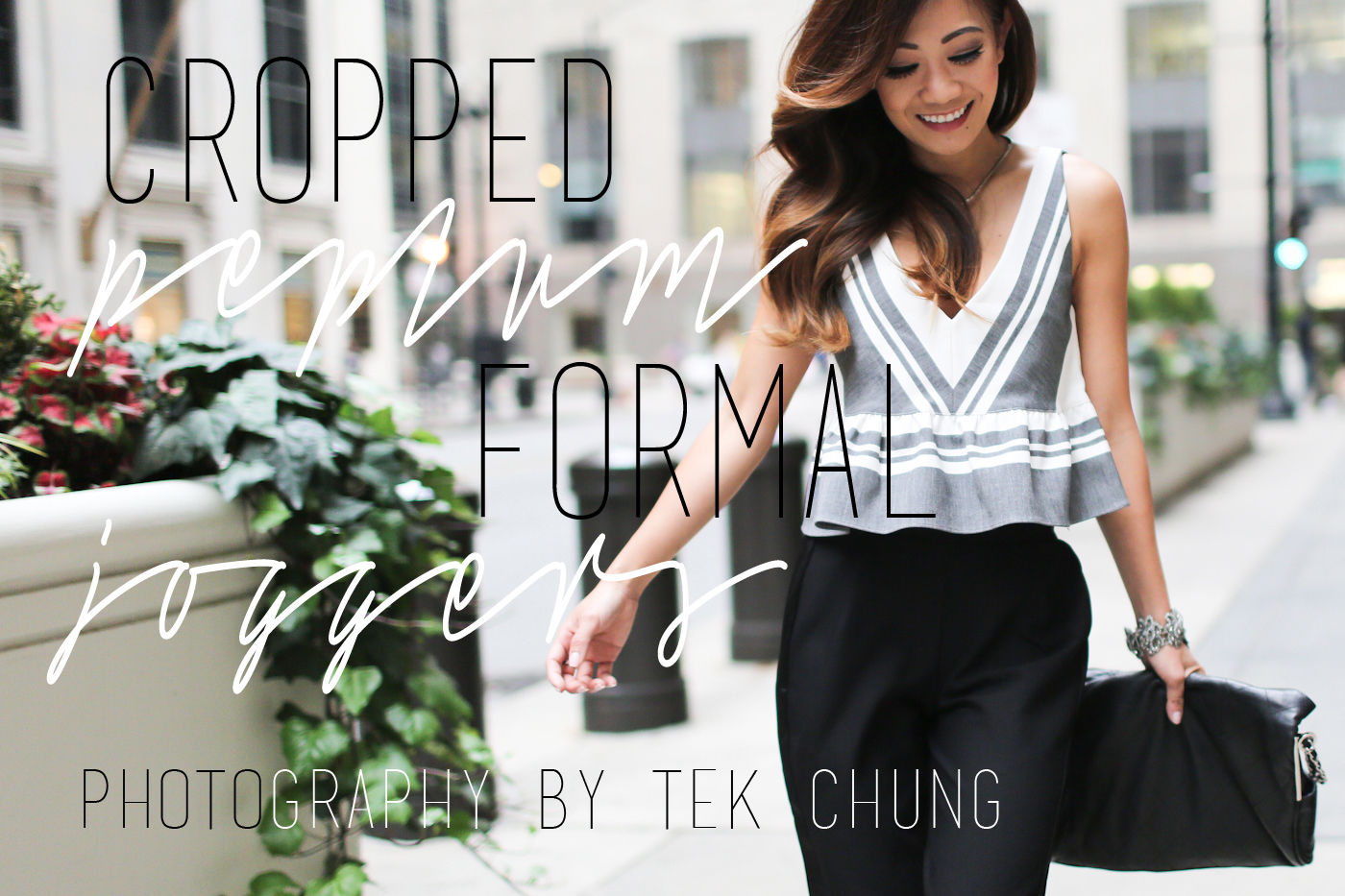 Happy Friday lovelies!  I hope everyone is having a fantastic week.  I'm finally sharing some old ass photos today.  I have an entire memory card of blog post photos that have yet to be gone through.  This set is one of my favorites as it features a type of pant that my husband wears all the time!  Joggers!  He wore joggers pretty much all through fall and winter and I was jealous at how comfortable he looked all the time.  Casual joggers were easy enough to find but I really wanted a dressy pair that I could POSSIBLY get away with at the office.  Turns out the way to turn casual joggers into formal joggers is to just make it in a dressy material.  Lol!  It helps that this pair I have has that nice tuxedo stripe down the sides.  And because joggers have that elastic waste and a loose shape it kinda gives you an illusion of that j-Lo bubble butt.  To show that illusion off, I decided to wear a cropped peplum top.  I love the structure and lines on this top and the best news is that it's on sale!  Get it while it lasts!  —> HERE.  I have also provided some of my favorite formal joggers for you at the bottom of the post in the "replicate the look" section.  I hope you give them a try!
So what do you guys think of the formal joggers look?  Tell me in the comments below!  And thank you so much for everyone who entered the DOSOFPREY giveaway!  I will be announcing the winner on Monday!  If you haven't entered yet, there is still time.  I will be taking entries until midnight today.  And remember you can get an extra entry through Instagram.
Random fun fact:  I also really love these photos because my girl Wendy (Wendy's Look Book) was here in the city and I took her to this exact area so she could take some blog shots.  My hubby was the one who took her pictures and I got to direct her on some of the shots.  Mostly her crossing the street and me watching for cars.  Really proud of the shots my hubs took.  See her post from her visit in Chicago HERE.  She is truly an inspiring person.  Such go-getter and her passion for photography is so infectious.  I had a blast roaming the city with her and showing off Chicago architecture.  Come visit again soon!   Special thanks to Langham Chicago for hosting her all weekend and thanks to Wendy for my very first and amazing high tea experience!  See some of the photos on both our Instagram accounts.
//  top – elizabeth and james  //  joggers – asos  //  shoes – jimmy choo  //  bag – chanel  //  necklace – nasty gal (old)  //

---
---
//  replicate the look  //
---
---