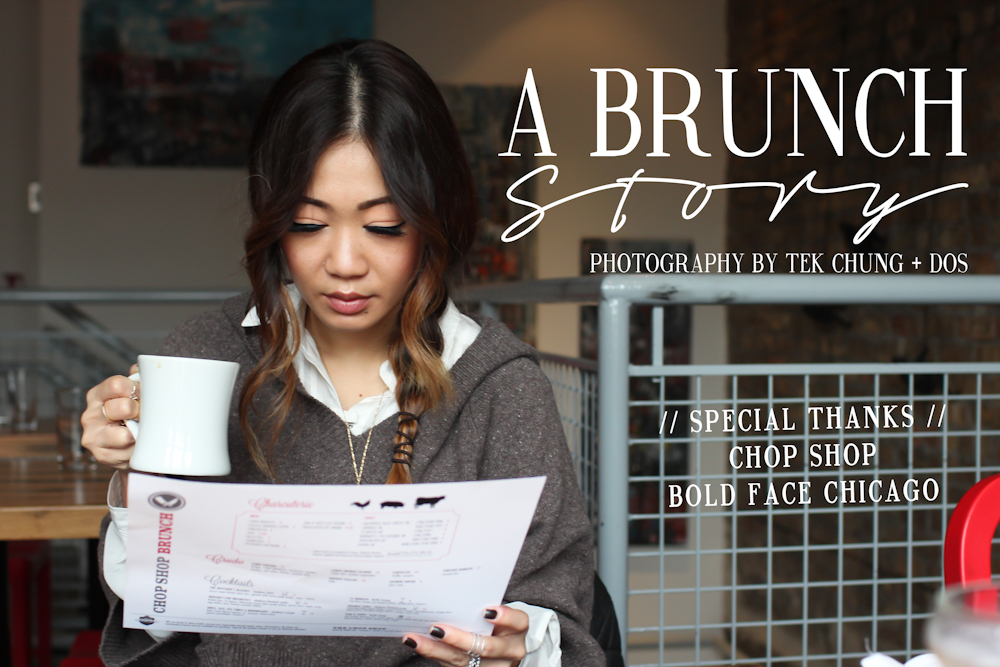 When someone says to you that Chop Shop is serving a brunch menu for the first time this weekend and asks if you want to go try it out, there really is only one answer.  What time do they open?!  But before I get into all that….  Hey guys!  Remember me?  I used to blog n stuff.  I've been totally neglecting my site but have been trying to make up for it through Instagram so I hope you are all still with me out there.  Life has been pretty crazy and the new tax job has kept me pretty much swamped.  I've had to say farewell to a lot of sleep and a lot of weekends.  Between managing to attend events to support some of my fellow Chicagoans, juggling my ever increasing work load, attempting to fit in yoga to find some zen, and struggling in maintaining my sanity at home, updating the site has sadly become one of the last things on my list.  My weekdays have been filled with going to the office, attending an event, then logging back on to work when I get home to hit my deadlines.  Then weekends are spent catching up on chores, running errands, and catching up on sleep.  So when a good brunch opportunity came around, I used it as a way to spend a day in a great Chicago hood and roam around with the best guy I know, the Hubster.  Believe it or not, we have barely had any time to spend with each other in the past couple of months.  I know it's odd sounding because we are married and see each other every day but trust me when I say there is a difference between seeing each other and actually spending quality time with each other.  Whenever we have been out, it's been to events or we are just rushing through dinner or I'm just too stressed out with work on my mind.  But this brunch was different.  I swear we were there for close to three hours just taking our sweet ass time.  We asked them to serve us super slowly.  We enjoyed every sip and every bite.  We took in all the cute decor.  And you bet your ass we photographed the crap out of everything.  Social media up the whaaazooooo!  But we also talked, laughed, made fun of each other, competed on who had the best phone photos and just enjoyed each other's company in the best way we know how.  Over good food, good drinks, and damn good coffee.  I didn't think about work and it felt so good.  So big thanks to Chop Shop and Bold Face Chicago for the amazing brunch.  We enjoyed our experience so much and will definitely be back to try them lemon-blueberry pancakes!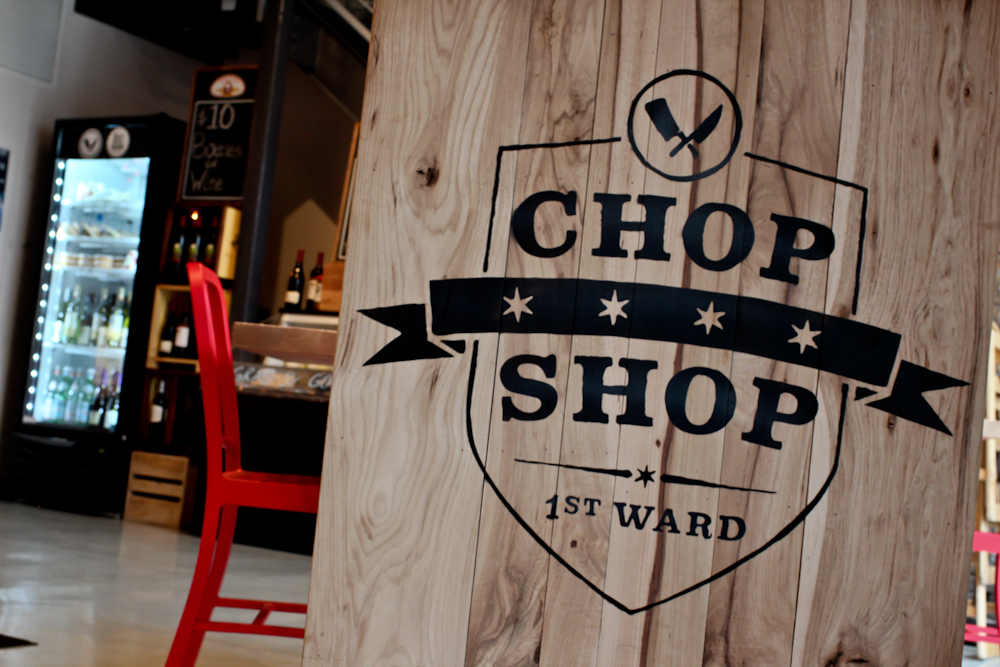 If you didn't know, Chop Shop is located on North Ave, really close to the North, Milwaukee, and Damen six corners.  The first floor has this awesome butcher shop that offers up meats from local farms and other great goodies like wine and cheese.  Also in the first floor is a bar area where you can grab a seat or grab one of the booths and enjoy a few drinks with your friends.  It has a really comfortable, casual and welcoming feel.  In the way back is a rentable 6,000 square foot event space.  Prime Market can be found there on Sundays and there are only two events left so plan accordingly!  I hear a certain jolly chubby guy in red will be there this Sunday!  Upstairs you will find the full Chop Shop restaurant.  I've never eaten there before so this brunch was my first time trying out their menu.  And it did not disappoint.  I found everything reasonably priced for what they offered.  That's immediately one thing I will silently grumble about is when the price is crazy when all I really want is quality fresh ingredients.  Fresh food should not be expensive!  I'm not a huge foodie like my hubby so things like that get to me.  I like simple dishes where I can really taste every main ingredient.  Oh, and you must start me off with a good drink.  That pretty much sets the tone for me.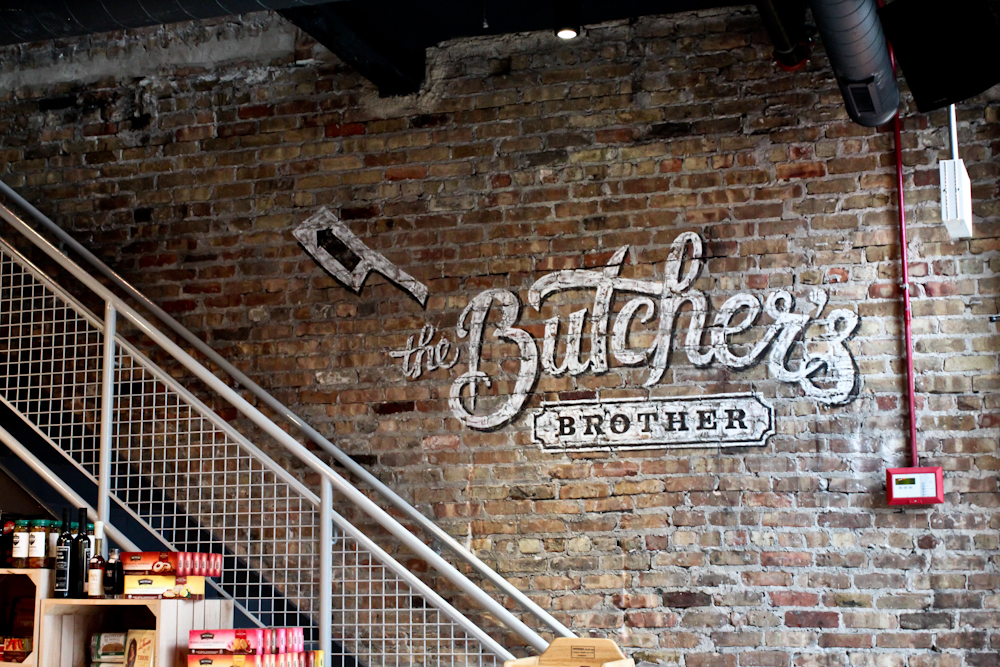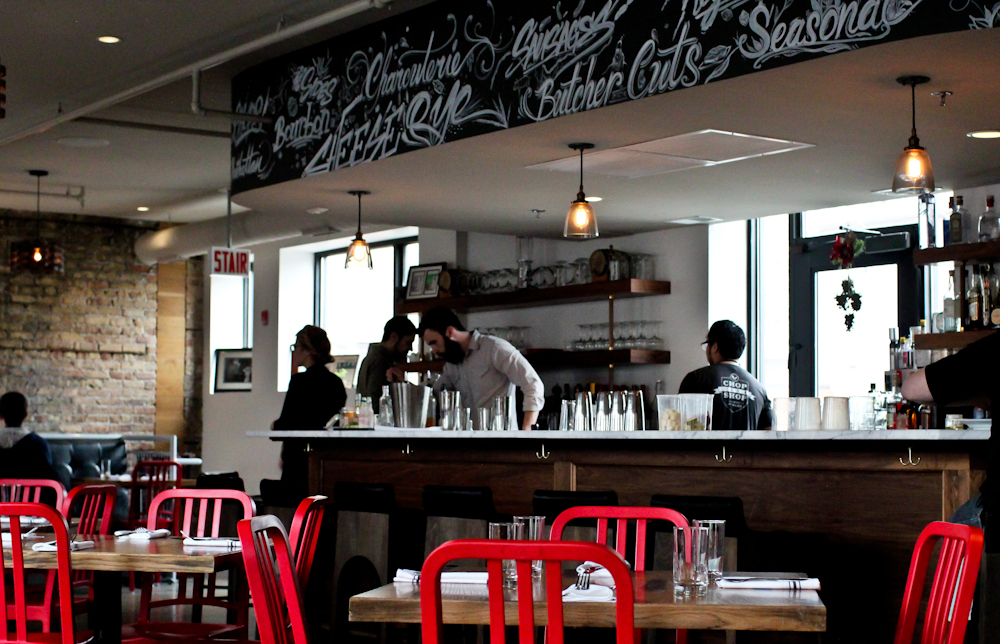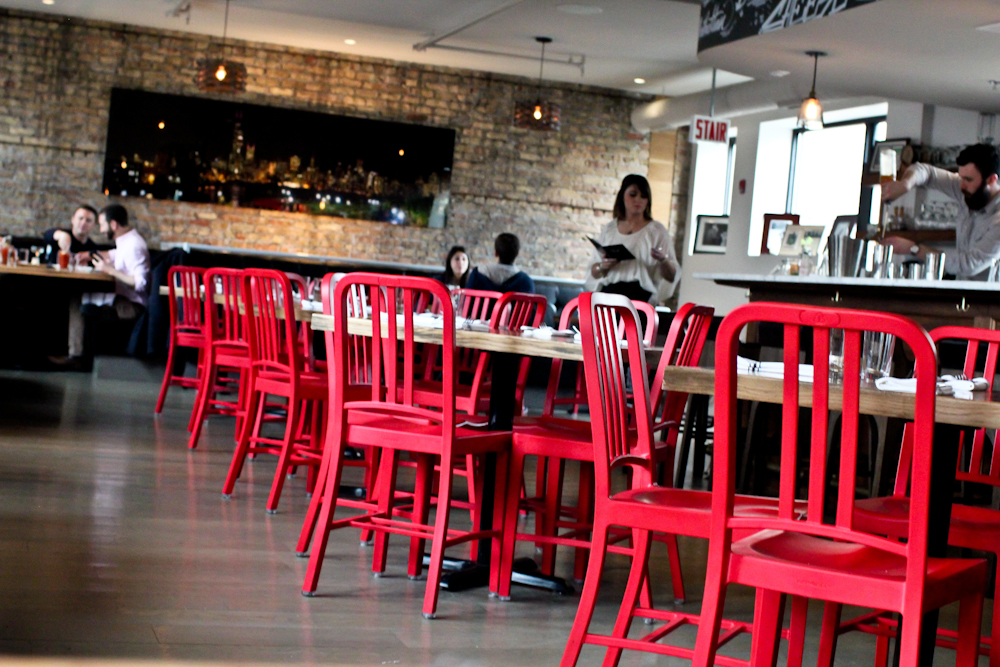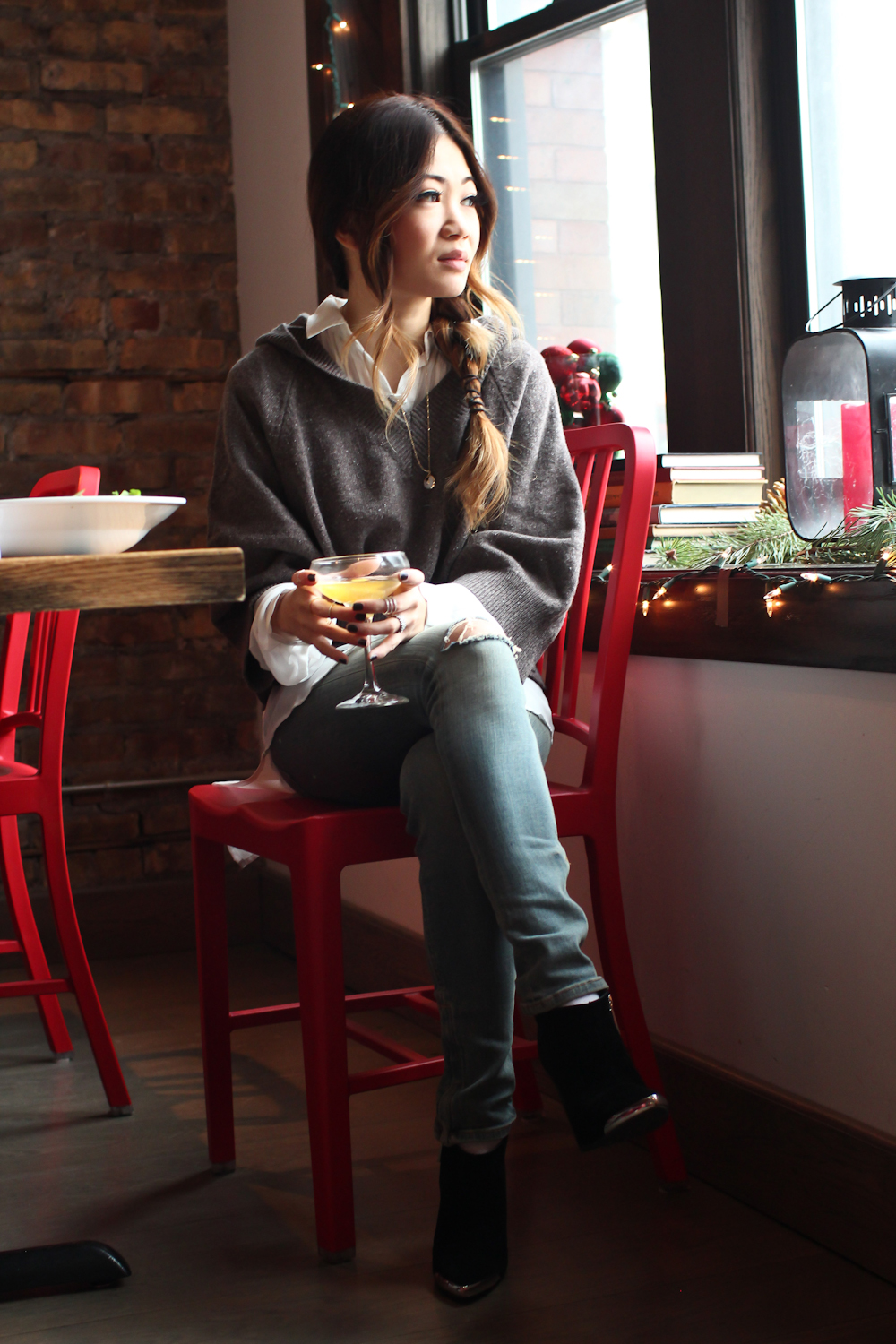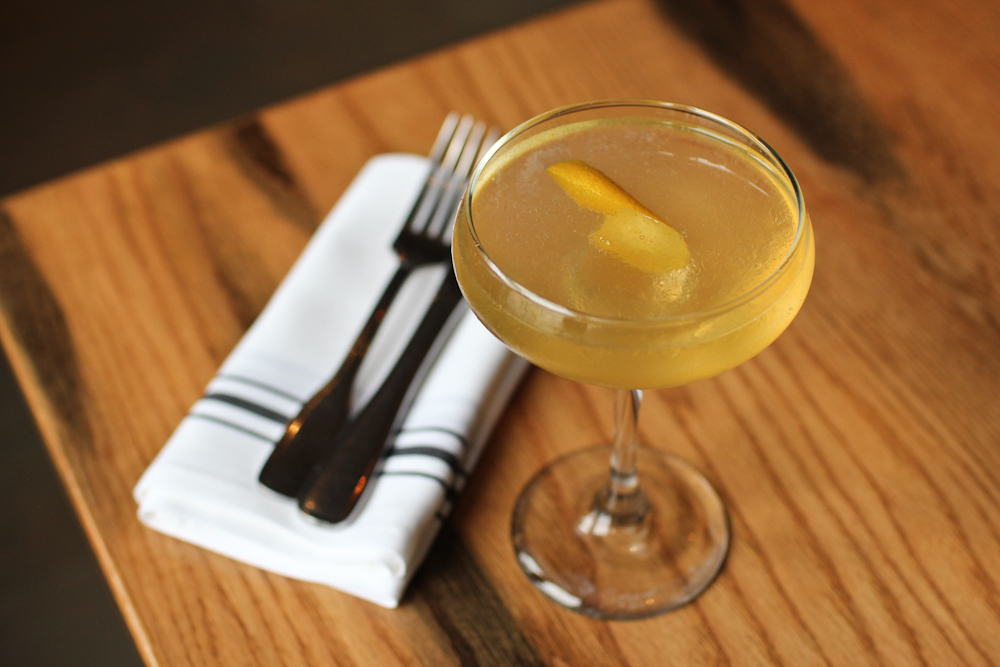 Here was my drink.  The "Unce, Tice, Fee times a Marmalady" (okay try to say that out loud and see what you come up with) which has apricot liqueur bitters, St. Germain, Prosecco, lemon juice, and apricot marmalade.  Friggin' YUM!!!  So refreshing and a PERFECT brunch drink.  Hubs opted for a bloody mary with a beer back.  His fave for brunch.  And like I said, it all starts off with that first drink for me.  If I don't enjoy the drink, I'm pretty much starting off in a bleh mood for the rest of the meal.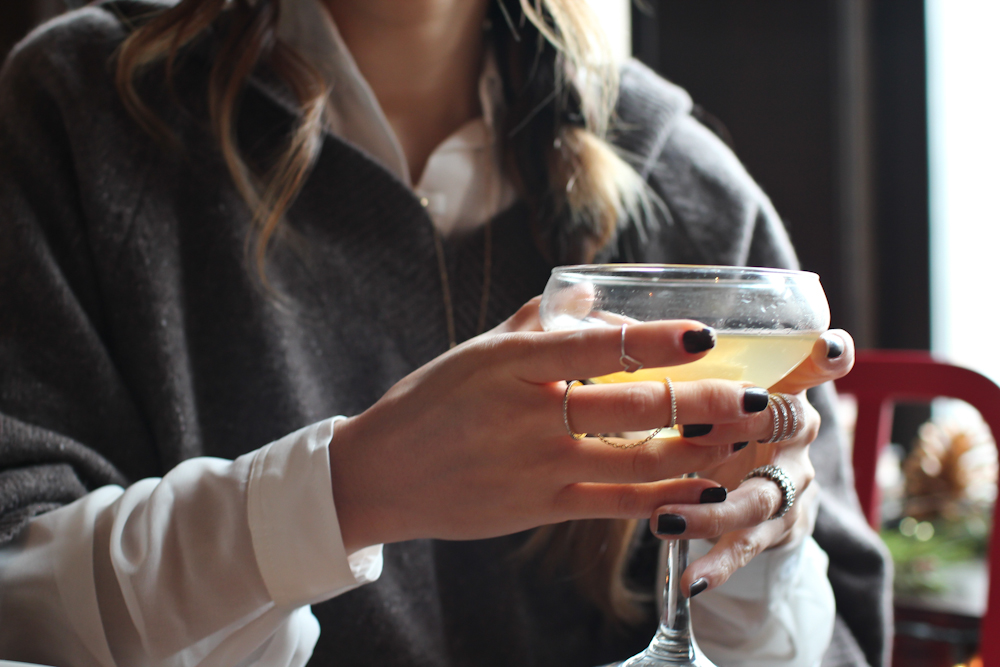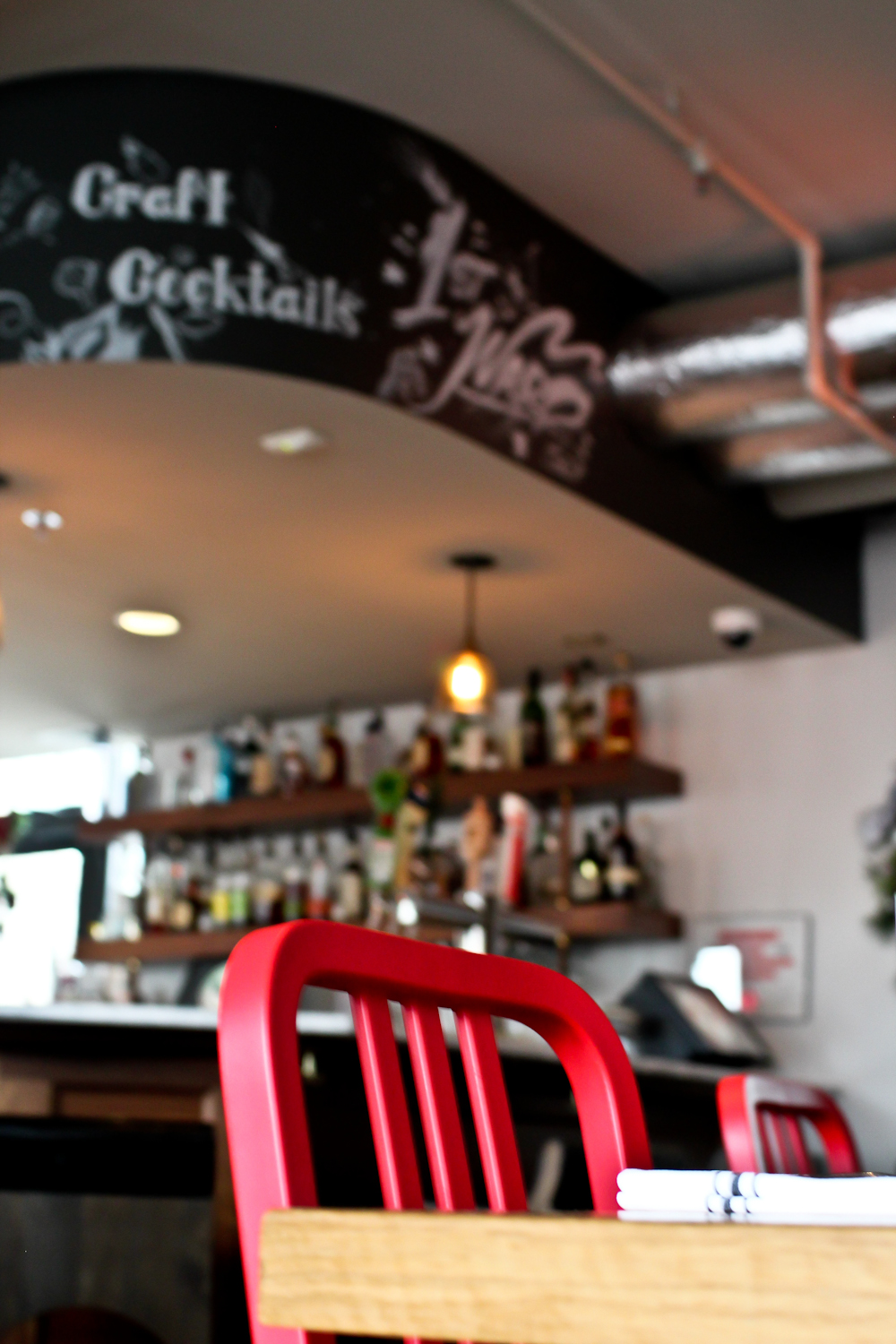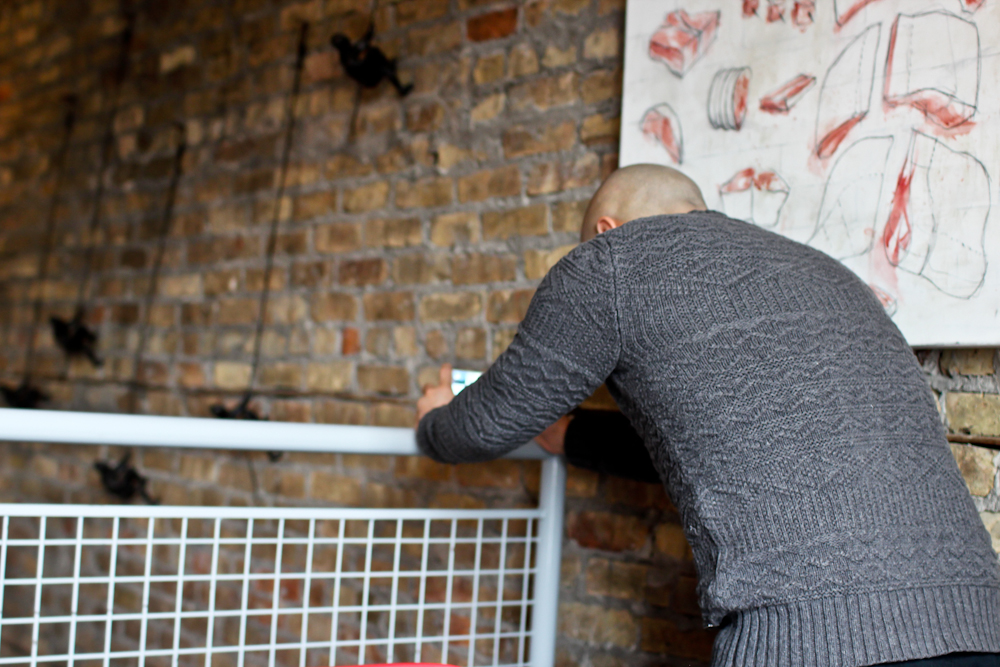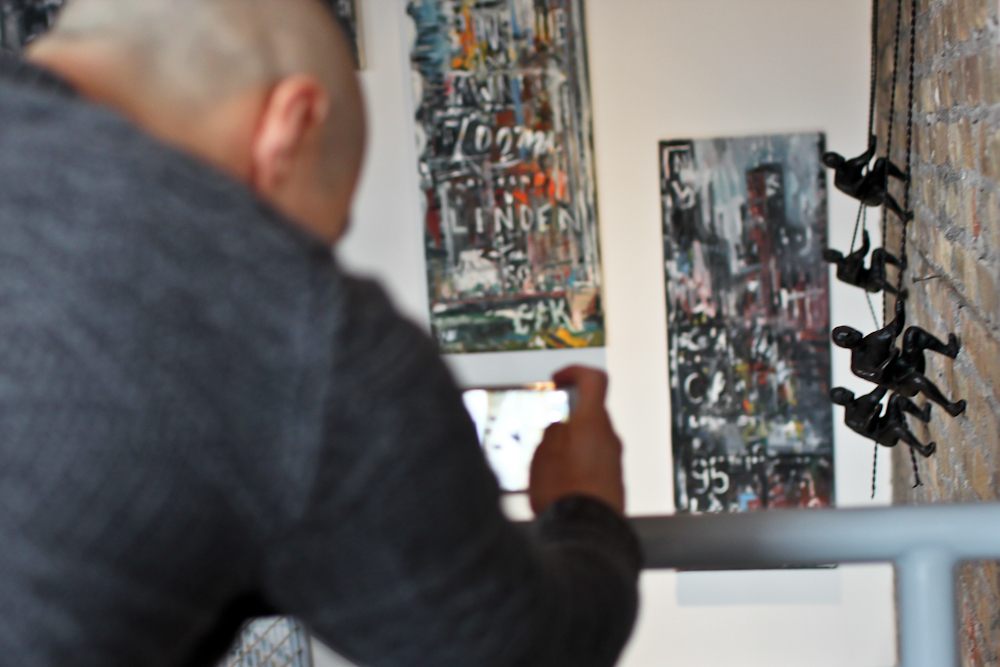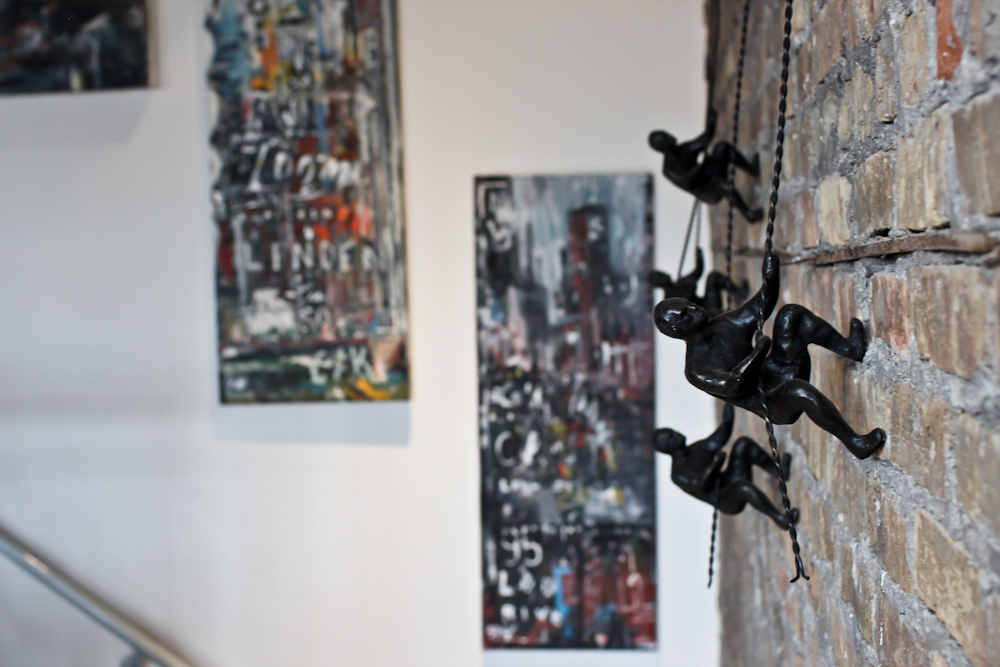 Hang in there guys.  I'm sure your food is coming.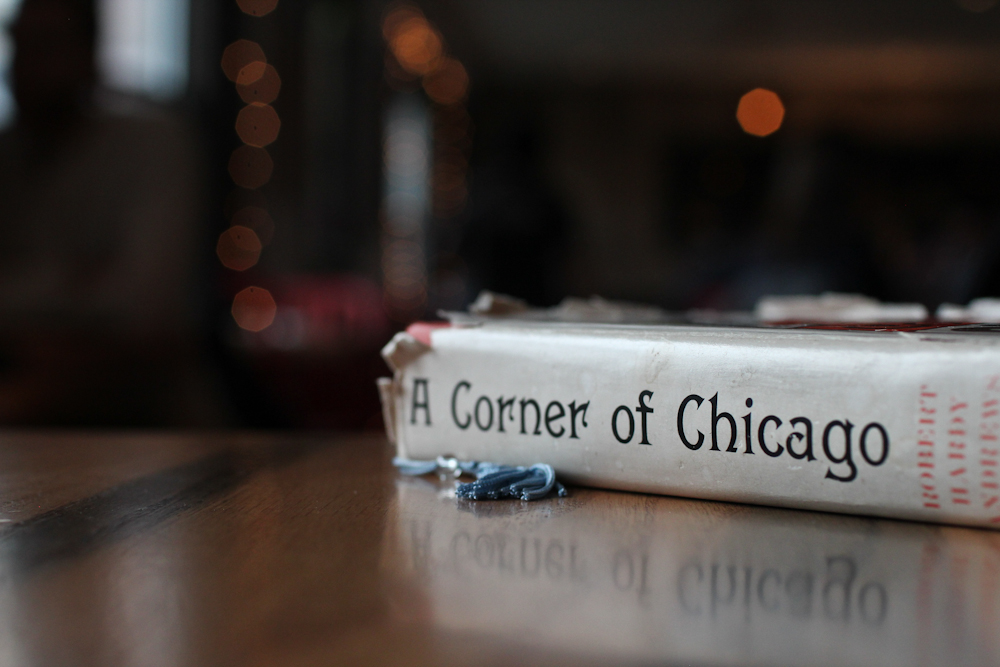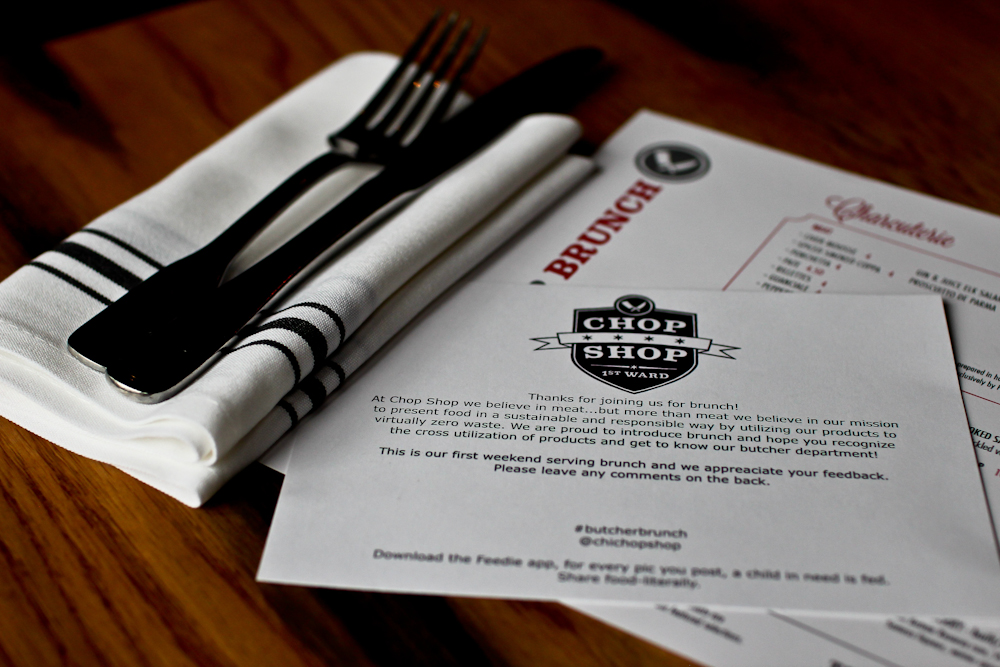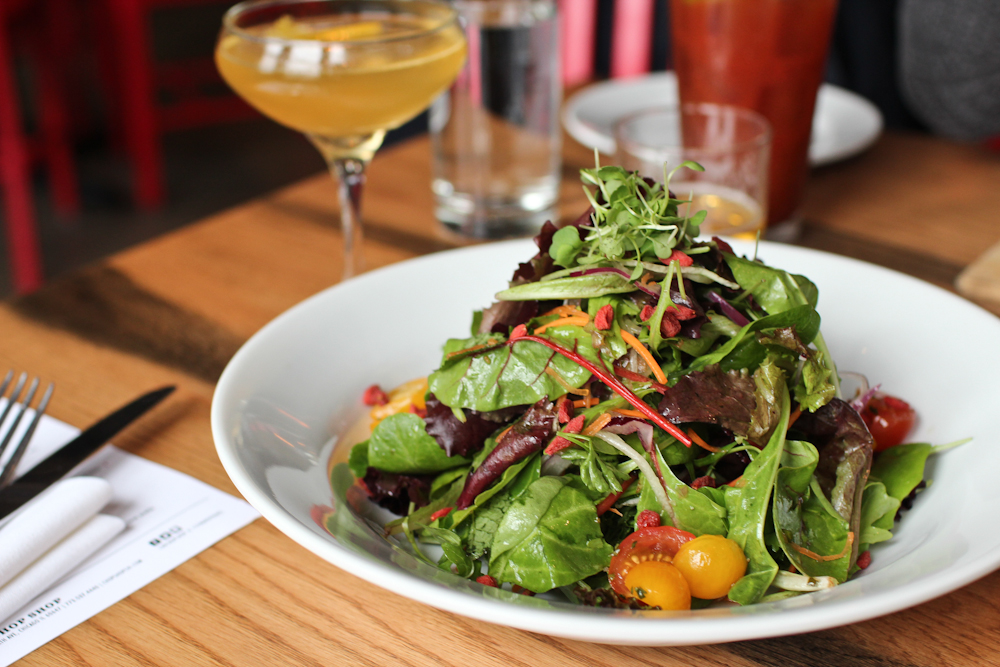 Earth Market Salad – just how I like my salads!  Field greens. tangy dressing, and this had these dried little goji berries that were like a fun surprise in each bite!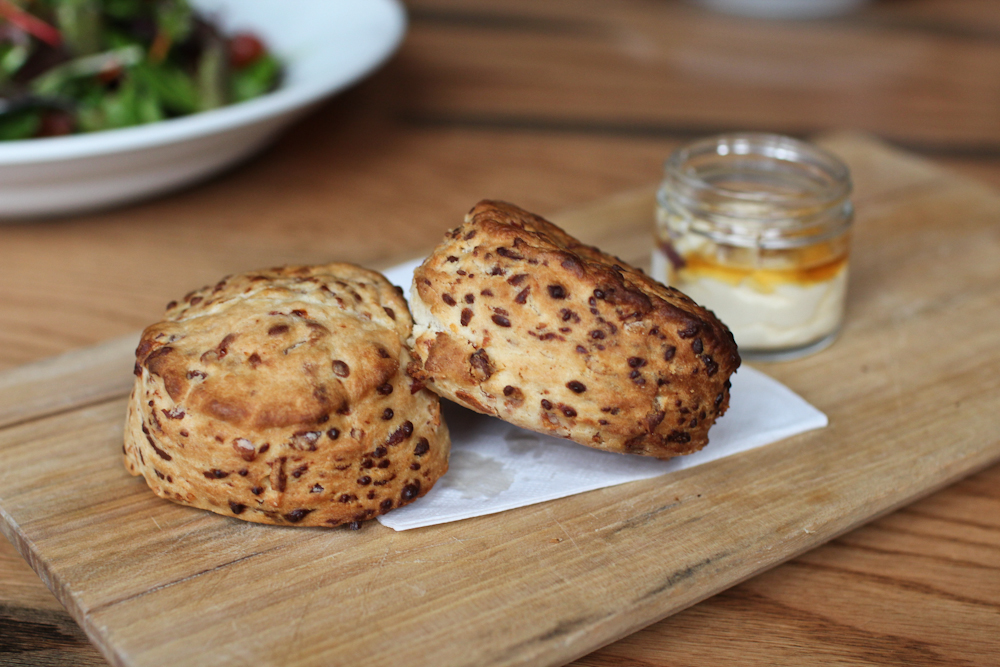 Bacon Cheddar Biscuit – need I say more?  It came with a little glass pot of butter with maple syrup.  I repeat, butter with maple syrup!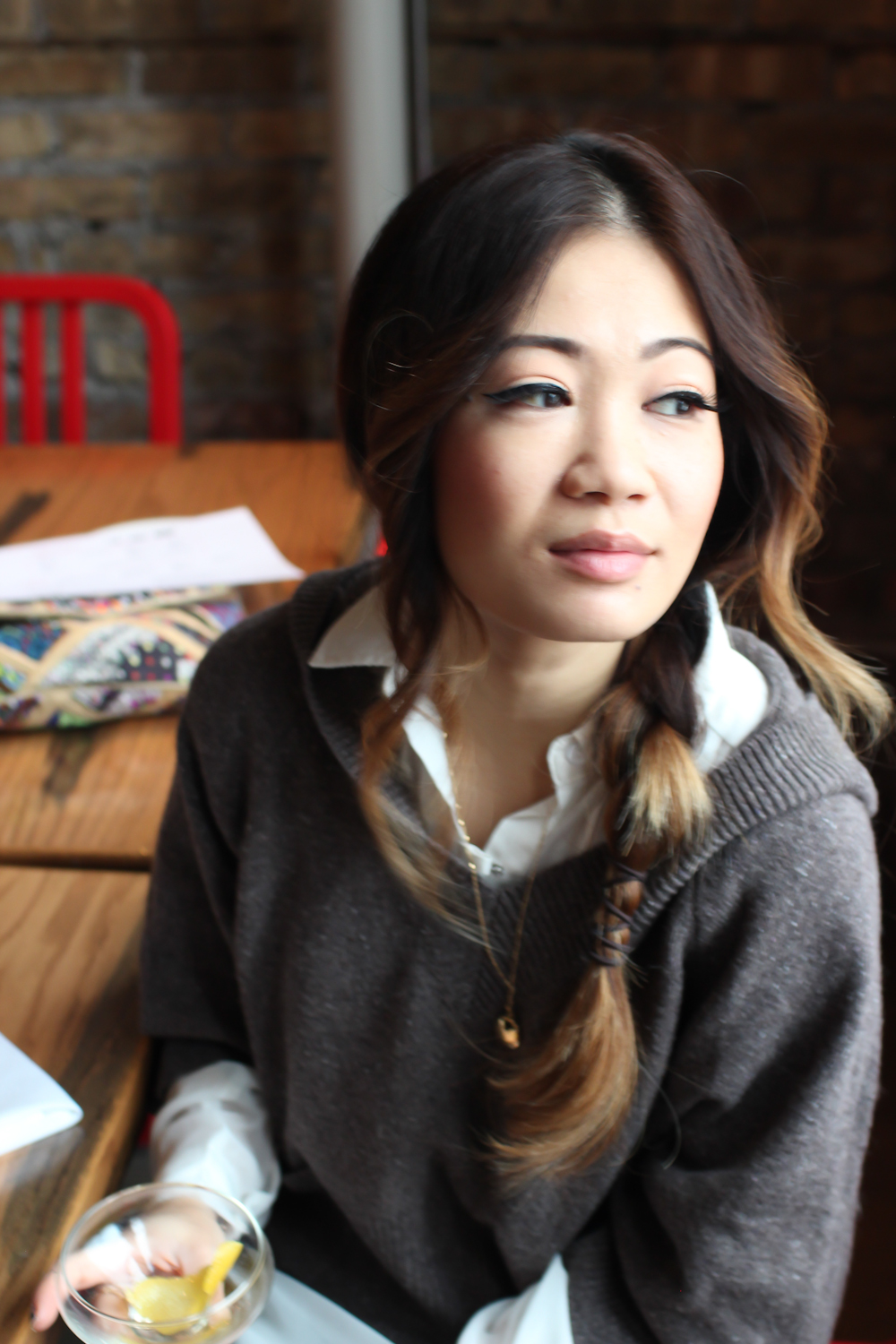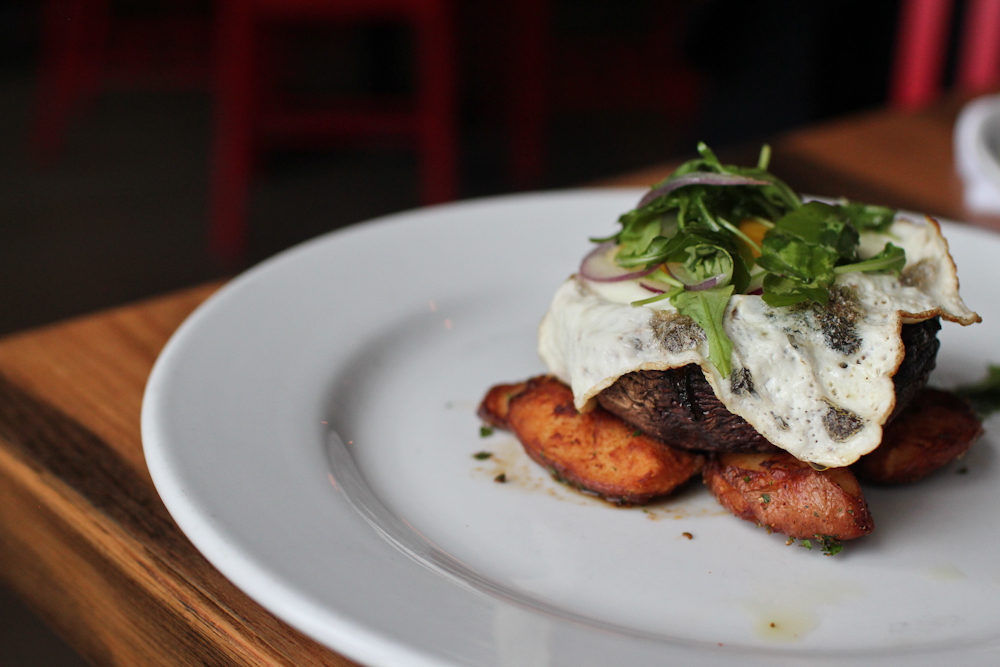 Banger Stuffed Portabella – stuffed with Caprese sausage, on top of crispy spiced potatoes, topped with arugula, onion and a runny egg.  This was both our favorite.  I just wish the portabella was bigger or there was less sausage because it got a tad salty at times.  But that's my own personal taste.  I just had to cut down the amount of sausage I took with the mushroom and it was perfecto!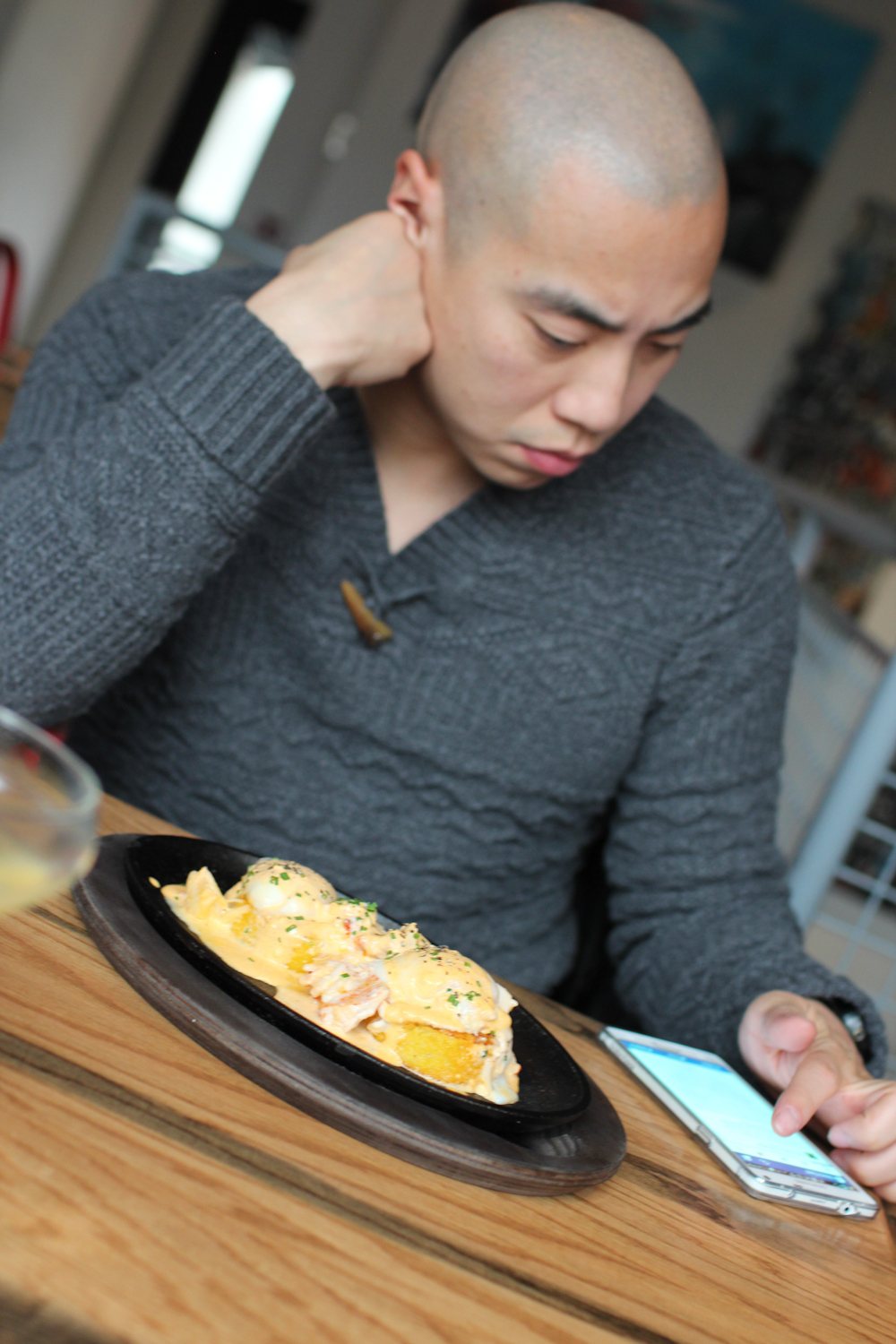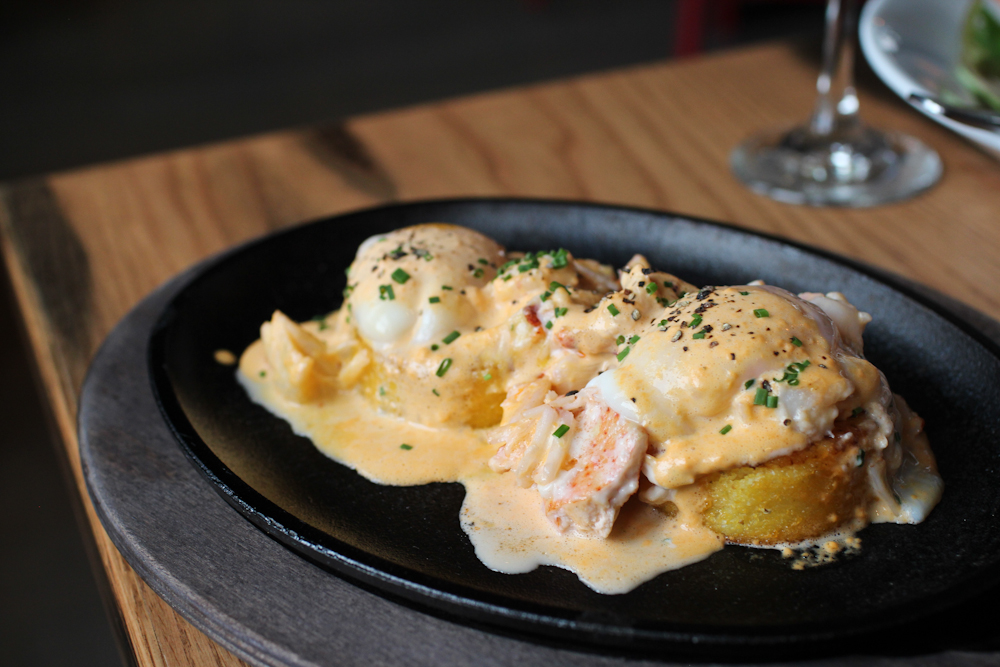 Lobster Polenta Cake Benedict – crab hollandaise, chive, black pepper topped with two poached eggs.  I mean LOOK AT IT!  If that doesn't scream brunch the crap out of me I don't know what will.  Gotta love the fact that they did NOT skimp on the lobster.  This dish was decadent, creamy, and poking the egg and watching it ooze out and over everything is a simple pleasure  I'm sure we all enjoy to do. And since there were two eggs, hubs got to poke one and I got to poke the other.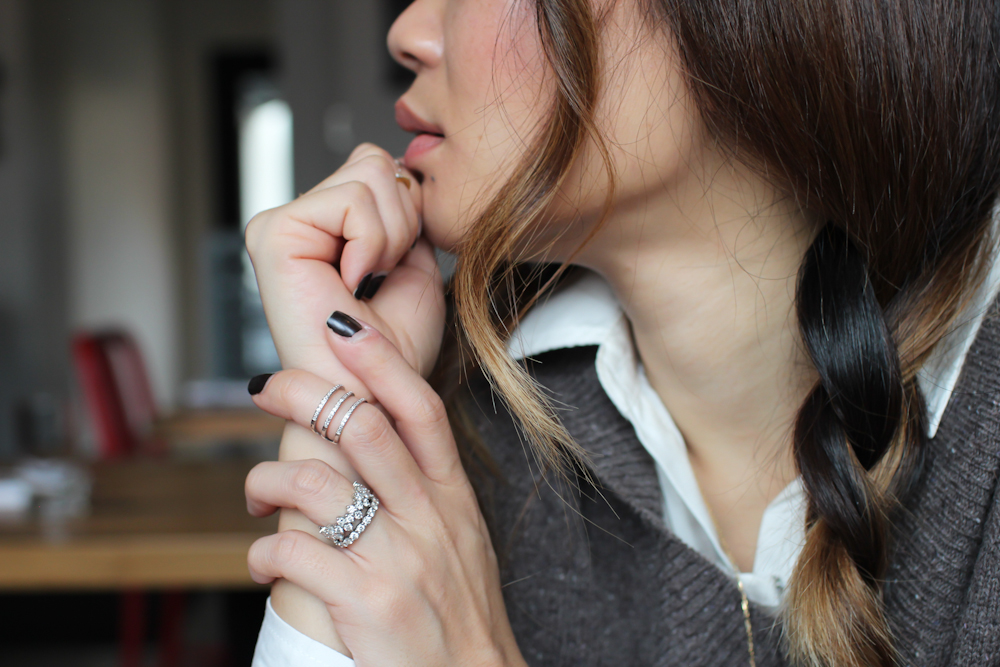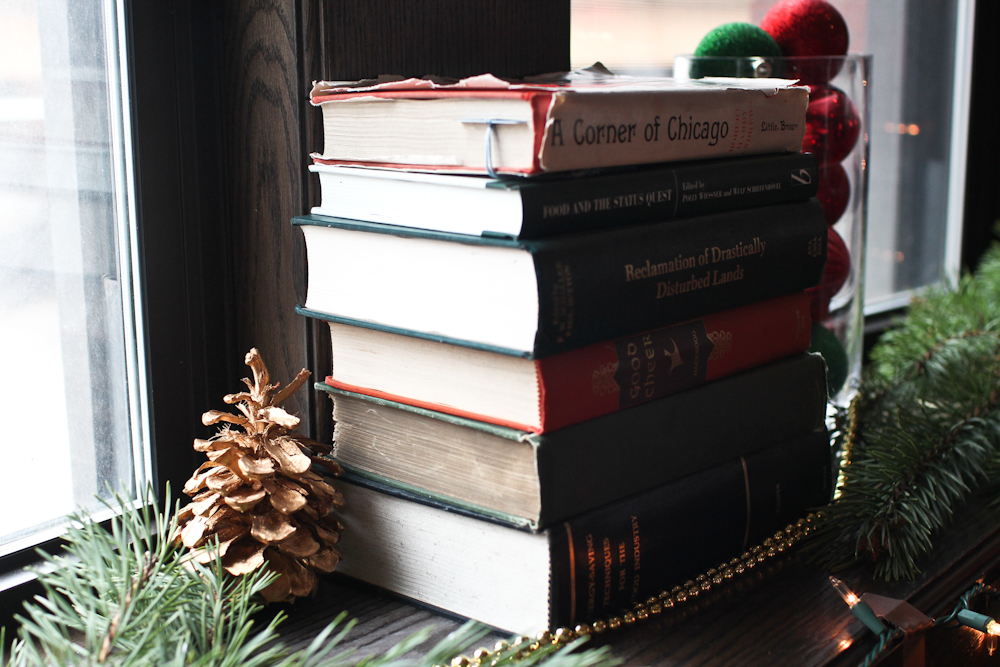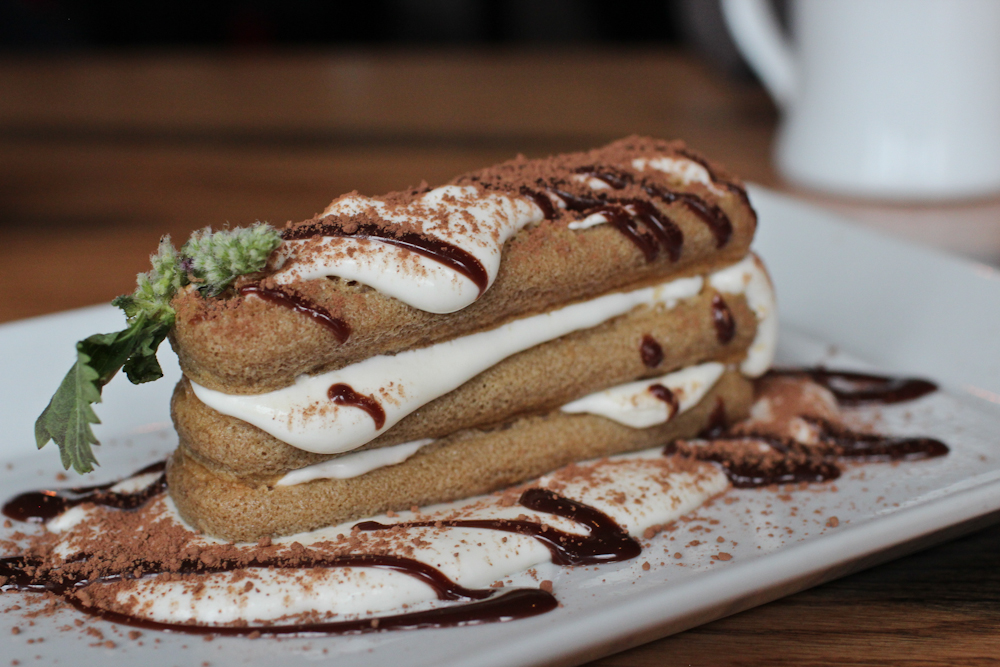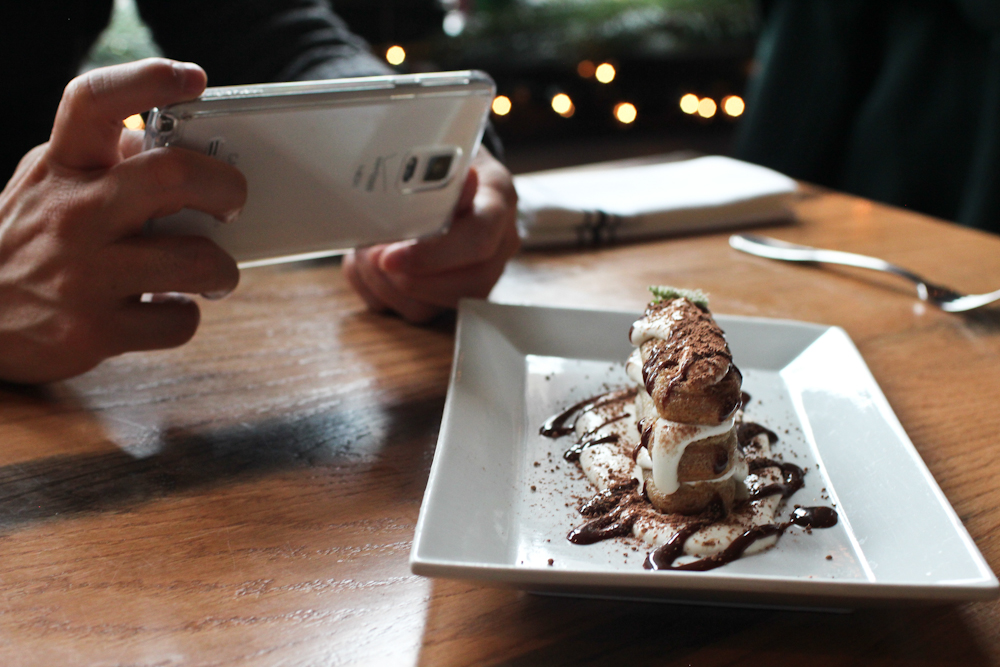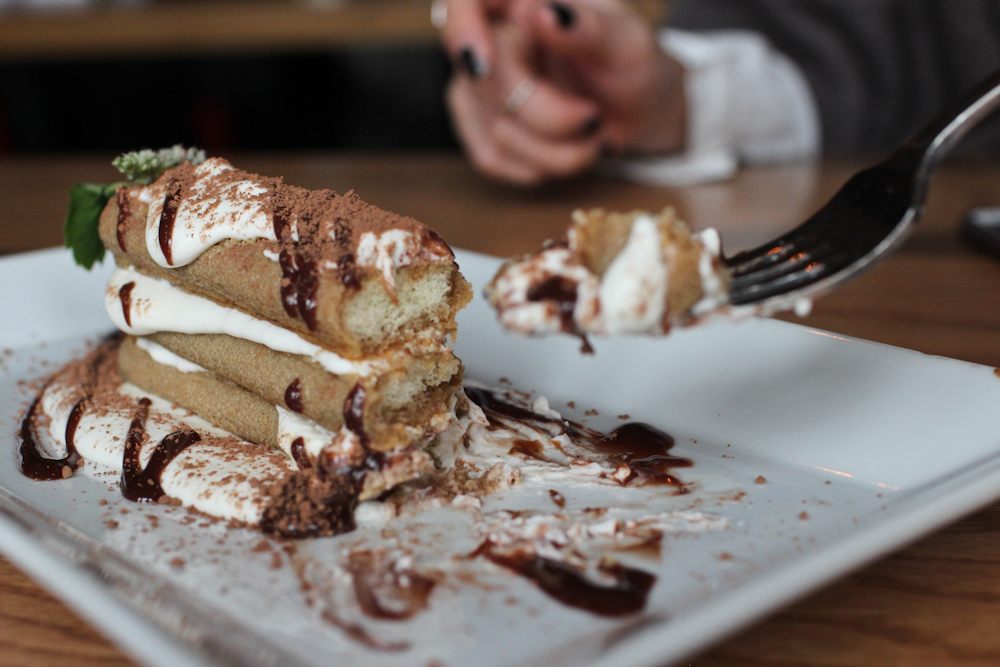 Tiramisu – well duh we had to get dessert.  Their tiramisu is so good and definitely different from other tiramisus I've had.  The top and bottom are actual lady finger cookies.  I was supposed to share but that didn't go very well.  This went well with the coffee.  The damn good coffee.  I am always so happy when a restaurant has good coffee.  It makes me feel like they really care.  I think the coffee they carry is Sparrow Coffee which is a local Chicago roastery in the West Loop that cares about providing organic and sustainably sourced coffee.  Needless to say, I will be stalking them very soon.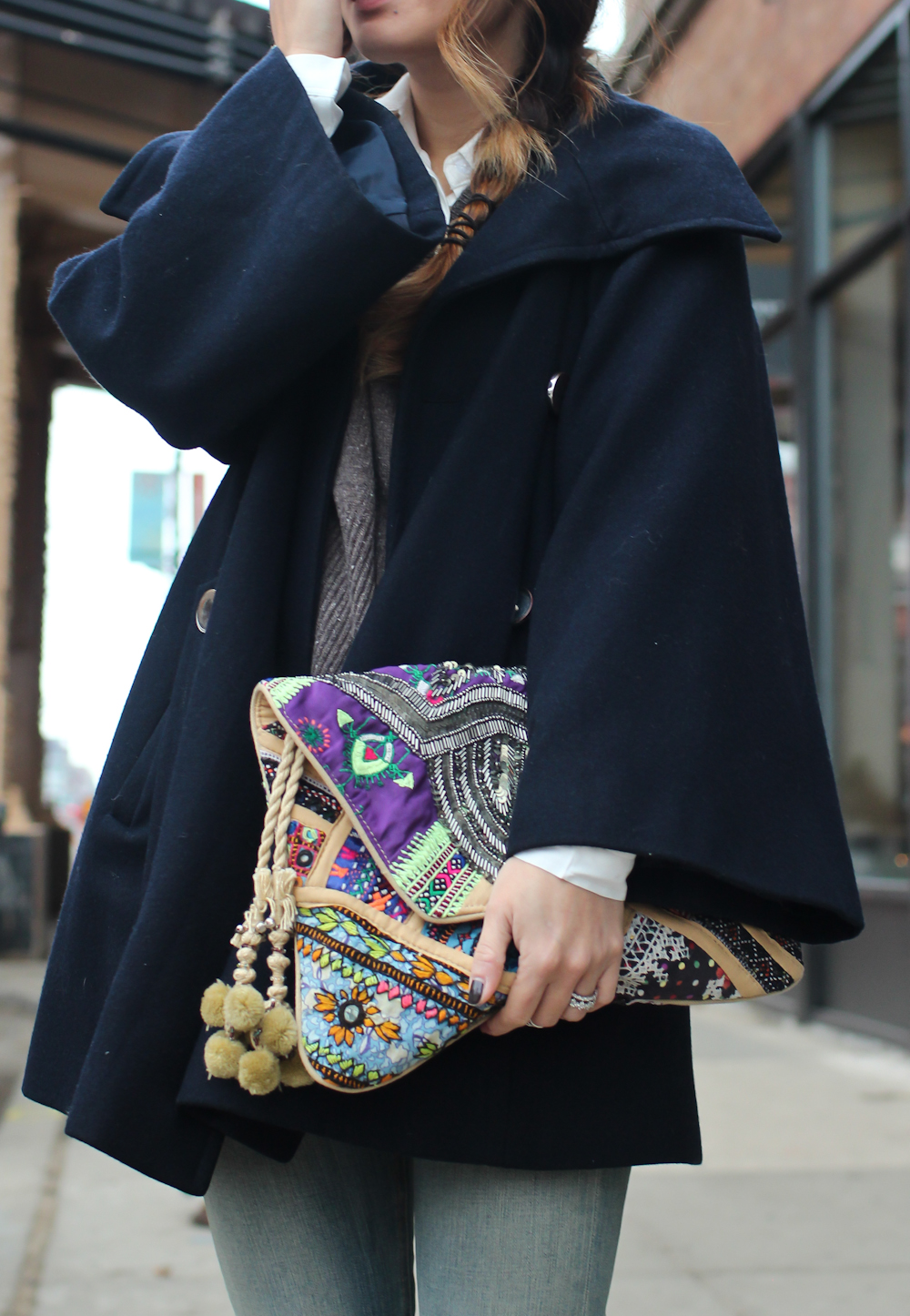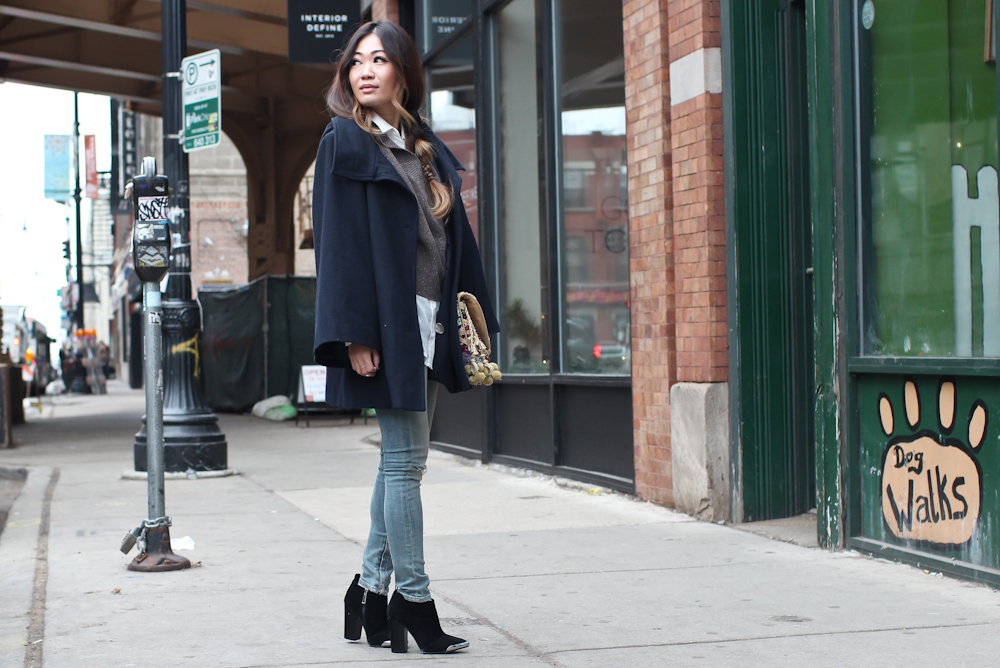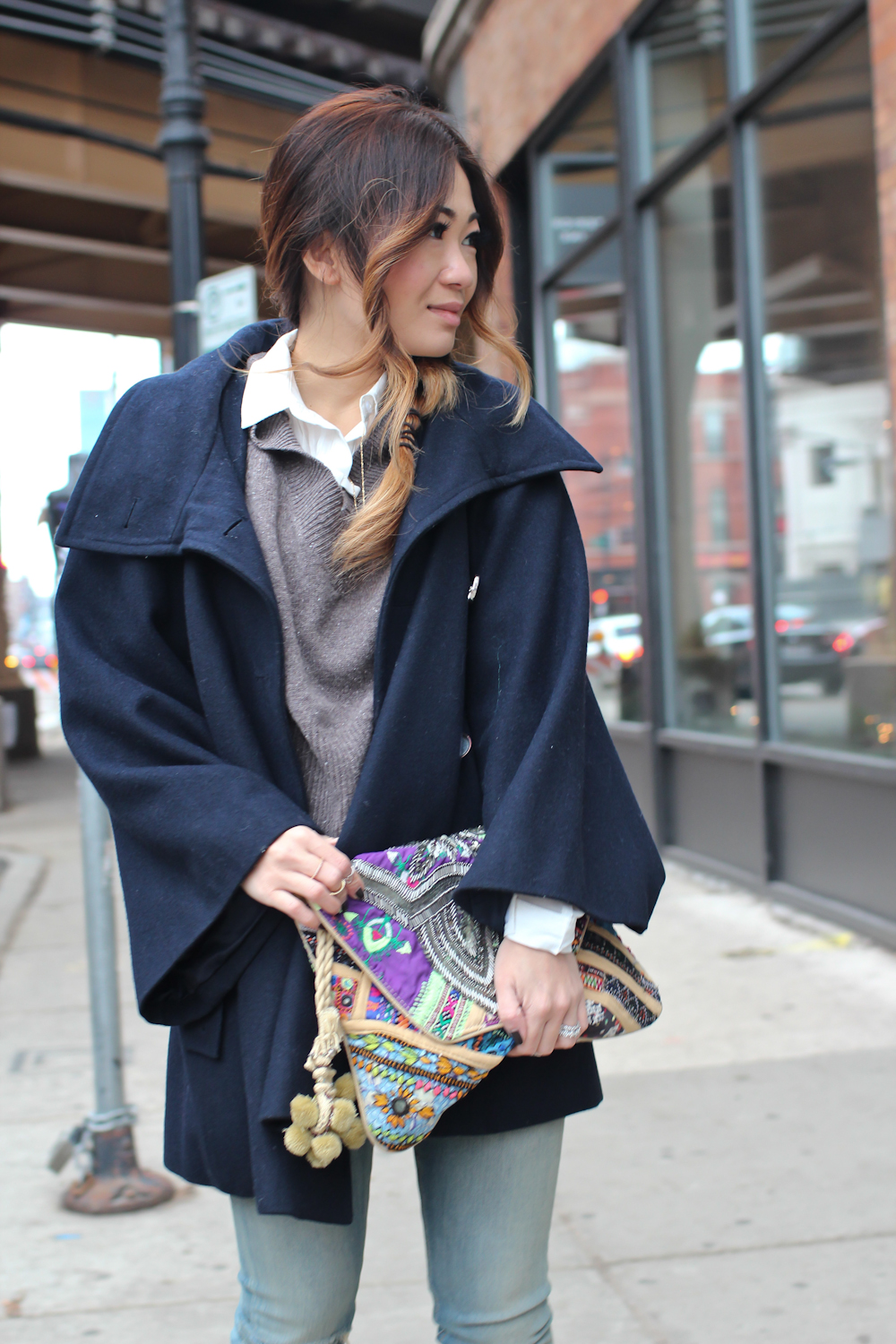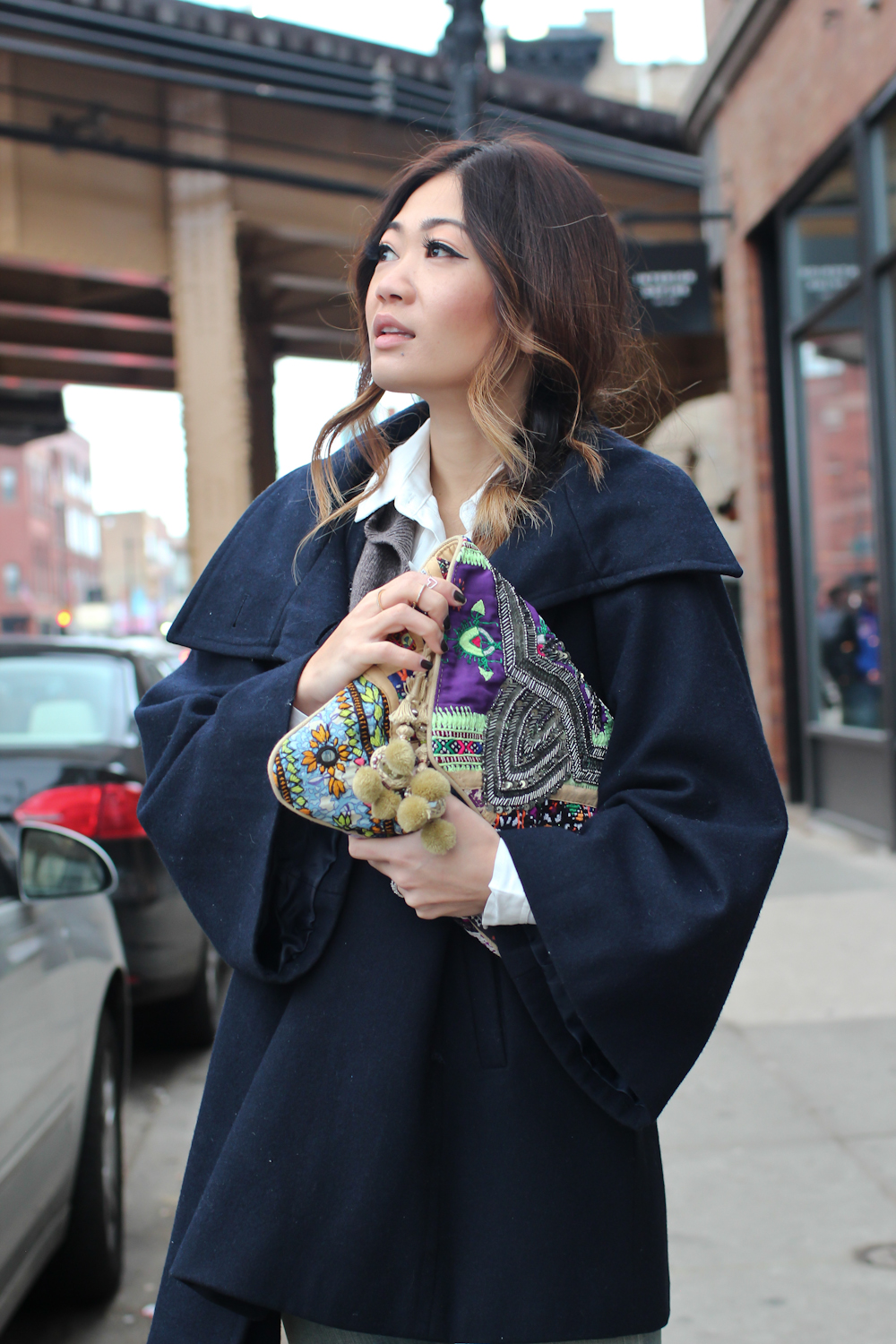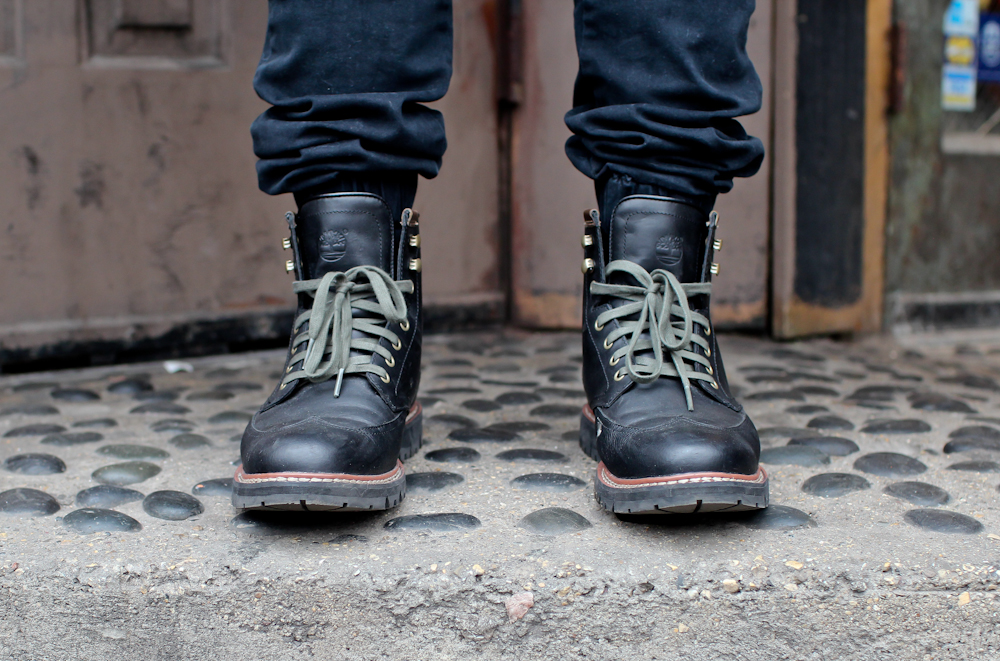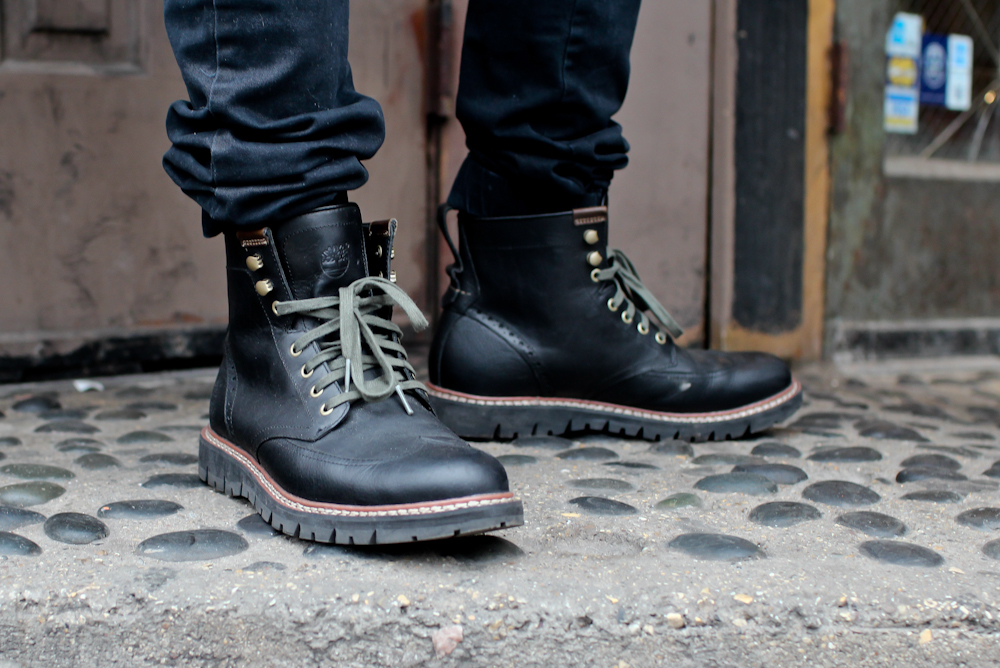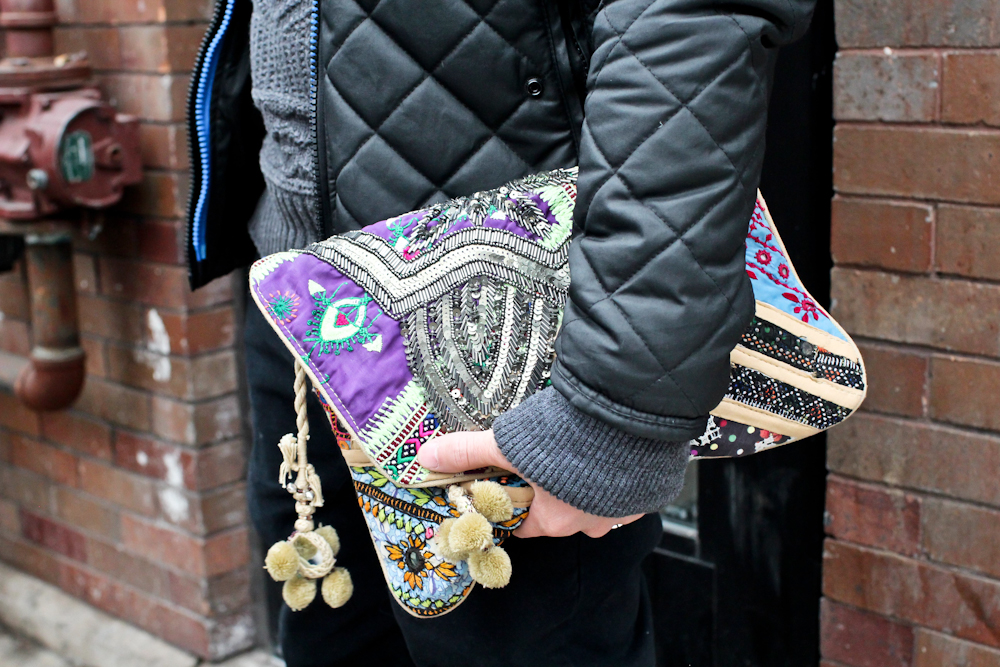 I really wanted to shoot the hubby since he's been dressing so fashionable these days but he refused to let me.  So all I got are these shots of his shoes, and him holding my purse.  Muahahaha.  That's what you get for refusing me.  He really does love his Timbaland boots from Akira Men.  Rockin' them olive laces like a boss.  RAWR. He has a very subtle urban style and pretty much lives in Zanerobes. He's come a long way from his golf shirt days. You know the anti wrinkle ones. He had the same one in a variety of colors. Yack!!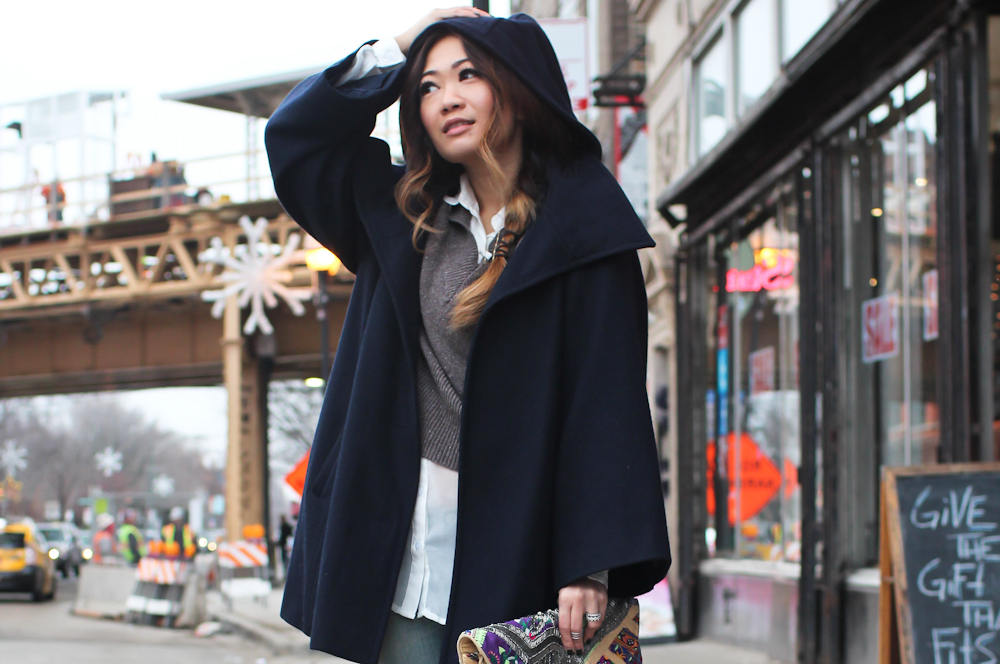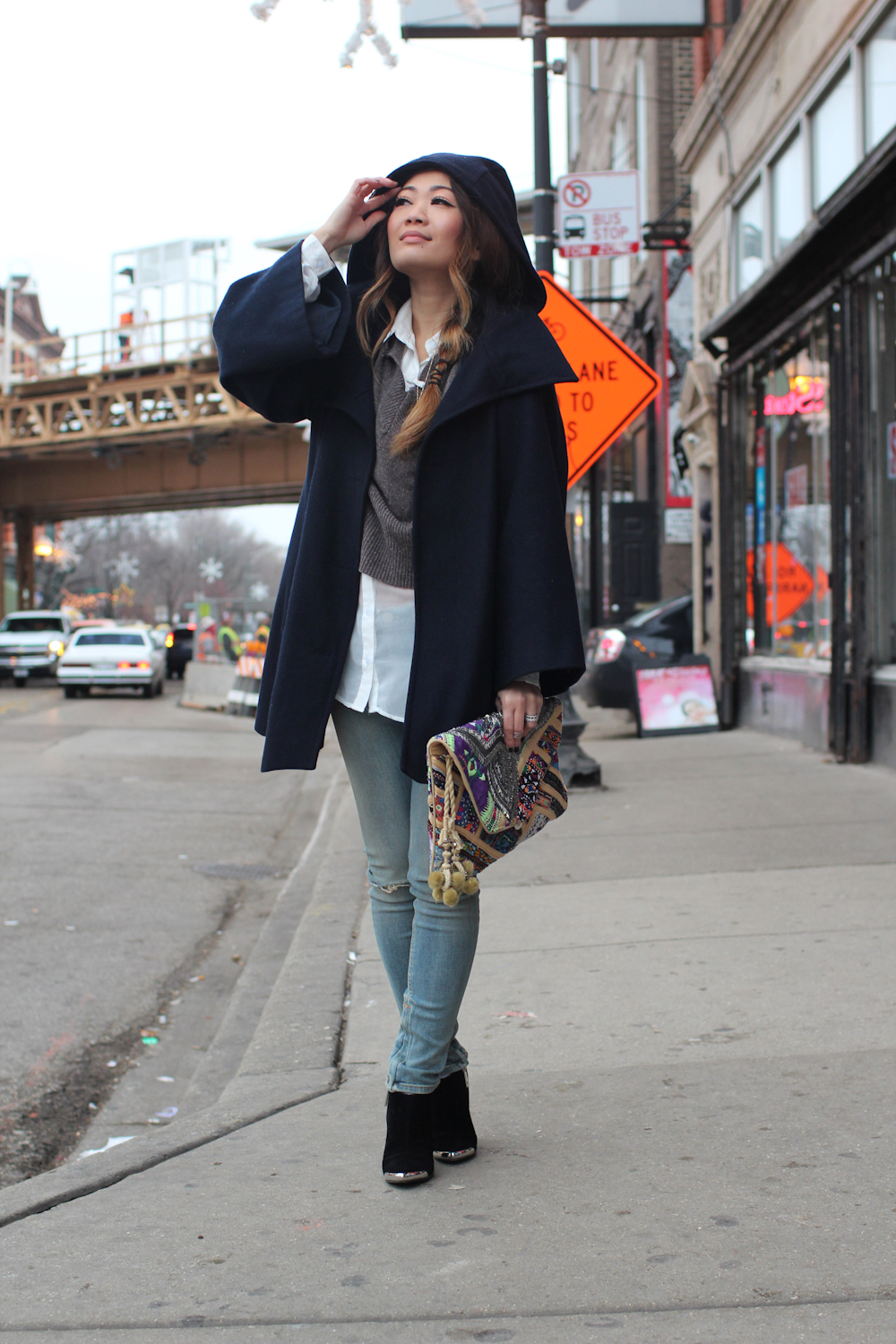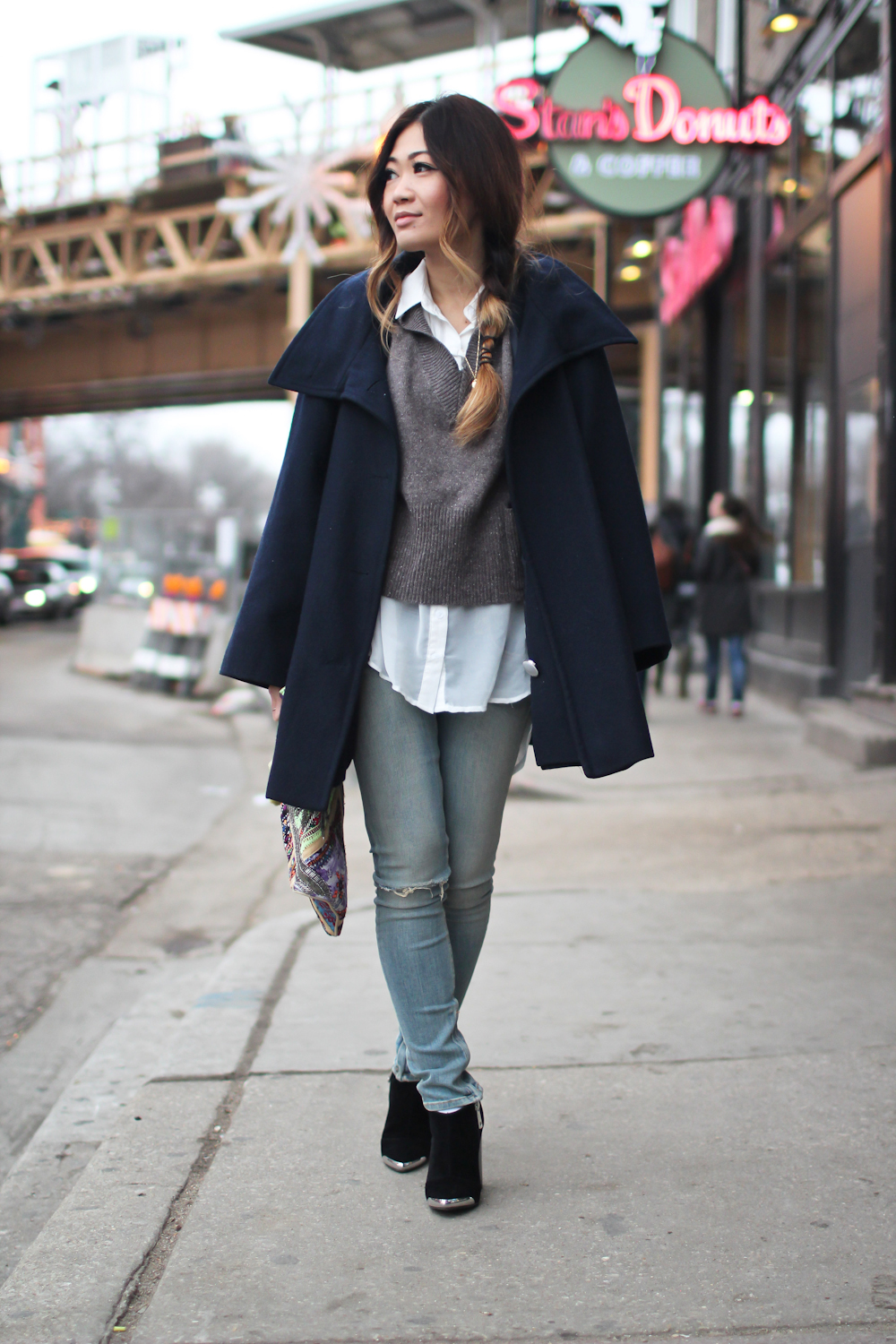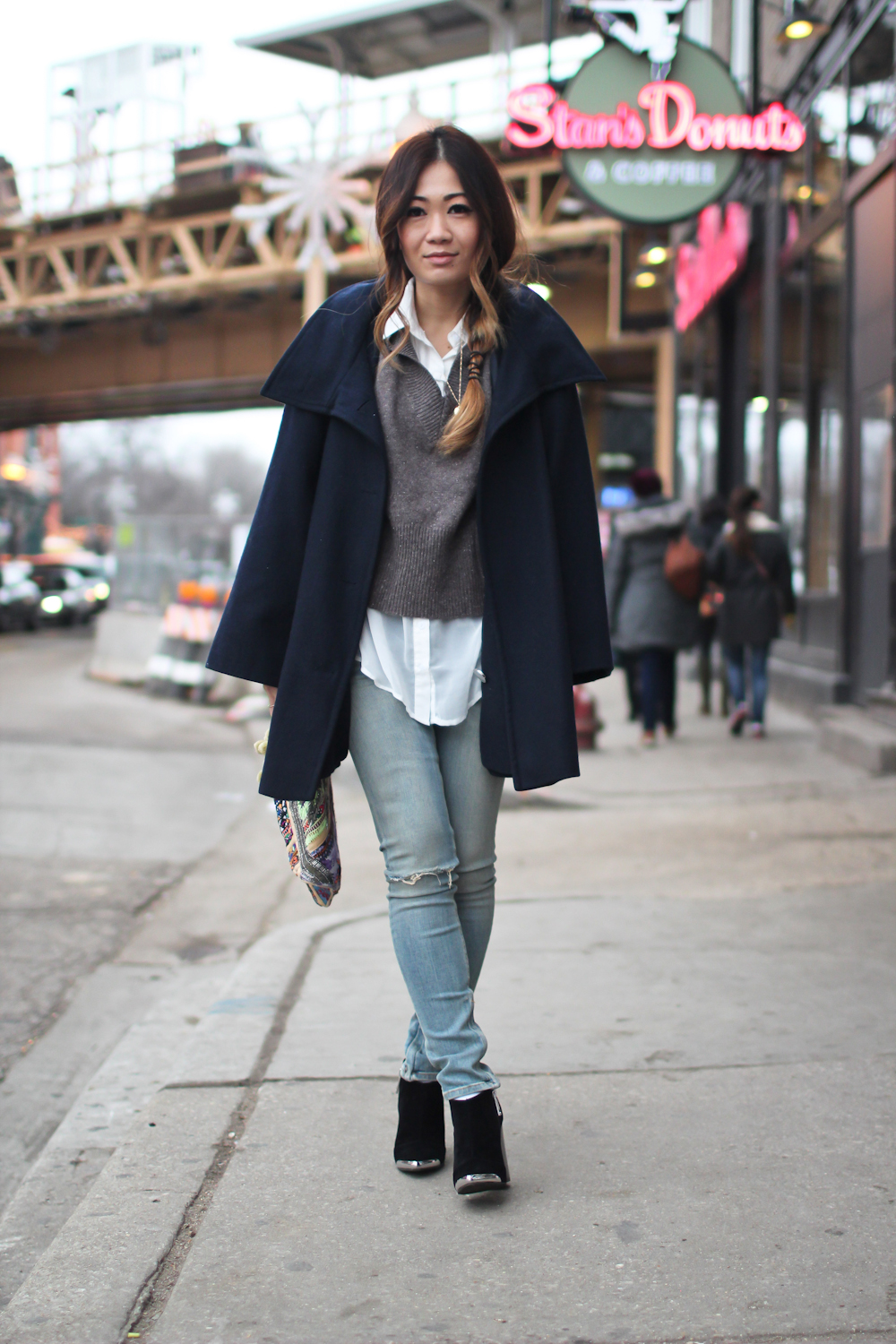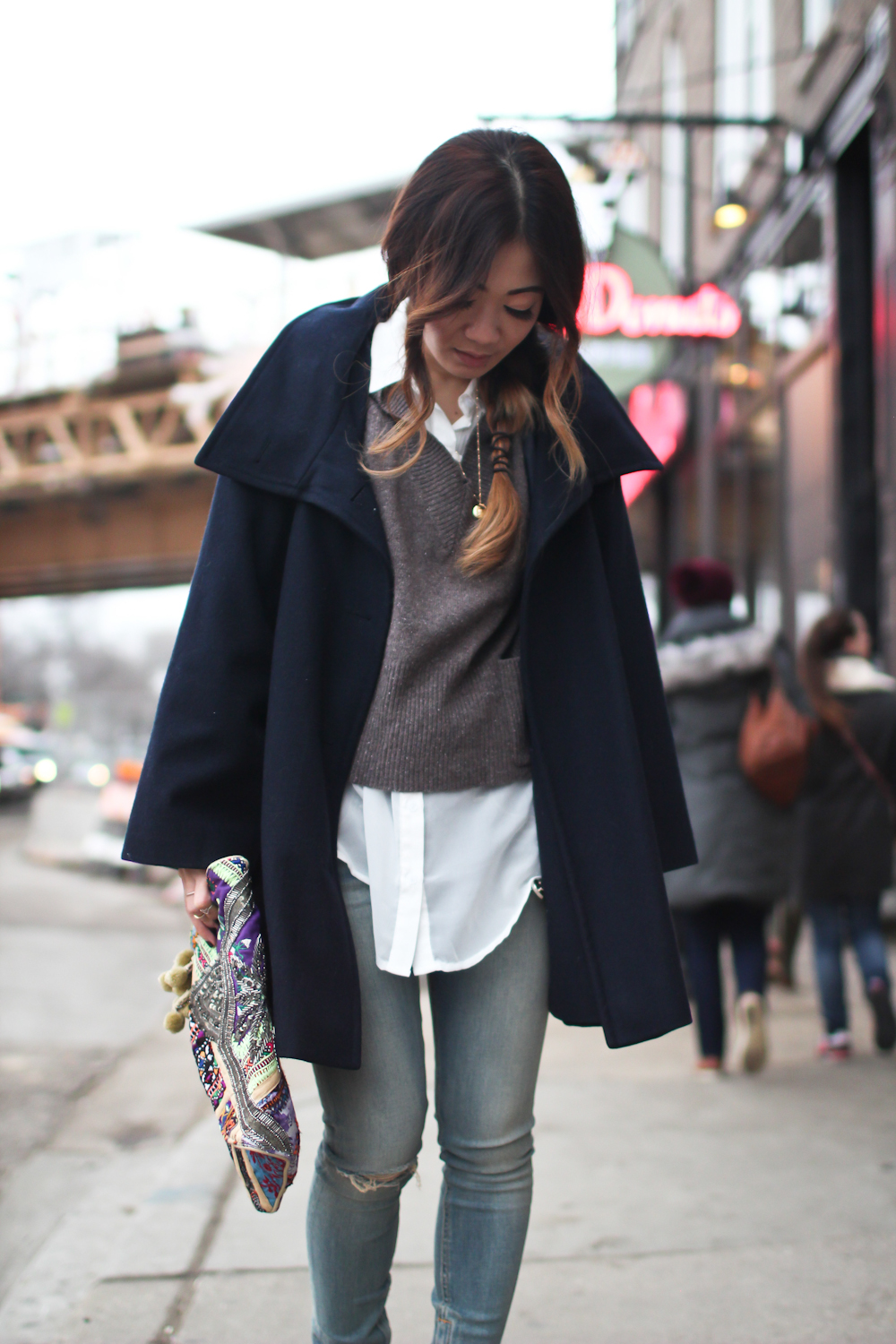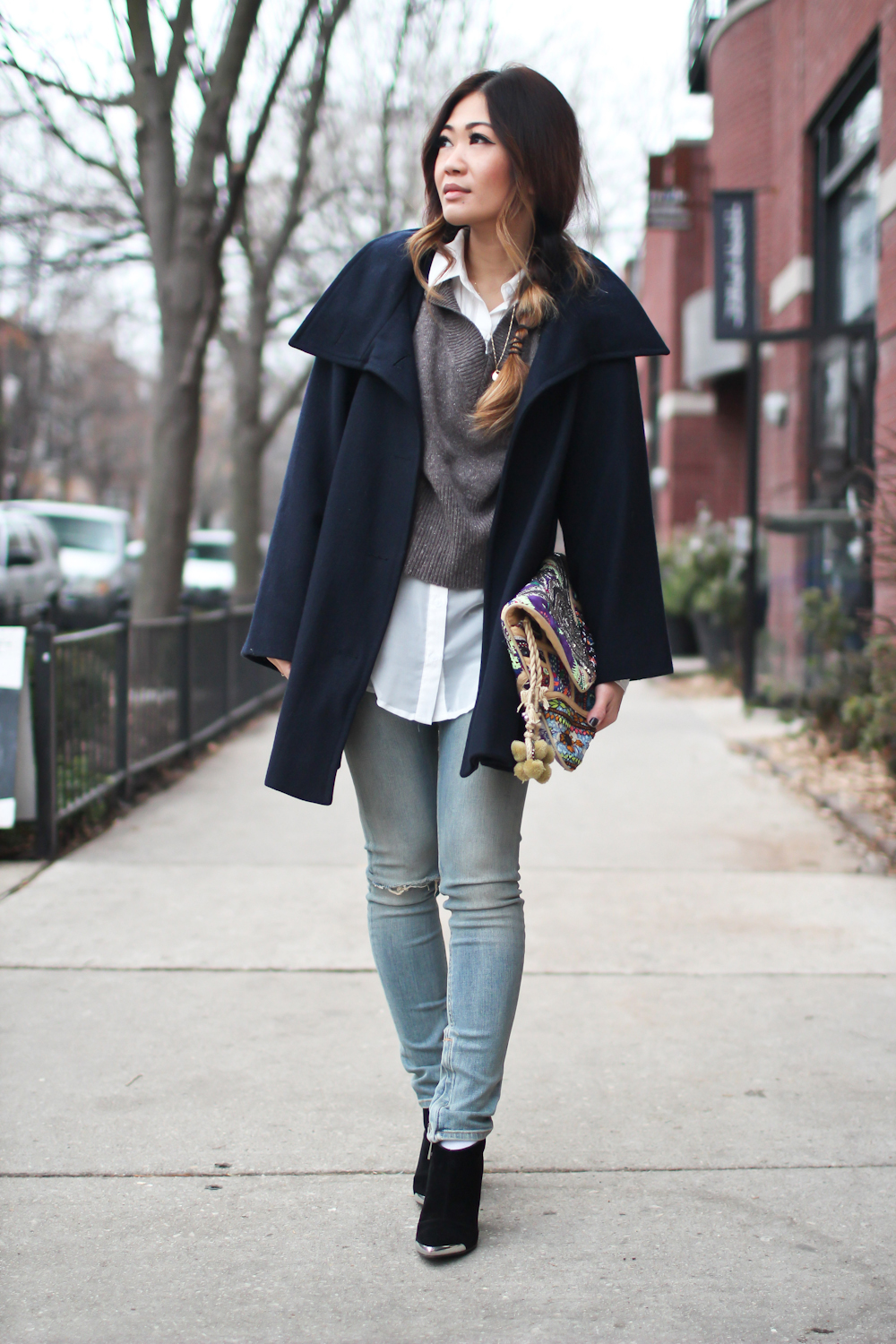 And here's my outfit of the day.  Simple layers and a thick wool jacket was just enough for the perfect fall weather we had this day.  This is one of my all time favorite jackets.  I've had it for about 4 years now I think.  It's oversized, it has bell sleeves, it has a hood, it has large pockets, and it's navy blue.  So much to love about it!  To me, this coat has never gone out of style and it was also probably one of the best sale finds I've had.  I think it was originally $600 and I snagged it for $75.  WOOOOOOP!!  I'm wearing one of my favorite boots from Nasty Gal's Shoe Cult collection.  I've been really impressed with Shoe Cult.  These particular boots I got last year are really comfortable.  We strolled Wicker Park for a few hours and I was able to last in these all day and night.  Also wearing my favorite Rag & Bone jeans.  This particular style has a short inseam which is great for my shorty self.  They cut off right where I want and are tight on the ankle.  They obviously are not capris on me.  Definitely recommend these if you are a shorty like me! Anywayyyyy that's all for now. Can't promise when my next post will be but I will try to make it good I swear! I hope you enjoyed this post and thanks again to Chop Shop and Bold Face Chicago!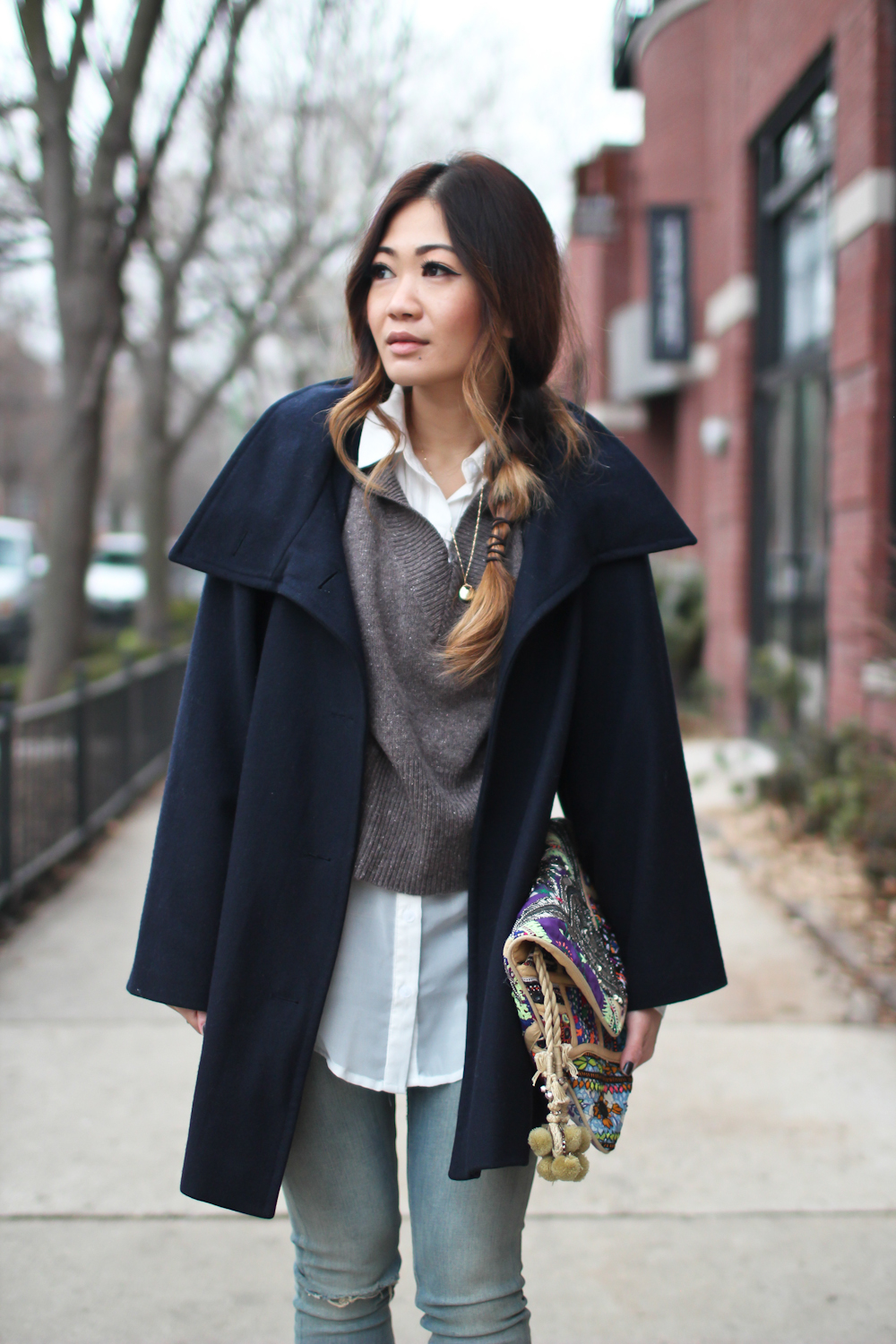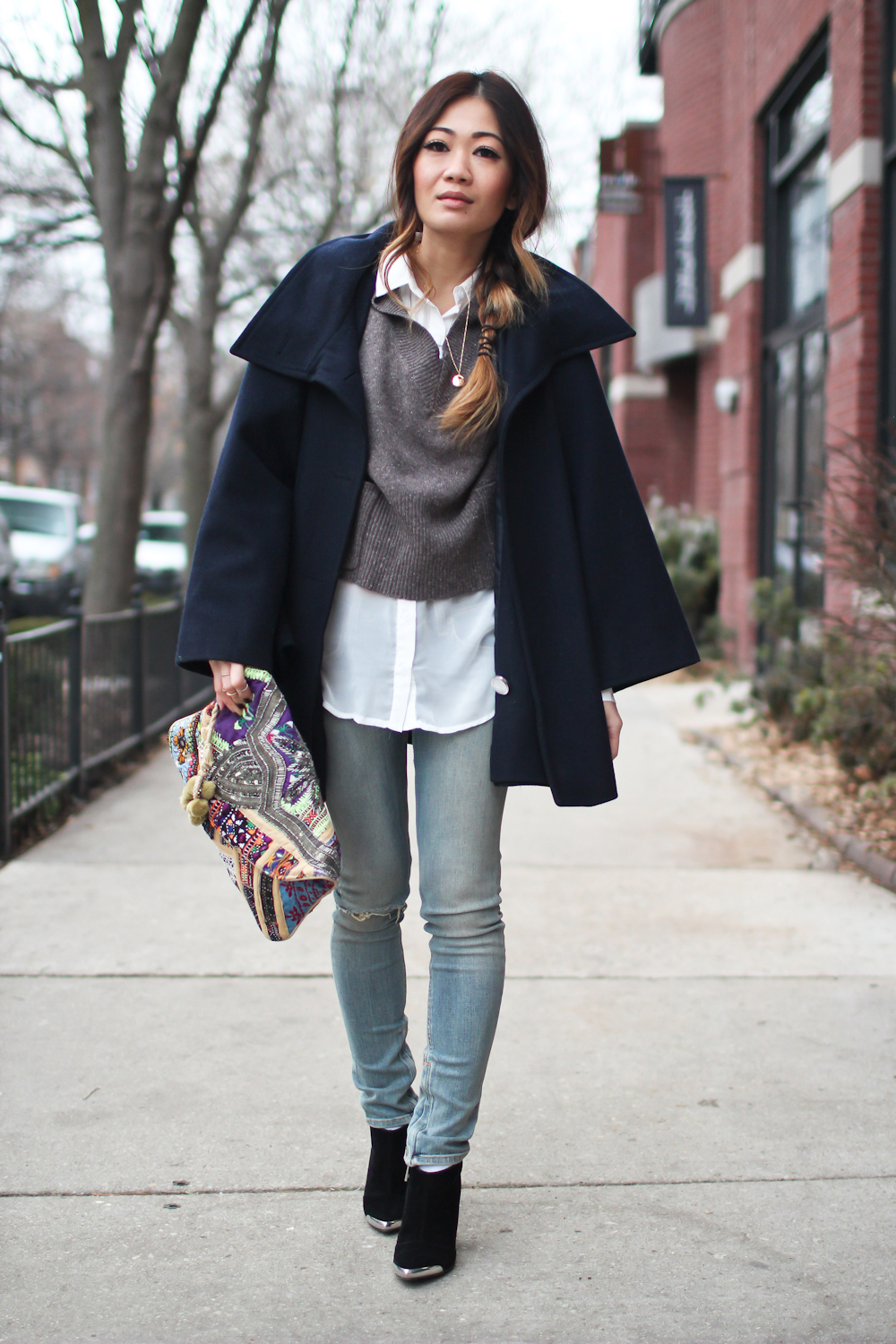 //  coat – golde (old)  //  top – nastygal  //  sweater – vince  //  jeans – rag & bone  //  booties – shoecult by nastygal  //  clutch – antik batik  //  rings – t and j designs  //  necklace – cartier  //

---
---
//  replicate the look  //
---
---