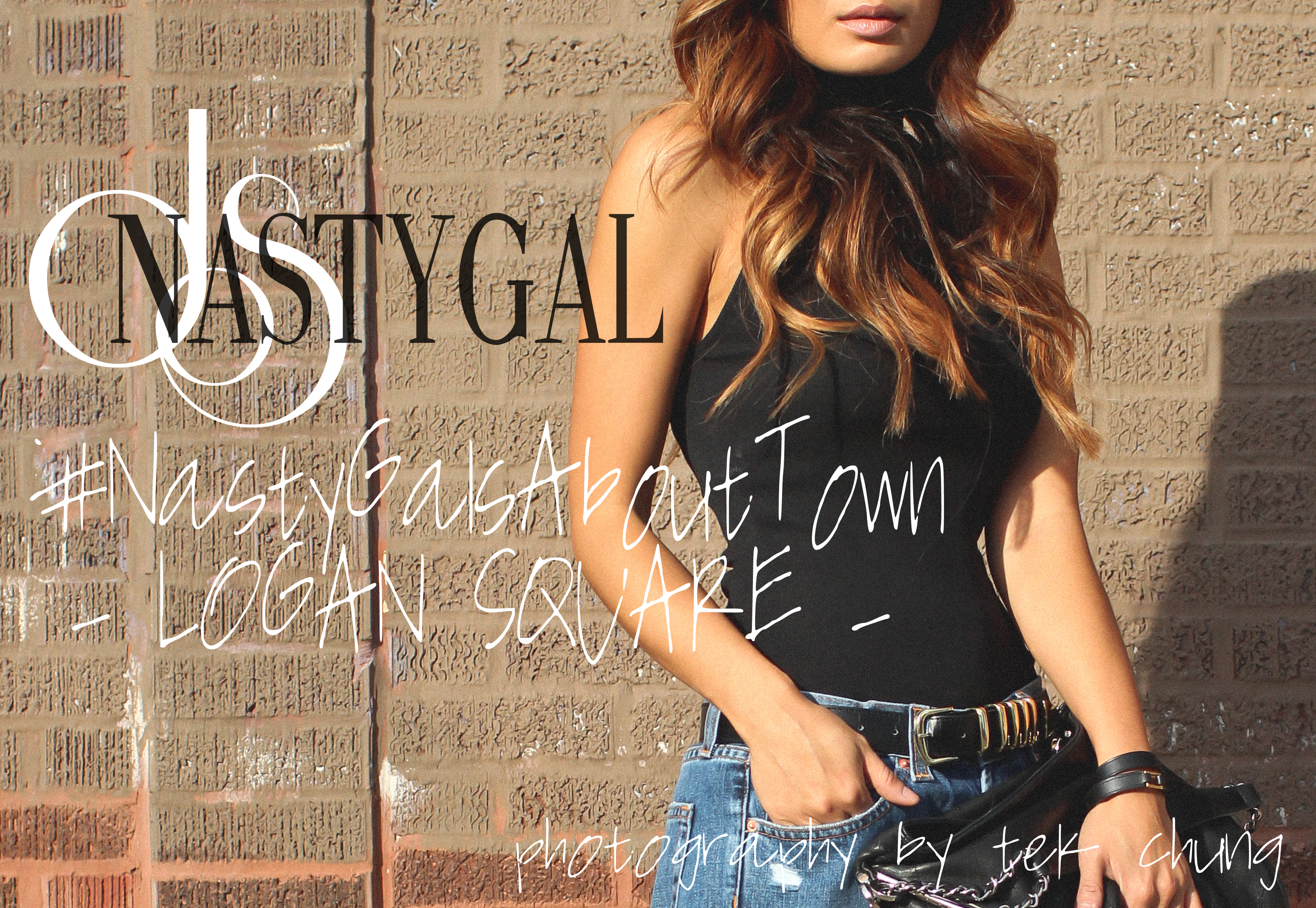 Ahoy thurrrrr!  I'm almost too excited about this next block of posts because of two reasons.  One, I get to show off my city…. CHI-TOWN BABYYYYYYYYY… (aka.. SHAI-town.. har har har)!  And two, this is a collaboration with Nasty Gal y'all~!  Whut Whuuuuuuuut!?!?!  There are oh so so so sooooooooooo many  places I love in this city and I am a total city gal (the burbs will be the death of me… sorry dad) so I can't wait to tell you about my favorite local spots.  When I first thought about this whole thingy, I decided to take you through my favorite hoooooods.  Now mind you we didn't shoot at all of my favorite places because it got real awkward shooting inside these establishments (yea still not used to the staring and confused looks), but I will definitely tell you about my other favorite spots in each neighborhood I feature that I didn't shoot at.  First up… LOGAN SQUARE!
So this is a neighborhood I recently fell in love with because it has so much personality. The Logan Square crowd is really chill and the area holds some really fun spots to hang out, eat, drink and be merry.  But since this is a new discovery for me, I have a few favorite spots but there are probably so many more that I have yet to stumble into.  First up on my list is Emporium Arcade Bar.  There are two locations I think but the Logan Square one is the ginormous one with pool tables.  Contrary to what it looks like in these photos, I am shit at pool.  Like seriously terrible.  Pretty sure during this shoot, I scratched 6 times in one game.  If you dunno what that is… it's where you sink the white ball into one of the holeys and everyone around you goes… oooooh ouch.  =P  Yep, 6 times in one game and I wasn't even playing anyone.  Seriously suck.  However, the Hubster is kind of amazing at pool.  Like in a smokin' hot way.  Now we have been together about 12 years now and it always takes me back to our college days watching him at the basement floor of the Union at UIUC hustling at the pool hall.  So really I just love to watch him play.  Kinda floats my boat… tickles my fancy… turns on all mah switchezzz… if you know what I'm sayin'.  When I play against him I usually have one window to play then it's his turn after the two seconds it takes me to miss whatever shot I was going for and that's that.  He pretty much runs the table… and I ain't mad about that… meow.
Emporium is great because the space is massive, the music is subtle, the bartenders are great, the selection of beers is extensive, and there's an actual broken down food truck in a corner.  Not to mention the sick art work on the walls.  I do wish they had more arcade games, mostly pinball machines here.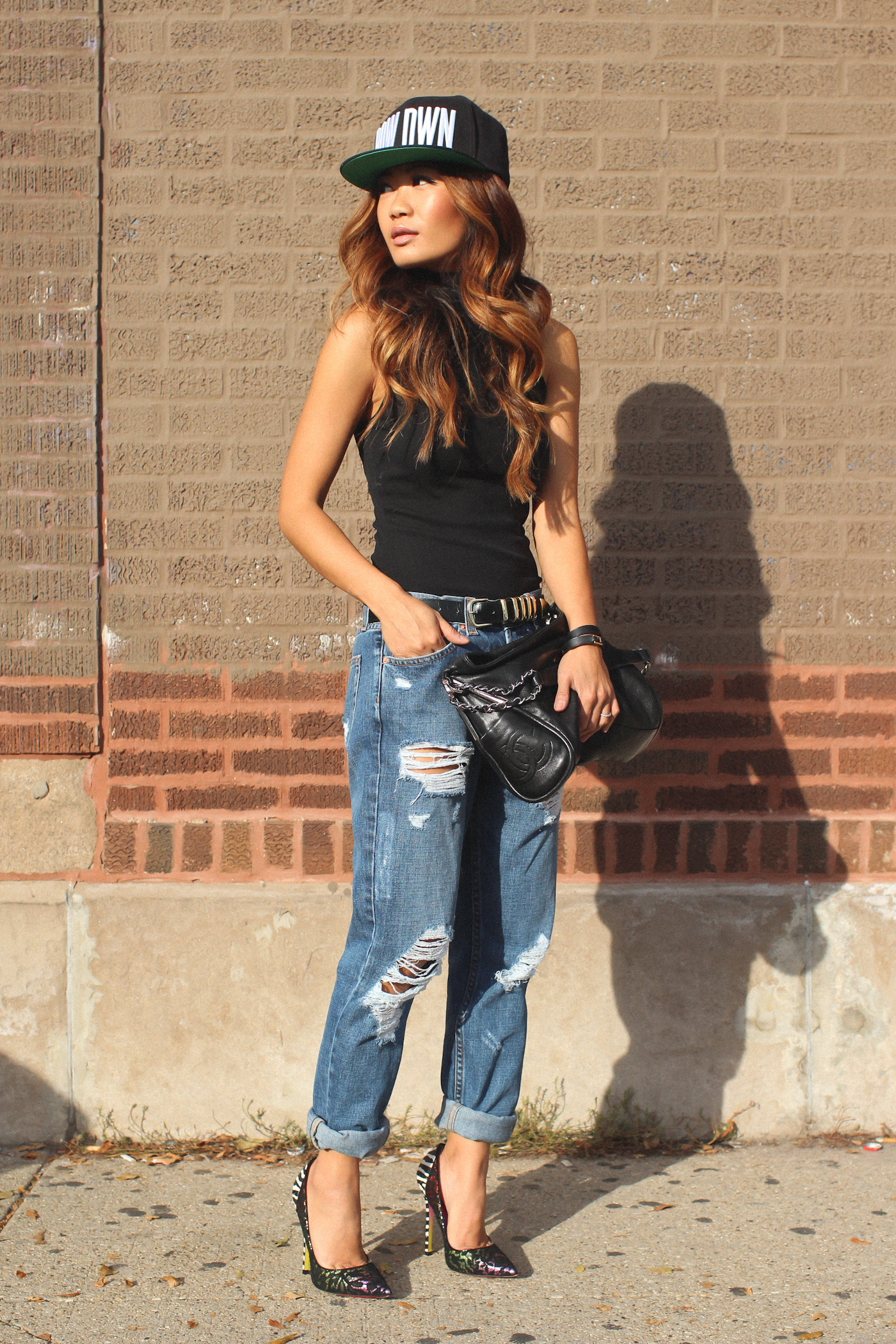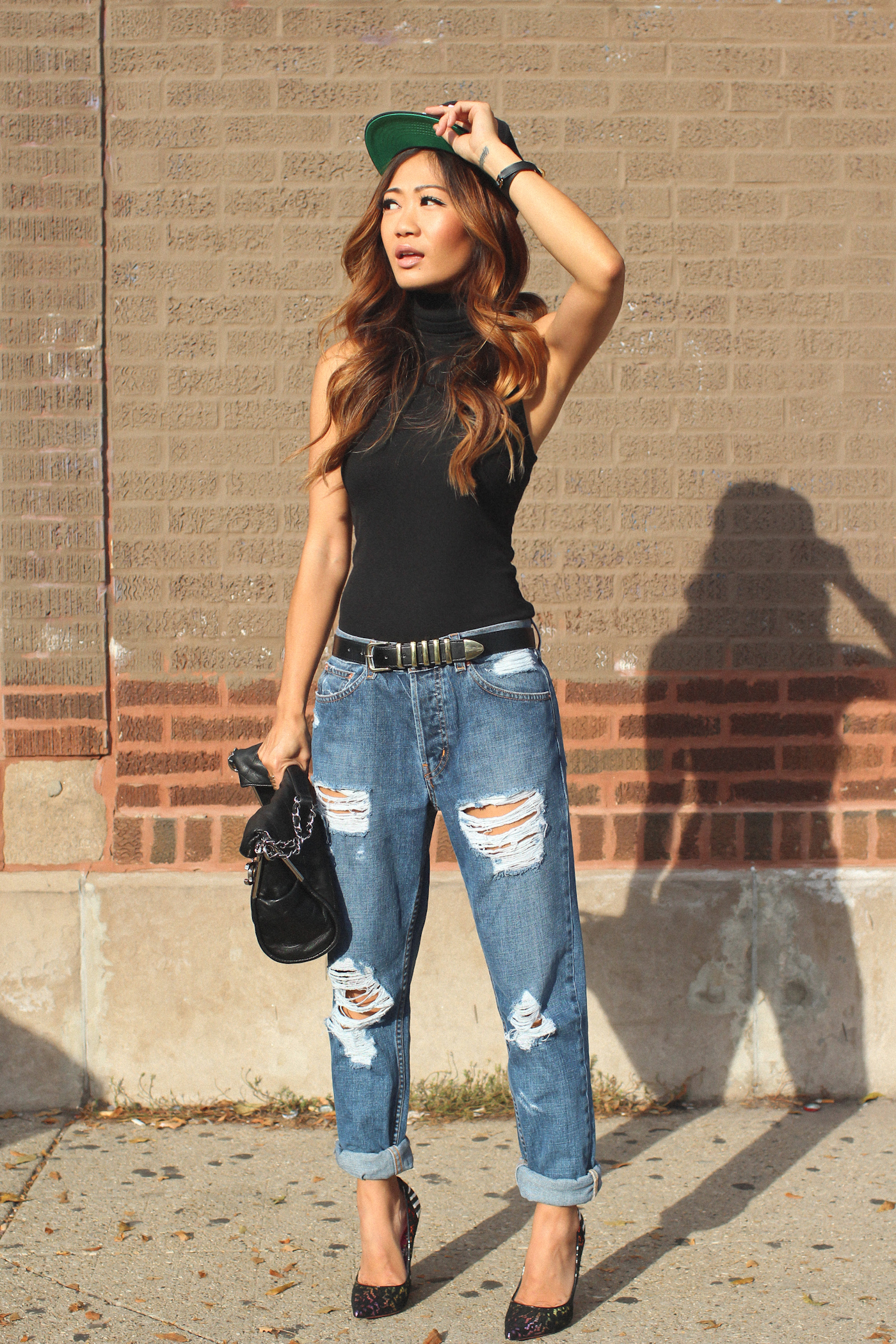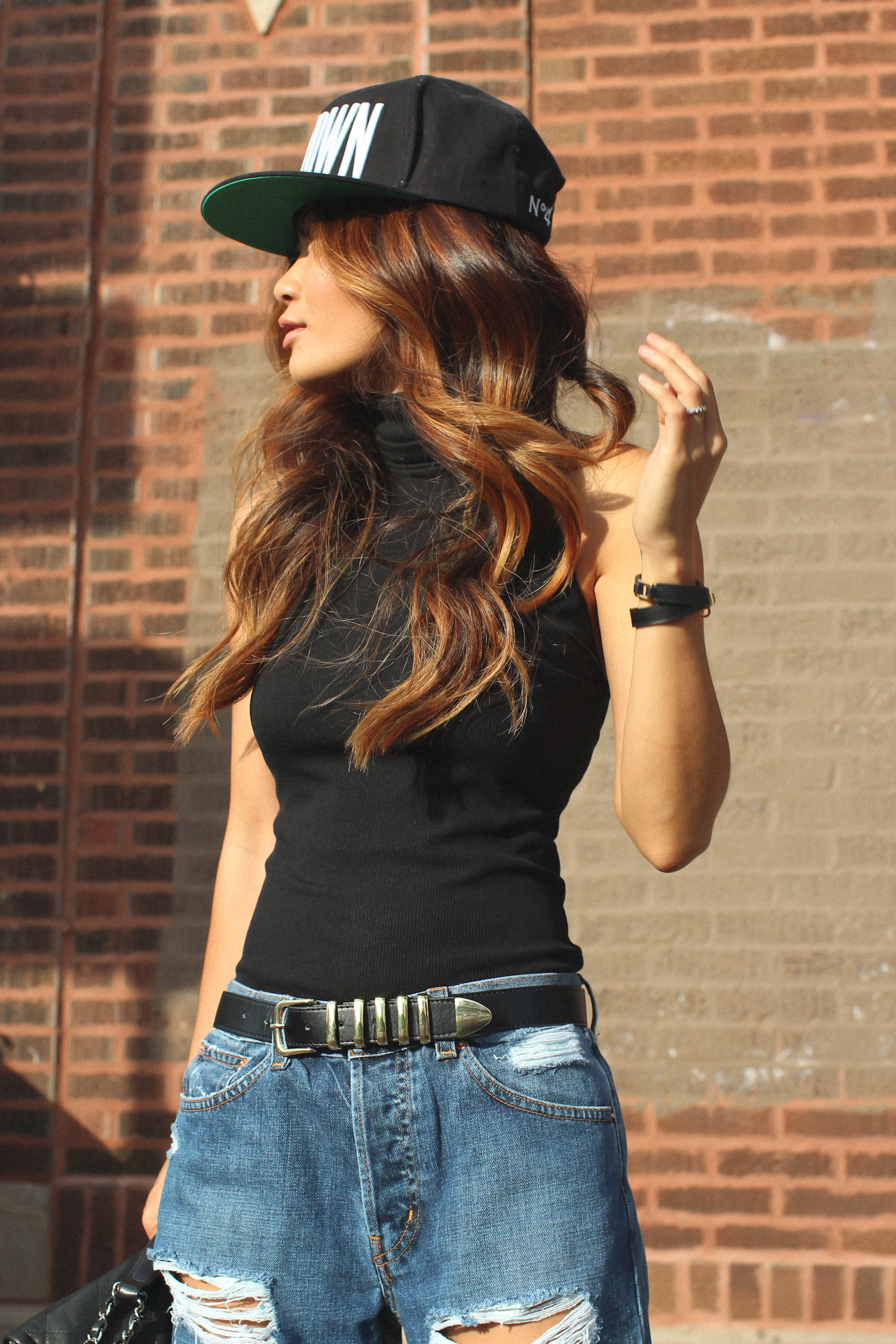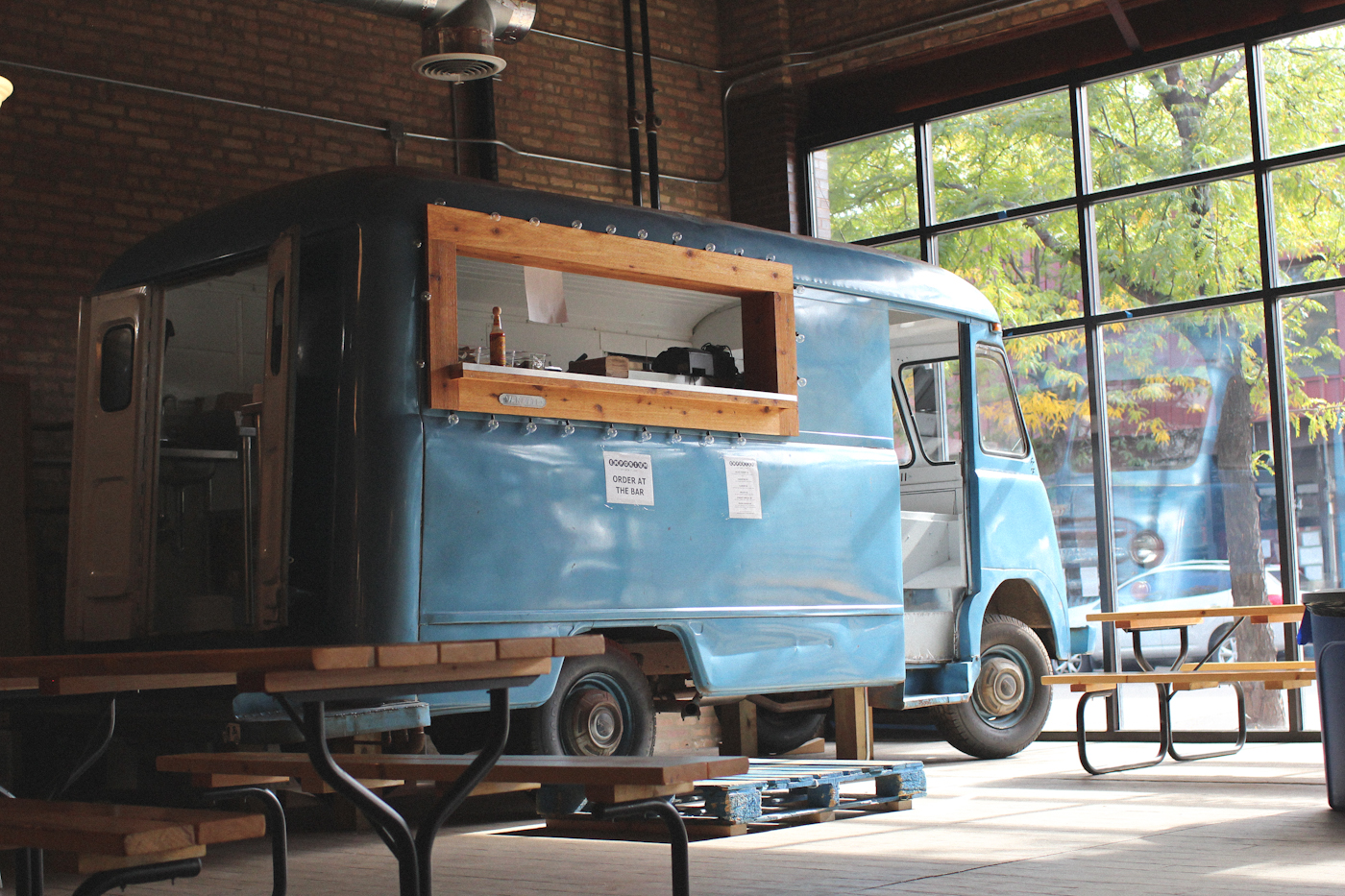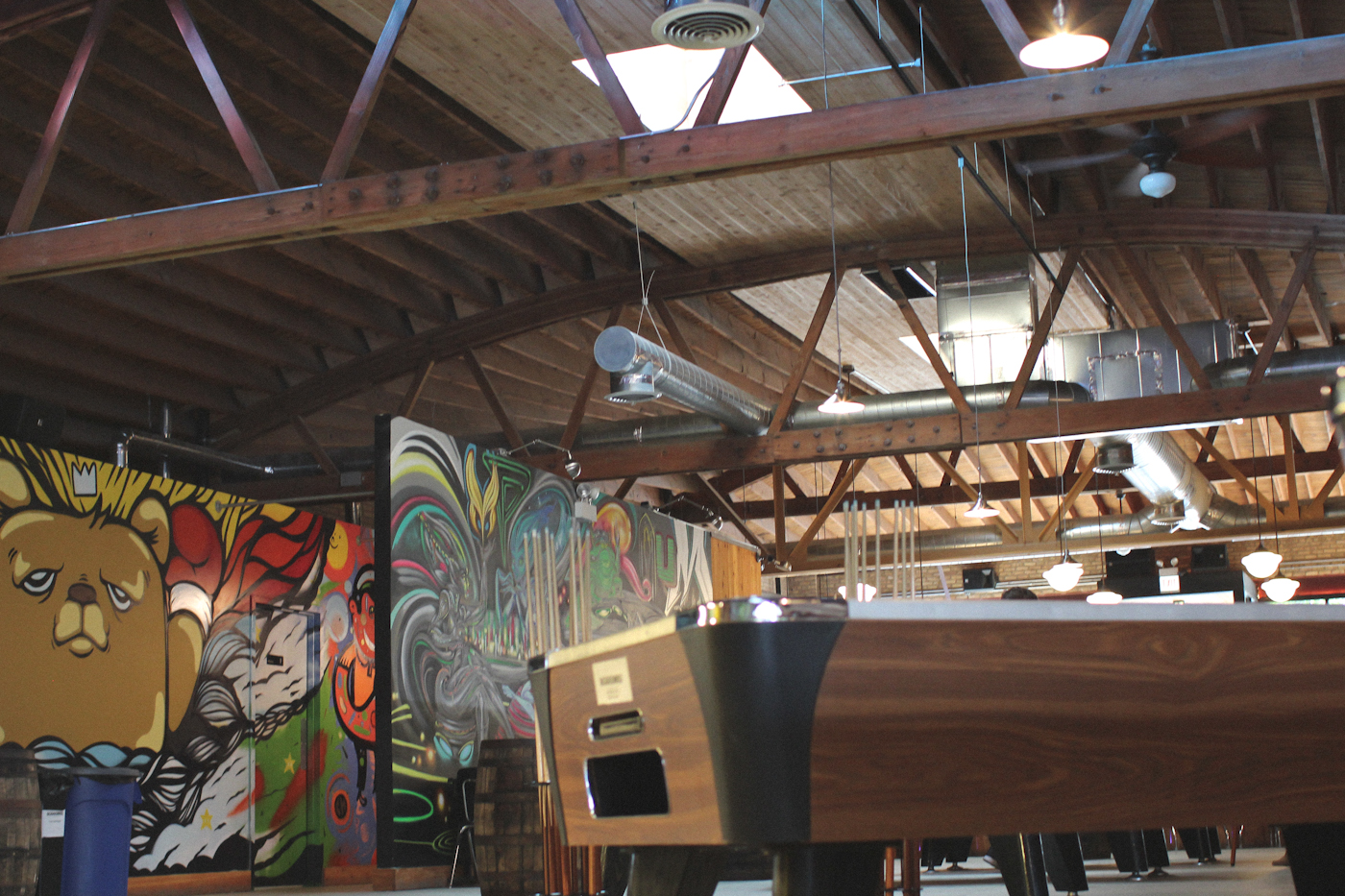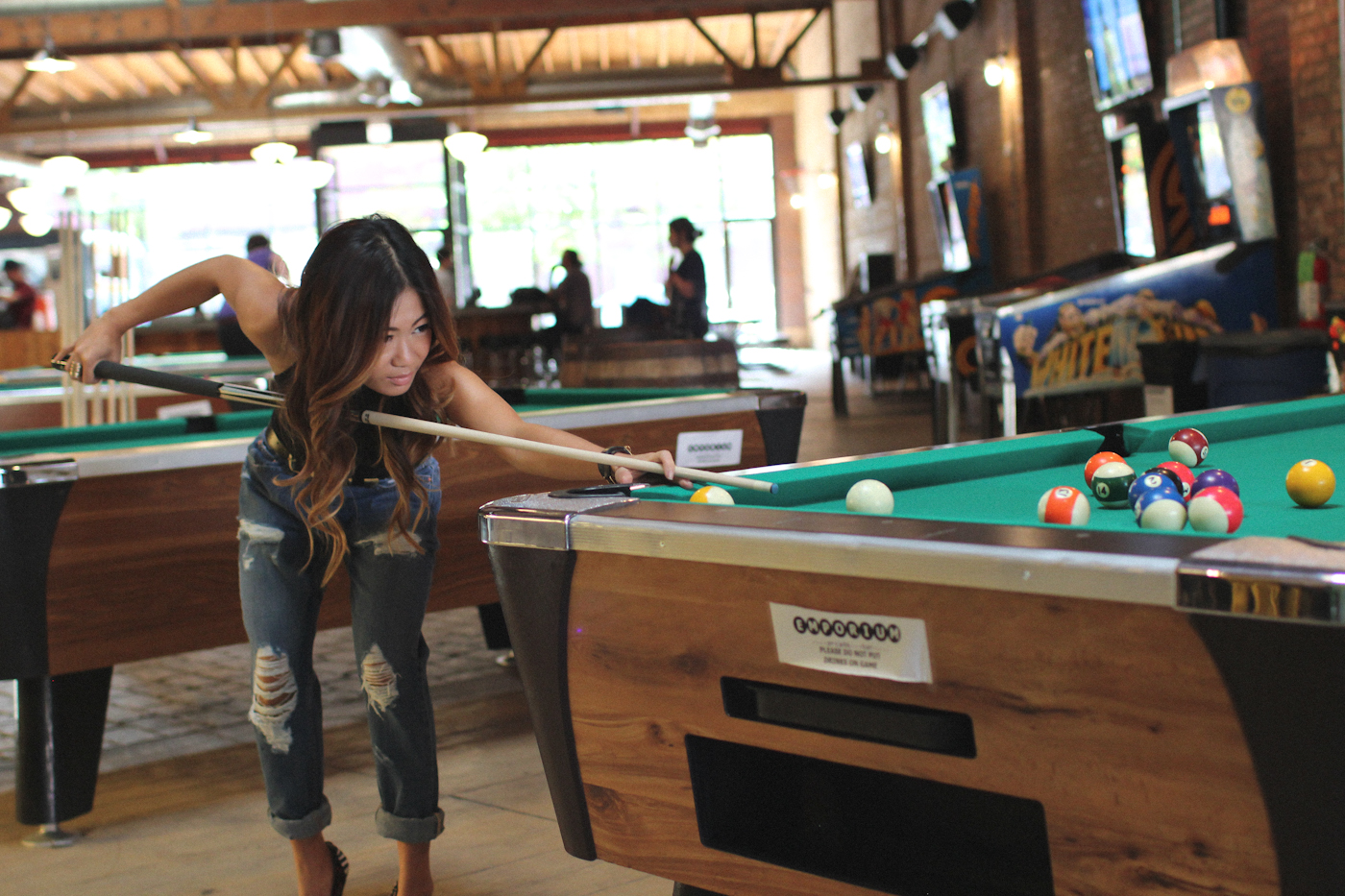 DOS and Hubster fun fact!  The cue that I am using in these photos is actually the cue I bought the Hubster in college.  It cost me $200.  Which when you think about it now, adjusted for inflation… is probably like spending $2000.  I guess it was love back then too.  Matches my outfit no?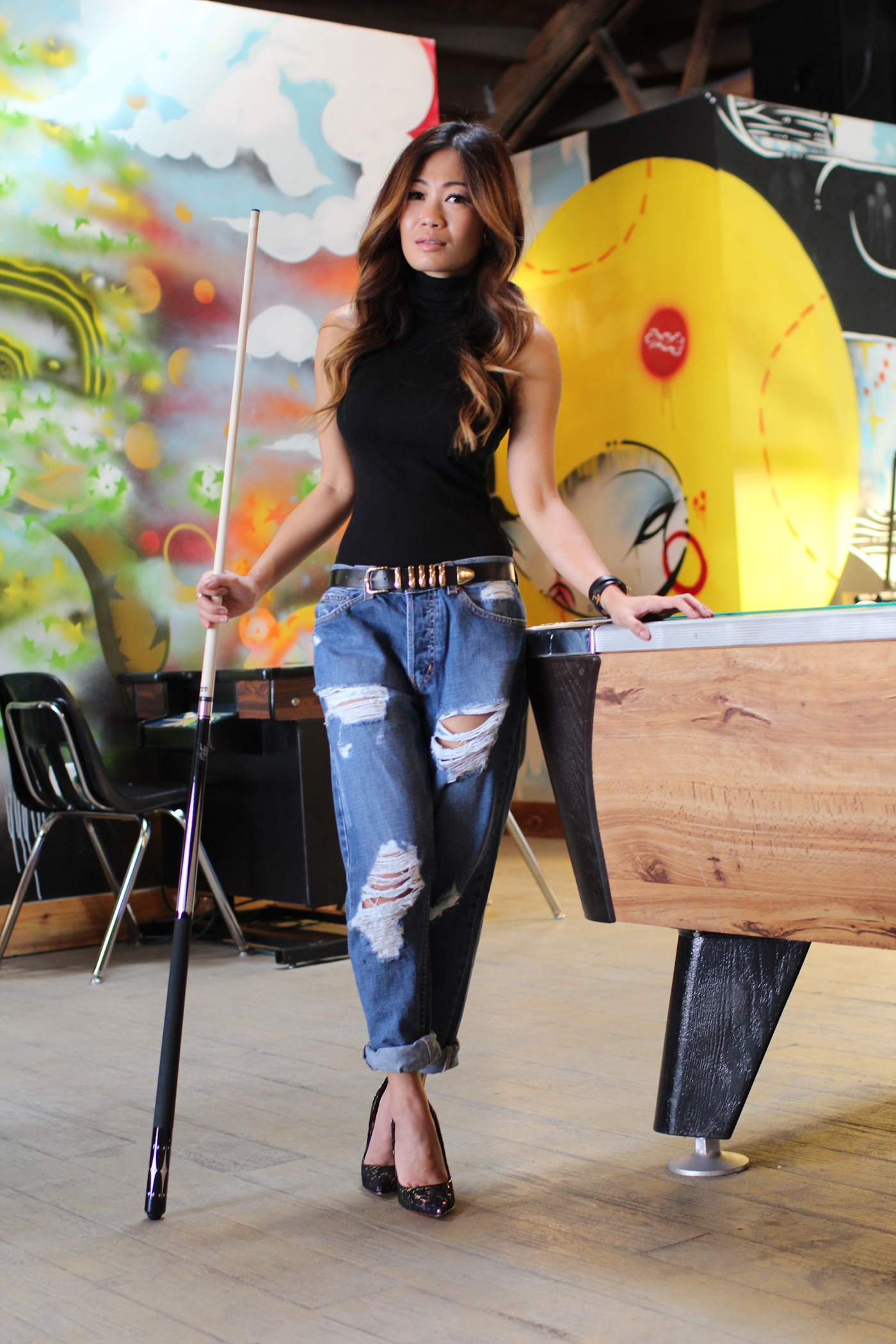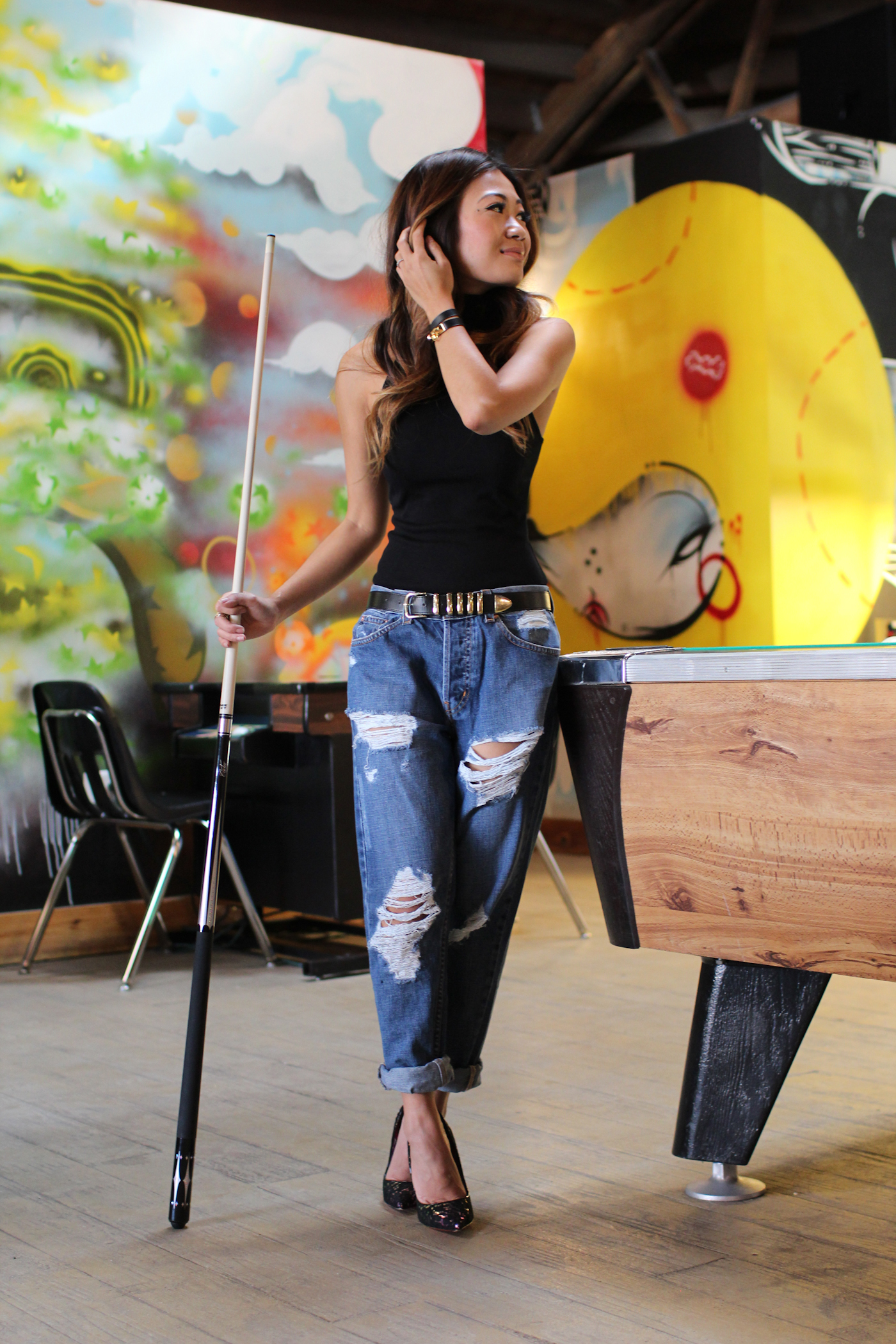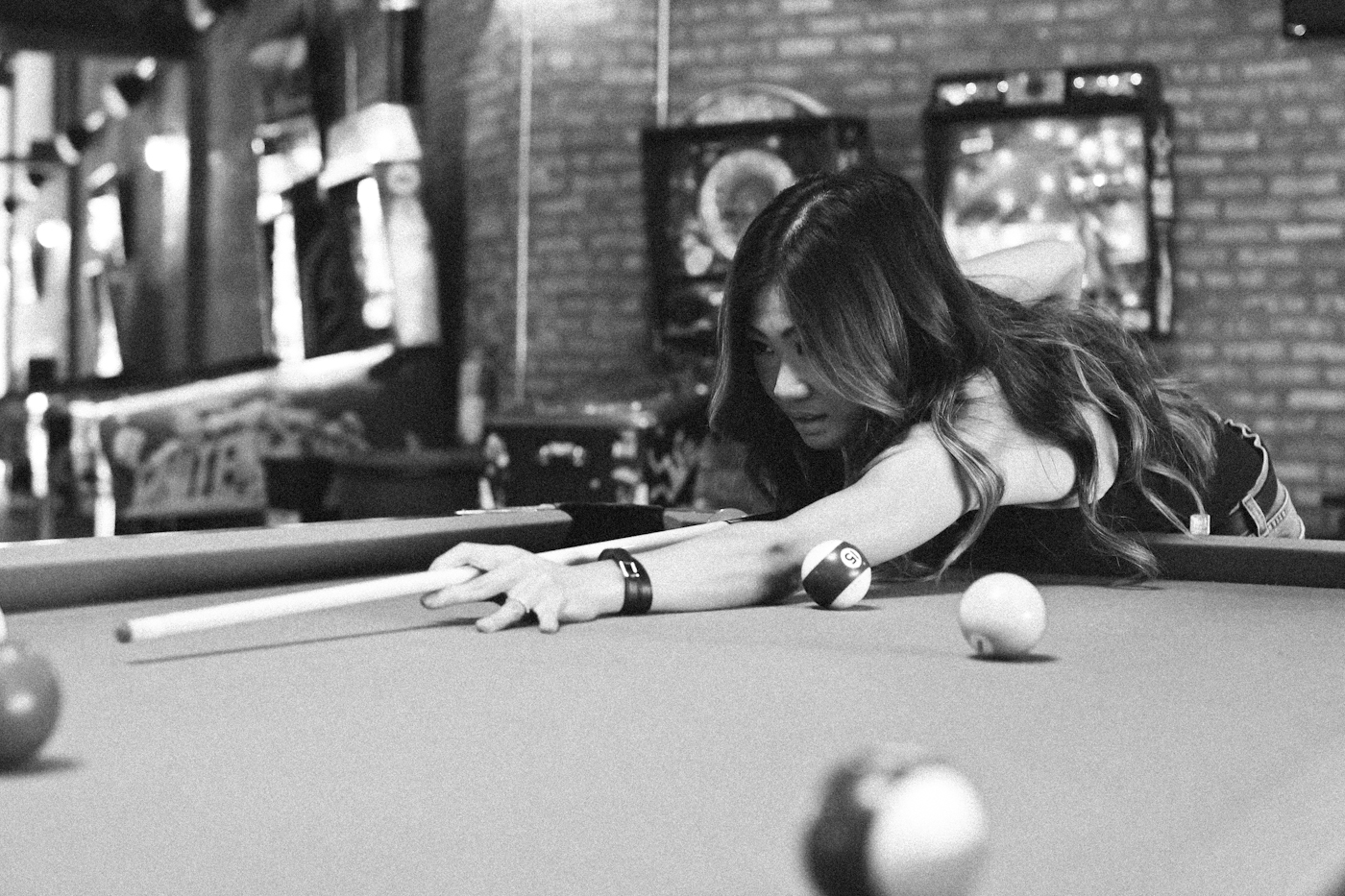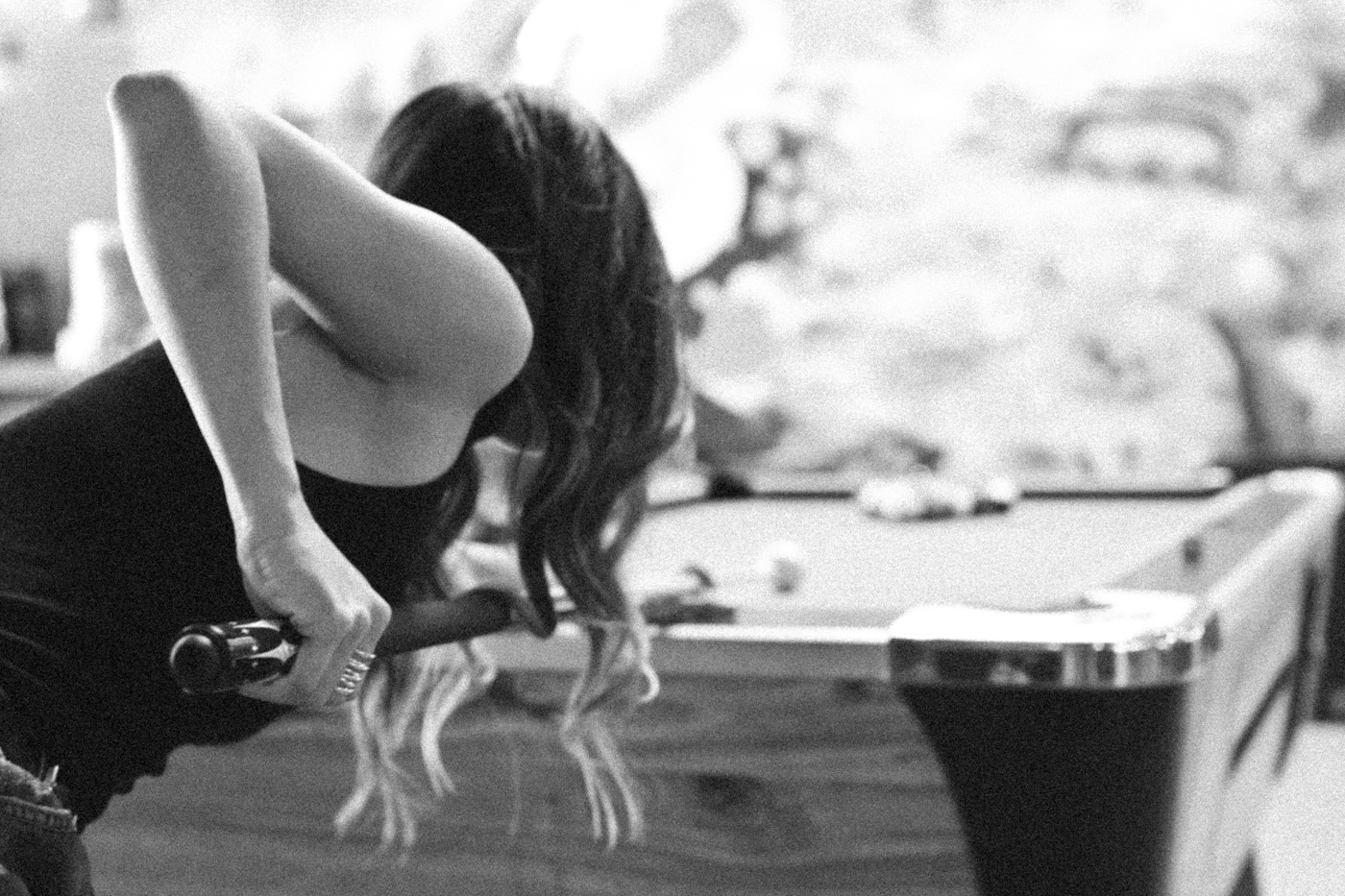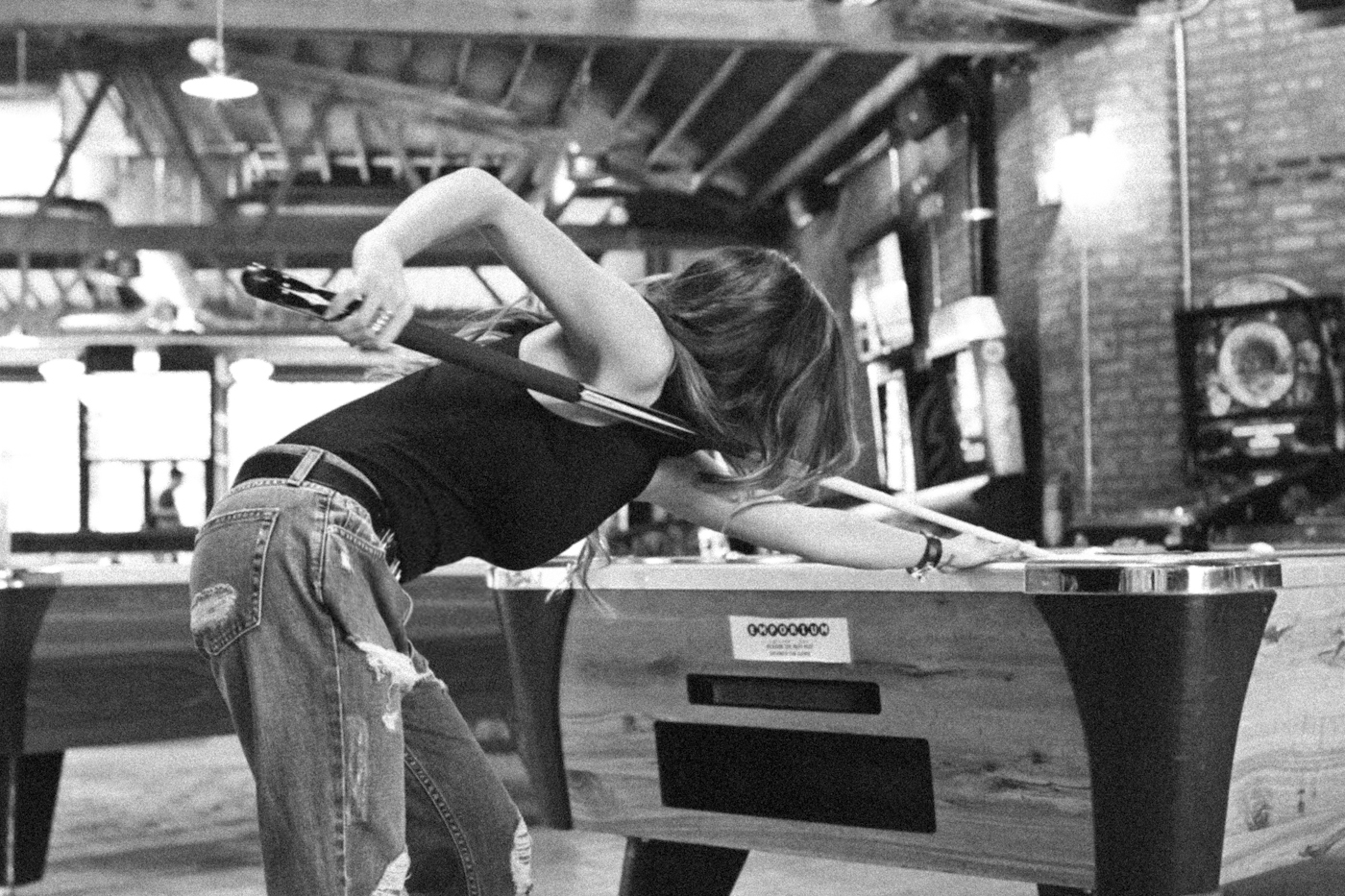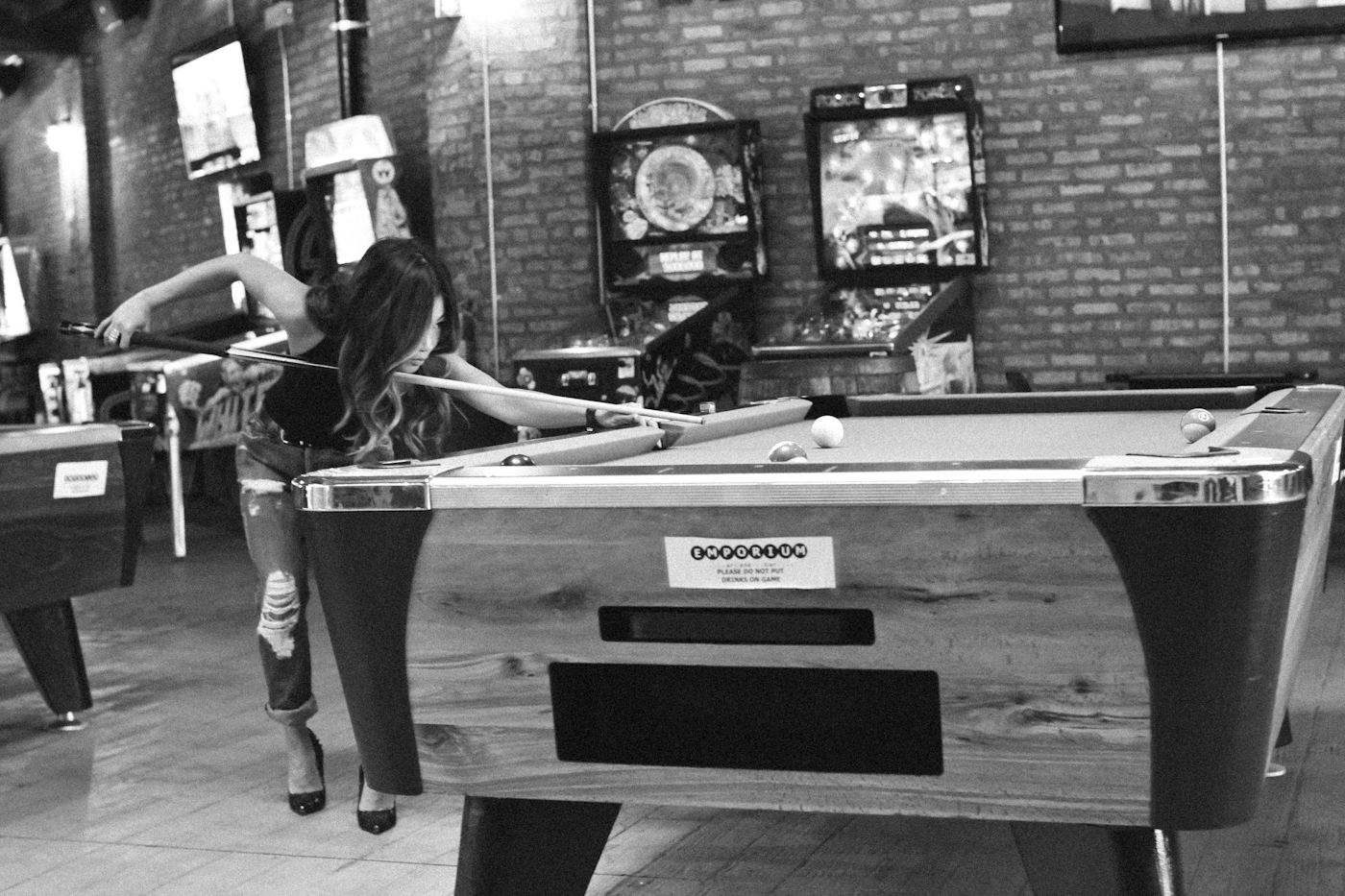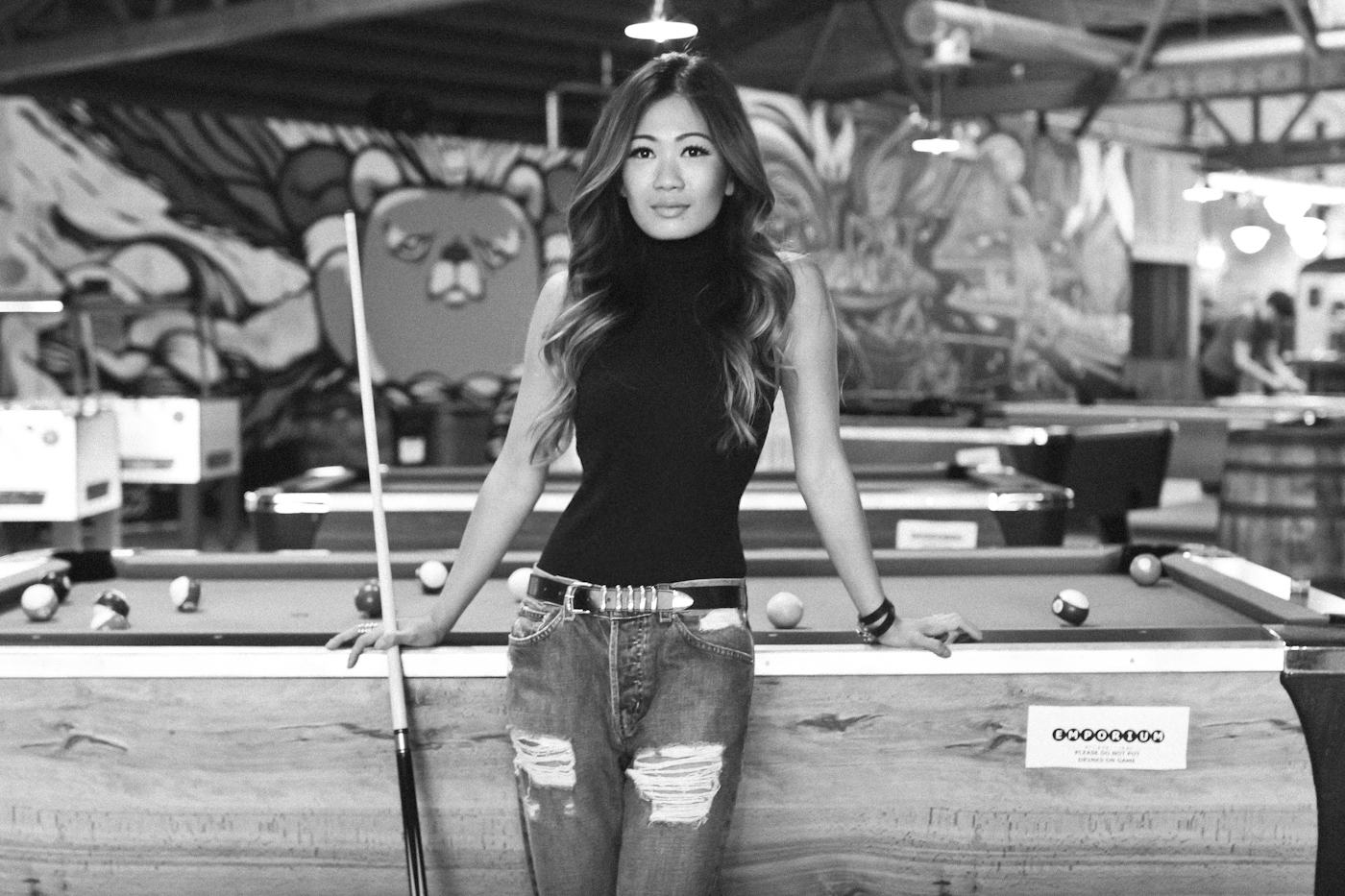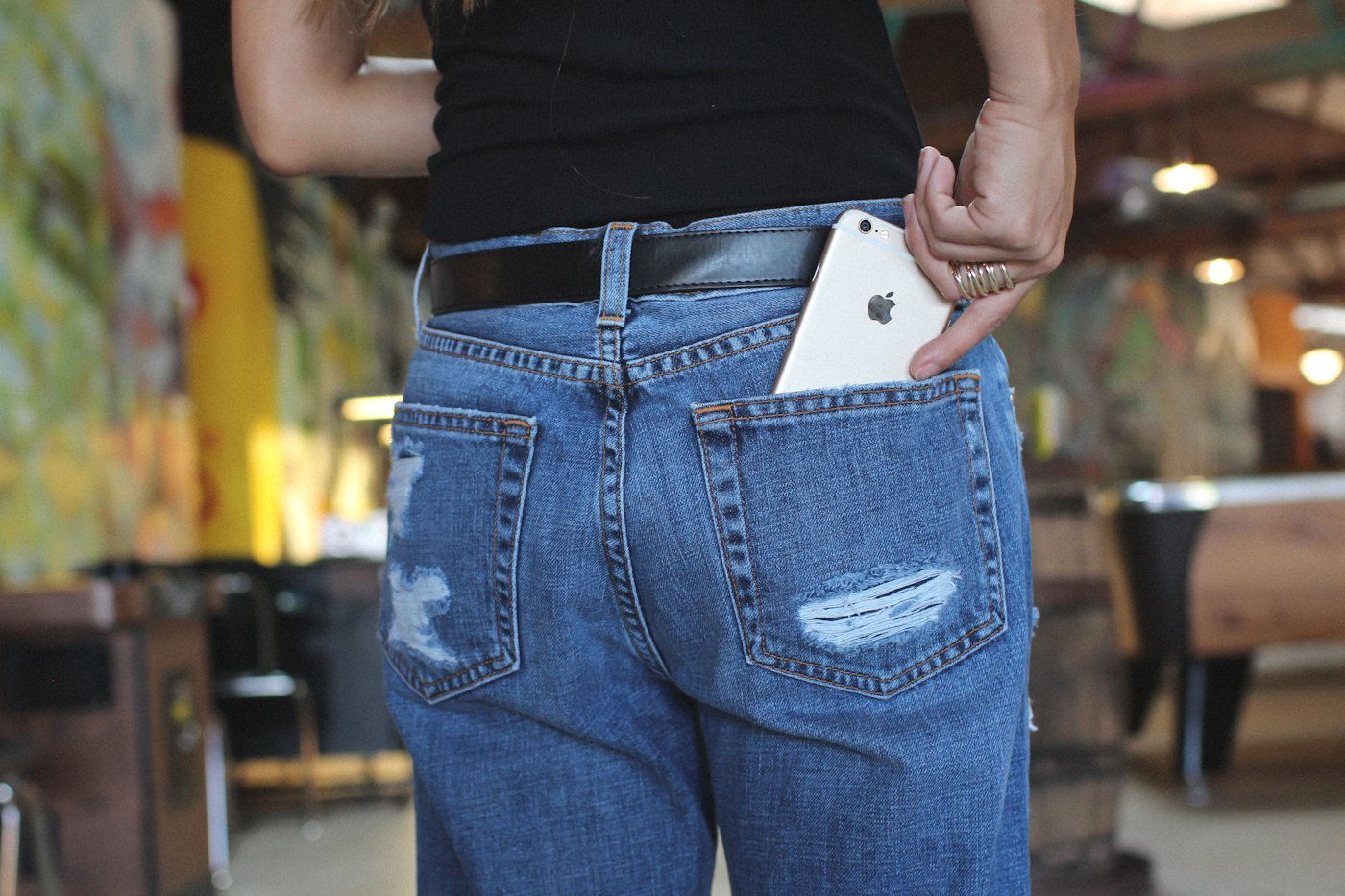 Pro Tip:  Be aware of where your distressing is on your jeans.  Because this right here… was NOT a good idea.  Summbitch slipped right out the holes.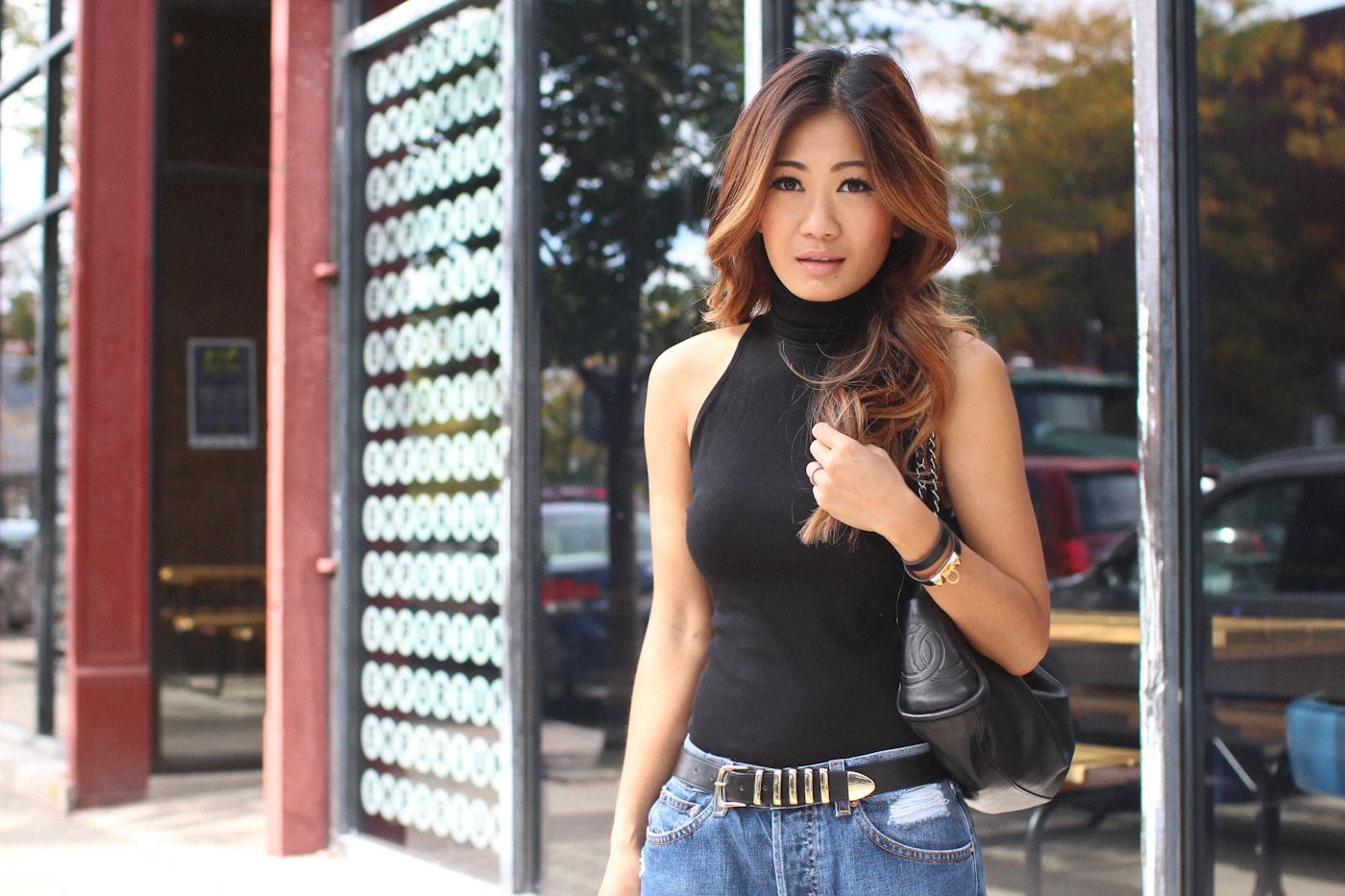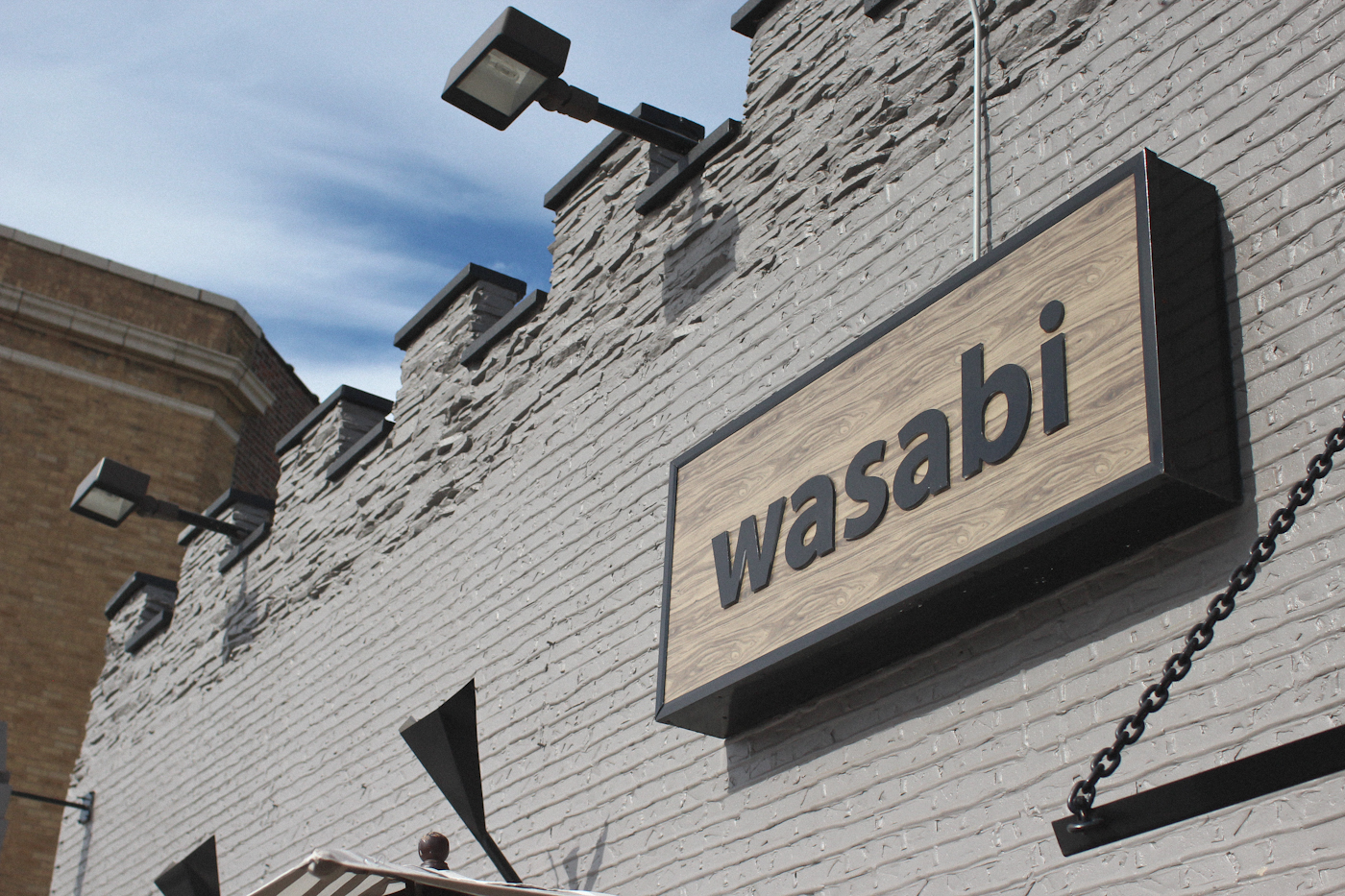 Second up is my absolute favorite ramen shop in the city… WASABI.  Now before all you Chicago ramen heads go all ape shit to argue this…  shut yo face!  This is MY guide therefore it can feature what IIIII love.  So go make your own guide!  Man ramen people get really cray about their ramen.  But in my opinion WASABI is the best I've had so far in this fair city of mine.  I've had pretty much every variation of their ramen here and I crave it about once a week.  But I have been trying to stay on a vegan kick lately so I've had to let this go for a while.  Then they go and do something epic and they create a vegan ramen.  As if I couldn't love them more.  Now I've had other vegetarian ramen and it just makes you sad and wish for the tonkatsu and a giant slab of pork belly.  There is usually this overcompensation of flavor that always comes off too greasy or too salty.  But the vegan ramen at Wasabi totally holds its own. So much so that I don't really miss my go to tonkatsu that much.  But I totally cheat and get the regular ramen noodles which makes the dish vegetarian since the type of noodle they use is made with egg.  I always ask them to put in lots o' bamboo shoots because I love them.  And if I'm being really honest, I usually double down on the amount of noodles.  I always tell the hubs that I can't finish it but magically it just disappears.  Enter awesome state of noodle coma.  Good thing I was wearing these awesome distressed Nasty Gal boyfriend jeans!  Definitely had to go up a notch on the belt after this meal.  Food baby worth it!  Okay, now I'm seriously hungry for some ramen. Too bad they are closed on Mondays.  One fact I learned the hard way.  If you plan to check out Wasabi, go either early or late because there is definitely a wait.  Bonus fun fact… BYOB betches!!!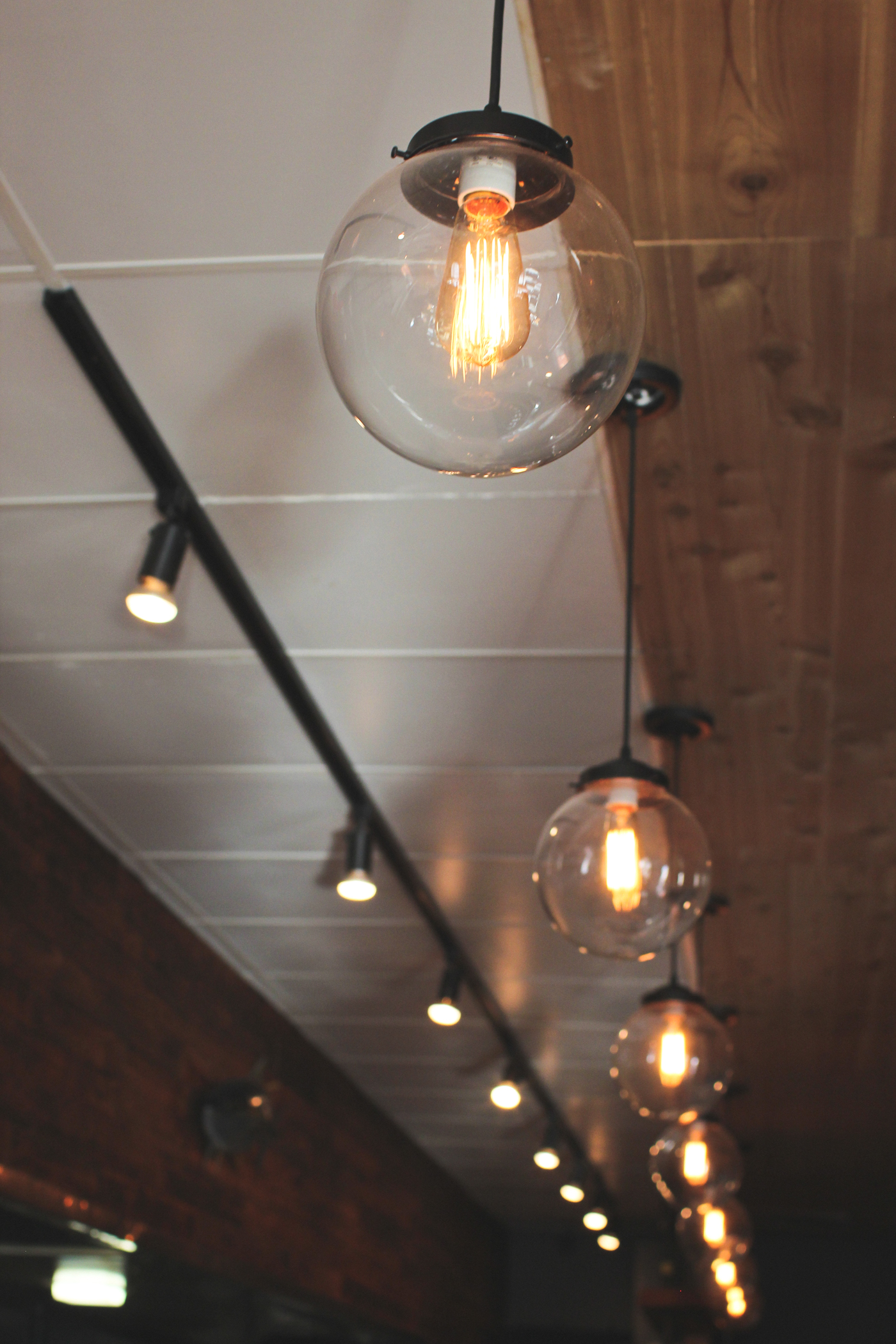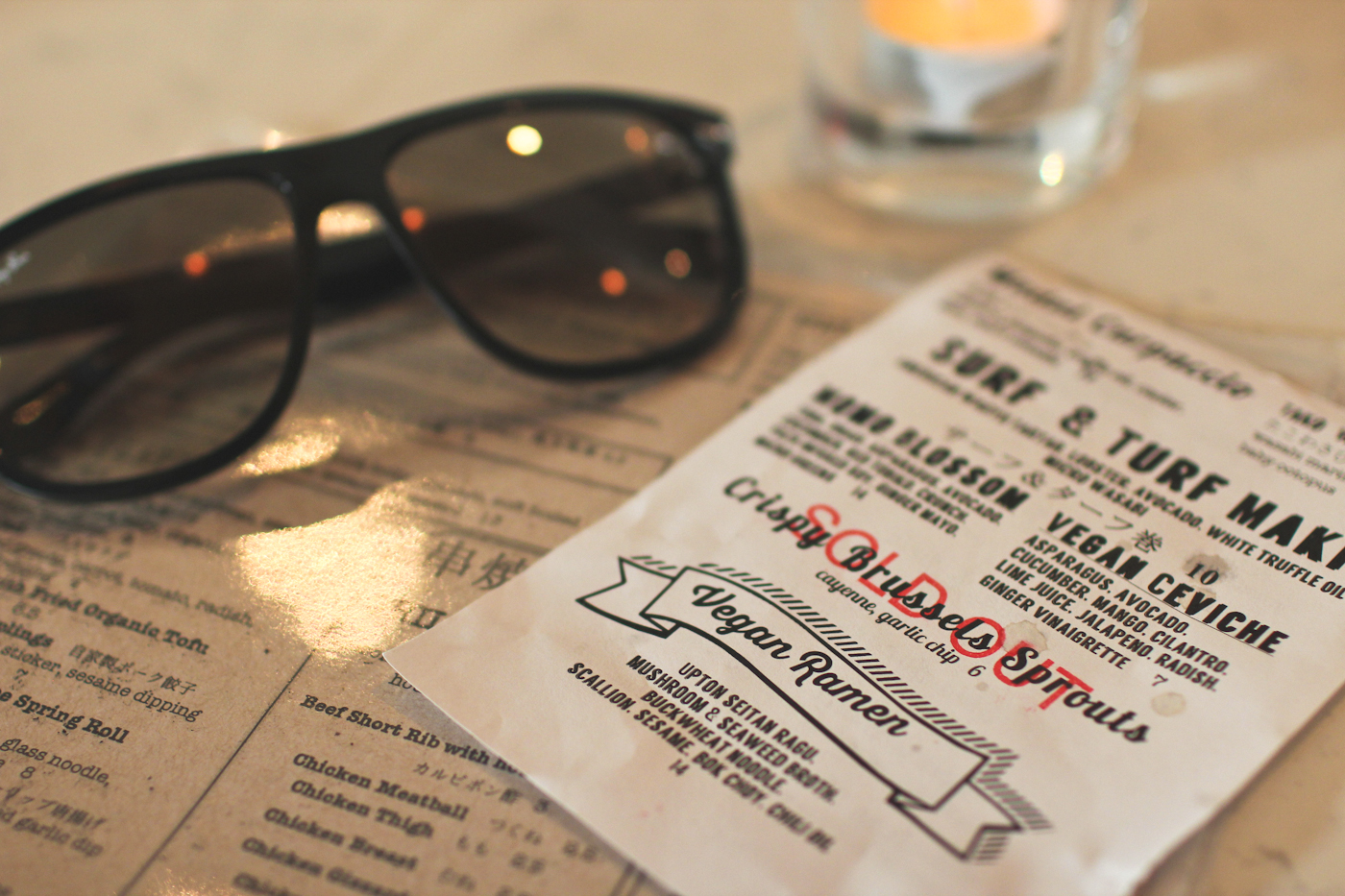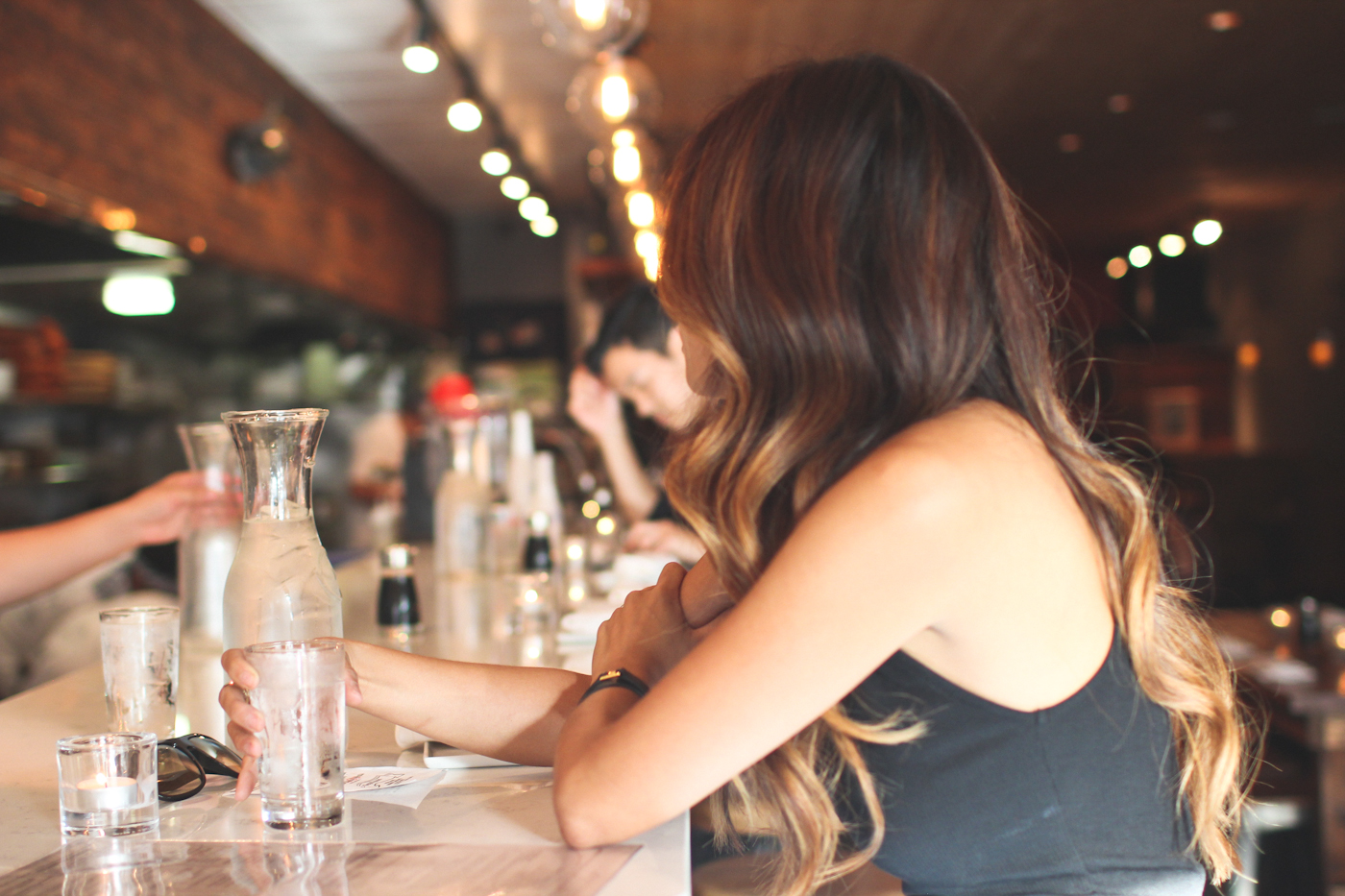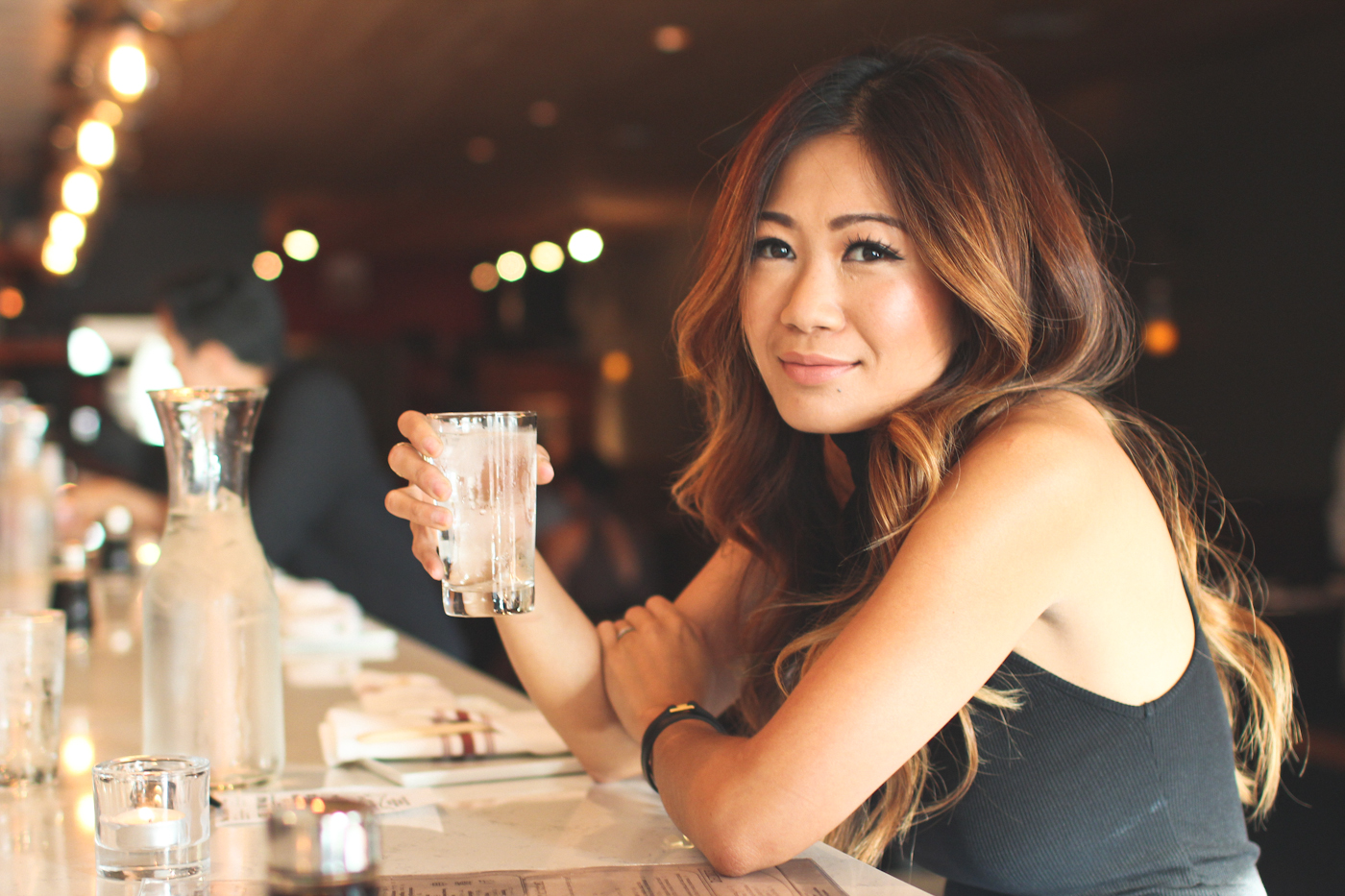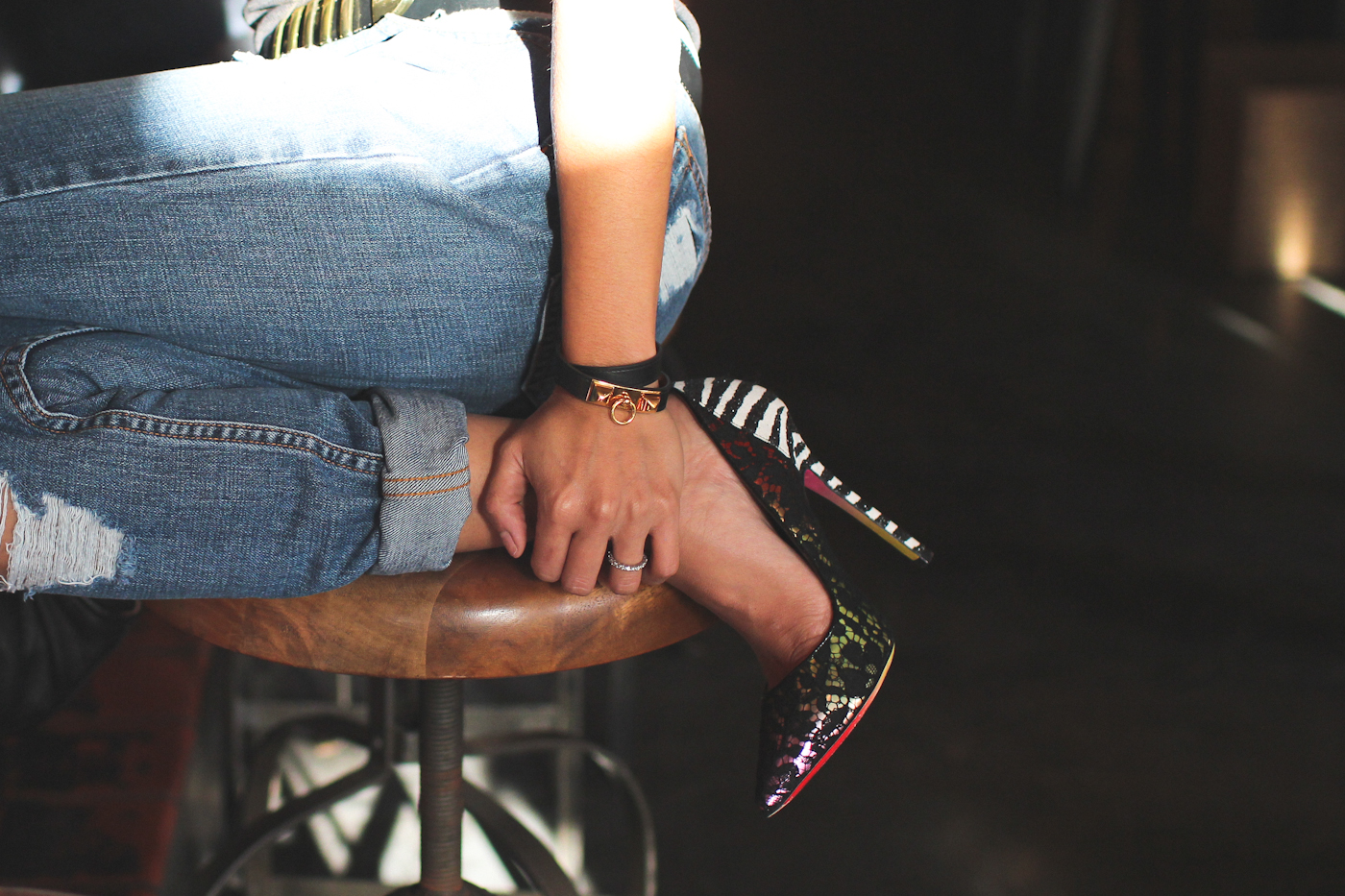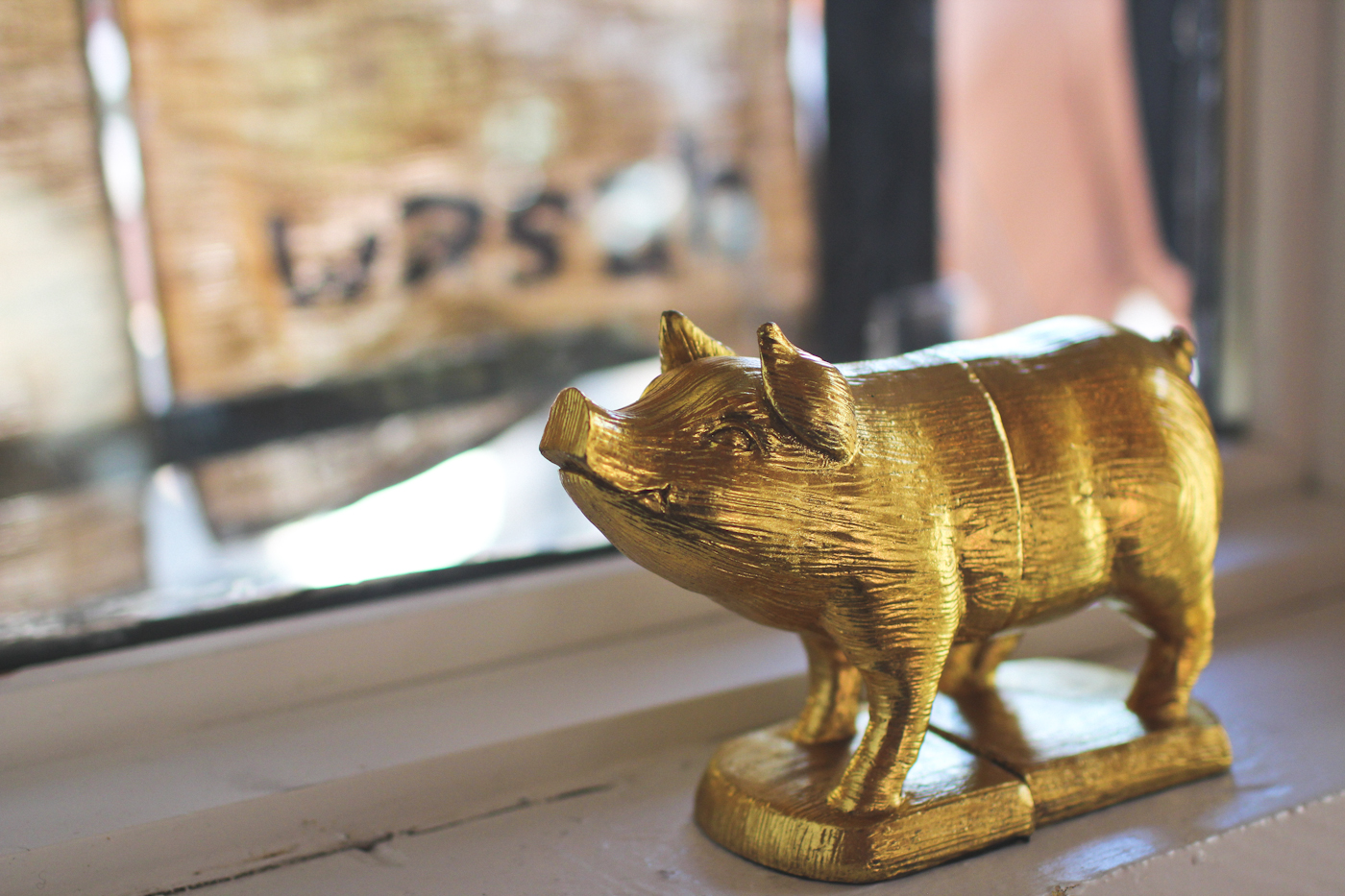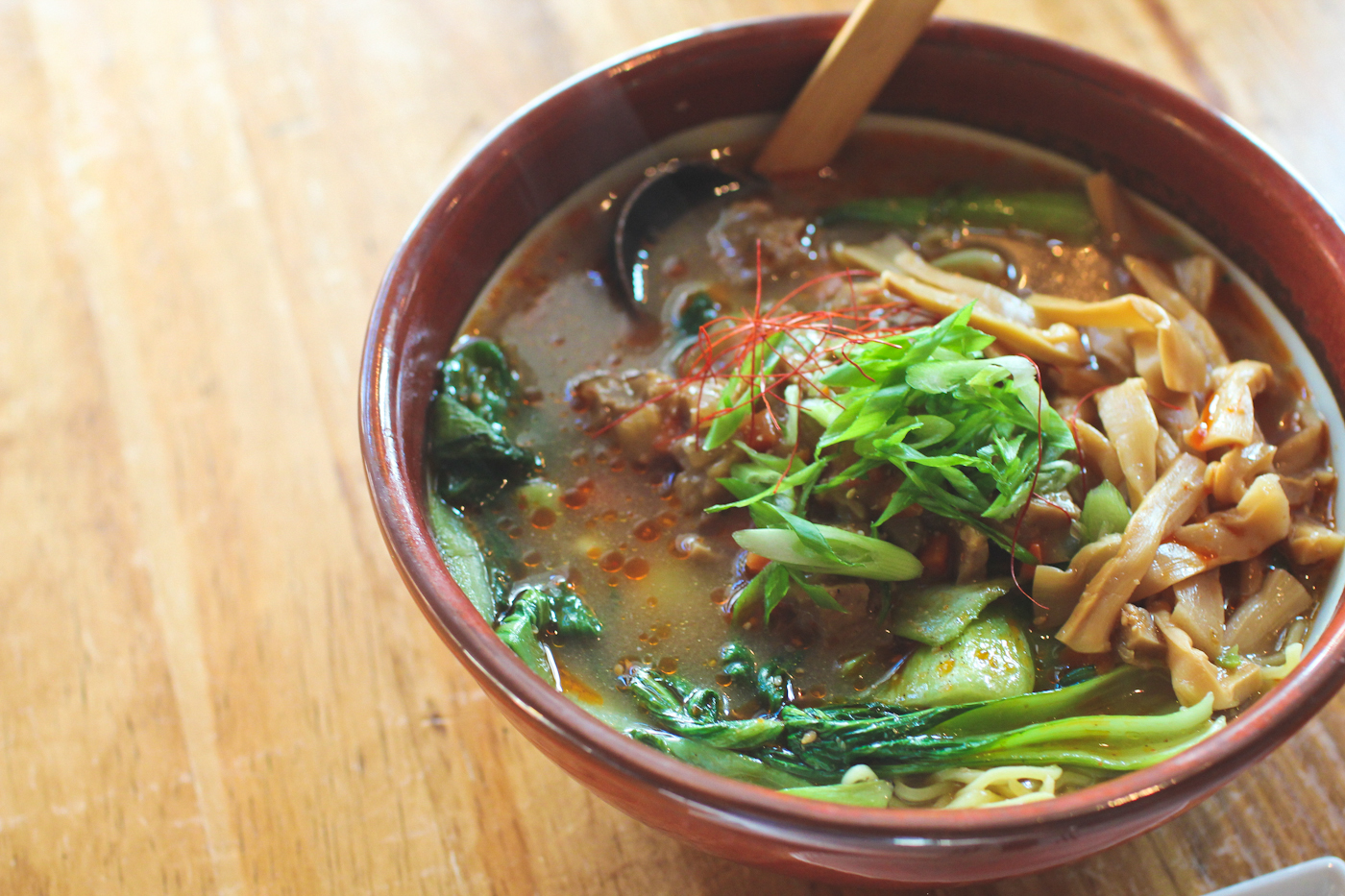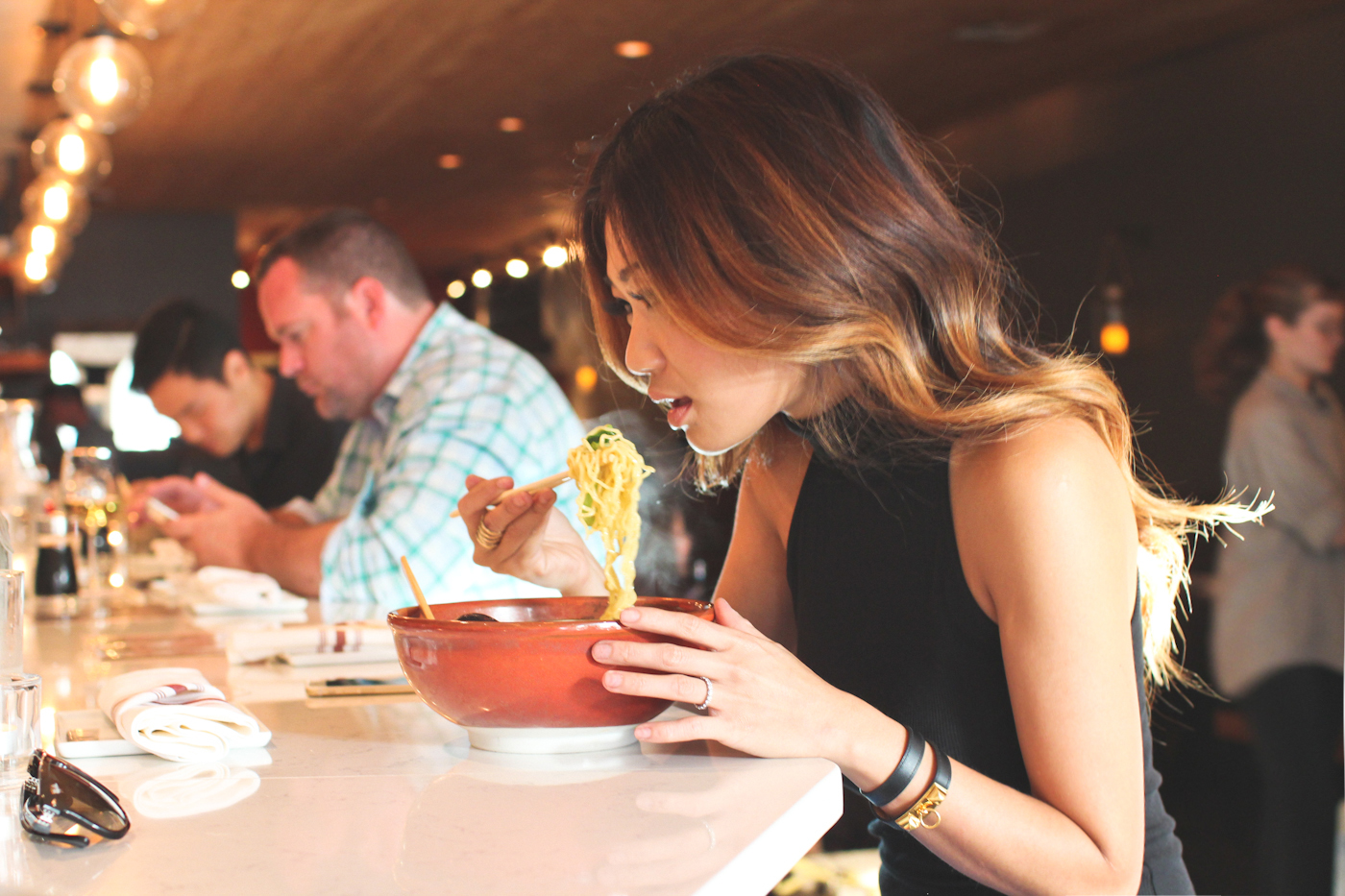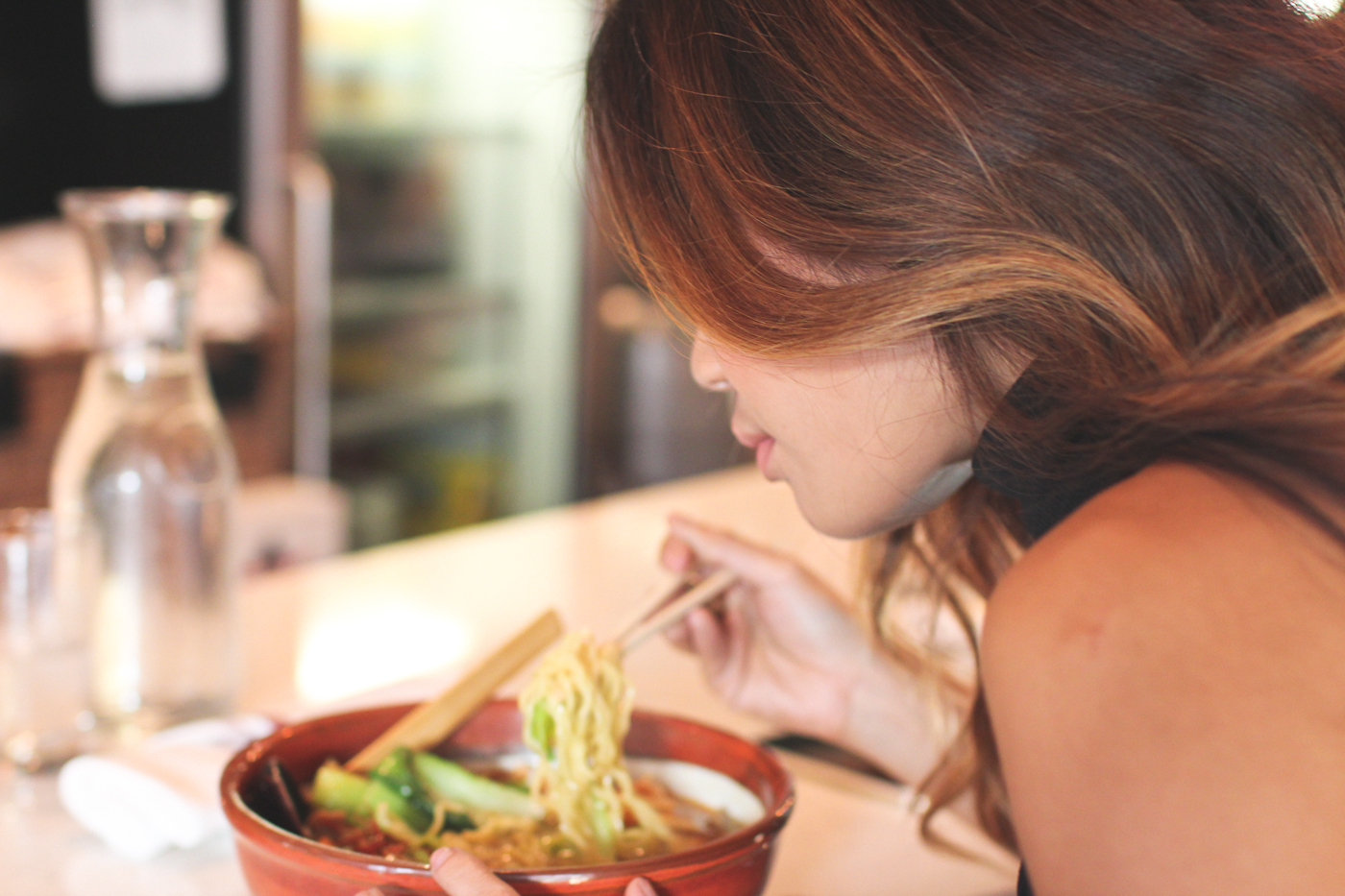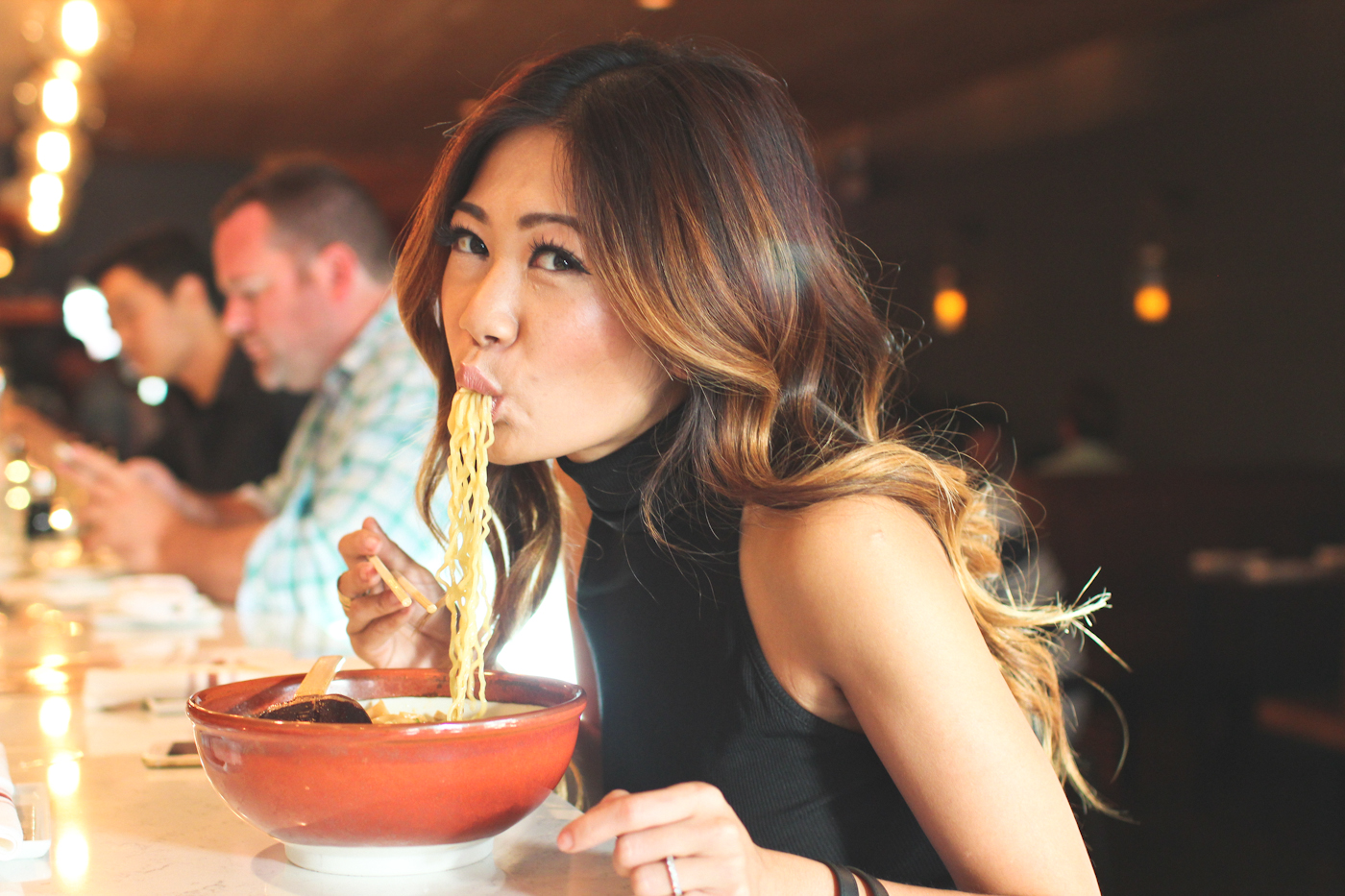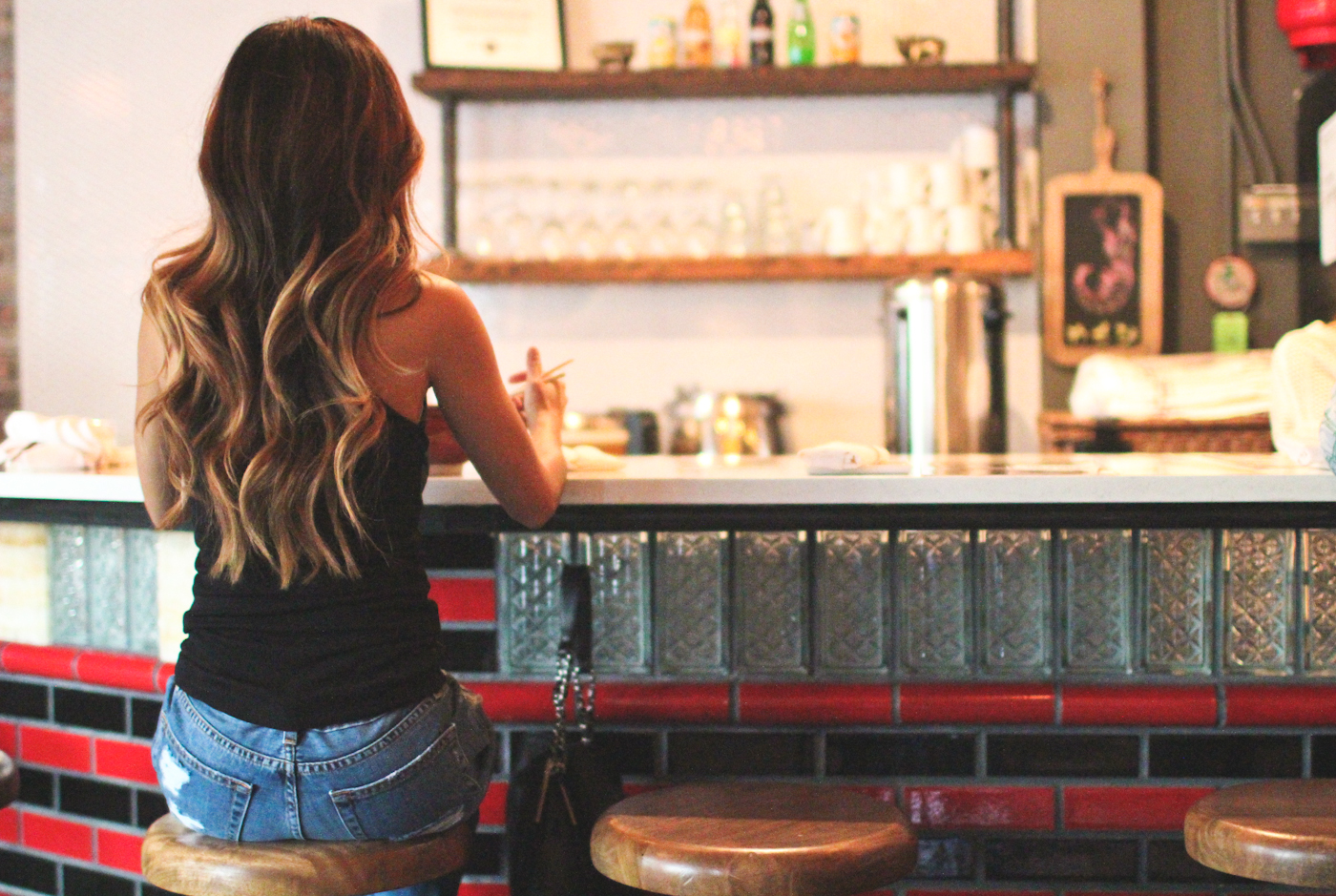 Other notable Logan Square favorites!
REVOLUTION BREWING
(there is the best display of bicycles right outside)
THE CHICAGO DINER
(vegan and vegetarian done in the best way ever)
SLIPPERY SLOPE
(there is furreal a skeeball machine in here)
NEW WAVE CAFE
(their iced coffee in the summer… heaven)
//  special thanks to Emporium Arcade Bar and Wasabi for letting us shoot!  xoxo   //
//  this post is in collaboration with Nasty Gal  //
//  top – thanks to nasty gal  //  jeans – thanks to nasty gal  //  belt – asos  //  bag – chanel  //  shoes – jimmy choo  //

---
---
//  replicate this look  //
---
---