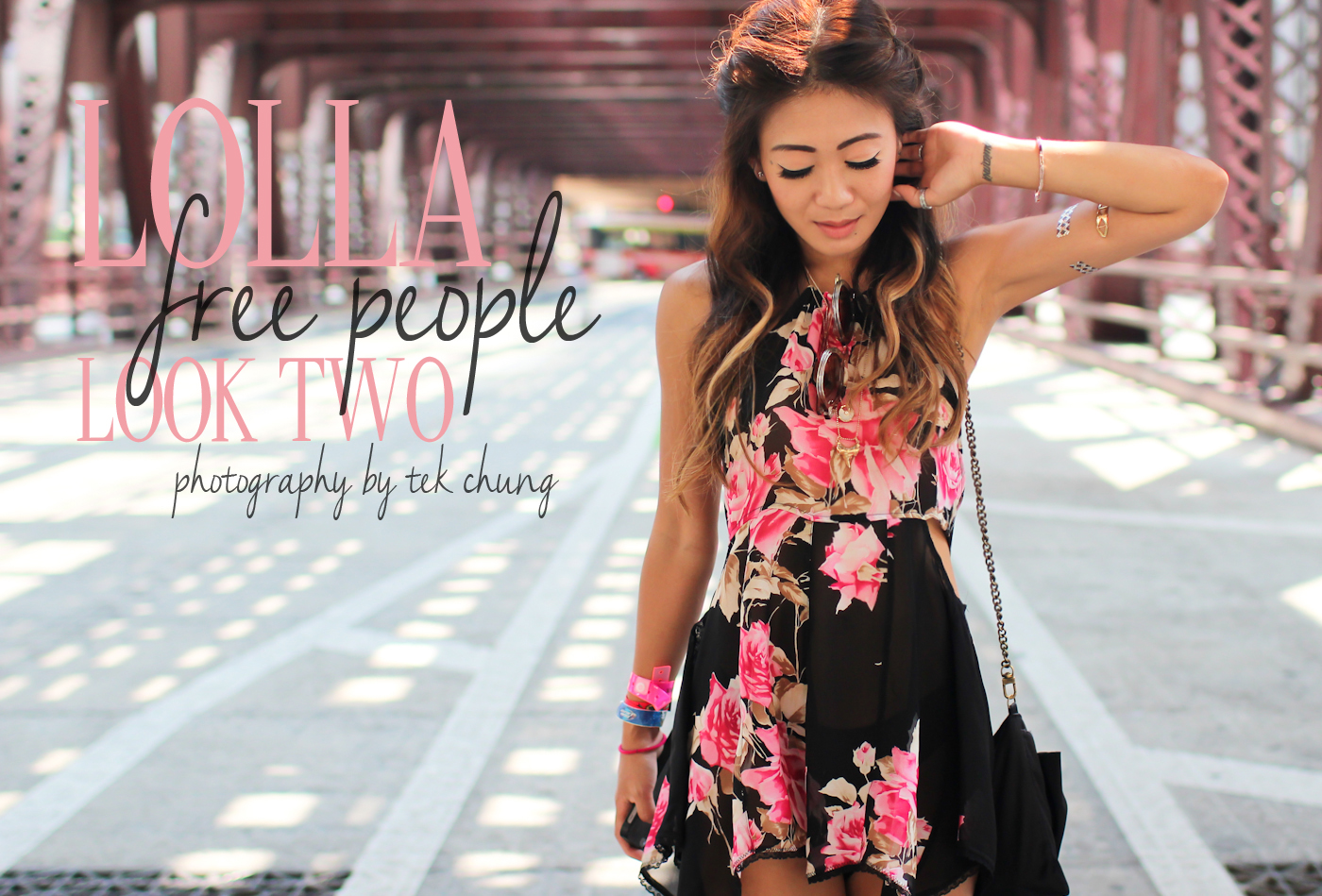 Hi nuggets!  Happy Friday!  So here is my second Lollapalooza look from Free People and I must say, I didn't expect so much to happen because of this outfit.  I had a pretty full schedule laid out for the day starting with an 8am hair appointment because, as I've mentioned before, doing my hair is such a chore.  I opted for a big twist half updo with beach waves that luckily lasted all day.  I somehow got this idea to stick some peacock feathers in my head that I had lying around from my friends' wedding to really round out the whole festival boho hair vibe that I was going for.  It turned out to be a lot cuter than I had expected and worked really well with my overall look.  So after I gots my hurrrr did, it was off to a rooftop pool party hosted by Gilt City at a new apartment complex in the River North area.  I threw on an over-sized vest just to edge up the look for the party.  Needless to say, I was hella diggin' my outfit.  The party was oodles of fun and it's always good seeing my gurl Jenna, the brains and bombshell behind Casual Friday, and her hubby.  There was also a special performance by Betty Who by the pool and she definitely rocked the house.  She was also one of the artists performing at Lollapalooza later that day so it was pretty fancy to see her do a small intimate set at the party.  Right after the party, the hubs and I decide to do our little blog shoot right around the corner on the Wells Street bridge, which was luckily, not busy at all and had awesome natural lighting.  Overall, the day was going according to plan.  We finally get to Lollapalooza mid afternoon and immediately bee-line to the Samsung Galaxy VIP tent thanks to the hubby's VIP status for the day.  WOOOT!  Thanks Samsung!  We met a couple of our friends there at the tent and we all ooh'd and aah'd at the fancy bathroom trailer and stuffed our faces with some little bites and thaaaangs.  We had a primo side view of Fitz and the Tantrums from our little area and their performance was amazing as expected.  But the best part was watching the sea of people wave their arms in unison to the music.  So far day two was turning out to be one awesome day.
But here's where it flips on me.  As I stand there shoving some granola into my mouth, the hubby turns to me and looks me up and down then looks at my back side up and down and says:
"Babe, did you know your outfit is see-through?"
And I look at him and say "Huh?  It's just a little sheer."
"Nope, definitely see through"
"What do you mean?"
"I mean I can literally see your entire ass."
"WHAT?!?!?!"
Horror… pure horror… washes over my face as I try to crane my head around to look at my ass.  I had made the awesome decision to wear a black thong that day and though in the shade of my home in front of my mirror, I could not see any traces of my underwear, in the bright light of day, this romper was nothing more than an ultra sheer black veil against my beige, pale and bright ass cheeks.  I mean it was out there… crack and all.  I had assumed that wearing the black thong would blend with the fabric since that's always what they tell you to do when you wear something sheer.  I knew it was a sheer romper, I had no idea just HOW sheer it really was.  In hindsight, I probably should have worn just regular black underwear instead of a thong.  (Insert horror stricken face emoji here) I immediately flash back to earlier in the day and replay everything I had done without knowing my entire backside was exposed to the world.  MORTIFYING!!!  Though I have no qualms about wearing sheer things or even see through lace items as proven in my last outfit post, I still have some dignity and find it extremely trashy to show your full ass in public when you are not Beyonce or Rihanna.  In a panic I drag my husband to the area at Lolla that has little shops and I buy myself a really long tank top with a Chicago flag print on it.  I throw it on over my see through romper and I immediately feel less naked but at the same time, my once cute ensemble has turned into something that looks like a hot mess.  Talk about buzz kill.  I attempt to push past my debbie-downer attitude but to no avail.  I am just in no mood to enjoy the festival anymore.  So we decide that we will go home, rest up and see how we feel for the rest of the night.  As we walk out of the gates, my hubby gasps and stops dead in his tracks and goes up to some chick dressed in all black with ripped stockings, combat boots, and hoodie with her hood up in an attempt to maybe NOT get noticed.  But of course my hubby knows exactly who she is.  It was Yasmine of Krewella!  Now I am not a huuuuge fan of electronic music nor will I pretend to know everything about that style/movement/whatevers, but I do love me some Krewella.  The hubby was the one who really introduced their music to me so he of course is a HUGE fan.  Plus he thinks Yasmine is just so bad ass.  So that totally made his day running into her.  He immediately asks her for a picture and so do I.  Before I take my photo with her she looks at me and goes… "Hey that's a dope shirt!"  We take our photo and she says bye and we are immediately re-energized.  There was no way we were going to miss their performance now!
We cab it home and I change out of my romper into some shorts, throw on my chucks, and we are out the door on our way BACK to Lolla.  We spent about an hour at Perry Stage clawing and shoving and holding our breath, because GAT DAMM it smelled so bad, trying to get to the front of the stage.  We came across some greasy nasty large man who was shoving as well, seemingly trying to get through the crowd.  What he was really doing was stealing from people.  I almost got my phone stolen by him but my hero hubby caught him in the act and snatched my phone from his grasp.  Whew!  Finally we were maybe 4 layers away from the front fence when Krewella hit the stage.  In a surge of energy I tried to hurl myself forward to be able to see and these young douchebags decide to lift me up and throw me over the fence into the arms of security!  Can you believe it!?  I was forced to exit right when they had started!  Damn druggies!  The hubby and I ended up having to watch the performance from the side.  I guess it was a good thing when I look back on it because that front area got sprayed with water and I'm sure everyone there was dripping with a mixture of sweat and water and B.O.  GUH-ROSS!  At the end, Yasmine and her sister Jahan came down from the stage to say thanks to the audience.  Jahan went one way and Yasmine went the other way.  When she got to us she shook our hands and remembered us from earlier in the day.  It's funny because everything that happened during that day had to happen for us to have met her in person.  From deciding to wear a thong, to being bare assed at the Gilt City party, to deciding to buy that shirt, to deciding to leave when we did… it all had to happen just like that for us to even run into Yasmine and have us decide to go back to watch their performance.  Have you ever had one of those days where everything had to play out in a very specific way for something cool to happen?  Life is funny sometimes yanno?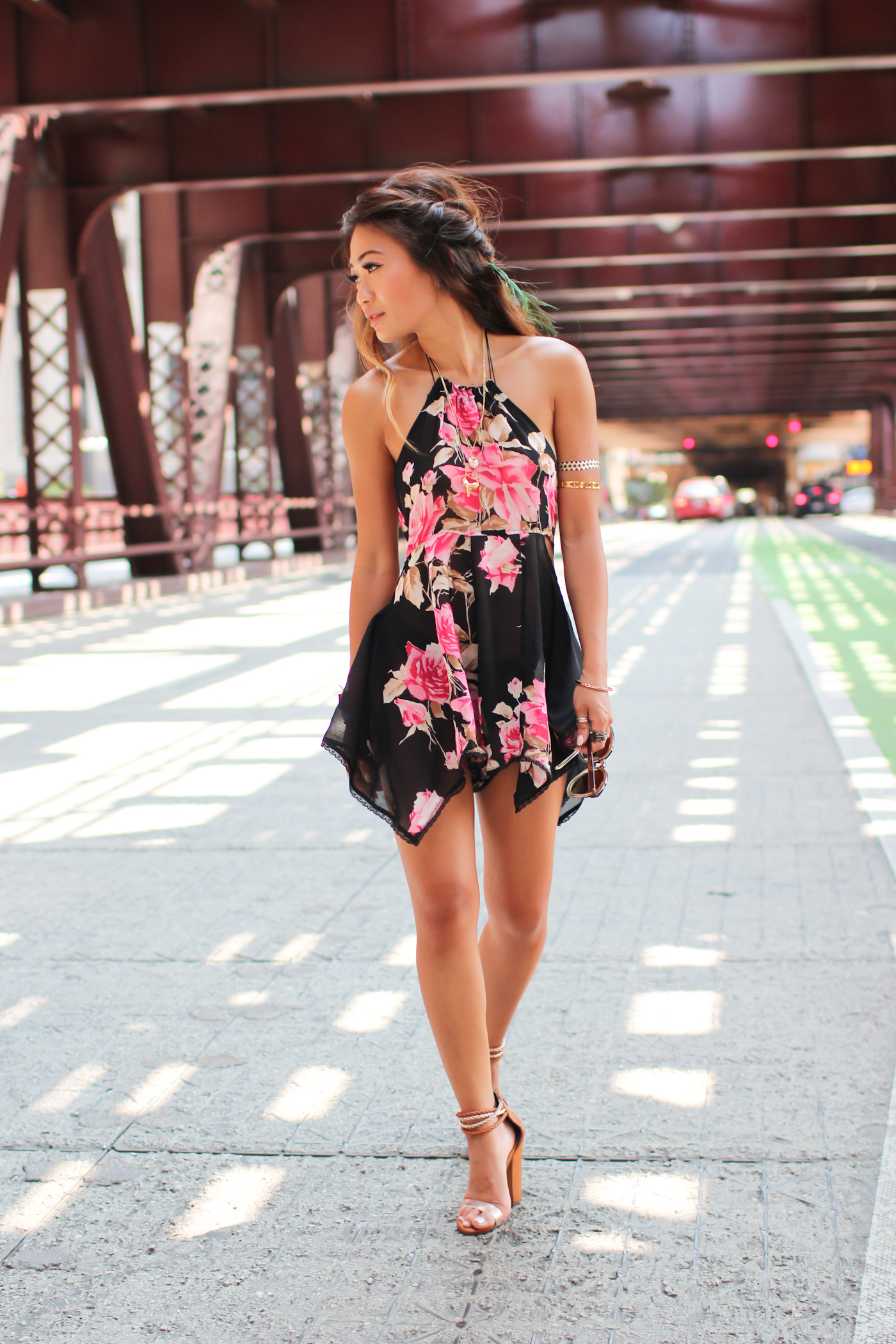 Regardless, I totally love this romper.  The style and shape and whimsy of it is totally perfect for the summer.  I'll just have to make sure to wear a slip of some sort underneath or just remember never to wear a thong with it.  Haha!  Hope you guys enjoy the post and photos!  Luckily the shade from the bridge is hiding the sheerness of the fabric so I can at least share the look with you all!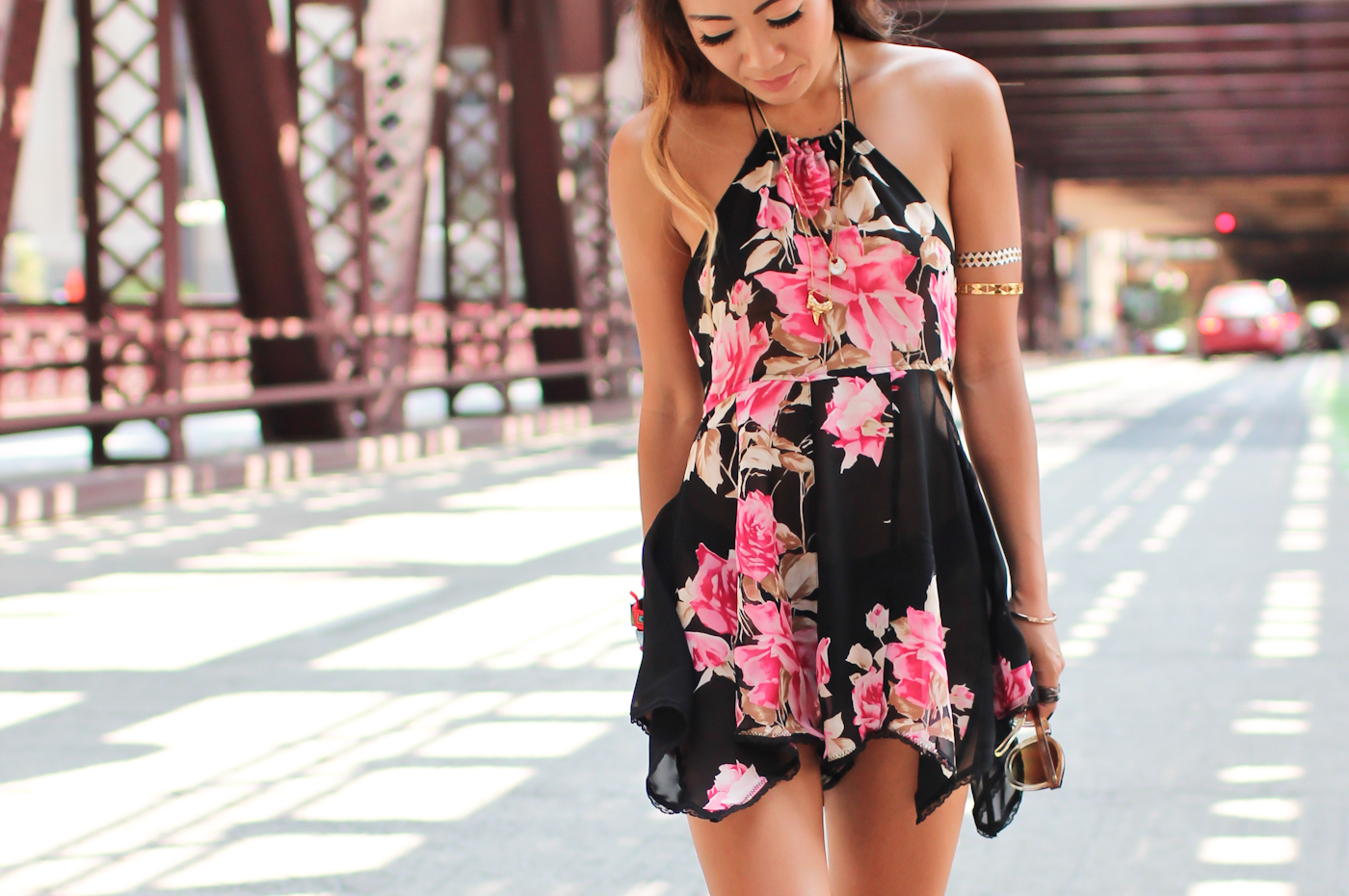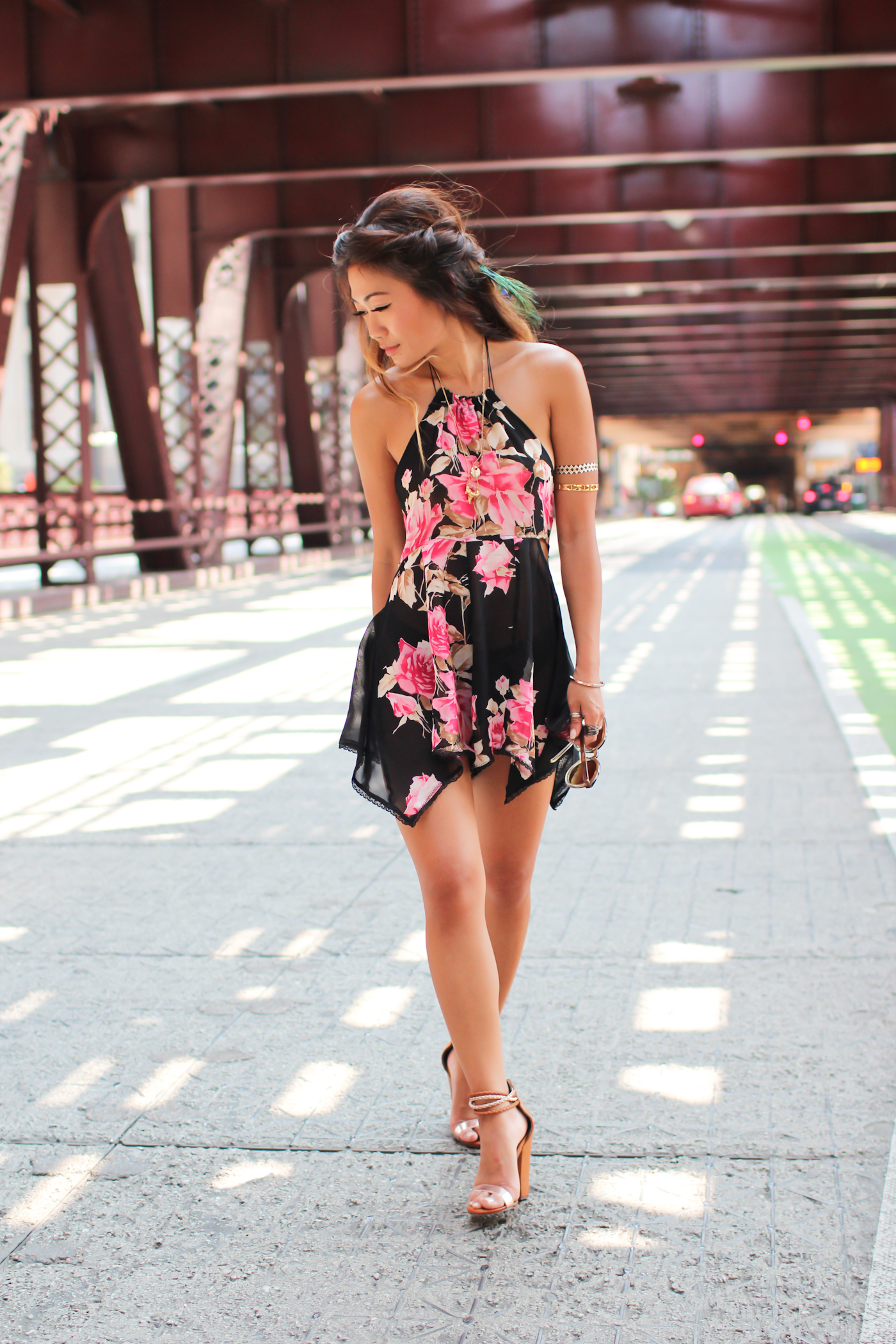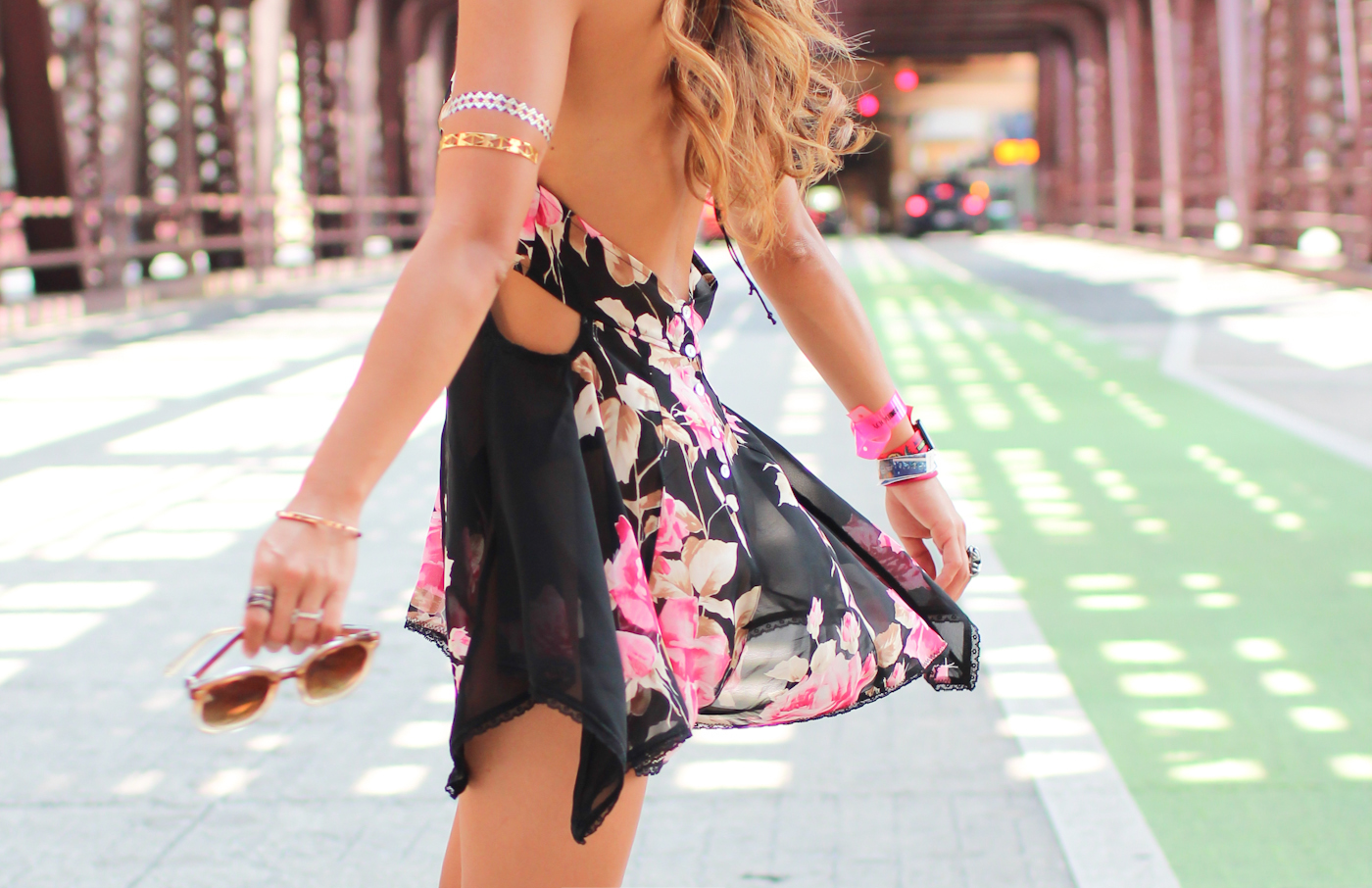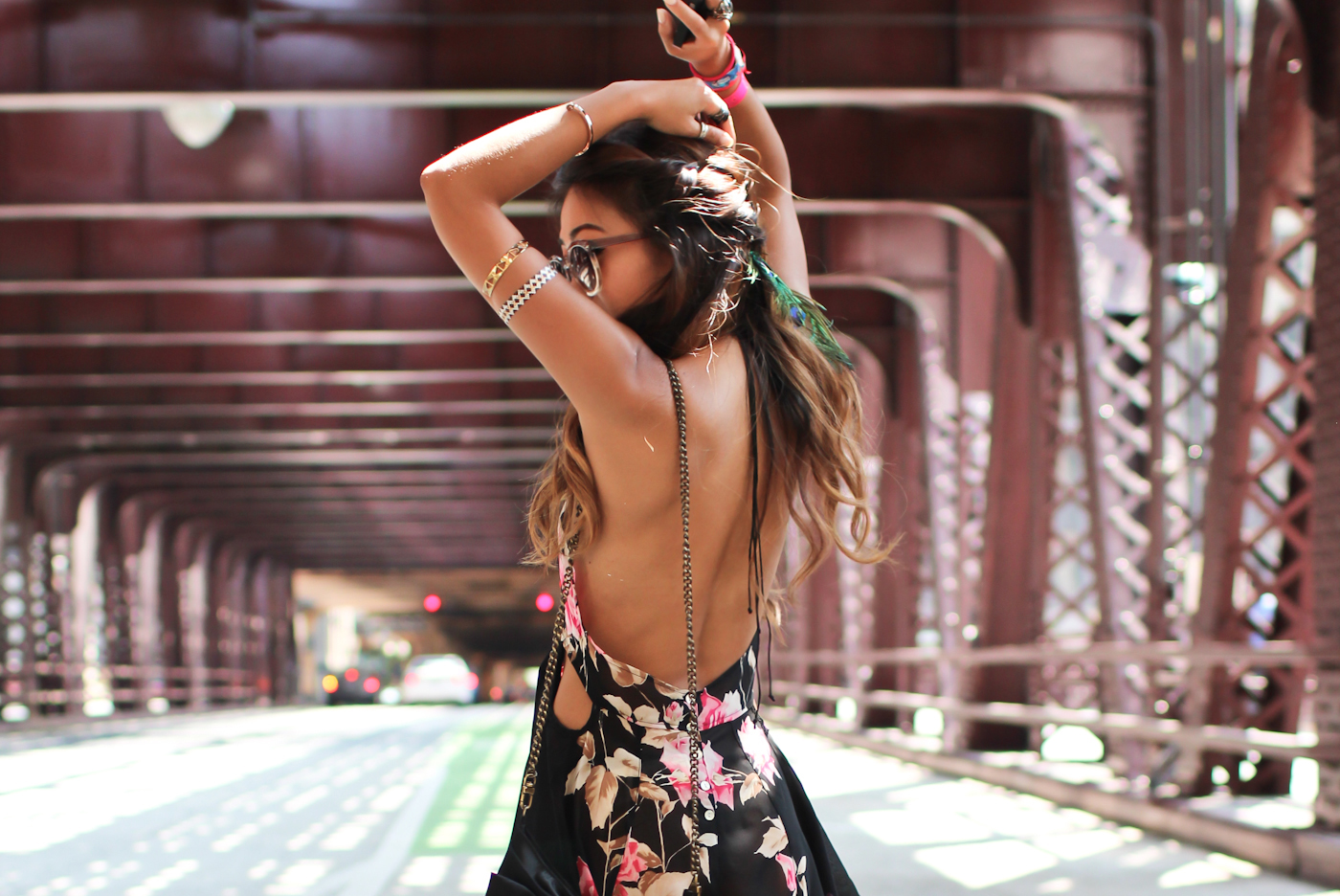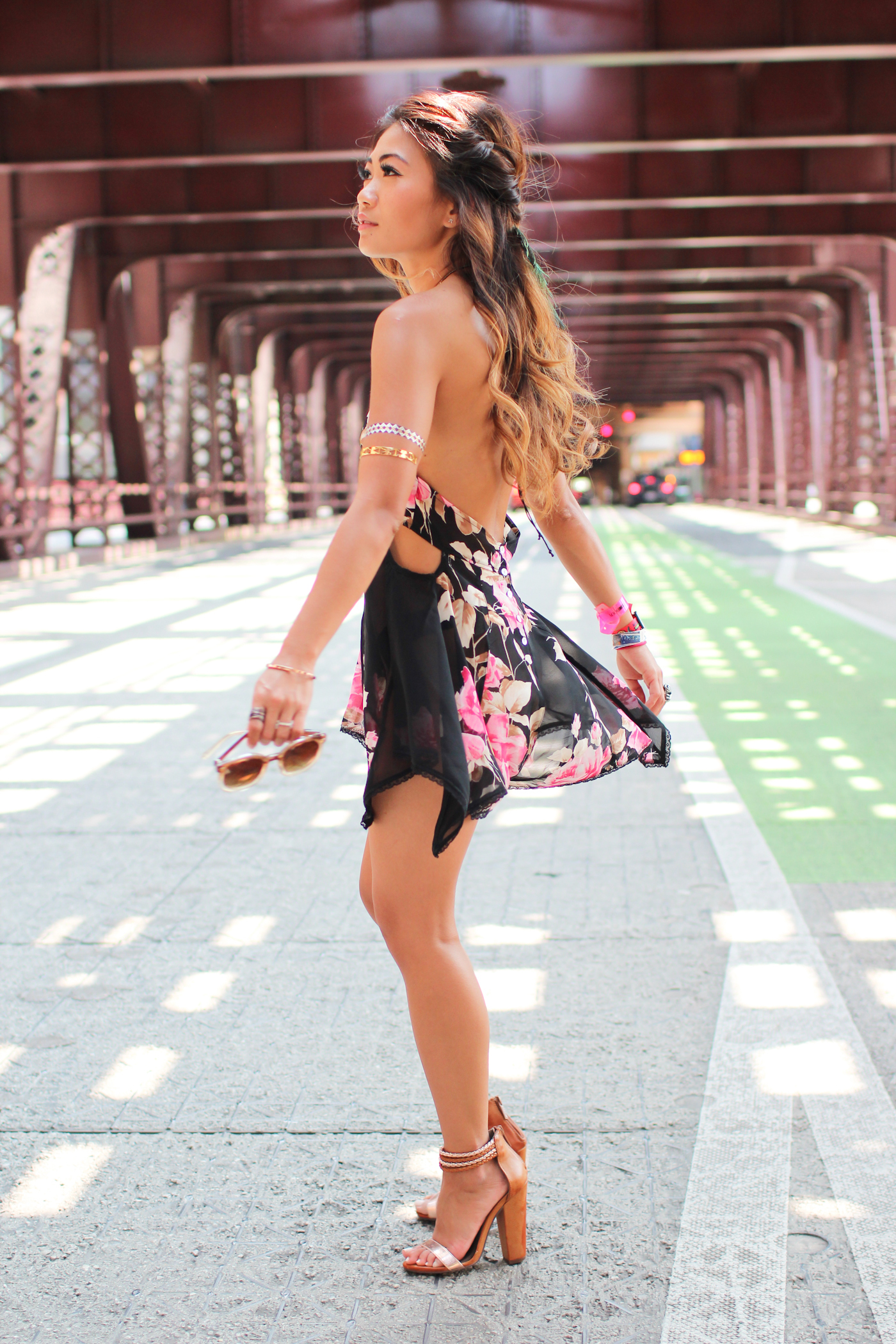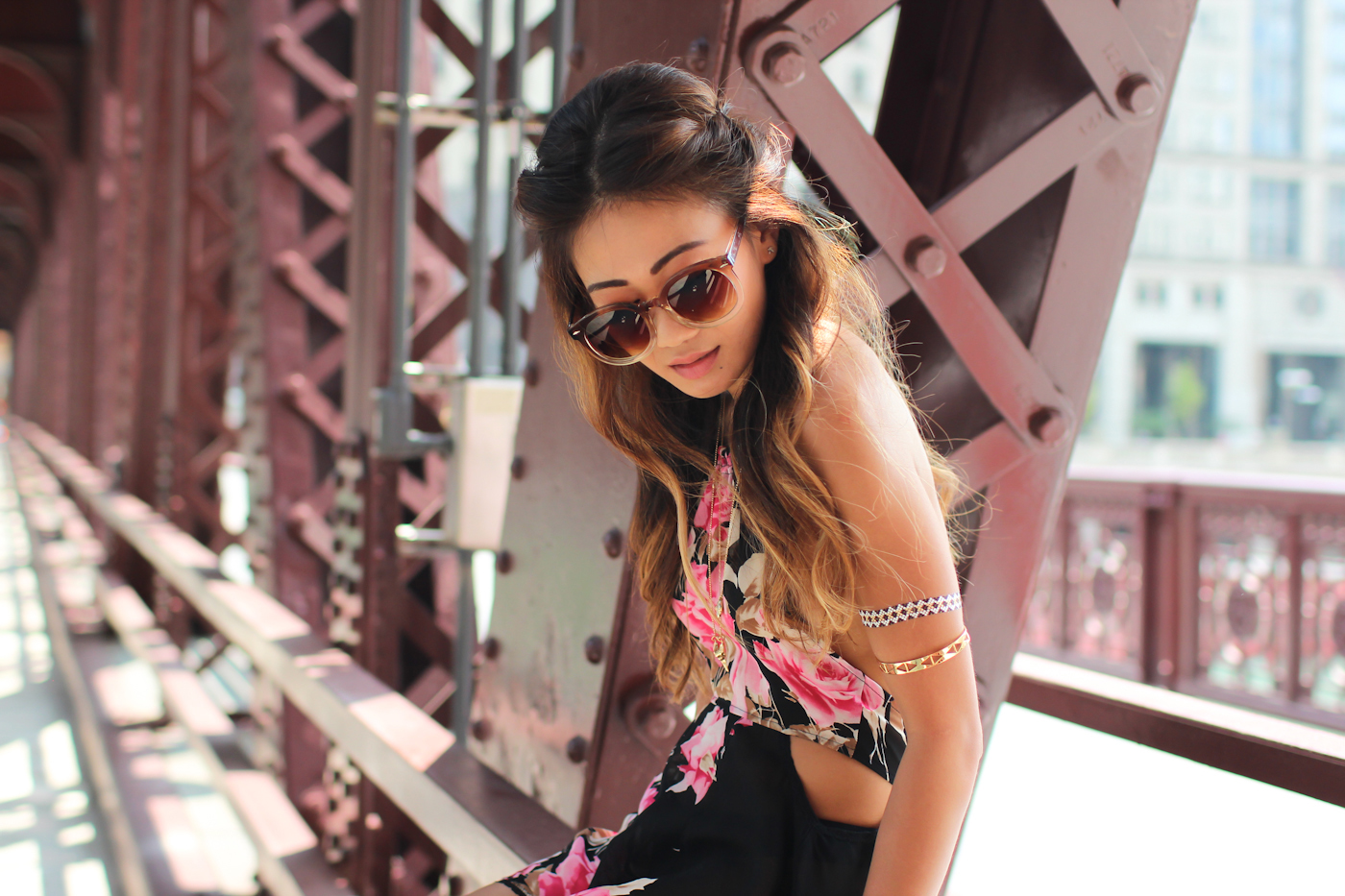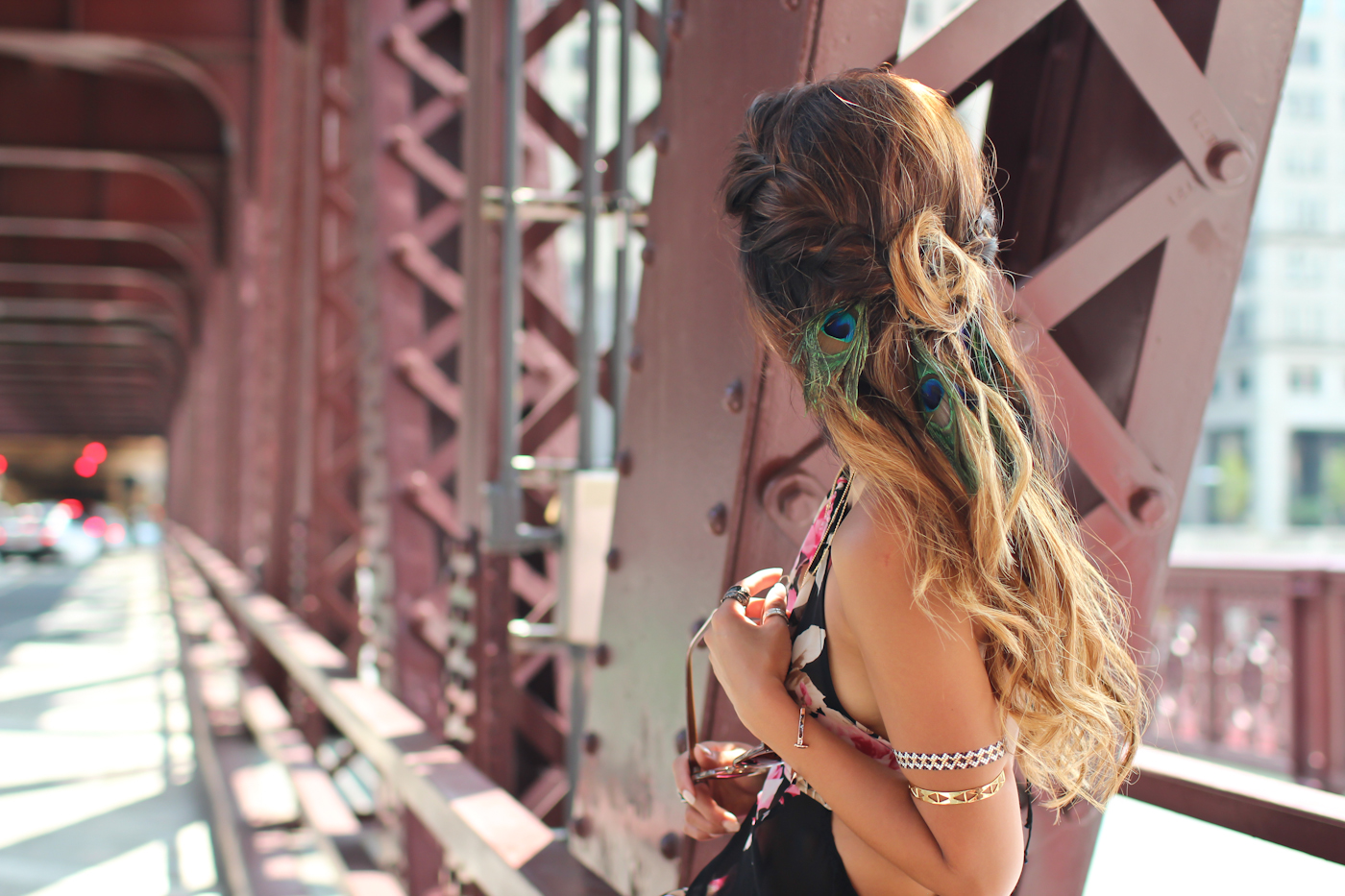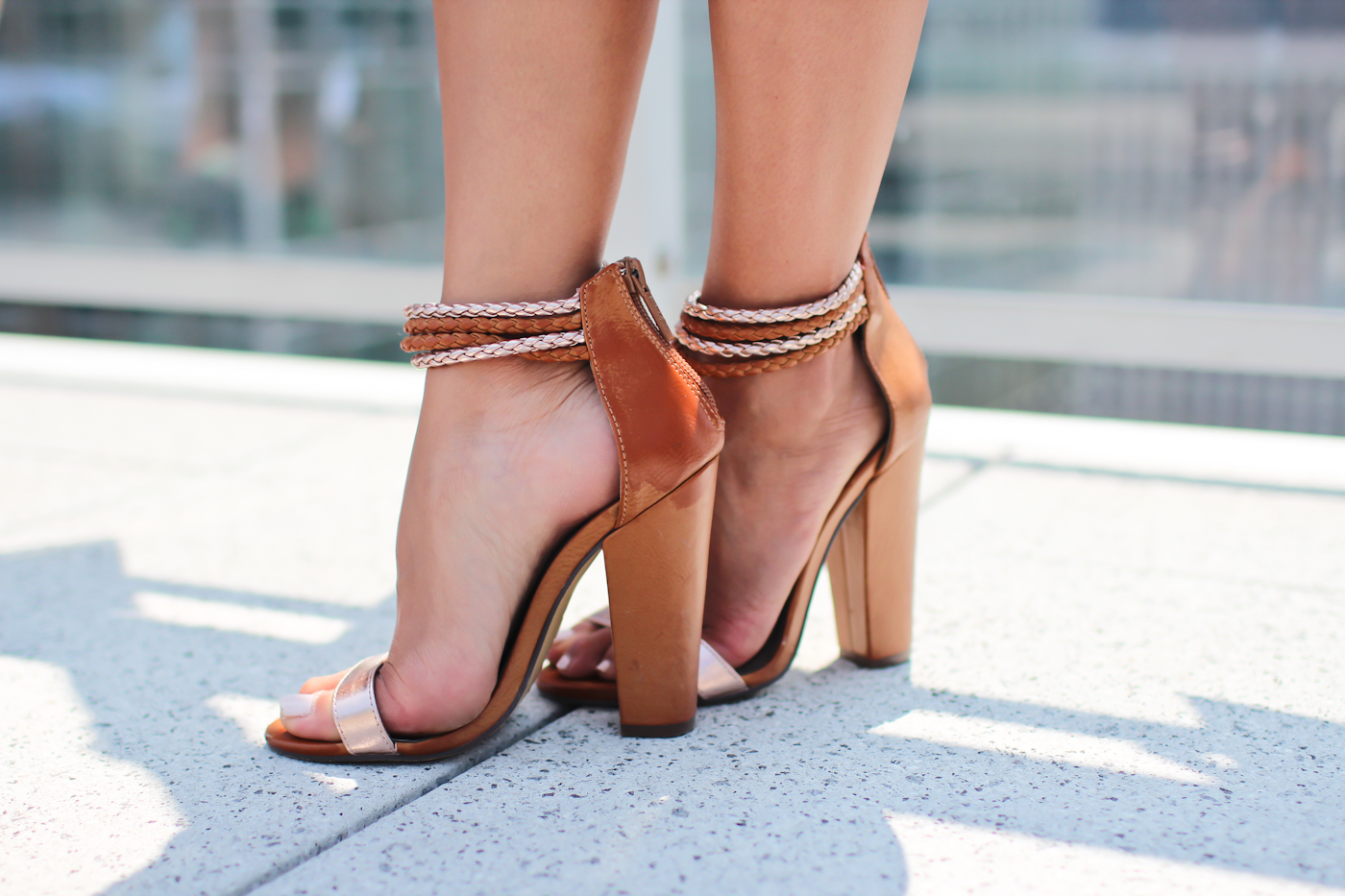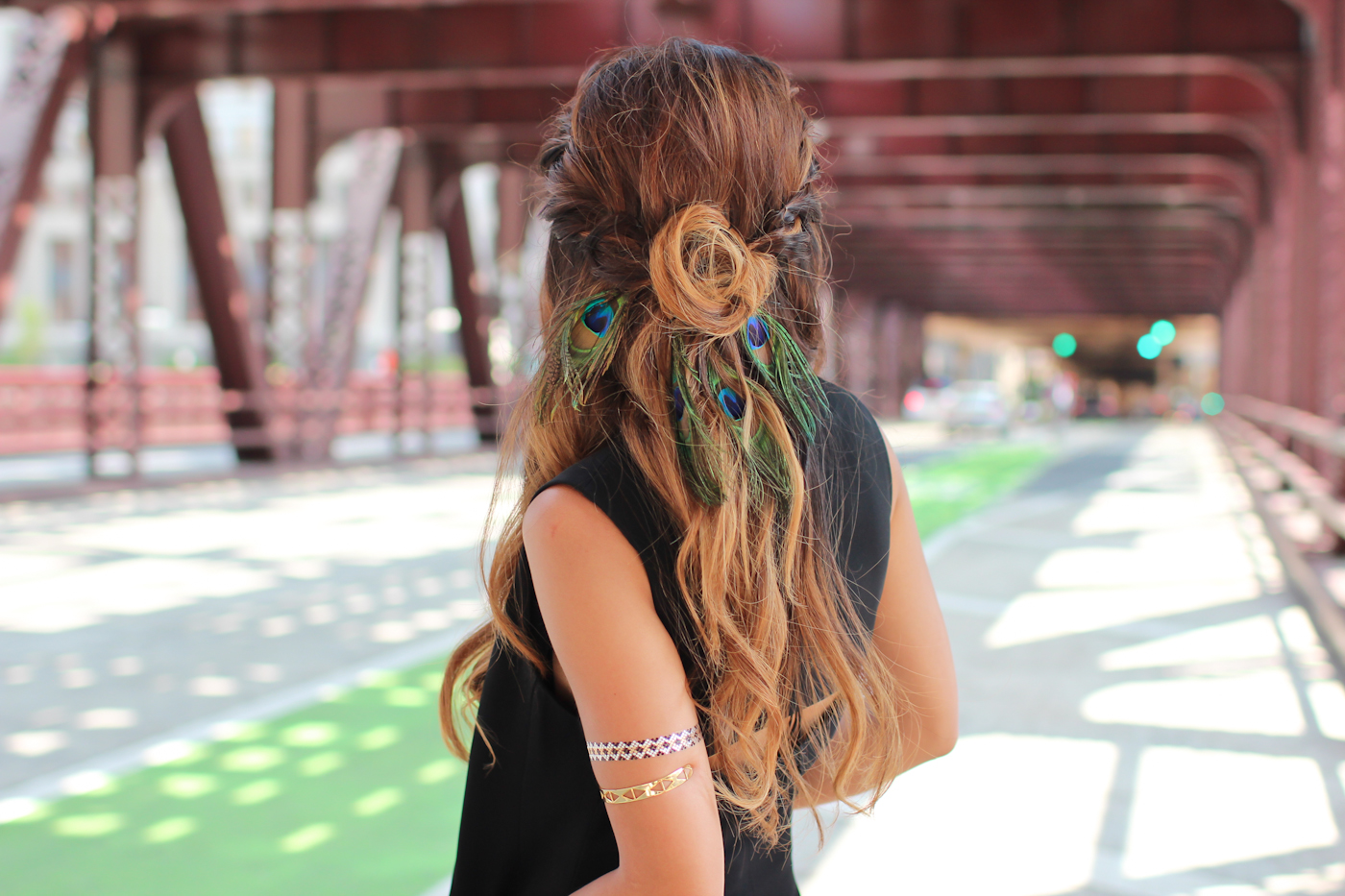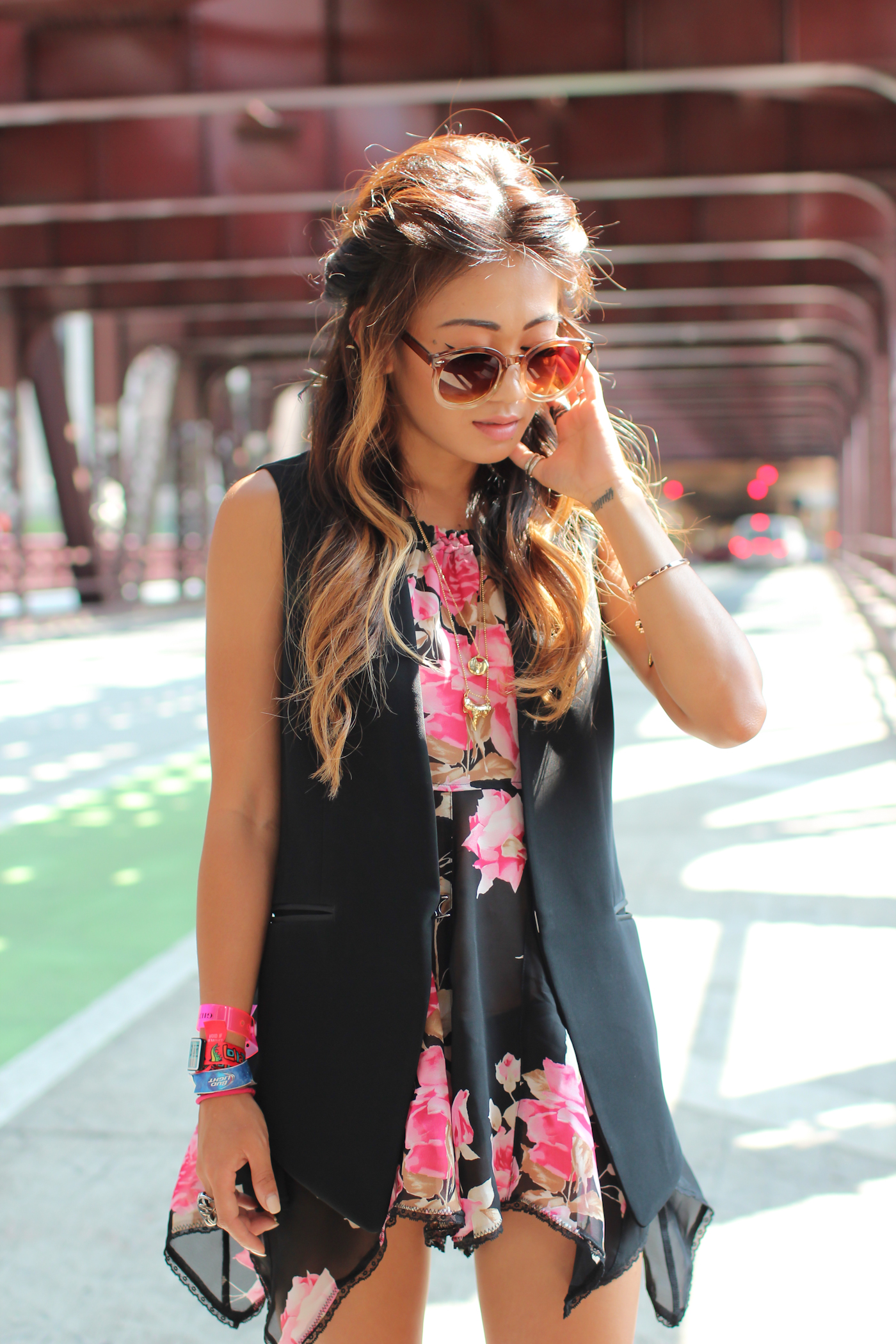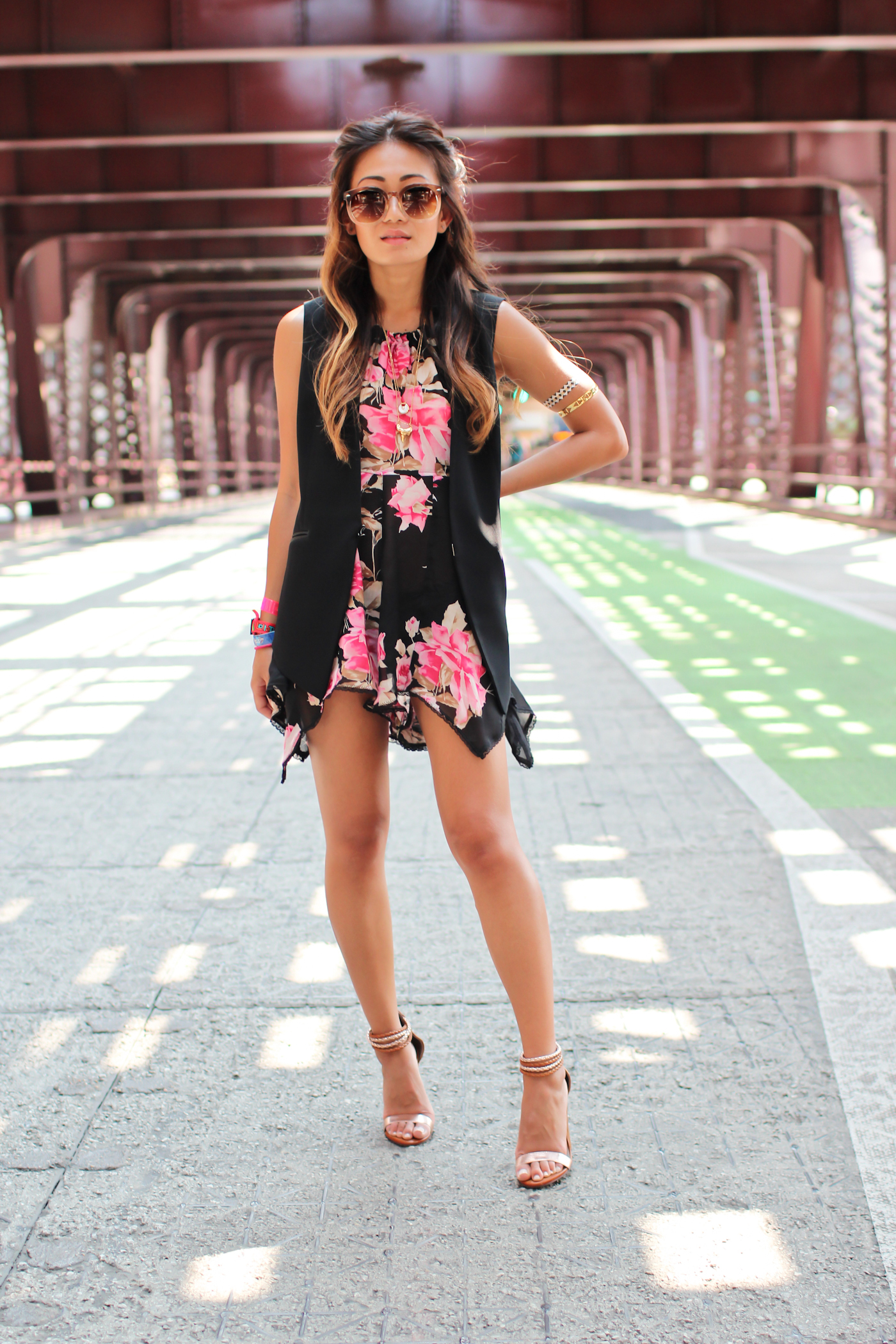 //  romper – thanks to free people  //  vest – rag & bone  //  shoes – michael antonio  //  sunnies – moon voyage  //   necklaces – love tatum, cartier  //  bag – felix ray  //

---
---
//  replicate the look  //
---
---