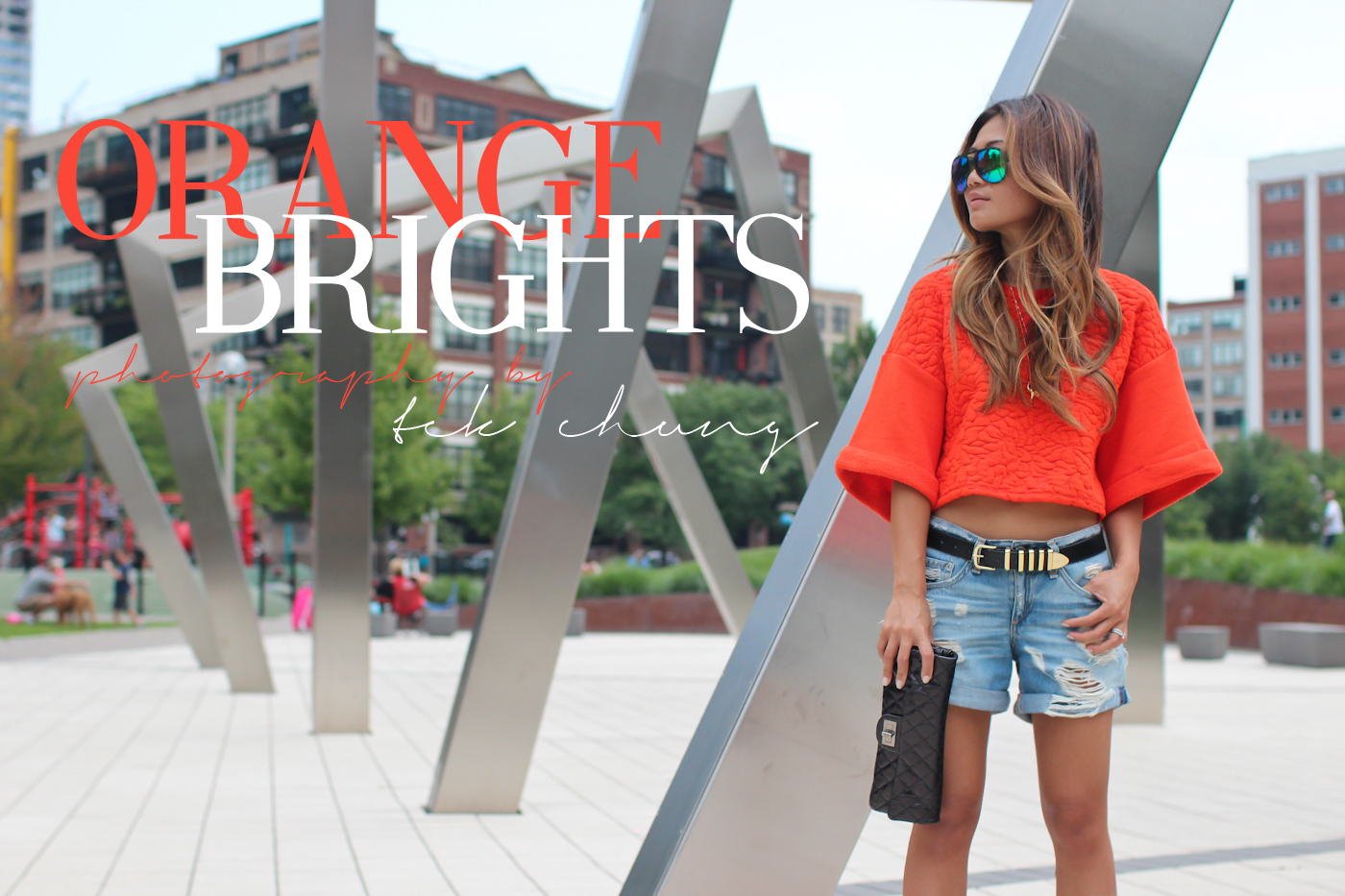 I hope everyone had a great weekend!  I definitely did and the weather here in Chicago was beautiful which fo sho gets everyone out and about.  This past Saturday, I was fortunate enough to attend an Indian wedding reception.  We totally missed the whole morning because like an idiot, I overslept.  I am super bummed that I missed all the traditional stuff but the reception did not disappoint.  There was lots of dancing and performances that entertained the crap out of me.  It was like at the end of some Indian movies when everyone busts out into a choreographed dance.  AMAZING!  And the DJ… holy crap the DJ.  He mixed some Indian songs with current hits like Turn Down for What!  And it somehow magically worked together and was this hypnotic and crazy beat transition that you had to get up and jump around for out of sheer shock and amazement.  Awesome sauce!  Not to mention how I just love this group of people.  So down to have fun and get a little cray on the dance floor.  I can't tell you how many weddings I've been at where the dance floor is just empty.  Yikes!  I usually end up being the weirdo jamming out by myself or I drag the hubby out with me and just grind up on him as he stands there like a wall.  So it is always amazing to attend a wedding where the dance floor is non-stop packed.  It's always funny how dance circles just formulate out of nowhere and usually no one wants to go in the middle so then it's just a bunch of people dancing on the outskirt facing into the circle and waiting for someone to either, one, get in the middle, or two, break up the circle.  It cracks me up EVERY. SINGLE. TIME.  I want to say congratulations to the beautiful couple Shni and Chin (nicknames).  I wish them a long and happy marriage and I am so honored to have been a part of their special day!
Hmmm.. what else did I do this weekend?  Oh yea!  I went to church.  Soooooo…. real talk.  I haven't gone to church in what seems like forever.  Now before you think that I'm about to go all religious talk on you, I won't do that.  I'm a firm believer in "to each their own" and everyone should have the right to live the type of life they want.  I just wanted to share that my hubs finally was able to drag me to church with him and I ended up really enjoying the experience.  I'm Catholic so a lot of my religious experience is sitting in church trying not to make a sound, trying not to fall asleep, and going through the motions without really knowing what it all meant.  I recite all the things I need to after years of repeating the same thing over and over, eat the bread, sip the wine, then off we go to lunch.  So when I sat down at Soul City Church with my husband and the lights turned low, I was smacked in the face with what I can only describe as a full on Christian concert experience complete with stage lights and one rockin' ass house band.  My mouth dropped and I thought "Now THIS I can get down with!"  No falling asleep here.  The pastors were all so passionate and kept it very real which to me is a breath of fresh air.  It might not be everyone's cup of tea but the sermon was honest and something I totally related to.  So if you are in Chicago and looking to get your Holy on, I would definitely come check out Soul City Church.  Mind you, I have only gone this one time but I am going to try hard to keep going.  I'll let you know how it goes.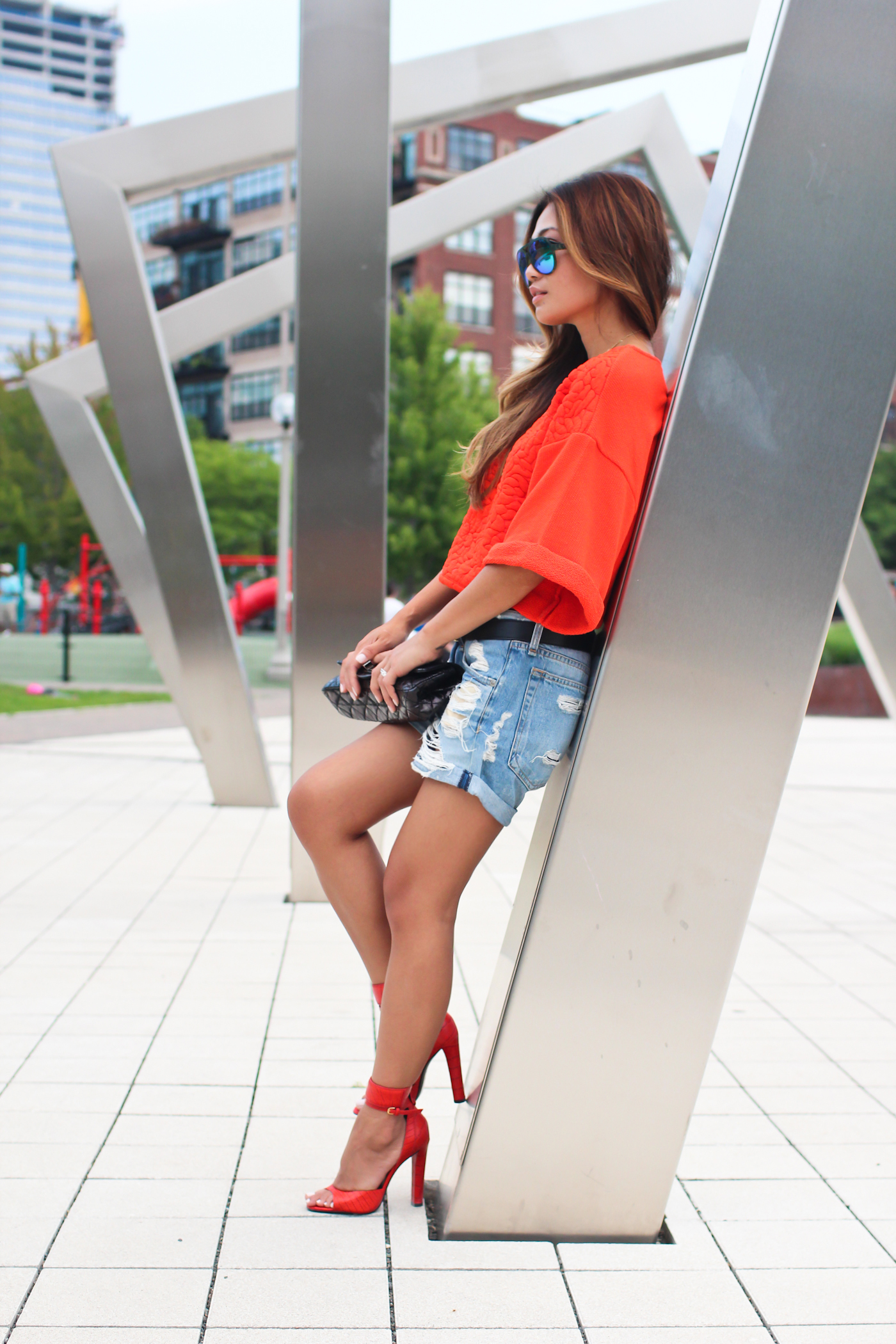 But anyway… let's get to the outfit.  How many of you have always second guessed the color orange?  *raising my hand*  It's just one of those colors you don't think too much about and then you go.. hmmmm… can I pull this off?  If you have ever questioned this, I would try a bright ass shade of orange first.  I saw this on the hanger and thought BAM!!  Now that's a statement color.  Plus I already had shoes to match.  Even though I didn't realize that until I got home with my purchase in hand.  And yea, okay, I am kind of obsessed with my Rag & Bone shorts.  I actually have two pairs.  One in size 24 that fit pretty big.  I got that one before I realized it came in a size 23, which still kind of falls off of my hips.  So if anyone is interested in buying the size 24 off of me, let me know!  Just comment and leave me your email address.  I didn't even wear them.  I only tried them on.  But I used a coupon code so it's non-returnable.  =(  I know these shorts are damn hard to find right now and I can totally understand why.  So comfortable!!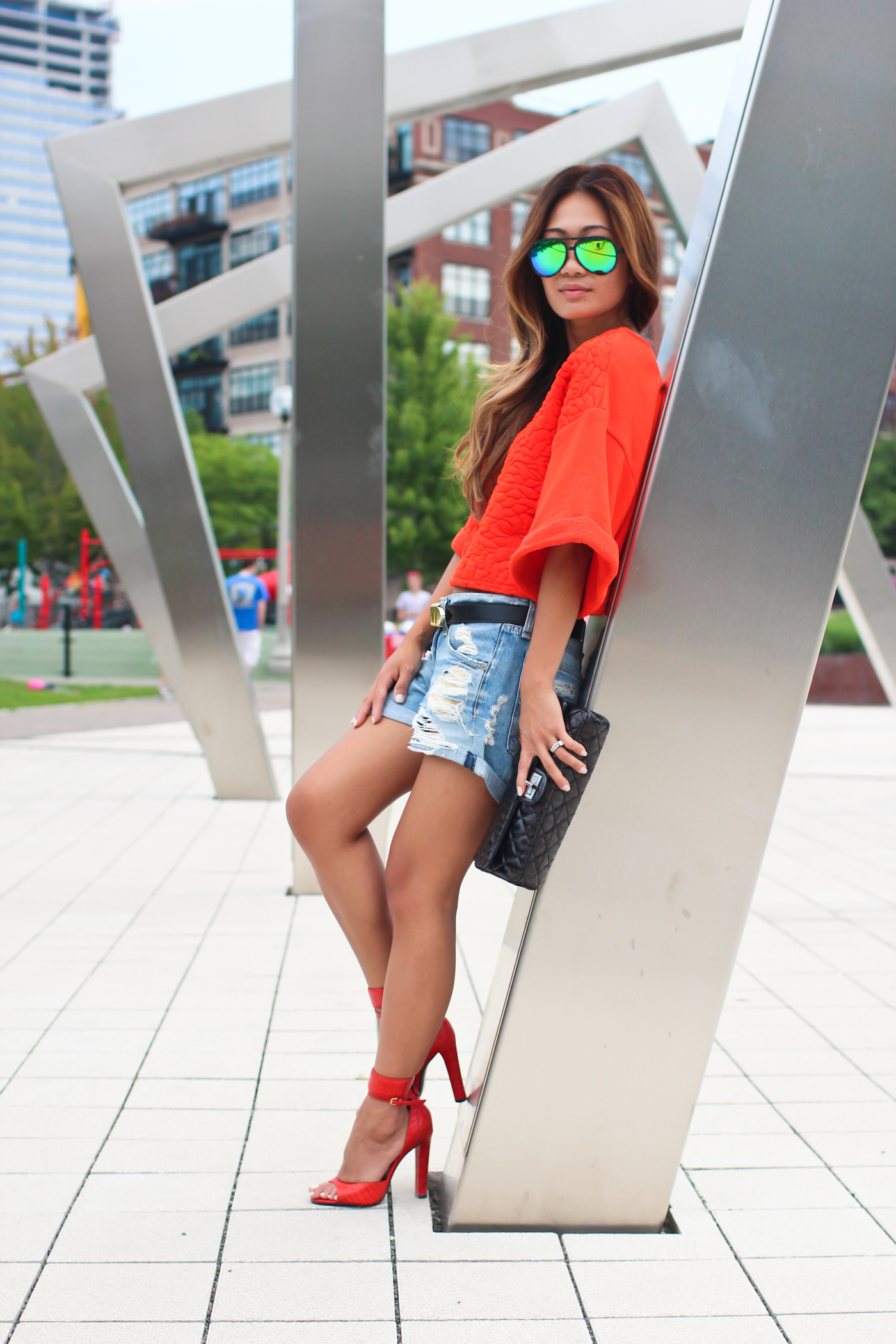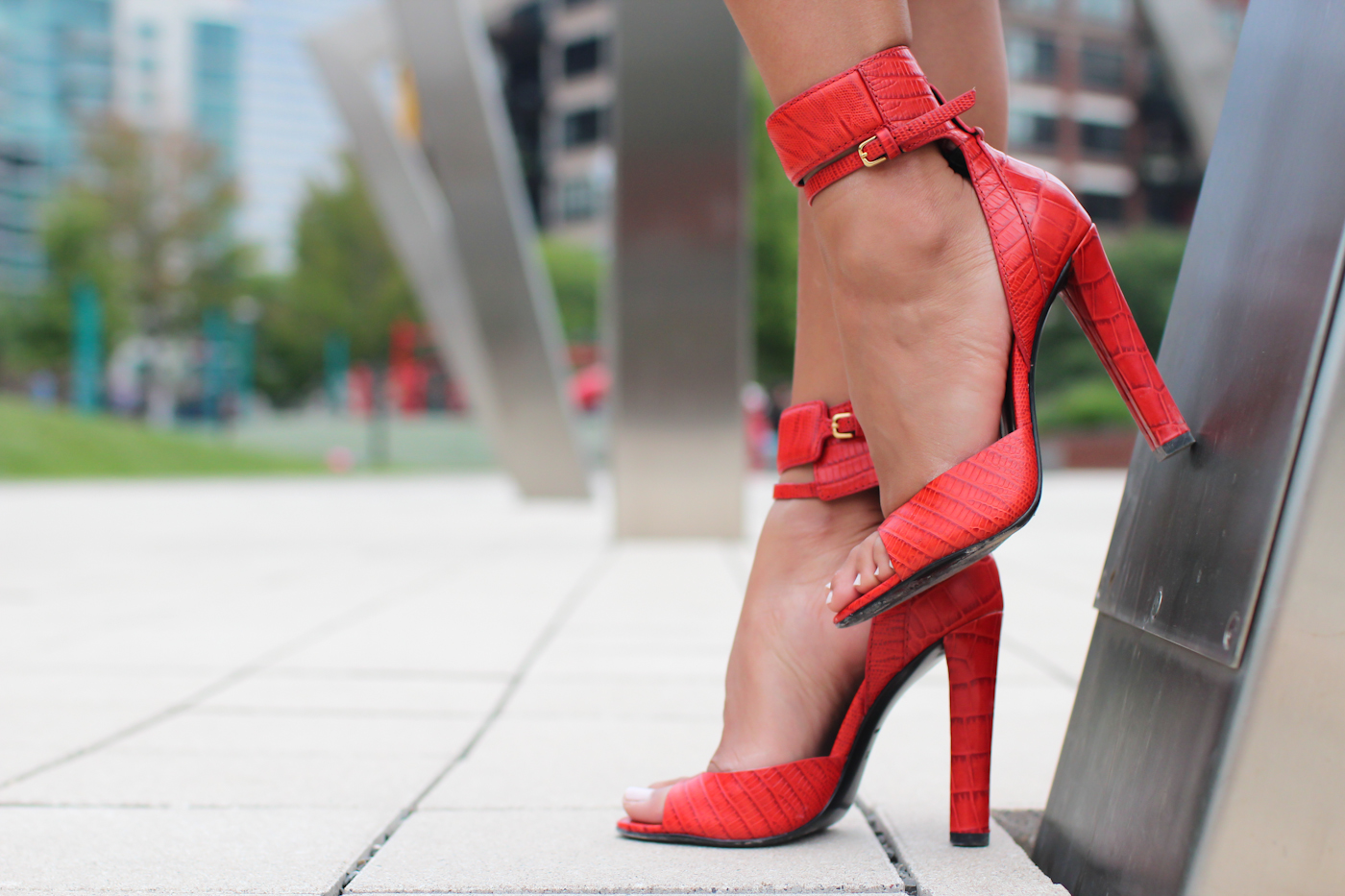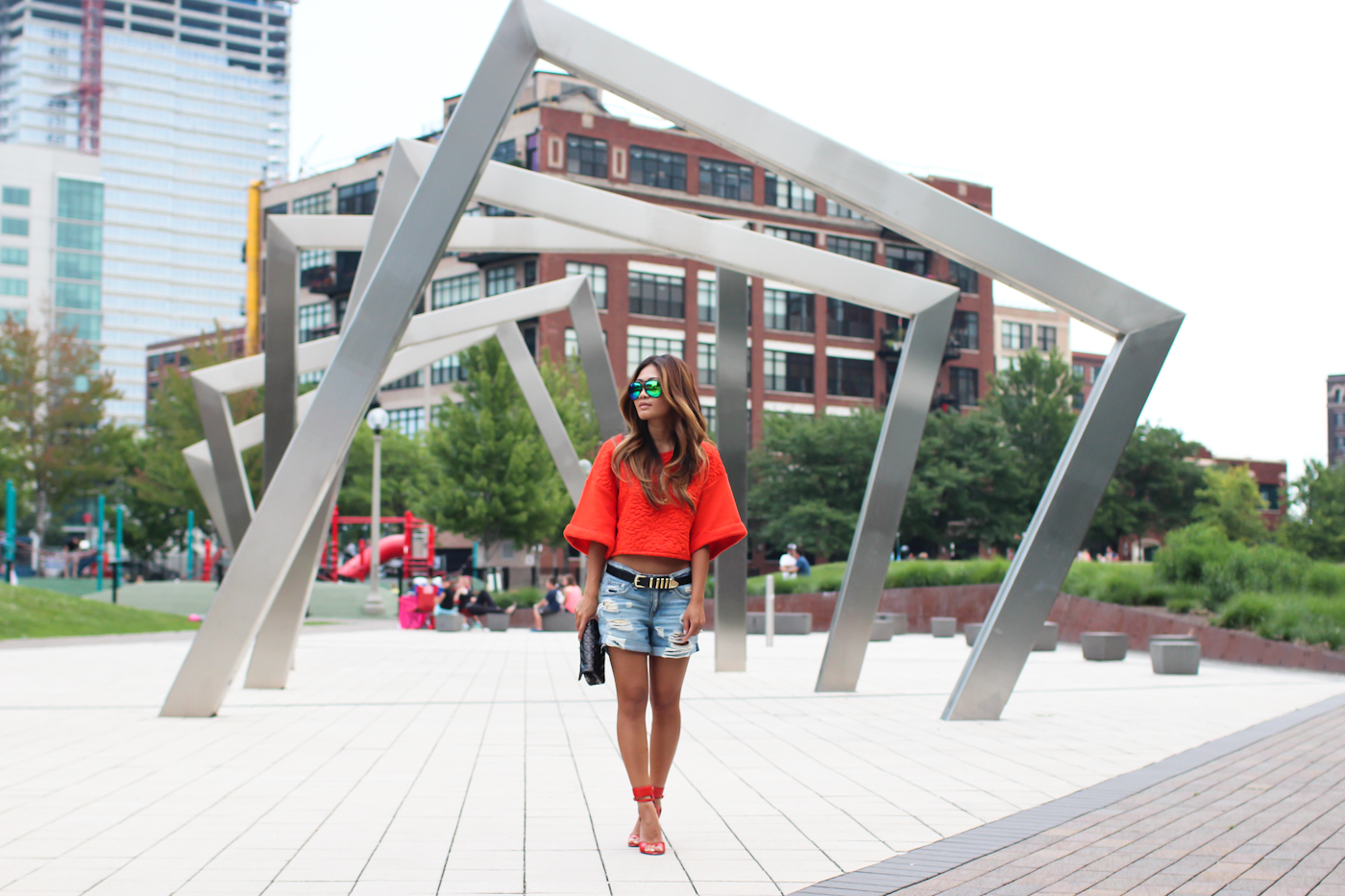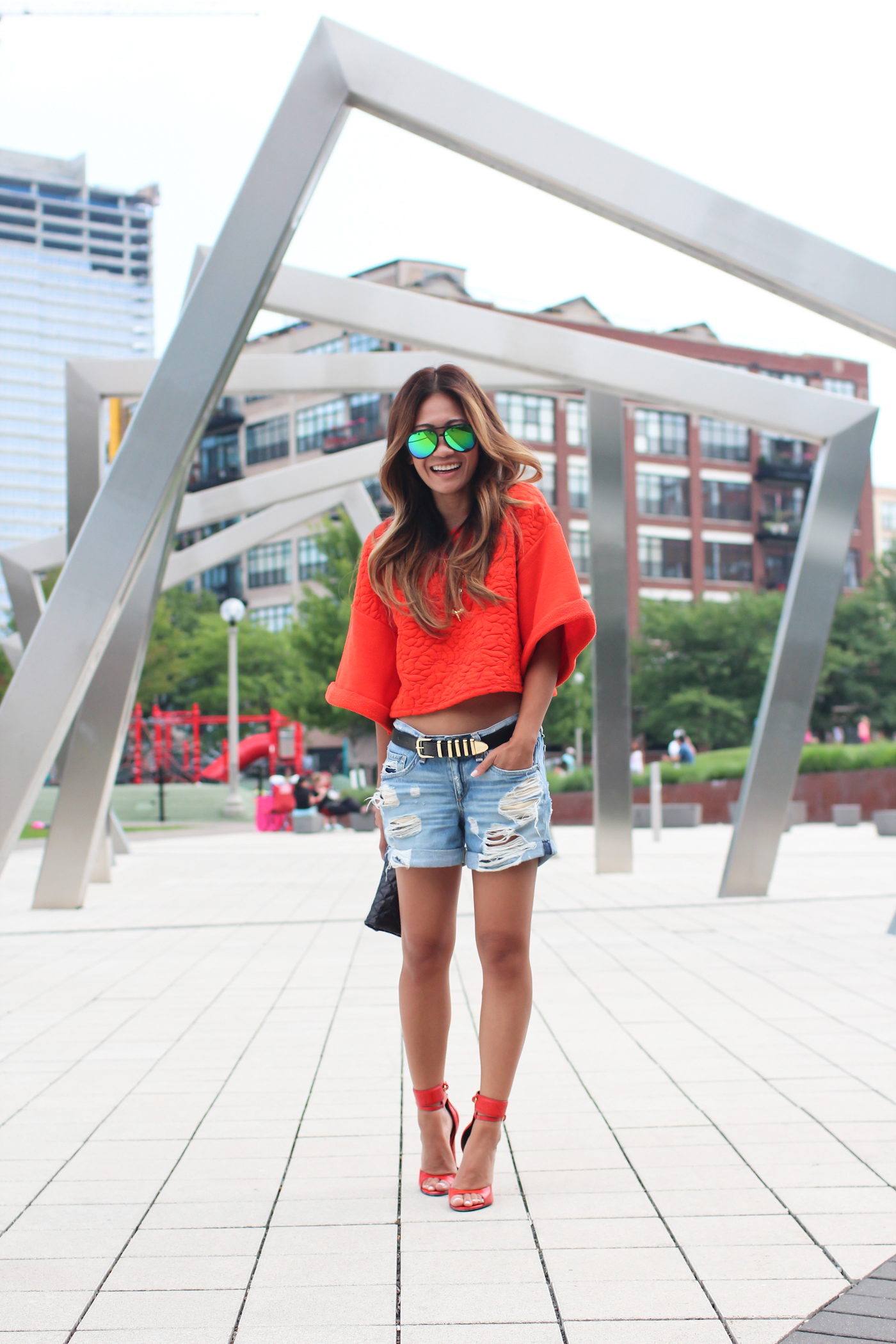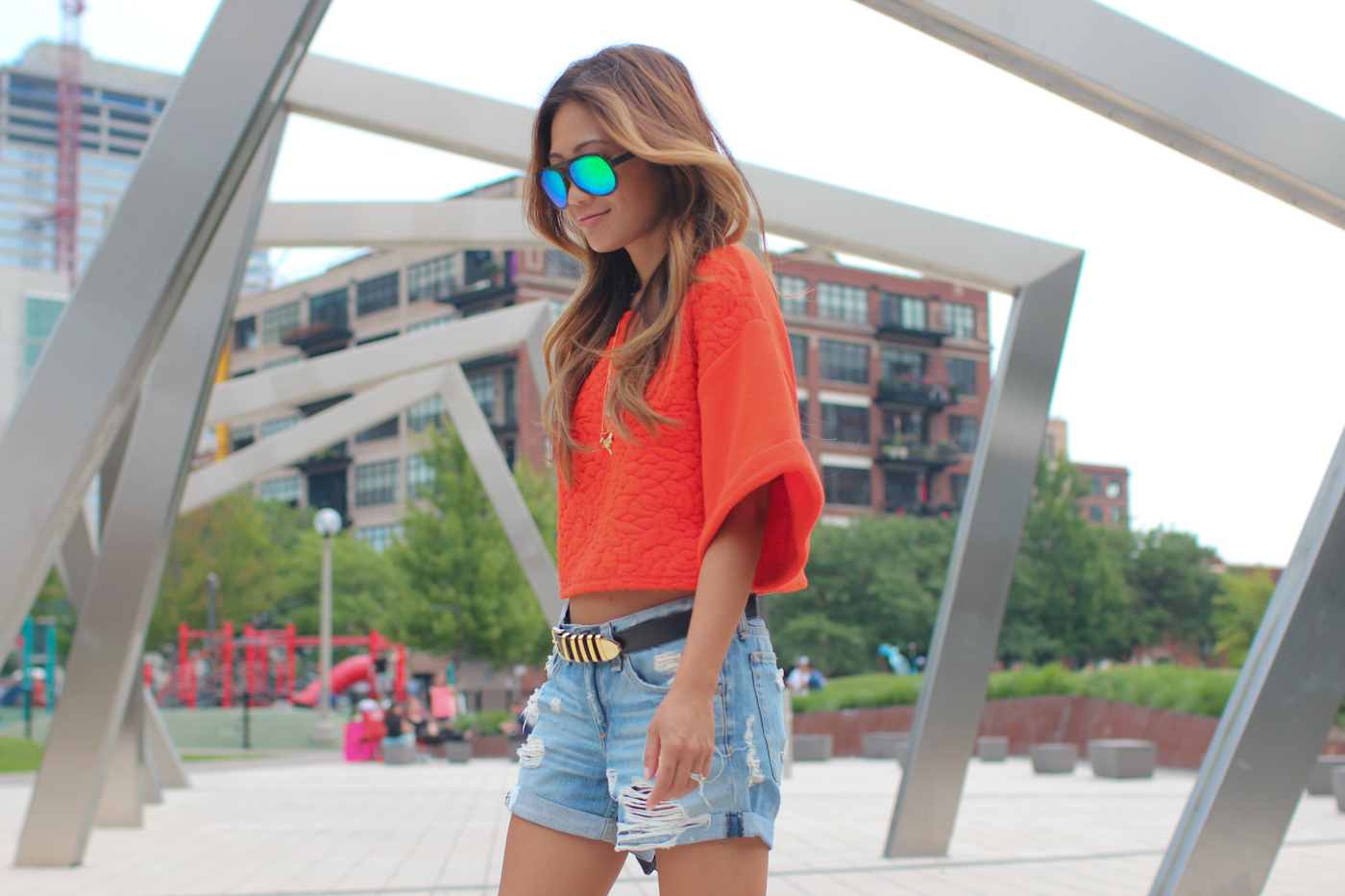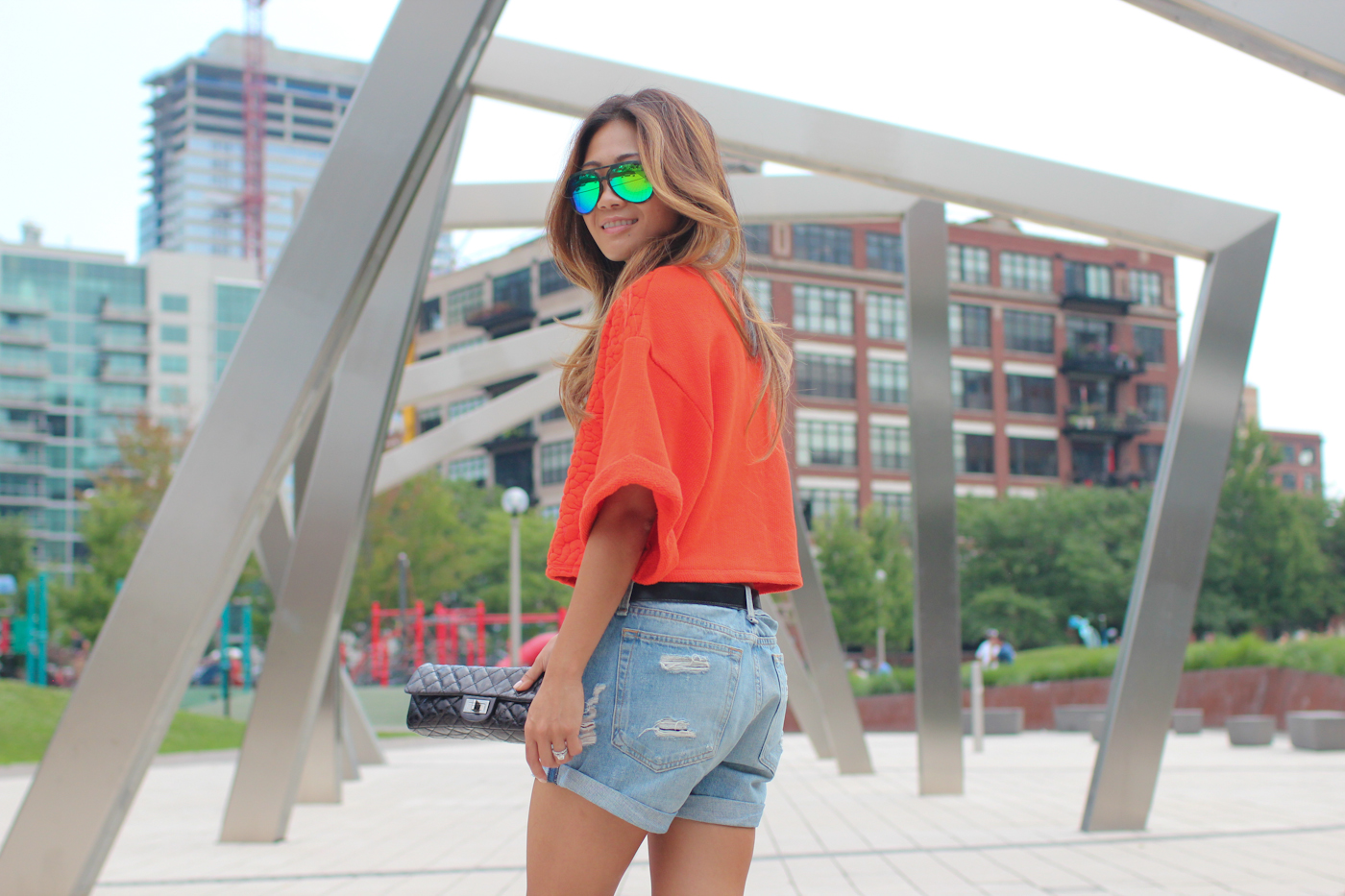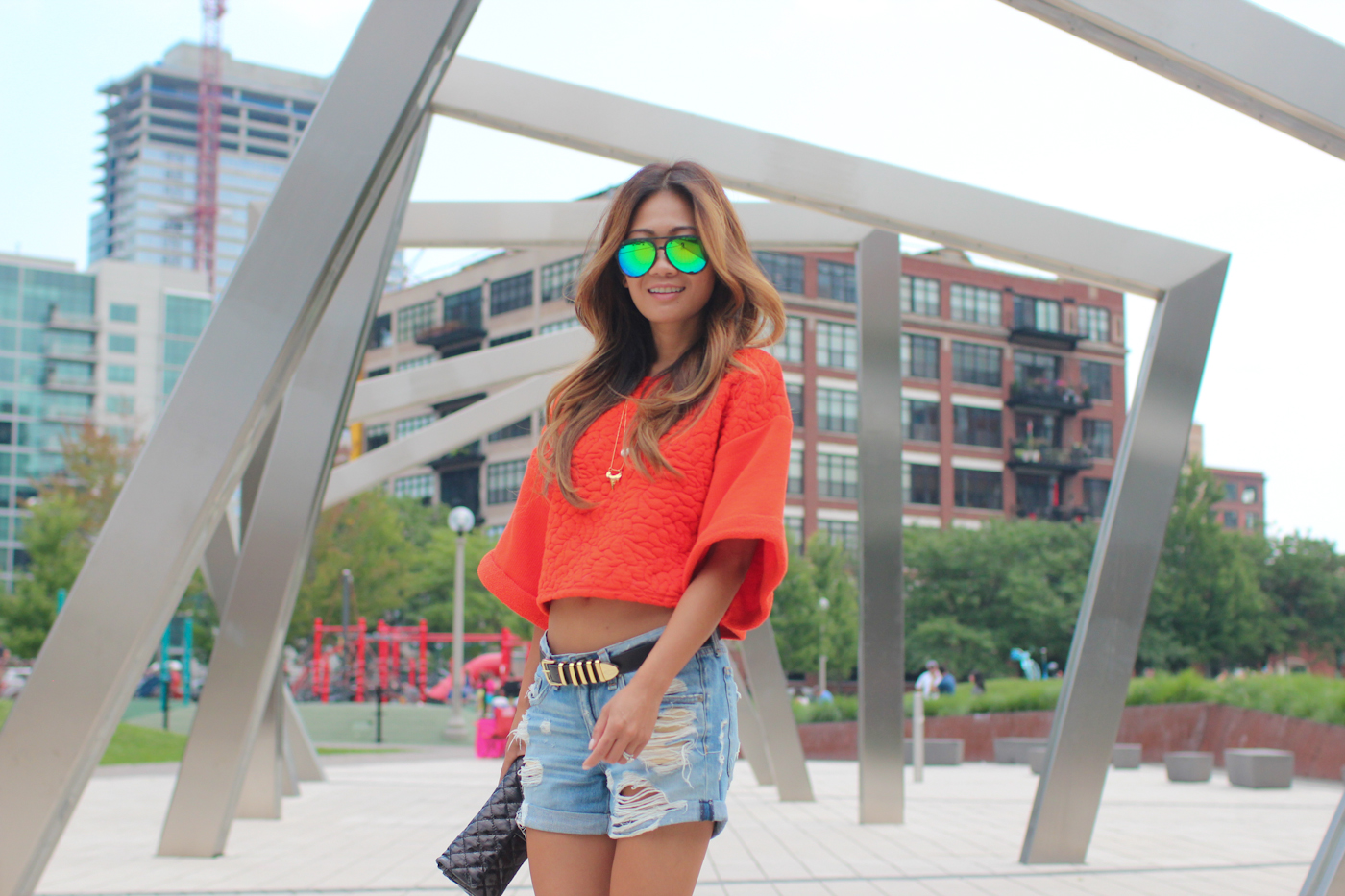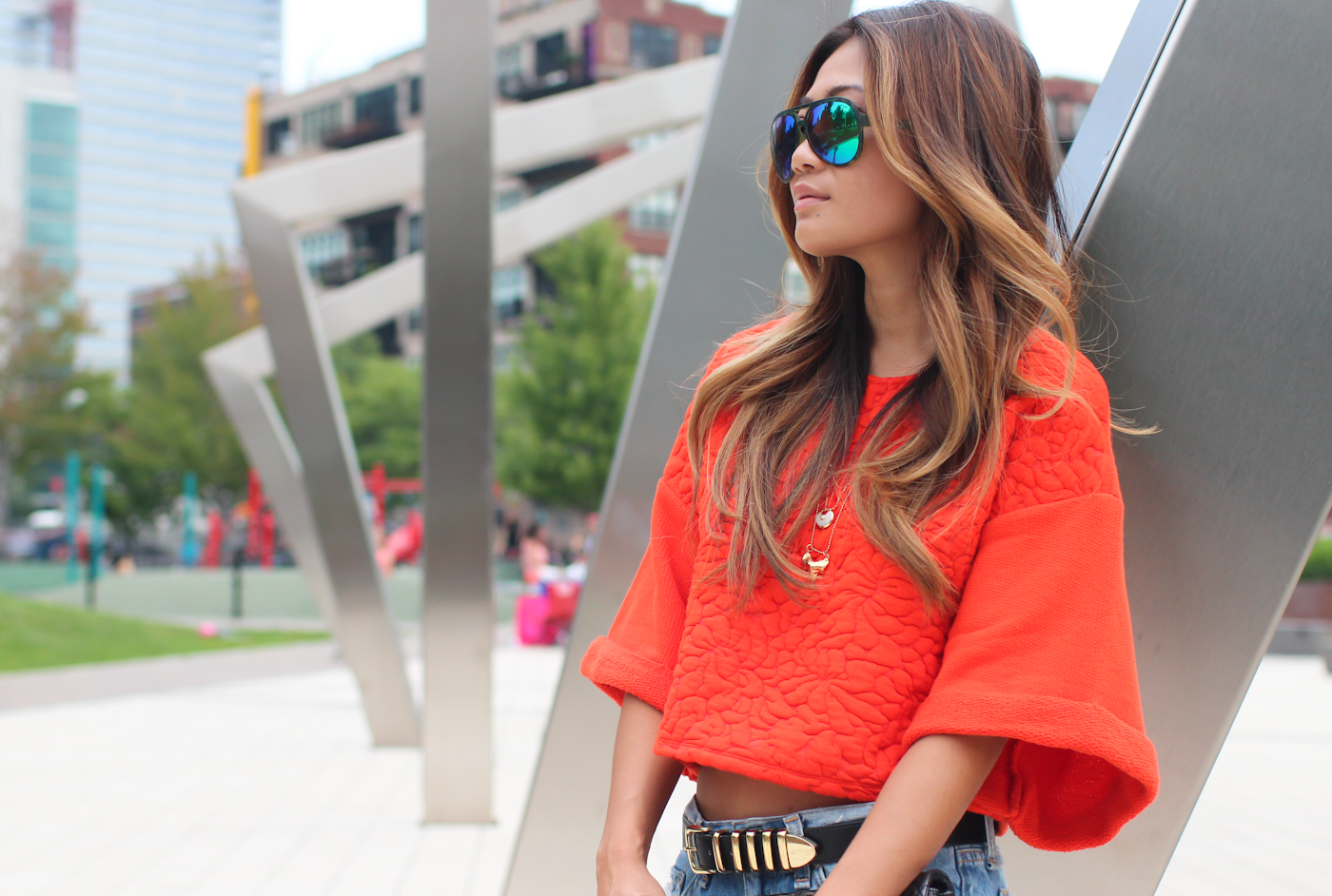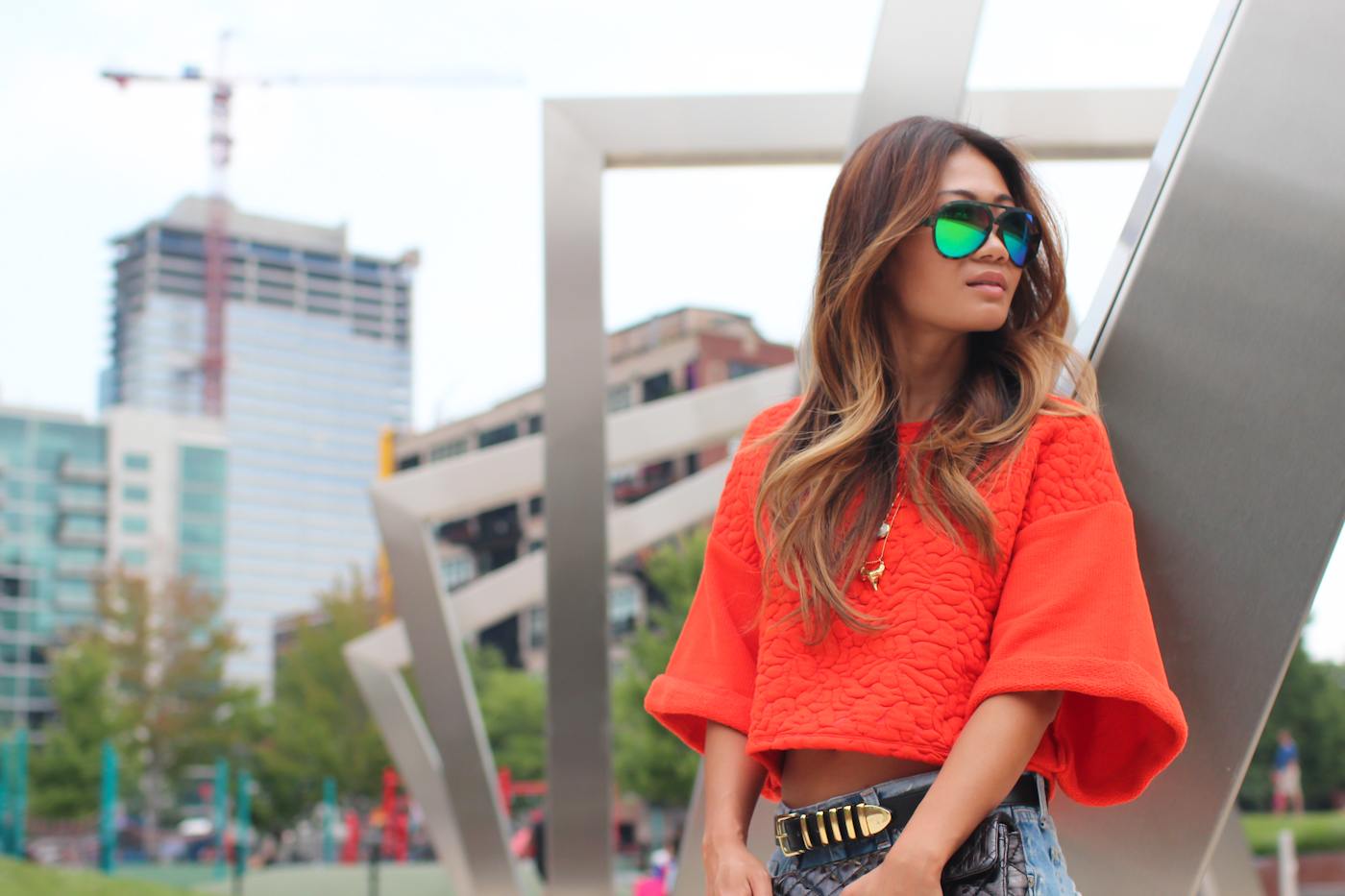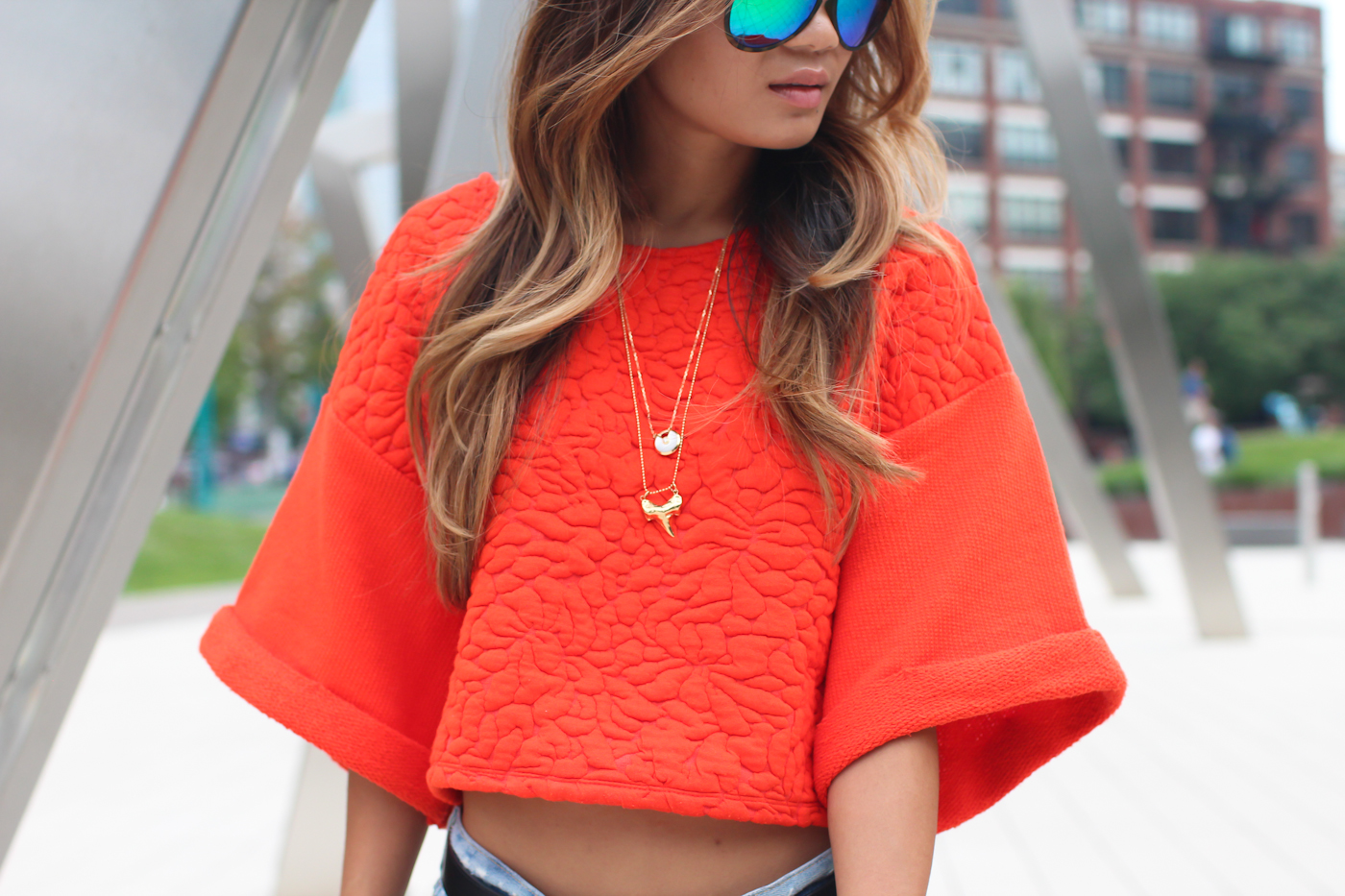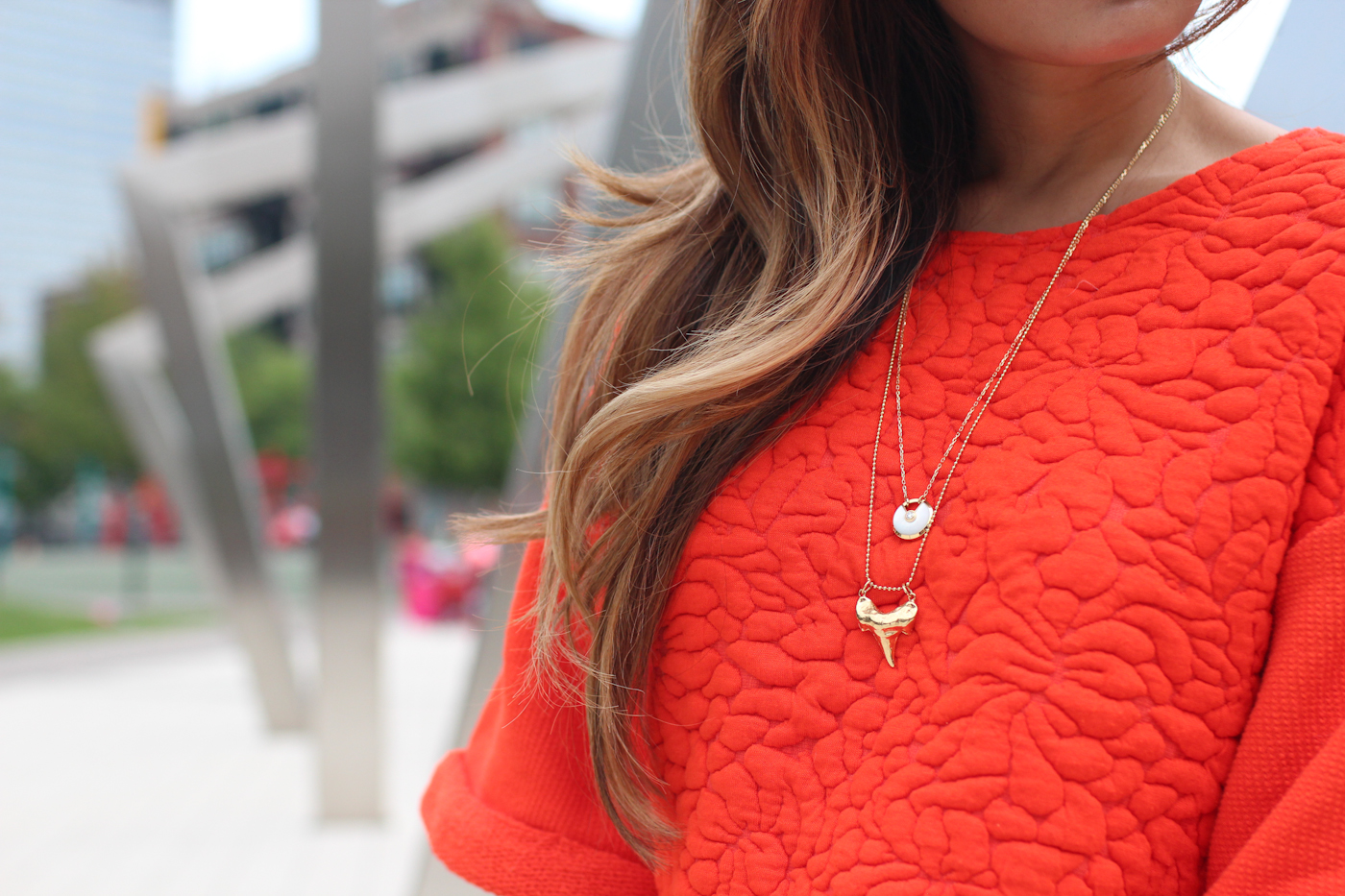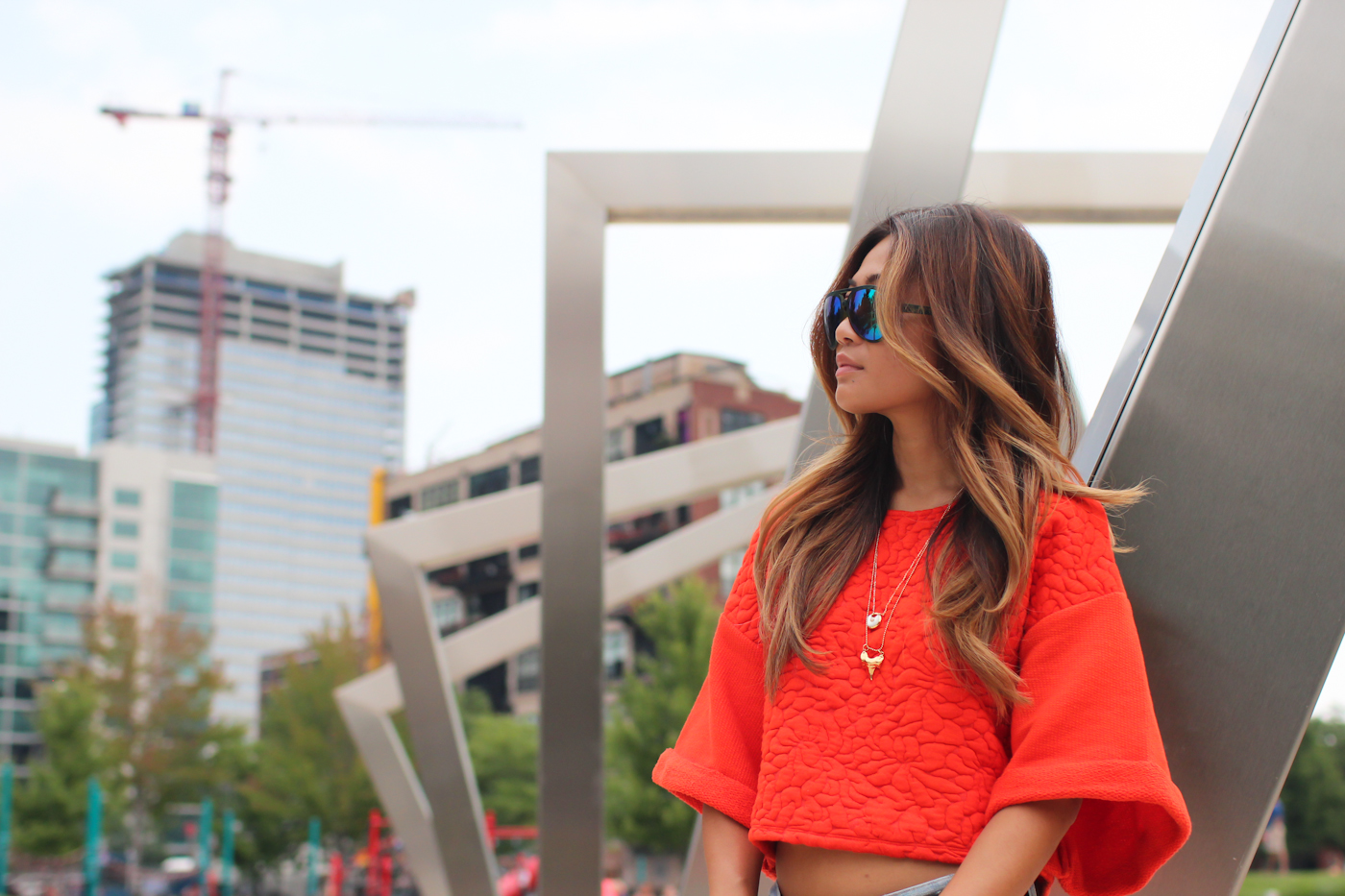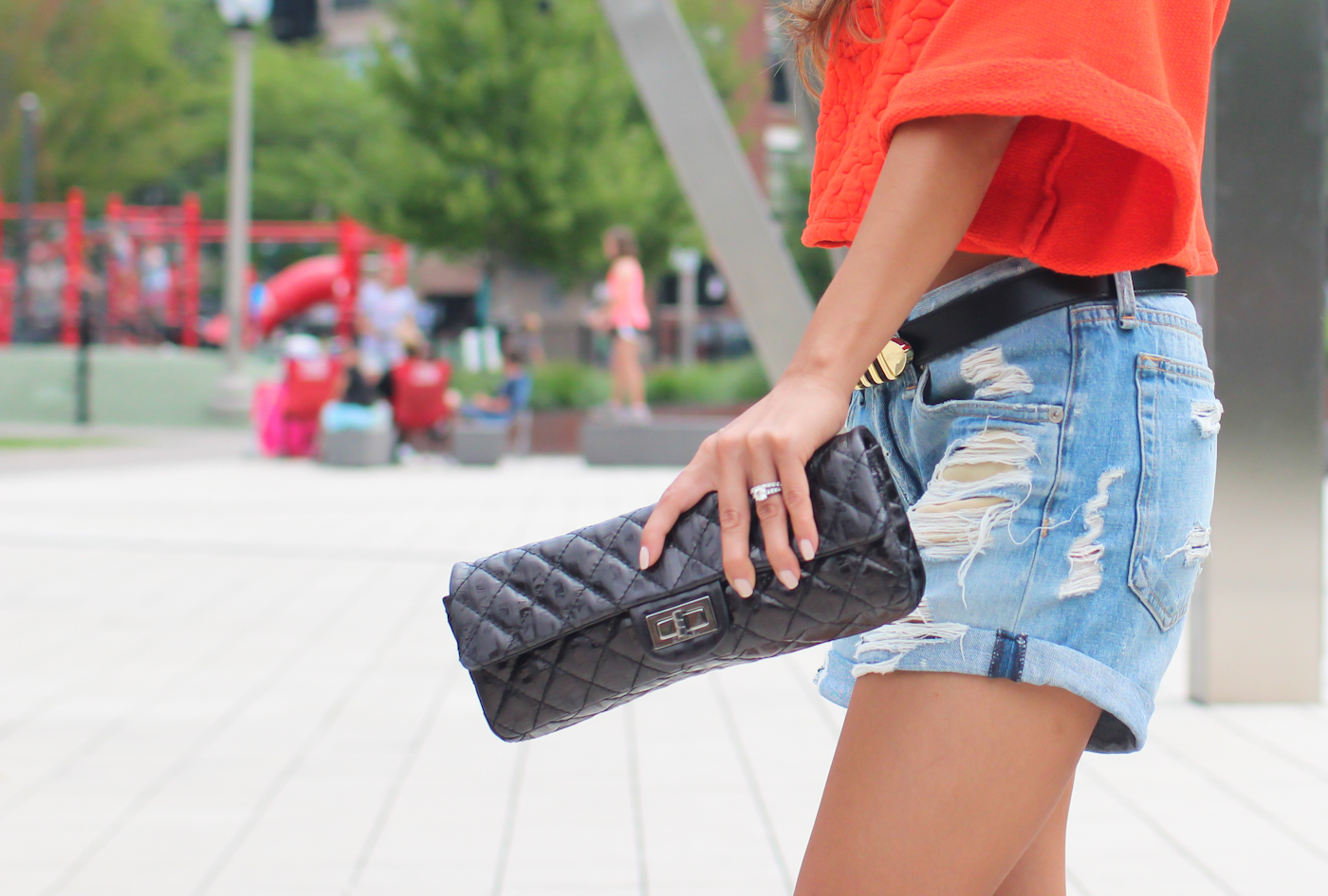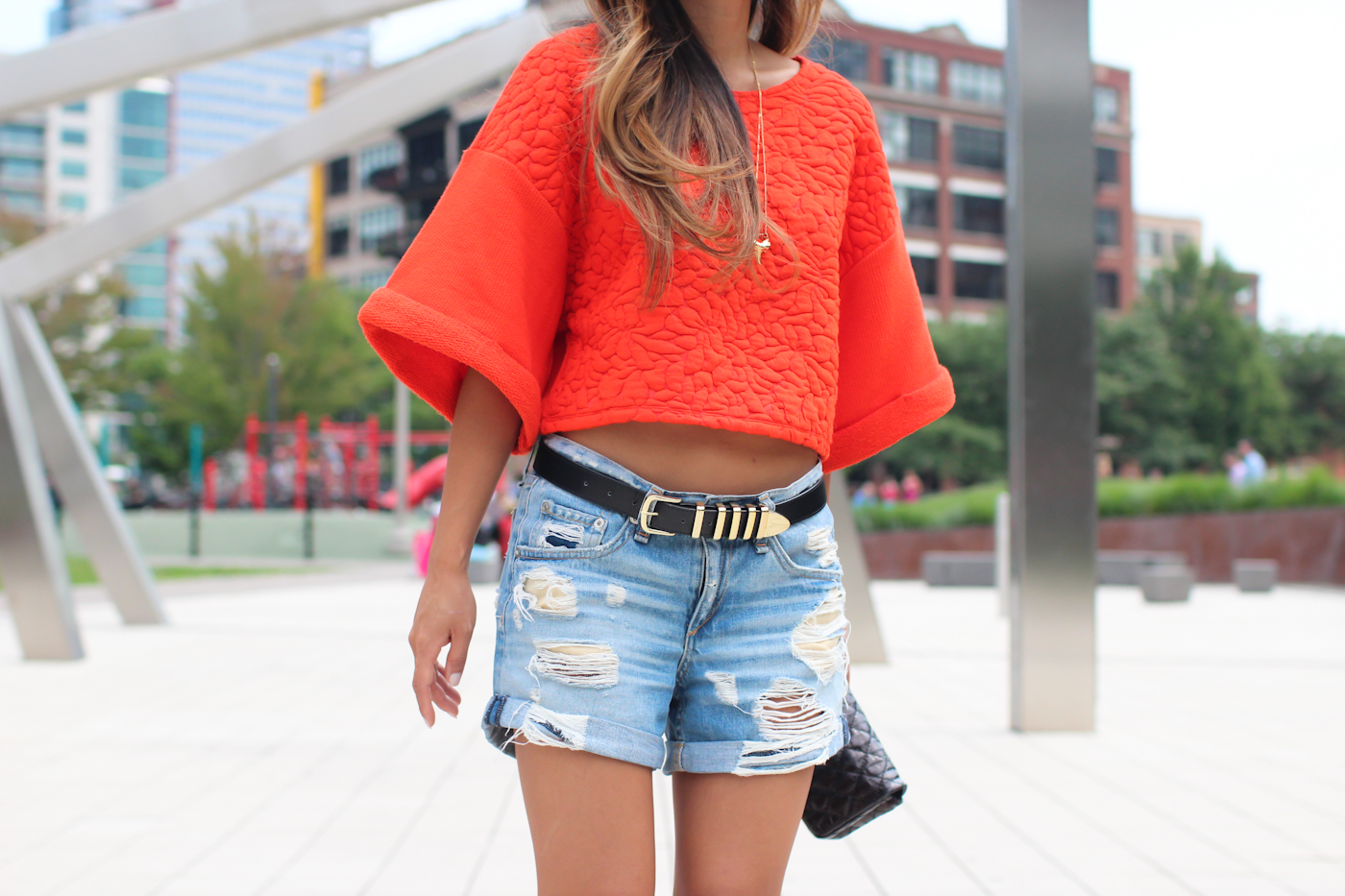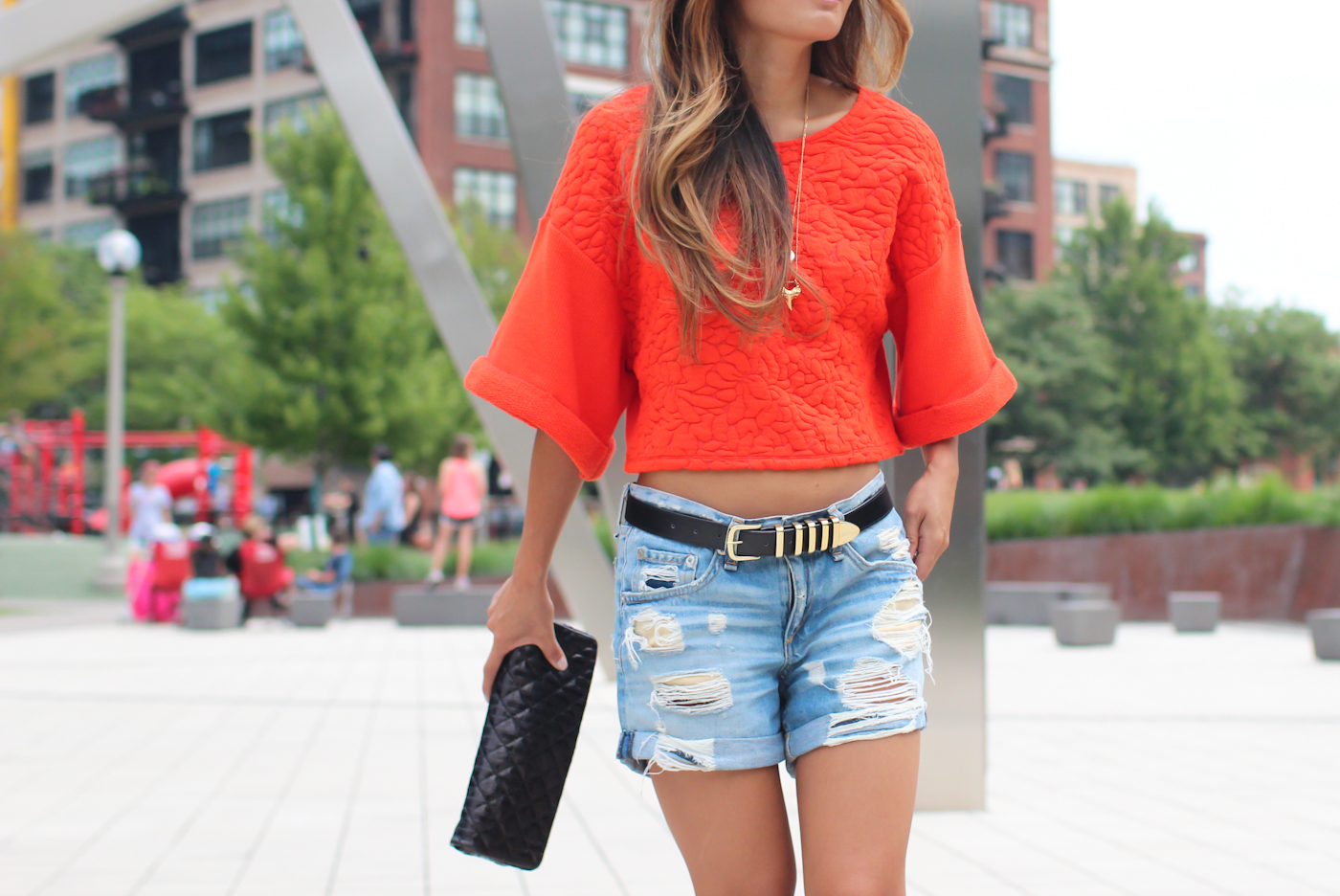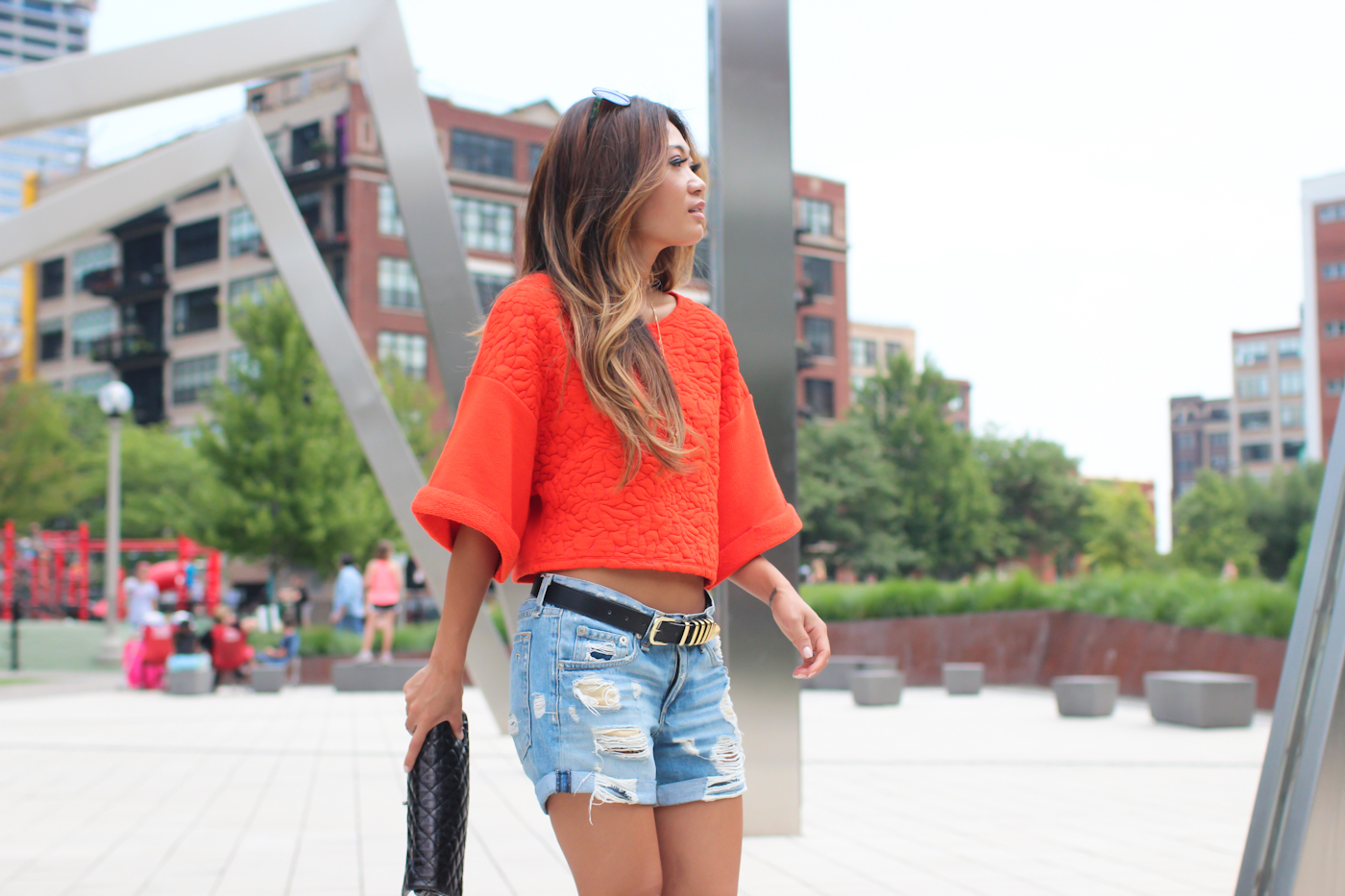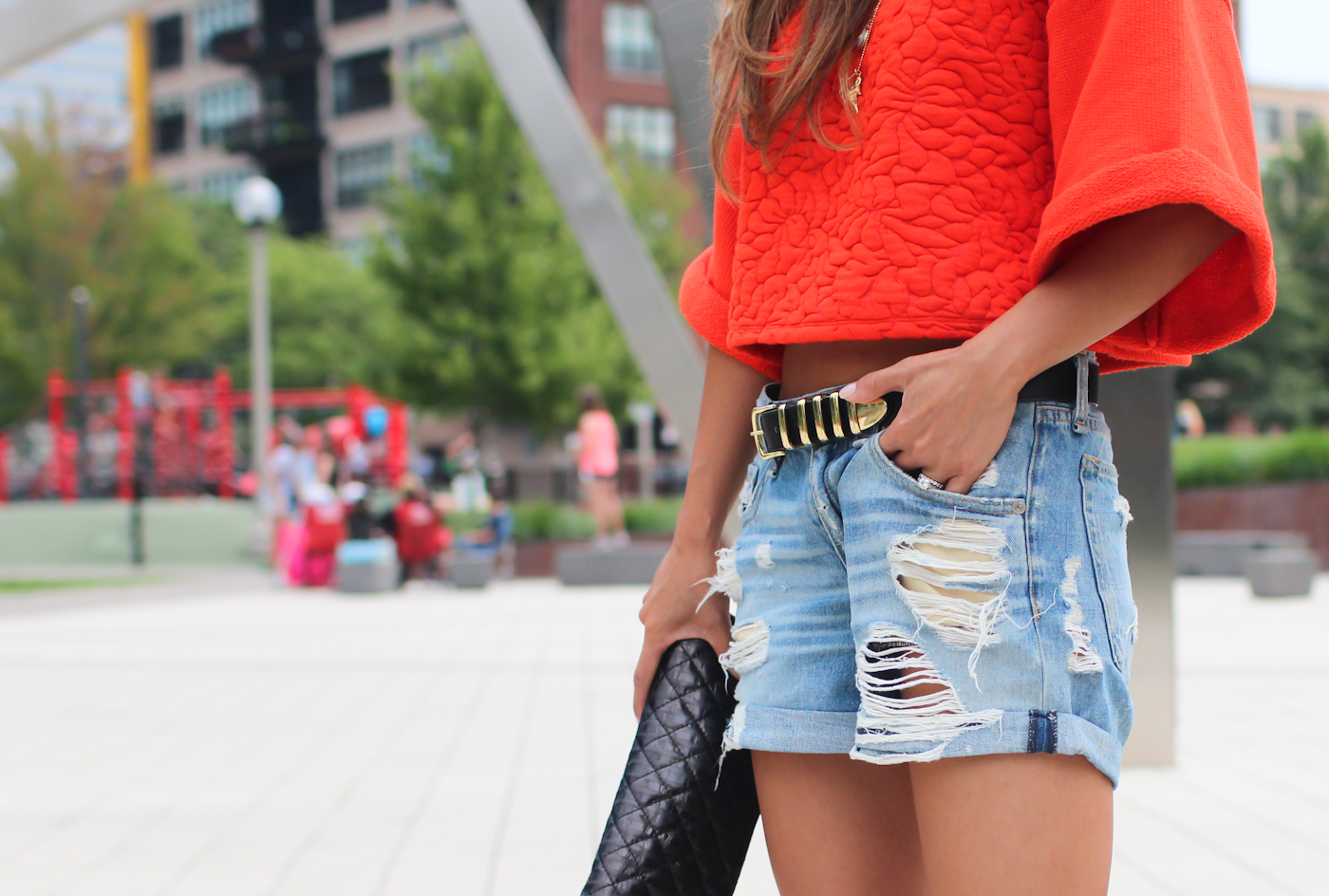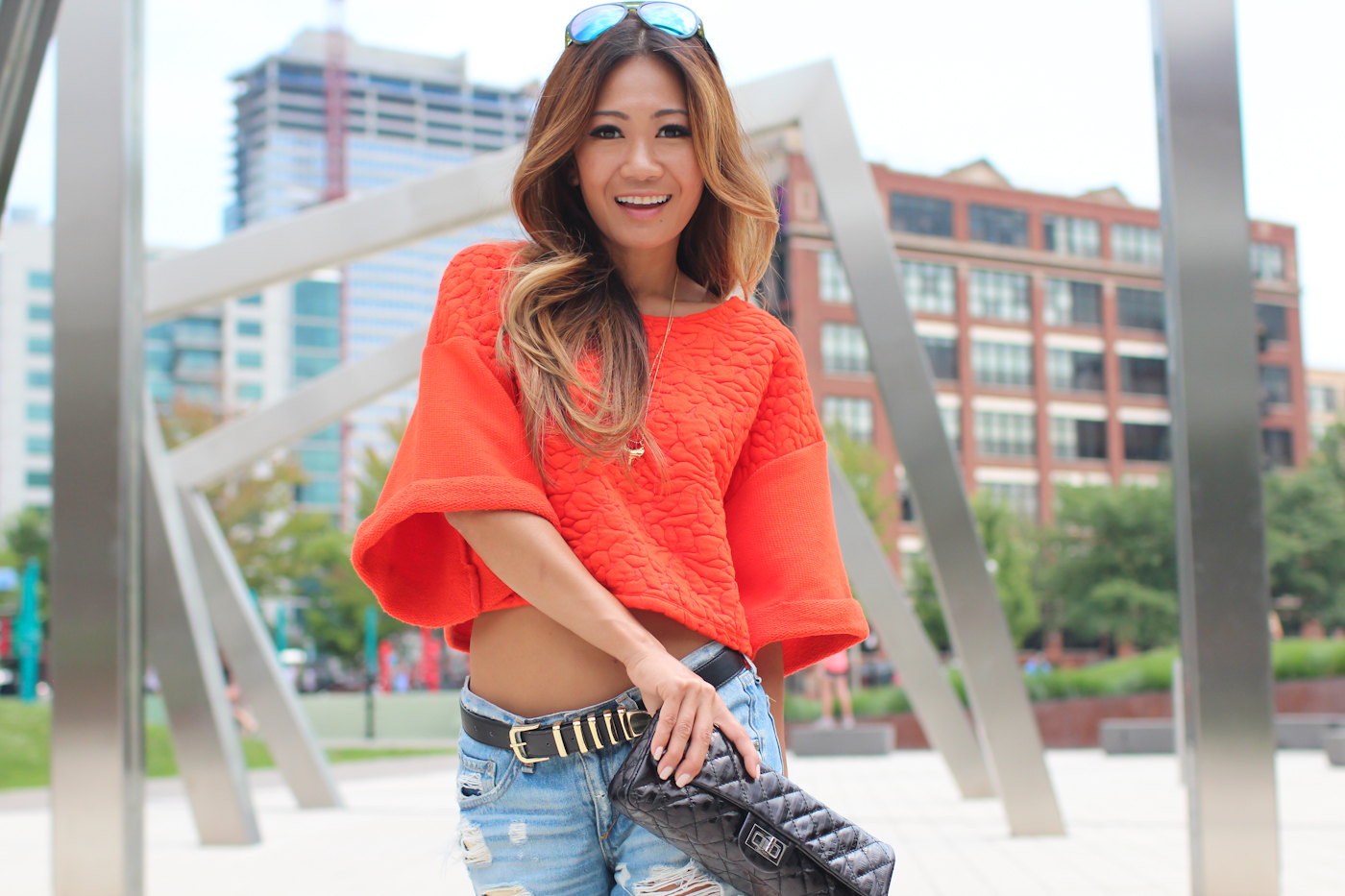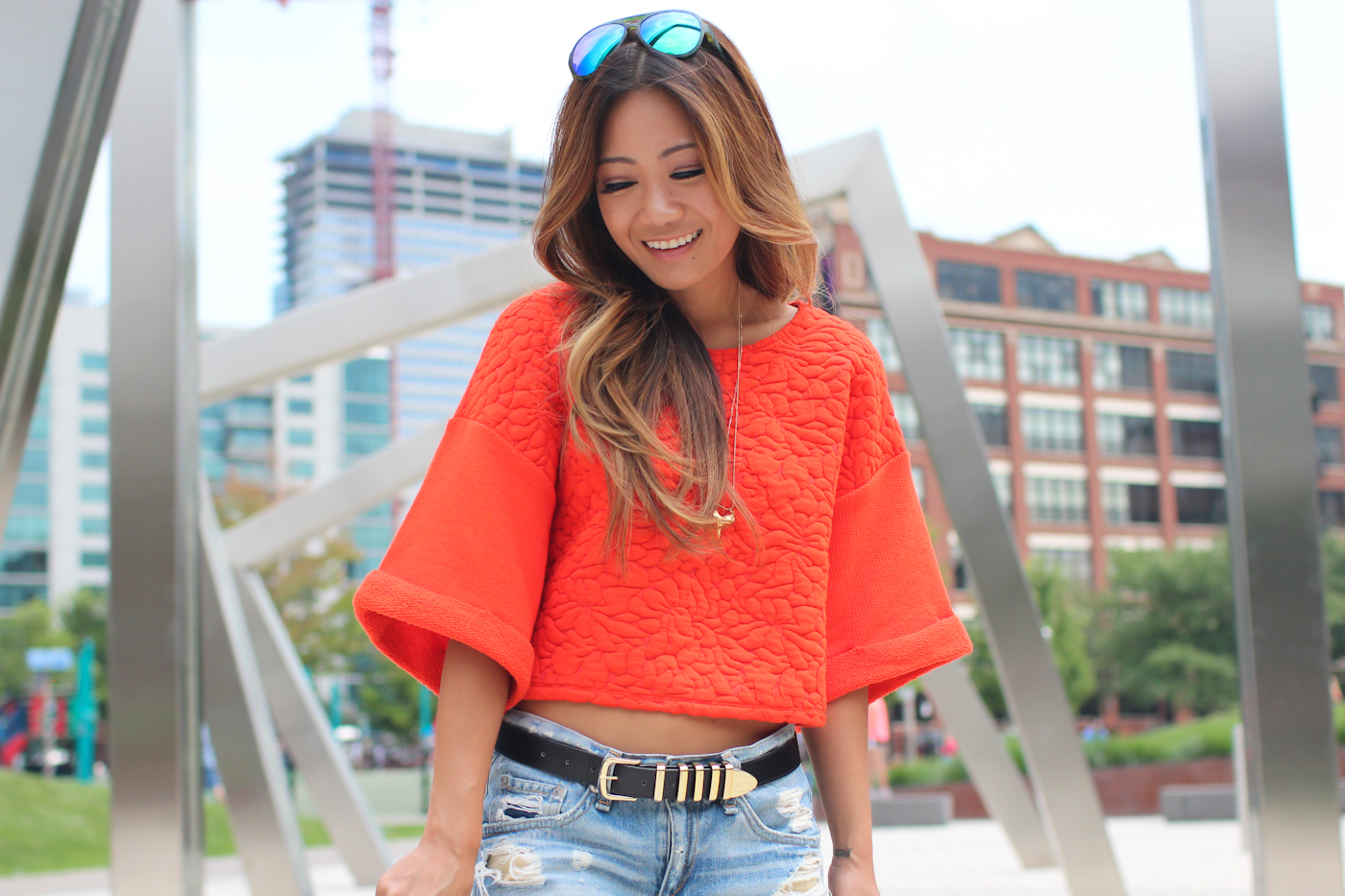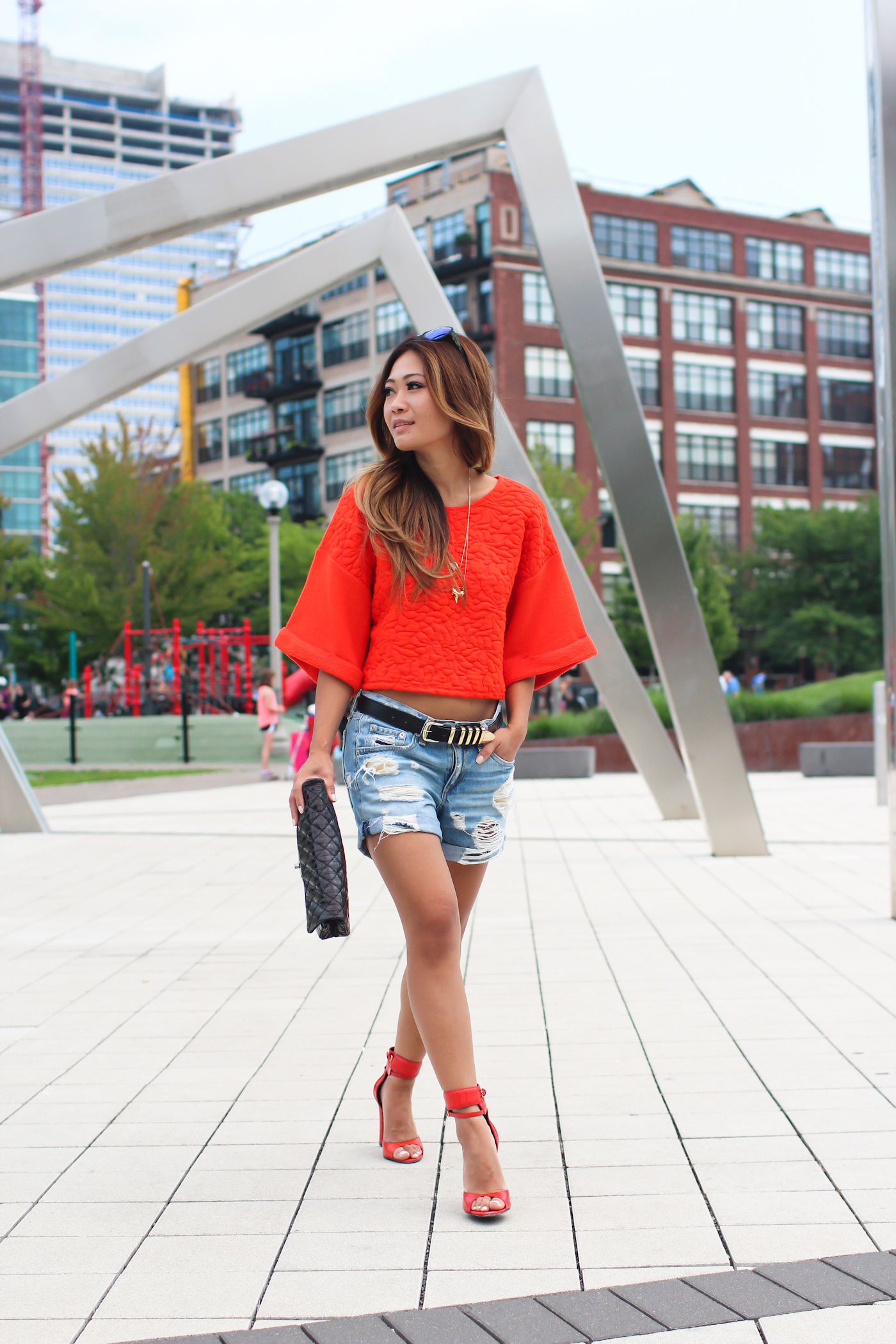 //  top – H&M  //  shorts – rag & bone  //  shoes – alexander wang (old)  //  necklaces – love tatum, cartier  //  belt – asos  //  clutch – chanel  //  sunnies – italia independent  //

---
---
//  replicate the look  //
---
---