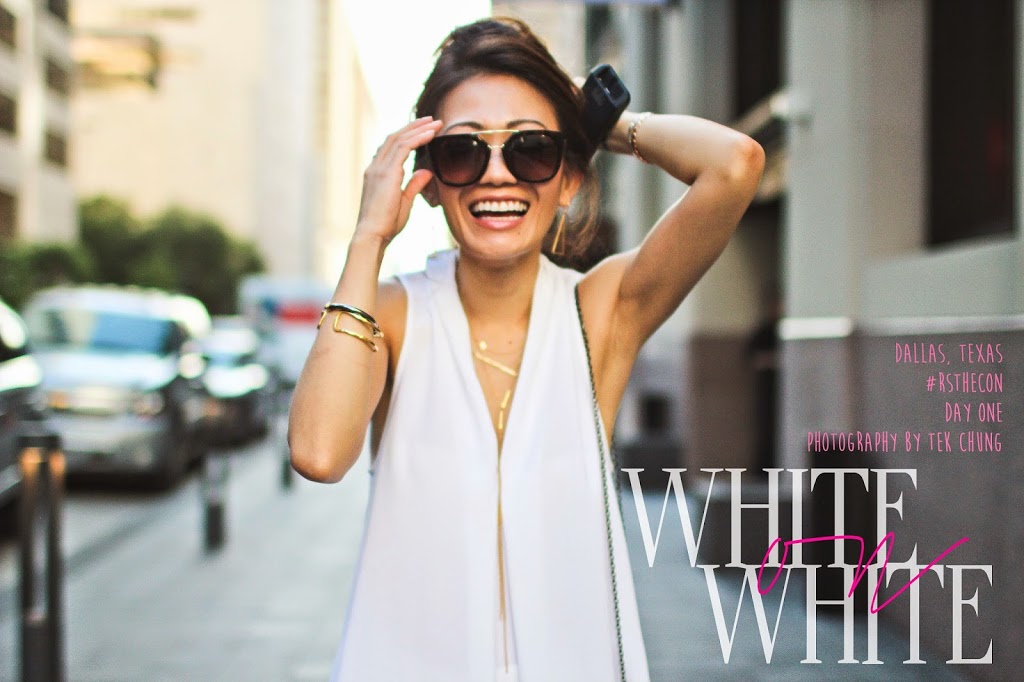 Hi nuggets! I can't believe my trip is over and I'm back to reality pushing paper and reading tax code. I think I could have used a couple more days in Dallas mainly stuffing myself with tacos and guac and getting in some more pool time. But alas, it is back to normal life. But no one wants to hear about that. Ok, so let's break this trip down shall we? Or at least as much as I can remember. And awaaaaaay we goooooooo. Day one and a half.
The hubby and I left Chicago last Thursday later in the day. And yes, I had saved all my packing for that morning because I like to live life on the edge and end up with half-assed outfits. That's just how I roll, regrets are like… super fun for me. There was madd traffic on the way to the airport which is never a surprise. Thankfully we got there with enough time to get some classy airport food. Riddle me this. I went to the Lalo's in Midway and got some guac and chips and also rice and black beans. Tell me how it costs almost TWICE as much as a full burrito meal!? Da heck!? Not only am I already finding it so hard to stay vegan, but you gotta rip me off in the meantime? Can't you feel bad for me and give me a break? I eat something called nutritional yeast as a cheese subsitute. I mean… doesn't that make you sad for me and make you want to give me an extra scoop of guac? I seriously do NOT get how it costs so much to eat plant based and be healthy. Jerks!
After my little internal meltdown and preaching in my own head, I found a comfy ledge to eat my overpriced meal and escaped into a happy nom nom nom state… took a couple selfies, duh, and then we boarded our plane. We were high up on the boarding line and got our pick of seats and were able to place our carry-on in the overhead bin right above us. I get really freaked out when I am far away from my bags. Any one else feel me on that? Anyway, it was all going so well… until… the screaming started. A shrill, gurgling, non-stop cry coming from a couple seats back erupting out of, what I could only imagine at the time, some demon child sent to earth to make me want to blow my brains out. It's everyone's second worst nightmare on a plane. You know, aside from plummeting to our deaths. I instantly felt so sad for the mother of this child whose face I could not even see. I assumed it was an infant because it had that gurgle in it's cry that really only infants can shrill out. Or so I thought. On my way to the bathroom, or if I'm really honest, I just wanted to take a look at this thing, I come to find it's a toddler. All understanding flew out the window. Yes, I still felt so sorry for the mom but I have more of a soft side for infants because really they can't help themselves. But when it's a kid who should know better, oh boy oh boy. My uterus shriveled up and died right there. He just would not stop! I instantly ordered two vodka sodas using my awesome Southwest coupons (whut whut) and wondered if it would be inappropriate if I offered one of my drinks to that poor mom. I can't imagine how horrific this all was for her. Now before you all get huffy and puffy about me hating on children or motherhood, let's keep it real. Mom or not, you would HATE to be on a plane with a screaming child. You know it's true. It sux for everyone involved. The passengers, the crew, the child, and mostly the parents. Finally after landing, we got our car and drove up to the gorgeous hotel, The Joule. The massive arch above the front doors were lit up and inviting us in for what was to become one amazing weekend.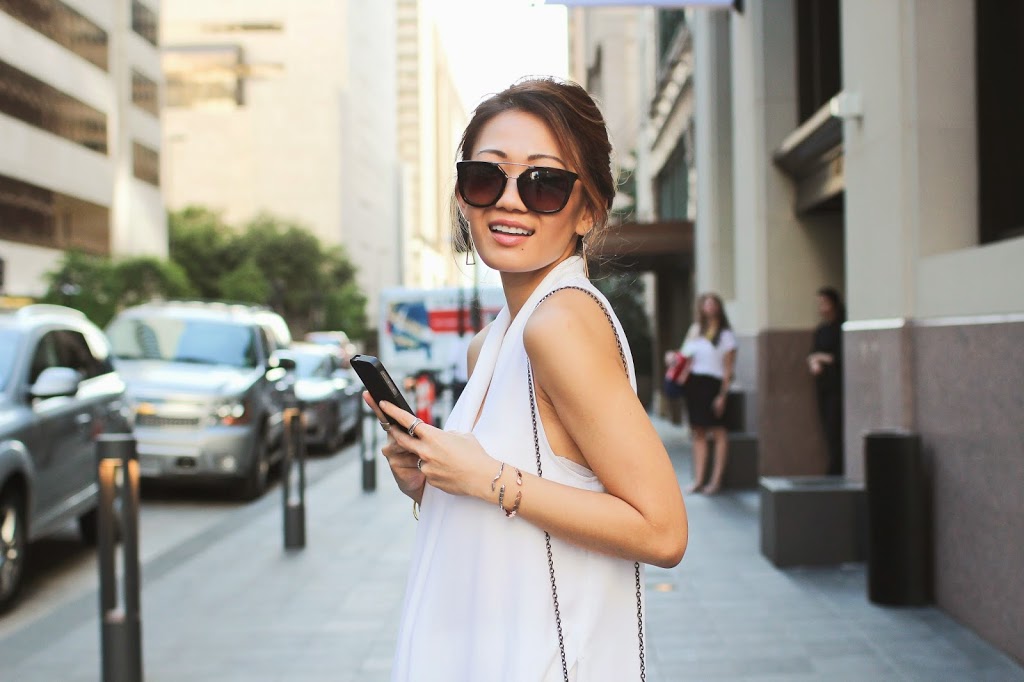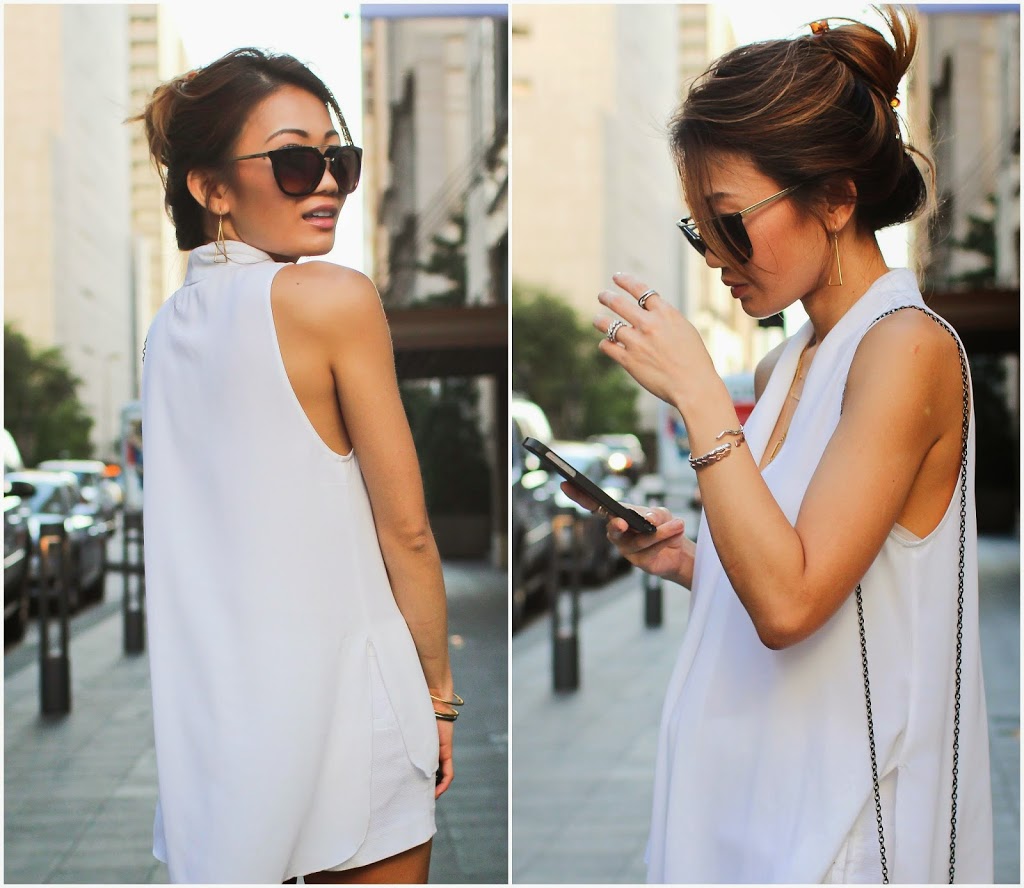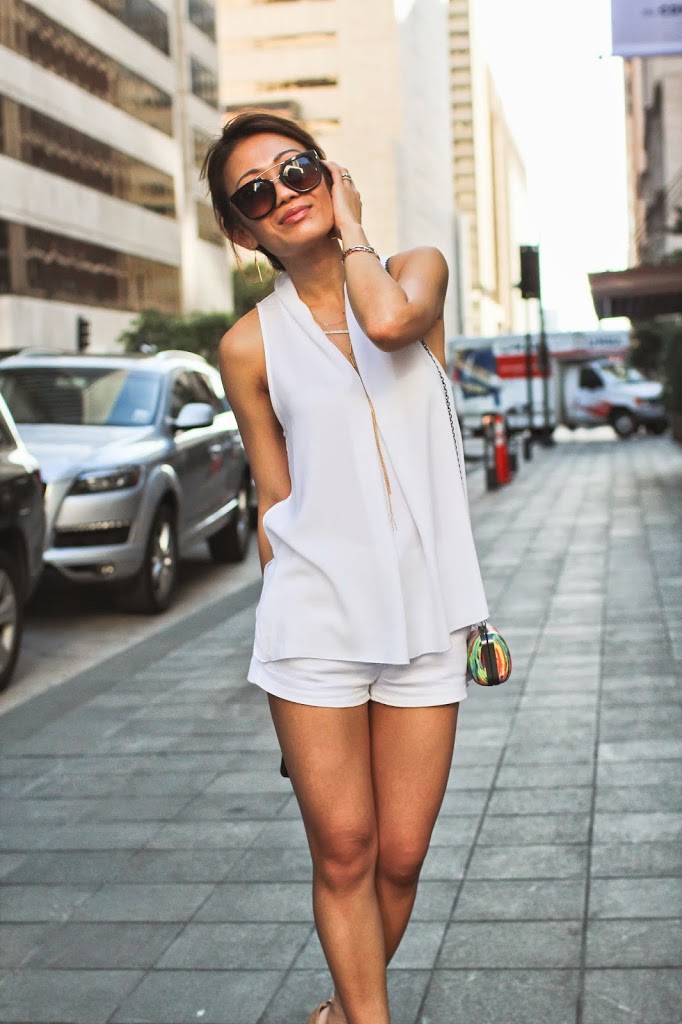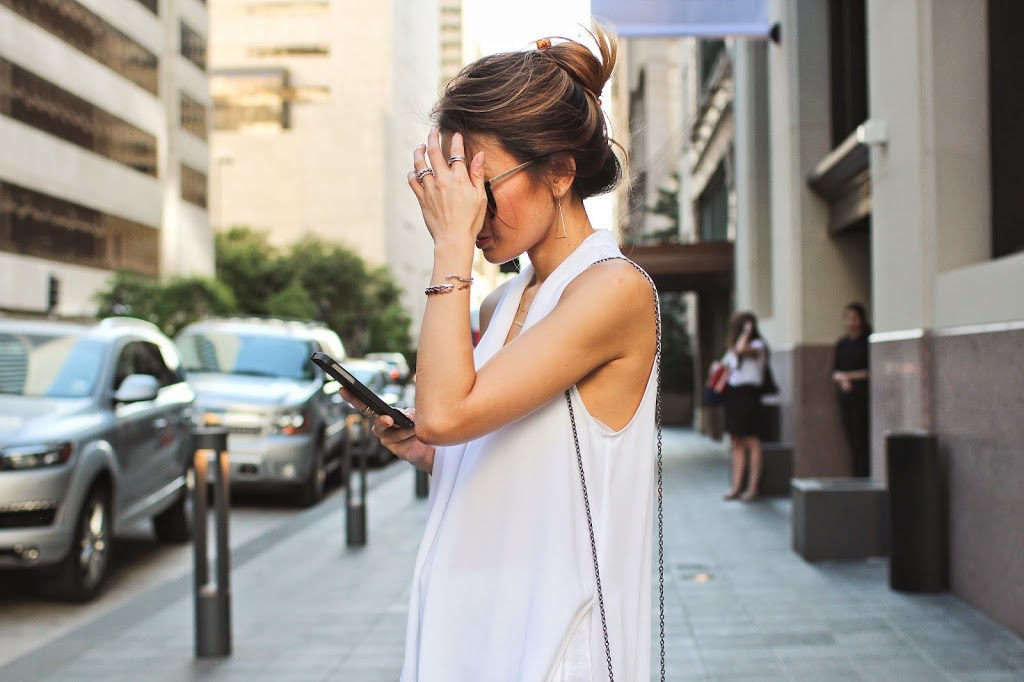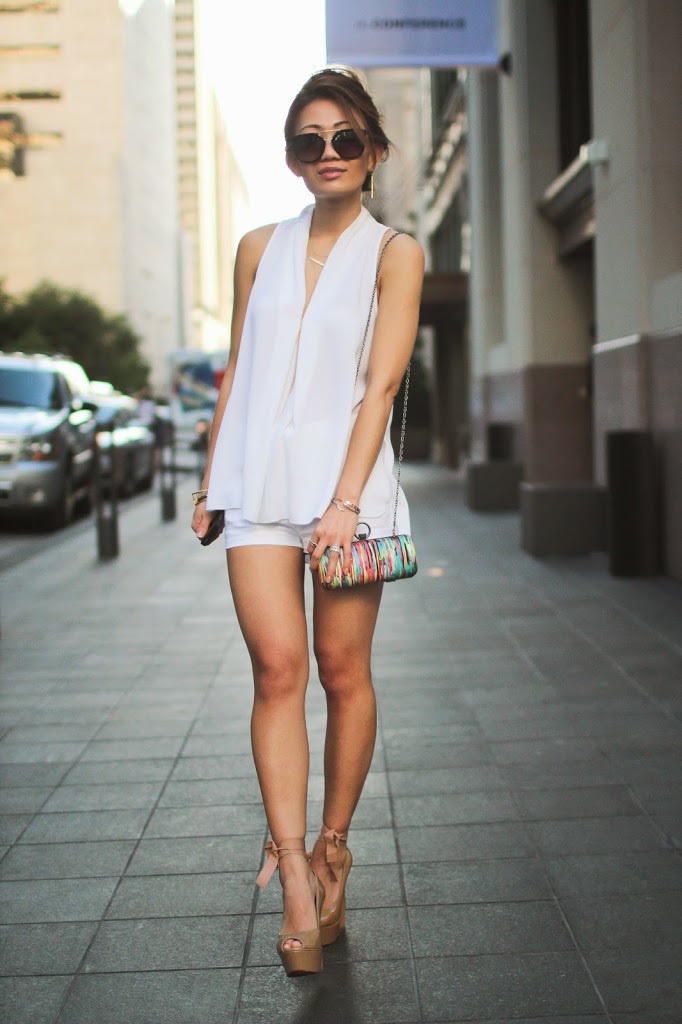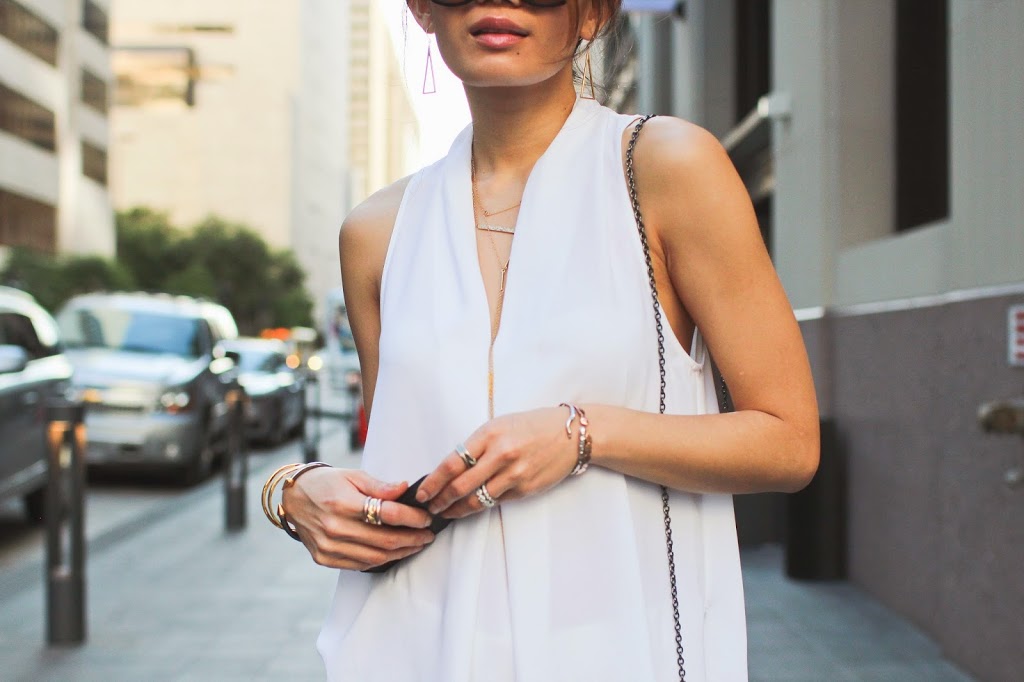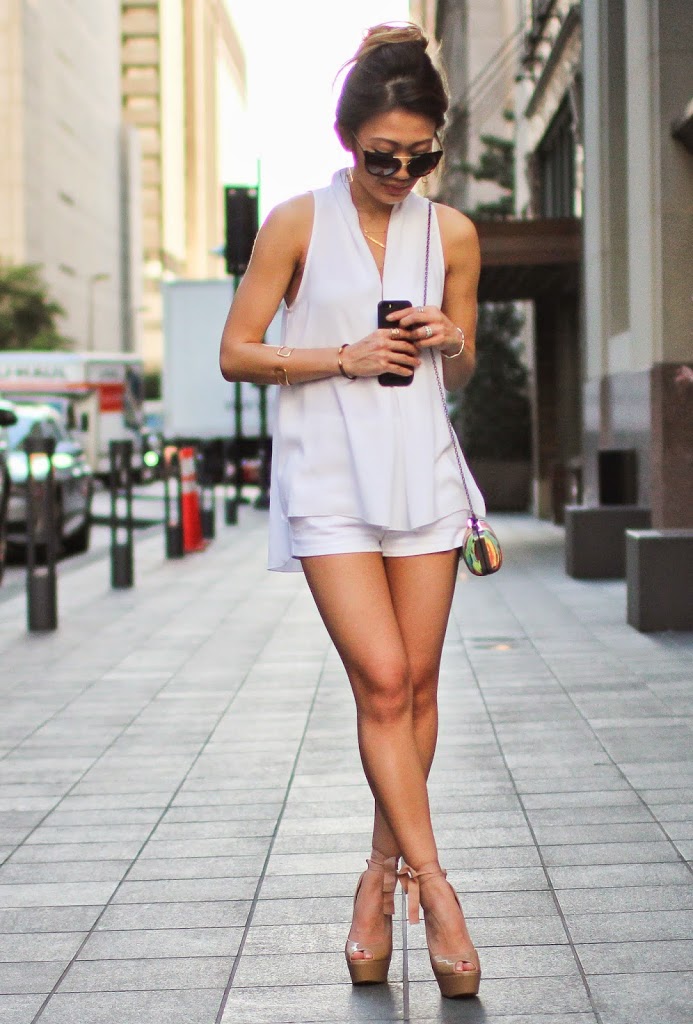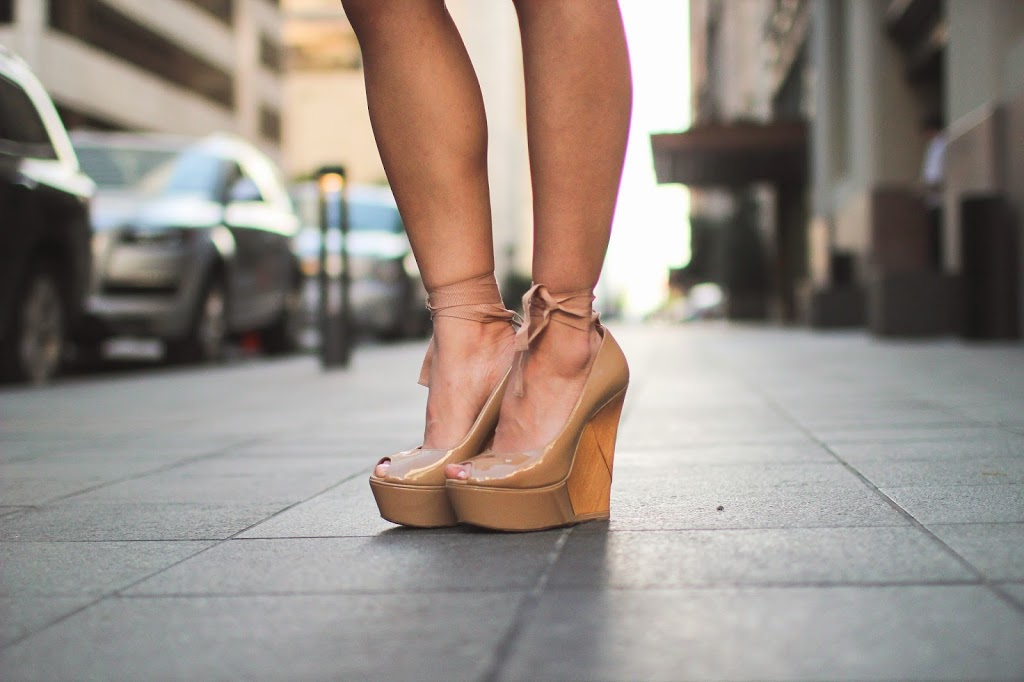 After a night of very very little sleep, I awoke, slapped on my face illusions (eyelashes, foundation, bronzer contouring… all the things) and headed down with the hubs to register for #rSthecon, which really just entailed getting my meeting schedule and a goodie bag. I was surrounded by tons of lovely, shiny, pretty, tall, gorgeous, sparkling women and instantly said to myself "Gawd my outfit sux all the butt." Too late to fix all that now. I had not been there for more than 5 minutes when a couple gals came up to me saying "Hi Wendy! We just want to introduce ourselves." Oh crap. Here we go again. I shyly smile and sweetly say, "Sorry, I am not Wendy from Wendy's Lookbook. My name is Shai." Then I get front row seats to the mix of SUPER disappointed, horrified, and embarrassed looks that wash over their faces. Then it's about a few minutes of random and awkward chatter as they feel it would be so rude to just turn around and walk away, even though in my head I'm thinking "it's okay, you can walk away". I try to charm them with my wit and hand them business cards like I'm someone important and that's pretty much the end of that. It's gotta be the height, our similar frame (though I got me a big ass in comparison, so they must NOT be looking at that), and the hair. My hair is such a different color though! But I guess it has the same style? Whatever it is, it proceeded to go on through out the day and actually the whole weekend. I could see from my peripheral all the looks and whispering going on from people thinking I was Wendy, or wondering if I was Wendy or maybe who is this new bald guy she's got following her around. But because I am a HUGE fan of miss Wendy, I find it all so so flattering. The real Wendy will probably not think this is that amusing as she would NOT want people mistaking my crazy ass for her. I wish I could be as put together and gorgeous as her. I did however tell her she can always hire me on as her stunt double. Like whenever her feet start to hurt, I just step right in and you would never know the difference right?
After that whole debacle, I was SO glad to see my fellow Chicago beyotches Gia, Christine, and Blair (check out their blogs, theirs is so much cuter than mine) who knew who I actually was, and we proceeded to hit up the brand booths. Wowee zoweee! They really went all out. And the SWAG. AWWWWWYEAAAA! Who doesn't like free shit?! And it's not like one of those TAX conferences where you just get some wack pen and a random notebook with random letters gigantically printed on the cover… PWC, KPMG, EY, DT, GT (real creative guys). At THIS conference, it's the good stuff. The cute stuff. Gorjana gave out some awesome jewelry pieces of which I chose the gold bracelet you see in these photos. Yep, you can officially hate on me now. I can feel it. I would hate me too. Mistaken for Wendy, free jewelry… I mean geeeeez. I ran into some familiar faces and almost flipped my shit when I saw my faves Laura and Stef. They are from two of the brands present at the conference and I won't say which ones because I dunno what the rules are about that kind of stuff and I would really love to be invited for a third year. As soon as we saw each other, there were lots of girly squeals and jumping up and down and omgggggggggg! aaaaaaaaaaah! You know, the normal stuff. We chatted it up and I took up a lot of their time like a jerk, but too bad! These two were one of the main reasons I even went to the conference so deal with it.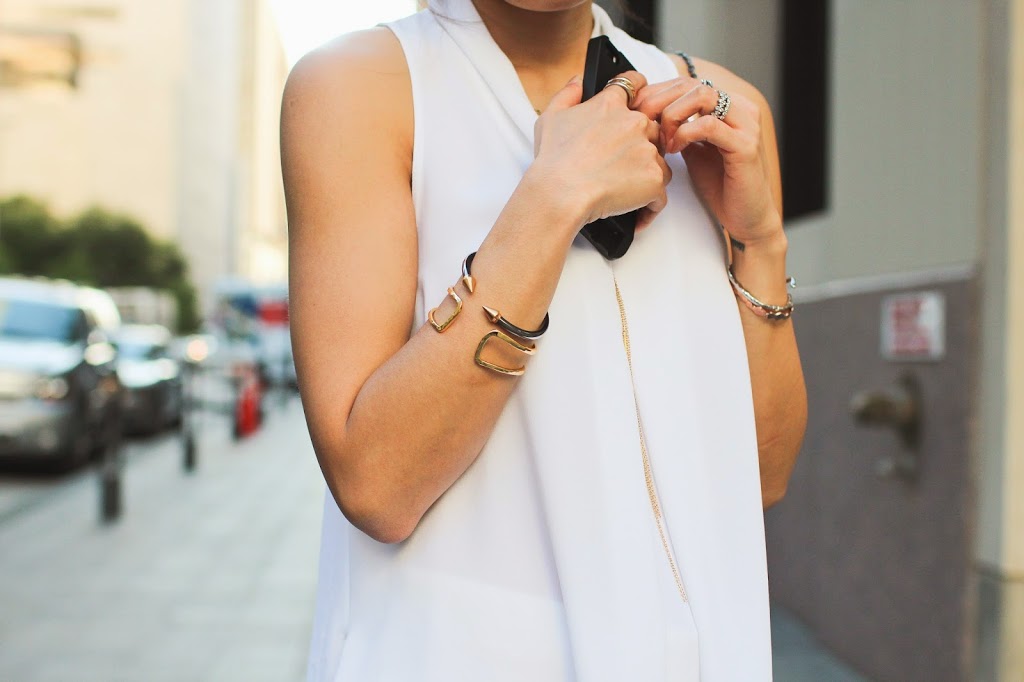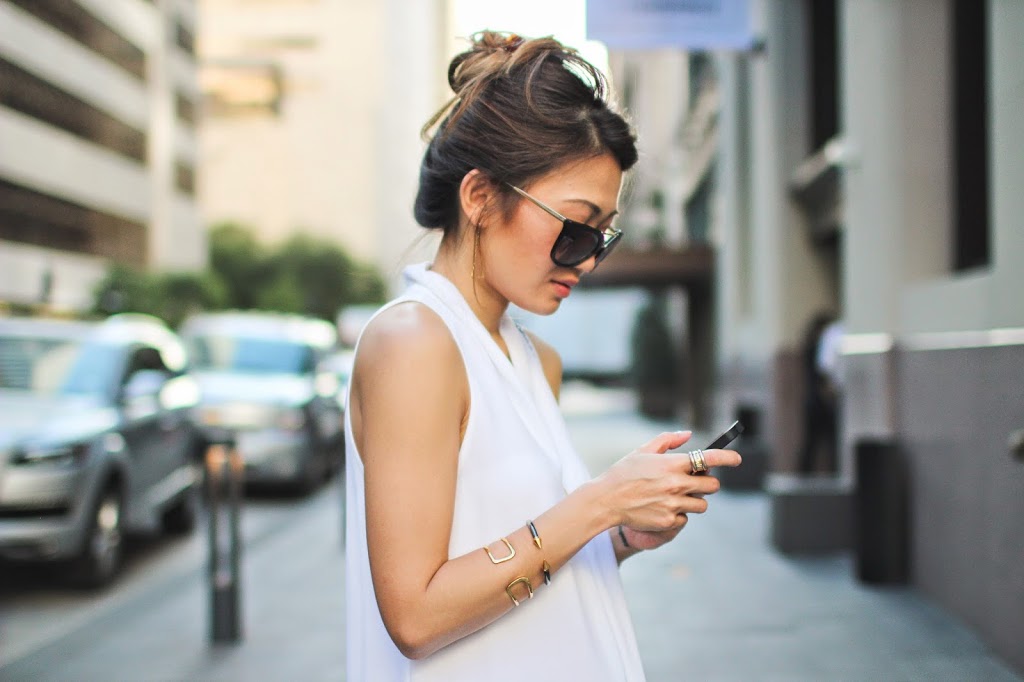 Gia and I met up with another Chicago blogger babe, Jena, and it was off to Neiman Marcus where they had set up a little lunch event just for us. Everything was in super cute but very annoyingly small portions. Great for Instagram, not so great for the hangry. We all looked kind of crazy grabbing the little containers of food in multiples of three. But in a fashion blogger kind of world, cuteness is the only logic that matters mmmkaaay?! All was forgiven when I spotted the servers walking around with pre-made peach cocktails. I chased them down and the drinks were sooooo amazing. Guess how many of THOSE this girl had. We proceeded up to the other floors and who do I spot but my lady crush Aimee Song from Song of Style. In that moment, I internally have a mini freak out and I try to hide the fact that I am foaming at the mouth to go say hi to her. The inner, annoying, self conscious idiot version of me sat there going.. no way.. you can't do it.. she'll think you are crazy and weird. But a few minutes later, I punched that version of myself in the face, grabbed another cocktail and marched on over to talk to her. Too bad she was in the middle of a conversation and I just stood there awkwardly with a goofy smile on my face, completely star struck. I managed to inject myself into their conversation once they noticed how weird I was just standing there and what came out of my mouth was some garbled version of "omg hi… I am such a big fan… you are so pretty… i love your style… inspirational… your dogs… your legs… akdjglefguoieadfjafjoirtfalkjg." She was gracious and said thank you and flashed me that winning smile. I walked away feeling completely lame and apologizing profusely to the version of myself that told me it was NOT the right time to go up to her.
After this defeating moment, I went back to the hotel to have my meetings with three brands I really love! I won't say who just yet. =D The meetings all went well and my spirits were back up. Then it was off to the Kate Spade Happy Hour which took place at that giant faux lawn with the even more giant eyeball. If you don't know what I'm talking about, just go on your Instagram and search #rSthecon. That eyeball is in 87% of the photos. The happy hour was so fun and cute as hell! Totally done up with that Kate Spade flair. Bright colors, fun couches, beach balls, flowers, and a lot of pink. Adorable! And of course… more SWAG. We got to listen to the history of the brand and how they were so happy to be part of the conference. After that, I found my fave ASOS ladies and we hit the bar as usual. I was a little wobbly on my wedges since the event was on a fake lawn, so later I sat and chatted it up with the gorgeous Alexandra. We laughed when we saw each other's Polaroid cameras. We snapped a few shots and I drooled over her sexy Spanish accent. At this point I'm starting to wonder where my husband wandered off to. I later find him among some of the other guys behind the camera. You know… the ones responsible for all the gorgeous photos you usually see on the best blogs out there. He quickly finds a way to ditch me for the rest of the night to go hang out with the guys. He hands me all the things I was making him carry and as I stand there, in 5 inch wedges on grass, gripping all my SWAG in my arms, he turns to the guys and says, "So this is what it feels like." I couldn't even be mad because I had to give him his props. Good one honey… good one. I went off to have dinner with my Chicago ladies and a few sweet local bloggers somewhere away from downtown Dallas. It was so fun chatting about each others blogs, and how different but the same we all can be. Shout outs to The Perennial Style and Life on the Squares!
Then I ended the night in kind of an epic way. Just going to throw out a few words. Guys, night, popping, bottles, Jules, hotel, Wendy, suite, late, night, burritos, champagne, sidewalk, hubby, hangry, eat your own burrito, where did they run off to, oh there they are, good night.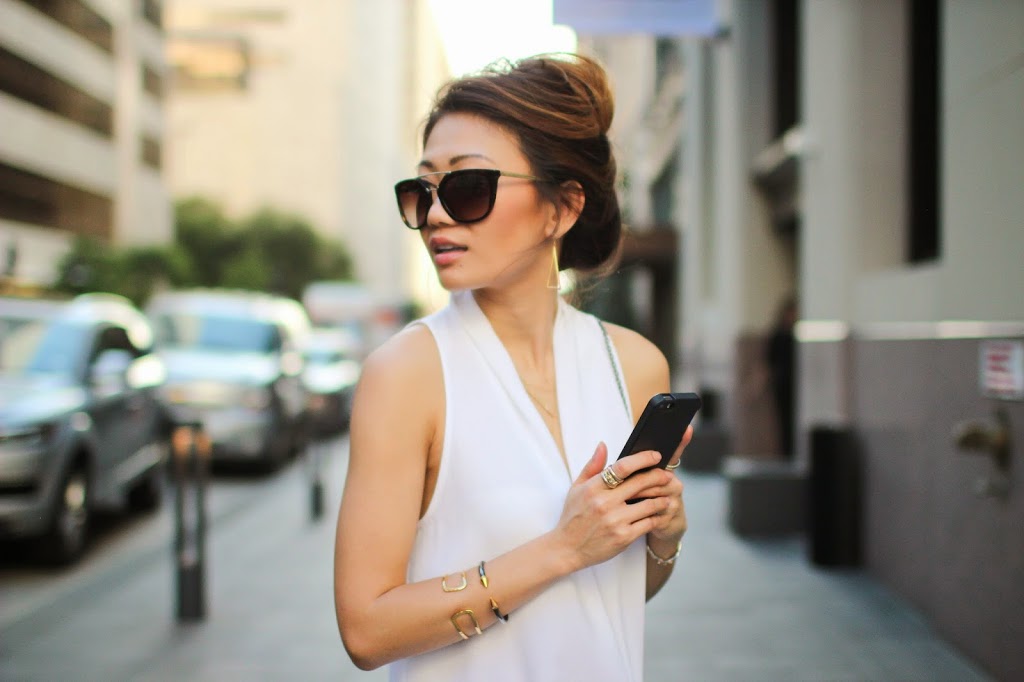 // top – aritzia // shorts – zara // shoes – lanvin // clutch – prabal gurung for target // sunnies – prada // necklaces – gorjana, the jasa necklace, maya brenner // bracelets – gorjana, vita fede //

---
---
//  replicate the look  //
---
---