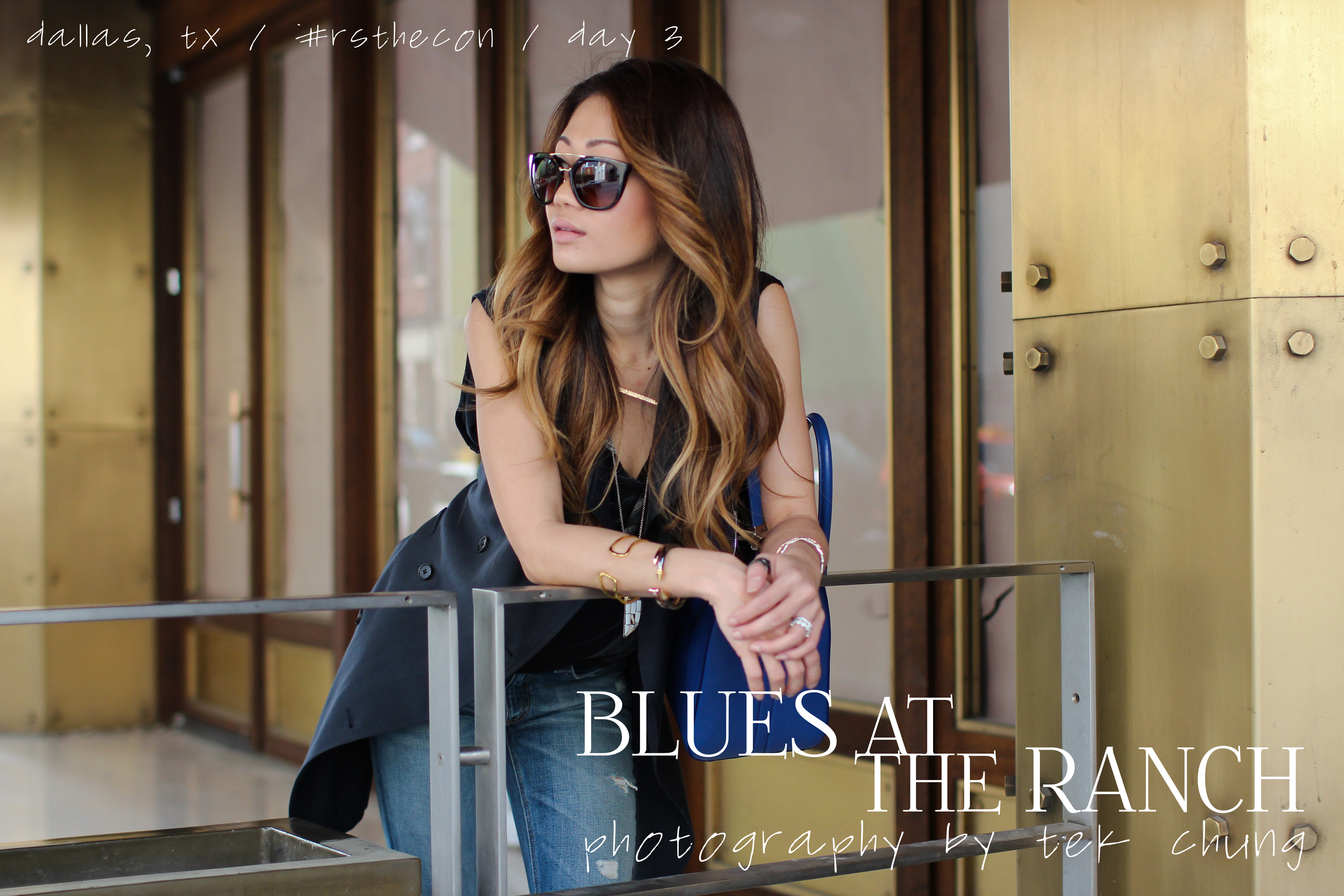 And this was Day Three!  Day Three was a lot more chill and relaxing.  We had a whole brunch set up at the Southfork Ranch which was a kind of far from the hotel.  We had buses that were going to shuttle us to the brunch and some classic Texan ranch time and then back to the hotel.  But obviously, the hubs and I were late once again.  Good thing we had a car or else we would have never made it.  But we weren't the only ones running late which made me feel better.  Wendy and MM were busy packing up and also missed the buses so all 4 of us rolled up to the massive Southfork Ranch together.  There was a bit of confusion as there were multiple buildings.  We of course went into every single one EXCEPT the right one.  Luckily the friendliest man came rolling up on his golf cart and gave us the right direction to go.  But of course you know I just had to ask for a ride.  We hopped right on and as we came down the pathway, a woman with a tray full of mimosas was standing to the side of the path.  She laughed as she saw us rolling up in the golf cart and quickly held out her tray.  We were able to do a drive by mimosa situation which made me feel so boss.  Hahaha!  I mean, we fancy right?  We were pretty late but thank goodness there was still food.  But what was the most entertaining was the mechanical bull they had set up for us.  I saw blogger after blogger straddle up on that bad boy and take the ride.  The best part… watching the face of the guy operating the machine.  LMAO!  Oh he knew he was having the time of his life throwing these women off this bull.  Being that I had just stuffed myself with food, there was no way I was getting up on that thing and risking all that coming up.  I mean, that would have made for some really glamorous photos and surely would have made me some sort of social media viral star #rStheCon #dosupchuck, but I'll pass on that thank you.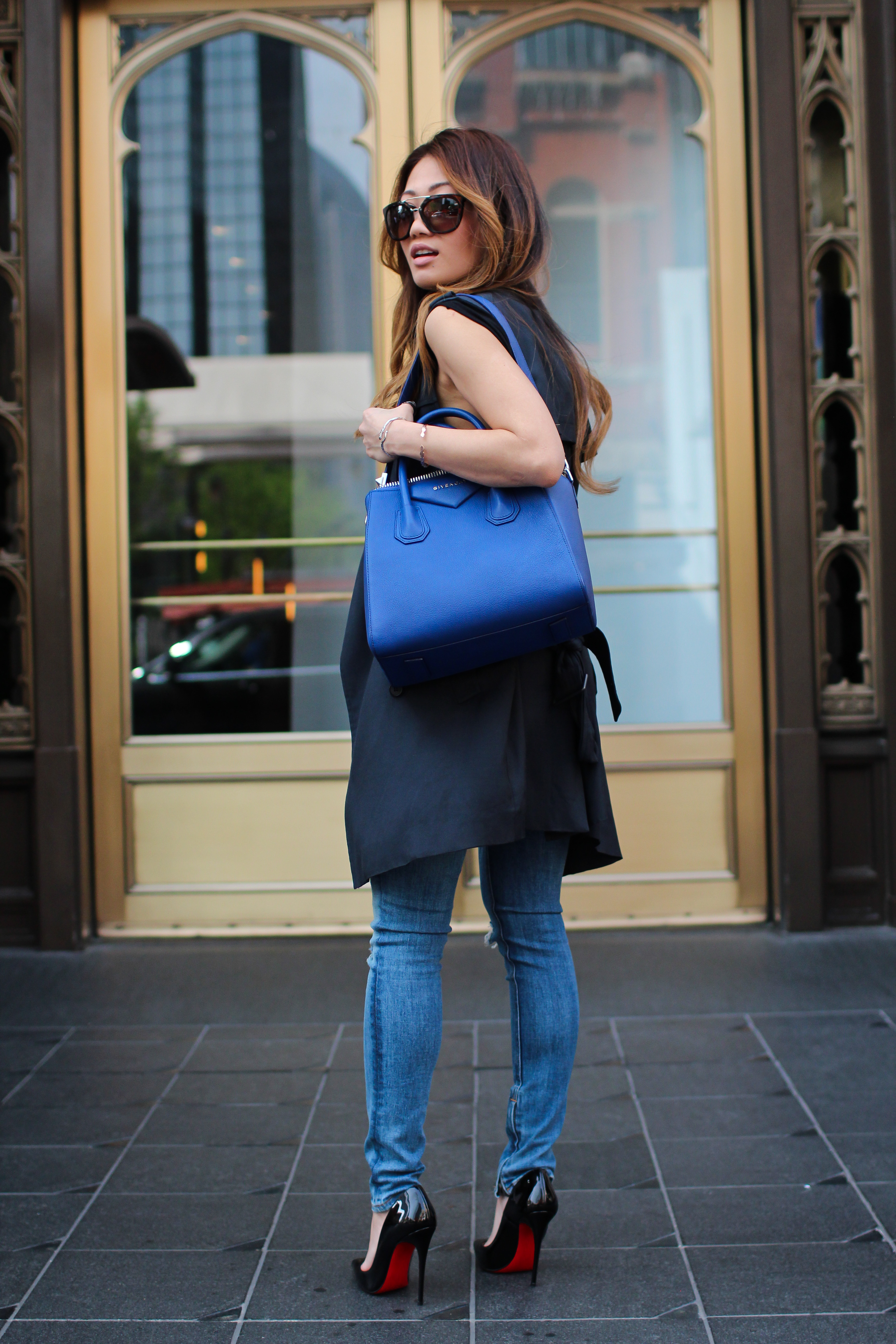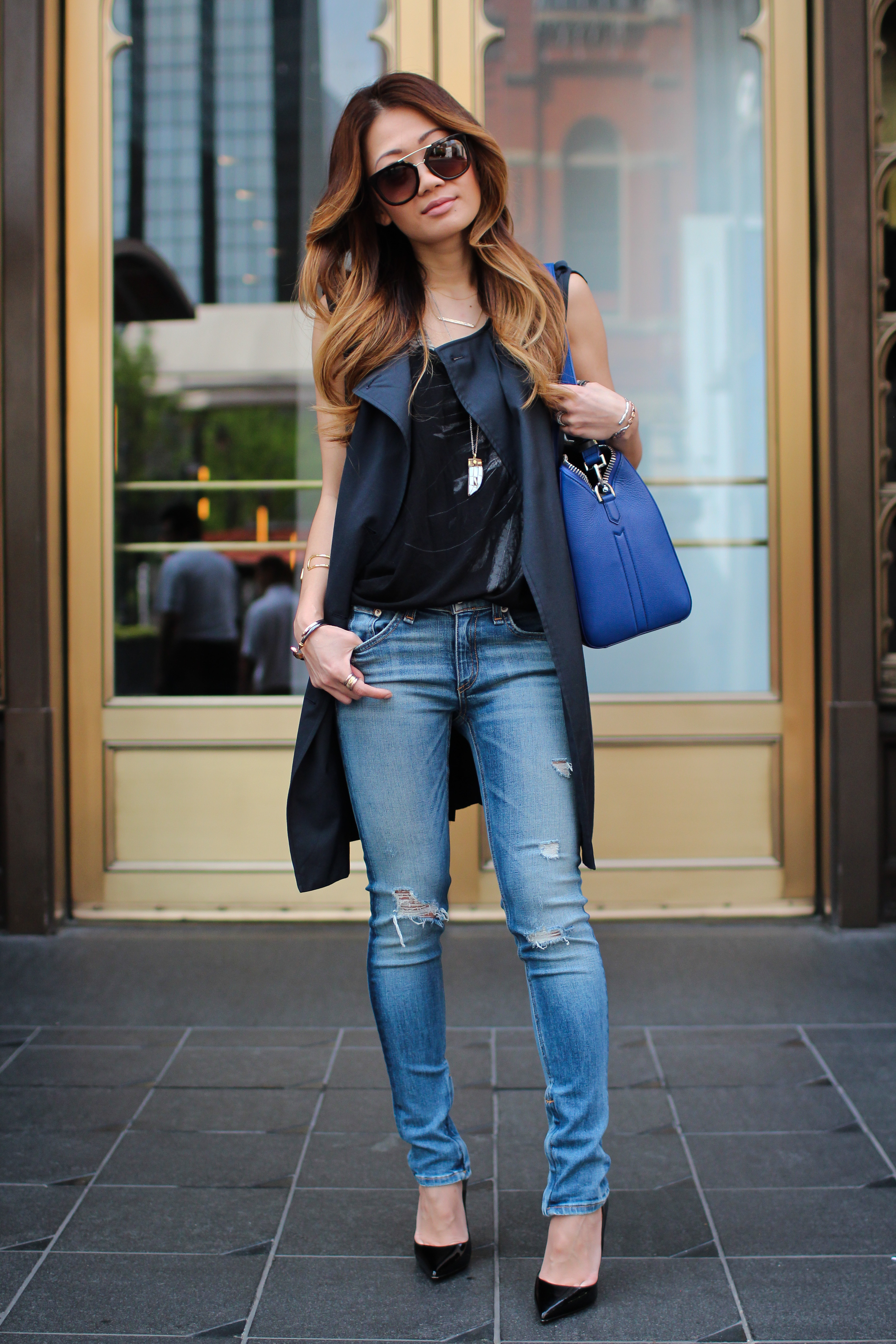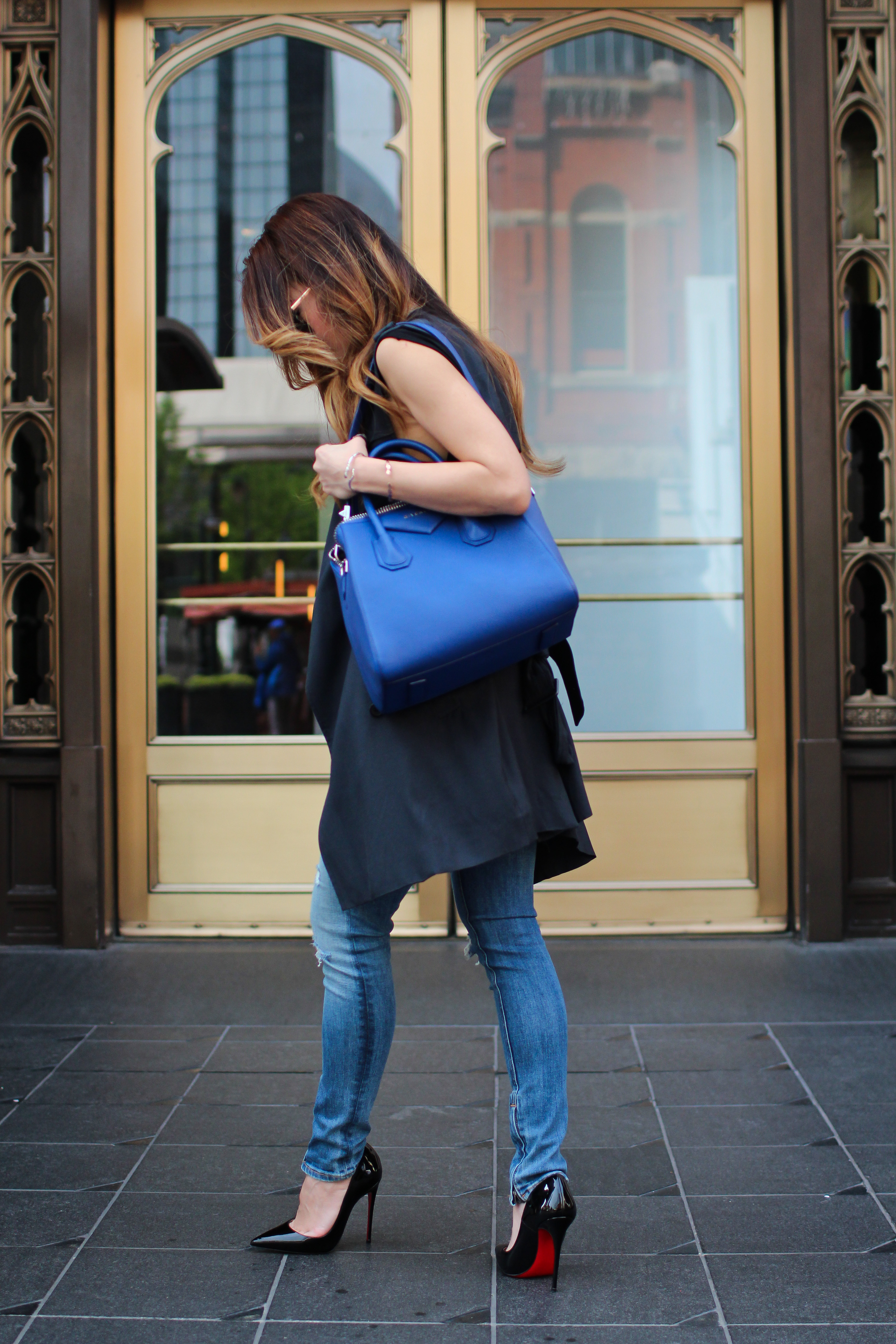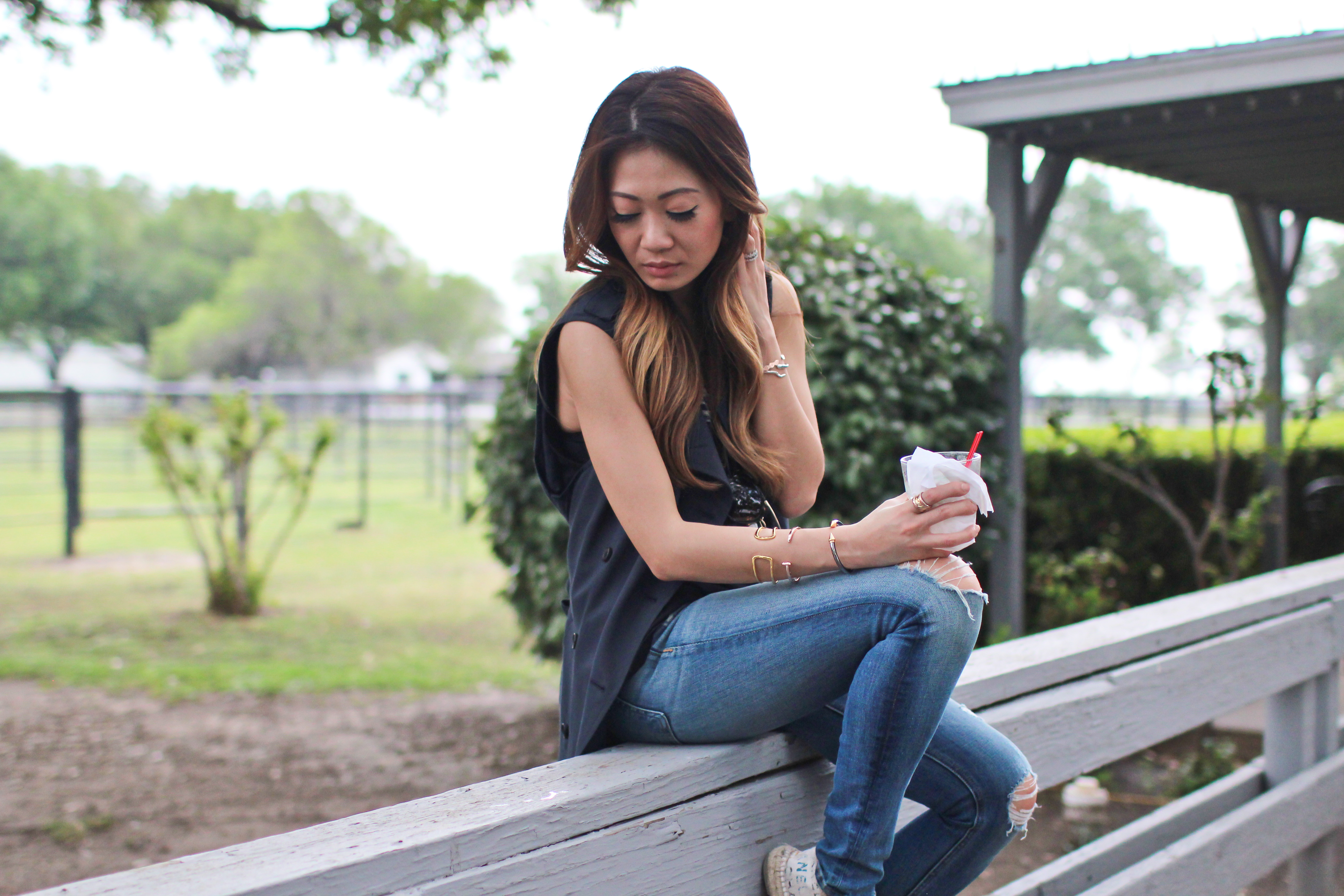 The ranch was such a fun experience especially with all the cocktails.  There were cows and horsies and bloggers in stilettos.  I took some funny photo booth photos with my Rosie boo and played corn-hole with my Tekaroo.  He, of course, cheated like crazy which is why he won.  Yea I said it.  You know you cheated babe!  That entire first round where I was sinking one after the other, you decided it would be considered "practice".  Rematch fo sho fo sho!  There was also a super cute hay ride that we didn't end up doing because we were busy taking these pictures.  I gotta tell you, the most awkward moment is a hay ride full of fashionista bloggers that roll up slowly next to you while you are doing your own little blog shoot.  And of course they don't mean to stare but they stared.  Though I know they all understood what I was doing because they have all been there, I still felt weird and nervously just sipped on my vodka soda.  And by sip, I mean deeply sucking it down through that little red straw.  I think back and I find it quite funny now.  The Southfork Ranch was super fun and overall a great Texan experience.  I guess it was where they filmed the show Dallas.  Having never watched the show, that factoid affected me little.  I was still extremely taken back by the beauty and wide expanse of the ranch.  Thank you to the rStyle team for putting this all together!
Now onto the real business at hand.  Notice anything different?  No not on the pictures.  Just take a look back if you are on your computer and take in the beauty.  LOL.  Yes, that's right.  DOS has gotten just a tad bit fancier.  I know right?!  Who does she think she is right now?  With the new header, the menus that rise from the bottom, the change of color upon hover, all this organization of posts and categories… what a total uppity betch.  But yes, I have stepped up my game.  Only to give you guys a more pleasurable internet experience.  However, calm yo self and don't go clicking around everywhere too much.  You will find some things are just there as placeholders as I am still trying to figure out the best way to chop this up.  Most of the menus that link out are operational.  Such as WHERE I SHOP, BLOGS I STALK, VIDEOS.  Also don't forget about the menu bar at the tippity top!  My favorite tab is the SHOP WITH DOS that shows you some of the things I am creeping on right now.  Also good for my husband to see what he can get me… you know… on a random Tuesday or something.
You will find that a lot of my posts aren't here yet.  Yes, I am painstakingly having to fix each one and make it more WordPress friendly and pretty.  And because I suck at all this, it will for sure take me some time to get it all up.  In the meantime, if you want to creep on old posts of mine, by all means, click on the "DOS TIME MACHINE" tab on the bottom of the desktop version and it will take you to the old blog or what I like to call "vintage DOS".  But so far, what do you y'all think?  I would love some feedback from everyone and please let me know how things are showing up on your various electronics… phone, tablet, computer, etc.  If there are any issues, please let me know!  I want to thank my bestie Laura of LL Creative for helping me put the framework of this new look together.  She is the only person who I can trust to understand me when I say, "I kinda want that menu bar thingy to be on the bottom with sub menus that rise up.  Rise up like a phoenix into the sun!"  I've had to learn some coding for myself as well.  Definitely takes me back to my Asian Avenue days when I was all bomb dot com with the HTML.  Yea shit got real complicated now.  My basic HTML no longer cuts it in this world.  So please pardon the dust as we finish the construction of this new and hopefully improved site.  You see there is even a little spot for my hubby!  I really want him to try blogging… maybe even vlogging.  Can we all just tell him how much we want him to do it!?
Anyhoo… I hope you guys enjoy these changes.  Right now I would say the best viewing is on a computer.  Still trying to work out the kinks for mobile optimization and fancy shmancy stuff like that.  I have spent many countless hours and sleepless nights fumbling around with css coding and the WordPress dashboard and all this jazz I just have no idea about.  I have Googled the most random phrases about WordPress and coding and plugins and widgets.  I have also learned that going from Blogger to WordPress is not easy peasy because this hands down was the worst experience I've ever had being a blogger.  Knee deep in codes and scripts… making changes and the crossing your fingers that you didn't eff anything up!  But in all honesty, I think it is becoming worth the pain. I am really liking the direction this is going. So with just a few more tweeks it should be golden. I hope you guys like it! Again let's make this version of DOS more interactive as I love to hear from everyone! Please let me know what you like, what you want to see more of, and if you run across any issues on the blog via computer or any other device.  Thanks lovers!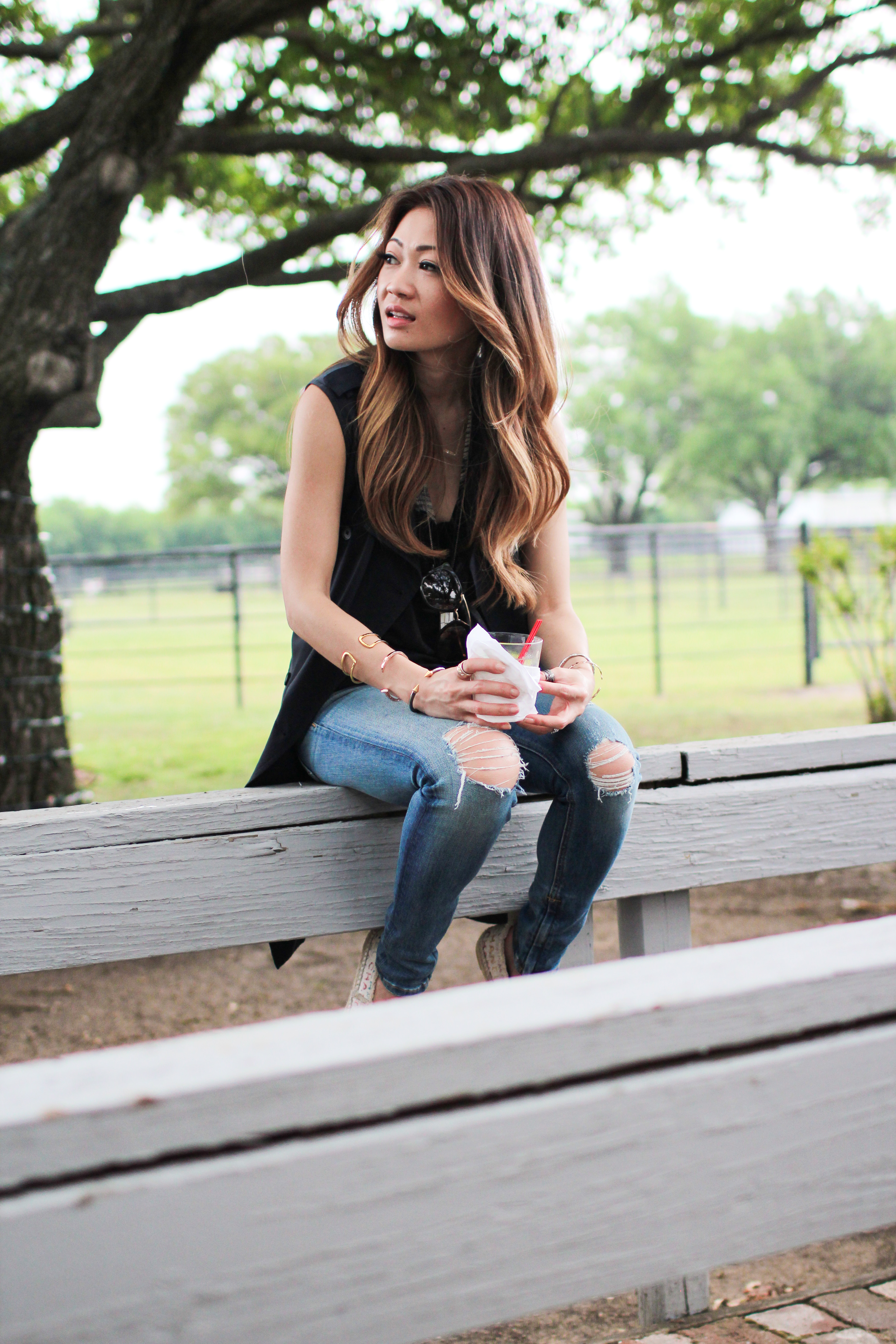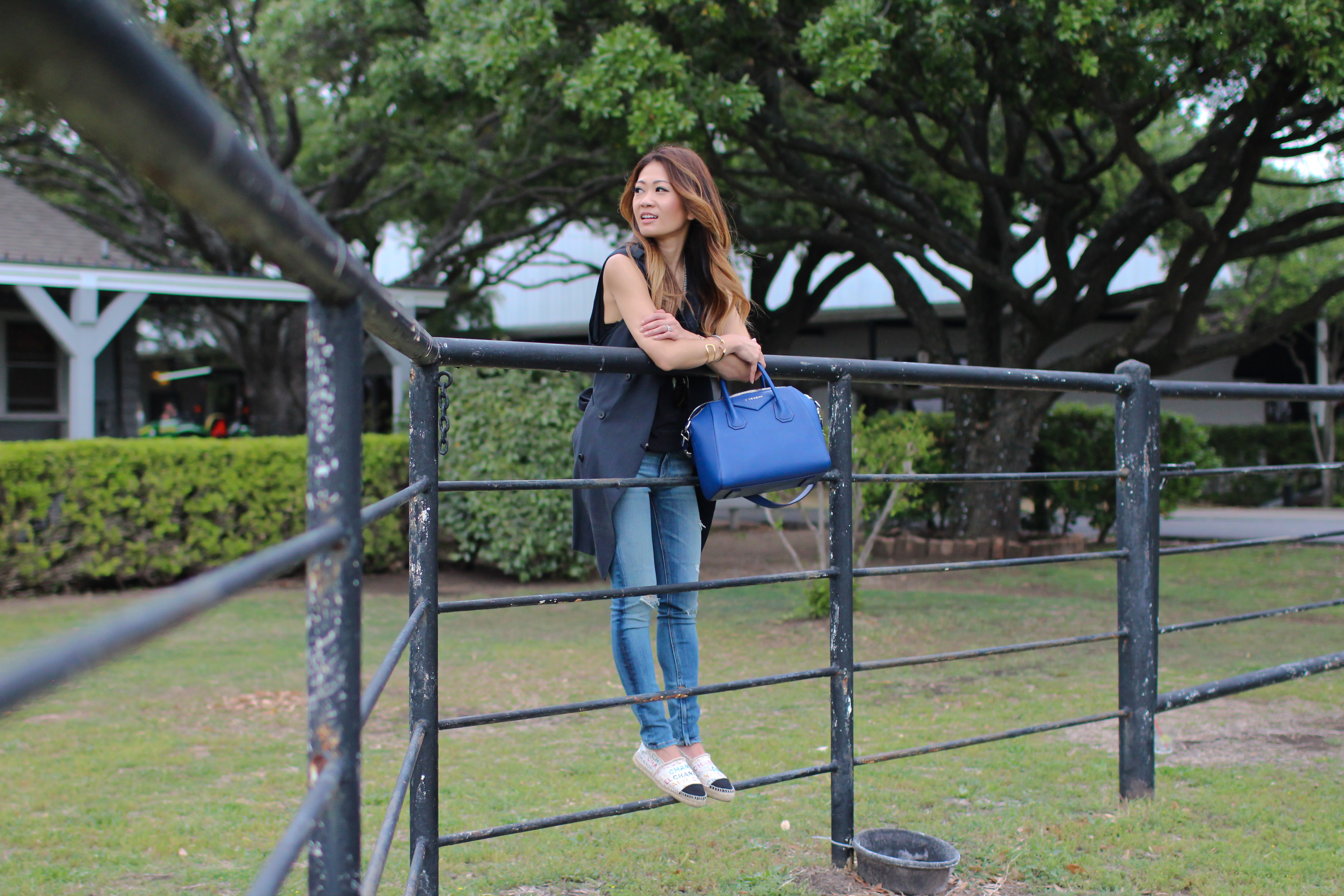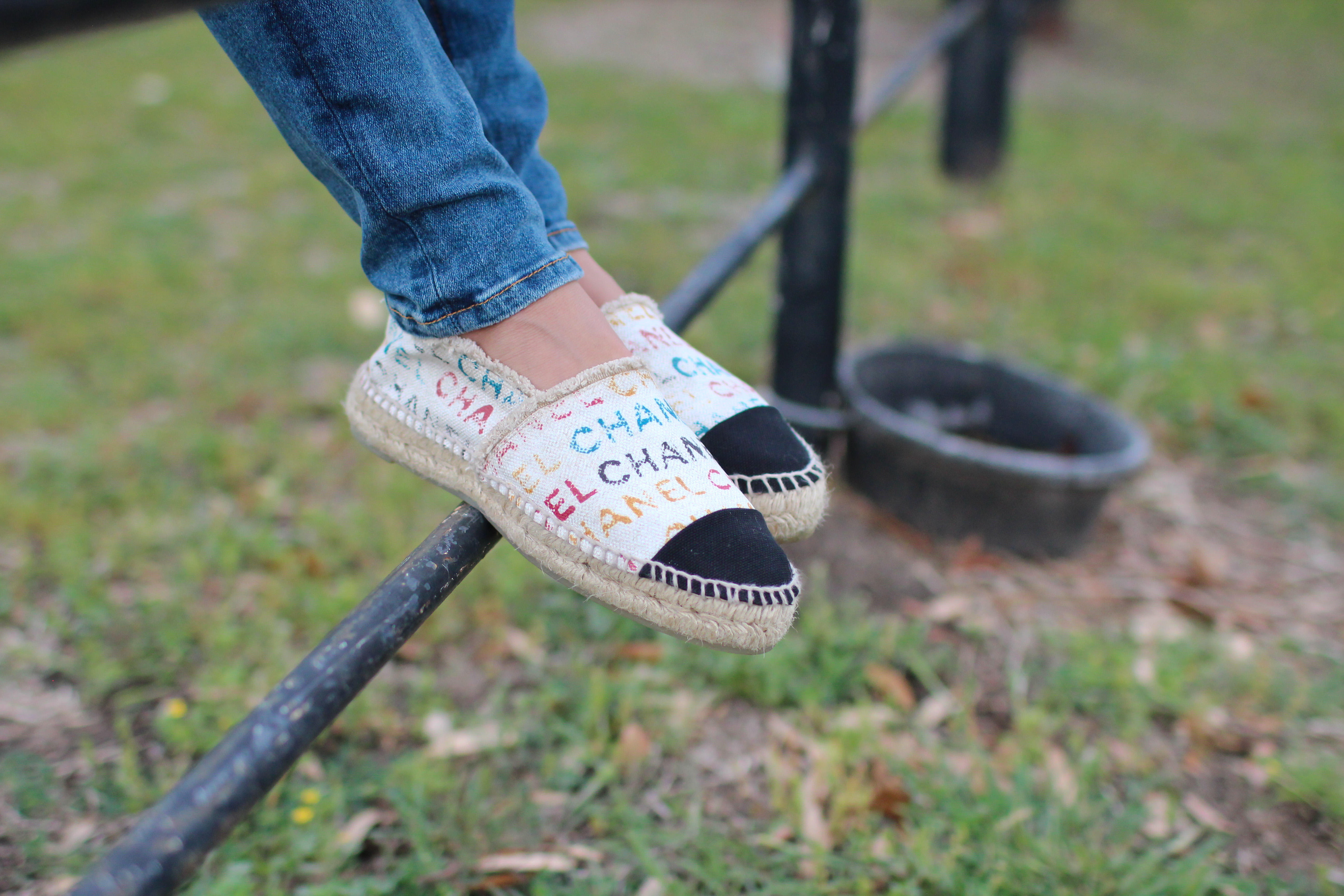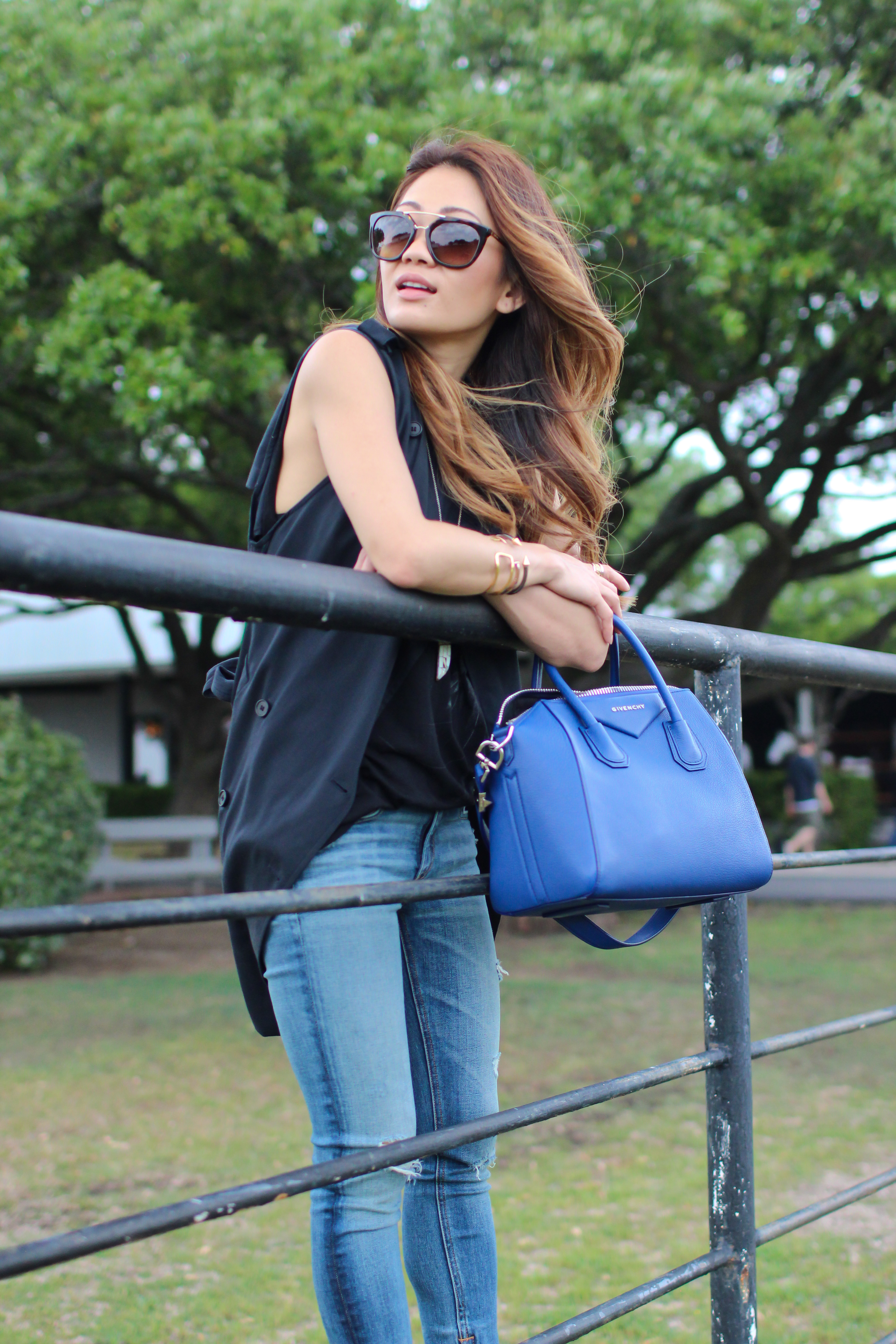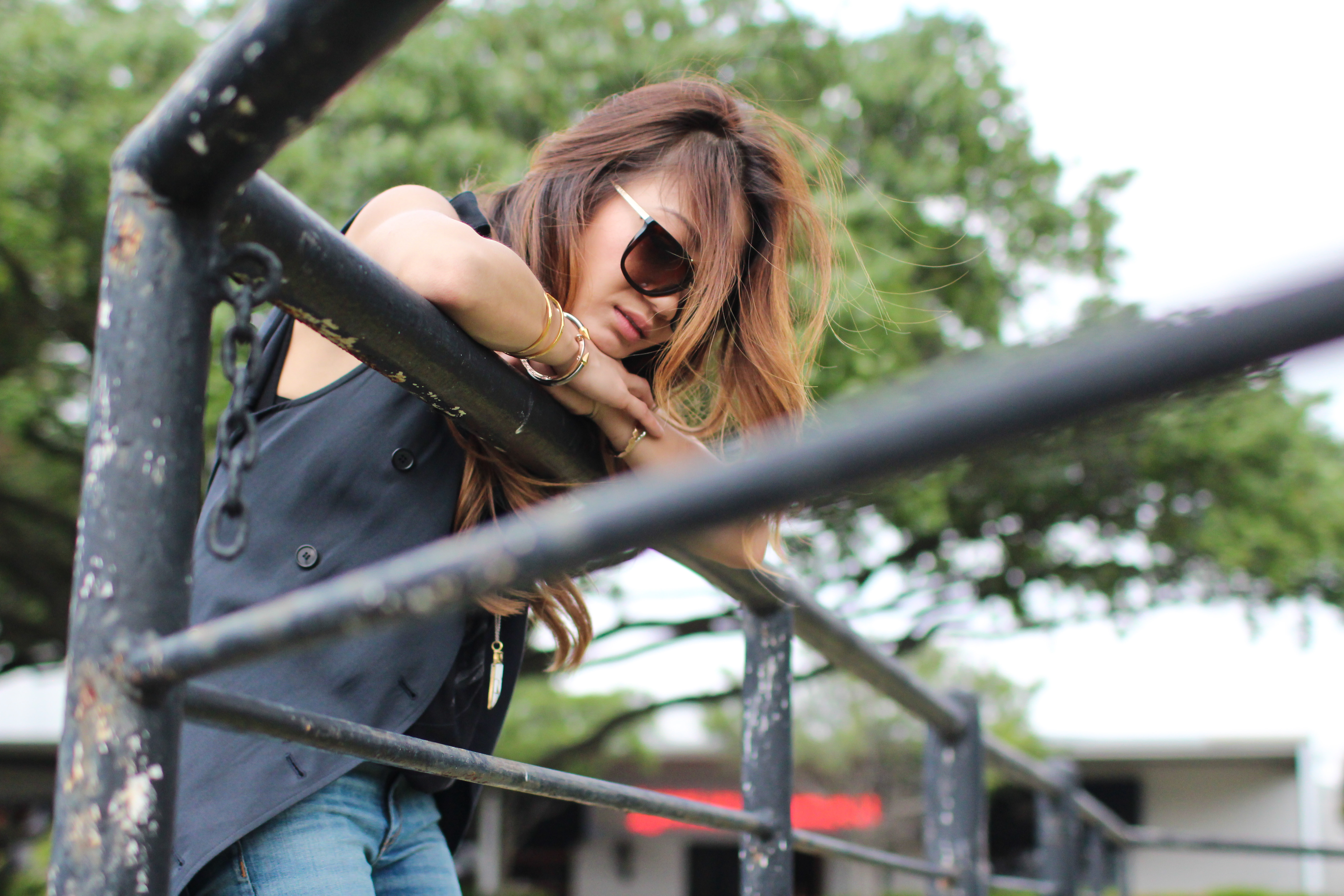 //  sleeveless trench – all saints  //  jeans – rag and bone  //  top – thanks to andrew marc  //  sunnies – prada  //  jewelry – thanks to gorjana, vita fede, nasty gal, the JASA necklace, maya brenner  //  shoes – christian louboutin and chanel  //  bag – givenchy antigona small  //

---
---
//  replicate the look  //
---
---