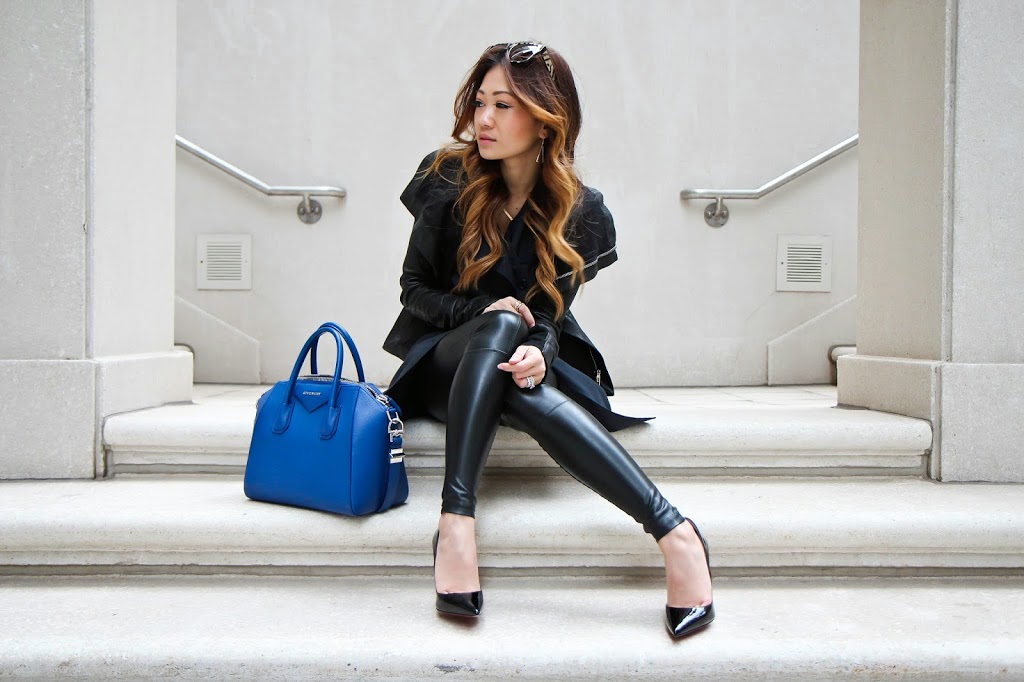 Why hello there lovers.  Gawd, I don't even know where to start.  So many things happened in such a short period of time.  Not to mention I drank a lot this past weekend so it's all kinda fuzzy wuzzy.  To start, I guess I'll talk about this new adventure I am taking on with my partner in crime and all things random, LC.  Basically we started, what she likes to call, a girl gang appropriately named Ladies Who Booze.  You must all think I am a raging alcoholic at this point.  No I am not and that is not something to joke about.  But I do love to kick back once in a while with a drink in hand after a rough day at work.  And I figured, I'm sure there are other lady friends that do the same.  I started thinking about the term "ladies who lunch", which I am not too proud to say I Wikipedia'd.
"Ladies who lunch is a phrase often used to describe well-off, well-dressed women who meet for social luncheons, usually during the working week. Typically, the women involved are married and non-working. Normally the lunch is in a high-class restaurant, but could also take place in a department store during a shopping trip. Sometimes the lunch takes place under the pretext of raising money for charity." – Wikipedia
Then I thought, women today are so NOT that anymore.  We've risen above and are now so much more multifaceted and are proud of it.  So I took a very old school mentality of ladies who lunch and gave it a modern spin with Ladies Who Booze.  Where modern women still get together and meet other amazing women and discuss various topics of interest from fashion to business to relationships to food, what ever floats your boat, all over a cocktail or a diet coke (no you don't need to booze to be part of this).  I want to feature the amazing women I know in my life as well as go forth and meet new ones!  We all have something to offer each other.  True we have our friends but sometimes they might not understand one aspect of who you are.  Wouldn't it be great to be able to reach out and find someone who gets it?  We at Ladies Who Booze want more women to help other women become a better version of themselves through love and support or even if it's just someone to have a glass of wine with and vent with.  This new adventure of ours is still in the baby stage where we are trying to get a better handle of what we want to do, the goals we want to accomplish, and how to go about it.  Buuuuuuuut I wanted to let you all know that this is happening.
I want to break down the walls ladies sometimes build up to protect themselves from other ladies.  We should not be so catty and so judgy and soooo un-supportive of each other.  Let's raise each other up because we understand each other, sometimes much better than any of the men in our lives.  You should feel safe in your skin and also AMAZING, because you are.  And your ladies are behind you to tell you so!  If you don't get it, just listen to Beyonce's song Flawless.  Though I'm sure no one wakes up like Beyonce does, we still are flawless in our own right.  And no this is not a we want to crush the boys club though we may complain about them here and there.  This is empowering women in their own way and creating a network of all types of ladies!  We are powerful and together we can make powerful changes.  Which brings me to my favorite quote:
"There is a special place in hell for women who don't help other women." – Madeleine Albright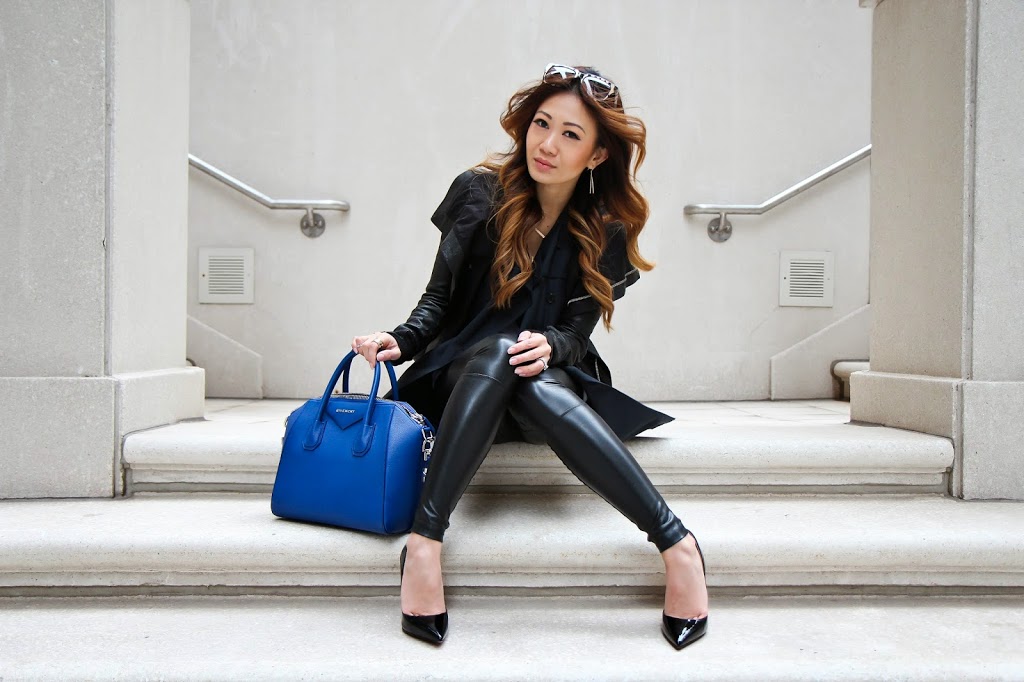 And speaking of feeling powerful, every lady needs a pair of powerful pumps!  Like that transition I did right there?  Hehehe… I recently and FINALLY was able to get my hands on the So Kate shoes by Christian Louboutin in my size.  I have ridiculous baby sized feet so I had to wait around until my size was available again.  When that phone call came in from the New York Madison store… woosh… out came the credit card and it was a done deal.  They came in and gatddamn they hurt.  Shocking?  Hell no.  You don't buy a pair of Loubies because they make you feel like you are walking on clouds.  You buy them because it makes your feet look hot like sex and that feeling radiates all over you making you feel like the hottest mctottie that ever totted.  Even though you may look like Bambi trying to walk for the first time, the "just standing" version of you is WERKING that shit!  Wearing these shoes instantly give me a little boost in confidence in a way my lady friends totally understand.  I know some of you are saying, why would buy love shoes that are so painful to even walk in.  Valid question.  Here's my answer, scroll down to the second to last picture in this post and I dare you not to feel some sort of tingle.  Feel that little wave of "ooOoOOoh" before you get to the "ouch that looks painful" scowl?  You know you felt it.  Be honest.  Wearing a pair of what I call "power pumps" can transform how a gal can feel about herself.  It doesn't have to be a Louboutin, but something about a stiletto heel and being that much closer to the sky…. sigh… you just feel more bad ass, like you could accomplish anything.  Like you are going to turn heads, and people will take notice.  Maybe it's all some fantasy in my mind, but at some level that's what matters right?  What I think of me?  And with heels like the So Kate, I think me is AWESOME SAUCE! … now where did I stash those flats…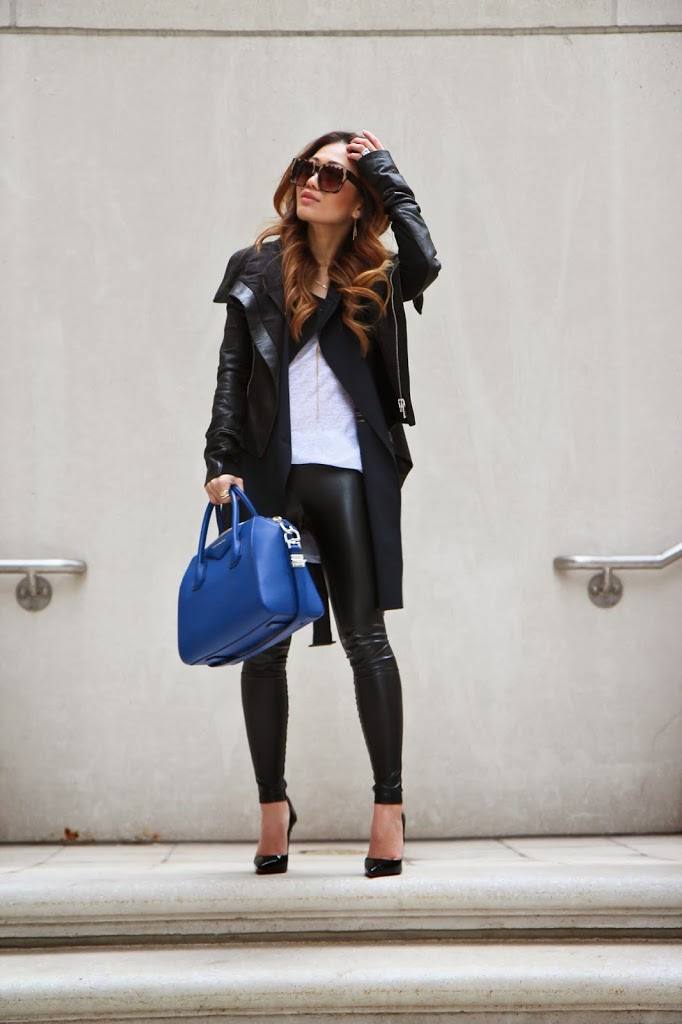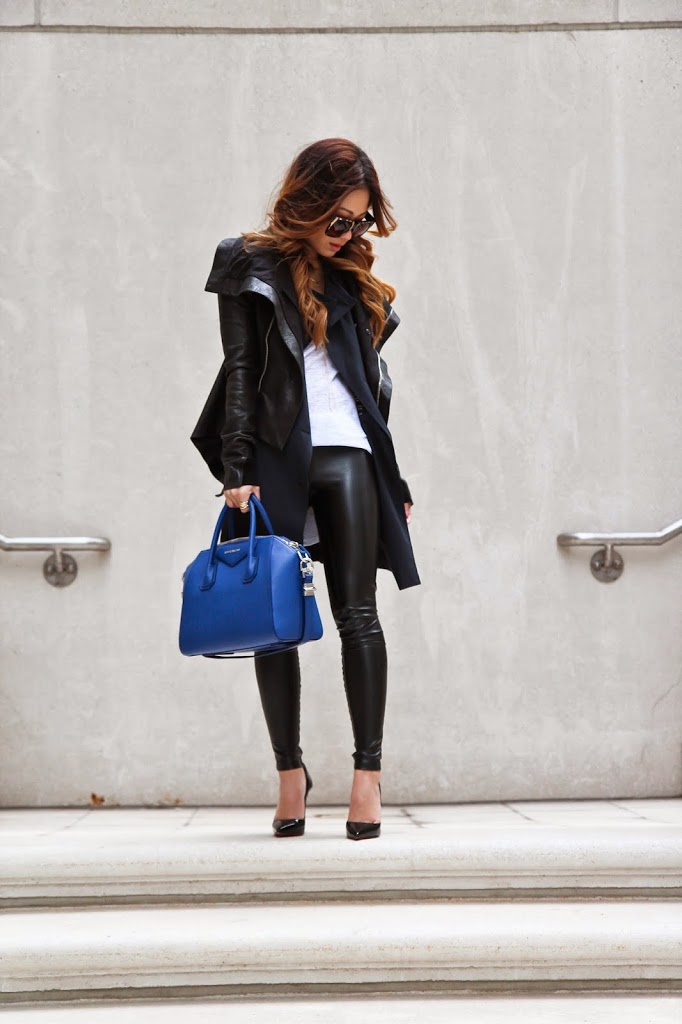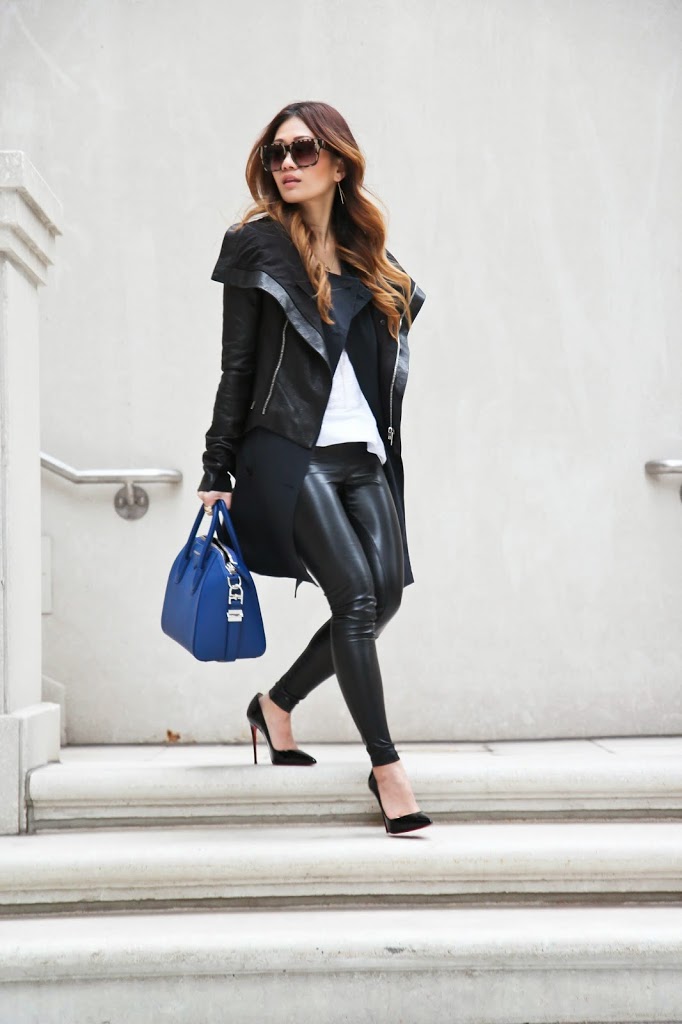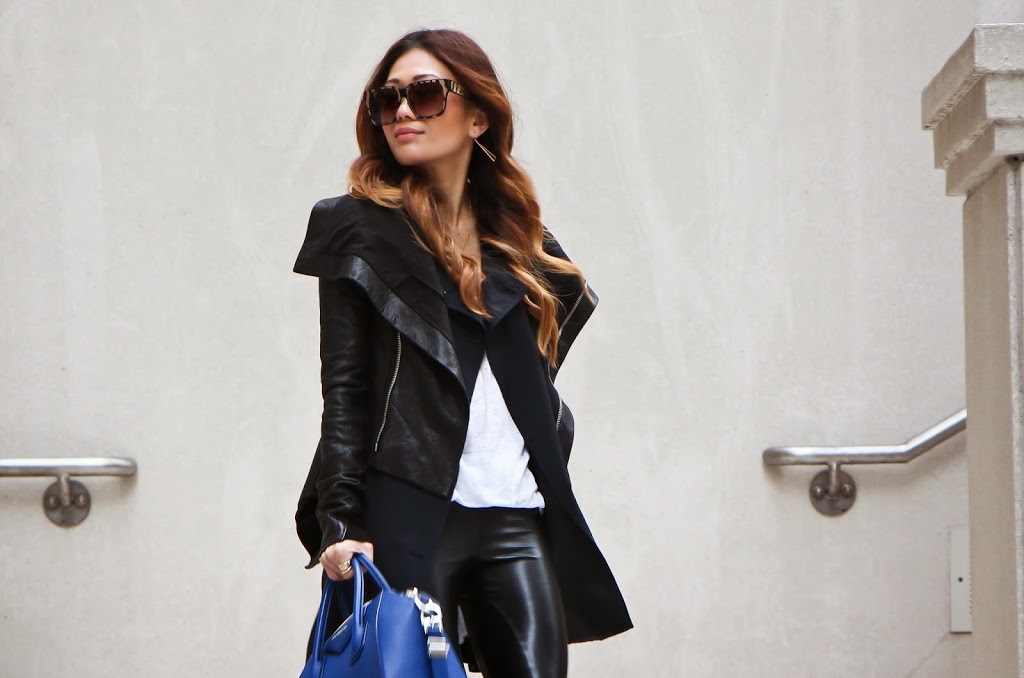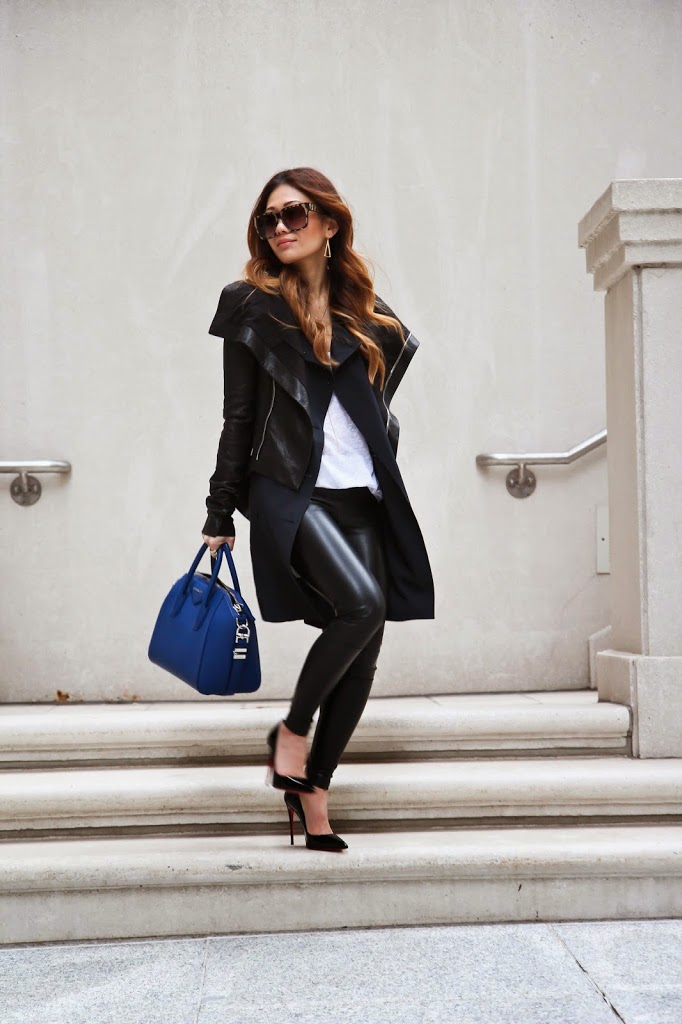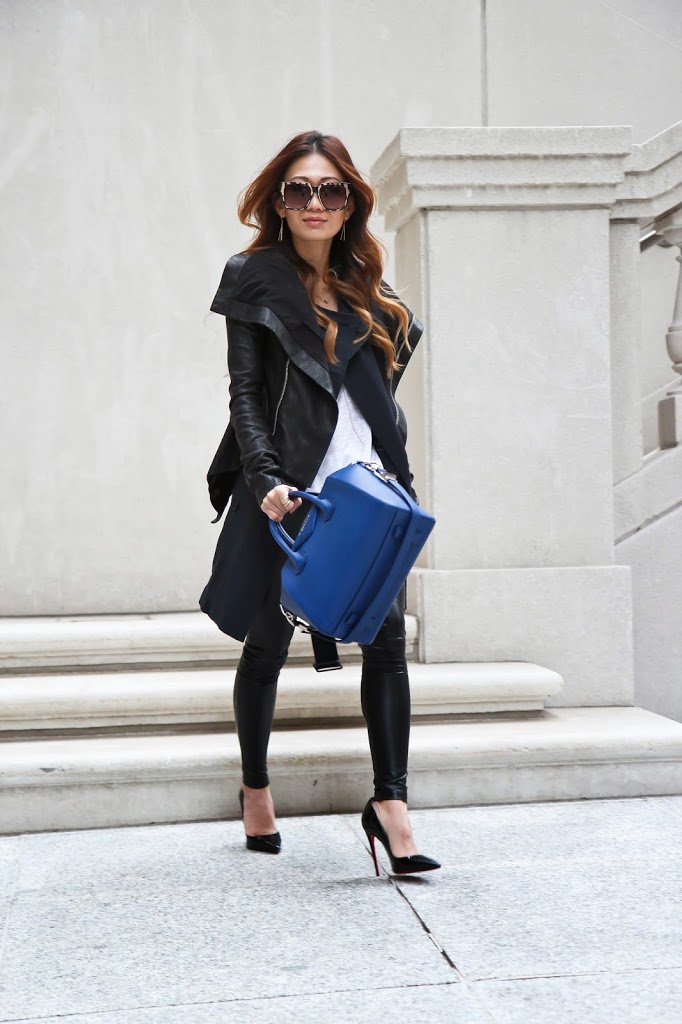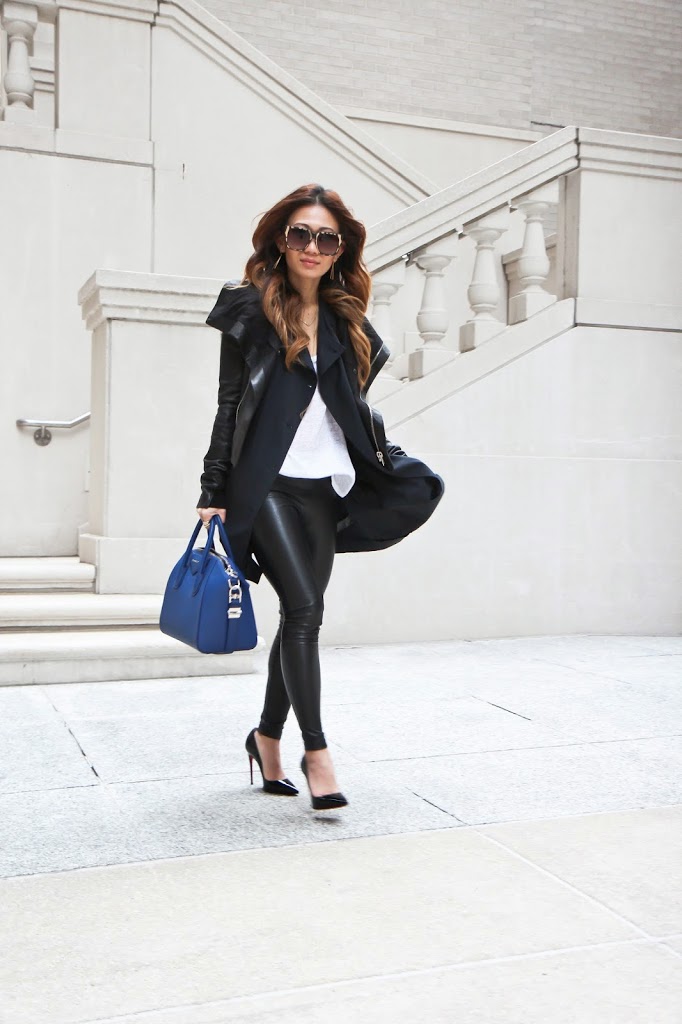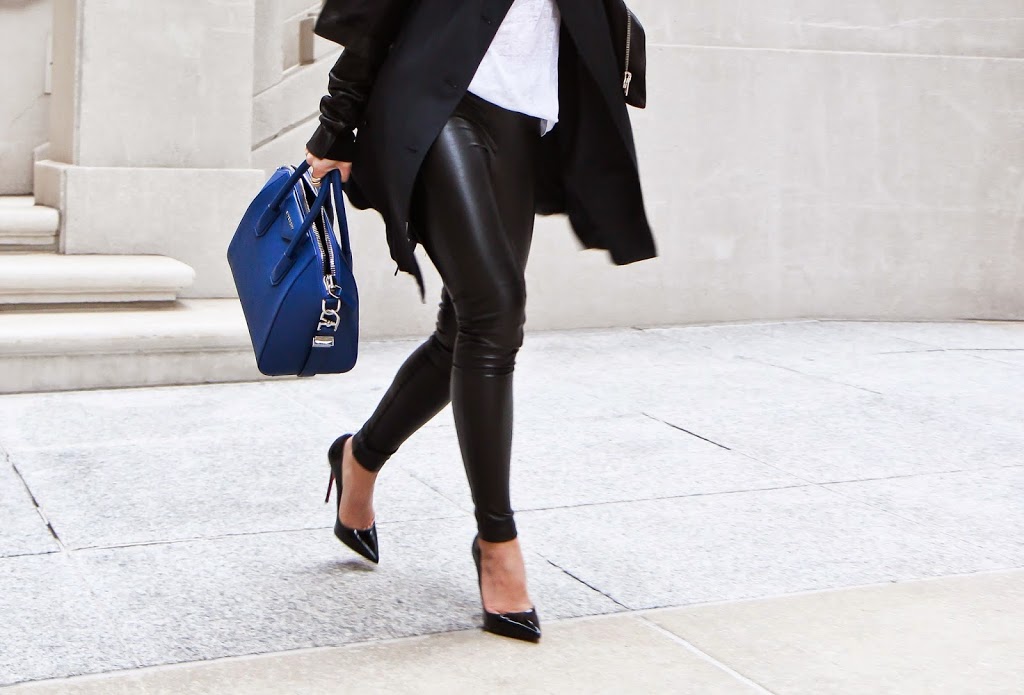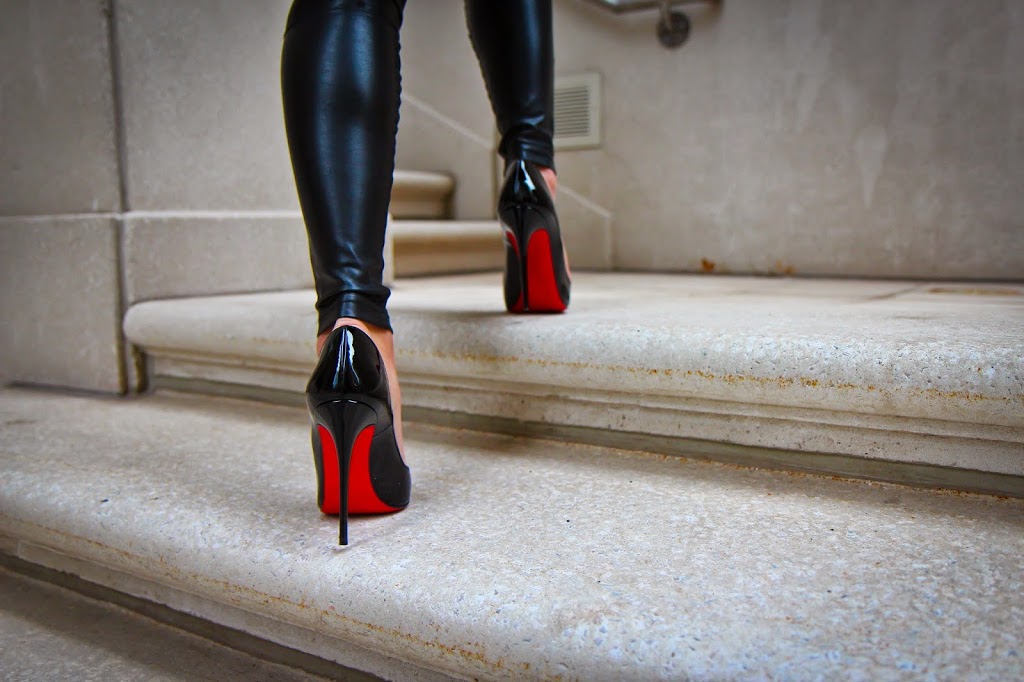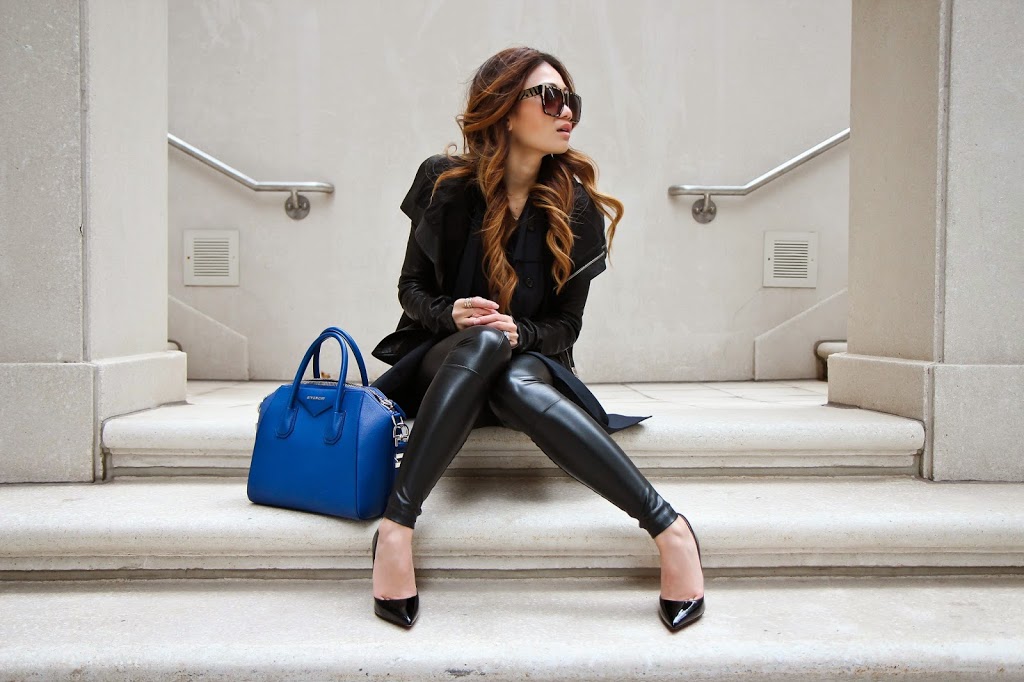 //  Jacket – Rick Owens  //  Sleeveless Trench – All Saints  //  Faux Leather Leggings – Aritzia  //  Shoes – Christian Louboutin So Kate  //  Bag – Givenchy Antigona Small  //  Sunnies – Anna Karin Karlssen  //
Please follow Ladies Who Booze on Twitter @ladieswhobooze, Instagram @ladieswhobooze, and Facebook @ladieswhobooze.  Website coming soon!  We thank you for your love and support in these early stages!