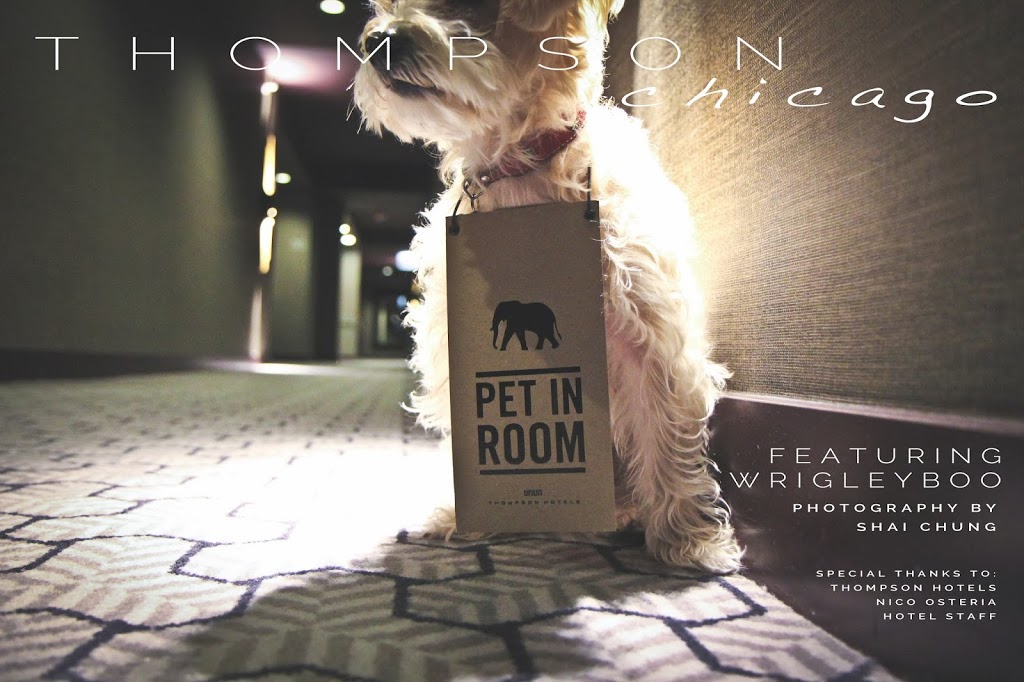 WOOF WOOF! Hi everyone! It's me, Wrigley! If you didn't know, I am the cute and furry one in the family. I'm a little nervous because I've never blogged before. But I thought it would be fun to try and that I'd give my mommy a little break and tell you all about my New Year's Eve and New Year's Day experience at Thompson Chicago Hotel! If you didn't know, my daddy's birthday is New Year's Eve and this year my mommy came up with a last minute surprise for us all to stay at Thompson Chicago Hotel for the night and ring in the new year at the hotel lounge with some human friends. I must say, I was just as surprised as daddy. It's my first time ever staying at a hotel and boy oh boy, it was such a fun adventure!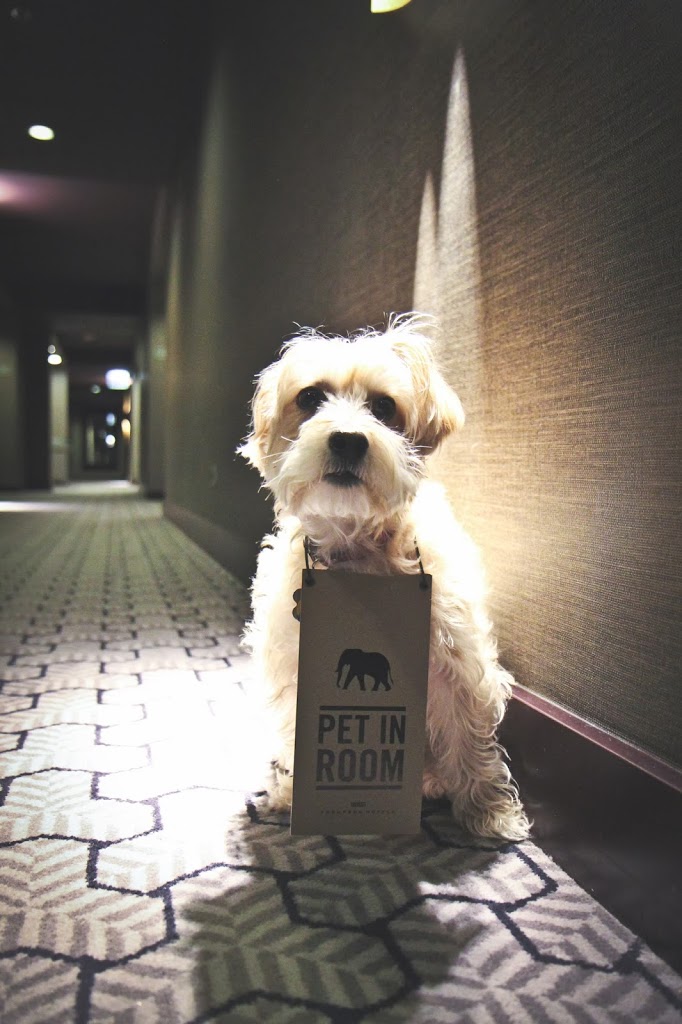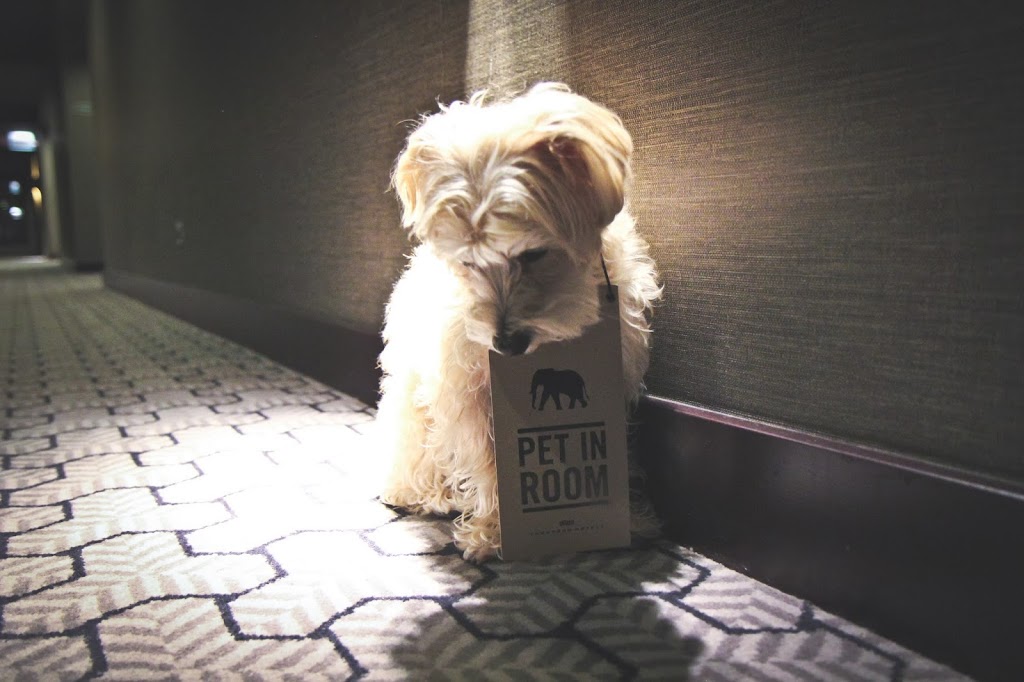 Mommy and I checked into the hotel first just to make sure everything was settled and ready. As soon as we got there, everyone greeted me with lots of smiles and treats! The nice humans outside with the black coats have some really nice yummies hidden somewhere. I have never been to a hotel before so I had no idea what to expect. So many new smells and sounds and sights! We went up to the reception area and mommy put me on this handy little shelf right at the counter so I was able to pop up and say hello to the receptionists and help mommy check in. I wanted to make sure they knew it was my daddy's birthday and my first time at a hotel. I have a feeling this little shelf was for the ladies to have somewhere to put their purse as they check in. How handy for the ladies and for little puppies like meeeeee. I got lots of pats on the head which I loved. I took a quick look around and everything was so pretty. I usually like to piddle on carpets and furniture that I don't know but this stuff was just too nice and too pretty so I left it alone. The main lobby has these giant wood shelves with fun little knick knacks to look at. Not for chewing. Just looking, in case my fellow furry friends read this. One side had a nice cozy fireplace where you can just wait around or read a newspaper in the lobby. Every single seating area looked so comfy that I couldn't help but jump on a few. I like to embarrass my mommy when I am out in public. But a pup's gotta do what a pup's gotta dooooo.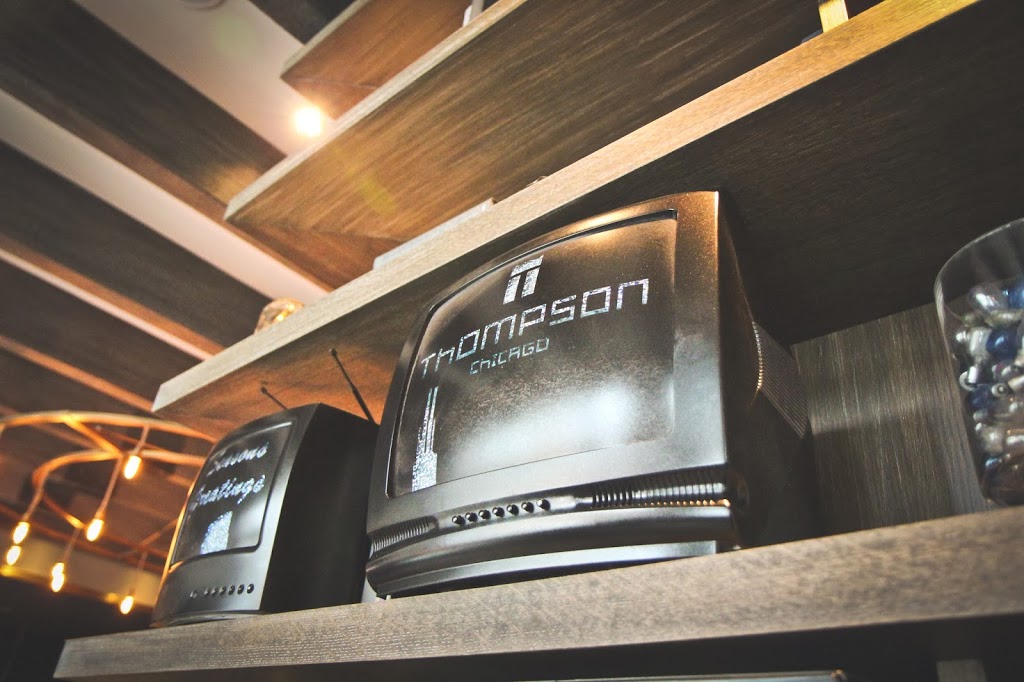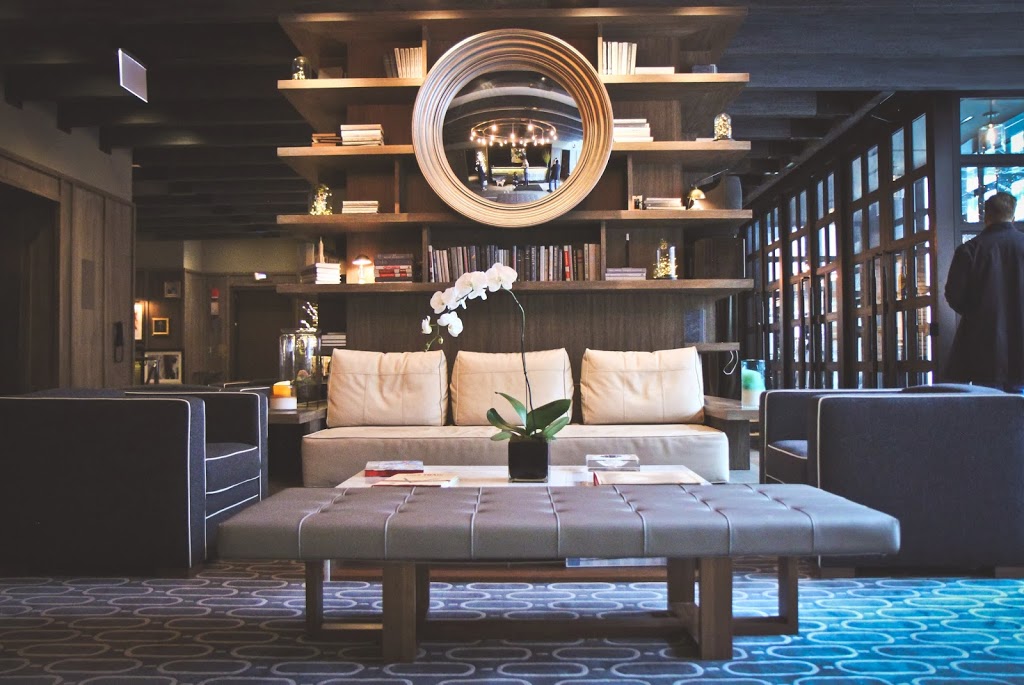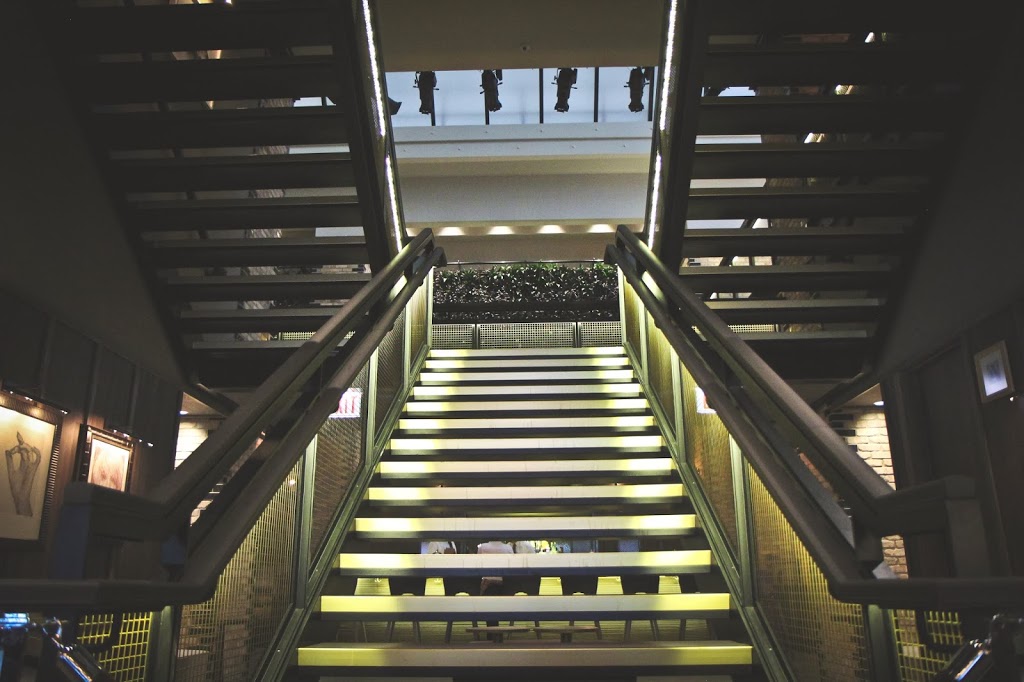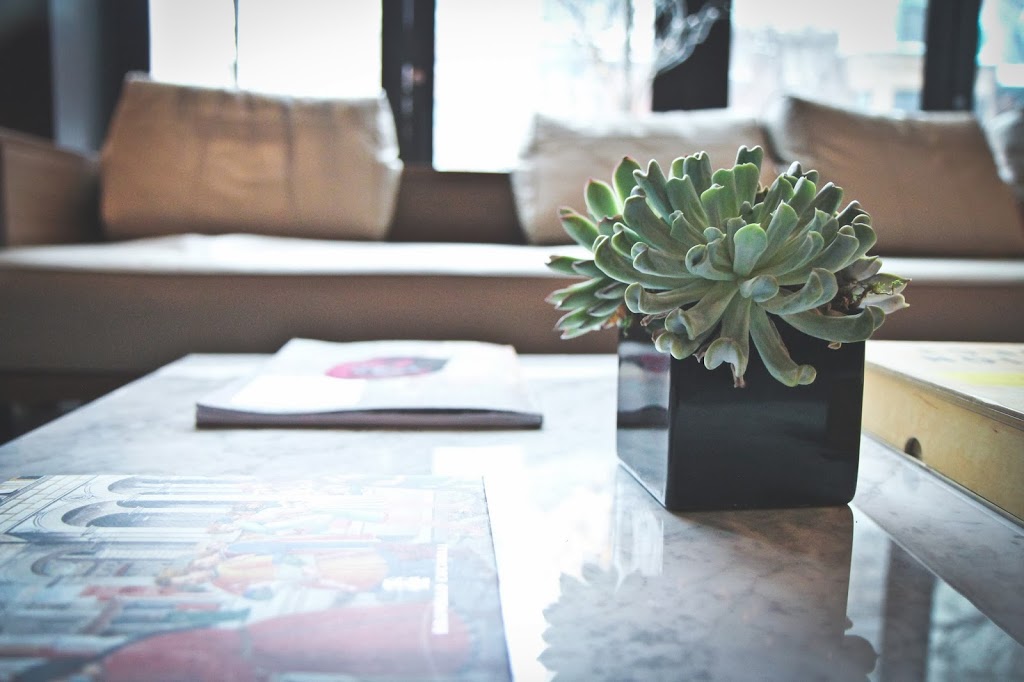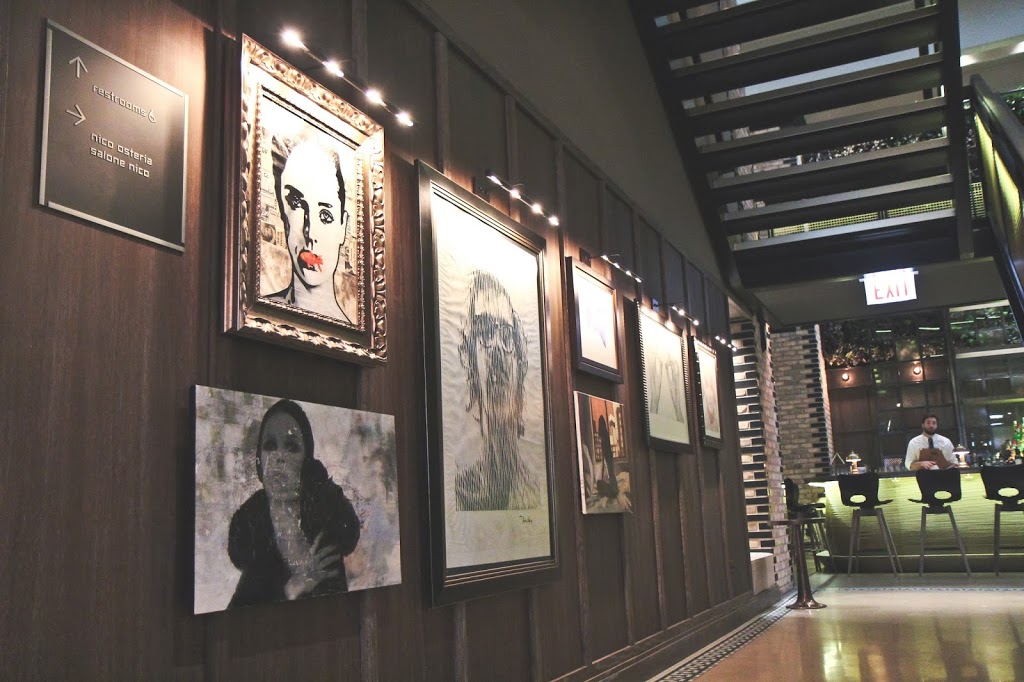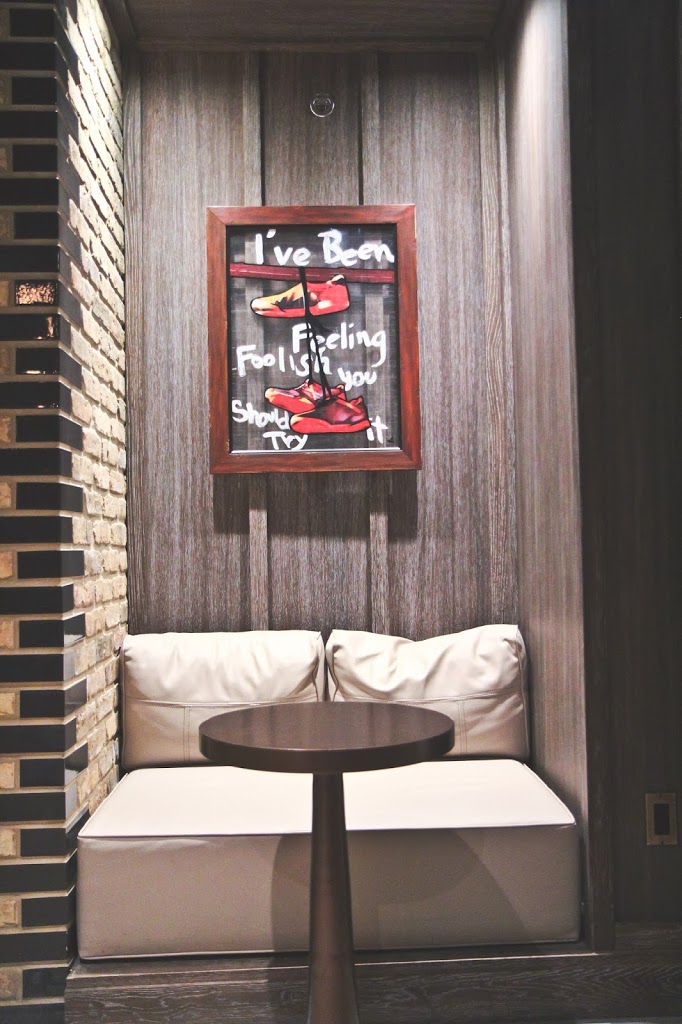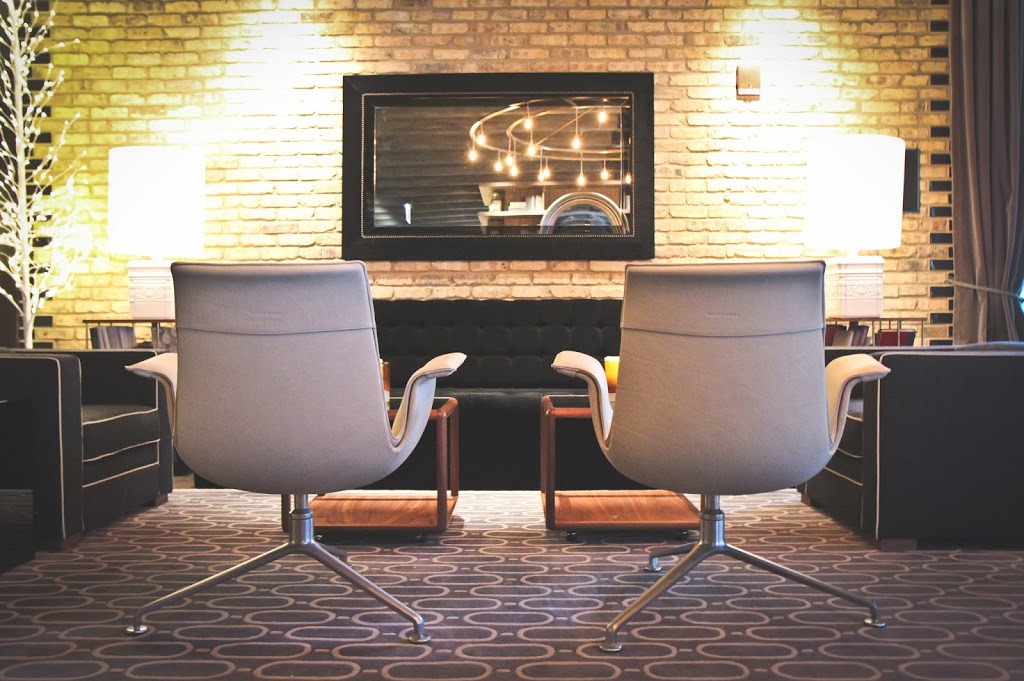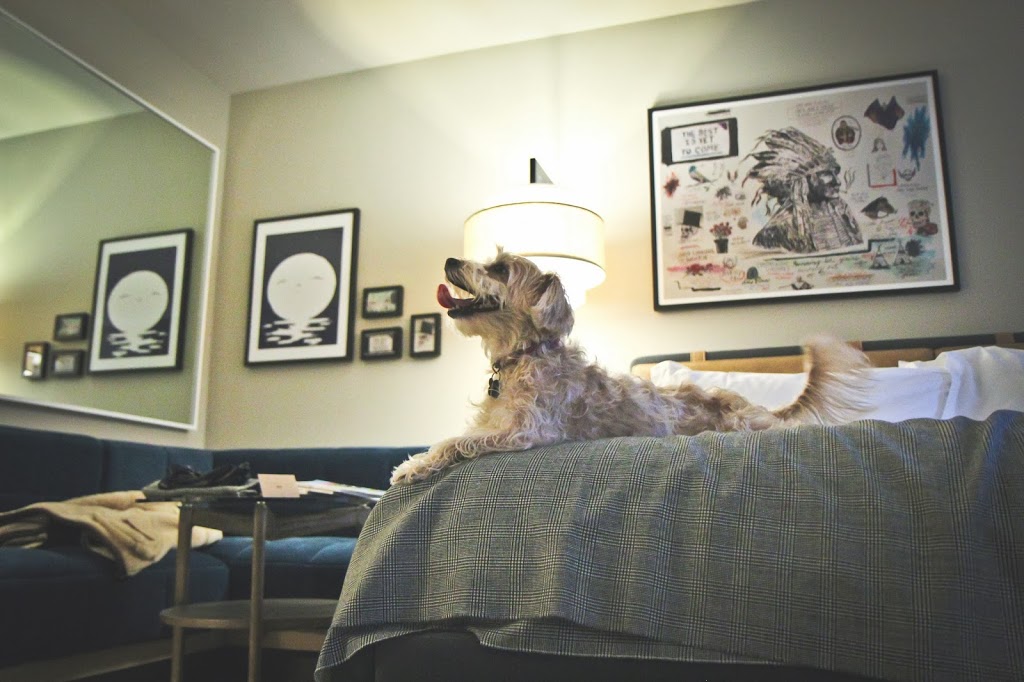 We checked into the room and I went crazy! It was so cool inside. Very modern but retro. Not too masculine and not too feminine. I rolled around and around on the large low set king bed for a while. I really loved the fact that the bed was low enough so I could jump up on it. Wheeeeeee! Mommy tried to make me stop. She's so silly that she thinks I'll listen to her. After settling me in for a little bit, mommy left to go pick up daddy from work for his first surprise. She said she was going to take him to lunch but he had no idea where. She planned to take him to the restaurant at the hotel since it's new and she had heard great things about the food. For the dessert course, mommy had the manager come and bring over a room key with the dessert. Daddy was so surprised! But the best part was that I got to surprise him too! He had no idea I was in the room! Mommy told him that I was staying over at the vet. She's so clever. As soon as daddy opened the door, I pounced! Surprise daddy!!!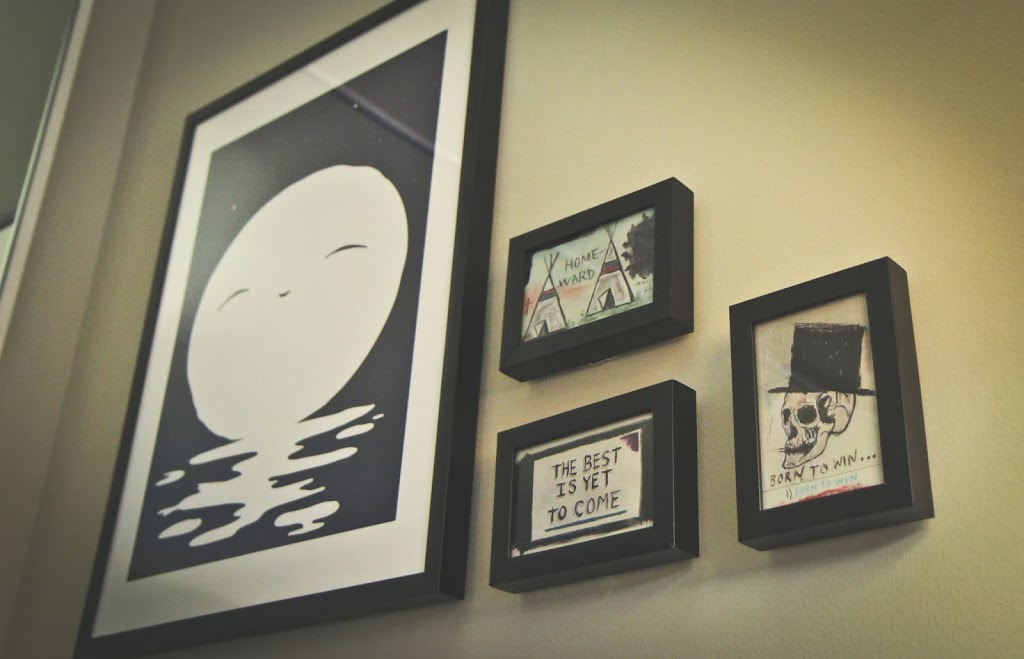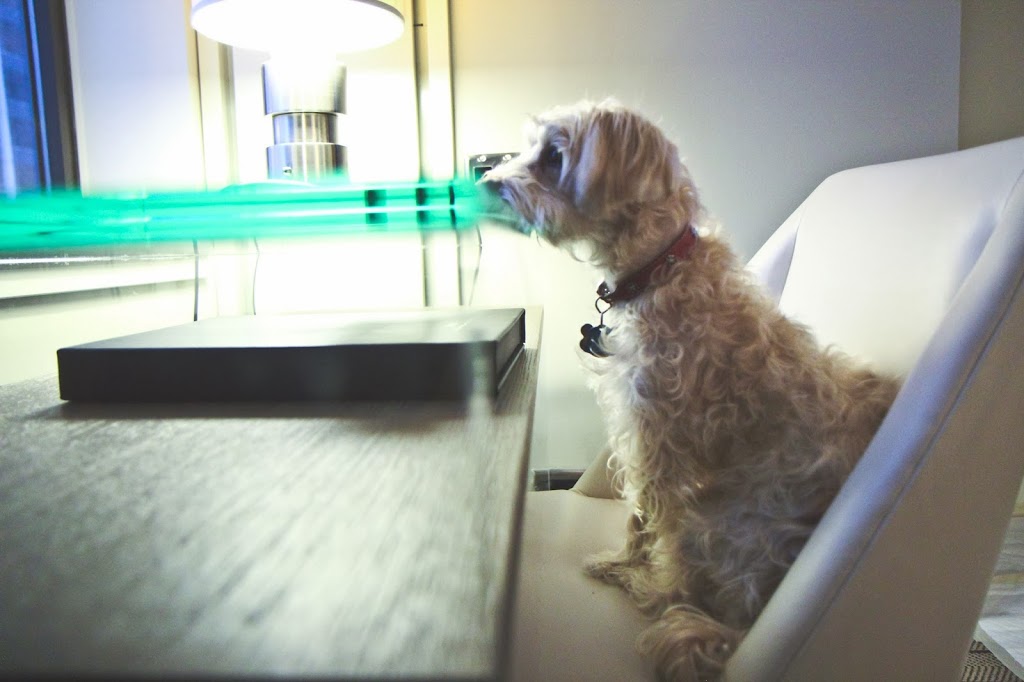 After running crazy circles around the room, bouncing up and down on the soft bed and rolling around on the couch from all the excitement of seeing my daddy, I decided to take a moment and jot down a few thoughts.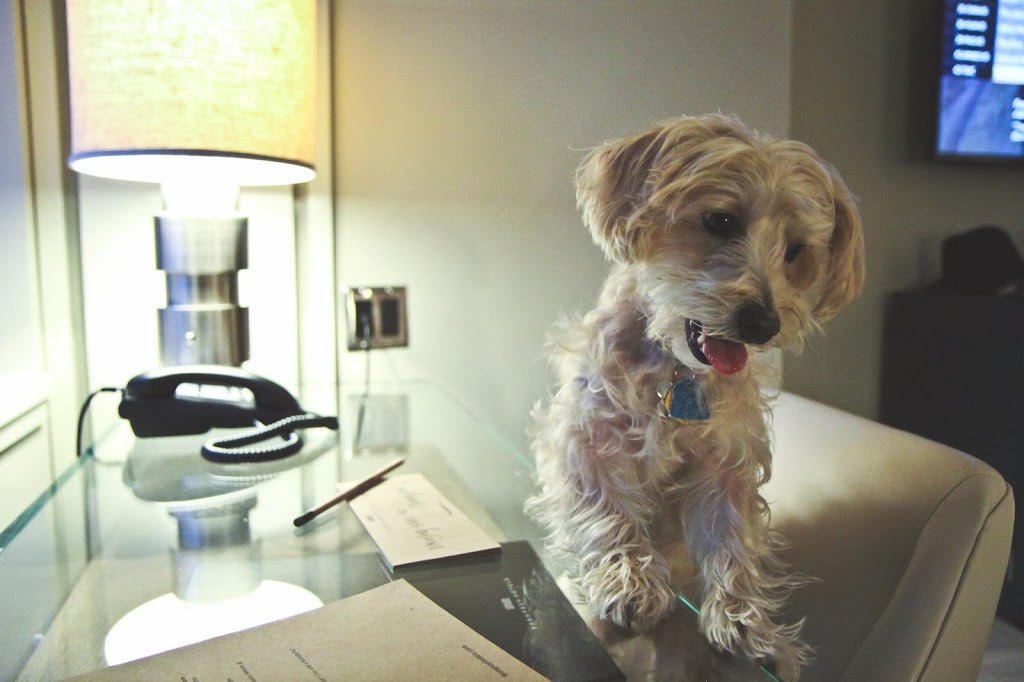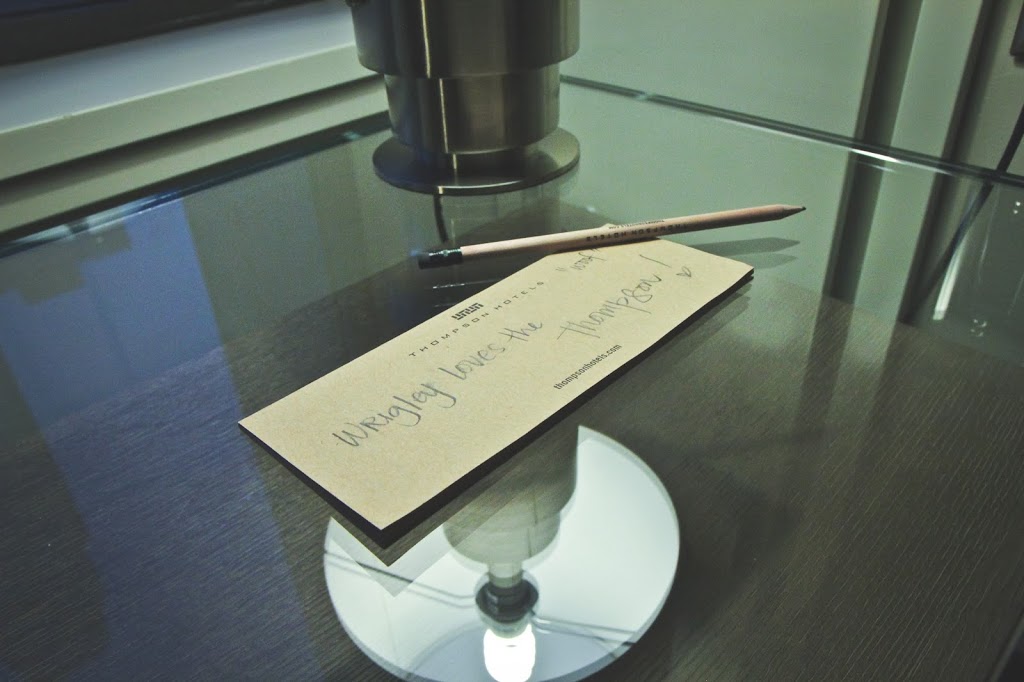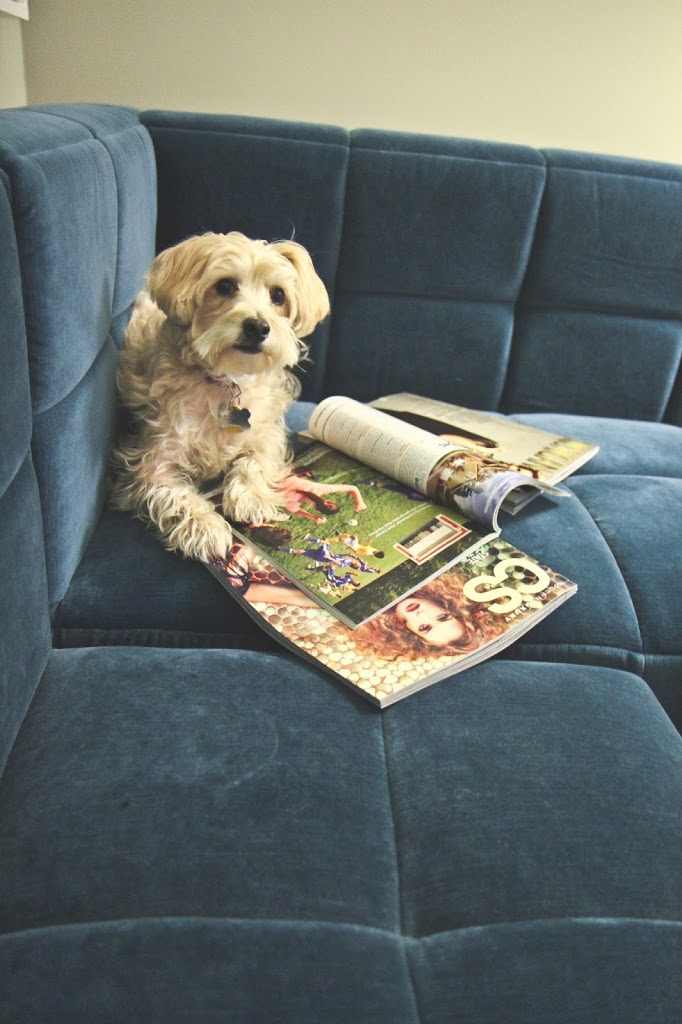 I also thought it would be a good time to catch up on some reading. They have all the good Chicago magazines here. Mommy says she's a "fashion blogger" so I have to keep up to date on the latest trends too. Just in case she tries to leave the house in something crazy.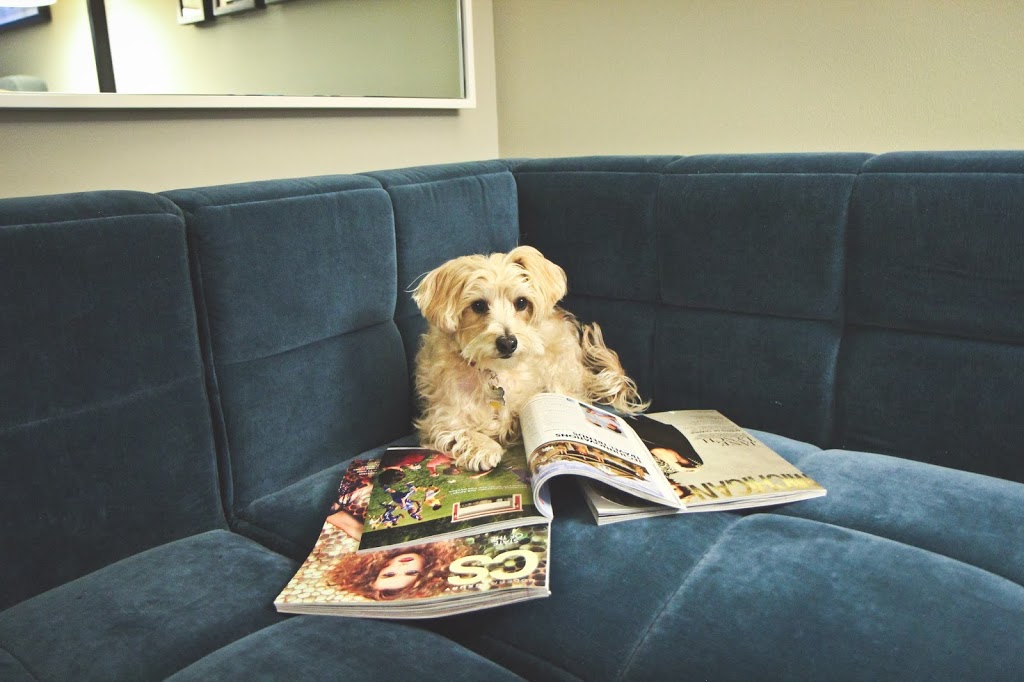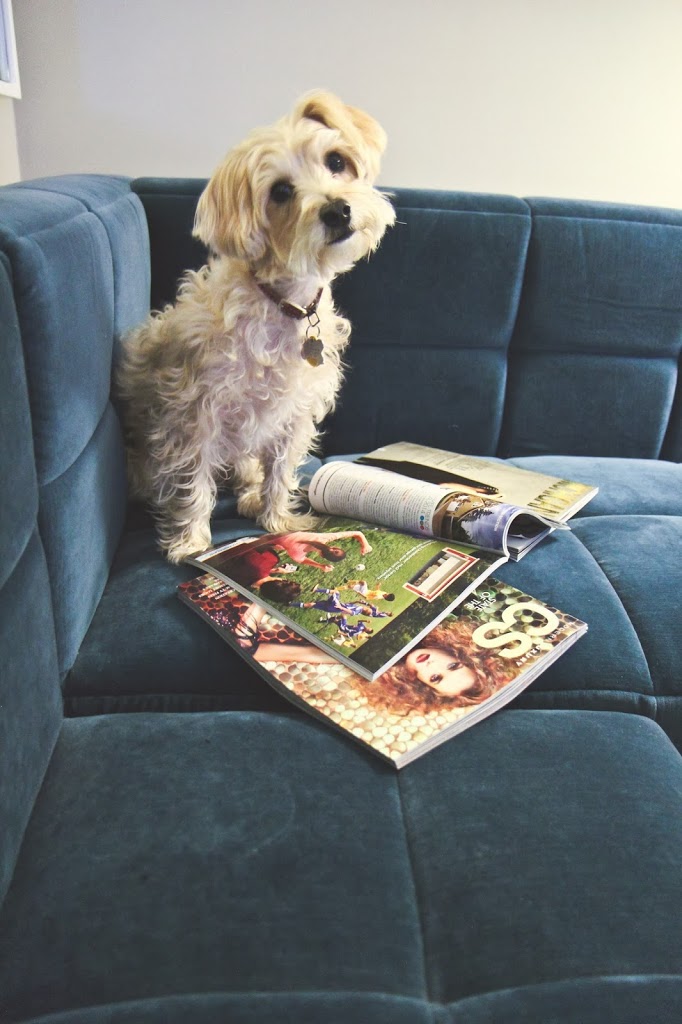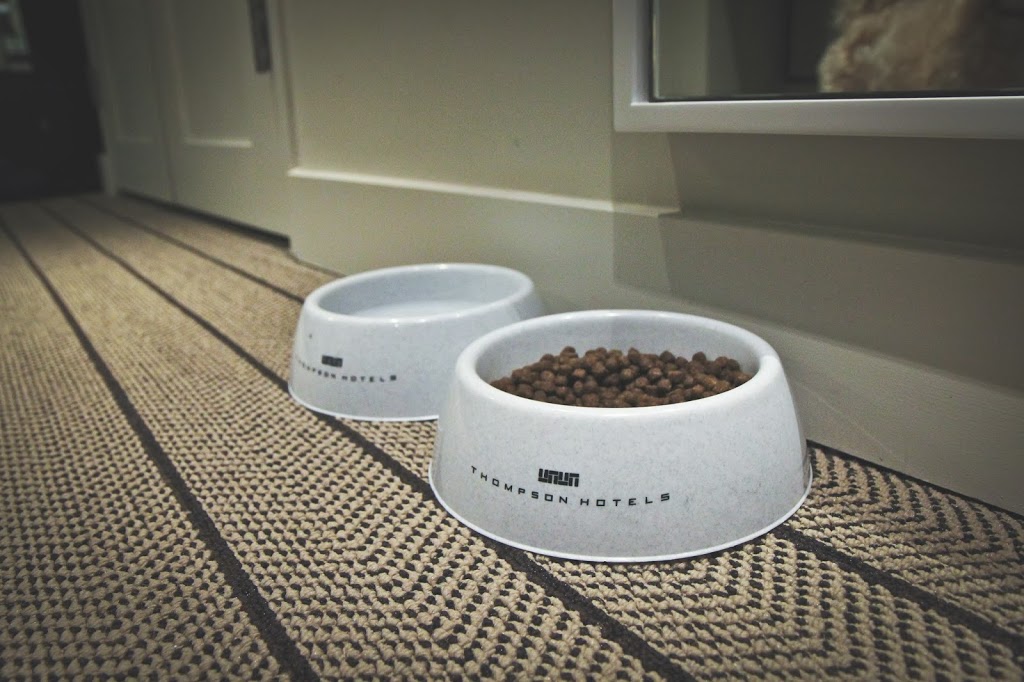 Oh yay dinner time! Nommanomnomnommanomnom.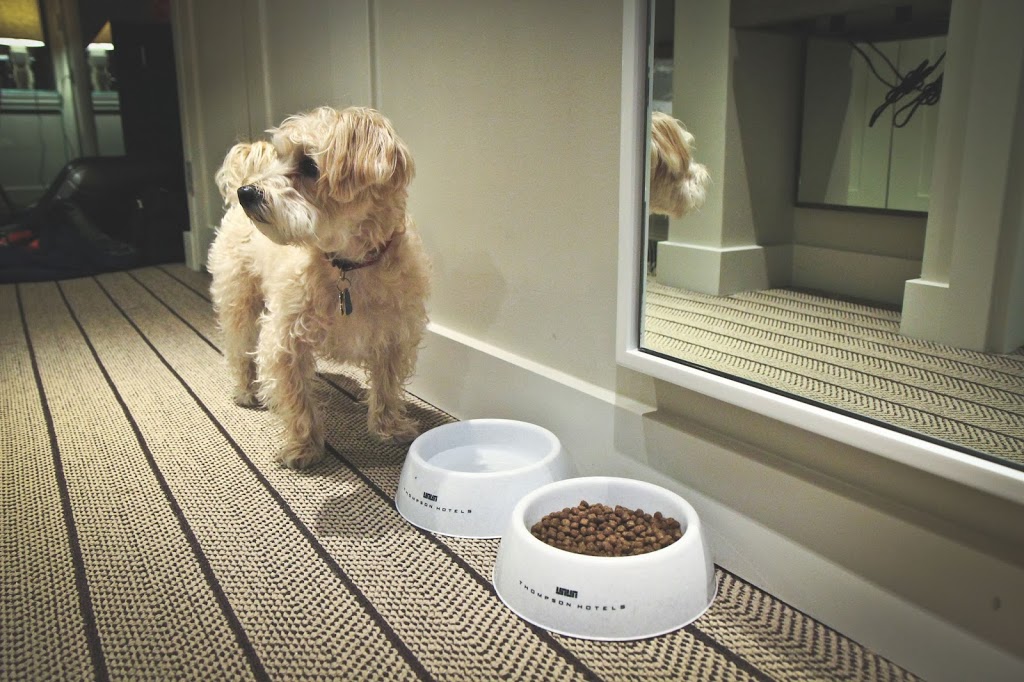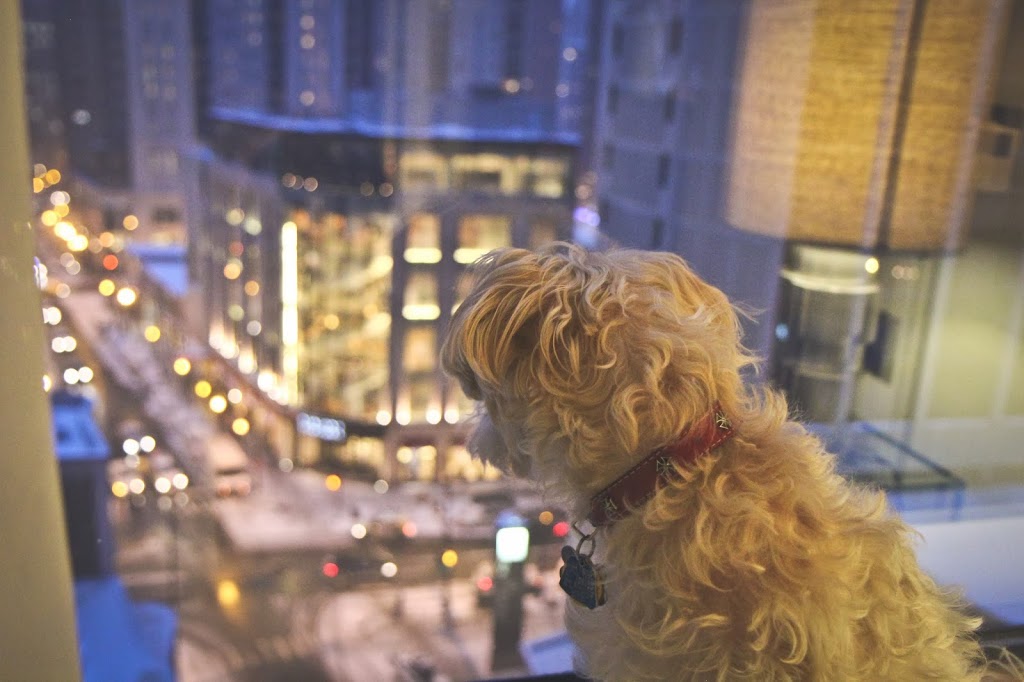 Hey Momma! Isn't that your favorite store?
It is! Barneys! Ruh Oh… Daddy's not going to like it if we walk over there.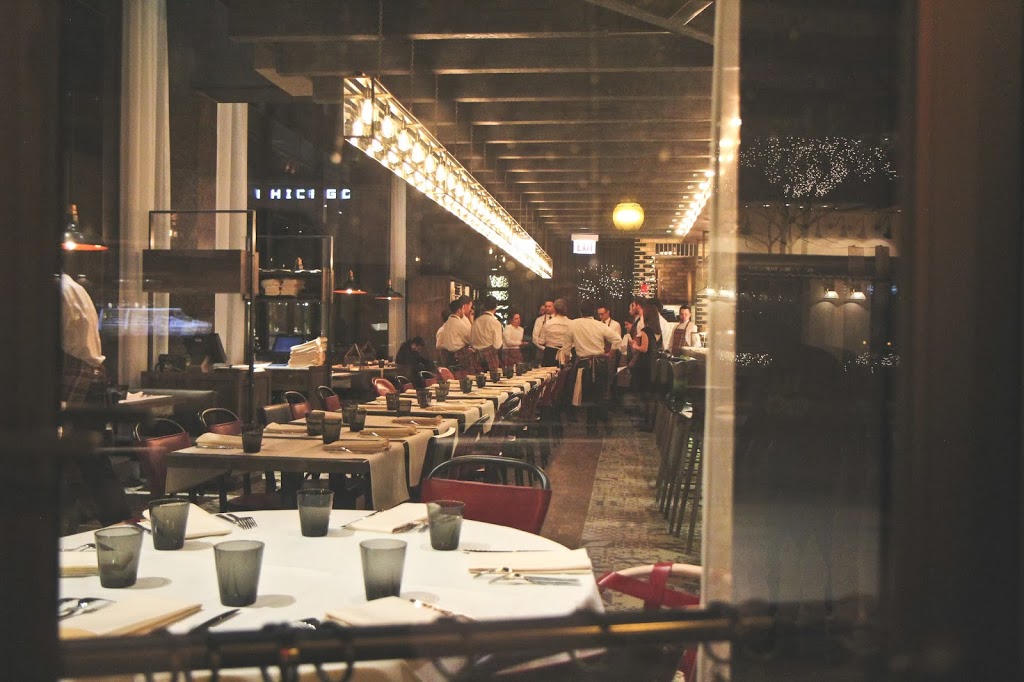 This is where mommy and daddy had lunch! Nico Osteria. They said it was very very very nummy. Mommy kept saying how the minestrone soup made her day. I'm not allowed to go in there but from what I see, it is very pretty and the workers look nice and focused on service. This is them getting ready for the long NYE dinner service ahead. Go team go! I bet mommy and daddy will be back here again soon for dinner since they loved their lunch so much.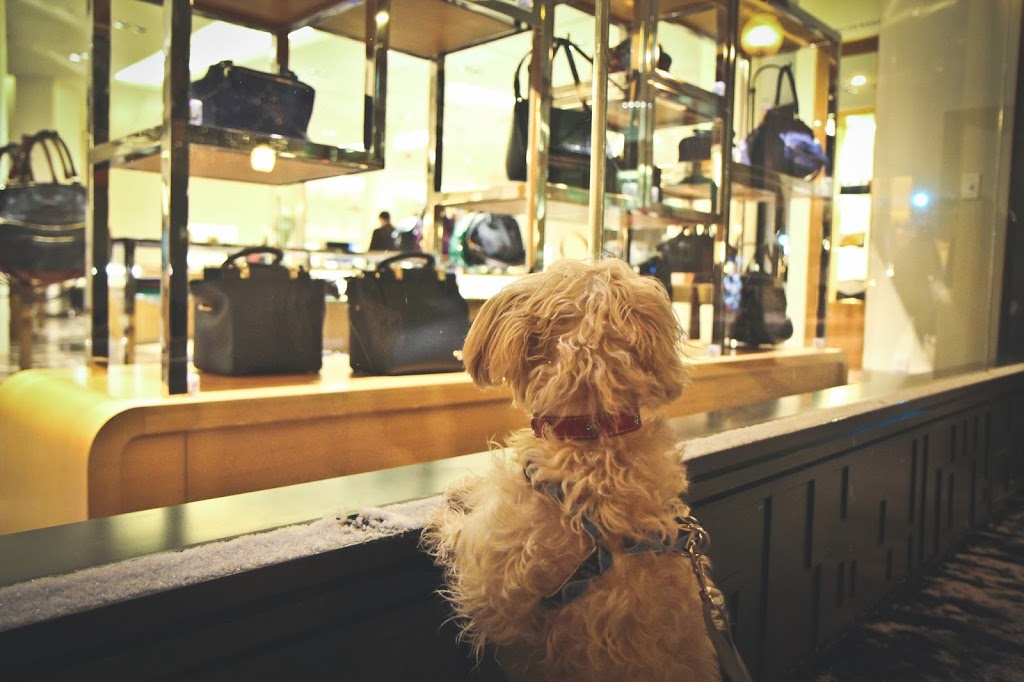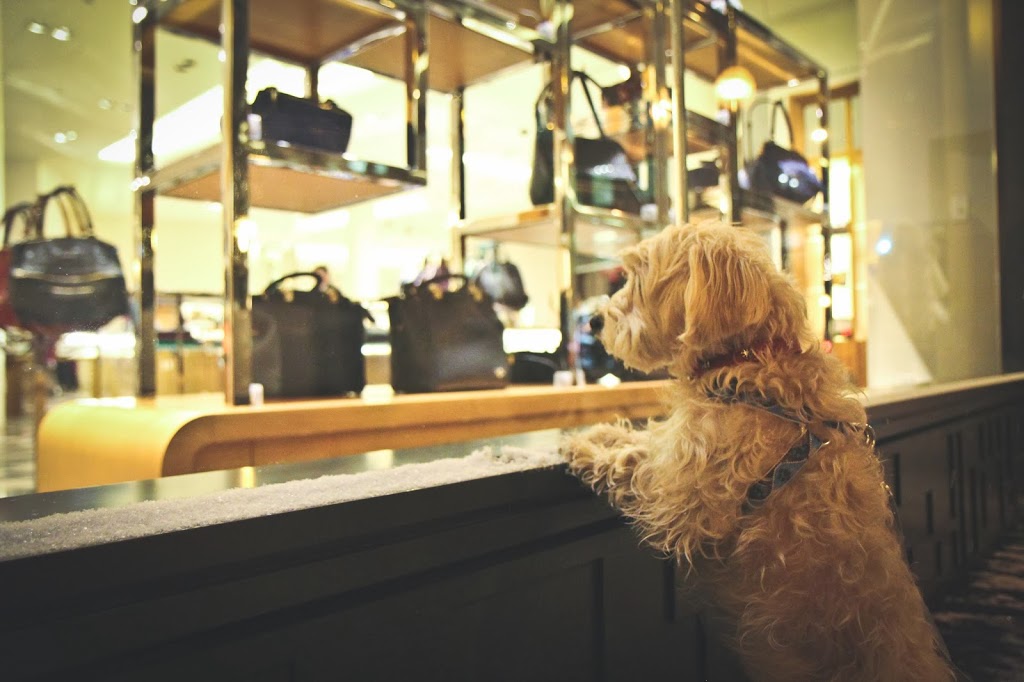 Oh look! Barneys! I've been here many times with mommy. I think I poo pooed in there before. No wait, that was Nordstrom. Nevermind.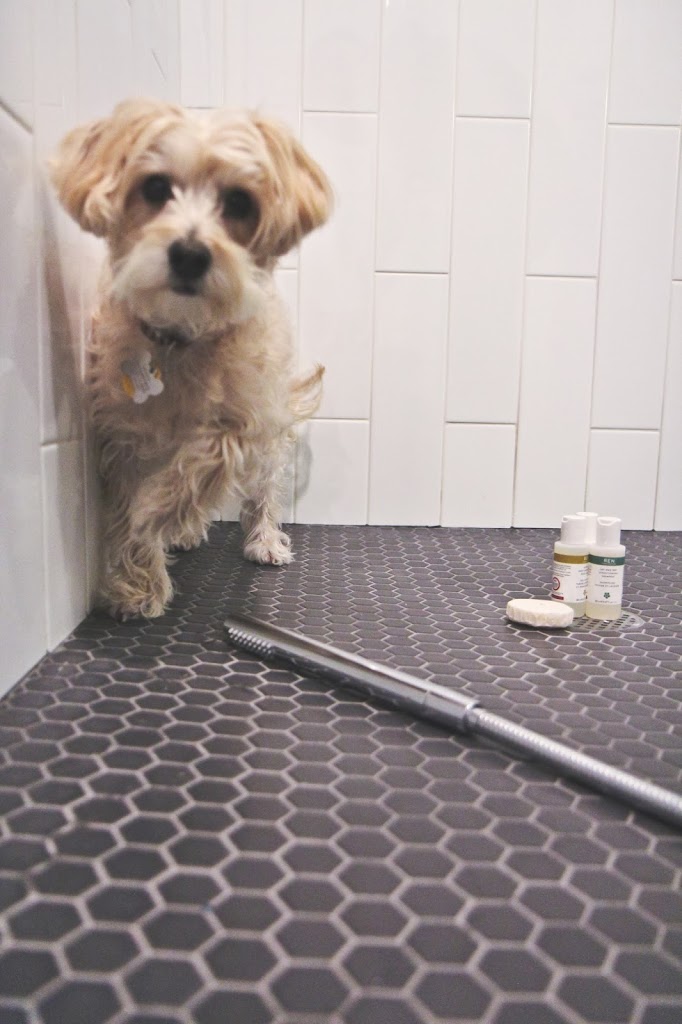 That walk made my paw paws dirtyyyy. Time to wash up a little. This shower is very roomy! It has a rain shower head and enough space to shower and dry yourself off all in the same area. I really like this white subway tile everywhere and the grey tile on the floor. The two different shapes are so fun to look at and work interestingly together. Again another amazing design aspect here. The bathroom itself is pretty roomy! Also mommy kept saying how the lighting was so flattering. I can't really tell those kinds of things but I trust my mommy. She likes bathrooms with good lighting. She says it's perfect for mirror selfies and was well thought out for the ladies! Whatever THAT means.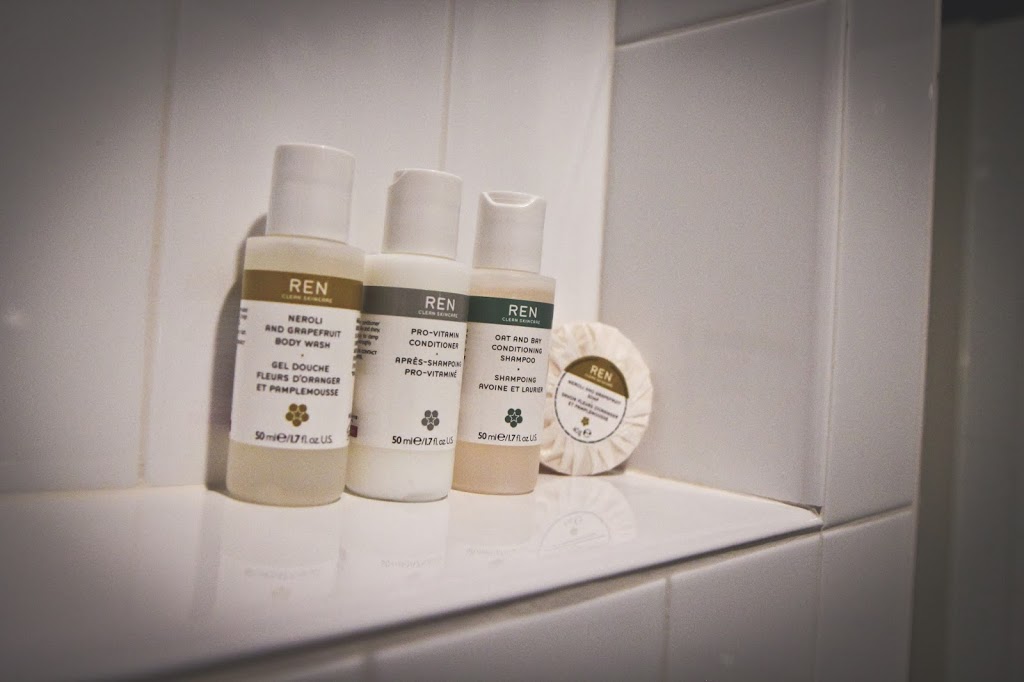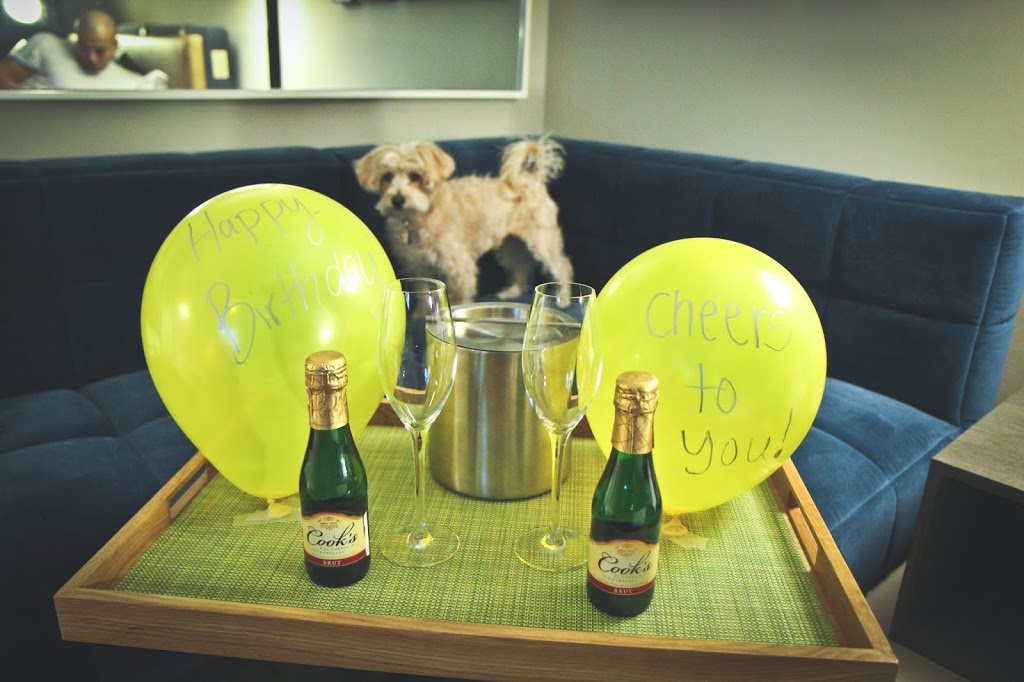 A very nice lady came in and brought this for daddy! It was an awesome birthday surprise and a fun way for them to kick off the night! Daddy felt very special and of course he is. He's my daddy. Cheers!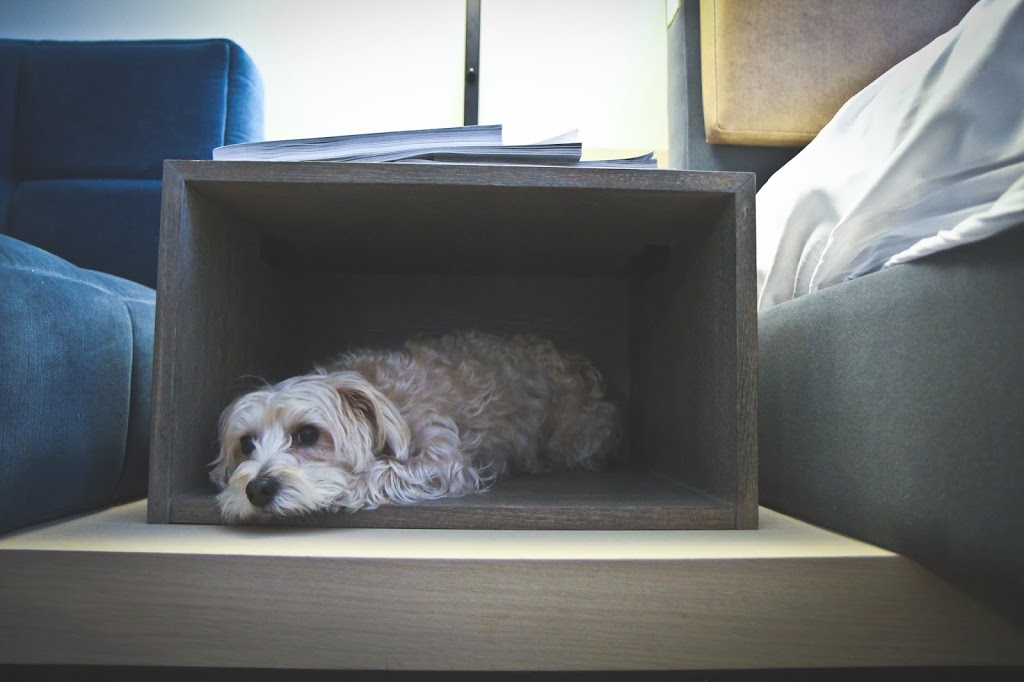 Mommy and daddy started toasting and getting silly with the bubbly. I'll just hide out here until they calm down. This room is the best. Lots of places to rest my head. This little night stand became a place for me to hide.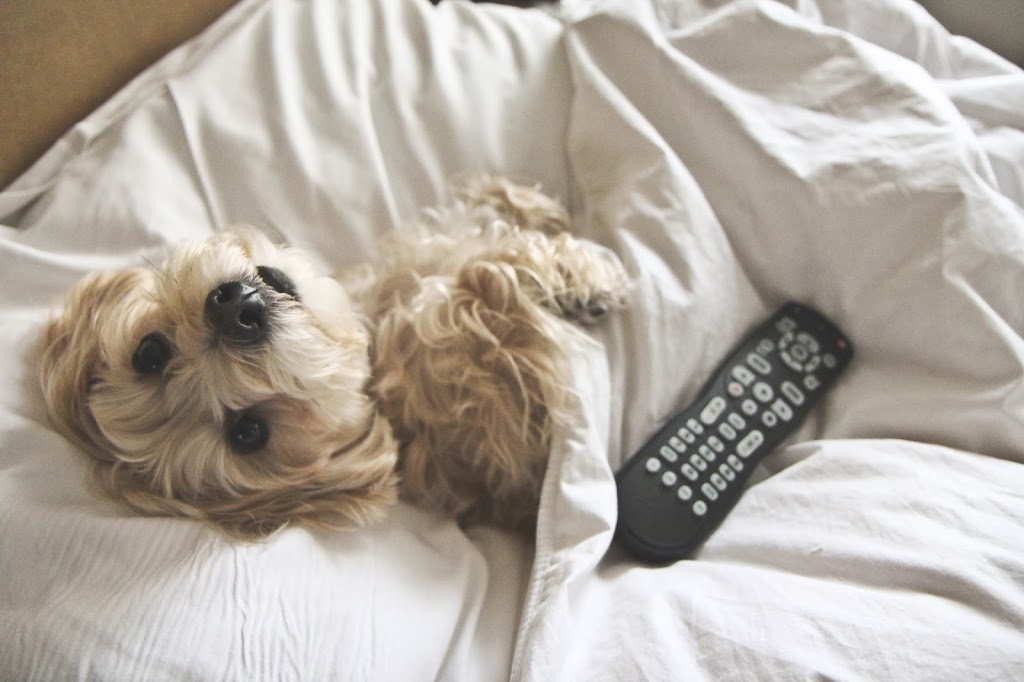 Good morning! Wow I had the best sleep ever. Mommy and daddy need to upgrade to a king bed at home because this was great! I got to have my own pillow and section on the bed. Everything is so soft and the pillows are bigger than normal. I could stay here all day! How about some TV time before I really start the day? Ooooh UP was playing on the Disney Channel! I love that movie. Squirrel!! Hahaha Dug the dog is so funny. It was so nice to snuggle with my family during our staycation and they gave us a later check out time so we got to be lazy for a while.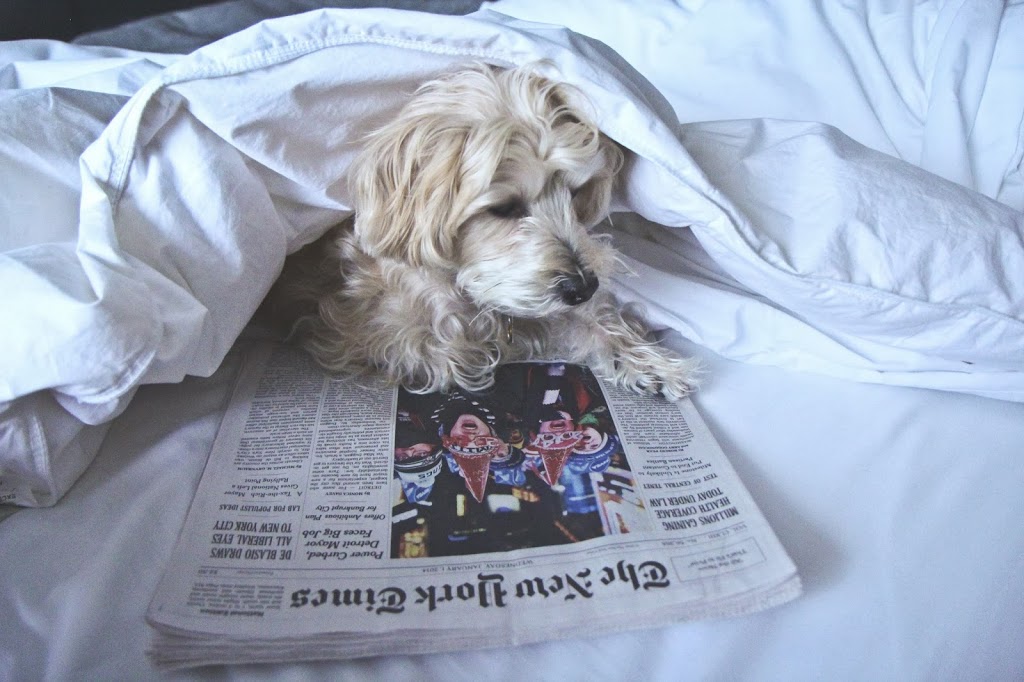 Oh they brought me my morning paper. Hmmm what's going on in the world today?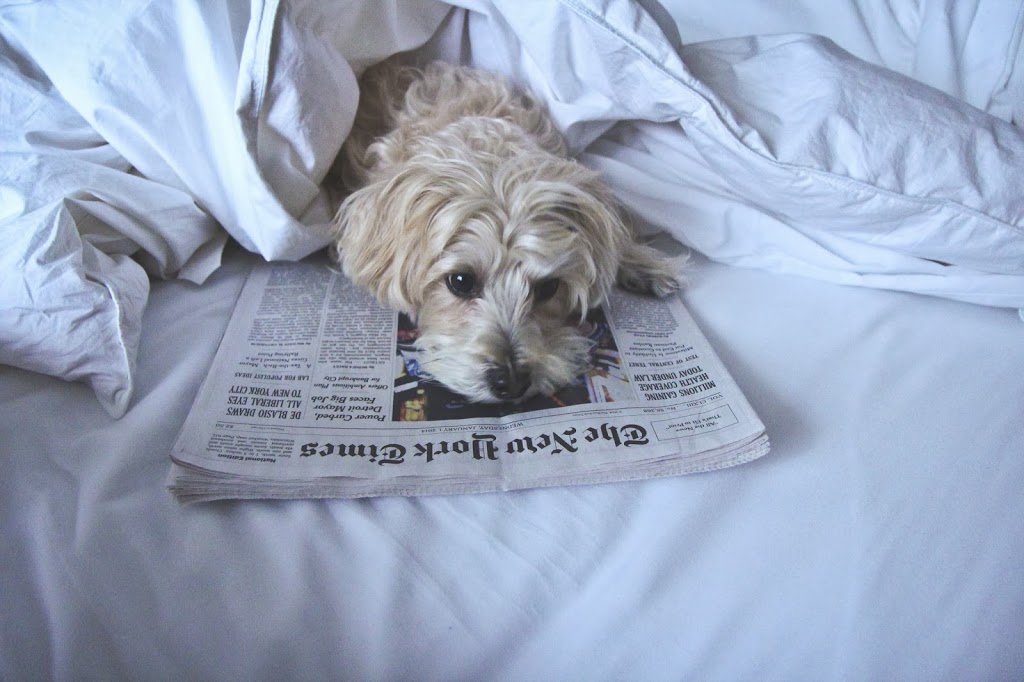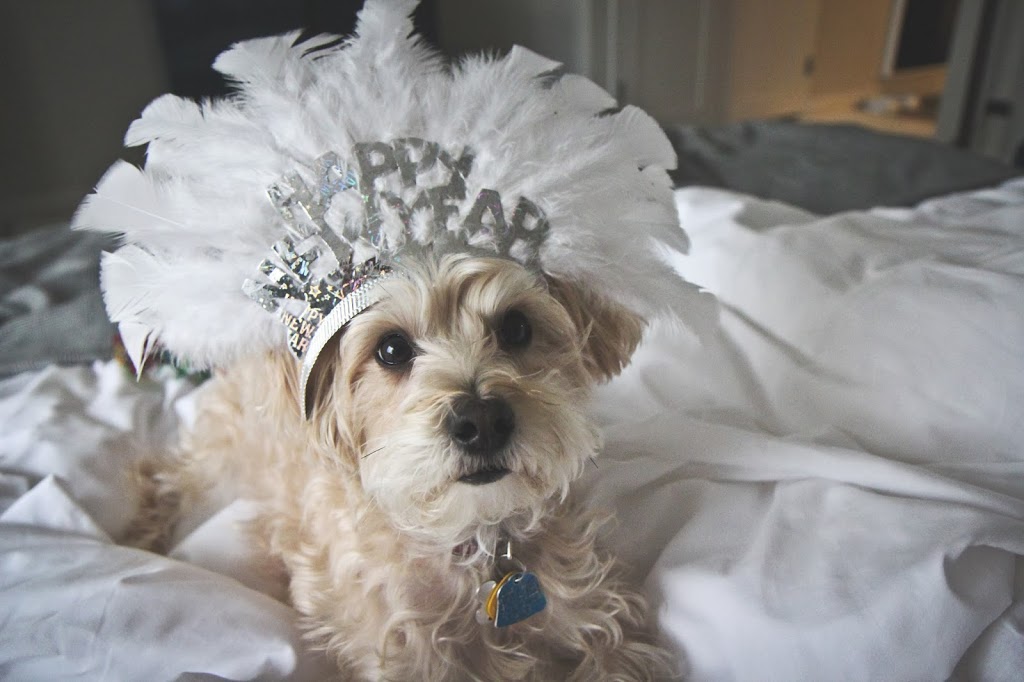 Mommy and daddy thought I should try to celebrate the new year too since I couldn't go party with them last night. Happy New Year everyone!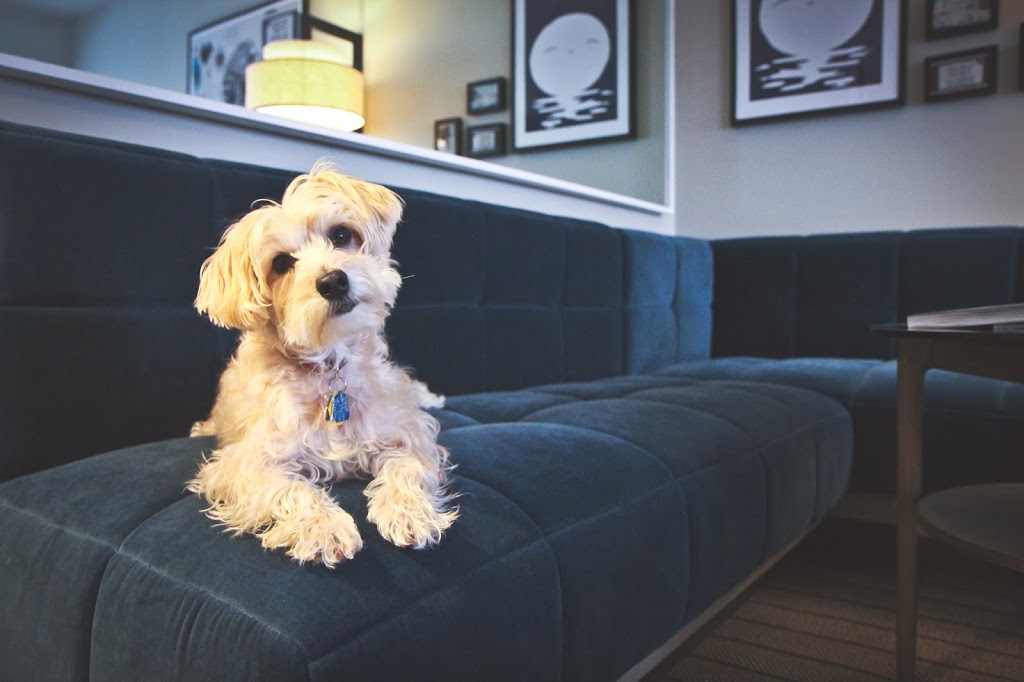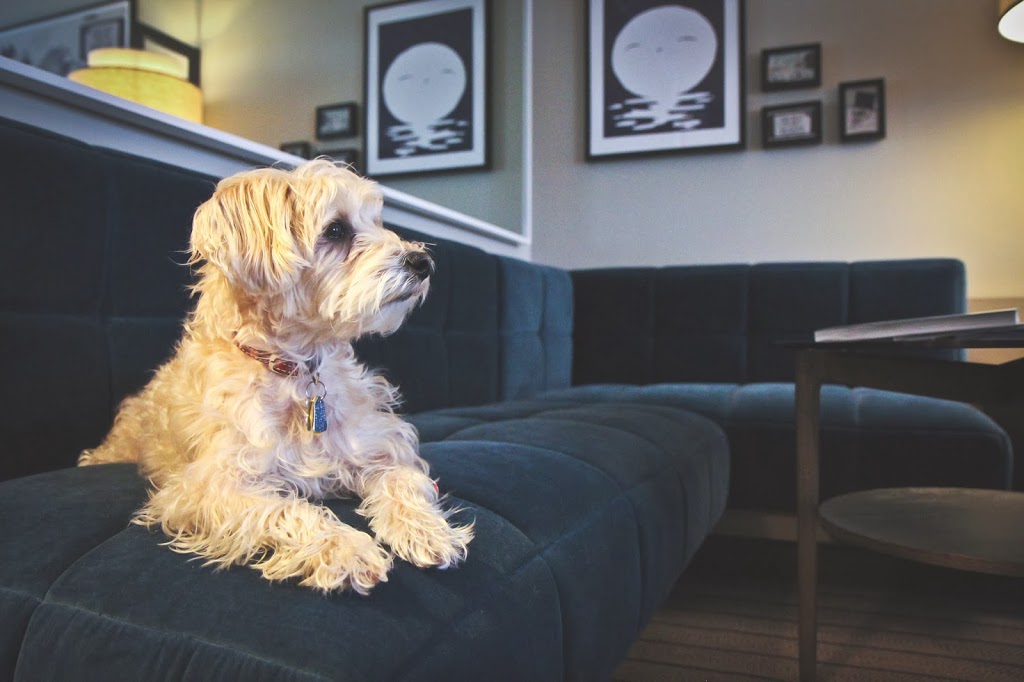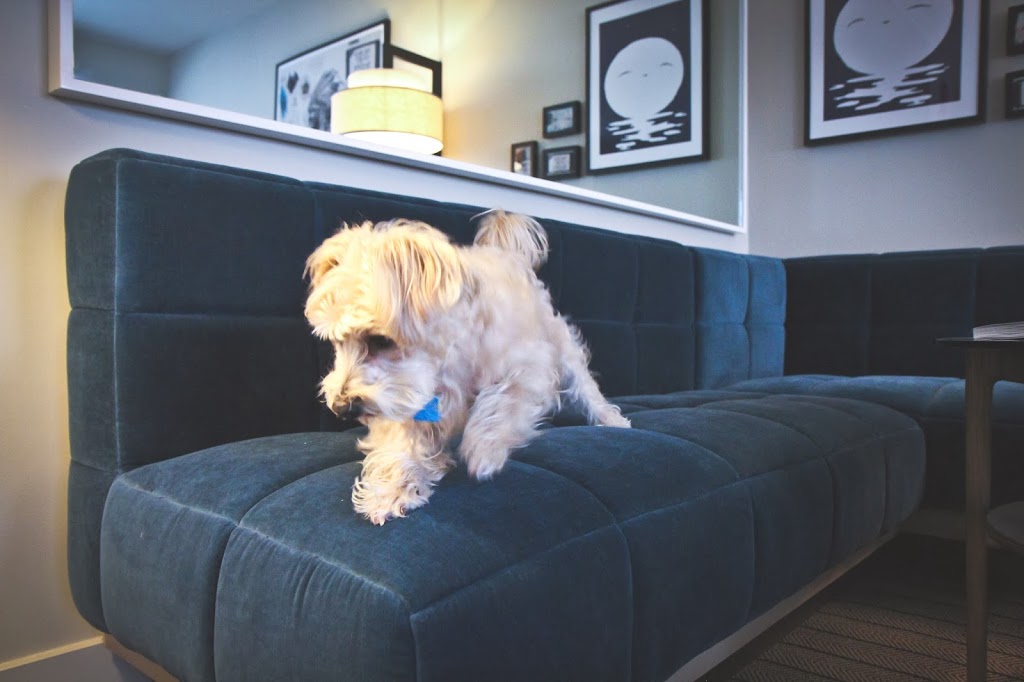 Mommy and Daddy say it's time to explore the hotel! Hooray! As momma would say… EXCITEYPANTS!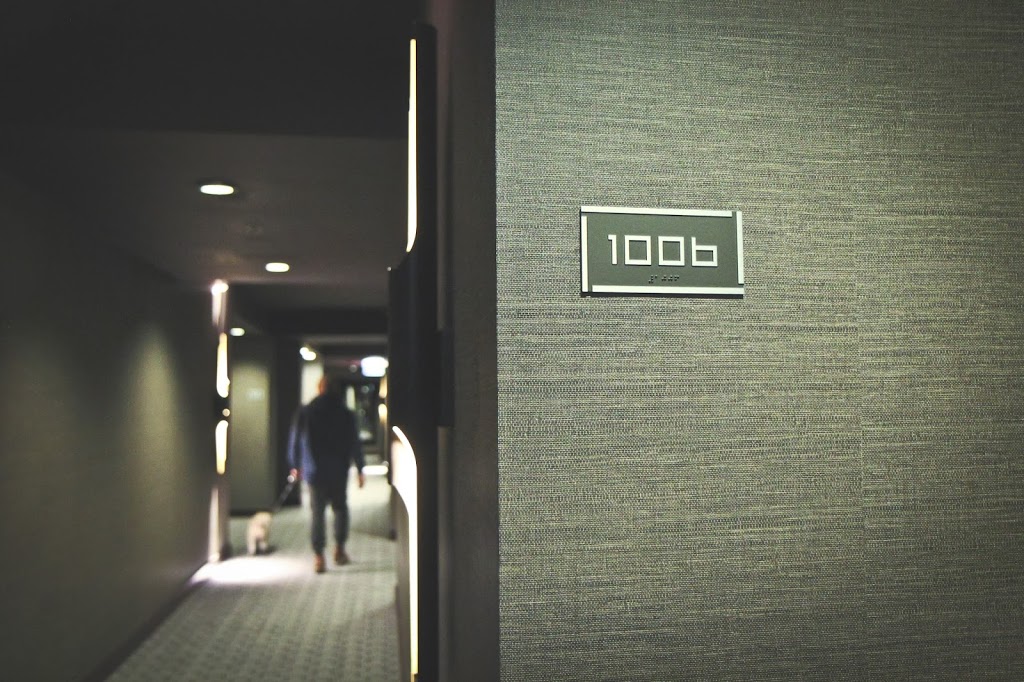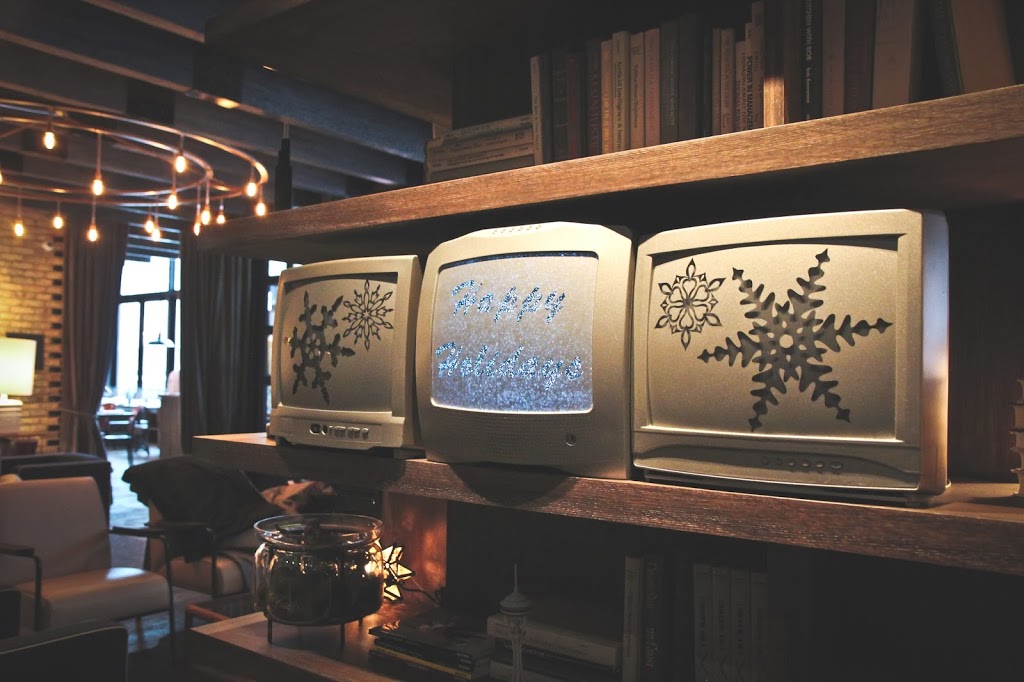 Look at all the fun decor! Retro TVs as a way to display messages?! Genius!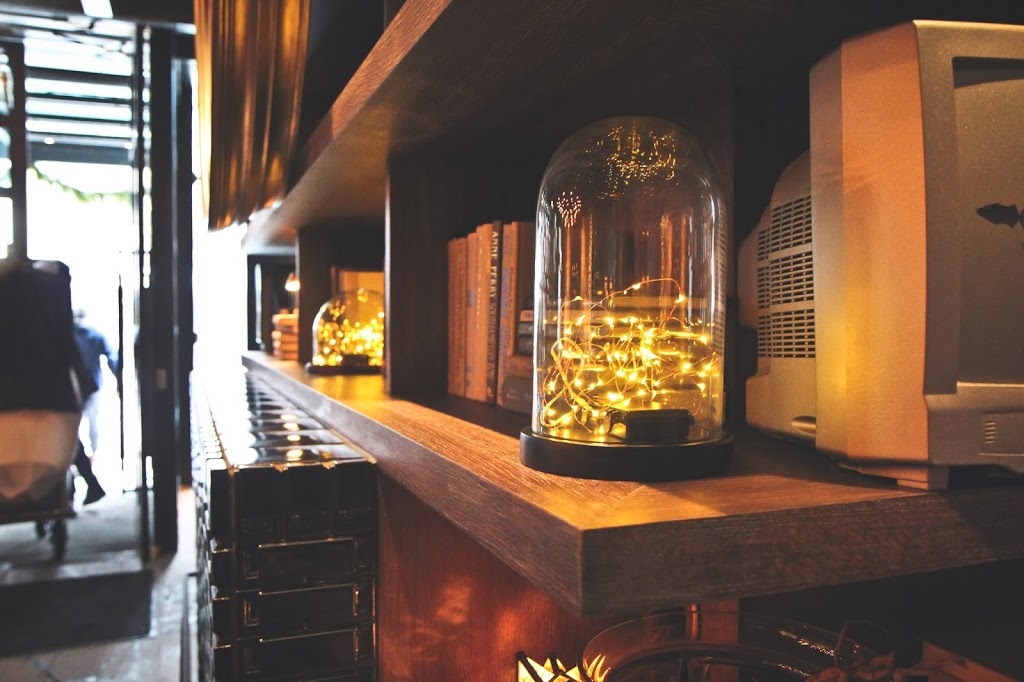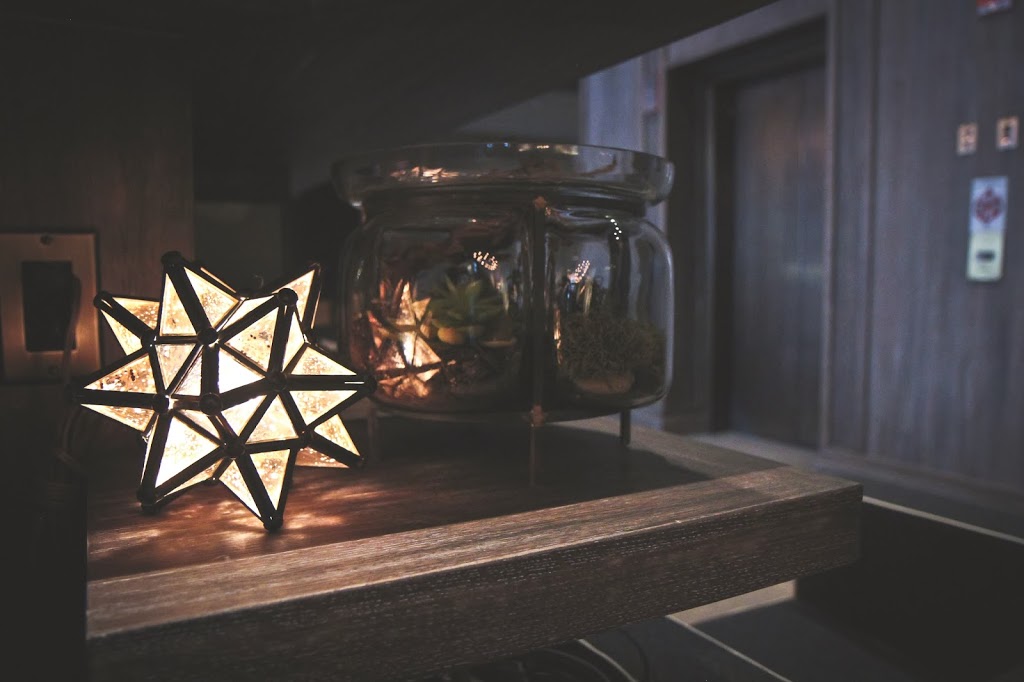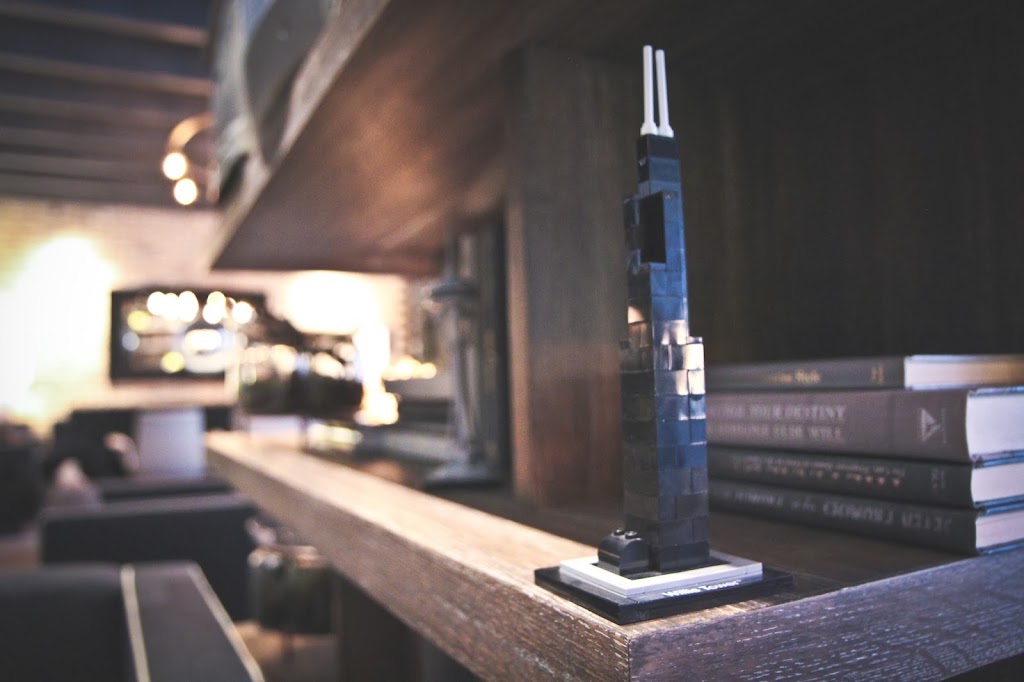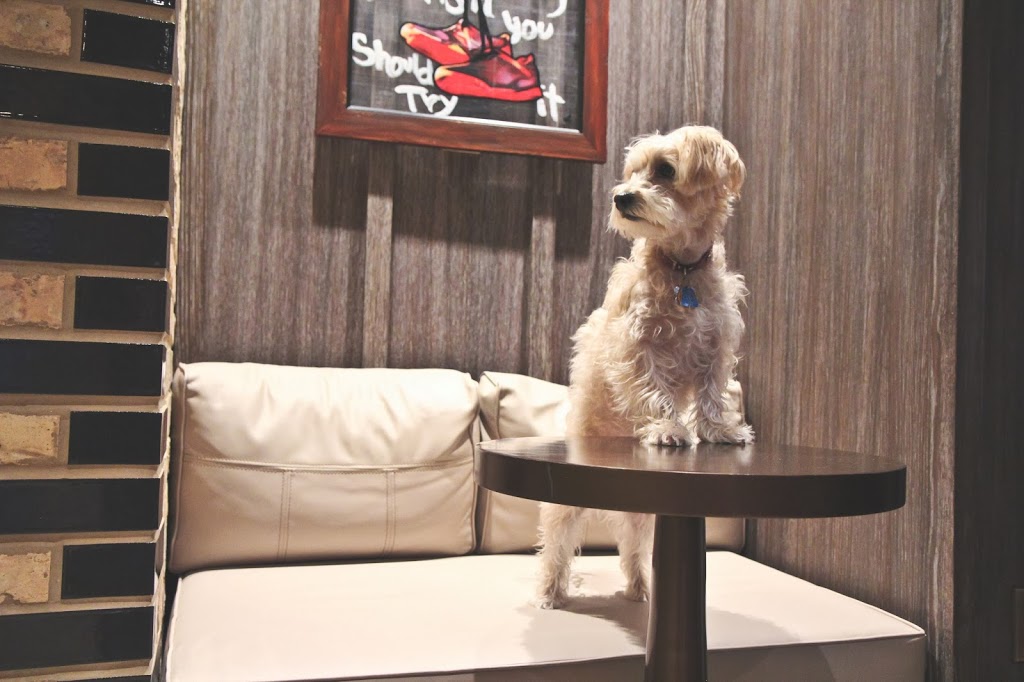 Can I please have an order of kibble with a side of steak tartare and a bowl of lemon infused still water with one floating ice ball? The ice ball is a must. I'm feeling fancy.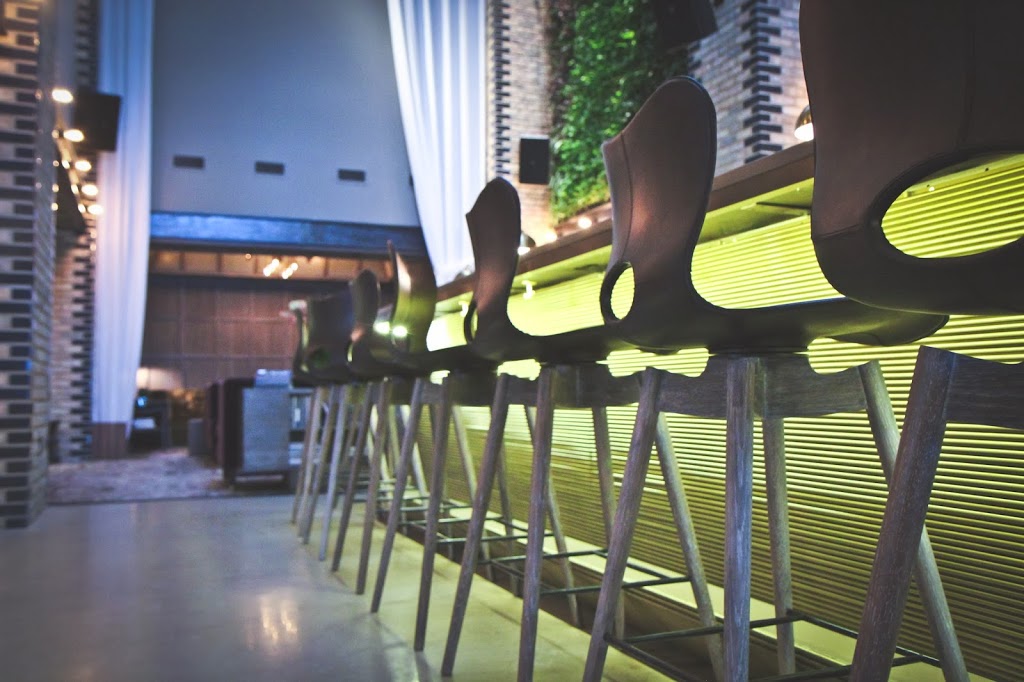 Look at all the cool types of chairs everywhere! I want to sit on all of them. At night I saw a lot of humans here in the first floor lounge and because it is somewhat part of the hotel restaurant, they can order little nomnoms with their drinks. The humans behind the bar were also very friendly to me. They asked me if I wanted any water but I was too distracted by the plushy couches and the semi hidden areas to the left.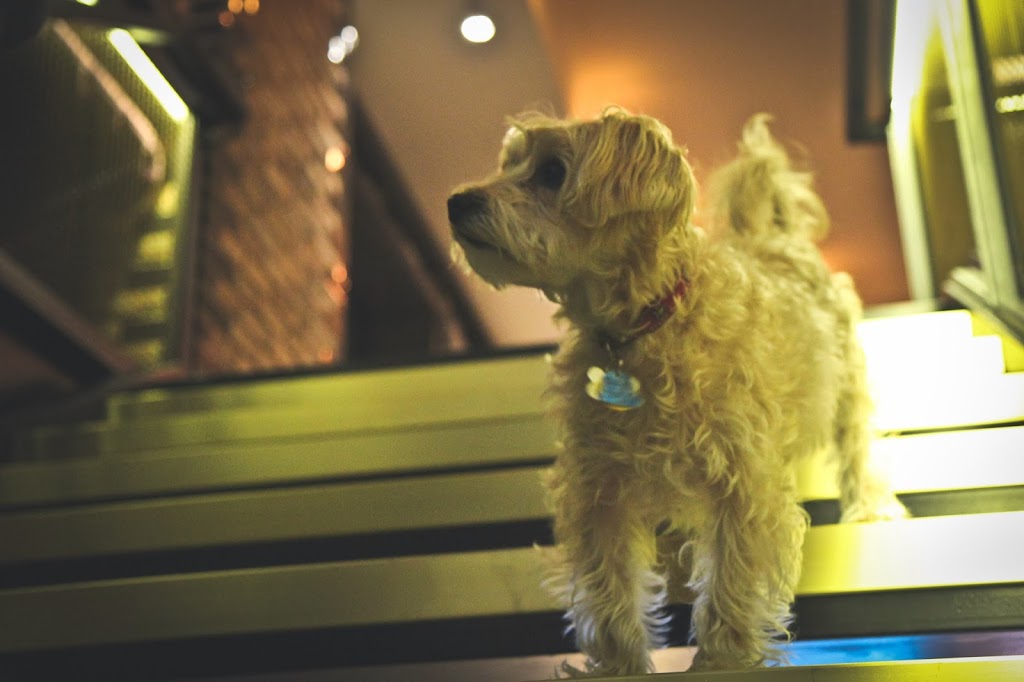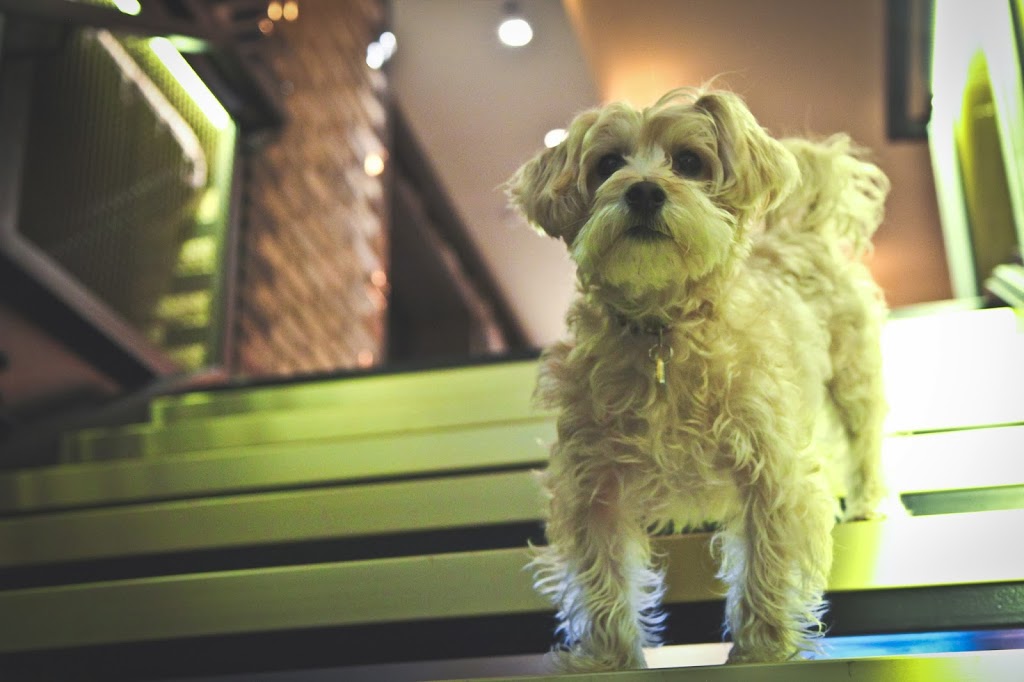 There is so much to explore here! Which way should we go now daddy?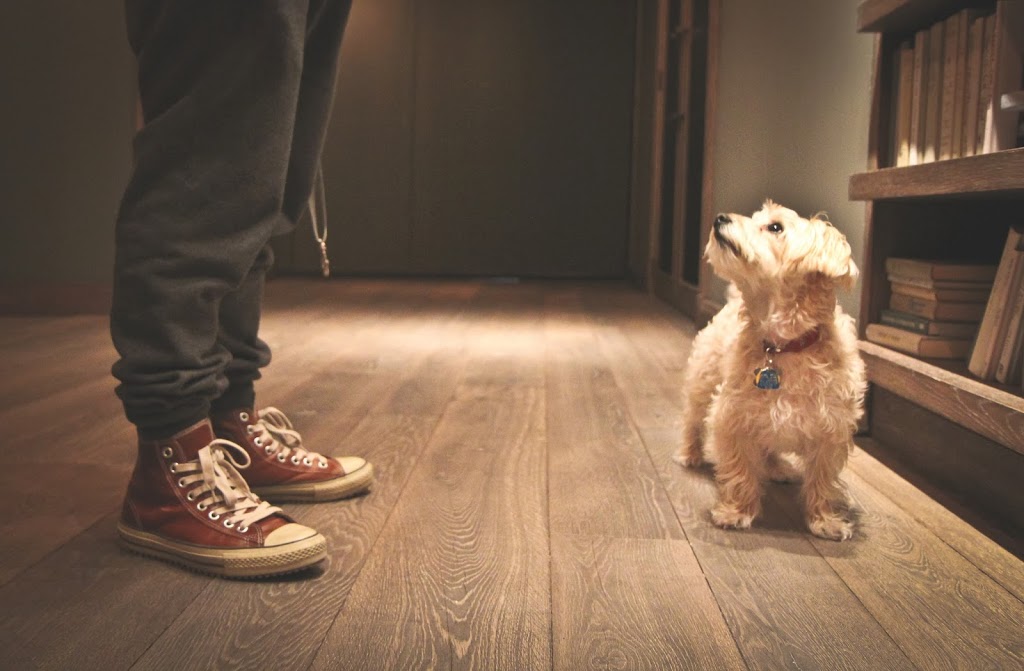 Daddy, have you read all these books?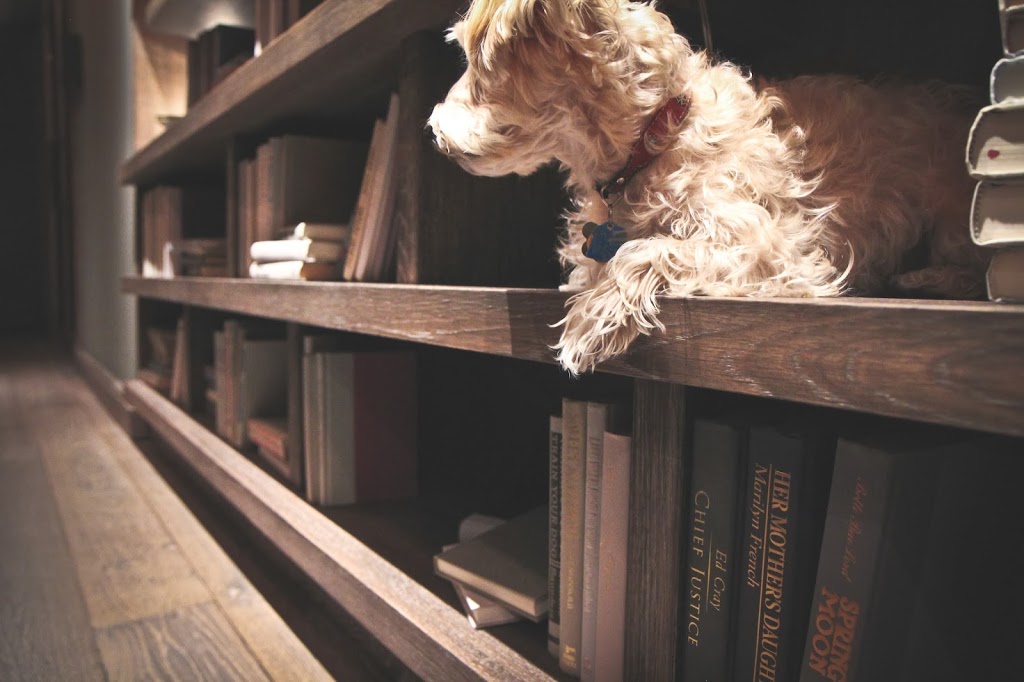 This seems like a very good spot for a nap. Would anyone notice I was here?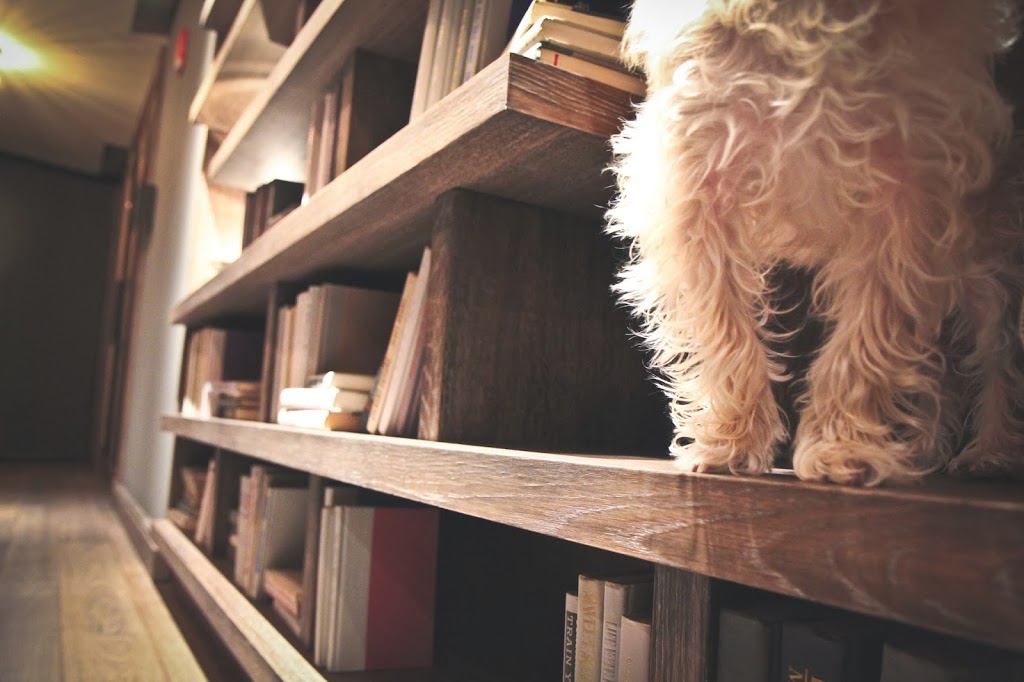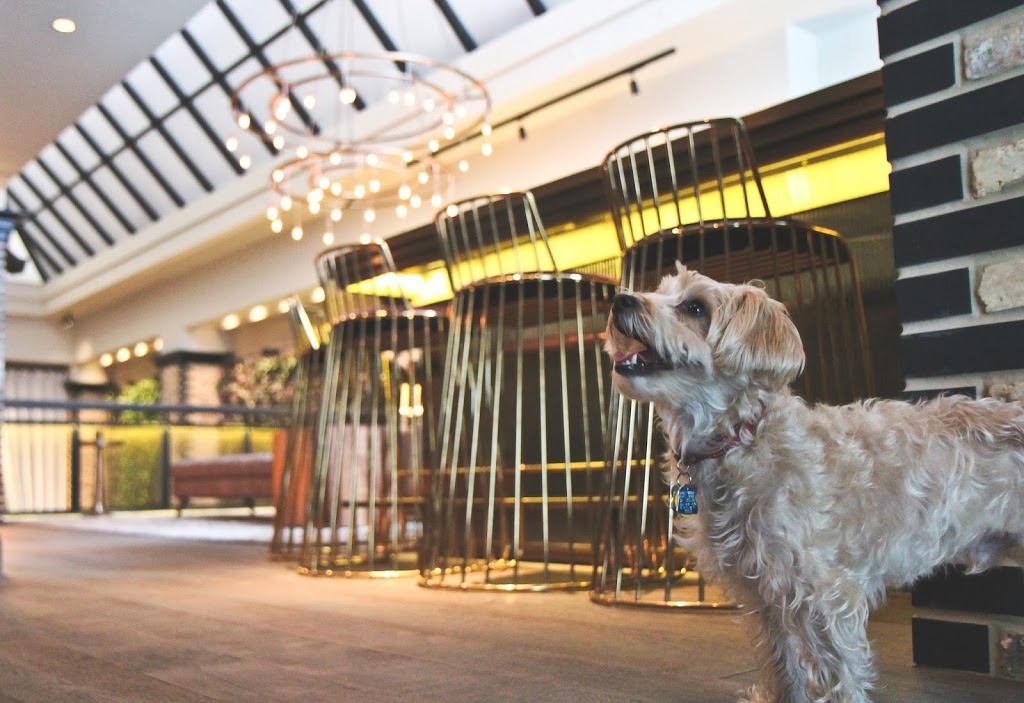 This is the second floor lounge where mommy surprised daddy one more time with a fun little gathering of some of his friends! I heard my auntie LC was there but I didn't get to see her. Super sad face. This area seems like it would be more low key than the first floor and can accommodate a larger group of people if you get there first. First come, first served! The ceiling is so pretty with the angular glass and black metal panes. It brought some great natural light into the space. This is also the floor where you can have small private events if you choose to. There are other private rooms where they can set up meeting spaces or small cocktail receptions. Maybe I should have a doggy party here with some of my friends!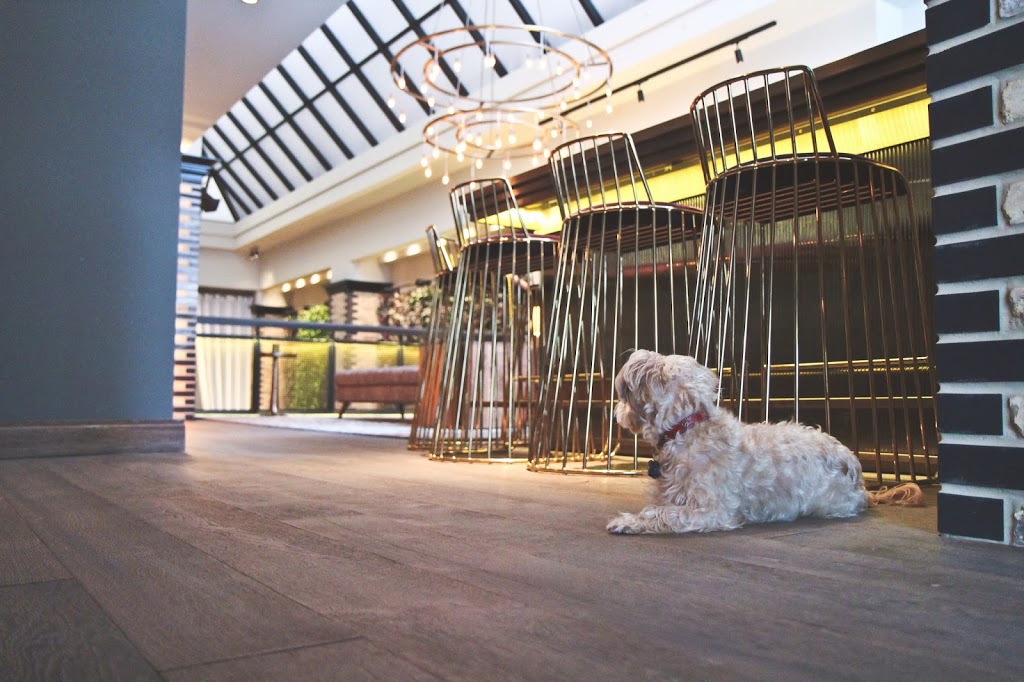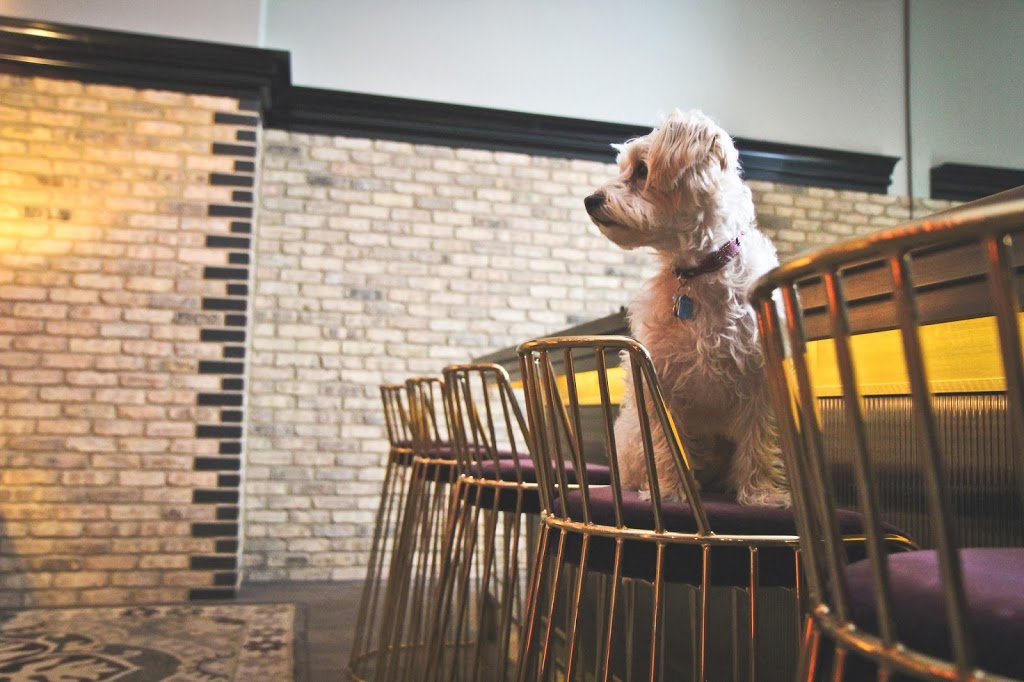 Is there some sort of beef jerky flavored cocktail on the menu?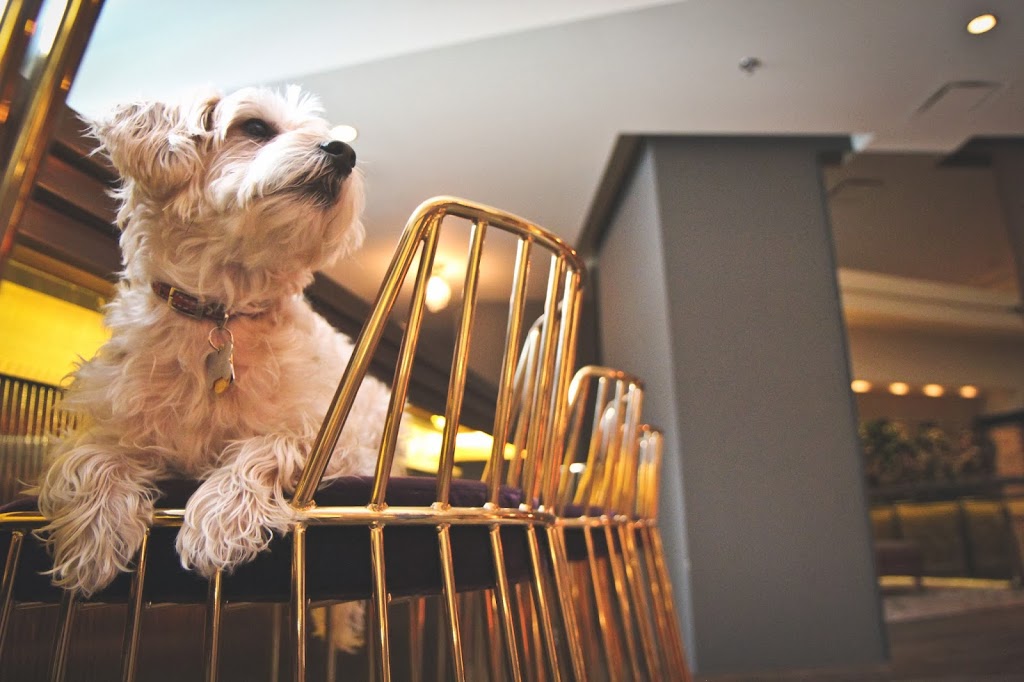 Are these not the coolest looking bar chairs you have ever seen!? All the furniture at this hotel is insanely well thought out and beautiful! Each portion of the hotel is so different from each other and yet still contribute to the same aesthetic and feel! I bet you didn't think a dog would notice that, but I suuuuure did. Everything pulls together so nicely. The pieces are so interesting and luxurious without being pretentious and it all feels incredibly inviting and homey. I could nap just about anywhere! All the couches are so plushy and ooshy, it's hard not to just stretch out and take a little siesta.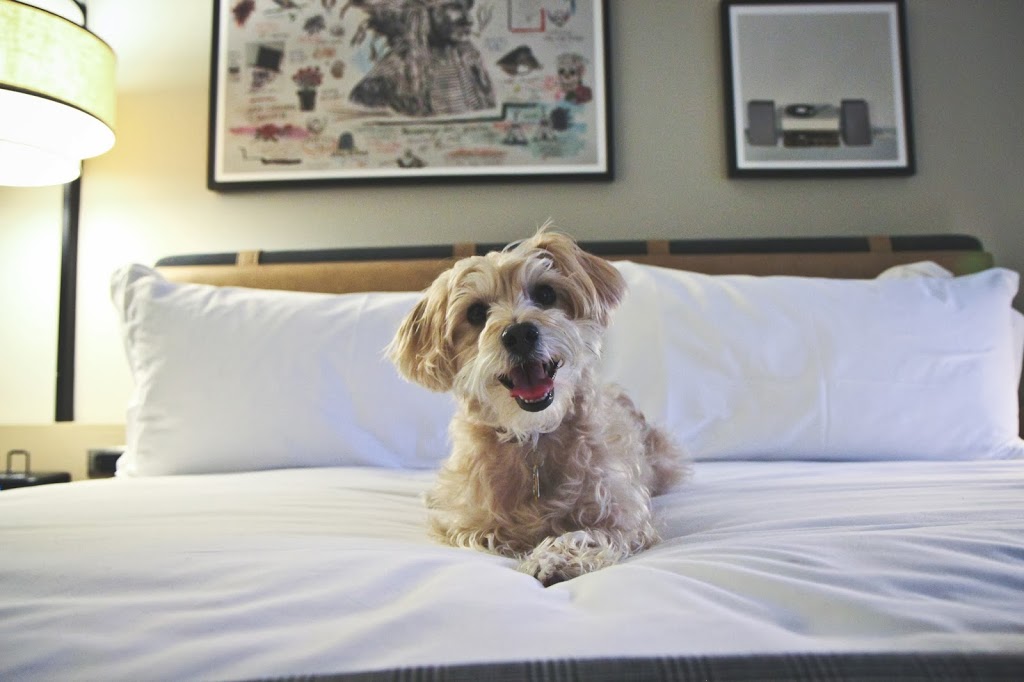 Thank you, thank you, thank you Thompson Chicago for being so pet friendly! I got to feel like I was on vacation with my mommy and daddy! Other hotels charge fees for me to be able to come along so I usually have to stay home with a doggy sitter and I always wonder if mommy and daddy miss me as much as I miss them. So thank you for letting me tag along for free! Also, thank you for all the special attention like my doggy bowls and TWO bags of treats! YAY! I will definitely be back to get more. I also enjoyed all the extra room on the big and plushy king bed! I had so much room to stretch and wiggle while I slept in between mom and dad. I felt so special that the hotel staff remembered my name and would say hi as I walked passed or as I sniffed their feet. The service my family received was incredible and personalized. Everyone greeted us with a smile each time and personally thanked us for our stay. They even asked how my daddy enjoyed his birthday! As you can see, I had a fun adventure and I am one happy little pup!
Thanks for reading everyone and HAPPY NEW YEAR! I wish you a great 2014 with lots of your own adventures. You can find more pictures of me and my random adventures on my mommy's instagram @drunkonshoes!
woof woofs and doggy kisses,
#wrigleyboo