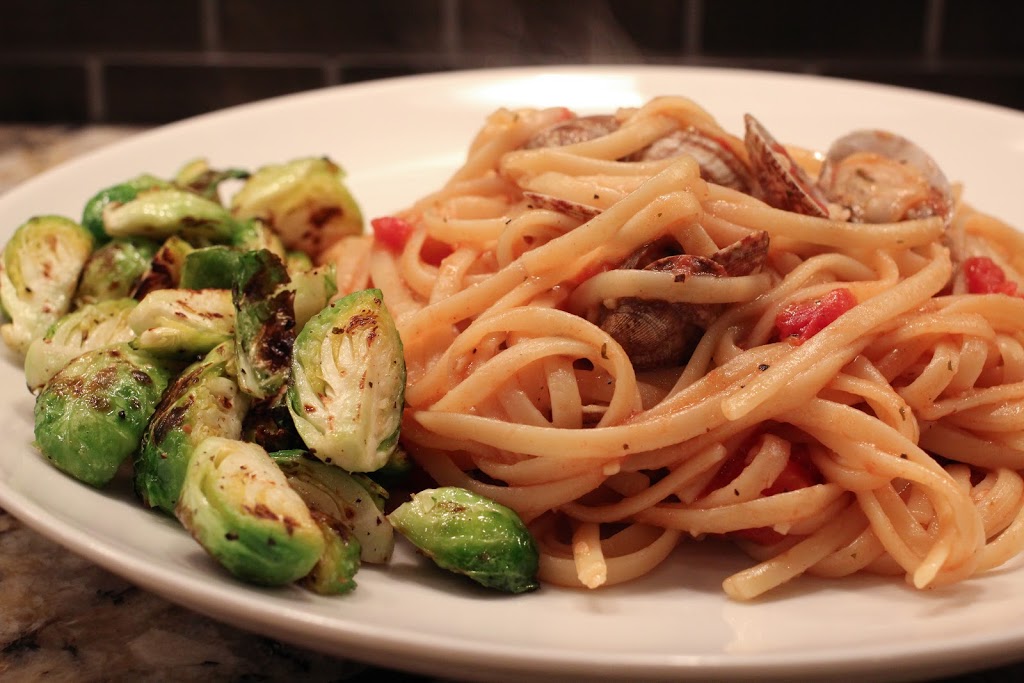 Hey y'all!
Welcome to Episode 1 of my food series. I know right about now you are thinking, geez, can this blog get any more random? Uh, yes. Yes it can. But too bad. I post a lot of food photos on my personal Facebook because I actually love to cook way more than eating out at a restaurant. I usually get comments asking for the recipe or "that looks good". Well here's your chance to test if it really does taste good by making it yourself! I really enjoy cooking and trying recipes. I usually will get some idea in my head of what I think would taste good together and I'll go try it. I go through some trial and error mostly because I never measure anything. Most of the time it comes out different than the time before but usually I am happy with the result. This is probably why I don't call myself a foodie. I actually am not a huuuuuge fan of going out to eat. Most of the time I find myself disappointed and pissed off that I spent that much on food when I could probably cook myself a better meal and at least know what's going into it. So when I post a restaurant I like, it's usually based on very specific dishes and it's usually because I really enjoyed it. If I didn't like it, then I don't post it. Simple as that. Anyhooooz, I thought I'd share with you my love of cooking and some things I learned through messing up and making a dish over and over.
So here we go!
Linguine and Clams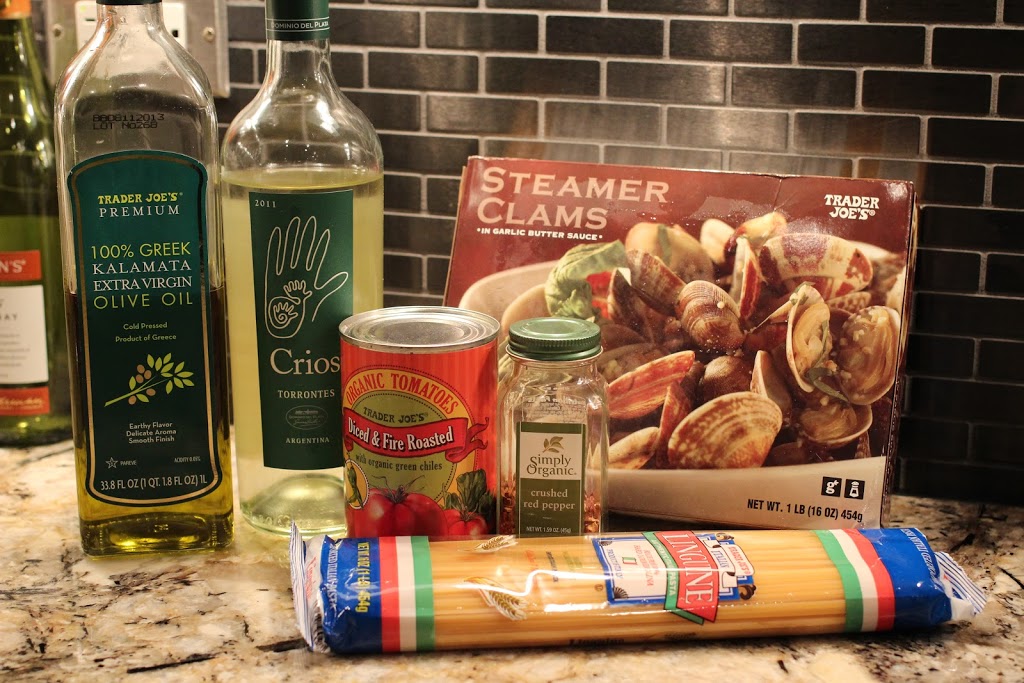 This, hands down, is my favorite dish to make when I don't want to think too hard about dinner and if I don't have much time on my hands.I have a corporate job and usually because of the crappy traffic here in Chicago and the bus stopping at every block, it takes me close to an hour to get back home. And most of the time, I am staaaaaaarving by the time I step through the door. So this is one of my go-to meals. Easy to make, little ingredients, cheap, healthy, and takes a maximum of 25 minutes from start to finish (including the brussel sprouts side dish). The trick to this recipe is timing everything correctly. That was one thing I had to learn after a couple of tries.
Here's what you need:
Trader Joes Steamer Clams
Linguine
Olive Oil
Red Pepper Flakes
1 Can of Diced and Fire Roasted Tomatoes
Salt and Peppa
White Wine (optional)
Garlic (optional)
Brussel Sprouts – as our side dish =)
Step 1: Pour yourself a draaaaaaaaaank. (Optional – turn on some jams. Yeah, I also dance while I cook)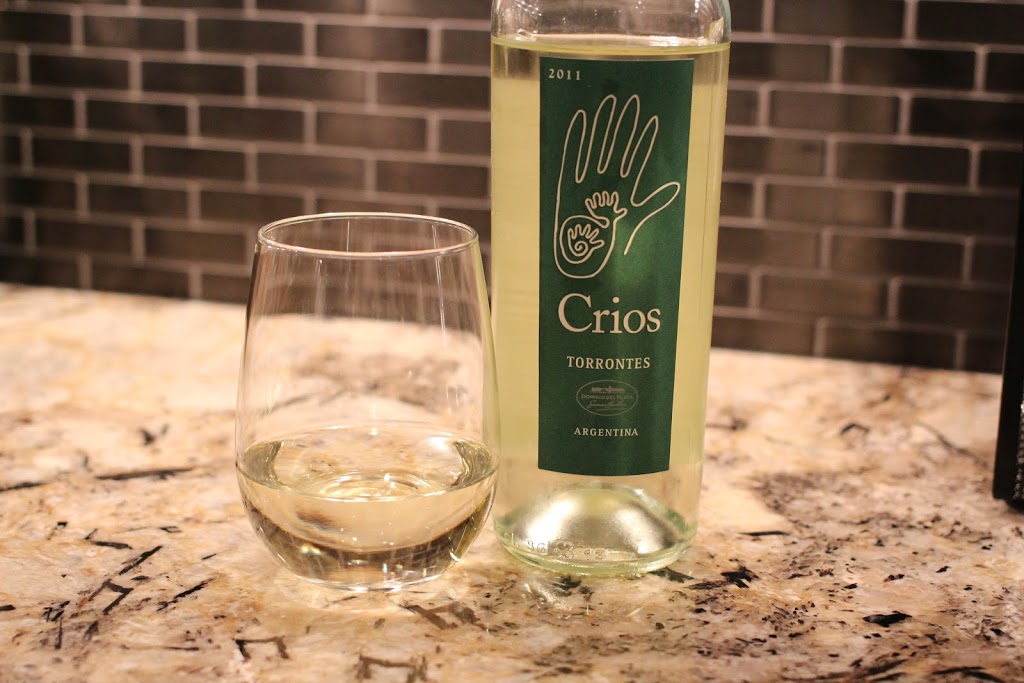 Step 2: Boil a pot of water for the noodles. Step 3: Wash and cut up brussel sprouts.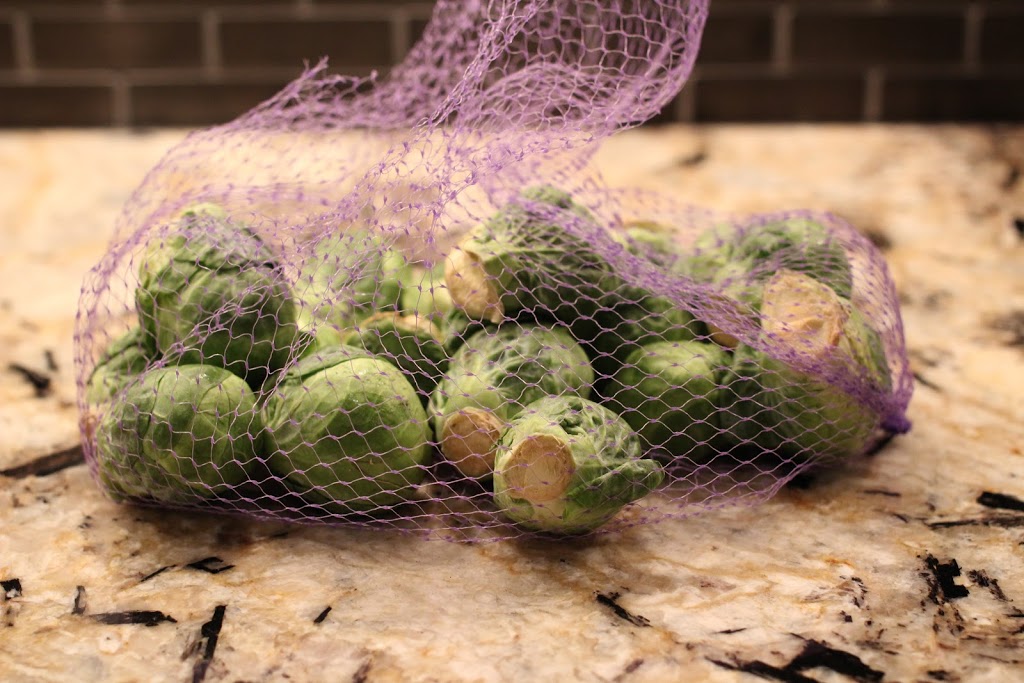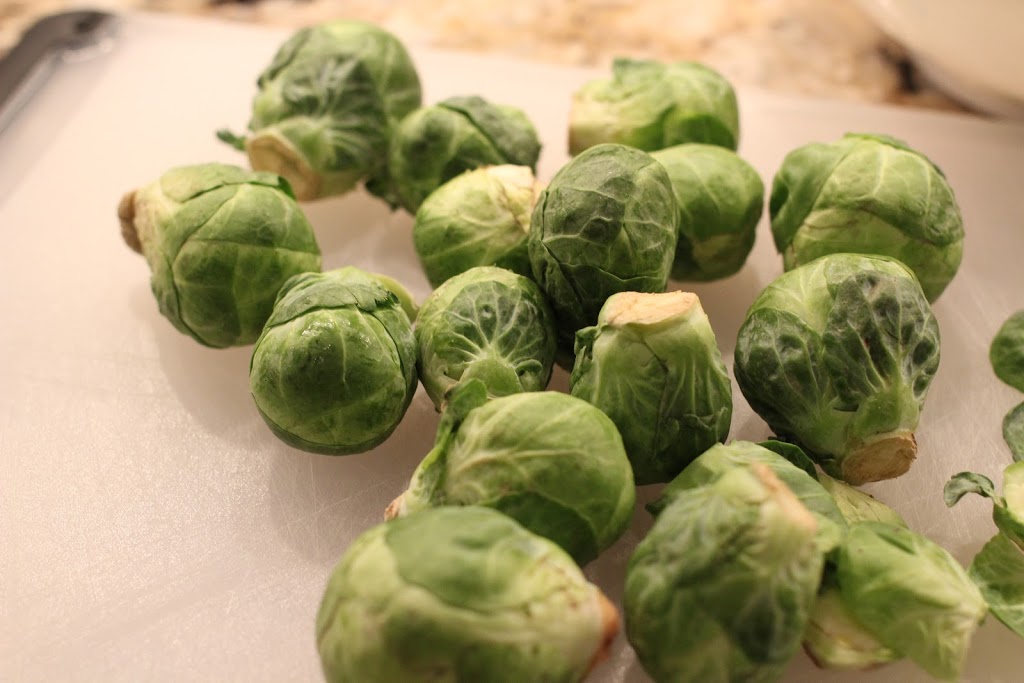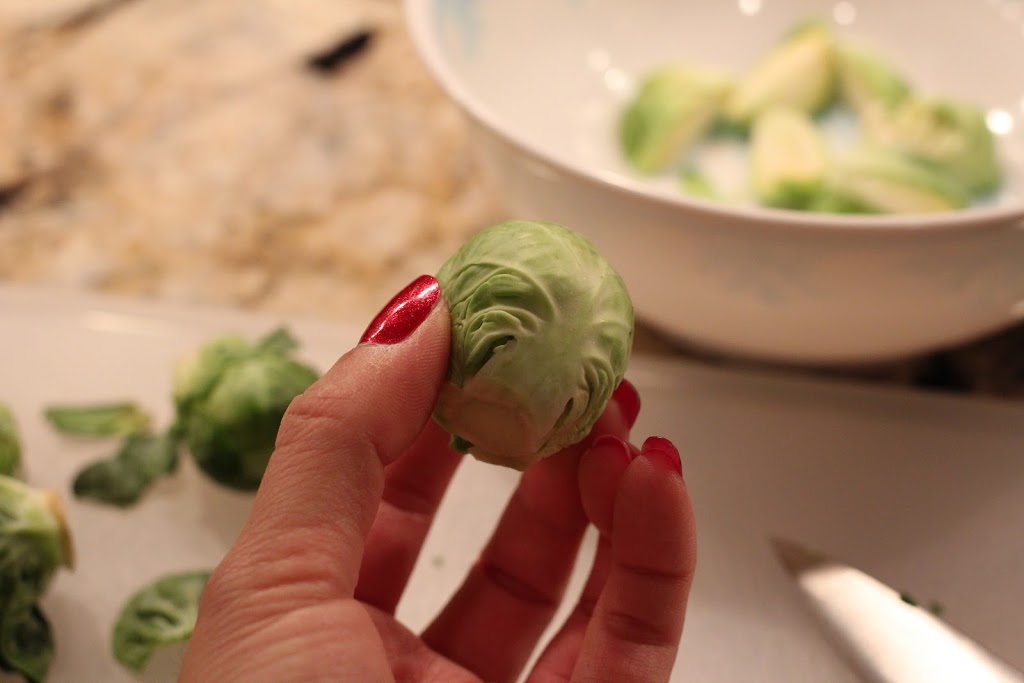 I like to peel off some of the outer leaves.
Quartered is best to get them to cook faster. Step 4: Add enough olive oil to lightly coat the brussel sprouts.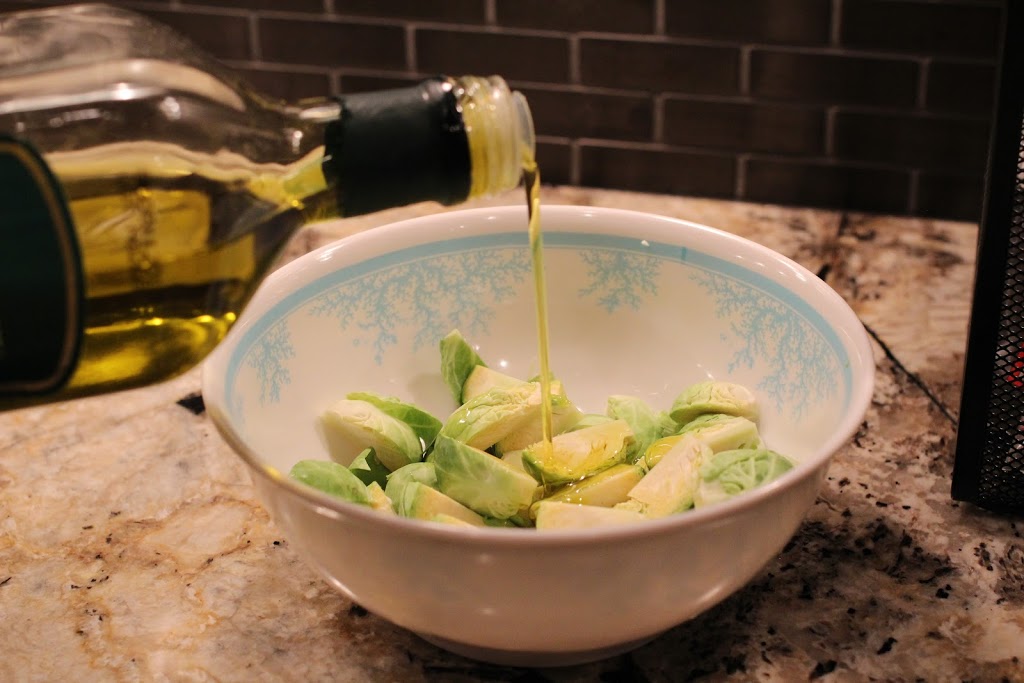 Step 5: Salt and Peppa!Save off to the side for now.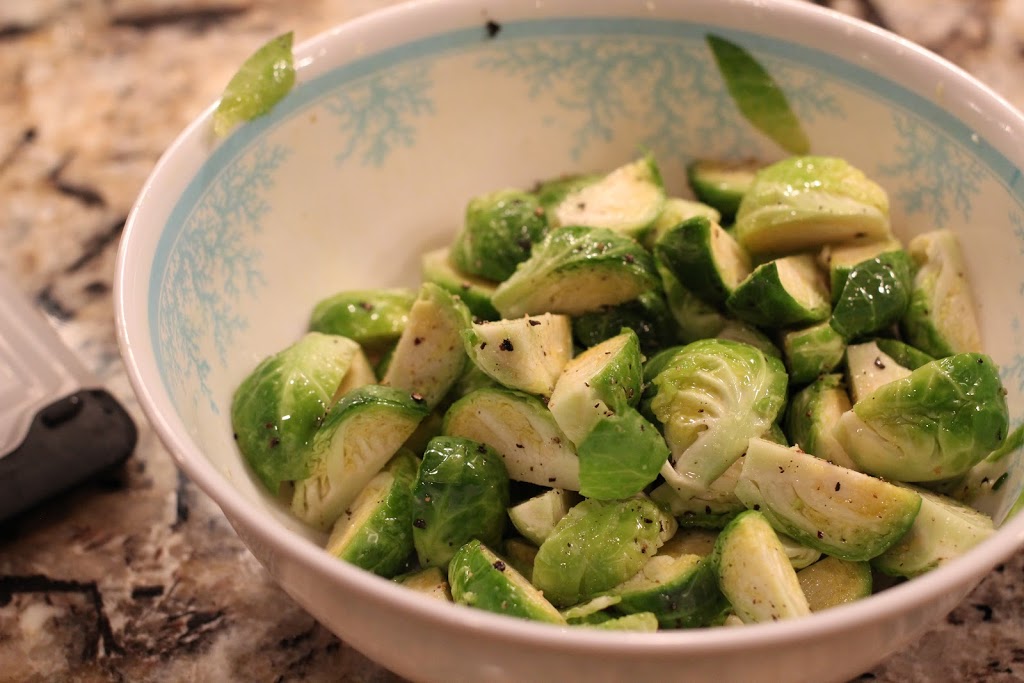 Step 6: At this point the water should be boiling so add in your noodles. Use only about 3/4 of the package. The entire package is too much noodles for the amount of clams. Submerge to ensure even cooking.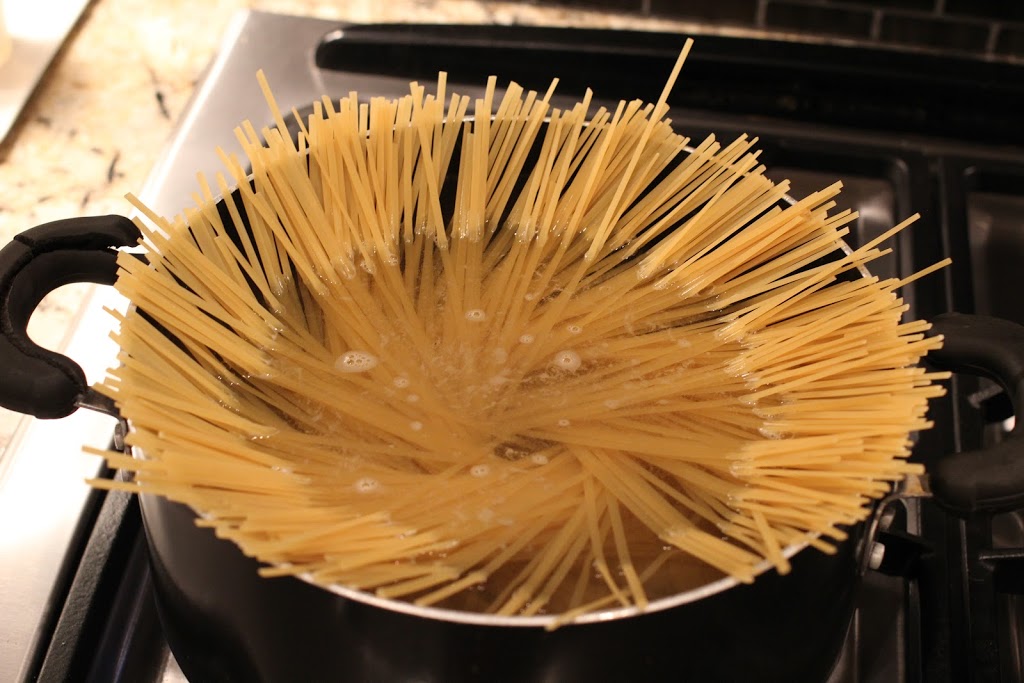 Step 7: For the clams pot, set heat to medium high. Put some olive oil (to coat the bottom of the pan) and red pepper flakes into the pot. I also added garlic because I love lots of garlic. The steamer clams already have garlic on them so adding more garlic is not neccessary.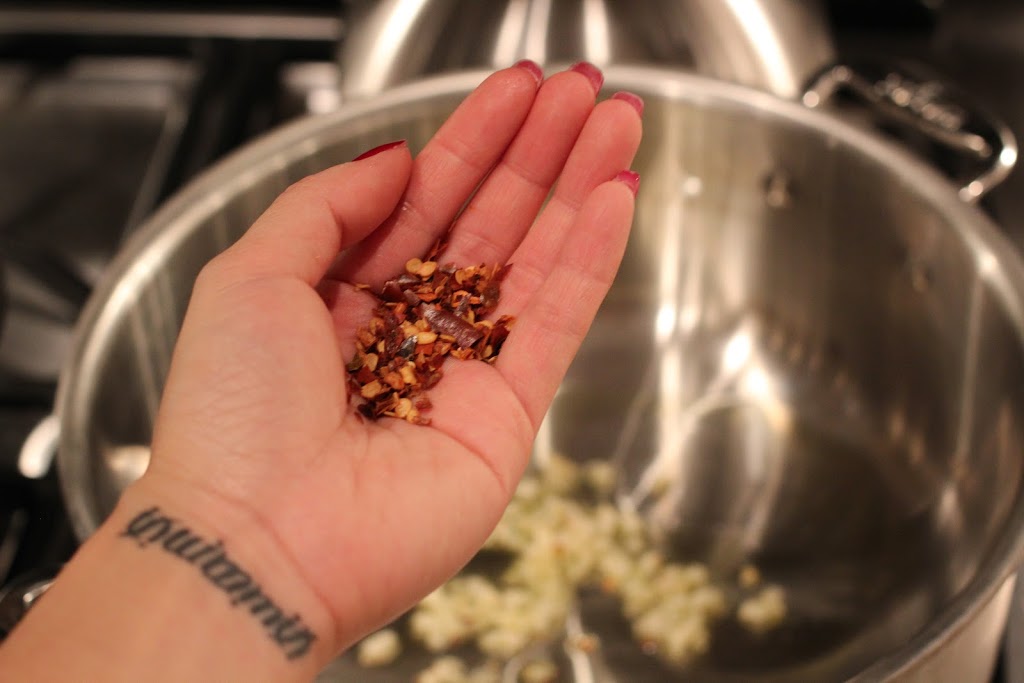 This is pretty much how I measure.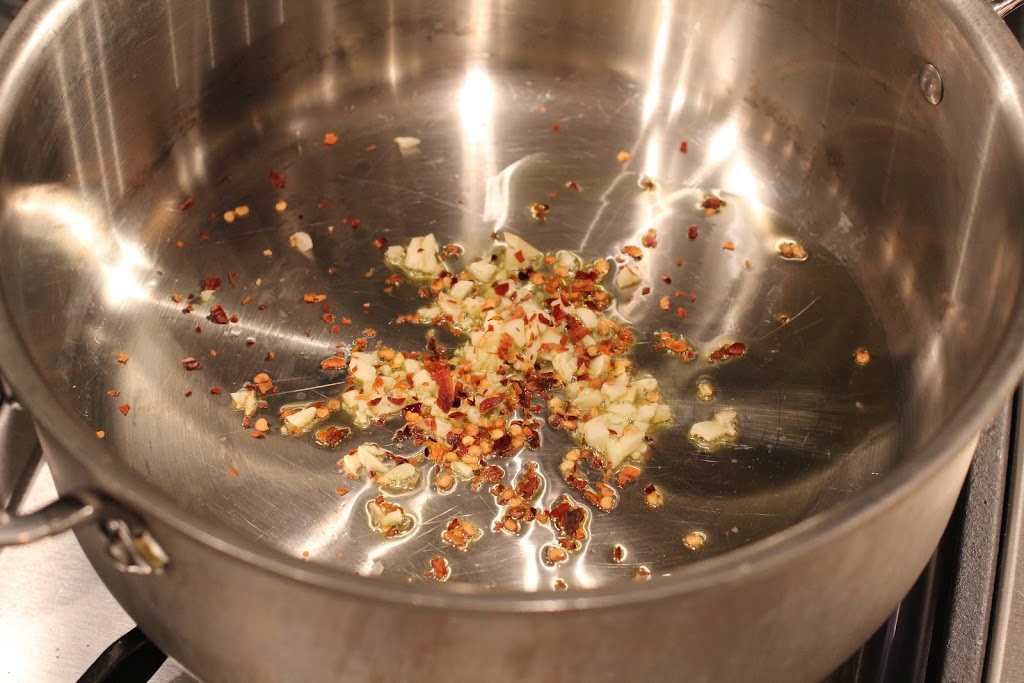 Let the red pepper flakes simmer in the oil for 30 seconds. This will allow the spiciness to meld into the olive oil.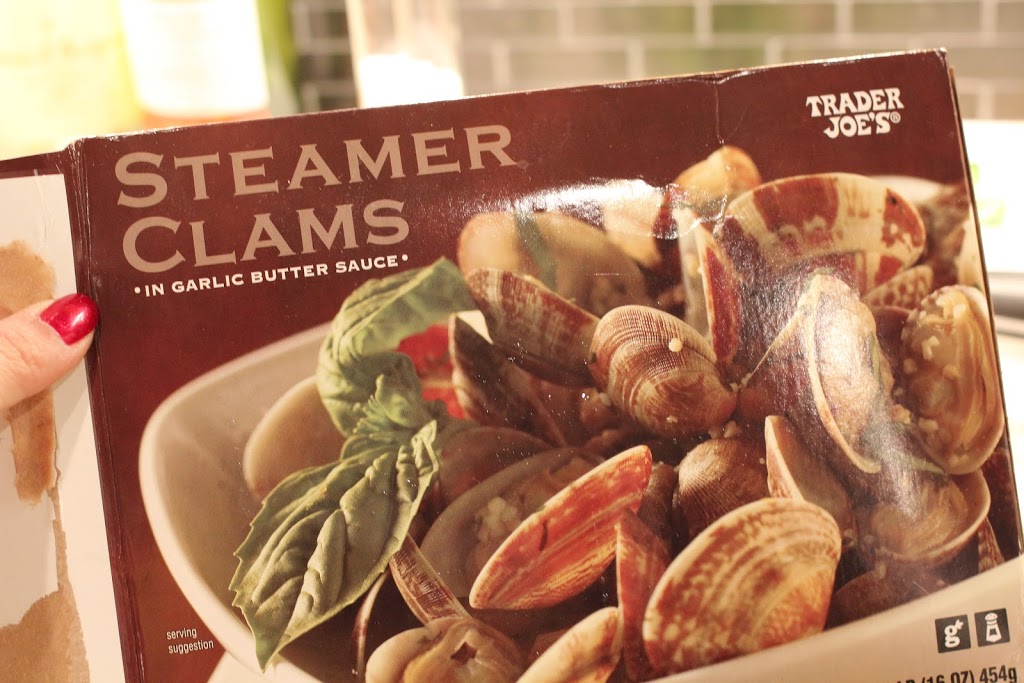 Step 8: Place contents of box of Steamer Clams into the pot and cover.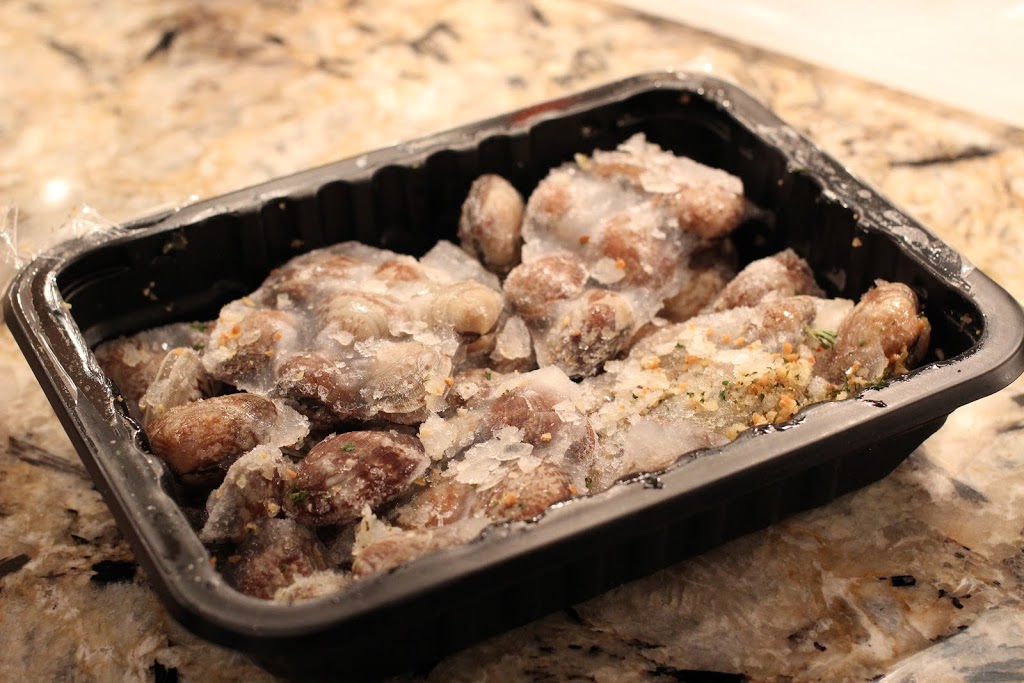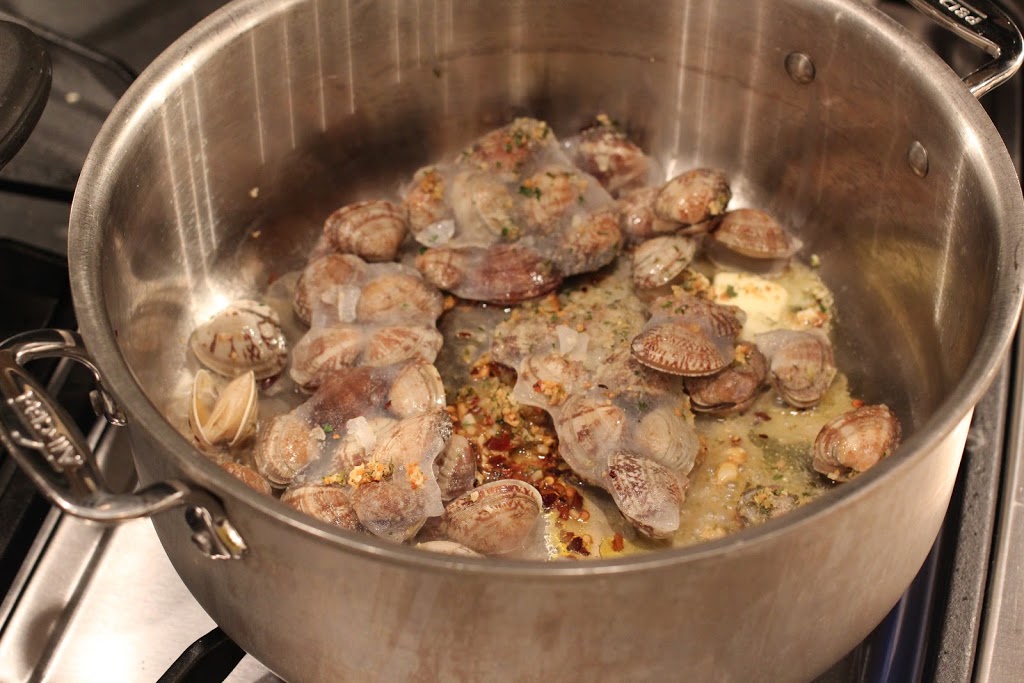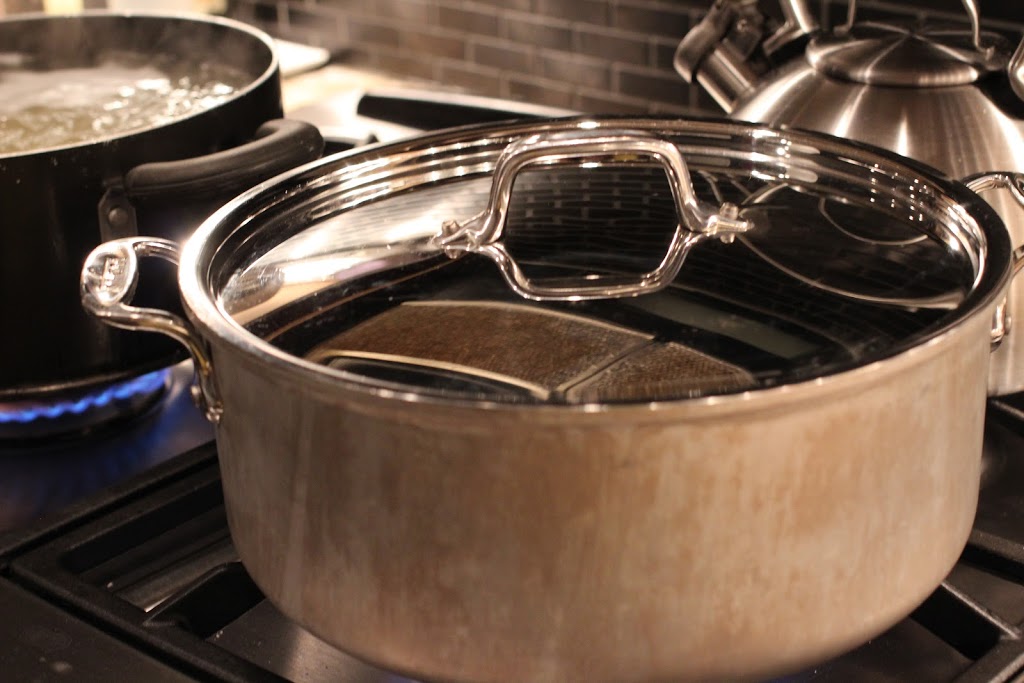 Step 9: Check on your noodles. We want the noodles to still be a little undercooked. Just slightly. So that when you place the noodles into the clams pot, it will finish cooking through and soften up while soaking up all the clam juices. YUMMO! At this point I like to take off the pot of noodles from the burner and put it to the side. I then take out my pan for the brussel sprouts and start to preheat my pan on that burner.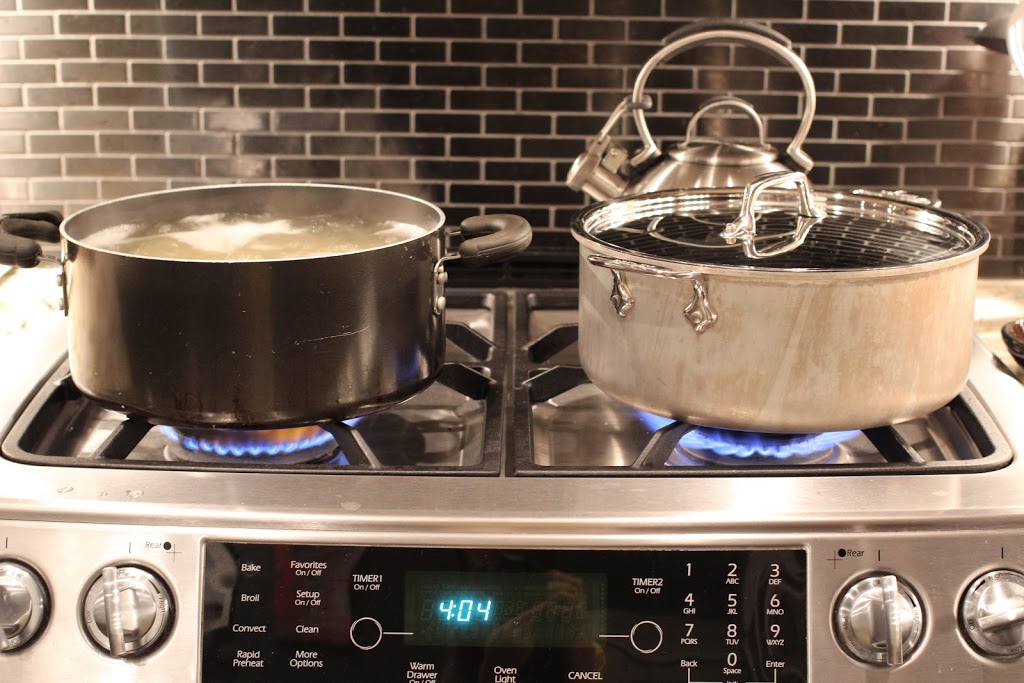 Step 10: Depending on how much of your wine glass you drank, pour the rest up in the clam pot. A few big splashes of white wine is good enough.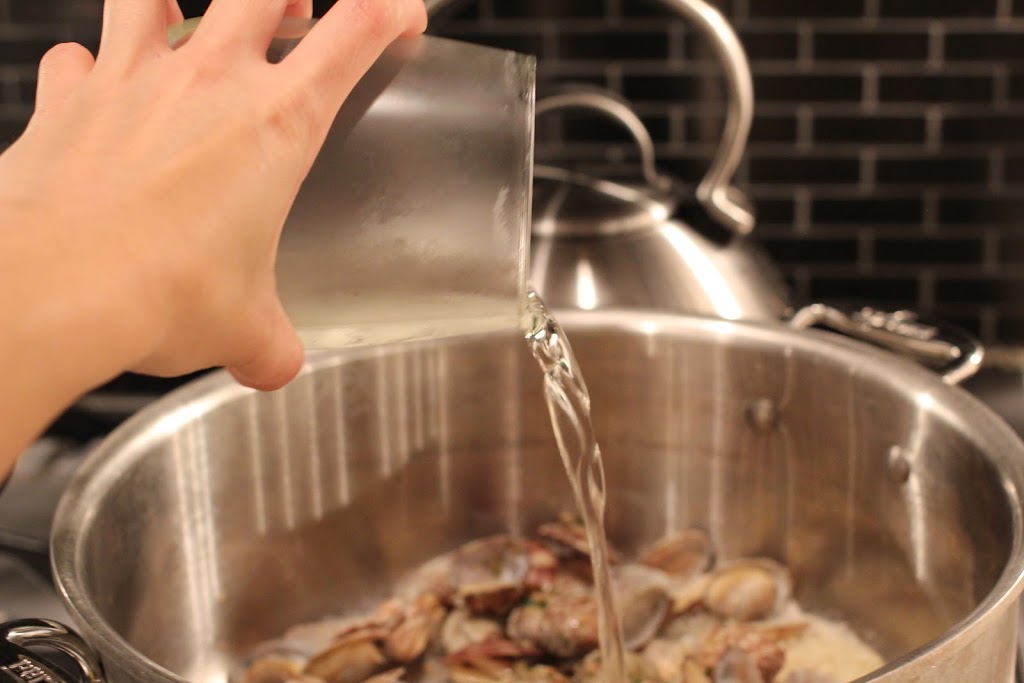 Step 11: Add in the can of diced tomatoes. Replace the cover.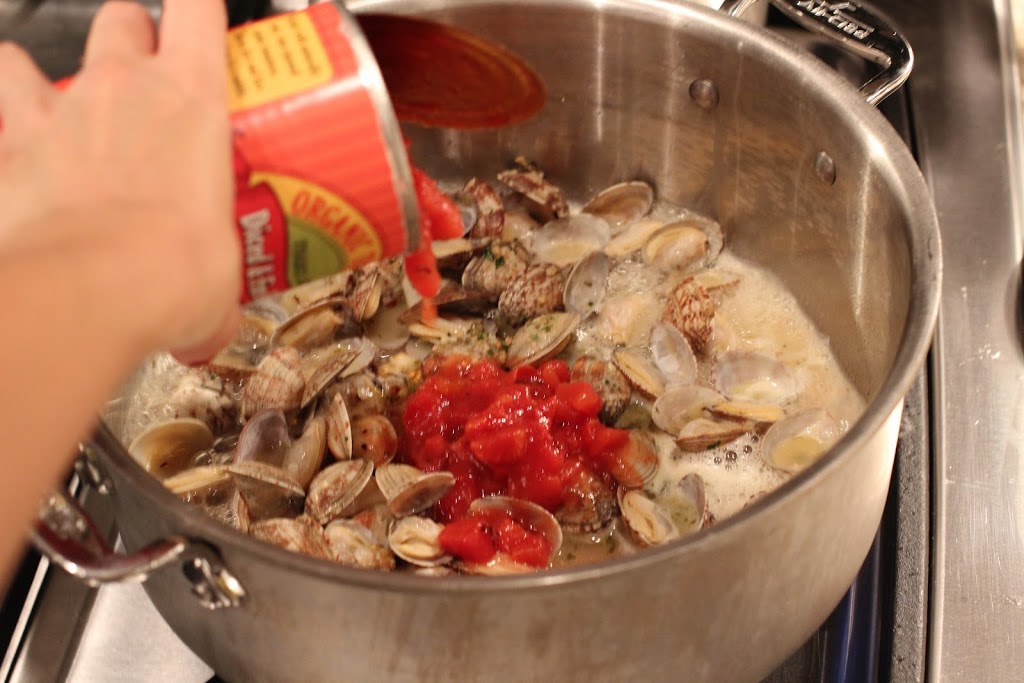 Step 12: With the pan I preheated in step 9, I pour in my brussel sprouts. I like to use this kind of pan with the grill lines. I think it makes the best lookin' sprouts. Shimmy shake the pan around for a little bit with one hand and make the sprouts bounce. It allows you to heat up most of the sides of the sprouts aaaaaand, also makes you feel like a professional chef. At this point the wine should be making you feel like a top chef master!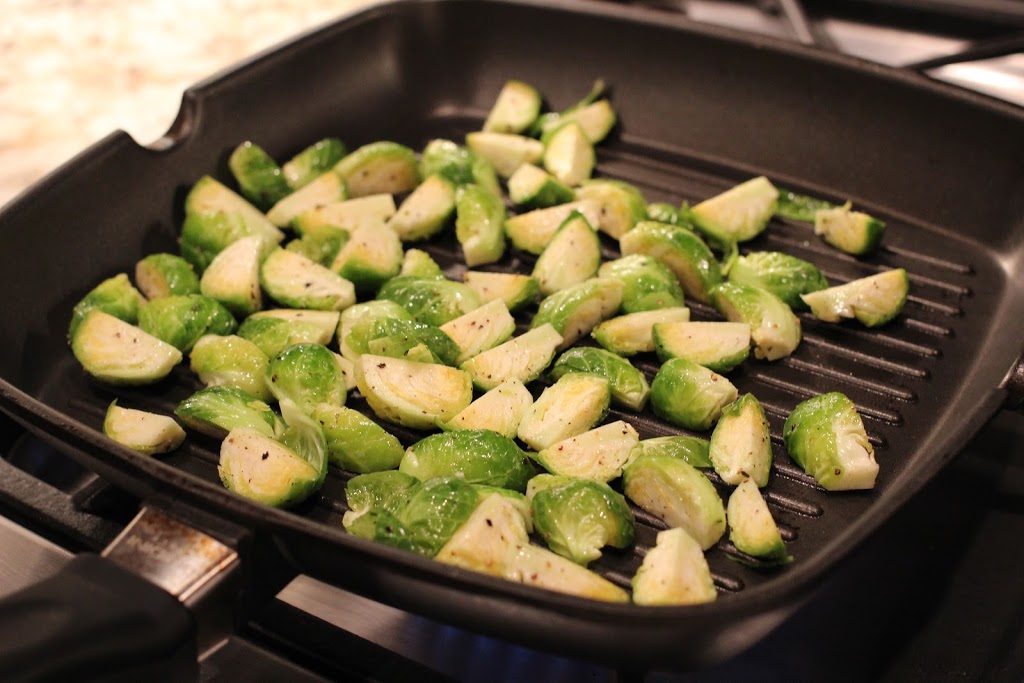 Step 13: Move noodles into the clam pot and stir it in. Add a ladle full of pasta water as well. Can't 100% remember why, but they always do that on Food Network so I do it and I feel super smart.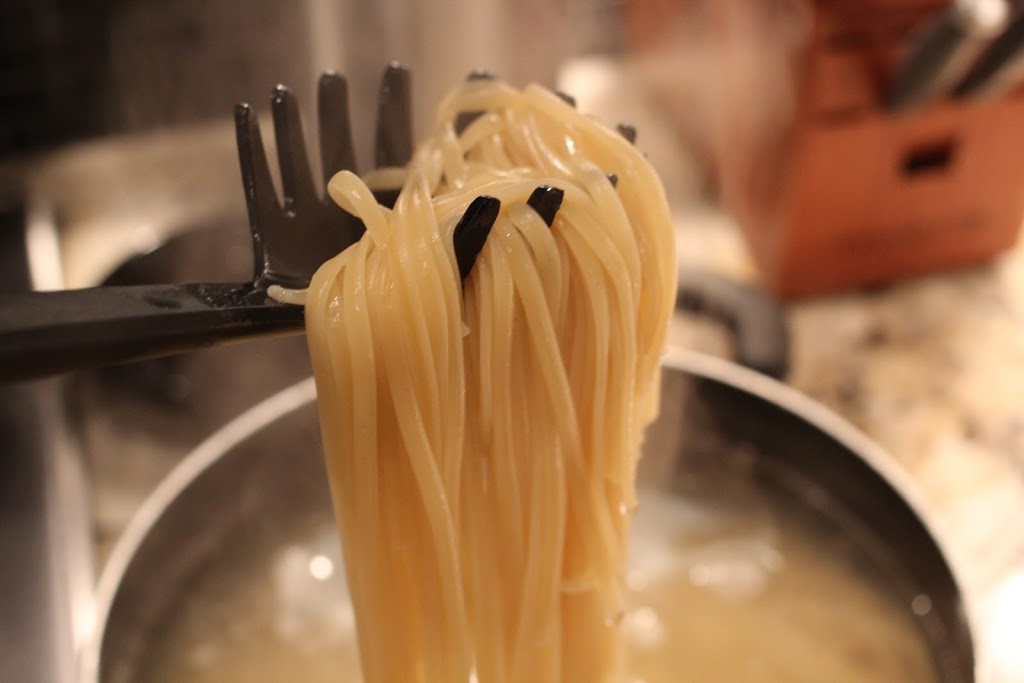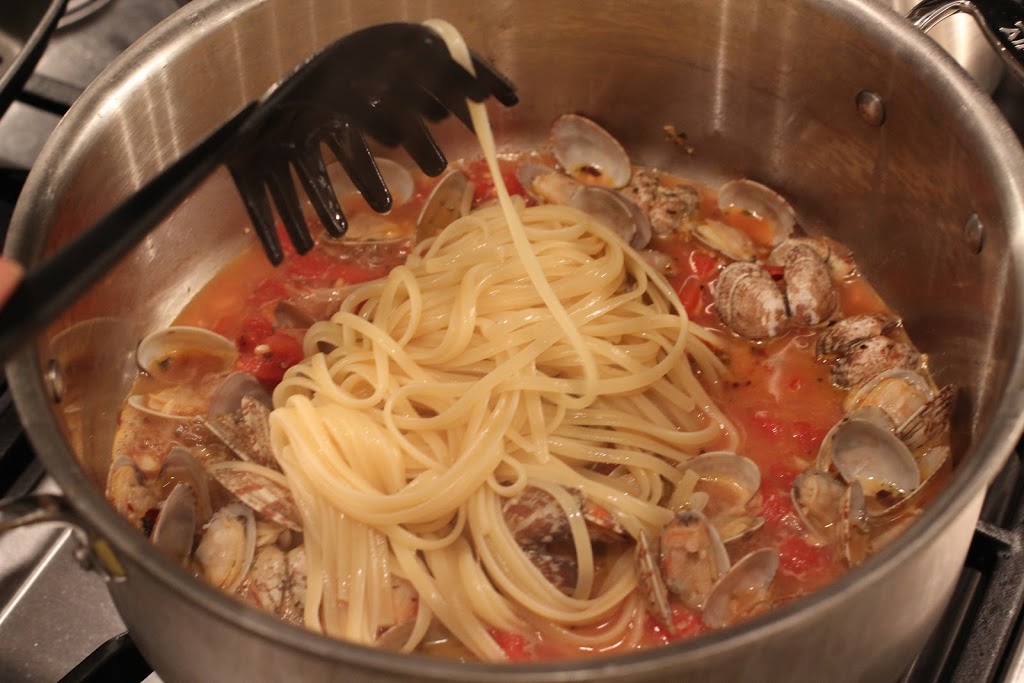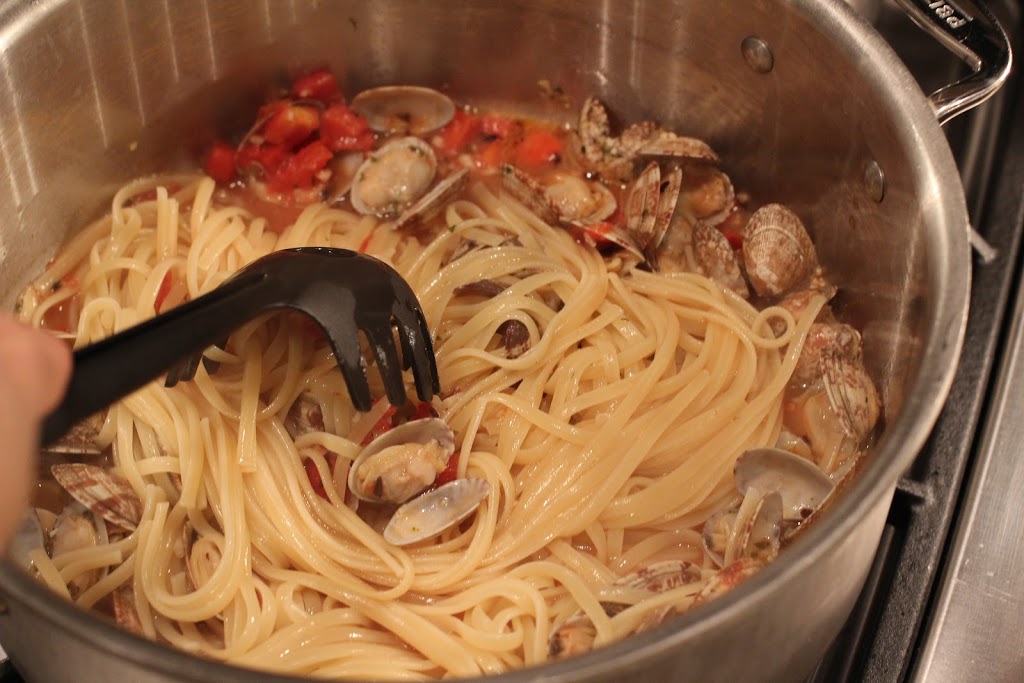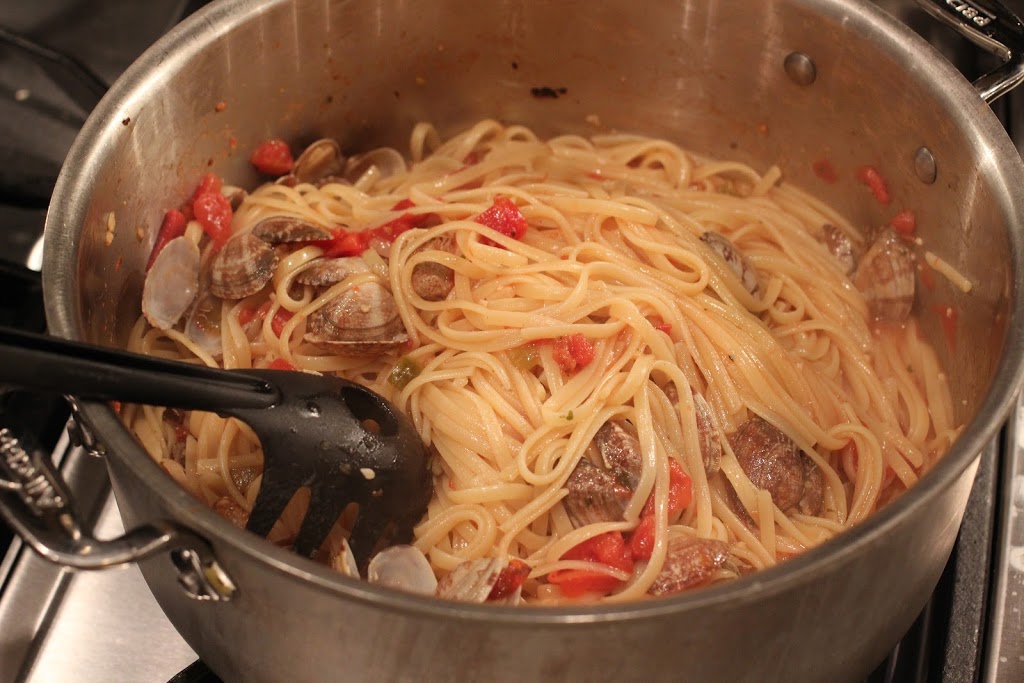 Once the noodles look evenly coated with the clam juice, add salt and peppa to taste, and replace the cover and lower the heat to a low simmer.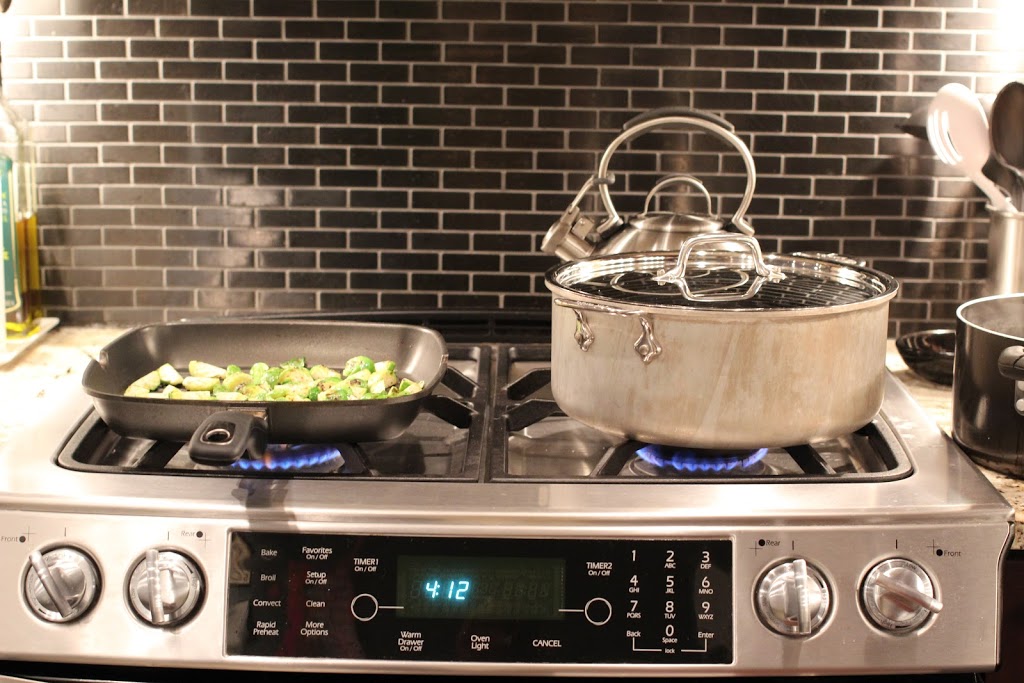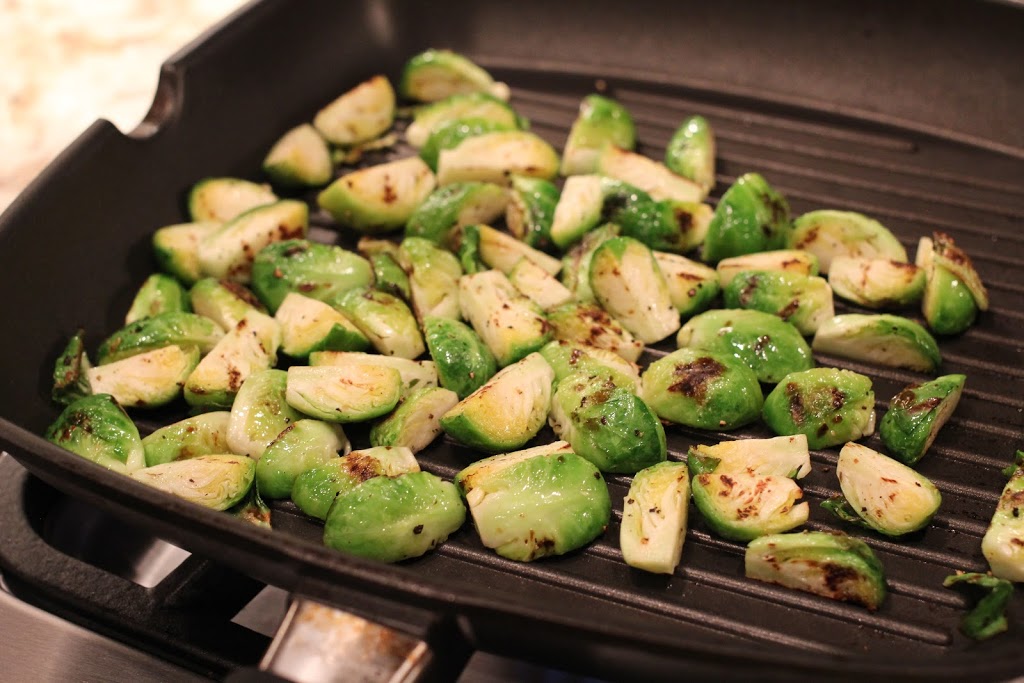 Shimmy shake them sprouts again. Shimmy shake your bootie at the same time. Repeat until sprouts are browned on most sides. Eat one to check if it's done. Usually around this point I proclaim out loud "MMM dat's good!"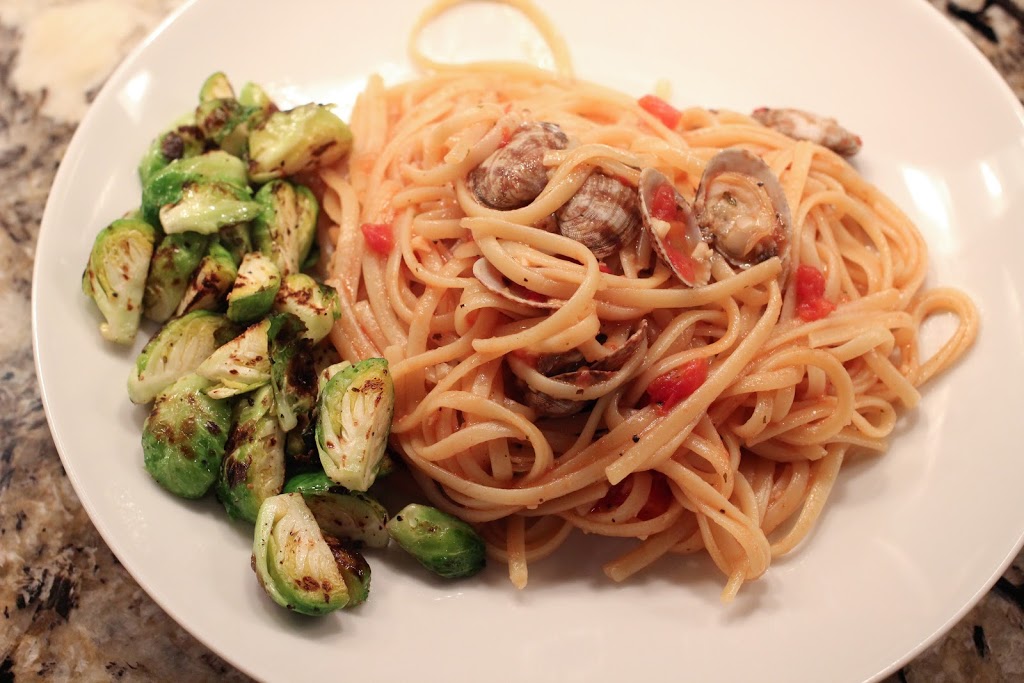 Step 14: Plate and serve!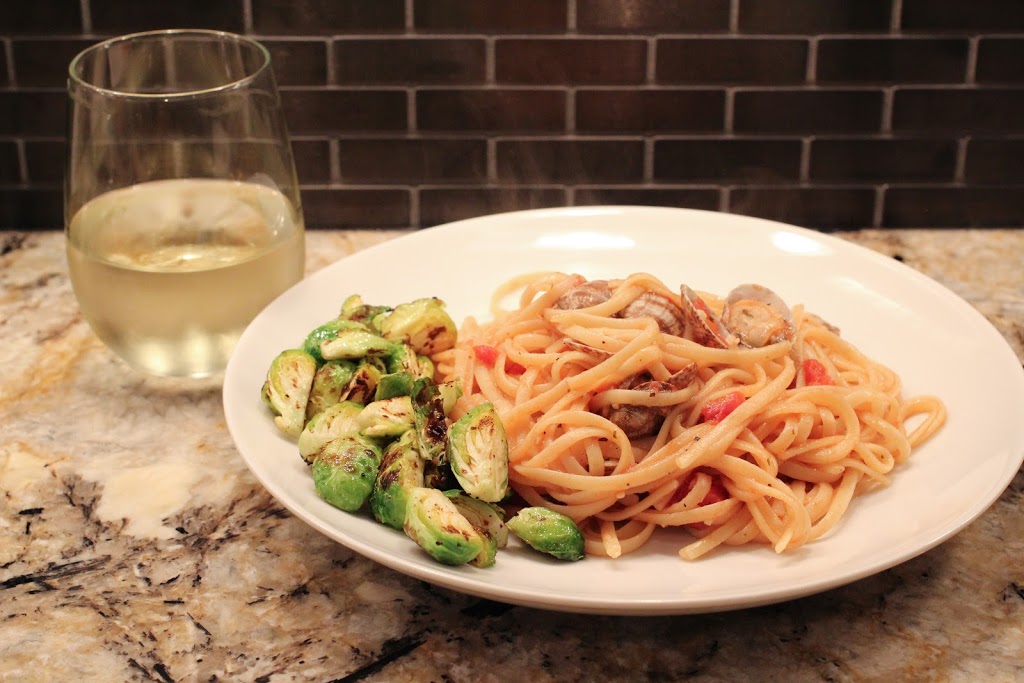 Don't forget more wine! Like I said, the key to making this dish quick and painless is the timing.You have to multi-task and be constantly moving. There is no reason this dish should take more than 20-25 minutes. If you lag too long the noodles will be overcooked and mushy. I suggest when you go buy the clams to buy at least 2 boxes. Once you have this dish, you are going to want to make it again two nights later. JEA! Hope you enjoyed the dish! I'd like to shout out to Pam fromwww.xppinkxx.com! She was the one who originally tested the Clam Steamers and gave it her seal of approval. It was then that I got the idea to try this easy linguine and clams dish. Thanks girl!!! Check out her blog as she tried the linguine clam combo for herself. =) I have also tried this dish with shrimp added and also mussels added. AMAZE! The clams and mussels version, I actually bought fresh mussels that day. It adds so much flavor and probably my favorite version of this dish. I am also thinking of making that dish with the mussels and adding heavy cream for a cream based dish. I also did one version with spinach added. I encourage you to try your own variations! Did you guys enjoy this post? Let me know how your dishes turn out! Send me your photos on twitter or facebook!